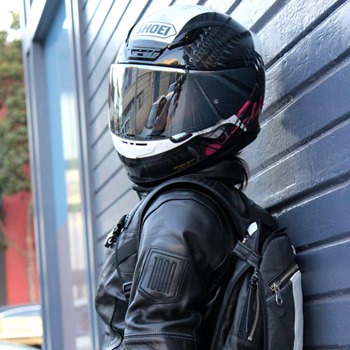 No doubt riding a motorcycle can be dangerous. Did you know wearing a helmet can reduce the risk of death by 39% in an accident? Not only wearing a helmet is a must according to laws, but it prevents head traumas and fatal outcomes in practice. Regardless of your riding skills, accidents can pop out behind the corner, which is why you need a motorcycle helmet to protect you.
Different riders and different motorcycles have different requirements on the helmets. One size doesn't fit all when it comes to this matter. You should pay attention to eye protection, closures, ventilation, and a bunch of other things.
Yet, if you are unsure about which type of helmet you need, this article will bring you a step closer to making an informed choice.
Motorcycle Helmets – Facts and Myths
The necessary and mandatory part of motorcycle gear, helmets are, unfairly, misunderstood and neglected to a certain extent. We are sharing conventional wisdom on motorcycle helmets and clarifying some of the most common myths about them.
        More than 50% of motorists don't wear helmets.
        28 out of 50 states of America have helmet laws.
        Wearing a helmet during an accident reduces the Incidence of Traumatic Brain Injury by 65%.
        The protective quality helmets provide deteriorate after 3 to 4 years of use.
These common myths on helmets prevent 50% of riders from wearing one while astride a motorbike:
1. Helmets overheat on the inside.
Helmets come with the foam liner on the inside. The foam prevents the temperature from rising (even though it can go up for a few degrees) and acts as an isolator.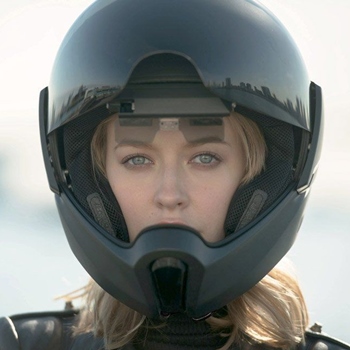 The reason for this myth is the weather itself. Staying in long traffic jams will make people sweat excessively, especially because car exhausts make the situation even worse. Don't blame the helmet, blame the outer factors responsible for high temperatures.
2. Helmets absorb and isolate traffic sounds.
Riding a motorcycle without a helmet may damage one's hearing in the long run. Helmets protect motorists from wind noise in the first place. It is true – noise and sounds, in general, may appear less loud, but a helmet doesn't prevent hearing critical traffic sounds clear.
3. Wearing a helmet reduces vision.
Narrowing one's peripheral vision would damage their vision. Yet, while not wearing a helmet, a regular person can see everything on a scale of 180 degrees. On the other hand, according to helmet standards, a motorist should have 210 degrees of peripheral vision while wearing a helmet. That's why it is so important to purchase certified helmets only.
Helmet Types
Obviously, riding a motorcycle is not only about the adrenaline rush, fresh wind in your face, and open roads. We totally get you to want to get entirely immersed in your ride, but you can't afford the luxury of not wearing a helmet.
The most important piece of motorcycle gear, helmets are specifically designed to serve different purposes. Here is an in-depth rundown on 6 helmet types, features each provides, purposes, shapes, and everything in-between.
1.  Full Face Helmets
Starting off with, probably, the most common type, the best full-face helmet is also easiest to grasp on. It features a full enclosure, covers the full face, and protects the head. Yet, this doesn't mean it leaves the head and the face hermetically sealed.
A motorist uses a small, yet just enough, opening to see through. There is a visor covering the space between the top of the helmet and the chin bar. The covering protects the eyes at high speeds and can be closed or flipped up.
Unlike first full-face helmet models, modern helmets are all about customization. Some of these come with the extra padding on the interior, others feature different visor covering types, more comfortable chin strap fastenings, even the ability to connect it to a communication system.
For added convenience, while driving, a few manufacturers design their full-face helmets with fully adjustable bents, drop-down sun protection, etc. Read more about full-face helmets on this link.
2. Open Face Helmets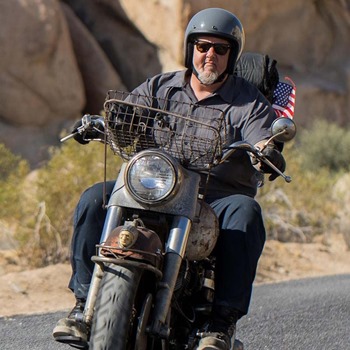 Remember that breath of fresh air we mentioned above? The best open face helmet is a type of helmet for cool, summer rides, and slow commuting. Otherwise, not that great option for winters, as this type of helmet features an open-faced designed.
With no chin bar, possibility without visors (even though some models come with visors), the open face helmets are, statistically, less protective than the latter type.
We would recommend wearing goggles or glasses during rides or getting a helmet with a flip-down visor to ensure a comfortable experience on the road and protect the eyes. Some models come with poppers that allow a rider to attach a removable sun visor peak to them.
3. Half Helmets
Even the best half helmet can't boast almost any safety for a rider. Yet, in spite of the lack of protection it provides, this type is immensely popular. Designed to cover half of the head only, a half helmet sits at the top part of a rider's skull.
The reason for the hype around the half helmets is the experience they offer. Riders who enjoy the wind playing with their hair or rushing behind their ears rarely give up this type.
However, the unique experience carries a high dose of risk within. There is no interaction with any type of element, the rider's field of vision is totally clear, and the half helmet covers the bare safety requirement. Indeed cool to be worn, these helmets are still a dangerous accessory for any motorcycle rider.
4. Motocross Helmets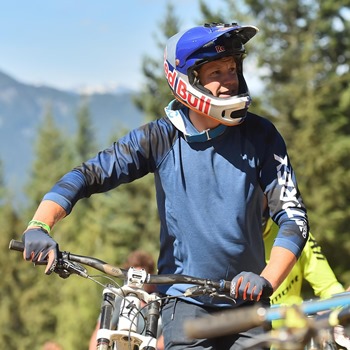 Motocross riding is nothing like street riding. Not only it is way more physically demanding but it requires wearing a different helmet, too. That brings the best dirt bike helmets to the table.
Wearing a regular full-face helmet would steam up the things inside and make the ride uncomfortable. A helmet with an extended chin bar without a visor is the best choice for off-road riders. This increases the airflow and prevents excessive sweating in the head and neck region.
A full-face helmet would blur a rider's view, and potentially, mislead an off-road rider in the wrong direction, or even worse, cause an accident. Thus, it is necessary to wear motorcycle goggles to protect the eyes and stay safe when driving off-road.
5. Modular Helmets
The best modular helmets remind of their full face relative but come with a movable chin. As the entire bottom half of a modular helmet "flips up", this type of helmet is often called flip-up helmet.
A movable chin comes at the expense of the helmet's overall integrity but doesn't compromise safety. Riders who don't want to take on and off their helmets all day and have a lot of face-to-face contacts prefer modular helmets for their versatility.
Incredibly useful, yet safe, modular helmets position high on the market. Check our buying guide and reviews on motorcycle modular helmet here.
6. Scooter Helmets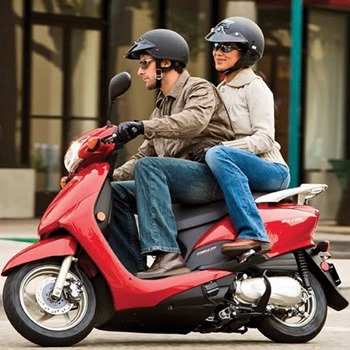 In the category of motorcycle helmets, a special type, the best scooter helmets, is devoted to motorists who own a Vespa, Piaggio, or a similar vehicle for the city ride. This type of helmet differentiates the maxi-scooter and mini-scooter segment, and thus, features different characteristics, including a relatively high level of protection.
Some models come with adjustable straps, polycarbonate shells that add on the build strength of the helmet and hold up even after major impacts, aerodynamic design, scratch-resistant visors, ratchets, and double-D closures.
Yet, motorists who prefer long-distance rides can also find a scooter helmet that will meet their expectations. Scooter helmets with snap-on visors that protect the eyes and provide a clearer vision and a thermoplastic shell are a great road companion during both winter and the summer. More on scooter helmets on this link.
Helmet Locks
The best motorcycle helmet lock is a small device that attaches a helmet to a motorcycle. Thanks to it, riders don't have to carry their helmets all-around – to a store, office, etc. Yet, the greatest convenience of a helmet lock is that it prevents a helmet from being stolen. Knowing motorcycle helmets usually come at a hefty price, motorists appreciate the level of security a helmet lock provides.
How to Understand If a Helmet Fits?
Just like mentioned, motorcycle helmets fit differently. Finding a perfect fit requires a couple of steps:
Long, intermediate, and round oval head shapes are the most common. There are very few exceptions to this rule.
Taking a picture from above would be best to obscure one's head shape. Round tip of the head indicates round shape, long and thin – long, and anything in-between is intermediate oval.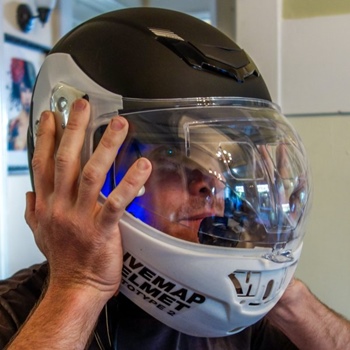 To find the right size of a helmet, it is necessary to measure one's head size properly. Running a tape around one's head, above their eyebrows, then reaching the back of the head, while making sure the tape covers the widest head parts, will precisely determine the head size. Also, it is needed to measure the head length as well.
Comparing these measurements and the head shape to a motorcycle helmet's size will lead to making the right choice. The best helmet is the one that fits perfectly.
If a helmet doesn't fit right, it will show off in a couple of ways:
        The cheek pads would press upon one's cheeks uncomfortably,
        There wouldn't be almost any space between the brow pads and one's temples,
        A neck roll on a helmet would push it away from the neck, especially at the back,
        The face shield would be touching one's chin or nose, which would only worsen at higher speeds due to wind pressures.
DOT Certification
Legally sold helmets come with a sticker at the back (some even display a few). This "sticker" is actually a certification that indicates the safety and protection level helmets provide.
The most basic, yet the most rigorous, the DOT standard complies with the legitimate field of vision, retention system, labeling, penetration resistance, and many more requirements. This certification is very throughout and basically leaves 0 room for error.
A helmet that's DOT certified comes with the FMVSS 218 rating. This rating is in accordance with standards the U.S. Department of Transportation issued.
Wrap Up
Motorbike Expert specializes in motorcycle helmets. Our area of expertise covers everything helmet-related. Understanding the importance of using and wearing the recommended gear is crucial for maintaining safety on the road. Without a motorcycle helmet, motorbikers are putting their lives at risk, and our aim is to raise the awareness of this matter.