If you want to enjoy commuting and nice weather, the best open face helmet is your ally. Wearing a full-face helmet during the hottest summer days would make your head all sweaty. There are ups and downs to both options, but to get the adequate helmet, you should arm yourself with knowledge, which is just what this article offers.
Open face helmets don't provide the same level of protection as full-face helmets do, we are not going to question that. However, these helmets are cute to wear, lightweight, and make it possible to enjoy your drink while on the go. Read the open face helmet reviews and find your best fit for bustling summer days. Let's start!
See The Quick Comparison Chart
Benefits of Open Face Helmets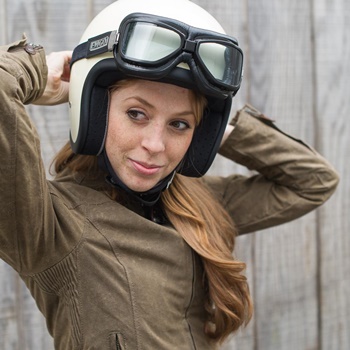 You must have heard a bunch of things about open face helmets, such as that they are not that protective or safe. However, in fact, there are a couple of major benefits wearing an open face helmet provides. For instance:
1. Visibility
The primary advantage of an open face helmet is the visibility it provides. When there are no blind spots, you can see clearly what's going on around you. Thanks to it, you can escape rear collisions or avoid crashes.
It's logical – you wouldn't be able to avoid danger if you wouldn't be able to see it. Who said open face helmets are not safe to wear?
2. Lightness
Most motorcycle gear is heavy and tough. However, wearing a couple of pounds on the top of your head would just be too much. In comparison to full face helmets that are mostly fatiguing, open face helmets are lighter and thus, more pleasant to wear.
3. Ventilation
If you suffer from claustrophobia, wearing a full face helmet probably seems like your worst nightmare. Yet, not wearing a helmet would expose you to greater dangers on the road than you can imagine.
Open face helmets are partially open, which is a big plus for the ones having fear of wearing a helmet that covers their whole face, but some of them come with extra vents on the top or on the sides.
Even though you may want to think about another option for chilly winter days, open face helmets make an ideal choice for summer rides. Eventually, you will need some air circulating through your helmet to prevent your head from sweating and your visor from fogging.
4. Overall rider enjoyment
Even though this depends on the type of your rides, no one can deny the pleasure of fresh air caressing your face. Open face helmets make a great choice for city rides and motorists who prefer moderate speeds. However, some people don't mind wearing open face helmets and strong wind when highway riding at all.
5. Price
In a nutshell – the price shouldn't be the most important factor when buying a motorcycle helmet. However, we must mention open face helmets are slightly less costly than full face helmets for example. The main reason for this is that less material and hardware are used for making open face helmets.
Ultimately, always pick a helmet that offers as many features as possible for the money you are ready to spend.
Best Open Face Helmets Comparison Chart
PRODUCT
DETAILS

Bell Custom 500 Open-Face Motorcycle Helmet

Price:

$$$

Customer Rating:

4.3

Sizing:

6

Safety Rating:

DOT certified, meets FMVSS 218 standards

Weight:

2.17 lbs.

View On Amazon

Vega Helmets Unisex-Adult Open Face Motorcycle Helmet

Price:

$

Customer Rating:

4.3

Sizing:

6

Safety Rating:

DOT FMVSS 218 safety regulations

Weight:

2.15 lbs.

View On Amazon

Biltwell Bonanza DOT Certified Open-Face Helmet

Price:

$$

Customer Rating:

3.9

Sizing:

6

Safety Rating:

DOT certified

Weight:

3 lbs.

View On Amazon

HJC IS-33 II Open-Face Motorcycle Helmet

Price:

$$$

Customer Rating:

4.7

Sizing:

7

Safety Rating:

DOT certified

Weight:

4.5 lbs.

View On Amazon

LS2 Helmets 569-3015 Track Solid Open Face Motorcycle Helmet

Price:

$$

Customer Rating:

4.3

Sizing:

6

Safety Rating:

DOT and ECE certified

Weight:

2.95 lbs.

View On Amazon

Daytona Helmets Motorcycle Open Face Helmet Cruiser 100% DOT Approved

Price:

$$

Customer Rating:

4.6

Sizing:

9

Safety Rating:

DOT FMVSS 218 safety regulations

Weight:

2.3 lbs.

View On Amazon

ScorpionExo Belfast ¾ Open Face Helmet

Price:

$$$$

Customer Rating:

4.4

Sizing:

7

Safety Rating:

DOT certified

Weight:

2 lbs.

View On Amazon
Best Open Face Helmet Reviews
1. Bell Custom 500 Open-Face Motorcycle Helmet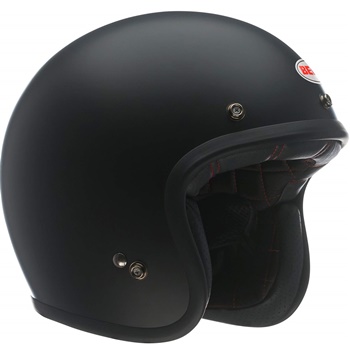 You simply can't go wrong with old school design. As soon as Bell started creating their Custom 500 model, they knew it would dominate the market for its simplicity and performance. And, their open face helmet truly achieved instant success.
The hand-laminated fiberglass shell and polyurethane foam on the inside made an ideal combination for basically any motorcyclist. However, Bell upgraded the Custom 500 over time. It retains the retro look but features modern technology add-ons.
Now, the Bell Custom 500 comes in 5 shell sizes, as well as 5 Multi-Density EPS liner sizes, and boasts an intermediate oval shape and low-profile appearance. The thing with EPS liner is that multiple layers ensure the eventual impact on the head gets absorbed through layers and distributed as evenly as possible so it reduces the pressure on the head.
Additionally, it comes with a D-ring retention system, padded chin strap, and leather goggles strap (which appears to be an extremely useful feature for an open face helmet).
Don't worry this helmet would make you look like a Bobblehead, as Bell styled their helmet so it fits just perfectly. The Custom 500 also comes available in different sizes (even though we recommend you don't go under a large one) and different prints.
All in one, the Custom 500 stands somewhere between retro and modern but breaks out to the top when it comes to levels of safety it provides for an open face helmet. It is approved by DOT and meets the FMVSS 218 standard.
Pros
Lightweight – 2.17lbs,
Comes with visors and 5-snap pattern,
5-year warranty.
Cons
It doesn't provide noise reduction.
2. Vega Helmets Unisex-Adult Open Face Motorcycle Helmet
If you thought wearing a helmet excludes being stylish, the retro Vega open face helmet will prove you wrong. You can choose between matte or gloss finish or between 4 exciting graphics (customers seem to prefer Pinup Bomber Girl).
The classic look combined with comfort and lightweight feel on your head – that's a match made in heaven. This model comes with 5 snaps and protective visor (3-snap) and features an ABS thermoplastic alloy shell that stands for the most durable and impact-resistant material. Vega included a plush anti-microbial liner that's great for motorcyclists with irritation-prone skin.
There's a moisture-wicking liner on the inside that prevents your head from excessive sweating but also absorbs some sweat as well. The liner is removable so you can wash it with your hands in mild soapy water from time to time.
As an additional safety measure, Vega added some extra padding to the D-ring strap. The Vega helmet meets the highest safety regulations – FMVSS 218 and is DOT certified. Use this low-profile helmet as an essential part of your street bike, ATV, UTV, moped, or scooter gear and enjoy safe, comfortable, and confident rides.
Pros
2.3lbs,
Available in 6 sizes,
5-year warranty.
Cons
Cheek pads are not removable.
3. Biltwell Bonanza DOT Certified Open-Face Helmet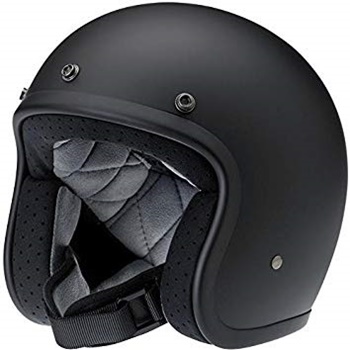 The Biltwell Bonanza open face helmet caught our attention at first sight with a number of refined yet tough paint finishes but kept us amazed by modern technology and safety features it provides.
The first line of defense Bonanza offers is the expanded polystyrene inner shell. On the outside, Biltwell boasts an EPS shell. This type of shell showed as highly protective towards the head in case of an accident or a crash. Thus, the Biltwell Bonanza deserved the DOT certification.
It leans comfortably to your head and offers a lightweight and pleasant feeling on the inside. Here, we have the hand-stitched and open-cell foam padding, as well as Lycra panels that absorb moisture and sweat and add on comfort and breathability.
If you need a sleek open face helmet for yourself or you want to gift it to someone you love, you won't have a hard time making a choice. Biltwell designed their Bonanza model so it fits any type and size of the head and suits any style.
Pros
Hand-sewn liner,
Hand-painted finish,
Plated steel D-ring neck strap,
Accent edging.
Cons
The shell features no air vents.
4. HJC IS-33 II Open-Face Motorcycle Helmet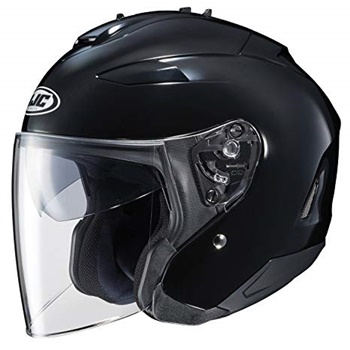 We had a tough task – to find an open face helmet that boasts the same level of safety and protection full face helmets offer, and guess what? We found the HJC IS-33 II open face helmet. It features a number of characteristics that will make your rides more comfortable and safer than ever.
Let's start with a protective sun visor that will prevent UV rays from blinding you, and a peak visor that will protect you from a strong wind.
HJC made the IS-33 shell out of advanced polycarbonate that's well known for being the most durable material. Speaking of the shell construction, the single density EPS liner ensures the protection and safety of your rides. EPS liner absorbs and evens impacts so well there is almost no chance any shock would injure your head.
The EPS liner comes in an intermediate oval shape suitable for most head shapes, while you can choose between two different shell sizes to find the perfect fit.
Yet, the HJC IS-33 II features an advanced ventilation system premium motorcycle helmets offer. The channeling ventilation system it provides ensures the cool air is circling around the top of your head. Thanks to the top vent, the AC ventilation system flushes humidity and the head out at the rear of your helmet through exhaust ports.
Pros
Advanced CAD technology used to design the shell,
DOT approved,
Full front-to-back ventilation system,
Tool-less shield installation and removal.
Cons
The visor seems to produce a lot of noise in 20+mph wind areas,
Not an ideal option for chilly days due to strong ventilation.
5. LS2 Helmets 569-3015 Track Solid Open Face Motorcycle Helmet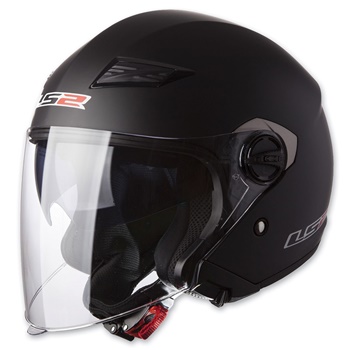 One more open face helmet that delivers unparalleled protection is the LS2 569-3015. If you are a fan of LS2, then you probably know about their OF569 already, right? The 569-3015 is an upgraded, advanced version that comes with a built-in sunscreen and a couple more useful safety and comfort features.
This type of helmet is just great for almost all weather conditions (except for harsh winters). Simply lift the shield to get more ventilation when you feel hot and sweaty at a traffic light or while waiting in the line.
On the other hand, leave the shield in place when it's chilly or rainy but don't worry – the LS2 569-3015 will never get foggy or blur your vision. Barely any other open face helmet offers the exceptional peripheral vision with no obstructions the LS2 helmet provides. Having it of your head just feels like you are looking at the world through a giant, movable window.
This helmet also features a drop-down sun shield that's a breeze to operate. The chin strap is easy to release but to get back on as well.
Motorcyclists enjoy the breathable fine plush comfort liner on the inside of this helmet that acts as a nice shield when it is cold outside. As a cherry to the top, the kinetic polymer alloy shell is highly-protective and makes a true refreshment among the most met, polycarbonate shells.
Pros
¾ shell design,
DOT and ECE approved,
Oval fit,
Removable and washable liner,
5-year warranty.
Cons
Would use more comfortable padding,
Sizes are a bit off.
6. Daytona Helmets Motorcycle Open Face Helmet Cruiser 100% DOT Approved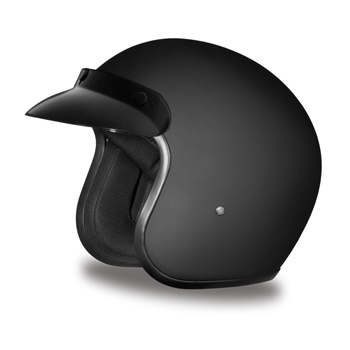 The ¾ Daytona open face helmet offers visual appeal, comfort, and safety. However, safety is something these guys truly wanted to improve with their helmet, which is why their open face models are contour-shaped. Most helmets cut into the driver's neck in case of an accident. The contoured design keeps your head straight as possible and eliminates the chance of getting seriously injured.
Daytona is aware of the discomfort narrow chin straps cause. That's why they designed an adjustable chin strap you can move with one finger. It also features a quick-release lock.
The Daytona open face helmet meets the highest safety standards – FMVSS 218 and is certified by DOT. This company tests their shells in different conditions so they can be worn at any time. If you are an all-year-round cruiser, the Daytona helmet might be the one.
Daytona boasts the smallest open face helmet on the market, which is great for the ones looking for a way to prevent their head from looking bulky. Yet, don't worry, this helmet offers the ultimate riding experience some bigger, supposedly more protective models provide for both small and big heads.
Pros
Available in high-resolution colors, with printed patriotic or landmark themes,
9 sizes to choose from,
Low-profile,
Soft-touch finish,
90 days warranty.
Cons
The chin strap is made of cheap materials and appears loose to some riders.
7. ScorpionExo Belfast ¾ Open Face Helmet
Last but not least, the ScorpionExo Belfast is the final retro-style open face helmet on our list. If you don't want to compromise your safety and head protection but to still feel the dash of wind in your hair, the Belfast will make these cruiser rides possible.
Thanks to the fiberglass shell construction, you won't ever have to worry about the shock-absorbing features of this helmet. Fiberglass is lightweight in the first place, but also highly-protective material that reduces outer impact and minimizes shock.
This helmet comes with two visors – a drop-down and an interchangeable SunView visor that prevent UV rays from damaging your vision. On the inside, there is a soft plush hand-stitched liner while cheek pads are well-padded too. The Kwikfit design of the interior dissipates moisture and sweat and eliminates the pressure on the temples.
Pros
DOT approved,
Hand-laid shell,
Nappa leather liner,
Oval shape,
Available in three shell sizes.
Cons
Depending on the head shape, this helmet makes certain heads look like mushrooms,
The visors are available in dark smoke tones only, which makes them impossible to wear by night.
Open Face Helmet Types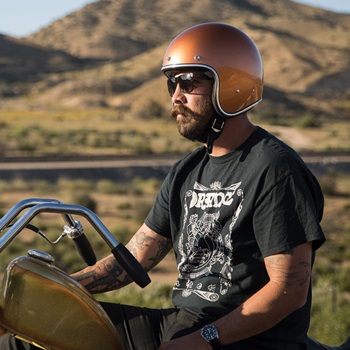 Not all 3/4 helmets are the same. Scooter aficionados and city commuters prefer open face helmets for the ease of use and pleasure these provide. Yet, weather conditions and road debris can spoil your riding experience if you don't have the right type of helmet.
1. With Visors and Shields
In general, open face helmets with visors and shields offer a higher level of protection against debris, bugs, and wind. You can flip the half visor down if the sun is blinding you or to prevent anything from hurting your eyes.
Full visors will protect your entire face. Even though this may remind you of a full face helmet, there is still some room left and no neck protection the latter provides. Still, if you are willing to spend just a little bit more, we would highly recommend getting a helmet with full visor.
2. Without Visors and Shields
We have another category of open face helmets – the ones without visors and shields. Even though the helmet itself provides less protection, that doesn't mean you can't add some features to it to make your rides more comfortable and safe.
Get yourself a model from our motorcycle goggles reviews or motorcycle glasses reviews and you will get an effect of the half visor.
Full-Face vs Open-Face Helmets
No doubt full-face helmets provide better protection and are safer in general than open face helmets. Yet, for some motorists, the exposure to wind and a little sunburn makes riding so much fun.
Just like we mentioned, there are numerous advantages open face helmets offer, such as greater comfort, more ventilation, less claustrophobia, and slightly lower prices.
However, no one can deny full-face helmets provide a snug fit and a significantly higher level of protection on the road. Even though higher-visibility adds on the safety of open face helmets, sometimes you simply can't predict situations on the road.
In case of a collision, a full-face helmet will absorb shock way better and dissipate the impact so your head remains intact. Full face helmets carry the day when it comes to winter and highway rides, while you can adjust the vents and ensure the airflow when you feel like so.
Check our selection of the full-face helmet options here.
Open-Face Helmet Buying Guide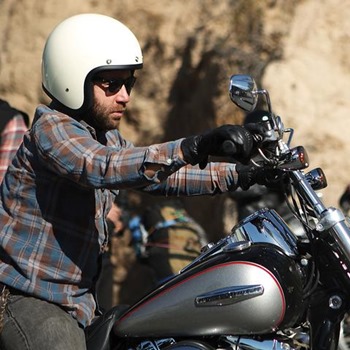 These are some of the most important features to look for when buying an open face helmet:
1. DOT Certification
First and foremost, knowing that most open face helmets compromise on safety in favor of comfort, you want to find a helmet that meets the highest safety standards. Double-check whether your helmet is DOT certified, but being approved by ECE or meeting the FMVSS 218 standard is also acceptable.
DOT stands for Department of Transportation, meaning – helmets that meet this department's standards meet the ultimate safety ratings.
2. Fitting
If your helmet is uncomfortable, chances are you won't be eager to wear it at all. The number one thing that makes a helmet comfortable is its size, but the shape of it is as important. Some helmets come with adjustable or removable lining that makes it more comfortable.
Yet, it would be best to measure your head first and compare the size to the size chart of the helmet you are planning to buy. Here in our helmets page, you can find more useful information on sizing.
3. Noise reduction
Open face helmets are, in general, noisier than full-face helmets. If you want to prevent anticipatory hear loss, look for an open face helmet that is at least somehow aerodynamic. Anything that exceeds 85dB would damage your hearing, so double check on the noise reduction features of your helmet.
FAQ About Open-Face Helmets
1. Do all open face helmets come with visors?
No. This depends on the brand you are purchasing from. Some helmets include both visors and shields, others come without these add-ons. However, if you are eager to buy a helmet that comes without a visor, make sure to protect yourself with goggles.
2. Is it possible to install Bluetooth speakers to my open face helmet?
Most open face helmets don't include speaker pockets. However, depending on your helmet's size and the size of the speakers, you can build them in on your own. Universal ear pads will do.
Summary
An open-face helmet is a lot of fun to wear, especially if you are living somewhere near the coast. The wind blowing at your face, caressing sun rays giving you some tan, and full view at the cafes, beach, or bikini chicks – the best open-face helmet will take you there.
If you read our open-face helmet reviews carefully, we are not doubting at all you will find your best fit right away. Enjoy your rides!
See also: modular helmet reviews