Using the best motorcycle helmet lock for your bike will not only help you with the helmet – it will also help with healthy habit development. A lot of people either lose or forget their helmet, thinking that "just this time without it" is an OK choice, when in fact it isn't.
That's right – you can store the helmet with your bike conveniently and safely. We summed up the best products on the market in our motorcycle helmet lock reviews. Check them out and find your savior!
See The Quick Comparison Chart
What Is a Helmet Lock and Should You Need One?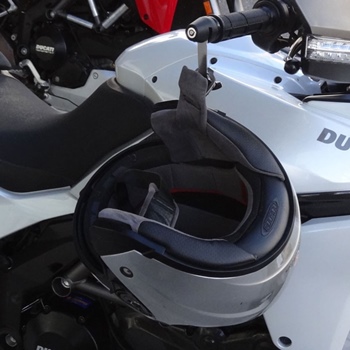 A helmet lock is a handy gadget that will secure your helmet from theft and keep it in place when you are far away from your bike. When riding your motorcycle, a helmet will protect your head, but you want it to protect after the ride as well.
Eventually, you will get off that bike. What will you do then? Leave your helmet unprotected behind or take it with you? Neither seems like a good option, right? Well, locking that helmet with a lock is what you need to do.
Benefits of a Helmet Lock
1. You don't have to carry your helmet all around
When owning a motorcycle, you don't have a bunch of storage space. A helmet lock will keep it safe while you are having a good time.
2. Protects your money
Helmets nowadays come with a handful of super features. Thus, they make a very tempting target to thieves. A helmet lock will protect your investment. Even if a thief tries to steal it, the lock will make their attempt impossible.
3. Helmet locks are affordable
Even though an important part of protective motorcycle gear, helmet locks are inexpensive. Knowing you can protect a hefty helmet with an item that costs 10 or 20 times less, you will understand how much of a value helmet lock provides.
Best Motorcycle Helmet Locks Comparison Chart
PRODUCT
DETAILS

BigPantha Motorcycle Helmet Lock & Cable Carabiner

Price:

$

Customer Rating:

4.2

Type:

Corded

View On Amazon

OnGuard Double-Team PITBULL U-Lock and Cable

Price:

$$

Customer Rating:

4.3

Type:

Cable

View On Amazon

Helmetlok 4101 Rubberized Helmet Lock

Price:

$

Customer Rating:

4.0

Type:

Carabiner

View On Amazon

Kuryakyn 4248 Motorcycle License Plate Helmet Security Lock

Price:

$$

Customer Rating:

4.5

Type:

License Plate

View On Amazon

Bikers Choice Helmet Lock 74937S2

Price:

$

Customer Rating:

4.0

Type:

Handlebar

View On Amazon

Lockstraps 901 Helmet Lock, Black, 2 feet

Price:

$

Customer Rating:

4.0

Type:

Cable

View On Amazon

Master Lock Motorcycle Helmet/Jacket, Multi Purpose 3 ft. Cable Locks

Price:

$

Customer Rating:

4.1

Type:

Cable

View On Amazon
Best Motorcycle Lock Reviews
1. BigPantha Motorcycle Helmet Lock & Cable Carabiner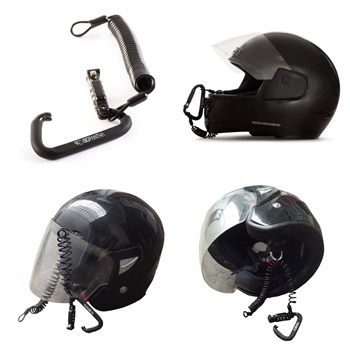 Not only BigPantha is a big name when we are talking about the motorcycle industry, but it has one of the best locks on the market in-store. If you hate wearing your helmet all around, the BigPantha lock may provide good security and excellent overall value.
Made of carbon fiber, this helmet lock stands out from the rest. Instead of making a generic lock, BigPhanda decided to go for sturdy, high-quality materials so you can be carefree about leaving your piece of gear outside.
This helmet lock also features a flexible casing and a rubberized sleeve. These two prevent the lock from scratching your motorcycle and act as another layer of anti-theft protection.
If you ride with your partner, friend, or a relative often, you will appreciate a generous 6-feet long self-coiling braided steel cable of this lock. This cable length is easy to manage and best of all – it still doesn't take up much space.
At only 5.8oz, you won't even feel it. The mechanism uses a 3-digit combination, which means that you should be careful about the numbers you are using, but you will figure this out quickly.
Overall, the BigPhanda motorcycle helmet lock makes a good choice for the ones who find long cord better or the ones who ride in couples, as well as the ones who don't mind PIN-based locks.
Pros
Versatile and reliable,
Protected against corrosion,
Universal fitting for all helmets,
Lifetime guarantee.
Cons
The numbers on the locking mechanism are quite small and hard to read under strong light (e.g. phone flashlight).
2. OnGuard Double-Team PITBULL U-Lock and Cable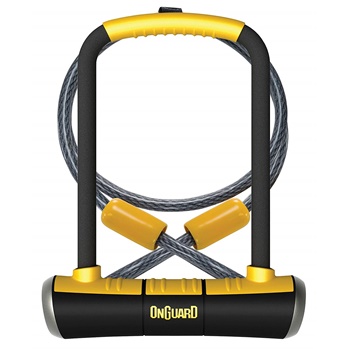 The OnGuard Double-Team PITBULL is packed with features of both a u-lock and a cable, which already tell a lot about how design-conscious this product is. With a bunch of other companies, you would get a single key (a spare key, maybe), but this one – includes 5 keys.
Each of these as a comfortable grip and one of them, with an LED light, is always easy to see in the dark. The automatic keyway cover comes handy when it comes to protecting the internal mechanisms from moisture and makes it way harder for thieves to rob you.
A double rubber-coated shackle and co-molded crossbar cover will ensure your bike's finish stays intact. OnGuard designed a motorcycle helmet lock that protects you from the rain, thieves, and even from itself.
The Double-Team PITBULL lock features an X4P Quattro Locking Mechanism that comes with a double-bolt lock and provides 4-sided protection. With a 4-feet long and 14mm thick cable and a great set of extra features this product offers, you must admit it makes a solid purchase.
Pros
Braided steel cable,
It comes with all-tube mounting bracket,
Lifetime warranty.
Cons
A few customers complained they have lost one of their keys, but you still have 4 spare ones,
Riding couples may find the cable too short.
3. Helmetlok 4101 Rubberized Helmet Lock
Some people simply don't like helmet locks but they are still aware they need something to protect their helmets, sometimes jackets. The Helmetlok 4101 is designed that way exactly – to provide excellent security without requiring you to invest a lot of effort into using it.
This one is simple – open it up, slip through your helmet, and lock where you think it is suitable. The Helmetlok 4101 truly takes away the hassle most helmet locks include. You can attach it almost anywhere you like as it boasts a pivoting locking arm.
Lightweight and compact, you can fit it anywhere you like. This carabiner-style lock is made of aluminum and is coated in a protective plastic layer that prevents scratches.
With this helmet lock, you get a 4-digit mechanism. Combination locks are considered to be less protective, in general, but these 4 digits make a big difference. So, the Helmetlok 4101 is a specialized, very simple and lightweight lock that doesn't boast extra features, but still does the work and provides a good level of security.
Pros
No risk of losing a key,
Allows you to attach it to anything with a 1.5-inch diameter,
Zinc alloy, weather-resistant locking mechanism.
Cons
Aluminum construction is not that sturdy when it comes to helmet locks.
4. Kuryakyn 4248 Motorcycle License Plate Helmet Security Lock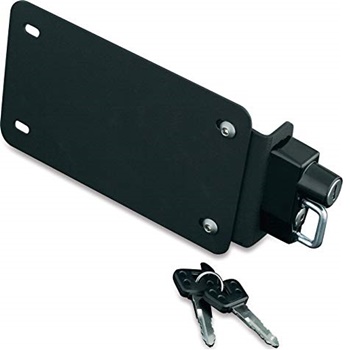 The Kuryakyn 4248 helmet lock offers a convenient and unique solution when it comes to protecting your motorcycle gear. It boasts a bit unusual design and reminds of a license plate lock.
Rather simple, this lock is simple to attach to the back of your bike. Due to the 4 by 7-inch size, you will have no hard time attaching it to your license plate. The only exception here would be curbed or other rare forms of plate frames.
Sturdy as steel, the Kuryakyn 4248 lock offers a solid level of security. It takes a special hex key to install the lock, which almost ensures 100% protection. Saying thieves usually don't come across this type of lock and don't have a hex key near at hand, chances to stealing your helmet are slim to none.
The seller includes 2 keys in the package. Yet, the locking bail shuts off itself so you won't have to use the keys to close the lock.
This helmet lock is tough, a little different, works quickly, and it is pretty secure. Even though it doesn't come with a cord, some thieves may be thinking your motorcycle is an easy target, but what they will find will chase them away.
Pros
Tamper-proof screws,
Stress-free access,
Universal.
Cons
The design of this lock makes it seem like there is no lock, which may make your bike more alluring to thieves.
5. Bikers Choice Helmet Lock 74937S2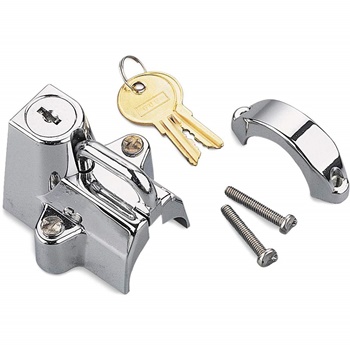 The Bikers Choice helmet lock 74937S2 is a type of lock that comes with a lot of tubing. Just make sure you have longer screws when opting for larger tubing (7/8 to 1-1/4). However, note this lock is suitable for motorcycles with stainless steel tubing only.
This lock offers a high level of protection though. It comes with a key, locking system, and all the hardware you need for installation. As it comes with tamper-proof screws, you can rest assured of the quality and the overall safety of this lock showcases.
Chrome-plated, this universal mount lock is easy to set up. You can install it to the saddlebag or front-engine guard and don't even worry about the safety of your helmet.
Rust and corrosion-free, the Bikers Choice helmet lock is universal, durable and reliable, the construction you can rely upon.
Pros
One-way screws,
You can lock two half helmets with it,
Looks sleek on the bike.
Cons
The installation isn't as straightforward as it should be.
6. Lockstraps 901 Helmet Lock, Black, 2 feet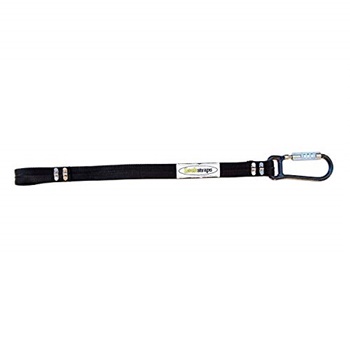 Although the Lockstraps 901 doesn't seem like the toughest lock, there is a lot more about it than it meets the eye. Its nimble design may make you doubt its performance, but it is actually very reliable.
This strong construction made of heat-treated steel will protect your helmet from theft. The Lockstraps 901 helmet lock boasts a 3mm cable, galvanized rivets, and 2 heavy-duty nylon straps. Nylon protects your bike from scratches while steel provides security.
The lock weighs 1 pound only and features 2-feet length, which makes it easily portable. When not in use, it takes up very little space so you can tuck it anywhere.
Another useful feature about the design you may appreciate is the clasp-design. It offers high-level security as it is hard for the thieves to guess your combination.
The Lockstraps 901definitely looks less safe than it actually is. Yet, don't get tricked, as this helmet lock is a tough one. If you are looking for a small lock or simply don't want to constantly think about where your keys are, this one will do the job seamlessly and quickly.
Pros
Almost impossible to cut through,
Multi-purpose,
Small footprint.
Cons
It is not rubber-coated,
Some may think this type of lock is less safe than key locks.
7.  Master Lock Motorcycle Helmet/Jacket, Multi Purpose 3 ft. Cable Locks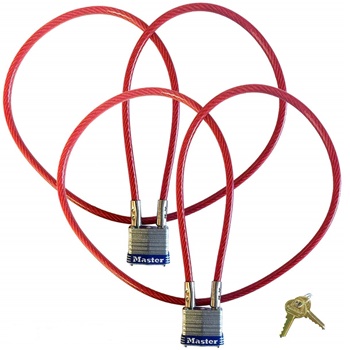 If you are in the category of the ones who prefer keys, Master Lock has this padlocked key design 3-foot loop lock for you. It offers unbeatable value as you get 2 locks instead of one, which helps with keeping your helmet safe.
Riding with your partner? Then you two will like the fact keys are not independent. The cord is 5mm thick and pretty much secure. Even though it is made of braided steel, don't worry it will damage your motorcycle finish. Coated in vinyl, the cord will keep your helmet secure and your bike intact.
This padlock is made of laminated steel. There's no chance it would get pried off, as it boasts 1-/8-inch width while steel shackle and dual-locking levers are supporting the lock.
Riding partners or couples like this lock as it provides great security and it is simple to use.
Pros
You are getting 4 keys in total,
Doesn't take up much space,
Lifetime warranty.
Cons
A few customers complained about the cheap construction.
How Does a Helmet Lock Work on a Motorcycle?
Once you get your lock attached to the frame of your motorcycle, you should fasten the helmet to the lock. Depending on your lock, for instance – if you have a key lock, you will use a key to lock the helmet to it, which will prevent anyone trying to grab your helmet from disconnecting it from a lock.
Helmet locks boast different safety ratings and come in various shapes and sizes. Read more about this in the following section.
Types Of Motorcycle Helmet Locks
1. License plate helmet locks
Just like you can guess by their nomenclature, license plate helmet locks are attached behind your license place holder. This type of lock is invisible and won't spoil your bike's appearance. Made of strong and durable materials, license plate helmet locks are a breeze to install.
However, as they are not visible, motorcycles with this type of helmet lock may attract more thieves. Even though this type of lock provides a high level of protection, you may be seeing burglars around your bike more often than with some other types of locks.
2. Handlebar helmet locks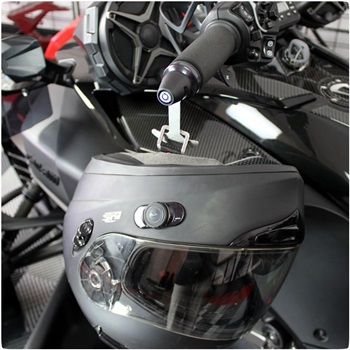 Obviously easily visible, a handlebar lock gives off a clear message to the world – my helmet is well-protected. This type of lock fits most helmets and motorcycles and is usually painted in vibrant color, even though you can find some neutral options as well.
3. Corded motorcycle helmet locks
Corded locks are easy to wrap around your helmet and your motorcycle, which ensures this bond is pretty much unbreakable. Encased in rubber, corded locks won't scratch your bike's finish. This type comes in 2 variants – one that comes with a key, another features PIN access.
When in motion, you can tuck away your corded lock so it doesn't interrupt your ride. If you manage to find a cord long enough, you will be able to lock in 2 helmets at once. Corded locks are also very versatile.
4. Bolt helmet locks
If you want to install a permanent lock on your bike and save yourself some time, a bolt lock may be the one you are looking for. Cylindrical bolt locks are pretty versatile and you can install one to the frame tube or engine guard.
Convenient and easy to set up, bolt locks are not as attractive as the other types but are still highly functional. Note that this helmet lock can't operate without a key.
5. Carabiner motorcycle helmet locks
Simple to use, carabiner locks use PIN combinations – mostly 3 and 4-digit ones. There is no risk of losing your keys with this lock, which makes it a good choice for the ones who don't want to live in fear of losing a key. Yet, make sure to write your combination down and leave it at home – just in case you forget it.
How Do I Use My Helmet Lock?
We gave you a rough explanation of how to use a helmet lock, but here, you can get familiar with this easy process of locking your helmet.
If you have a lock that comes with a wire, you need to put it through the chin area of your helmet. Then you take both and attach them to the bike. Most of the time, motorcyclists connect their locks to the handlebars, even though you can lock it anywhere else.
If you have an open face helmet, you will need a lock that goes through the chinstrap. Obviously, different types of lock suit different types of helmets.
Motorcycle Helmet Lock Buying Guide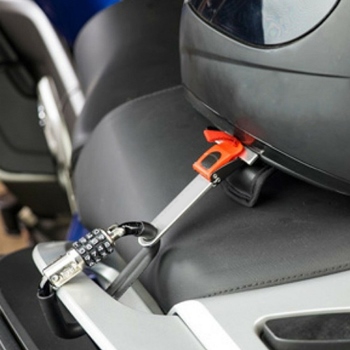 When purchasing a motorcycle helmet lock, you want to keep a few essential features in mind. Make sure your pick boasts at least a couple of the following characteristics:
1. Material
When investing your money into something, especially in something that is so important like a helmet lock, you want to double-check the materials used for making it. You want a lock that is strong and durable. If possible, opt for heavy-duty materials, such as stainless steel, which is famous for its strength and resistance to heat.
Thieves will have a hard time tampering with hard steel. However, harder steel is usually more expensive.
2. Cable length
When writing our reviews, we noticed some customers complained their cords were not long enough. We don't want you to feel cut short, which we highly recommend you to pay attention to the cable length of the lock you have in mind.
Even going for a couple of extra inches won't make such a big issue, especially if you travel in pair. Also, longer cable length allows you to secure your helmet comfortably.
3. Portability
This section doesn't apply to bolt locks, as this one stays attached to your bike. However, the other 4 types of locks are still in the game (although some cord locks are lengthy). You should look for a portable, lightweight, and easy to store lock. Some locks appear bulky, especially if you would wear yours in a pocket.
4. Ease of use
Some locks are plain, others too complicated. No matter if you are looking for a permanent or temporary solution, you will need a helmet lock that's easy to install and use. If you can't open and close it within seconds, it is not worth the purchase.
5. Weatherproof
Motorcyclists love riding in all types of conditions and weather (thank God they've designed top-rated full face helmets or top-rated modular helmets). However, that means your bike's accessories will get affected by the weather.
Helmet locks that boast PVC coating or the ones that are rust and water-proof are the best ones.
FAQ About Motorcycle Helmet Locks
1. Where to Install Motorcycle Helmet Lock?
You have a couple of options – handlebars, saddlebag, front-engine guard, to the back of the license plate. Yet, you can be creative here and lock it wherever it feels safest.
2. What Should I Do If I Lose The Combination?
You may be thinking you are in trouble, but listen carefully. Don't try to cut off your steel helmet lock, as you would cause damage.
First thing – try to contact the seller. Many companies have excellent customer service and offer a solution. One of these solutions is to reset the instructions.
Take all the numbers on the lock to zero so that you can see them clearly. Then, press the A button and slide to B, and go in reverse. This will take you to the step when you can make a new combination. However, keeping holding the B button, and release after you do the reset.
3. Are Helmet Locks Water Resistant?
Yes, some of them are. If you like riding even when it is raining or snowing outside, a steel lock may be a great pick. Most helmet locks are coated with resistant elements and hardened, which makes them water-resistant.
However, make sure to double-check whether there are any signs of rust after having a wild ride in the rain.
4. How To Maintain a Motorcycle Helmet Lock?
Helmet locks usually don't require a lot of maintenance as they are already protected by vinyl coating or nylon. It would be more than enough to keep it in a dry place when not riding or spray it with some lubricant oil every once in a while.
Wrap Up
Tough, well-made, lightweight, waterproof – that's the best helmet lock if you ask us. However, we gave you the most famous products to choose from. If you read our helmet lock reviews carefully, no doubt you've already found a lock that will chase those nasty thieves away.