One of the best ways to invest in safety is to get yourself the best dirt bike helmet. Motocross is risky and exciting. If you enjoy adrenaline rushes while off-road, you'd better protect yourself well. Remember – safety first! A good helmet should protect you and help you express your style as a rider.
Down below, there are motocross helmet reviews to help you find the best fit. There's also a buying guide for the ones who are just starting with this dynamic sport, including the answers to the most common questions. Let's just jump into it!
See The Quick Comparison Chart
Why Dirt Bikes/Motocross Helmets?
1. Purpose
If you have plans on attempting dirt bike riding, you should know wearing an appropriate helmet will keep you comfortable and protected no matter the riding surface. What is more, a helmet is not an option, but a must-have if you are into adrenaline sports. Their main purpose is to make the rider fully-equipped for the race or arena.
2. Safety
You shouldn't compromise on your safety – ever! Just like full-face motorcycle helmets, dirt bike helmets are designed with the rider's safety in mind, especially because motocross can get dangerous. No doubt you want to protect your brain, and a dirt helmet will help you with it.
Motocross helmets feature multi-layer linings, sturdier shells, padded chin straps, and other numerous safety add-ons to keep you tight while performing those dizzy jumps.
3. Ventilation
It would be almost absurd to wear a regular street helmet to a race. Standard helmets usually come with fewer vents and exhaust ports for a clear reason – street riding is smooth and even monotonous in comparison to motocross riding.
Do you wanna suffocate under your helmet due to high blood pressure and bad ventilation? That's what we thought! Dirt bike helmets are well-ventilated to ensure the rider never gets out of the air in case of an adrenaline rush.
Safety Standards of Dirt Bike Helmets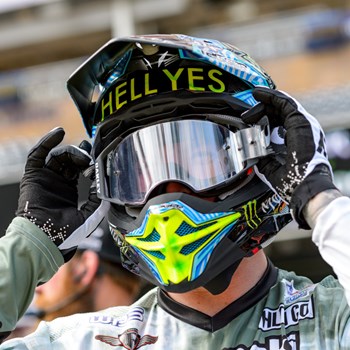 Can we have your attention, please? Thank God! Because if you would try to get away with wearing a dirt bike helmet your attention would be long gone.
If you were reading through our reviews carefully, you must have noticed things such as DOT, ECE, FMVSS 218, right? Do you know why these are so important that we mentioned at least one of these in each review?
Because all of them represent a level of safety these dirt bike helmets fulfill.
However, it's nice to know that different country has different requirements for safety and thus, different safety standards.
The United States recognizes and approves DOT rating, issued by the Department of Transportation. The highest safety standard for Europe is ECE, for the UK it's BS, Australia AS1698, and NZ 5430 for New Zealand.
1. DOT
Even though it stands for the minimum standard, DOT certification is still just enough and you have a green light to buy any helmet with this label.
2. SNELL
SNELL certification is issued by an independent organization. When manufacturers submit their helmets to this organization, they get their helmet certification for the next 5 years (of course, if the helmet meets safety standards). SNELL certification is more appreciated than DOT, but still, any of these is perfectly fine.
3. ECE
ECE is the most recognized safety standard among the EU. Comparing ECE to DOT, there are numerous similarities between the two. The only difference is that DOT assigns their certification according to the manufacturer's integrity while ECE requires manufacturers to test their helmets prior to their release.
As we already said, Australia has their own safety rating, even though the ECE Europe certification is widely recognized there as well. If you are from Australia, buy helmets with AS/NZ or ECE certification only.
We also highly advise you to buy helmets from authorized stores or directly from manufacturers. Don't buy used dirt bike helmets, especially when knowing you are getting exposed to a certain level of risk even when wearing a new helmet.
A second-hand dirt bike helmet that's been involved in a crash would make you sweat so hard in the first place, but its structural integrity is messed up in this case for real. Just stay away from any used helmet.
After all, the newest dirt bike helmets are packed with some pretty cool safety and comfort features that it would be a pity to wear an outdated model to a race.
Best Dirt Bike Helmets Comparison Chart
PRODUCT
DETAILS

YEMA YM-915 Off-Road Helmet – DOT Approved

Price:

$

Customer Rating:

4.5

Sizing:

3

Safety Rating:

DOT and FMVSS-218

Weight:

2.8 lbs.

View On Amazon

LS2 Helmets Motorcycle & Powersports Helmet's Off-Road Subverter

Price:

$

Customer Rating:

4.4

Sizing:

7

Safety Rating:

DOT certified

Weight:

4 lbs.

View On Amazon

Vega Helmets VRX Advanced Off-Road Motocross Dirt Bike Helmet

Price:

$

Customer Rating:

4.5

Sizing:

6

Safety Rating:

DOT and ECE approved

Weight:

3 lbs.

View On Amazon

LS2 Helmets Fast-Explosive Off-Road MX Motorcycle Helmet

Price:

$

Customer Rating:

4.1

Sizing:

7

Safety Rating:

DOT and ECE accepted

Weight:

2.97 lbs.

View On Amazon

Shoei VFX-EVO Off-Road Motorcycle Helmet – Black

Price:

$$$$

Customer Rating:

5.0

Sizing:

1

Safety Rating:

DOT

Weight:

4.8 lbs.

View On Amazon

6D Helmets ATR-2 Helmet – Solid (Large)

Price:

$$$$$

Customer Rating:

5.0

Sizing:

6

Safety Rating:

DOT

Weight:

6.3 lbs.

View On Amazon

2020 Fox Racing V3 Solid Helmet – White/Silver XL

Price:

$$$$

Customer Rating:

4.0

Sizing:

4

Safety Rating:

DOT, ECE, FMVSS-218

Weight:

5 lbs.

View On Amazon
Best Dirk Bike Helmet Reviews
1. YEMA YM-915 Off-Road Helmet – DOT Approved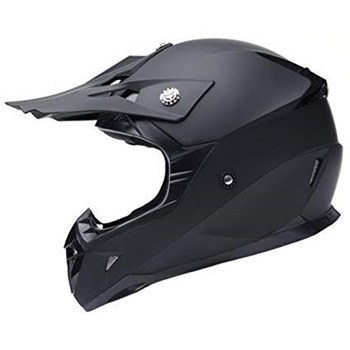 Yema is a trustable brand when it comes to motorcycle gears, especially dirt bike helmets. Their YM-915 is designed to provide utmost protection by meeting 7 safety standards, including the most important one – being approved by DOT.
Typically for dirt bike helmets, the YM-915 comes with a tool-free sun visor you can snap on or off in seconds. If you don't want sunrays to mess up with your vision or any dust, sand, or gravel to stray under your helmet, this add-on will come handy.
The ABS shell helmet features aerodynamic properties, which are highly important for adrenaline enthusiasts. This model holds a high place in terms of ventilation for sure It provides proper ventilation and air circulation but reduces wind noise drastically.
Additionally, you can adjust intake and exhaust vent ports and increase or reduce the flow of air.
Thanks to multi-density EPS foam and soft liners on the inside, the YM-915 will keep your head tight and absorb eventual outer impacts that are particularly common with motocross riding.
Speaking further on the interior, the Yema helmet boasts an anti-microbial, moisture-wicking liner that will absorb excessive sweat. However, as there will still be a lot of it, Yema designed their dirt bike helmet with a removable and washable liner.
Cool, comfortable, and dry rides – the Yema YM-915 will become your best friend for high-speed, adrenaline experiences.
Pros
The reinforced chin strap,
Quick-release buckle,
Ideal for outdoor riding activities – touring, mountain bike, dual sports, etc.
Cons
Usually runs small, so always go for a size up if ordering.
2. LS2 Helmets Motorcycle & Powersports Helmet's Off-Road Subverter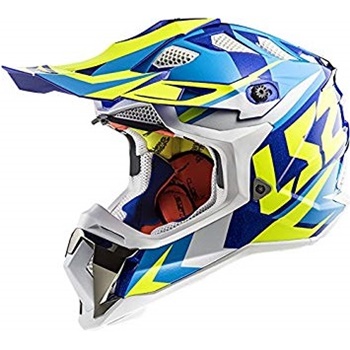 The LS2 Subverter is a game-changer for dirt bike riders and people who love adrenaline. This high-performance helmet features a KPA (Kinetic Polymer Alloy) shell. KPA is well-known for being lightweight yet sturdy. It doesn't allow much flex, which adds on the safety of the rider and prevents the helmet from dissolving the eventual impact.
Besides that, the absorbing EPS liner is also here to provide more comfort and to level up protection. LS2 even integrated an additional polycarbonate layer on the inside and the dual-density EPS as well.
So many layers make the energy absorbed easily, but also prevent the helmet from slipping. No doubt L2S took energy management to another, improved level.
Yet, it features additional comfort features, as well as proper ventilation. There are 35 ventilation ports and the eye-port is wide enough as well. Also, a channeled EPS comes as a cherry to the top and makes the LS2 Subverter one of the most ventilated dirt bikes helmets among the competition.
Of course, the LS2 Subverter is DOT and ECE certified. Safety and comfort are what you can expect with this one, even when riding aggressively.
Pros
Emergency release cheek pads,
Accommodates any brand of goggles (LS2 sells theirs separately).
Cons
Available in 3 sizes only, which makes it a bit tricky to find the right fit.
3. Vega Helmets VRX Advanced Off-Road Motocross Dirt Bike Helmet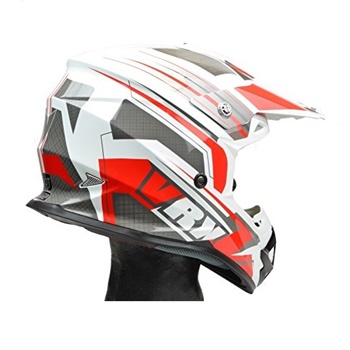 Vega helmets are well-known for the protection they provide. Their high-quality VRX off-road helmet deserves a high 3rd place on our list due to sturdy structure, awesome shell, and great ventilation.
The VRX features a glossy and sleek shell coated in 6 colors. It also comes with a large eye port so that you can see the whole surrounding without any struggle and even accommodate a pair of top-rated motorcycle goggles.
What customers love about the VRX is the detachable visor. You can put it on to protect yourself from sunburns, heavy rain, flying debris, whatever (you already know scorching rides can be nasty). The visor is a breeze to take off when you feel like not using it.
As expected, the VRX meets both DOT and ECE standards. Its polycarbonate shell perfected by highly-absorbing high-density EPS liner manages the impact that would be transmitted to the head if you wouldn't be wearing a helmet.
Vega designed this off-road helmet to ensure maximum circulation. The multi-channel ventilation system cools the temperature down and makes long and intense rides more comfortable.
On the inside, a cozy max-flow liner provides a snug fit to your face and soothes the skin. All in one, the Vega VRX provides multiple useful features off-road riders appreciate.
Pros
Removable and washable liner,
Adjustable and padded D-ring,
Lightweight design,
5-year warranty.
Cons
Vents are not adjustable.
4. LS2 Helmets Fast-Explosive Off-Road MX Motorcycle Helmet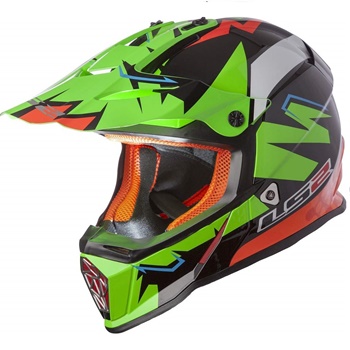 We are already accustomed to LS2 setting standards on the helmet market. Here comes their Fast-Explosive version, an innovative and sleek piece of motorcycle gear.
It is ultra-lightweight, but still highly resistant to penetration. This helmet also allows a bit of energy absorbing proprieties, although not too much – for the purpose of absorbing impacts.
Made from Kinetic Polymer Alloy, which we already mentioned as sturdy and safe shell material, the Fast-Explosive features a multi-density EPS safety liner. Speaking of safety, this helmet meets and exceeds DOT standards so you can be fully confident about wearing it when dirt bike riding.
The LS2 Fast-Explosive is comfortable to wear too. It comes with a reinforced double D-ring chin strap and well-padded cheek pads you can release in case of an emergency.
LS2 boasts a high level of ventilation, as usual, and features dynamic flow-through circulation as well as both intake and exhaust ports. Thanks to constant airflow, you will never get all sweaty under the helmet, no matter the length of your day on the trail.
Pros
Wide eye port that accommodates goggles,
Washable and removable interior,
Hypoallergenic padding,
Long oval fit.
Cons
Some customers find it too padded in the cheek area.
5. Shoei VFX-EVO Off-Road Motorcycle Helmet – Black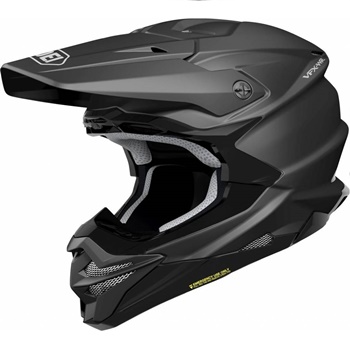 If you want to turn heads when in the arena, the Shoei VFX-EVO helmet will make you number one. This Shoei helmet boasts the unique EPS liner and Motion Energy Distribution System. M.E.D.S. reduces rotational acceleration and absorbs sudden impacts to the head. According to tests, this technology reduces up to 15% of rotational energy.
Shoei tries hard to offer unique solutions to their customers. That's why they designed a unique shell made of organic fibers and fiberglass. Boasting high performance, the VFX-EVO is still ultra-lightweight and offers a certain level of elasticity.
The VFX-EVO got at as the mudguard. Made of plastic, this guard stays firmly in place and protects your face from mud but doesn't interfere with goggles.
Speaking of safety feature, there is a braced nose cover. It prevents dust and other harmful particles from entering your nose. Made of aluminum mesh, it won't rust and you can take it off easily for when the cover needs some cleaning.
As a cherry to the top, the VFX-EVO comes with an adjustable, top-ranked visor that ensures upward visibility in the first place. Set it to your liking thanks to a special fixing nut and secure in place before the race.
All in one, the Shoei VFX-EVO helmet is a real example of how well-performing newly-designed motor gear is.
Pros
Aerodynamic properties,
Wide front intake vents,
Removable liner,
Emergency quick release straps,
DOT and Snell M2015 approved.
Cons
Available in 4 sizes only.
6. 6D Helmets ATR-2 Helmet – Solid (Large)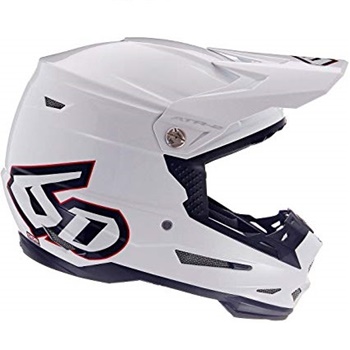 The 6D Helmets ATR-2 model could be the one you have been looking for – whether you are a recreational or competitive rider. These guys raised the bar on brain protection by introducing the advanced ODS system.
This helmet is sturdy enough to resist moderate to severe impacts. The EPP, one of the best energy-absorption materials supports the ODS technology and adds on the overall safety of the rider. According to 6D Helmets, the ATR-2 may be rebuilt due to these features, but only in case the shell is not severely damaged from the impact.
The ATR-2 features the optimized shell design, which means the shell is made of multiple materials that provide better energy management. 6D Helmets know the importance of structural shell integrity, but this doesn't take away all the elasticity.
One more important ATR-2 feature is its expanded 6D polypropylene outer liner. Strategically positioned, this liner deploys multiple impacts, even on the inside of the helmet.
Pros
Emergency release cheek pads,
Washable liner,
Solid ventilation system,
Available in 6 sizes,
3-year warranty.
Cons
7. 2021 Fox Racing V3 Solid Helmet – White/Silver XL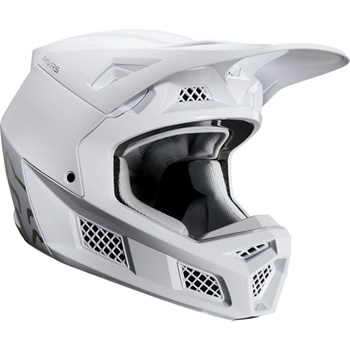 Fox Racing takes pride in being the first motorcycle helmet that features two rotational management systems. So far, the V3 holds a high place to be one of the most technologically advanced motorcycle gear. Ken Roczen and Ryan Dungey, world-famous athletes, wear it proudly.
The V3 is designed to reduce stress, rotational acceleration, and linear energy that would be otherwise distributed right to the rider's brain in case of an accident. Additionally, thanks to the dual-density liner, the shell mitigates external impact and spreads it across a wide area.
And that's not the end – the V3 comes with patent-pending parts that contribute to energy management. Multi Composite Technology is used to design the shell of the V3. This system combines FRP resins and carbon, which makes the helmet feel lightweight but also highly resistant to external shell.
Kill two flies with one stone with the V3 helmet. It features mesh vents for increased airflow and ventilation that also prevents any debris and dirt from reaching your face and respiratory organs.
However, as riding a dirt bike truly becomes dirty, you can remove and wash the liner and cheek pads and take them back within seconds for the next round.
Pros
Antimicrobial cheek pads,
Moisture-wicking technology,
Meets the FMVSS 218 and DOT standards,
3 shell and 4 EPS sizes available to choose from.
Cons
Features white finish only.
Dirt Bike Helmets vs. Standard Helmets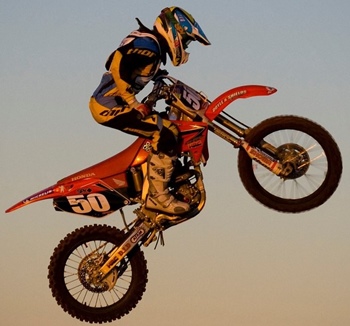 We already explained some of the biggest advantages of wearing a dirt bike helmet to a standard helmet, but here are main differences between the two:
1. Weight
Dirt bike helmets are made to be lightweight. A rider needs protection, but not a piece of gear that would sit at the top of their head, messing up with their overall performance. For the same reasons, standard helmets weigh a few pounds (around 5lbs) with a few exceptions.
2. Face shield
Motocross helmets are more lightweight from standard helmets for another reason – they come without face shields. Ratcheting mechanisms and face shields are, in general, on the heavy side.
Still, some motocross models feature large eye ports (you can integrate your goggles here), others come with mudguard or mesh to prevent debris from flying in.
3. Aerodynamics
Standard helmets are more streamlined and aerodynamic. Even at high speeds, the air is being deployed down the rider's back and over the top of the helmet.
On the other hand, an off-road rider would have numerous issues with the visor as they would be speeding up. The aerodynamic feature provides higher resistance, which is not recommendable for dirt bike riding.
4. Ventilation
To make dirt bike helmets more lightweight, manufacturers design these helmets with numerous air vents, air channels through the EPS liner, and extra air channels. Standard helmets do offer some ventilation but not the same level as motocross helmet do.
5. Level of protection
When we say protection, we mean – protection from debris, noise, and weather conditions. Dirt bike helmets are noisy and offer some, but not that high, level of protection from flying debris, gravel, rain, and coldness.
Standard helmets, depending on the model, usually offer higher noise reduction features and protect the rider's face more.
6. Safety
Last but not least, motocross and standard helmet boast different safety levels. Off-road riding is a bit dangerous itself, while the lack of visors and shields reduces the safety of these helmets even more. Standard helmets are safer to wear but are not an off-road option.
Dirt Bike Helmet Buying Guide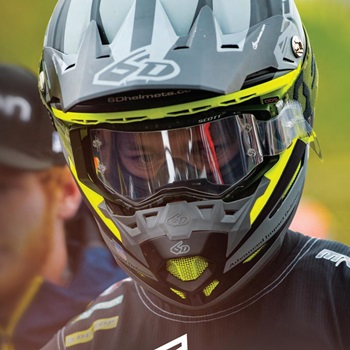 You probably already got into tune with dirt bike helmets. Here are some of the most important features to look for when buying your helmet:
1. Venting
You need a helmet that won't make your all sweaty, which means – you need both back and front circulation. Look for a motocross helmet with intake scoops and exhaust vents, as these ensure optimal airflow.
2. Moisture-wicking technology
However, as it is practically impossible to avoid at least a couple of sweat drops, it's nice to own a helmet with moisture-wicking technology to absorb these drops.
3. The right fitting
You can't feel fully comfortable and safe without a helmet that fits well. You should measure your head and compare your results to sizing charts on the manufacturer's page. If you are not confident about how to do this, visit our general helmets page and learn how to do the measuring.
4. Durability
Polycarbonate and carbon fiber shells have proved to be the most durable for motocross riding. They are also lightweight, which is another criteria to pay attention to when making a purchase.
5. Safety standards
No need to do much talking here – pay attention to which safety standards your helmet meets.
6. Additional Features
1. Color
It's always good to opt for light or fluorescent colors when buying a dirt bike helmet. This would increase your visibility, which is especially important when riding off-road during the night.
2.Rotational force protection
It's very important for a motocross helmet to be able to dissipate energy in case of an impact. Rotational acceleration is harmful to the brain tissue, which is why it is good to look for a helmet with rotational protection if you want to remain safe.
3. Compatibility with other motorcycle gear
If you want to ensure the highest level of safety while off-road riding, look for a helmet that's compatible with motocross neck braces that provide a higher level of protection.
Top-rated motocross boots will combine perfectly with a sleek helmet as well.
FAQ About Motocross Helmets
1. Why do dirt bike helmets have a different shape to street bike helmets?
Motocross includes a lot of dust, mud, and other flying debris, which is less common with street riding. That's why dirt bike helmets boast a different shape and come with the peak to protect their eyes.
It's also for safety reasons, as dirt bike helmets are, in general, less safe than standard helmets, so manufacturers try to compensate it with the shape.
2. How can I maintain my dirt bike helmet in a good condition?
Clean the shell and visor after every ride, vents and intakes every week, lining and cheek pads every month, and the whole interior every six months. This should be enough to keep your motocross helmet safe and sound for the next 5 years.
Wrap Up
Is it clear by now why you need the best motocross helmet? No matter the excitement, the most important thing is to keep yourself safe. Any of the above-listed helmets will protect your brain in case of an injury, and let's get real – off-road riding includes a lot of falls.
Make sure to double-check our dirt bike helmet reviews and order your new piece of gear today!