Full face helmets are nice, open face helmets as well, but the best modular helmet combines the best of both worlds. It offers unbeatable performance, convenience on the road, and control over numerous settings. if you have no experience with this type of helmet, you have come to the right place, or rather the right article.
Check out our modular helmet reviews and see yourself a number of styles, sizes, shapes, safety, and comfort features this type of helmet offers. Without further ado, let's right get into it!
See The Quick Comparison Chart
What Is a Modular Helmet and Should You Have One?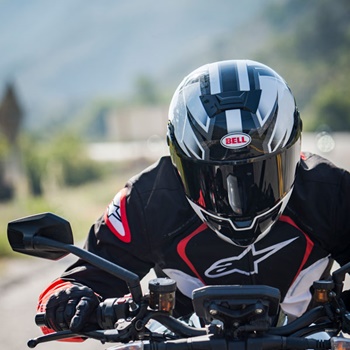 A modular helmet is a piece of motorcycle gear that blends the best features an open face helmet and a full-face helmet. This type of hybrid helmet is designed to give a rider the freedom of an open face helmet but protects their head in case of an accident the way a full-face helmet does.
Yet, the main reason for the overnight popularity modular helmet has gained lays in the numerous convenient features it offers – extra ventilation, ear and face protection, noise reduction, communication-ready system, and a bunch more. Most of these features are under your control, allowing you to set the conditions according to your liking.
Why Choose Modular Helmets?
If you are still unsure whether a modular helmet is the right choice, this section will make it clear why more and more bikers have one in their arsenal.
1. All-weather convenient
Weather conditions will ruin your trip never again. Whether it be wind, rain, snow, blinding sun – a modular helmet offers the protection a full-face helmet does. Just close it, and enjoy your ride!
2. Simple to use
Putting your helmet on and taking it off each time you want to take a drink, take a short break, or talk to someone is such a waste of time. Modular helmets boast a super-convenient chin-up feature (similarly to open face helmets) you can open and close with a single press of a button.
3. Compatibility
All of the modular helmets we reviewed in this guide come with flip-down sun visors. A visor protects your eyes from UV rays so you don't have to wear sunglasses or goggles. Yet, another convenience of a modular helmet is that you can still wear sunglasses if you want to.
4. Ventilation
Modular helmets are highly-breathable. Most of the models come with front and rear air vents that allow the air to escape. This will make it easy to concentrate on the road even when it is boiling hot outside.
5. Design
No one can deny the sleek appearance of modular helmets. Some of our picks boast an impeccable design that will make you stand out from the mass. Modular helmets engineered for multiple purposes usually feature bright colors, as the manufacturers have in mind you may be off to the races.
Are Modular Helmets Less Safe?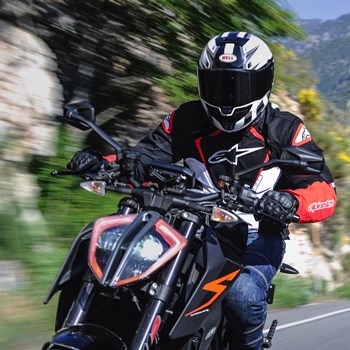 Absolutely not. Motorbike riders are having numerous debates on this matter, but the truth is – modular helmets are completely safe to wear.
The main reason for wearing a helmet is to ensure your safety on the road and prevent fatal outcomes. Modular helmets protect your ears, face, and even neck. Even though you can hear these provide more freedom than full-face helmets, they are widely considered at one of the best safety options.
On the other hand, modular helmets prevent dust, rocks, wind, sun, rain, or any other external factor from distracting you while you are on the road. Some of the high-end modular helmets even feature anti-fog shields or other accessories that add to the overall safety.
As a cherry to the top, modular helmets are, in general, more affordable than their full face counterparts, which contributes to their popularity even more.
To ensure you are safe while riding, always double-check your modular helmet's lock button. Having your button unsecured can affect the integrity of your helmet negatively. Also, check all the moving parts and tighten in case any of them is loose.
Riding at higher speeds? Then we would recommend to always have your modular helmet's hinged bar flipped down.
Best Modular Helmets Comparison Chart
PRODUCT
DETAILS

HJC 980-615 IS-MAX II Modular Motorcycle Helmet

Price:

$$

Customer Rating:

4.5

Shell Type:

Polycarbonate composite

Safety Rating:

DOT certified

Weight:

2.1 lbs.

View On Amazon

Shoei Solid Neotec 2 Modular Motorcycle Helmet

Price:

$$$$$

Customer Rating:

4.6

Shell Type:

Multi-Ply Matrix AIM

Safety Rating:

DOT certified

Weight:

5 lbs.

View On Amazon

ScorpionExo EXO-GT920 Modular Helmet

Price:

$$

Customer Rating:

4.1

Shell Type:

Polycarbonate

Safety Rating:

DOT certified

Weight:

2 lbs.

View On Amazon

LS2 Helmets Strobe Solid Modular Motorcycle Helmet with Sunshield

Price:

$

Customer Rating:

4.3

Shell Type:

HTTP composite

Safety Rating:

DOT certified

Weight:

4 lbs.

View On Amazon

Simpson Unisex-Adult M59L3 Mod Bandit Modular Helmet

Price:

$$$$$

Customer Rating:

5.0

Shell Type:

Polycarbonate composite

Safety Rating:

DOT certified

Weight:

1 lb.

View On Amazon

Bell Revolver Evo Modular Motorcycle Helmet

Price:

$$

Customer Rating:

3.9

Shell Type:

Polycarbonate

Safety Rating:

DOT, FMVSS 218

Weight:

5.5 lbs.

View On Amazon

ScorpionEXO AT950 Unisex Modular/Flip Up Motorcycle Helmet

Price:

$$

Customer Rating:

4.5

Shell Type:

Polycarbonate

Safety Rating:

DOT certified

Weight:

5 lbs.

View On Amazon
Best Modular Helmet Reviews
1. HJC 980-615 IS-MAX II Modular Motorcycle Helmet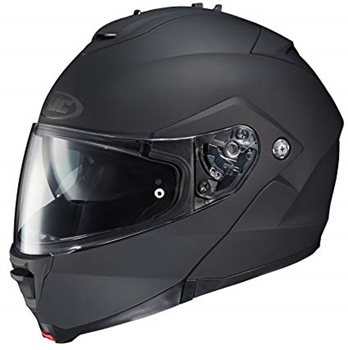 Featuring an advanced polycarbonate composite shell, the HJC 980-615 IS-MAX II goes an extra step when it comes to safety modular helmets provide. With a chin bar that will increase the protection it offers, you can be confident when on the road or off it.
However, if you feel like the chin bar is preventing you from feeling completely free while on your motorcycle, you can release it within seconds with a press to a single button. Seems like HJC likes single buttons in general.
Maybe that is why they integrated another button to open and close your full-face shield. Customers truly appreciate this pin-lock face shield feature. Who needs tools anyway?
CAD technology is used when the 980-615 IS-MAX II was created, which adds to the overall comfort while wearing it. The liner material is anti-bacterial which will protect your face from irritations and you can borrow it to your friend without worrying.
Fully vented, the HJC 980-615 IS-MAX II lets the fresh air in and flushed heat out. What else to ask in a modular helmet? The HJC 980-615 IS-MAX II meets the highest safety requirements while in use, which competes for the story and brings it to the top of our list.
Pros
Lightweight (2.1 pounds),
95% UV protection,
Integrated smoke-tinted sun shield,
Available in 4 sizes.
Cons 
A few customers complained about the size, claiming they would get a proper fit if they ordered a size up.
2. Shoei Solid Neotec 2 Modular Motorcycle Helmet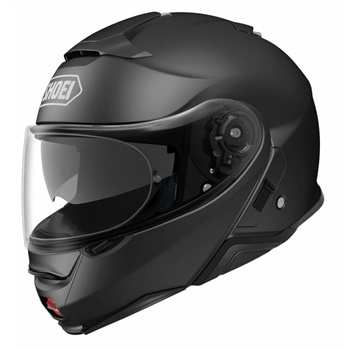 If you are looking for a model that combines the safety full face helmet provides and the versatility open face helmet offers, it is likely you will find it in the Neotec 2 modular motorcycle helmet by Shoei.
This helmet provides unbeatable ventilation. It blends the upper air intake vents and exhaust outlets to make the rider fully comfortable and non-sweaty while riding.
If you like to experiment a bit, you will like the fact the Neotec 2 is designed with having different riding positions and top-notch performance in mind.
Shoei integrated the Aero Deflector for stability and the repositioned shell spoiler to this model with the aim to reduce drag when you are riding at higher speeds. Awesome, right? Yet, riding at higher speeds also increases the noise under most helmets, but that's not the case with the Shoei Neotec 2.
It boasts noise-isolating cheek pads that keep any turbulent air that's coming through the air vents out. This type of cheek pads also give you a snug fit and make wearing a helmet more comfortable.
What would a decent modular helmet be without a high-quality chin strap? Shoei designed the Neotec 2 with a micro ratchet chin strap that's easily removable when you feel like not wearing it.
To make sure all of your needs on the road are met, Shoei integrated the Sena communication system that's a breeze to install. All this contributes to the high-end quality of the Neotec 2 that's a great helmet for long-distance touring.
Pros
Aerodynamic shell design,
360° pivot locking system,
Built-in sun shield that blocks 99% of UV rays,
Eyeglass-compatible.
Cons
3. ScorpionExo EXO-GT920 Modular Helmet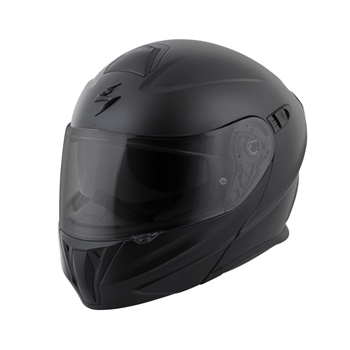 A perfect combo of safety, proper ventilation, and performance, the ScorpionExo EXO-GT920 is a modular helmet with a lot of positive comments. It is dynamic and comes with the redesigned, premium polycarbonate shell that's engineered to disperse outer impacts. At the same time, it is lightweight and strong, so this is a win-win.
Another feature that adds to the overall safety of the EXO-GT920 is the advanced EPS liner that disperses the shock even more. Speaking more about the inside, we appreciate the KwikFit cheek padding that regulates the temperature under the helmet.
When it's cold, it may warm you up and bit, and cool your head down when it's boiling hot outside. No, it's not magic.
The shield is coated with an anti-scratch layer and ensures 100% protection from UV rays. Optically-clear, you will be able to see the road clearly even when it is foggy.
On top, the ScorpioExo EXO-GT920 looks sleek so you can complement your motorcycle gear with an elegant piece. It comes with a 5-year warranty.
Pros
Aerodynamic,
Retractable sun visor,
Anti-microbial and washable liner,
Sunglasses-compatible.
Cons
This helmet fits long oval head shape only.
4. LS2 Helmets Strobe Solid Modular Motorcycle Helmet with Sunshield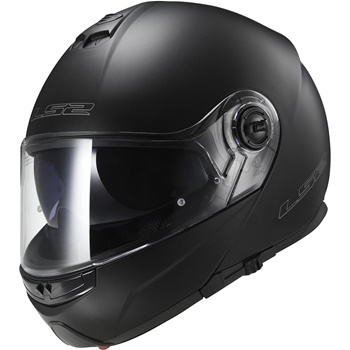 The LS2 Strobe is one of a very few modular helmets on the market that boasts a full metal latch system. This model performs impeccably and cuts through the wind without causing noise under the helmet, which prevents headaches and makes your rides more enjoyable. The HTTP composite shell is the one to "blame".
You will love the fully adjustable ventilation system that allows you to block the intake of cold air when it is chilly and prevents the hot air from coming in when the sun is burning. This makes the Strobe an ideal modular helmet for any type of environment and weather.
Yet, as you would have to wash it every once in a while, LS2 Helmets made the liner fully removable and washable so you can keep things fresh on the inside.
The integrated drop-down sun shield will protect your eyes from harmful rays and provide a clear vision of the road by blocking the glaring effect of the sunlight. The LS2 Strobe is DOT and ECE approved, which positions it high among the riders who care about their safety.
Pros
Quick-release strap,
Lightweight,
Scratch-resistant face shield,
It comes with an integrated neck roll.
Cons
It boasts slightly less ear-to-ear with than other, similar helmets, even though there is more space around the forehead.
5. Simpson Unisex-Adult M59L3 Mod Bandit Modular Helmet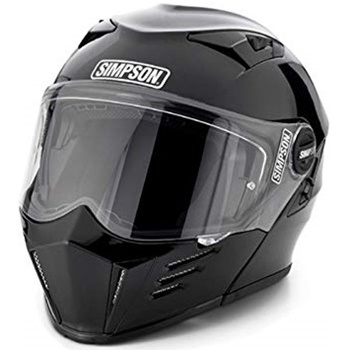 Racers, this one is for you! Team Simpson designed their M59L3 helmet to make those who participate in races and who are into power sports and motorsports feel safer.
Named "Bandit", this piece of motorcycle gear will truly make you feel like a bandit. It still gives you that snug feeling and offers the utmost convenience of a modular helmet.
It features an aerodynamic, lightweight shell that is fully-vented. When the adrenaline hits the maximum, don't worry you are going to get all sweaty under your helmet. The M59L3 ensures maximum airflow when the situation gets boiling hot.
An integrated drop-down sun visor makes riding more comfortable and safe. When the sun is at its peak, just flip down your sun visor and prevent the glaring effect from bothering you. After all, you want to see the road clearly for safety reasons, right?
The M59L3 is super-convenient for those who want to stay available to the world even when they are riding. You can tuck your communication device in the integrated speaker and microphone pockets and enjoy connectivity while on the go.
Pros
Antibacterial liner,
Dual adjustable chin vets,
Tool-less shield removal,
For intermediate head shape.
Cons
Available in 2 shell sizes only.
6. Bell Revolver Evo Modular Motorcycle Helmet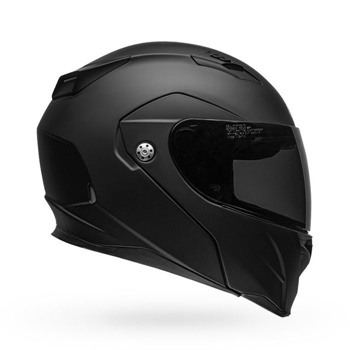 If you need a piece of gear to turn the beast mode on, the Bell Revolver EVO offers aggressive style and mad performance. By far, the Revolver EVO boasts sport design and is equipped with numerous features that ensure safety while you are on the road, off it, or in a hall.
If you already had a motorcycle helmet, then you already know the importance of a drop-down sun visor. Bell improved their regular sun visor and created one that offers even clearer vision and protects your eyes from damaging UV rays.
Polycarbonate alloy shells hold the reputation of the most lightweight shell types. The Revolver EVO offers comfort and fits pleasantly on the head without the weight causing you headaches.
If you care about ventilation, and we guess you do, then you will certainly appreciate the Velocity Flow airflow system Bell equipped the Revolver EVO with. Thanks to the Flow Adjust feature, you can control the intake and outtake of the air and regulate the temperature under the helmet.
When it comes to comfort, nothing beats padded cheek pads. Bell knows this, which is why they integrated the contoured cheek pads that offer comfort and additional protection in case of an accident. The liner itself is anti-bacterial and it is removable and washable.
The Revolver EVO is a communication-ready modular helmet. It boasts integrated speaker pockets where you can install your communication device. This helmet is shipped with a clear shield, but you can get tinted one as well for a couple of bucks more.
Pros
Aerodynamic shell,
DOT approved,
Meets the FMVSS 218 standards,
5-year warranty.
Cons
A few customers complained about the noise.
7. ScorpionEXO AT950 Unisex Modular/Flip Up Motorcycle Helmet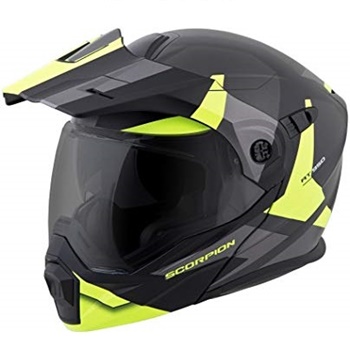 Do you have multiple bikes and you use each for a different type of ride? The ScropionEXO AT950 feels like you are having 4 different helmets, as it performs great in any condition.
It blends the versatility of off-road helmets and the comfort of touring helmets. Speaking of convenience, the AT950 comes with a modular chin bar. This feature makes it easy to ask for directions without taking the whole thing off or helps you relieve claustrophobia after hours and hours of riding.
The large eye port offers a wide and clear vision of the road and blocks the sun rays. You can fit your goggles within seconds if you don't mind having a bunch of equipment on the head.
Riders like the Everclear anti-fog shield that ensures safety on the road even when the weather is not convenient for riding. There is a drop-down internal visor that is a breeze to use and removable.
The shell of the AT950 is made of the advanced LG polycarbonate that's designed for dissipating impact in the first place, while it is strong and lightweight on the other side. To make sure nothing can cause serious injuries to your head, ScropionEXO engineered the helmet with the dual-density, multi-layer EPS liner that adds on energy displacement.
Already familiar, the KwikWickII liners are unbeatable when it comes to comfort. These are anti-microbial and absorb excess moisture, keeping your head dry and your riding experience more pleasing.
Pros
Excellent ventilation,
Communication system pockets,
DOT approved,
5-year warranty.
Cons
Doesn't absorb the noise,
3 shell sizes available only.
Modular Helmet Buying Guide
In this section, we are doing a sum-up of all the things we learned today. However, you will find some extra information about what should you look for in a modular helmet.
1. Shell material
The shell material is of the essential importance when we talk about the level of protection a modular helmet offers. That is why you should get more familiar with the materials used to build a helmet.
Polycarbonate shells are common among modular helmets. This type of shell absorbs impacts and dissipates energy, flexes easily, and makes a relatively good choice if you are tight on a budget.
EPS shells feature the increased protection on the inside. It absorbs impacts, while we would recommend going for a multi-density liner if you can afford this type of modular helmet.
There are carbon fiber and fiberglass shells as well. Both boast excellent impact dispersing performance and keep your head well protected.
2. Helmet size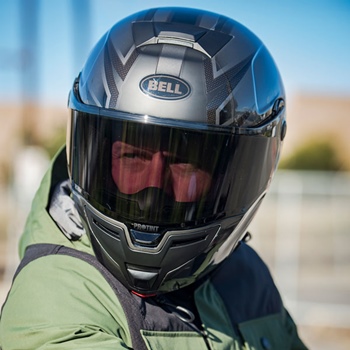 Modular helmets come in various sizes. When choosing between different models, you should have your head measurements in mind. In case you don't know how to measure your head circumference, make sure to take a look at our general helmet page. Here, you will find useful information on how to determine your head size and shape.
It is always better to have options. The more sizes you can choose between, the higher the chance you will find your best fit. A modular helmet that doesn't fit right won't make your rides as pleasing as they should be.
3. Weight
As you could see yourself, modular helmets are equipped with numerous features. That's the reason why some of them feel a little bit heavier than other types of helmets.
Even though lighter helmets feel more comfortably on the head, you can still find one within the acceptable weight range. For instance, a modular helmet weighing 3.5lbs would be the best pick.
4. Comfort
Now that we mentioned you can expect a little more pressure on the head, you should know modular helmets are like no other when it comes to comfort features.
Padded cheeks, sun visors, flip-up shields, adjustable air vents, microbial liner – this all contributes to feeling comfy while riding.
5. Safety
When purchasing a helmet, always check on the stickers. These stickers are of essential importance, as they help you determine whether the helmet you want to buy is safe or no.
Modular helmets that meet the highest safety standards are DOT-approved. DOT stands for the US Department of Transportation that controls safety each helmet offers.
You will also see helmets that are ECE or SNELL-approved. Anyway, if you are intending to buy a modular helmet, make sure it has one of these stickers.
FAQ About Modular Helmets
1. Can you ride with a modular helmet open?
Of course, you can. Modular helmets allow you to set it as you like. Open or closed – both work fine. However, beware that higher speeds may require you to ride with your modular helmet closed.
2. Are modular helmets suitable for longer rides?
Yes and no. It depends on the weight of the helmet. If you find one that weighs no more than 3.5lbs, you can use it for longer, intercity rides.
Wrap Up
Convenient, versatile, and comfortable, a modular helmet stands somewhere in the middle between full face and open face helmets. You may ask what does it mean to buy the best modular helmet.
That means – finding one that is equipped with numerous safety and comfort features, the one that allows you to switch between settings to find your best fit, and the one that is approved for safety. All of the products from our modular helmet reviews meet these criteria, so it won't be difficult to find the right one.
Bonus guide: top-rated scooter helmets