Did you know that you can reduce the chances of getting injured by purchasing the best scooter helmet? Motorcyclists are one of the most vulnerable categories on the road. So why not invest in your own safety by getting adequate gear? It is high time to talk about scooter safety, because – people tend to underestimate this type of motorcycles due to its size.
If you have any doubts related to buying your new helmet, check out our scooter helmet reviews. We will answer some of the frequently asked questions on scooter helmets and teach you a couple of maintenance tricks as well!
See The Quick Comparison Chart
Do Scooter Riders Have To Wear Helmets?
Absolutely. This applies to all motorcycle riders, not only scooter riders. Once again, you should stick to your state legislation when buying a scooter helmet, so check on the laws first.
What Type Of Helmet Should Scooter Riders Have?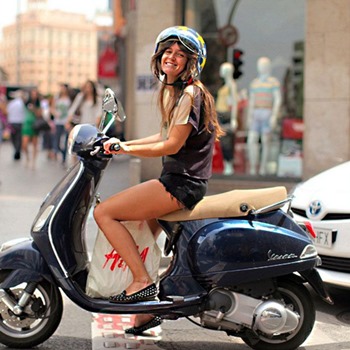 You could have noticed we reviewed different types of scooter helmets through our article. What makes one type better than the other? Seemingly, these differ in shape and size, but the truth is – different riders with different riding habits prefer different types of helmets.
1. Full-Face Helmets
If you own a maxi scooter and city commuting seems too plain, we guess you like hitting the highway from time to time, right? Then, my dear, a full-face helmet makes the best choice. However, due to higher speeds, highways make a dangerous place for motorcyclists.
In case you are not properly protected, being involved in a crash would include having your neck, spine, or head injuries. Wind noise, flying debris, and weather conditions may make your rides less comfortable if you are not wearing a full-face model.
2. Open Face Helmets
If you are wearing your helmet often, but not too often, and mostly for city commuting with occasional inter-urban rides, the open face helmet will meet your expectations. This kind offers a good amount of ventilation, comfort, and protection.
Speaking of protection, this type features chin straps, shields, and sun visors, which makes them a great choice for motorists who expect their motorcycle gear to be well-made.
3. Half Helmets
Last but not least, a half motorcycle helmet makes an ideal option for those who enjoy slow city commuting, seaside rides, and riding through the woods. Designed to protect the rider's head from impact, this type of helmet leaves a good portion of one's face uncovered.
Some riders believe nothing beats the gentle breeze on the skin, some sunburn, a few raindrops, while others are not even bothered by the bugs.
Even though it is true that half scooter helmets cover the top of the head only, which makes them less safe, you can do something to protect yourself more. Adding a neck curtain, sun visor, or a shield will make you more protected and confident on the road.
Of course, you can buy two different types and use them for different purposes, depending on your travel requirements. Whichever option seems best, just make sure you do have a helmet to protect your head and you are good to go.
Best Scooter Helmets Comparison Chart
PRODUCT
DETAILS

ILM Half Scooter Helmet Open Face Sun Visor

Price:

$$

Customer Rating:

4.1

Type:

Half helmet

Safety Rating:

DOT, FMVSS N218

Weight:

2.7 lbs.

View On Amazon

Vega Helmets Unisex-Adult Half Scooter Helmet (Pink on Black)

Price:

$$$

Customer Rating:

4.7

Type:

Half helmet

Safety Rating:

DOT, FMVSS N218

Weight:

2.2 lbs.

View On Amazon

Fuel Helmets SH-WS0017 Unisex-Adult Open Face Scooter Helmet with Shield

Price:

$

Customer Rating:

4.2

Type:

Open face helmet

Safety Rating:

DOT, FMVSS N218

Weight:

4.25 lbs.

View On Amazon

MMG Open Face Scooter Helmet DOT Street Legal

Price:

$$

Customer Rating:

4.1

Type:

Open face helmet

Safety Rating:

DOT

Weight:

4 lbs.

View On Amazon

YEMA Helmet Unisex-Adult Scooter Full Face DOT Helmet YM-829

Price:

$$

Customer Rating:

4.4

Type:

Full face helmet

Safety Rating:

DOT

Weight:

3.7 lbs.

View On Amazon

1STORM MOTORCYCLE OPEN FACE HELMET SCOOTER

Price:

$$

Customer Rating:

4.4

Type:

Open face helmet

Safety Rating:

DOT

Weight:

4 lbs.

View On Amazon

MMG 51 Motorcycle Scooter Open Face Scooter Helmet Pilot Flip Up Visor DOT, Red, Large

Price:

$

Customer Rating:

4.1

Type:

Open face helmet

Safety Rating:

DOT, FMVSS N218

Weight:

3.1 lbs.

View On Amazon
Best Scooter Helmet Reviews
1. ILM Half Scooter Helmet Open Face Sun Visor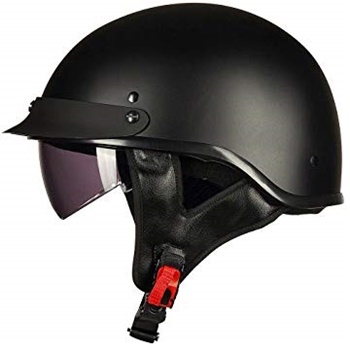 If you are a passionate motorcyclist or enjoy cycling and other outdoor sports, the ILM half scooter helmet may be a good pick. This sleek helmet boasts a removable and replaceable drop-down sun visor so you can ensure the utmost comfort and convenience while traveling.
City commuting involves taking your helmet on and off numerous times. The ILM's model comes with a quick-release chin strap city drivers appreciate a lot. The chin strap adds on your safety as well (to a pretty reasonable extent for a scooter helmet), securing the fit of the top part of the helmet.
Speaking of safety, this scooter helmet features a high-quality, sturdy and durable, ABS shell. This type of shell is well-known among motorcyclists as it protects the brain from an outer impact. Knowing DOT, FMVSS, and N218 approved the ILM scooter helmet, you can be confident about wearing it.
Half-helmets are, in general, well-vented. No matter the weather, you will get that dash of cool air on the inside. Thus, this helmet makes a slightly better choice for summer rides, even though you can protect your face from wind and rain with the sun visor a little bit during colder days.
All in one, the ILM half scooter helmet offers a pleasant riding experience to newbie motorcyclists who enjoy city commuting and moving at a steady speed instead of raging on the motorway.
Pros
Classic design,
It comes with an ear flap for added comfort.
If you receive a helmet with a broken visor, the seller will send another one for free.
Cons
The inner material is rather thin,
A few customers complained about the sizing chart.
2. Vega Helmets Unisex-Adult Half Scooter Helmet (Pink on Black)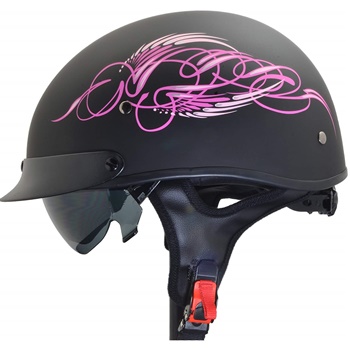 This Vega half scooter helmet doesn't have to try hard to catch the eye – it's very appealing and features a modern design. However, the architecture and structure of this helmet were never compromised either. So, Vega has a durable, protective, and fancy helmet for all those motorcyclists out there.
Designed to protect your head and brain from the impact, the half scooter Vega helmet is well-known for its durability. Boasting the extended polystyrene lining, this model can take a lot of pressure and impact without breaking or even cracking.
The EPS liner is the best when it comes to absorbing impact force, but we appreciate it for one more reason. It is lightweight and breathable so you can count on proper ventilation of this Vega helmet.
If you are sweating heavily, make sure to have it in mind. The moisture-wicking lining absorbs sweat, keeps your head dry, and makes your rides more comfortable.
This helmet comes with a UV-protective drop-down visor that will protect your eyes from flying debris and rain as well. Just slide it downwards when you feel like not using it, and you won't even feel you have a sun visor at all.
Vega has one more plus on the design – an adjustable neck strap. Just set the desired tightness and enjoy your rides to the maximum.
Pros
Meets DOT and FMVSS 218 safety regulations,
Lightweight,
5-year warranty.
Cons
The chin area is left unprotected.
3. Fuel Helmets SH-WS0017 Unisex-Adult Open Face Scooter Helmet with Shield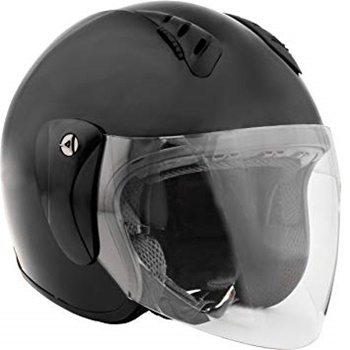 If you are looking for a helmet that doesn't block the wind from touching your face and offers a relatively high level of protection, the SH-WS0017 by Fuel Helmets should be on your radar. We all can thank a pivoting shield (easy to remove and reinstall with a screw) for this.
This shield keeps dust, debris, rain, and insects away but allows the wind to come through. Yet, Fuel Helmets wanted to ensure proper ventilation, which is why they integrated the top brow vents to their SH-WD0017. You will stay dry and cool and enjoy a pleasant airflow during the hottest summer days.
Coated in a UV clear layer, this helmet's shell is built to ensure maximum protection, safety, and performance on the road. It comes with an adjustable chin-strap and the D-ring closure system that ensure you always get the best fit, which contributes to your safety on the road as well.  
Pros
Removable cheek pads,
DOT and FMVSS 218 approved,
The noise-reduction feature.
Cons
Doesn't make a good choice for the winter use,
A few motorists had fitting issues,
The chin-strap may irritate the neck area a bit.
4. MMG Open Face Scooter Helmet DOT Street Legal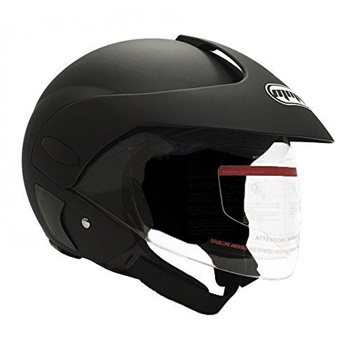 The MMG Open Face Scooter Helmet makes a great choice for motorcyclists who commute around the town on a daily basis. However, if you like riding your scooter for longer distances, this helmet will meet and even exceed your expectations.
This helmet combines the highest safety features and protects you in case you are exposed to an accident while providing a high level of comfort. Thick and pleasant cheek padding creates a snug feel and keeps your head well-protected. Removable, you can take the pads off when they get smelly and install back in place easily.
The aerodynamic shape of the MMG helmet makes it enjoyable to ride through the wind. There's a clean windshield as well that protects your face from debris, insects, and bad weather conditions. The windshield is clear so you will be able to enjoy roadside views and get the most of your rides.
Pros
DOT approved,
3.05 pounds,
Carbon fiber shell,
It comes with a carrying bag.
Cons
The locking mechanism would use a better design.
5. YEMA Helmet Unisex-Adult Scooter Full Face DOT Helmet YM-829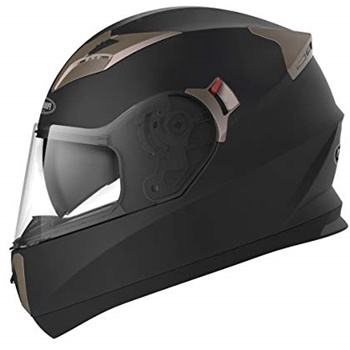 The fashionable and exciting design of the YM-89 helmet brings you a professional motorbike riding experience. Boasting a bunch of advanced features, it falls into the category of helmets that make a great deal for city commuters and dirt bikers at the same time.
The YM-829 has an aerodynamic ABS shell that resists the strongest gusts of wind and protects the head. There's the multi-density EPS liner here, which is well-known for impact-resistant abilities.
Customers appreciate the dual visor design of the YM-829. With the outer clear shield and inner retractable smoked visor, you will be able to ride at almost any weather conditions and have a large field of vision, always. The YM-829 boasts an easy-to-switch sun visor as well.
Thanks to the adjustable ventilation system, this model ensures a high level of air circulation and keeps you cool for as long as you want it. The comfortable liner pads are removable and washable so you can keep your helmet fresh and clean easily. What's more, YEMA designed this helmet with a bit of extra space for your motorcycle goggles.
Pros
Quick-release D-ring buckle,
Laser-cut, comfortable foam,
DOT approved.
Cons
6. 1STORM MOTORCYCLE OPEN FACE HELMET SCOOTER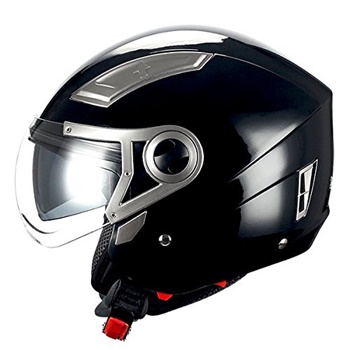 If you are on the hunt for the safest scooter helmet out there, you should know the 1Storm Motorcycle Open Face Helmet deserves your attention. Also, it features an appealing-to-the-eye design and glossy finish but there's a lot more than it meets the eye about this scooter helmet.
The advance double shield design includes inner smoked lenses but you can order tinted ones as well (sold separately). Thanks to the outer shield, you will enjoy more ventilation and even have your snacks while riding (as you won't have to remove the helmet to eat).
The 1Storm helmet features a uniquely designed sun visor that makes it easy to focus on what's happening around you while you are riding. The heavily cushioned inside of this helmet makes it extremely comfortable and adds on the overall safety of the rider. Just remove the whole interior when it gets smelly and wash with soapy water.
This scooter helmet boasts the thermoplastic alloy shell that's believed to be the strongest and most protective type. It's also aerodynamic, so blowing wind won't bother you as you slide down the road.
Pros
The quick-release chin strap,
Compatible with Bluetooth headsets,
DOT approved.
Cons
The face shield doesn't protect the mouth – beware of insects,
On the heavy side.
7. MMG 51 Motorcycle Scooter Open Face Scooter Helmet Pilot Flip Up Visor DOT, Red, Large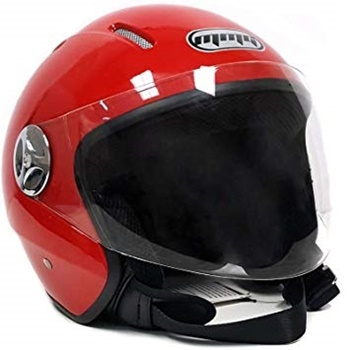 One more MMG scooter helmet, the MMG 51 boasts a bit different, futuristic design, but as great safety features as all the rest helmets on our list. Street legal and approved by DOT, the MMG 51 will make you confident about investing your funds into it, but you should hear about some more characteristics of this amazing model.
Getting started with the shell, MMG boasts lightweight and durable construction, which assures us once more about the protection it provides. They also made a rich-padded interior that adds on comfort but also absorbs the eventual outer shock.
MMG developed an anti-scratch, flip-up visor that will protect you from debris, insects, sun rays, and other weather conditions.
If you want to stand out, the red MMG 51 scooter helmet will make you the street star while keeping your head tucked away and comfortable no matter the weather. As a cherry to the top, MMG gives you a cute carrying bag for when you are not on the streets.
Pros
Thermoplastic shell,
Square D-ring,
Aerodynamic design.
Cons
The sizing chart is not so accurate, so make sure to compare your measurements well to the size chart, and maybe go for a size up.
Scooter Helmet Buying Guide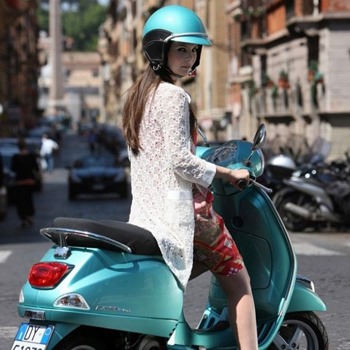 Navigating the scooter helmet market can get tough, especially if you are planning your first purchase. If you are still unsure about the right scooter helmet for your needs, make sure to have these things in mind when narrowing the selection:
1. Material
Build materials sometimes make an essential difference between the two helmets. If we assume you have a half scooter helmet in mind, you already know this type offers a lower level of safety compared to other types.
In this case, be super-careful about the materials used. You will find shells made of ABS polymers, thermoplastic alloy, polycarbonate, and similar. Most helmets are made of polycarbonate and ABS, but these are plastic materials. However, polycarbonate is more resistant to impacts, including fire, and thus, more protective.
Either way, EPS foam adds on the protection as it is well-known for its shock-absorbing capabilities. Just make sure your helmet features an EPS liner and you can be carefree on the road.
If you are willing to spend a little bit extra, then carbon fiber and fiberglass shells are the way to go. Nothing can beat the protection these materials provide. However, remember these also weigh more.
2. Fit
An unfit helmet would probably cause distractions while you are on the road. We guess you wouldn't stand anything that causes you discomfort, but some people do. Why so? Because they didn't measure their head right, which made them order the wrong size.
To prevent such a scenario, make sure to visit our general helmets page.
3. Weight
Again, your riding habits affect the choice of your scooter helmet. You expect something to protect your head, not to cause you headaches.
Even though you can find both lightweight and sturdy helmets, most of the time, you will have to give one of these features an advantage. Weightier helmets are more durable and sturdy, while thermoplastic shells make a helmet more lightweight.
If you are riding a lot, especially in-between cities, a weighty helmet would feel like a load, which is why polycarbonate may be a better option.
4. Shield
An optional, yet very useful part of any helmet, a face shield protects the rider from weather conditions, insects, and debris. You can choose between half-face and full-face visors.
5. Closures
Accidents on the road happen daily. First-aiders sometimes have a hard time taking the helmet off the rider's face. If you would be ever involved in a crash, a helmet with double-D closures would help them reach your head easier and stabilize you.
6. Road Safety Rating
The main reason you want to buy a helmet is to protect your head and remain safe on the road, right? You will need a helmet that's approved by authorized bodies, such as the Department of Transportation (DOT).
Besides DOT, you will find FMVSS 218, ECE, NZ5430, and a few others. Safety rating tags vary between countries.
7. State legislation
Before making a final buying decision, check whether the state you live in is restrictive towards any type of helmets. Some states allow only certain models (usually certified) of scooter helmets, while others don't care as long as you have a helmet on your head.
Scooter Helmet Maintenance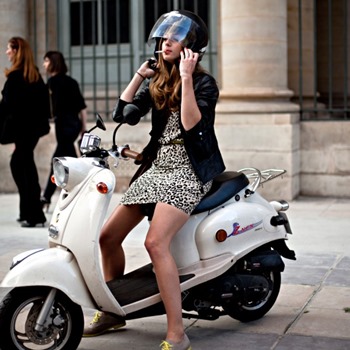 No matter the ventilation, your helmet will start smelling after a couple of months of wearing it. Human skin produces oils naturally. These oils get absorbed by the inner liner over time, while smog, dust, and grime build up on your scooter helmet's exterior.
Here's what you can do to ensure your helmet is still looking shiny as if it was bought a couple of hours before:
1. Cleaning the liner
If you own a scooter helmet with a removable liner, you're lucky. Pulling the liner and the cheek pads out is a breeze.
Just soak them in warm soapy water and rub gently so any grime, sweat, and oils get out. Rinse with warm water afterward and let the interior dry naturally. Remember not to use any heating source to dry the liner and cheek pads.
Yet, not all liners are removable. If so, make sure to take all the accessories and parts (vents and the visor) out. Soak a soft cloth into warm water mixed with baby shampoo and rub the interior with it. Let try naturally and install the parts back.
2. Cleaning the exterior
A wet cloth will help you clean grime, dirt, and smog off your helmet. If your helmet is not coated with a scratch-resistant layer, make sure to use soft brushes and cotton swabs.
To take back the initial shine to your helmet, use some motorcycle wax polish and synthetic oil for moving parts (visor joints).
You wouldn't believe the final effect these maintenance tips will have on your scooter helmet.
FAQ About Scooter Helmets
1. How To Measure a Scooter Helmet?
You will need a measuring tape and, probably, someone who would help you measure your head circumference.
2. How Should a Scooter Helmet Fit?
As already mentioned, you need a helmet that provides a snug fit, but nothing too tight. Lose helmet doesn't protect the head as much as it should. When picking your scooter helmet, choose the one that fits lightly and the one you can wear for a couple of hours pleasantly.
Wrap Up
How do you feel about the choice of the best scooter helmet now? We are sure you have a deeper knowledge of scooter helmets after reading our guide.
Thanks to our scooter helmet reviews, you can find your right fit within minutes. Happy purchase!