If you are serious about riding a motorcycle, you'd better get the best full face helmet. Believe it or not, motorcycle accidents are more common than people tend to realize. And, in the case of a bike-to-car collision, the motorcyclist always get the worse end.
It doesn't matter if you are a versed motorcyclist with hundreds of trips under your belt or just starting out your adventure, we have plenty of options for you down there. Which one to choose? Read the full face helmet reviews that have made the cut and find out for yourself!
See The Quick Comparison Chart
Benefits Of Full-Face Motorcycle Helmets
1. Security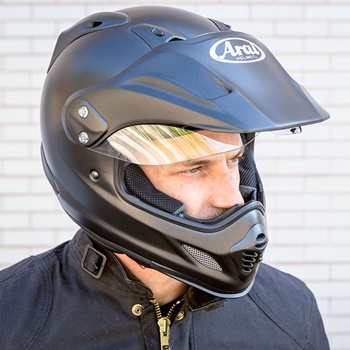 If you are wearing a full-riding gear (including a full-face helmet), you are contributing to your security on the road. Just like we mentioned, wearing a helmet can help you escape deathly outcomes. Yet, not every type of motorcycle helmet is the same.
In fact, when a motorcyclist is involved in an accident, different areas are impacted depending on the helmet they are wearing. For instance, even top-rated half helmets and top-rated open face helmets won't protect your chin area the way a full-face helmet does (reduces the chance of injuries up to 35%).
Full face helmets also protect your nose, eyes, and skull, reducing the impact of potential trauma. Some full-face helmets even protect the neck.
2. Heating
Aren't you sick of being sweaty or chilly all the time? Ugh, there's nothing worse than having your face frosty while you drive to the office. Luckily, most full-face helmets come with air vents that balance out the temperature underneath the shell.
Some of these air vents are also adjustable so you can set them to optimal, whether it's summer or winter.
3. Noise Reduction
If you read our reviews with utmost attention, then you probably noticed most of the reviewed helmeted reduce the noise occurring on the road. However, not that full-face helmets don't absorb the sounds but reduce them a bit. This includes traffic sounds, noise caused by the wind, and the noise caused by outer pressure under high speeds.
Best Full Face Helmets Comparison Chart
PRODUCT
DETAILS

LS2 Stream Solid Full Face Motorcycle Helmet With Sunshield

Price:

$$

Customer Rating:

4.4

Safety Rating:

DOT certified

Sizing:

7

Weight:

4.8 lbs.

View On Amazon

Arai XD4 Full Face Helmet (Fluorescent Yellow, Large)

Price:

$$$$$

Customer Rating:

4.2

Safety Rating:

DOT certified

Sizing:

8

Weight:

4 lbs.

View On Amazon

Bell Qualifier DLX Full-Face Motorcycle Helmet

Price:

$$

Customer Rating:

4.2

Safety Rating:

DOT certified

Sizing:

6

Weight:

3.5 lbs.

View On Amazon

HJC Star Wars Full Face CS-R3 Storm Trooper Motorcycle Helmet

Price:

$$

Customer Rating:

4.5

Safety Rating:

DOT certified

Sizing:

7

Weight:

4 lbs.

View On Amazon

Shoei Men's RF-1200 Full Face Motorcycle Helmet

Price:

$$$$

Customer Rating:

4.0

Safety Rating:

DOT approved + meets FMVSS 218 standard

Sizing:

Large

Weight:

5.8 lbs.

View On Amazon

ILM Full Face Motorcycle Helmet Removable Winter Neck Scarf

Price:

$

Customer Rating:

4.5

Safety Rating:

DOT certified

Sizing:

5

Weight:

2.98 lbs.

View On Amazon

HJC 824-614 CL-17 Full-Face Motorcycle Helmet

Price:

$$

Customer Rating:

4.5

Safety Rating:

DOT certified

Sizing:

13

Weight:

5 lbs.

View On Amazon
Best Full Face Helmet Reviews
1. LS2 Stream Solid Full Face Motorcycle Helmet With Sunshield
For starters, we have one super-cool full-face motorcycle helmet from LS2 Helmets. If you are the type of motorist who doesn't mind high speeds and transits serious mileage on a weekly basis, this one may be the one for you.
Approved by ECE and DOT, the L22 helmet boasts a whole list of amazing features, provides utmost safety, and comes at a ridiculous price!
Protective, yet relatively lightweight (4.8 pounds), this helmet comes with the sun shield that makes rides more pleasant. Manufactured from HPTT polycarbonate alloy, the LS2's aerodynamic shell is designed to minimize injuries in case of an accident.
The interior and cheek pads of the LS2 helmet is made from high-quality foam by using 3D Laser Technology that prevents getting too hot under the helmet. However, when it gets smelly, wash the padding and liner with your hands in clean water and air dry the liner.
The sun shield is scratch-resistant and locks with a pin. The innovative design of this full-face helmets makes it a breeze to take it off when needed.
Also, LS2 offers their customers a 5-year warranty so you can be confident about the purchase.
Pros
The shield retracts by a single switch,
The liner is washable and fully removable,
Tool-less quick shield release,
Fits intermediate oval head shape.
Cons
The cheek and chin padding is slightly thinner than with competitors' products.
2. Arai XD4 Full Face Helmet (Fluorescent Yellow, Large)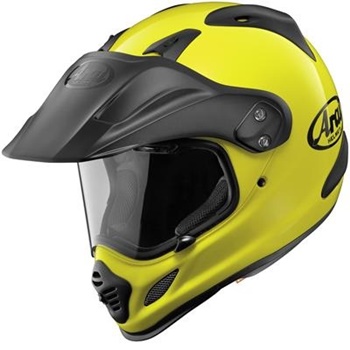 Established back in 1926, Arai delivers ultimate riding experience to motorists all over the world. Their XD4 full-face helmet is one of our top picks as it is versatile, dual sport type of helmet, ideal for adventure touring, but it is also sleek and very modern.
One of the major pluses for the XD4 is that it comes with both visor and a peak. This kind of split personality allows the rider to use it for off-road rides (when the peak is on) and street rides (the peak is off). Basically, you are getting two products in one.
The fiberglass layers CLC construction makes the physical outer-shell rigid and very shock absorbing. This company also improved the XD4 shell shape so it delivers better aerodynamic stability when you are moving at higher speeds.
On the inside, the XD4 features a snug fit and comfortable lining, padded cheek area, and wick moisture technology.
Manufactured to protect the rider in case of an accident, Arai made those cheek pads slide out in seconds thanks to the pull-tabs that make things much easier for medical personnel.
The whole interior is easy to remove, wash, or replace. This helmet also comes with a couple of air vents that ensure air circulates and make rides more comfortable.
Pros
DOT, ECE, and SNELL approved,
Adjustable facial padding,
Upgraded side cowl vents,
Emergency release cheek pad design,
For intermediate-round oval head shape,
5-year warranty.
Cons
It is relatively heavy,
There is no pin lock,
Comes at a hefty price.
3. Bell Qualifier DLX Full-Face Motorcycle Helmet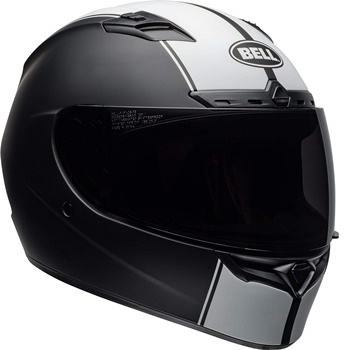 The Bell Qualifier DLX comes with a price tag any motorist can afford. This strong, sturdy, and safety-certified full-face helmet takes a good budget place on our list but boasts a couple of more great features.
The DLX is available in 3 shell sizes to fit different head shapes and sizes so there is no chance it would be hard to find the helmet that suits you well. Made of lightweight polycarbonate, this helmet is still very protective thanks to the ABS plastic outer shell.
And what's under the protective ABS-plastic outer shell? Padded cheek ads, padded wind collar, and removable and washable interior liner that absorbs any moisture during the ride.
To prevent your face from getting too cold or overheated, Bell built a fully adjustable ventilation system, breath detector, and a chin curtain. It's just great that you can control the amount of air getting in by simply opening or closing the vents.
This budget helmet also includes two cutaways you can install Bluetooth communication devices into. You get two visors with this helmet – clear and dark smoke shield. The shield itself is UV and scratch-resistant and easy to swap out.
If you are bit tight on the budget but would still like to find a piece of gear that ticks all the boxes, the Bell DLX is definitely worth the investment.
Pros
DOT and ECE certified,
Polycarbonate composite shell,
NutraFog anti-fog shield,
5-year warranty.
Cons
Pockets for speakers should be more comfortable.
4. HJC Star Wars Full Face CS-R3 Storm Trooper Motorcycle Helmet
Another budget model on our list, the HJC CS-R3 is inspired by legendary Star Wars. Simple, yet safe and comfortable to wear, the CS-R3 features superior fit and lightweight (3.17 lbs), strong, and durable Premium Integrated Matrix Plus shell.
This advanced system HJC used helped them design an incredibly lightweight but sturdy shell made of fiberglass, aramid, and carbons fiber – all of these stand for the highest quality materials.
Also, this helmet features interchangeable, replaceable, and washable cheek pads. The liner on the inside, made of plush and Nylex, and padded cheeks make wearing your helmet very comfortable and provide a snug fit.
To prevent sweating under the helmet on hot summer days, the CS-R3 boasts an advanced adjustable vents system and exhaust ports.
The HJ-09 visor is resistant to scratches, offers 95% UV protection, and makes visor swaps a breeze. This advanced ventilation system involves strategically placed vents you can control with ease by glove-friendly dials.
When it comes to shields, HJC designed their shields to provide a tight and secure seal. Thanks to the ratchet system, you can install or remove the shields in just a couple of minutes, without using any tools. You can choose from smoke and race, RST mirrored, and high definition shields.
Pros
The outer polycarbonate shell is CAD designed,
Enhanced aerodynamics,
DOT and ECE approved,
It comes with Bluetooth speaker pockets.
Cons
It doesn't provide a pin lock system and a tinted visor.
5. Shoei Men's RF-1200 Full Face Motorcycle Helmet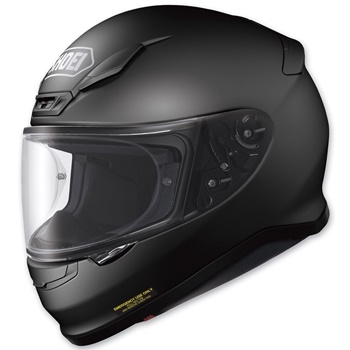 Shoei has been present on the market for more than 60 years now. Their production includes a number of great helmets, among which we have the RF-1200. This is an upgraded version of the RF-1100 model and comes at a mid-range price.
The RF-1200 is incredibly protective, very lightweight, practical, and comfortable, basically a lifesaver. Whether you like cruising around the city, touring, road rides – the RF-1200 will provide unique safety features. Yet, if you are more into slow city commuting, check our scooter helmet reviews.
Lightweight but made of sturdy materials, the RF-1200 features the AIM+ shell and EPS liner that keeps your skull cushioned, reduces traumas caused by an injury, and absorbs shock.
Currently, the RF-1200 carries the title of the lightest motorcycle helmet among Shoei helmets.
Thanks to the use of modern materials, Shoei improved aerodynamics of their helmet, which contributes to performance on the road as well and makes moving at higher speeds seem comfortable. The RF-1200 offers quiet ride experience and reduces wind noise.
Shoei makes their models fully comfortable and properly fitting. Padded cheek pads and foam lining make wearing this full-face helmet smoother and don't compensate neck articulation at all. In the end, this model comes with a unique pin-lock visor system that reduces wind buffeting and outer pressure.
Pros
Fully adjustable shield,
Emergency Quick Release feature,
Superior ventilation,
DOT and SNELL certified,
Meets the FMVSS 218 standard,
Chin curtain.
Cons
Some motorists find the cheek pads too tight, while others complain the snug fit turns into loose one after a while.
6. ILM Full Face Motorcycle Helmet Removable Winter Neck Scarf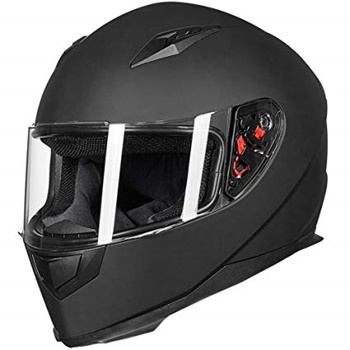 More than 800 raving fans claim the ILM full-face helmet is the best piece of motorcycle gear they've ever had. That tells you enough about the quality ILM offers. The simplistic design of the ILM full-face helmet still meets the highest modern and safety standards. If you are looking for a protective and practical helmet, this one might meet your expectations.
It features clear and smoked visor and comfy and a removable, warm neck scarf that will protect you on chilly winter days. Also, you get a clear visor and tinted visor in the package besides the scarf.
In terms of construction, the ILM helmet's shell is made of lightweight and advanced ABS material that absorbs shock and reduces injuries in case of an accident.
The quick-release strap and metal clap are made of high-quality materials. When it comes to inner padding, you can easily remove and wash it, then install it back. Thanks to three forward vents, you will enjoy sweat-free rides and fresh air as you glide down the road. Decent airflow also reduces fogging.
There is plenty of room at the chin bar and you can include a microphone to the area as well. The chin strap is easy to release even with your gloves on, but be careful if you notice any extra material around that needs to be trimmed.
Pros
Aerodynamic design,
DOT certified,
Reduces wind noise and drag,
It comes in 4 sizes-small, medium, large, and X-large and 7 colors.
Cons
The helmet and the visor seem to scratch easily,
Not an ideal option if you are into freeriding.
7. HJC 824-614 CL-17 Full-Face Motorcycle Helmet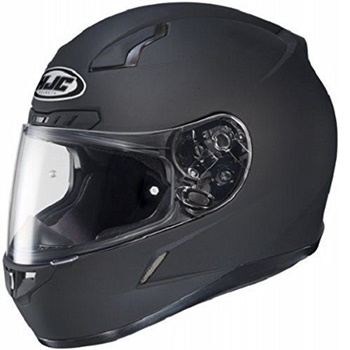 Boasting SNELL and DOT ratings, the HCJ CL-17 is the final full-face helmet on our list that provides comfort and superior fit motorists worldwide appreciate. HCJ designed their CL-17 with one clear idea in mind – to offer a refined version of a full-face motorcycle helmet for the ones who are into track racing, which is why they made a number of aerodynamic enhancements on this model.
The advanced polycarbonate composite shell ensures the utmost protection for the head and the side shield adds to the secure seal.
Lightweight, the CL-17 comes with a face shield that provides 95% UV protection, anti-fog system, and, if you are willing to pay extra, a pin lock insert. Thanks to the shield ratchet system, you won't need any tools to remove the shield or install back, which contributes to ultra-quick and smooth operation.
The channeling ventilation system flushes any humidity and heat out of the helmet all around it – front to back. All this contributes to better performance at high speeds and balances airflow out.
HJC designed their helmets in different sizes, with removable and interchangeable liner, and cheek pads. The liner itself is made of anti-bacterial fabric, which you may appreciate if you have sensitive skin.
As a cherry to the top, you can install a Bluetooth communication system to your helmet and stay in touch with the world while you are on the go.
Pros
Colored visor,
Metal mesh exhaust vents,
It comes with a breath guard.
Cons
Lacks chin padding and chin curtain,
Matte version scratches easily.
Full-Face Motorcycle Helmet Buying Guide
1. Certification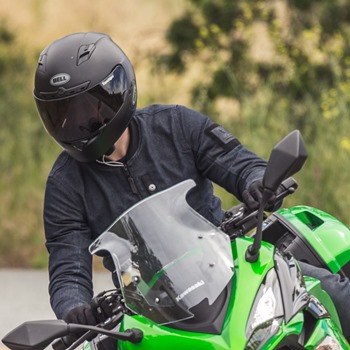 When wearing a motorcycle helmet, you need a piece of gear that meets the utmost safety requirements. We mentioned a couple of abbreviations through our articles, such as SNELL, ECE, DOT, and FMVSS 218.
These abbreviations stand for safety standards each motorcycle helmet fulfills. Even though a helmet doesn't have to meet all of these standards, at least one (mostly DOT) will indicate the gear is safe to use.
2. Outer shell
Again, this has a lot to do with your safety on the road. The build of the outer shell is sometimes of crucial importance for motorcyclists. You need a helmet that is designed to lessen the force in case of an accident, compress and disperse sharp hits. ABS material outer shells are well-known for the quality and durability they provide.
3. Liner
When choosing between the most important things to look for in a motorcycle helmet, we have to mention the liner. Go for the shock-absorbing liner that features dense cushions and the ones made from polystyrene.
4. Fitting
Would you wear something uncomfortable right on your head? Would you enjoy your rides if the wind is howling through your helmet or if it is boiling hot underneath? Sure thing, you wouldn't.
When buying for a full-face helmet, you want to make sure you are getting the right fit.
Okay, but why is it motorcycle sizing that important? Wearing a DOT certified helmet would mean nothing if you are no wearing a correctly sized helmet. Full face helmets do their thing only if they provide a snug fit (yet not too tight either).
If you are doing this first time, then you will have to do some measuring as well. Not sure how? Check our motorcycle helmets general page and see the detailed explanation on how to measure your head and find the properly fitted helmet.
5. Price tag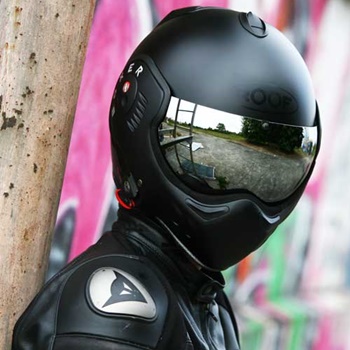 Last but not least, pricing shouldn't be your priority when purchasing for a helmet. If you are tight on the budget, you would want to avoid helmets that fall into the category of the unrestricted budget.
Brand, certifications, materials used, and integrated technology determines the price of a helmet. For starters, don't go with anything too expensive, as beginners usually drop their helmets on accident all the time.
Carbon fiber full-face helmets are more expensive than traditional ones, but you may need it only if you are into racing.
The best advice we can give you about the price range is to purchase a medium-range helmet (and we listed a couple of these with awesome features) that won't eat your whole budget you can invest in other gear.
FAQ About Full-Face Helmets
1. How long is the full-face motorcycle helmet good for?
If you are taking care of your helmet, you can expect it to be good for 5 years maximum. After 5 years, UV rays, weather, and wear and tear will mess up with the helmet's integrity.
On the other hand, any kind of impact, such as a fall, will reduce the efficiency of the helmet. If this impact includes speeds higher than 50mph, make sure to get a new one as soon as possible.
2. How to take care of your full-face motorcycle helmet?
You can extend the lifespan of your gear by keeping it clean but avoiding the use harsh chemicals, sticking to the manufacturer's recommendations, and keeping it stored in a safe and sound place where it won't get kicked around, and storing it somewhere where it is not too hot or too cold when not using it.
3. Is buying a second-hand helmet safe?
If you ask experts, they would be completely against buying second-hand helmets. We know, you must have seen some cheap options out there, but try to resist the temptation.
The main reason why you should avoid getting a second-hand helmet is that you can't know whether it has been involved in a crash or not. Most of the time, owners won't be that honest about their helmets, not being aware they are selling a potentially hazardous item.
Nothing compares to proven, safe, and new helmets we reviewed up above.
Wrap Up
You simply can't go wrong with the full-face helmet. This type offers maximum protection from road hazards, road debris, noise, overheating, and bugs. Additionally, full-face helmets also provide excellent venting, some include integrated visors and Bluetooth pockets for connectivity.
We made sure all of these helmets meet the highest safety requirements, comfort, protection, and extra features that will make your rides even more pleasant.
How do you feel about the best full face helmet now? Have you recognized the one among our full face helmet reviews? Go through them once more and the best fit will stand out itself.
See also: motorcycle helmet lock reviews