Using the best motorcycle hitch carrier would not only make the process of transporting your bike easier, but it will also ensure your general safety. Transporting a motorcycle from one point to the other can be quite a hassle when you can't ride it. However, the right equipment helps to make it easier, and that's where the hitch carriers jump in.
Usually, there is so much technical information to process in order to arrive at the best. This shouldn't scare you, however, because you can still get the best carriers for your need with a little guidance. In this guide, all the necessary information to set you on the right path is summarized for your convenience. Let's also dig into the motorcycle hitch carrier reviews that can help you figure out what's trending in the market.
See The Quick Comparison Chart
Are Motorcycle Hitch Carriers Safe?
This is one question that has been asked many times. A lot of motorcyclists want to be guaranteed about the safety of motorcycle hitch carriers before attempting to use it. Typically, brands build motorcycle hitch carriers with the safety of you and your bike in mind. However, there's a need for you to understand that different products feature different build qualities. It will be a good idea for you to shop from reliable brands since they put more effort into making their products generally safe.
Other factors come to mind when you are looking to pick a motorcycle carrier that will be safe. Factors like the carrying capacity of the hitch would help you know how reliable it will be for you. If you have a hitch career that doesn't accommodate heavy bikes, then you'll need to make sure that you don't go beyond the limits.
Additionally, the proper installation would do you a lot of good. The safety level of the hitch carrier reduces significantly with the wrong setup. The installation process is mostly smooth, so you shouldn't find it too difficult to learn before your next trip.
Benefits Of Motorcycle Hitch Carriers?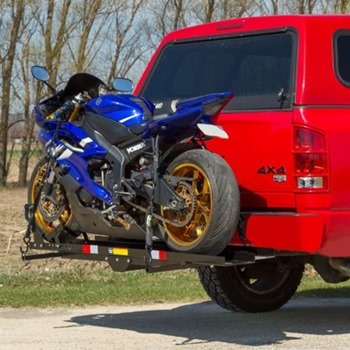 In case you are wondering if this much talked about motorcycle accessory has any benefit for you, then this section would answer your worry. Like top-rated motorcycle battery chargers and many other motorcycle accessories, hitch carriers come with an array of benefits that any biker would like. Note, however, that you will enjoy most of these benefits only if you go for a top-quality motorcycle hitch carrier. That said, let's look at some of the most popular benefits of this accessory.
1. Safe and Efficient
This is perhaps the most crucial benefit of having a suitable motorcycle hitch carrier. You know how difficult it can be to load a motorcycle that needs servicing into the bed of a pickup truck. Most times, moving a spoilt bike from one location to the other can be the most tiring activities you will engage in. The whole process becomes easier with a hitch carrier, however. All you need to do is install the carrier on the vehicle, and you are good to go. Once installed, you can roll your motorcycle up to it and hold it securely in place, using the provided belt. It will give you peace of mind to know that your hitch carrier holds well.
2. They are Relatively Inexpensive
This is another benefit that's worth talking about. The last thing you would want is to spend extravagantly when your budget is getting thinner already. Why go for high-priced trailers and motorcycle haulers, when you can get an efficient hitch carrier at a far less price. Motorcycle hitch carriers will provide the same service to you without the need to pay an arm for it.
3. No Registration Required
We can't help but emphasize the fact that motorcycle hitch carriers do not require any registration. Other alternatives, like trailers and haulers, would most definitely need proper registration with the necessary authorities before you can use them. Hitch carriers, however, don't require any unnecessary procedures. Just mount it to your vehicle, secure your bike, and you are good to go.
4. Easy to Use
One of the exciting benefits of this equipment is the ease of usage that it offers. You do not need to be an expert in anything before being able to use this carrier. This is not like the case of trailers and haulers that require special driving skills. Most brands ensure to include all the needed hardware for mounting the hitch carrier in its pack. You would also find an instruction manual that details how to use the motorcycle hitch carrier.
Best Motorcycle Hitch Carriers Comparison Chart
PRODUCT
DETAILS

TMS T-NS-MRC001 500-Pound Heavy Duty Motorcycle Hitch Carrier

Price:

$

Customer Rating:

3.9

Carrying Channel Size :

N/A

Carrying Capacity:

500 lbs.

View On Amazon

Black Widow MCC-500-F-Folding Steel Hitch Carrier for Dirt Bikes

Price:

$

Customer Rating:

4.3

Carrying Channel Size :

6.9 × 79 inches

Carrying Capacity:

500 lbs.

View On Amazon

ECOTRIC 600LBS Black Steel Motorcycle Carrier Mount Dirt Bike Rack Hitch

Price:

$

Customer Rating:

4.4

Carrying Channel Size :

2 × 75 inches

Carrying Capacity:

600 lbs.

View On Amazon

Versa Haul VH-SPORTRO Sport Bike Carrier with Ramp

Price:

$$$$$

Customer Rating:

4.5

Carrying Channel Size :

8 × 77.5 inches

Carrying Capacity:

600 lbs.

View On Amazon

Motogroup Motorcycle Scooter Dirt Bike Carrier Rack

Price:

$

Customer Rating:

4.1

Carrying Channel Size :

5.5 × 75 inches

Carrying Capacity:

400 lbs.

View On Amazon

Moto-Tote MOTOTOTE Sport Bike Motorcycle Carrier Hitch Rack RAMP LED Light

Price:

$$$$

Customer Rating:

5.0

Carrying Channel Size :

5 × 65 inches

Carrying Capacity:

600 lbs.

View On Amazon

Raider TOW-104 Motorcycle/Dirt Bike/Scooter Hitch Mount Hauler Carrier Ramp (500 lbs Max)

Price:

$

Customer Rating:

3.6

Carrying Channel Size :

5 x 76 inches

Carrying Capacity:

500 lbs.

View On Amazon
Best Motorcycle Hitch Carrier Reviews
1. TMS T-NS-MRC001 500-Pound Heavy Duty Motorcycle Hitch Carrier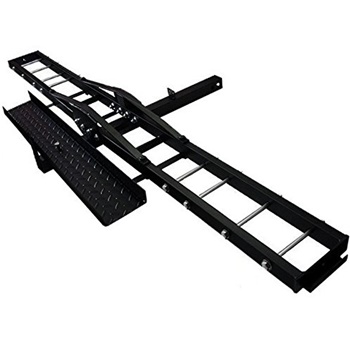 The T-NS-MRC001 is a top-of-the-line motorcycle hitch carrier offering from TMS that is designed to make the whole process of hauling easier and more straightforward. Everything about this option, from construction to functionality, speaks of a quality that any owner would be proud of. The heavy-duty steel construction if this hitch carrier helps to ensure that it lasts longer than most others in the market. We also found that the frame of this option features a unique coating, giving it the ability to resist chipping, fading, wear, and unnecessary scratching.
This carrier can also be used with a 2″ square receiver for class 2 to 5 trailer hitches. Therefore, it will not be any difficult to haul any bike weighing less than 500 lbs. The carrier also offers additional benefits like anti-tilt locking and tie-down sites, all for added functionality. There's also additional wire traction in this bike to prevent slipping. An LED tail light helps to keep you visible late at night.
Pros
The use of heavy-duty materials ensures durability and extended usage.
Good hauling capacity
Additional features for better functionality.
Cons
2. Black Widow MCC-500-F-Folding Steel Hitch Carrier for Dirt Bikes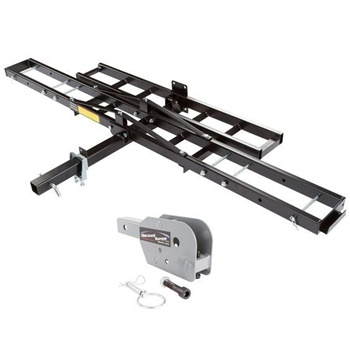 This is one of the few top-quality motorcycle carriers out there with a guarantee to haul various bikes of 500lbs and below. The hitch carrier comes with several features that any motorcycle rider would want for stress-free transportation of their motorcycle.
Manufactured with the best materials, the Black Widow MCC-500-F guarantees an impressive level of durability, strength, and toughness. These are all part of what makes it a very reliable carrier for long-distance travelers.
One of the major reasons behind the popularity of this model is the level of versatility that it brings to the line. We found that its loading ramp is up to 7 inches wide, allowing for the safe hauling of a wide variety of bike styles. Note that you can install the loading ramp on either side of the carrier, making it easy and convenient to load.
Featuring a class III or IV hitch receiver that is usable alongside the 2-inch hitch pin makes the installation process very painless. There's also an anti-rattle device that helps for injecting a good level of stability to the whole pack. No particular skill is needed to get the carrier up to work. After all, the package comes with everything you'll need, including a set of instructions to help you through the task.
Pros
It is a very durable equipment
The hitch carrier is very long-lasting
Comes with a generous weight capacity
Installation is straightforward.
Cons
Relatively expensive
Only compatible with III and IV receivers.
3. ECOTRIC 600LBS Black Steel Motorcycle Carrier Mount Dirt Bike Rack Hitch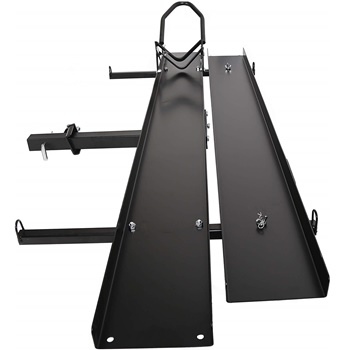 The Black Steel hitch career from Ecotric is one of the best you will get in the market. Ecotric is a brand that is reputed for the manufacture of top-quality motorcycle accessories. Therefore, it'll not surprise many people that this option from the brand has become one of the most sorts after hitch carrier in the market.
Everything about this hitch carrier combines to make it such an exciting option. It comes with a unique construction that's durable and solid. The steel used for its construction features enough toughness and strength to help you carry your motorcycle as firmly as you would want. Additionally, the steel is impermeable, so you would never need to worry about your rack getting rusty when it rains.
This motorcycle carrier features a large load-carrying capacity, making it an obvious favorite for most heavy bike users. It supports the carriage of up to 600 lbs; however, you are warned not to go beyond 55 MPH when you attach the carrier.
The easy installation process that this carrier feature makes it easy for use by both experts and novices. All you need is just a few simple connections, and it is good to go. In addition to the simplicity of the design, each pack also contains everything that's needed to mount the equipment, including an instruction manual.
Pros
Incredible installation ease
Guarantees safe and stable bike transportation
Features durable construction.
Cons
A bit heavier than usual.
4. Versa Haul VH-SPORTRO Sport Bike Carrier with Ramp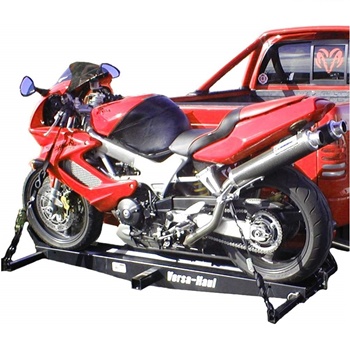 The VH-SPORTRO is a top-quality motorcycle carrier manufactured by VersaHaul. This option is specially designed for hauling the heaviest sportbikes, making it an excellent alternative to own if you have a heavy bike. At a limit of 600 lbs, you can tell that it will carry everything.
The robust steel design of the frame helps to keep it working at top capacity for long. In addition to its robust design, the framework also features a unique powder coat finish that helps to prevent rust. This makes it an excellent option for use in rainy weather conditions. The design also features an extended loading ramp to help you get your bike up without problems.
As a brand, VersaHaul pays a lot of focus to secure your bike. This is evident in the design of this carrier. The carrier features four retractable tie-down bars for the provision of increased stability and for preventing unnecessary lurching during the drive. There's also a built-in anti-tilt locking bracket for increased stability.
Overall, we found this carrier to be a solid purchase, with very limited problems. It might be difficult trying to store the loading ramp, but that shouldn't be too much of a problem to make it a bad purchase anyway.
Pros
Heavy load carrying capacity
Features a unique anti-rust technology
Durable and long-lasting.
Cons
Zero traction in the ramp
Difficult to store.
5. Motogroup Motorcycle Scooter Dirt Bike Carrier Rack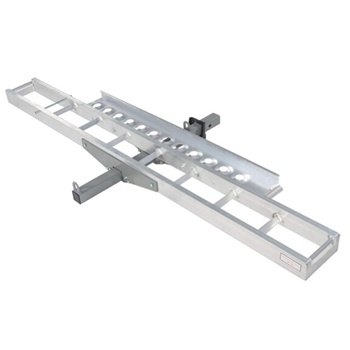 This motorcycle hitch carrier is a perfect option for people that bikes and scooters weighing 400 pounds and below. The carrier weighs just 33.3 lbs, so you can be assured that you are getting a very lightweight unit. This would be an added benefit when you need to pack it in a lodge with limited space. The installation has also been made very easy for this carrier, so you might not need any additional hands to mount it, irrespective of your level of expertise. Just a few easy steps and you are done with the whole installation process.
This carrier features solid construction that keeps it going for a long time. The use of lightweight aircraft aluminum means that you would never need to worry about rusting, even when you expose the unit to adverse weather conditions.
One feature that stands this hitch carrier out I'd the inclusion of a solid loading ramp. The ramp is not only lightweight but also attaches conveniently to both sides of the carrier. Whether you are using it in a van, SUV, RV, camper, or pickup truck, you can trust the unit to work greatly to ensure the safe hauling if your bike. The anti-wobble device on the hitch mount carrier is another decent feature that you would love, especially for the security and stability it brings to the unit.
Pros
Relatively inexpensive
Constructed with lightweight material
Features a multi-loading ramp.
Cons
Only ideal for lightweight bikes.
6. Moto-Tote MOTOTOTE Sport Bike Motorcycle Carrier Hitch Rack RAMP LED Light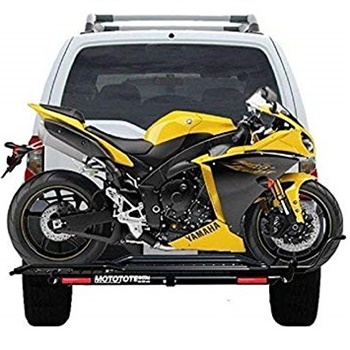 The sportbike hitch carrier from MotoTote is an excellent medium-class option that's worth owning by bike owners. This model features an exciting level of versatility, efficient for carrying different types of vehicles. It combines its good design with ease of assembly and sturdiness. The brand went the extra mile to manufacture a carrier that you can use to efficiently haul motorcycles of different sizes.
This option features a solid steel design that's guaranteed to last long. The 550 lbs carrying capacity of the carrier may be relatively small, but it is good enough to carry most sports bikes. It comes with an adjustable ramp that allows you to resize the track width to any level you desire.
The addition of several safety features to this bike contributes to making it the right choice for long-distance travelers. Its loading ramp can be used on either side, making it possible to load the bike from any side you are convenient with.
Another standout feature of this option is the ease of installation that it offers. Each unit comes with everything that you will need to install it without any unnecessary difficulty. We also found it to be compatible with class III and class IV hitches.
Pros
Features dual-sided loading
Very durable option
It doesn't wobble during any ride.
Cons
There can be some improvement on the carrying capacity.
7. Raider TOW-104 Motorcycle/Dirt Bike/Scooter Hitch Mount Hauler Carrier Ramp (500 lbs Max)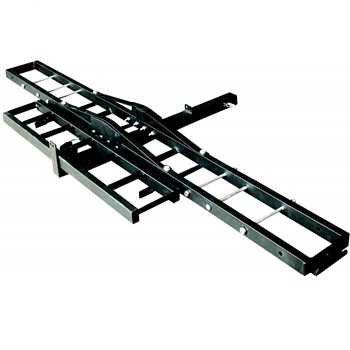 If you are looking to transport your bike that weighs 500 lbs and below, then the Raider TOW-104 is one option to try. This option offers you a secure way to move your motorcycle from one location to the other. The brand behind its production has gained trust over time for producing top-notch motorcycle accessories.
Raider paid heed to the use of top-quality materials for producing this unit, hence, its long-lasting nature. Most users are fascinated by the ease of installation that this option offers. It takes just a few minutes to complete installation, and the carrier will be ready to move your bike. Be assured of the safety of your motorcycle and the vehicle hauling it. The two quick-release locks that come with the carrier would fasten your bike, giving it the needed stability throughout your ride
Pros
Top-quality materials
Ease of installation
An option that offers you convenient hauling.
Cons
Relatively low carrying capacity.
What Are Motorcycle Hitch Carriers and How Do They Work?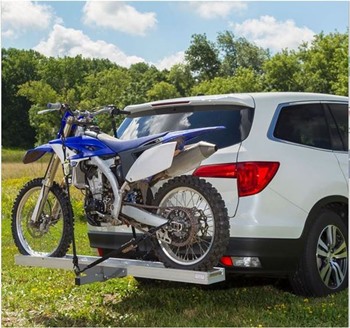 Irrespective of whether you own a motorcycle, a scooter, or a dirt bike, there would often be times when you would need to carry it attached to another vehicle. When you need to, the operation shouldn't give you too many troubles, and that's where a motorcycle hitch carrier becomes useful. If you are still wondering what a motorcycle hitch carrier is, then here's a simple explanation that can help. A motorcycle hitch carrier is a small attachment (usually looking like a ramp) that can be attached to your vehicle for transporting your motorcycle.
How Does It Work?
The working process of a motorcycle hitch carrier is very easy. All it takes is for you to install the hitch on your vehicle correctly, then have your motorcycle hitch-mounted, and you are ready to go.
This motorcycle carrier plays the primary role of ensuring that the transportation of your motorcycle is as smooth and secure as possible. While at the market, you will find that motorcycle hitches are sold in several different brands and models. All you need to do is to find one that suits your carrying need, and you will be good to go.
It will interest you to know that the motorcycle carrier doesn't even require any complicated towing procedure. Just a few connections and you are good to go.
Motorcycle Hitch Carrier Buying Guide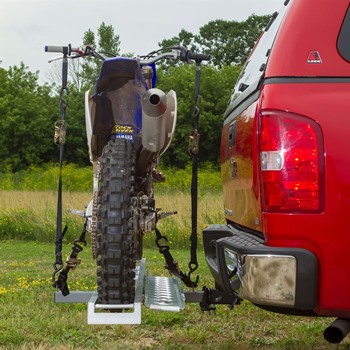 Buying a motorcycle hitch carrier is not the easiest thing to do. There are too many brands and models in the market, and this can make the whole process of picking a carrier for your needs more complicated. This shouldn't scare you. A knowledge of the factors to look out for would guide you to select the correct option for your needs. Here, look at a few factors that you should check out before settling with any choice.
1. Your Vehicle's Hitch Receiver
The first thing that most people look at before hitting the market fit a hitch carrier is the vehicle's hitch receiver. It is one thing to get a durable model and another thing for it to fit into your vehicle. The hitch receiver is what determines whether your vehicle can carry the carrier. The most common hitch receivers fit most trucks, SUVs, vans, and RVs is the 2″ hitch receiver. However, it is always important to double-check the size of the hitch receiver to be sure that you are making the right decision.
2. Your Vehicle's Torque Weight Capacity
Still, on the matter of finding what fits your carrying vehicle, you need to check the torque weight capacity of your vehicle. You don't want the weight of your hitch to cause any damage to your car. This is where the torque weight capacity of the vehicle comes into play. Check thoroughly before going to the market to avoid costly mistakes that will cost you your investment.
3. Maximum Weight Capacity
Weight capacity is another essential factor to look out for. If you are buying it, then you want to know what it can carry. Generally, you will find carriers that can transport between 400 and 600 pounds motorcycles in the market. The size of your bike should typically determine which of the carrier you will buy.
We recommend that you not buy a carrier whose weight capacity equals your bike's weight. Most times, buying one whose maximum weight capacity is slightly higher than the weight of your bike is the key to making a perfect purchase. The extra weight capacity will accommodate things like fuel, etc.
4. Steel or Aluminium
We've found that the best carriers are designed with aluminum or steel. Hence, you will be making a wise decision by sticking to either of the two. However, it is essential to note when comparing the two that aluminum is always lighter than steel carriers in weight. Additionally, aluminum carriers do not need any additional coating, while carriers made of steel would often need an extra layer of coating as protection against rust and corrosion.
Steel carriers are also a bit more expensive than aluminum carriers, but they are perfect for carrying heavy bikes.
5. Dimensions
The dimensions of your carrier is another thing worth checking. Before making your choice, check to see that it has enough space that can accommodate your bike. Usually, you will be able to determine this by measuring the width and length of your bike's tires. A perfect measurement will help you get a carrier that your bike's tire won't wobble on.
6. Ramp Length
Experts often recommend that you go for hitch carriers with the most extended ramp. If you fail to put this feature into consideration, then you will be setting yourself out for stress anytime that you are going to get the motorcycle on the vehicle. A long ramp would make a lot of difference in the comfort that you enjoy from your carrier.
7. Ease of Installation
This feature might not be the most important, but that doesn't invalidate the fact that it is still essential. Finding a hitch carrier that's easy to install is something that you will appreciate in the long run. You will find that most carriers feature the necessary kits needed for a complete installation. Some even go the extra to include easy instructions to guide you through the assembly process.
8. Budget
Your budget is the final determinant of what you will buy. Whether you are buying top-rated motorcycle jacks or one of the models from our motorcycle backpack reviews, you want to ensure that it stays within your budget. Therefore, when making your plans, be sure to check the prices of the options available in the market. Go for an option that fits into your budget. Bear in mind, however, that most expensive carriers come with additional benefits that might interest you.
How To Install a Motorcycle Hitch Carrier?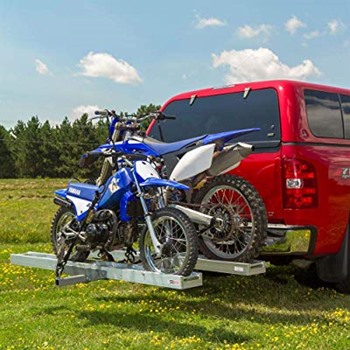 The parts of a motorcycle hitch carrier differ based on brand and model. However, the installation process is mostly the same across all models. Like motorcycle chains, the installation process of hitch carriers is easy. And the process gets less complicated when you've installed one before. If you are looking to start your first installation process, here are the steps to adopt.
1. Clamp the hitch bar and the support brackets together
For a start, you will need to attach the support brackets to the hitch bar, clamping both metals together with nuts, or bolts attached. You will find that the hitch bar is a square tube in some brands. Keep tightening the bolts or nuts in place until you are sure that there's no more movement between the metals being attached.
2. Attach the motorcycle rack
Get the tire racks comfortably on the hitch bar alongside the support brackets. At this point, use the nuts or bolts to secure the tire racks in place.
3. Attach other components
Most conventional hitch carriers come with additional components like a wheel stop and tie-down arms. You should install each of these components to the corresponding part on the long bar, using the attached bolts to secure them tightly. Loose connections would result in instability, rattling, movements during rides.
4. Attach to the hitch
At this point, you should get the carrier attached to the hitch. Once done, fit a hitch pin, and use sturdy bolts to tighten. While some brands come with their hitch pin, others require that you purchase it differently.
5. Mount the ramp
Depending on the brand you pick, the hitch carrier would include a ramp that either loads from one side or either side. You will generally need some pin, nuts, or bolts to mount the ramp. Now, you are ready to push your bike through the ramp. Remember to never load your bike with the engine still running.
How To Tie Down Motorcycle On Hitch Carrier?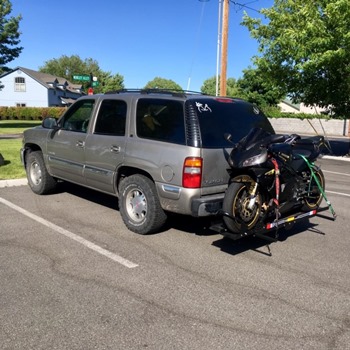 Securing your motorcycle to a truck or trailer can be pretty terrifying if you are doing it for the first time. Even the simplest mistakes can cause damage to your bike or even injuries in some cases. Understanding how to tie down your motorcycle correctly will, however, help to ensure that your bike's safety is guaranteed. Here, let's review a step-by-step process for securing your motorcycle to a hitch carrier the right way.
1. Install a motorcycle wheel chock
The first step will be to install a motorcycle wheel chock. While doing this, however, remember to place the straps in their right positions to enable them inwardly pull the bike towards the wheel chock.
2. Loading The Bike
Most hitch carriers come with motorcycle ramps to make the loading process easier. Push the motorcycle onto the carrier through the ramp. Once done with the loading, get a soft loop wrapped around the left handlebar of the bike. Now, pass the hook end of the strap through the elastic loop. The other end of the belt should then be secured to a safe spot in the trailer or truck.
3. Pull out the slack from the strap
Here, you will need to pull out the slack from the belt and ratchet it a few times.
4. Tighten the ratchet straps
Tighten the ratchet straps individually until the bike sits upright without support. Get a stable part on the rear part of that and repeat the same processes above on it. Check the tightness of the strap from time to time to ensure that everything is still in position.
FAQ About Hitch Mount Motorcycle Carriers
To further help you make the right choice when it's time to make your choice of hitch carrier, we've provided answers to a few frequently asked questions. Here, check them out.
1. Are Motorcycle Hitch Carriers Legal?
Yes, motorcycle hitch carriers are legal. However, the legality of this equipment may vary from state to state. There are places where legality issues are tied to the fact that carriers may obscure the backlights and license plate.
If you want to install a motorcycle hitch carrier, then there's a need to check the local laws of your location to find what's acceptable.
2. Can Motorcycle Hitch Carriers Block My License Plate or Lights?
The ability of motorcycle hitch carriers often depends on the model that you are buying. However, we've noticed that the construction of most hitch carriers is done in such a way as not to block your number plates or tail lights. You will even find that some models feature bonus reflectors. It is also wise to install LED lights to the back of your carrier, especially if you will be hauling the carrier at night.
3. How To Understand If A Trailer is Compatible With Both My Car and Motorcycle?
Most users fail to realize that compatibility issues can go a long way to affect the usage of your carrier. Hitch carriers need to be compatible with your car. Check the load rating of your bike and ensure that it matches the tongue weight of your vehicle, alongside the hitch carrier. You will find an informational sticker in most hitch carriers, stating the maximum weight that it can hold. Stick to this weight capacity, ensuring to never go above the limit.
4. Motorcycle Hitch Carriers Or Trailers?
The answer to this question is entirely based on individual perspective. Most people prefer the models in our motorcycle trailer reviews, but that does not invalidate the safety and reliability of your hitch carriers. The most significant benefit of trailers is their ability to haul many bikes at once. However, it can be quite a hassle for long-distance trips. Hitch carriers make the journey more stress-free for you. Besides, some states have specific restrictions on the parking of trailers. Generally, hitch carriers are more widely accepted by trailers.
Wrap Up
The best motorcycle hitch carrier is one that can guarantee the safety of your bike through a long journey. Carriers offer you an easy way to transport your bike from one location to the other.
The process of choosing a hitch carrier can be complicated, but this guide will help you identify what's right for your needs.
Therefore, before settling down for an option for your motorcycle, consider the information in this guide and check out the motorcycle hitch carrier reviews above. Also, ensure that you take features like durability, compatibility, weight capacity, installation ease, and many more into consideration. Your ultimate goal should be to pick a hitch carrier that's both efficient and long-lasting.
See also: motorcycle wheel chock reviews