Did you know that you can limit the number of times that your motorcycle chain would need replacing by buying the best motorcycle chain for it? It is not strange for motorcyclists to experience wear and tear in some parts of their motorcycles occasionally. The motorcycle chain ranks high among the parts that are affected by wear and tear. Unfortunately, not everyone knows the right motorcycle chains for their two-wheeler. The availability of so many options in the market makes it even more confusing to pick a perfect choice. The important thing is to find one that fits with your bike and guarantees durability, but how do you go about it?
Check out the motorcycle chain reviews to find out what's right for your needs. And remember – an ounce of prevention is worth a pound of cure. Let's get right into it!
See The Quick Comparison Chart
Benefits Of Having a Good Motorcycle Chain
Most motorcycle users already know that the motorcycle chain is an indispensable accessory as far as riding a motorcycle is concerned. However, some riders are still ignorant of the specific benefits of having a good chain on their bike. To help, therefore, we will review some of the essential benefits of having a proper motorcycle chain in this part.
1. Speed
Most top-quality motorcycle chains are specially designed to withstand sudden acceleration and braking. Of course, these are the two common factors that motorcyclists want in a bike. Whether you are a racer or tourist, speed would matter to you. This is something that may fail you if you go for unreliable motorcycle chains.
2. Efficiency
Efficiency is something that every biker wants from their chain. Thankfully, most chains have a high tensile rate, hence their ability to handle heavy loads. Your bike should be able to handle up to 8,000 pounds per foot with a good chain. It is, however, important to note that different types of chains work with different kinds of motorcycles. Hence, getting one that suits your motorcycle is highly recommended.
3. Save The Cost of Fuel
This one is a no-brainer. If you desire to save money on fuel, then you should ensure that every part of the motorcycle is in top-gear at all times. Just like the units in our motorcycle oil filter reviews, the chains also determine how much fuel your bike consumes. By reducing the drag and corrosion from your chain, you will be setting it out to aid smooth riding. This will, in turn, result in more efficient fuel consumption.
4. Avoidance of Unnecessary Delays
Most long-distance motorcyclists do not like unnecessary delays caused by the damage of certain parts of the motorcycle. Because they are always in operation, motorcycle chains fall among the part of the bike that is most prone to damage. This is why you need a chain that can guarantee longevity if you don't want to experience damages consistently. It's even worse for long-distance travelers because they are bound to go through lonely and deserted parts. Nobody wants to experience such damages in areas where help would be hard to come by.
5. Safety
Chain failure is one of the leading causes of motorcycle accidents in highways. If you are going to be doing most of your riding on the road, then you would want to get a chain that guarantees to carry the amount of workload that you are putting into it.
Best Motorcycle Chains Comparison Chart
PRODUCT
DETAILS

RK Racing Chain 520-SO-120 120-Links O-Ring Chain

Price:

$$

Customer Rating:

4.3

Size:

10.2 x 4.8 x 1 inches

Weight:

46.4 ounces

Type:

O-Ring

View On Amazon

JT Sprockets Steel 134-Link 420 HDR Heavy Duty Drive Chain

Price:

$

Customer Rating:

4.1

Size:

24.4 x 15 x 4.7 inches

Weight:

8 ounces

Type:

MX-Ring

View On Amazon

DID 520VX2-120 X-Ring Chain with Connecting Link

Price:

$$$$$

Customer Rating:

4.3

Size:

11.4 x 4.6 x 0.9 inches

Weight:

68 ounces

Type:

X-Ring

View On Amazon

Unibear 530 Gold Motorcycle O-Ring Chain 120 Links

Price:

$$

Customer Rating:

4.0

Size:

11.1 x 4.4 x 1.1 inches

Weight:

48 ounces

Type:

O-Ring

View On Amazon

JT SprocketsSteel 120-Link 525 X1R X-Ring Drive Chain

Price:

$$

Customer Rating:

4.0

Size:

11.1 x 5.7 x 1.2 inches

Weight:

83.2 ounces

Type:

X-Ring

View On Amazon

RK Racing Chain GB520XSO-120 120-Links Gold X-Ring Chain

Price:

$$$

Customer Rating:

5.0

Size:

10.3 x 4.7 x 1 inches

Weight:

70.4 ounces

Type:

X-Ring

View On Amazon

Pro Taper 520 MX Chain (120 Links) (Gold)

Price:

$$$

Customer Rating:

5.0

Size:

9.8 x 4.8 x 1 inches

Weight:

60.8 ounces

Type:

MX-Ring

View On Amazon
Best Motorcycle Chain Reviews
1. RK Racing Chain 520-SO-120 120-Links O-Ring Chain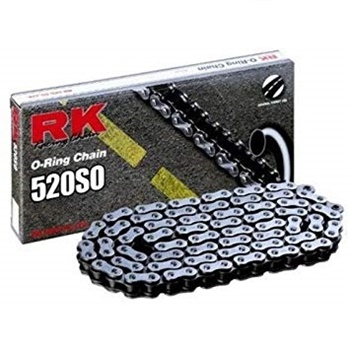 The RK 520 chain is one of the best chains out there for people that are looking to enjoy their ride. It is manufactured by a company known for its attention to details in the production of quality motorcycle accessories. Hence, it is not surprising that the chain ranks among one of the best.
To confirm the quality of the chain on review, teams in the FIM World championship have used it for decades. The chain comes with a lot of standout features that you will fall for. The use of Nitrile Butadiene for its O-ring seals add to enhance its strength, making it highly resistant to unnecessary wear and tear. It also features a top-quality Alloy steel that's specially crafted to make it stronger. Therefore, you can rest assured that your ride would not be interrupted by unnecessary chain issues, irrespective of how long you ride.
During this review, we also found that the manufacturers of the chain pre-stretched it to increase its lifecycle. This feature makes installation and usage pretty easy. You can start and finish the installation by unscrewing the sprocket, then set it up by yourself without necessarily needing the help of an expert. It is also pretty lightweight, making carriage easier.
Pros
It is relatively affordable
It is pre-stretched to provide maximum performance
It is lightweight and easy to install.
Cons
It cannot be used on more powerful bikes
There are also some reliability issues.
2. JT Sprockets Steel 134-Link 420 HDR Heavy Duty Drive Chain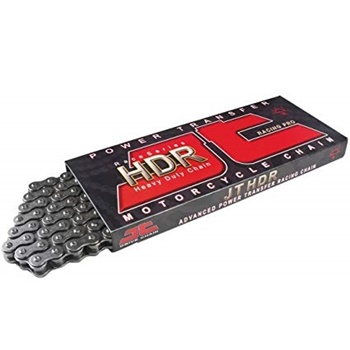 The JT sprocket steel chain is another chain that stands out in the market. The chain comes with several features and functionalities that any bike rider would be interested in. It is a particularly exciting chain to own for bikers that will need to use it in unfamiliar terrains since it helps them achieve better performance. This option has been made extraordinarily robust and fit for a variety of bikes. It works well for nearly any small motorcycle.
Perhaps, the manufacturing process of this chain is the biggest standout for it. Only the best raw materials and innovative processes are used to ensure excellent results.
The ease of installation that this chain also features makes it a standout for anybody. It is also very durable and promises continuous performance at the top level for a long time. Indeed, it is one that can handle long trips without giving your problems on the road.
Pros
Ease of install
Very durable and long-lasting
Excellent manufacturing process.
Cons
3. DID 520VX2-120 X-Ring Chain with Connecting Link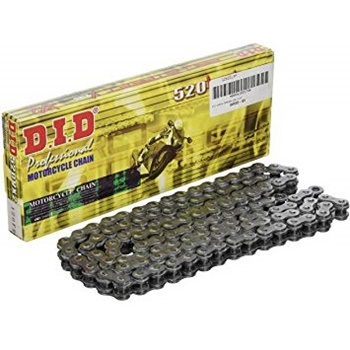 The continually increasing requirement of performance on both bikes and riders in today's world have pushed motorcyclists to search for the best motorcycle accessories in the market. The DID 520Vx2-120 chain stands out for this purpose. Of course, it is an easy option to fall back to when you need a chain that is strong, good looking, and highly responsive.
While researching this product, we found that its popularity is mostly because of the level of performance that it delivers. Not many motorcycle chains can perform at the level that this one does. It has a rugged look that makes it easy to realize that it is built for performance.
In addition to being one of the best performing chains in the market, this chain also guarantees to last longer. Therefore, making it a perfect chain to have in your kit when you hit the road for a long and adventurous trip. It's also easy to wash off dirt from the chain, helping you maintain total cleanliness for your bike. The chain offers your motorcycle a great-looking golden finish that will make you glad to opt for it.
In addition to all the features listed above, the chain is also pretty easy to install, making it a win-win for long-distance tourists since they might need to install the chain in locations without access to motorcycle mechanics.
Pros
Comes with a relatively longer lifespan
Easy to wash
Ease of installation
Great for long-distance rides
Cons
It only comes in a gold finish, which some people might not like.
4. Unibear 530 Gold Motorcycle O-Ring Chain 120 Links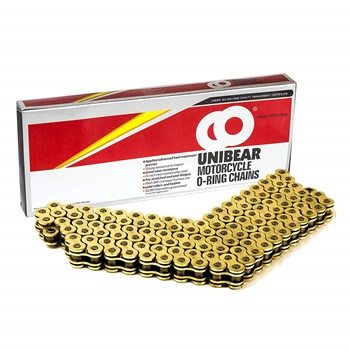 The Unibear 530 is another option that easily passes as a top-notch chain for motorcycle. It is also a budget option. It is important to note that the low price of this chain does not affect the level of functionalities that it can combine. Right of the pack, you can tell that this is a chain that is built to perform. It is made to feature a gold color, giving it a rugged look that befits its performance.
The chain comes with a tensile strength of more than 9400 lbs per feet, making it one of the best performing chains for its category. It is highly durable, which is a feature that you would need for your bike if you are embarking on longer trips with it. It is designed in a 130 links version, which would only be a good fit for most common types of bikes when you take out some links. The only undesirable feature of this chain is its weight. At 6 pounds, it is heavier than most other options on the market.
Pros
Highly durable and long-lasting
Looks good
Excellent performance
Cons
Installation is not so easy
It is heavy.
5. JT SprocketsSteel 120-Link 525 X1R X-Ring Drive Chain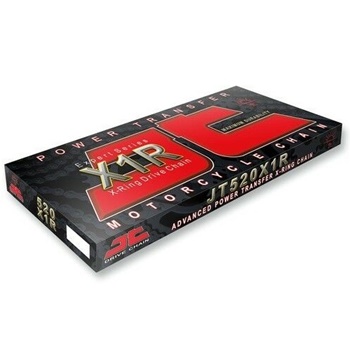 If you are seriously after ensuring that a brand has plans of improving regularly and staying in existence for long, then this is a brand you would want to commit to. The JK Sprocket is a good reason for any biker to want to commit to this brand. This is especially so considering the quality control process that the chain undergoes before being released into the market. From the manufacturer's website, we found that the product undergoes up to 25 stages of quality checks before being released into the market. That is something that you only find in a brand that desires to offer you top-notch quality.
We must state at this point that the chain may not be as light as a 520 motorcycle chain, but that doesn't make it too heavy for your motorcycle to handle. It is designed using an aviation standard aluminum alloy, standing it out as one of the most reliable options. In addition to its aluminum make, it also consists of Chromoly steel, which enhances the durability of the chain.
You can use it for many miles per day without developing issues. The quad riveted pins that the chain features also add to ensure its durability.
Pros
The chain is relatively affordable compared to some other options
It features the sturdy X-ring seals
Designed to work for heavy-duty purposes.
Quality assurance.
Cons
Lack of gold costing. This makes it susceptible to damage.
6. RK Racing Chain GB520XSO-120 120-Links Gold X-Ring Chain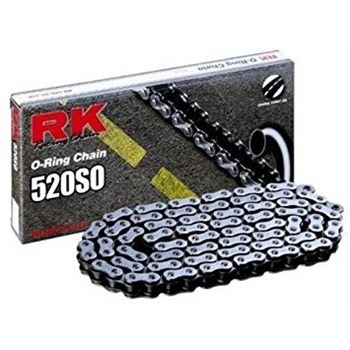 Another product from the RK brand goes a long way to show that the brand is a standout in the industry. The chain in review is another affordable option out there. Beyond being a budget option, however, there's a lot more to the chain that makes it a popular demand.
The option makes a case for O-ring chains, bringing a level of functionality that you can barely expect from this category. The links in the chain provide two sealing points and two lubrication pools, fit extra fluidity during any ride.
Essentially, a combination of all these features makes this a chain that will run smoothly without giving you any hiccups in a hurry. Most long-distance riders favor this option for its ability to continue working for miles without quickly needing change. Unexpectedly for its level of performance, it is also lightweight, making it easy to carry.
Another reason for the popularity is its pre-stretching feature, which ensures a longer lifespan. This feature only means that you won't be needing to change the chain anytime soon.
Pros
It is relatively affordable
Pre-stressed to provide maximum performance
It lasts long.
Easy to install.
Cons
Reliability issue
You can't spray it.
7. Pro Taper 520 MX Chain (120 Links) (Gold)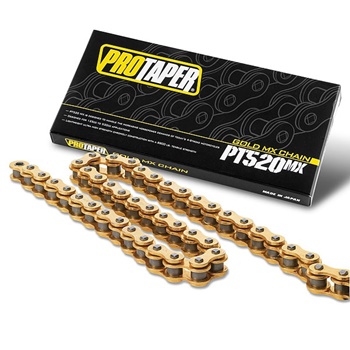 Making it into our list of best motorcycle chains is the Pro Taper 520 MX chain, which is famous for its strength and performance. This chain is an all-in-one solution to turn to for your bike needs. It is specially designed for modern four-stroke bikes. With this chain, you can expect nothing short of top-quality, making it a solid deal for a price that is favorable.
The ease of application and adjustment that the chain offers makes if a good choice for long-distance travelers. This feature is vital since you would not want to waste too much time in an unknown location trying to install or adjust your chain when the need arises.
This is a great value chain that you would love. Straight off the pack, you can tell that the chain is designed to perform, and it doesn't disappoint. Let's point out, however, that stretching may most likely occur, and you could experience some durability issues, yet it is one of the budget options that will serve your needs well. It also features a lightweight design which most bikers that travel long distance would fancy.
Pros
Very good value
It has a lightweight design.
Lasts longer than most others.
Cons
Would often need some adjusting for maximum performance
It has some durability issues.
What Is a Motorcycle Chain?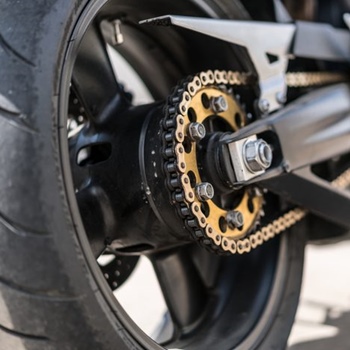 A motorcycle chain is a metallic chain that you will find installed on a bike. You will find that a chain drive powers almost all motorcycles. The motorcycle chain serves to transmit power originated from the motorcycle engine to the motorcycle chain. The simplest way to describe this is as a device aimed at retaining power transmission.
Most times, the power is conveyed by a roller chain that is popularly referred to as the drive chain that passes over the sprocket gear, with the gear teeth meshing with the holes in the chain-link. The gear is turned, and it pulls the chain, bringing some mechanical force to the system. Motorcycle chains make up the simplest part of the engine of your bike.
Motorcycle Chain Types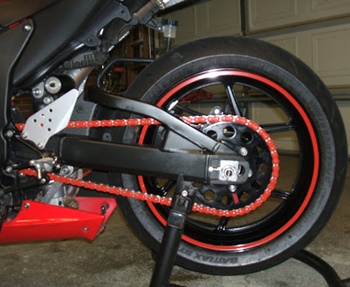 Like motorcycle horns and most other motorcycle parts, motorcycle chains are manufactured in different types. As a motorcyclist, it is vital to know the different types of motorcycle chains available in the market before setting out to buy one. Each type of chain is designed for specific types of motorcycles, and they have distinct features that are often not seen in other types. In this part, let's review three of the most popular types of motorcycle chains available in the market.
1. Non-Sealed Motorcycle Chain
This is often referred to as a standard non-sealed motorcycle chain, and it is as it sounds. It is the usual old roller chain that you would find in most older model bikes. The chain is interconnected with links. It was the main bike chain in use before the invention of the X-ring and O-ring chains. You will still find that some older model bikes in the market can only run on this type of chain.
This type of chain doesn't come with any internal lubrication, and this is why they require constant maintenance if you want them to last long.
2. O-Ring Motorcycle Chain
This is a more modern type of chain than the non-sealed chain. As its name suggests, this type of chain comes with small O-rings that fit into the space between the inside roller cover and the outside link cover.
The build of this type of chain allows the grease applied from the factory to stay inside the pin. This feature helps to ensure that the chain is well-lubricated. It also helps to stop grit, dirt, and several other contaminants from penetrating the links.
The reason for the blockage of contaminants is their ability to cause the chain to wear when they get in between the moving parts.
3. X-Ring Motorcycle Chain
For a long time, O-ring remained king until the supercharged environment of the race track exposed the hidden weakness. As the O-ring's larger surface area presses against the pins and covers, it begins to create some amount of drags, causing the bike to lose reasonable speed.
This was a significant concern for racers until the X-ring chain was created. This chain type allows for a smaller surface area to come in contact with the pins and covers, leading to a reduction in the usual dragging and an increase in speed.
Note, however, that unless you desperately want to increase your speed on a race track, there is not so much difference between the X-ring and O-ring chains.
How Do I Know When to Change My Motorcycle Chain?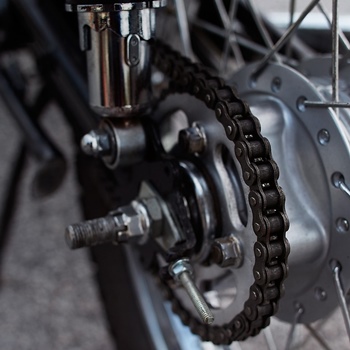 All chains come with a limited lifespan. For every time any of the chain links drop into the valley found between the teeth on the sprocket, cassette, or chainring, two metal surfaces would be rubbing together. Combine this with the bringing paste often attracted by the transmission, and you are presented with some severe wear and tear.
With time, the chains continue to wear, leading to the tendency of the chain stretching. The problem with this stretch is that it causes the chain to skip over the sprocket teeth when subjected to load. Once this becomes the case, you can tell that it is time to replace the chain. However, most motorcyclists would instead act earlier to avoid complete damage. Acting earlier would usually involve the use of a chain measuring device for determining the wear and tear in your chain.
There's a whole lot of issues that you will avoid by checking early for wear and tear.
Another alternative for determining when to change your motorcycle chain is to measure the length of 12 links. Usually, this should be 12″ on a new chain. If it measures anything more, then it's time to change your chain.
Another method for determining if a chain is due for a change is by measuring by sight. Start by leaning the motorcycle against a wall with the drive side facing outwards. While doing this, be sure that the chain is shifted onto the most significant front chainring and the smallest rear sprocket. Once you've completed this, hold the chain between your forefinger and thumb at the 3 o'clock position, then pull gently towards you. If there's a movement in the rear bottom hockey wheel, then it's time to change your chain.
Motorcycle Chain Buying Guide
Just like a quality motorcycle glasses and motorcycle helmets help to ensure the safety of a rider, having a good motorcycle racing chain also helps to ensure your security when you ride. The power that your bike engine produces passes through the chain, which retains power transmission to ensure that your bike moves safely and steadily.
Since your choice of chains directly affects your safety, you need to get nothing short of the best when you step out to get a chain for your motorcycle. There are so many brands and models of chains available today that making a choice can sometimes become confusing. However, with some factors in mind, you will be able to go through the process of making a choice. Below, take a look at some of these factors that will determine if you are making the right choice.
1. Chain Type
As expected for most motorcycle parts, there are different types of motorcycle chains available in the market. A knowledge of these types of chains would ultimately guide you to pick the right one. We've listed the three types of chain, as well as reviewed the features of each in this article. Go through them to find out which is best for your needs and what features to expect from each.
2. Tensile Strength and Ring Numbers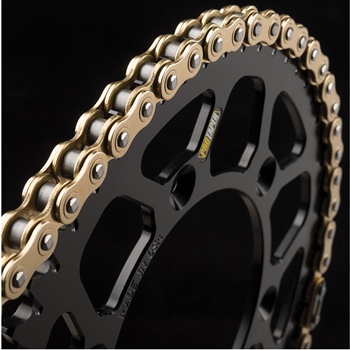 One significant factor to look out for when in the market for motorcycle chain is its tensile strength. This refers to the total weight your motorcycle chain can accommodate.
To get the chain with the best tensile strength to fit your needs, you have to first think about the load that you intend for the chain to carry. If you want your chain to bear heavy loads, then you should go for one that won't break. Top-quality chains of today come with a tensile strength of 8,000 pounds or more.
The number of rings is another factor that can help you filter the available products in the market. Thankfully, you will find the number of rings and tensile rate for each chain on its pack, making it easy to see which suits your needs.
3. Durability
Durability is another crucial factor to look out for when buying a motorcycle chain. An ideal chain is one that guarantees durability and is strong enough to last for long.
Since motorcycle chains are quite pricey, you wouldn't want to be spending a large chunk of your monthly budget on getting a new one. Therefore, it is essential to look out for the materials used to manufacture the chain. It is also important to look at its design if you want to get a product that would last long.
Bear in mind, however, that chains require proper maintenance regularly.
4. Installation Ease
Every cyclist faces a situation when they will be stuck on a lonely path and want to replace the chain of their motorcycle. This can be a problem if you don't know how to change the change. It's a good thing that brands now manufacture chains that don't take much to be changed. While at the market, you will find that some chains even come with instructions that specify the process of replacing your chain. Getting a chain that's easy to install will save you a lot of time when you need to handle the replacement by yourself.
5. Budget
This is the chief determinant of what you will end up with as far as motorcycle chains are concerned. Chains are sold at different prices, and you would need to check that your preferred chain goes for a price you can afford. Ensure, however, that you never make the mistake of sacrificing quality on the altar of price.
How To Replace a Motorcycle Chain?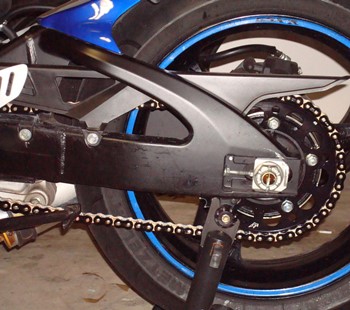 Irrespective of how you try, the truth is that your motorcycle chain would eventually wear with time. Proper maintenance can only prolong the lifespan of the chain, but it doesn't make it last forever. It is one thing to know when your motorcycle chain needs change, and it is another thing to know how to change it. Most motorcycle chains come with an instruction manual to guide you through the process of changing it. If, however, you do not get one, or can't grasp what the manual is talking about, drop it aside and follow these simple procedures.
1. Purchase the Right Chain
The first place to start is to get what fits your needs. We've talked a lot about how to get a good chain for your needs, so that shouldn't be any problem for you. Once you are set to begin, create a clear workspace for yourself, and get to work.
2. Set The Motorcycle in Position
We always recommend that you put your motorcycle on the double standing when you want to work on it. Check the gear levels to determine whether it needs removal before taking out your socket cover. Remember that all these should be done with the motorcycle off.
3. Unscrew The Front Sprocket
Before you start this, look to see how the front socket is secured. While some come with a self-locking nut, others come with a tabbed locking washer. If you are dealing with the latter, then you should use a flat screwdriver to tap the tabs back. Next, remove the front sprocket nut with a bar, leaving the sprocket in place.
4. Replace Sprocket
Next, remove the rear wheel. Undo the sprocket on the rear wheel and remove it. Check to be sure that you have the right fit for replacement. If you do, then fit it in place. Repeat the same process on the front sprocket. Once replaced, wrap the old chain around it.
5. Recoupling
You will need to loosen the adjustment of the chain by a few turns before refitting the back wheel. This will help to make it easier for everything to go back in place. Do not tighten the spindle nuts yet when you refit the wheel.
Split the old chain with a splitter tool loosely join the new chain to the old one. From the front sprocket, pull the old chain. Continue to pull until the new chain is fitted around both sprockets. Now use a master link to join the new chain together, and you are ready to refit all the parts you've loosened in the same manner you loosened them.
FAQ About Motorcycle Chains
1. How Long Do Motorcycle Chains Last?
The long-lasting nature of a motorcycle chain mostly depends on the brand and type. The amount of maintenance that you give to the chain can also determine how long it lasts. Keep in mind, however, that most motorcycle chains last between 500 miles and 5,000 miles depending on how you ride the bike, the sprocket quality, and the level of maintenance it gets.
2. How Tight Should a Motorcycle Chain Be?
The tightness level of your motorcycle chain would mostly depend on what you use the bike for. You would find the amount of slack needed on the instruction manual. If you are unable to determine the tightness required for your particular use, we advise that you see an expert.
3. Do Motorcycle Chains Stretch?
From a technical point of view, the chain's links do not stretch. This means that the length of the metals on the chain would never change. However, due to wear and tear, the space between the links can often increase, leading to an extension on the chain.
4. How Can I Prevent Chain Breakage?
It is extremely rare to hear of broken chains, but they happen. Most times, it is as a result of putting a load on the chain when it is not fully in gear. Another reason for the damage is having sprockets that are badly hooked, such that your chain gets sucked into a knot. Consistent maintenance can help you beat the latter case.
Wrap Up
Choosing the best motorcycle chain doesn't have to be as difficult as you think. All it takes is for you to take some time to think about what you want. A good place to begin is to think about what you are doing with your bike. With the idea of what you do with your bike, you can figure out what specs you will need in a chain.
Our motorcycle chain reviews above are detailed enough to help you make your choice. Picked the perfect one for your needs? Perhaps you should try changing it by yourself. It's not that difficult, and we've written out the steps involved to make it even easier. By now, you've also learned how to know when to change your motorcycle chain. The information in this article and many more motorcycle guides from us should get you ready to hit the road.
Bonus guide: motorcycle chain lube reviews