Whether you are limited by the storage space or you simply like the minimalist approach, go with the best motorcycle trailer! Sooner or later, you will have to transport your two-wheeled road buddy to a certain destination without actually riding it. A bike trailer is a nice option.
Falling for the wrong type of trailer is usually a costly mistake. If you want to make sure you pick the suiting model, the motorcycle trailer reviews will surely help you get there. Let's get to it then!
See The Quick Comparison Chart
What Is a Motorcycle Trailer and Should You Have One?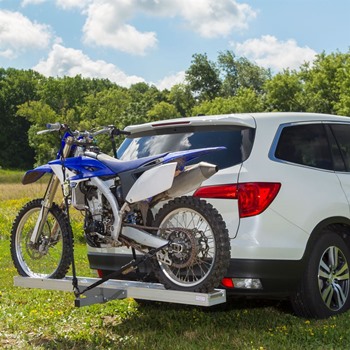 A motorcycle trailer falls into the category of additional gear. This device is used to transport/haul your motorcycle, dirt bike, Enduro bike, even a couple of these at once, safely. Towing a heavy-duty motorcycle would be way too complicated, even dangerous without motorcycle trailers and carriers.
Why would you pay a hefty price for someone else to haul your bike to the desired destination when you can do this yourself? Not only you will save a solid amount in the long run, but you will have a trailer near at your hand at any time, ready for a trip.
Thanks to motorcycle trailers and carriers, you will have carefree and smooth trips, all along with your best 2-wheeled friend.
Types of Motorcycle Trailers
Motorcycle trailers come in many different styles, sizes, and provide a myriad of different features to choose from. If you are wondering which type is the one for you, this guide will help you narrow your search down:
1. Open trailers
Open trailer models are the most common, especially because these are affordable. Unlike their alternatives, open trailers are lightweight and offer minimal aerodynamic drag. Another big bonus for open trailers is they don't affect your fuel mileage, unlike enclosed trailers.
On the other side, an open trailer is – open, just like its name suggests, and it doesn't provide any additional layers of protection. Flying debris, stones, and gravel would damage the paint on your hauling bike over time.
Yet, if you are not traveling across the whole country that often, an open trailer will come handy. Affordable, easy to fold, assemble, and disassemble, this type of trailer offers great value for the price.
1.1 Open flatbed trailers
A subcategory of open trailers, the open flatbed type comes with added wheel chocks and tie-down points. Even though this type is not intended for hauling motorcycles only, this general-purpose trailer will come handy in case your bike breaks down and you need something to transport it to a mechanic.
1.2 Open rail type
Made for hauling one or two bikes, the open rail trailers are light in weight, semi-foldable or fully-foldable, and affordable.
2. Enclosed trailers
The enclosed trailer brings a lot to the table. Even though some models come at a hefty price, there is a massive reason for it. Enclosed trailer protects your motorcycle from thieves and damaging elements, which justifies this price tag.
Unlike its past competitor, one enclosed trailer hauls 4 motorcycles at a time – double than the open type. Even if you are hauling one bike only, you can get the most out of this space to store other belongings in there.
On the downside, enclosed trailers are heavy to tow, which will affect your fuel economy negatively.
If you are okay with this, make sure to determine the type of door that your favorite trailer model features. A single, double, and a ramp door are the most common. The latter makes loading and unloading smoother, but if you, for any reason, have to open and close the carrier often, go for a double or single door.
Best Motorcycle Trailers Comparison Chart
PRODUCT
DETAILS

Black Widow AMC-400 Aluminum Motorcycle Carrier

Price:

$

Customer Rating:

4.2

Ramp Included:

Yes

Hitch Receiver Compatilibty:

Class III and IV

Weight Capacity:

400 lbs.

View On Amazon

Best Choice Products SKY1375 Loading Ramp

Price:

$

Customer Rating:

4.2

Ramp Included:

Yes

Hitch Receiver Compatilibty:

Class II, III, IV and V

Weight Capacity:

500 lbs.

View On Amazon

Black Widow MCC-600 Heavy-Duty Steel Motorcycle Carrier

Price:

$$

Customer Rating:

3.9

Ramp Included:

Yes

Hitch Receiver Compatilibty:

Class III and IV

Weight Capacity:

600 lbs.

View On Amazon

Goplus 600 LBS Motorcycle Carrier

Price:

$$

Customer Rating:

4.0

Ramp Included:

Yes

Hitch Receiver Compatilibty:

Class II, III, IV and V

Weight Capacity:

600 lbs.

View On Amazon

VersaHaul Motorcycle Trailer

Price:

$$$

Customer Rating:

4.8

Ramp Included:

No

Hitch Receiver Compatilibty:

Class III and IV

Weight Capacity:

500 lbs.

View On Amazon

Direct Aftermarket Steel Motorcycle Scooter Dirt Bike Carrier

Price:

$

Customer Rating:

4.4

Ramp Included:

Yes

Hitch Receiver Compatilibty:

Class III and IV

Weight Capacity:

500 lbs.

View On Amazon

Trackside Motorcycle Carrier

Price:

$$

Customer Rating:

3.9

Ramp Included:

Yes

Hitch Receiver Compatilibty:

Class III and IV

Weight Capacity:

500 lbs.

View On Amazon
Best Motorcycle Trailers Reviews
1. Black Widow AMC-400 Aluminum Motorcycle Carrier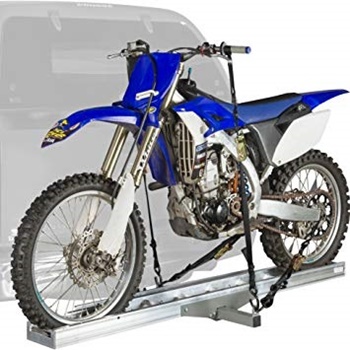 The lightweight Black Widow AMC-400 makes a great option for hauling off-road MX, motocross, and dirt bike models up to 400lbs. Yet, don't let the fact that it's so lightweight trick you. This hitch-mounted trailer has a stainless steel platform and heavy-duty steel frame that make it durable, sturdy, and rust-free.
It supports tire width up to 5.5-inch, while the 33.5lbs carrier measures 75×5.5-inch. The AMC-400 comes with a 44.5-inch loading ramp and a 0.67-inch loading ramp.
Easy to load, this trailer has an anti-tilt bracket and youth dirt bike adaptor that stabilize the front wheels well and reduce wobbling, especially when driving over rough surfaces.
Secure your motorcycle with two tie-down points, soft loops, and straps (sold separately) for complete peace of mind. It will take no more than 5 to 10 minutes to assemble it. One of the easiest trailers to use, lightweight, and affordable, the Black Widow AMC-400 offers great value for this price tag.
Pros
        Class III and IV hitch receivers,
        Numerous security features,
        Clear assembly instructions.
Cons
        Doesn't include a wheel chock,
        Not suitable for scooters,
        A bit tricky to unload.
2.

Best Choice Products SKY1375 Loading Ramp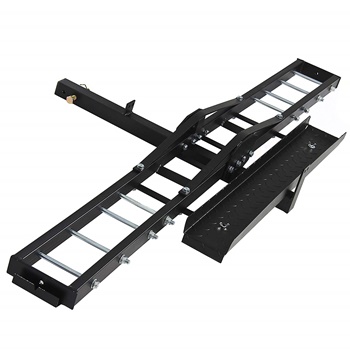 If you are on the hunt for a motorcycle trailer by a reliable and well-known brand, the SKY1375 might be worth your time. Best Choice Products has top-quality gear in-store, featuring their heavy-duty steel bike guide and strong steel sub-frame.
This relatively lightweight carrier (50lbs) boasts about an impressive hauling capacity. It supports motorcycles up to 500lbs with 5.5-inch wide tires. It suits 2-inch class II, III, IV, and V hitch trails. Thus, you can be carefree when transporting heavy motorcycles with the SKY1375.
Designed to provide easy assembling and installation, this carrier is easy to move around thanks to the anti-wobble lock feature and an anti-tilt locking device. Besides, you can roll and move your bike around, on and off the trailer without getting tired.
The SKY1375 comes with a two-inch square receiver space and it tows only one bike at a time. If this isn't a deal-breaker for you, then this could be the one.
Pros
        Simple, yet durable and sturdy design,
        Anti-wobble features,
        Doesn't sag.
Cons
        Tows one bike at a time,
        Could use a bit larger loading ramp.
3. Black Widow MCC-600 Heavy-Duty Steel Motorcycle Carrier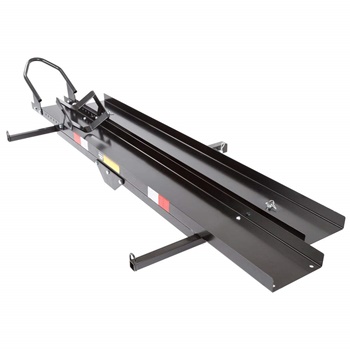 Just as its name suggests, the MCC-600 is a heavy-duty carrier, ideal for transporting bikes up to 600lbs with 8-inch wheels. It weighs 99lbs and comes with an extra-large 71-inch ramp you can easily store on the carrier when not in use.
However, make sure to check whether your vehicle has the capacity to bear the carrier and the bike. In a nutshell – your vehicle should be able to bear the weight of 700lbs approximately.
This hitch-mounted trailer fits into 1V or class III and IV receivers. Also, it includes a reverse anti-tilt bracket and a 5/8-inch hitch pin. The MCC-600 comes with a 7-position adjustable wheel chock and 4 top-rated motorcycle tie-down straps for added safety.
Manufactured from heavy-duty steel, coated with black resilient paint, the MCC-600 is a quality, lasting model that won't show any trace of rust or corrosion even after years of use.
Pros
        Ideal for large and heavy bikes,
        Loads on the left, offloads on the right side,
        It can be mounted in different positions.
Cons
        Unclear assembly instructions,
        Two-man job.
4. Goplus 600 LBS Motorcycle Carrier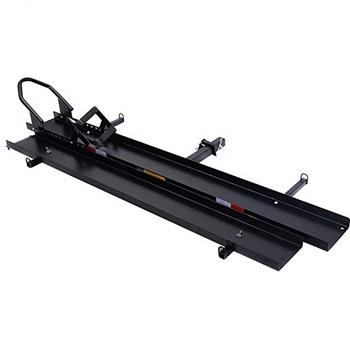 The Goplus 600 is definitely one of the highest load-bearing capacity trailers on the market. Therewith, its 600-pound hefty capacity will hold your sports, off-road bike stable even over bumpy terrains.
This carrier comes with a 72×7.5-inch carrier track and a large loading ramp (79-inch). Thanks to the raised wheel stop that's attached to the ramp, you can load and unload your cargo without torment. This wheel stop also stabilizes the carrier and acts as a wheel chock.
You get a hitch pin included in the package, while all that is left is to mount it using a 2-inch receiver. Goplus designed their carrier in a safe and stable manner. That's why they build two quick-release locks to it to add on safety on the road.
Made of impermeable steel, this powder-coated construction is durable and rust-free, so you can transport your motorcycle no matter of weather conditions.
Pros
        Strong and stable,
        Anti-wobble mechanism,
        Doesn't sag,
        Bolts are the same size, which makes it easier to assemble the carrier.
Cons
        Heavy,
        Ambiguous instructions.
5. VersaHaul Motorcycle Trailer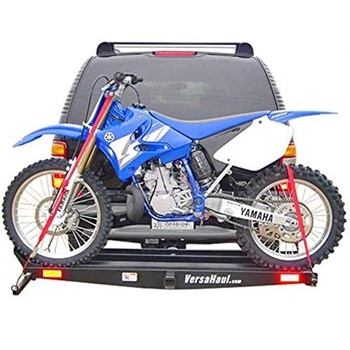 VersaHaul has is another heavy-duty stainless steel motorcycle trailer on the market. Their model comes with a top-rated motorcycle wheel chock and a 4 eyelet-tie down adjustable points to help you secure your big boy.
The VersaHaul trailer is the best enclosed trailer on our list. Covered with powder and black steel finish, it has a great life expectancy, so you can count on its road support for many years to come.
You will love the fore/aft adjustability of this trailer. This clever feature makes it possible to slide the carrier a bit away from the trunk so you don't scratch the paint from your vehicle off.
What makes this trailer stand out from the competitors' models is that it comes with reflectors. This increases your visibility and safety on the road. Other motorists will clearly see you, but don't worry – your motorcycle will stay in place thanks to the anti-tilt device that prevents wobbling and ensures a smooth ride.
Note that this trailer works with class III and IV hitch receivers only.
The VersaHaul trailer can haul bikes of 500 pounds. Just make sure you don't exceed 3,000 towing weight at a go. It stores away easily, waiting for your next adventure.
Pros
        Relatively lightweight,
        Well built.
        Rust-free.
Cons
        The ramp is sold separately,
        Loads on one side only.
6. Direct Aftermarket Steel Motorcycle Scooter Dirt Bike Carrier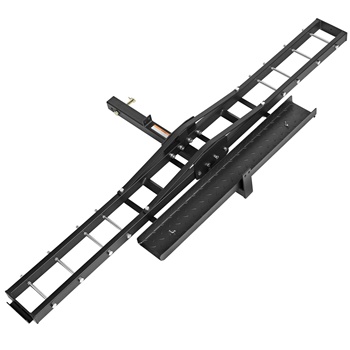 If you are looking for an option that won't break the bank, but still keep you and your motorcycle safe and sound while on the road, the Direct Aftermarket Steel Motorcycle Scooter Dirt Bike Carrier may come to the forefront.
Made of premium-quality steel, this carrier is sturdy and stable. You can tow anything up to 500 pounds with it – scooters, sports bikes, and classic motorbikes.
Featuring a couple of safety add-ons, this carrier comes with an anti-tilting lock system, well-padded arms to protect the hauler and a rubber base.
You don't have to be a mastermind to assemble it, and the installation is pretty straightforward too! The loading ramp is also easy to attach and remove when needed.
Free of rust, epoxy powder-coated, the Direct Aftermarket Steel Motorcycle Scooter Dirt Bike Carrier won't wear out or get damaged quickly or easily, so you can use it even when it's foggy, raining, or snowing.
Pros
        Comes with an anti-tilt device,
        Ramp included,
        Fits standard hitch receivers.
Cons
        The ramp could have been a bit longer.
7. Trackside Motorcycle Carrier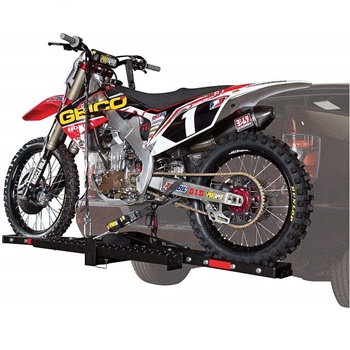 What would you say to a motorcycle trailer that attaches right behind your vehicle's trunk? Easy and more convenient to assemble, install, and handle, the Trackside Motorcycle Carrier will make your trips more comfortable as well.
If you are traveling to a place where trailers are not allowed (yes, some countries have strict laws on this), the Trackside carrier will come as a perfect alternative. Sturdy-built, with the anti-wobble feature, this carrier mitigates unnecessary movements, especially on bumpy roads.
Simply attach a ramp included in the package to your system and haul your motorcycle to the desired destination. If you feel like the carrier needs any adjustments, just move the wheel track bolts, which will make things easier on the front tire section.
This carrier is a great option for dirt bikes, as it carries up to 500 pounds with a tire width of 4.75 inches. It is a well-built, sturdy single-bike carrier, powder-coated, with a long shelf life.
Pros
Use it with Class III/IV hitches,
Can be used with almost any vehicle, even sedans,
Great for carrying dirt, motocross, and Enduro bikes.
Cons
Motorcycle Buying Guide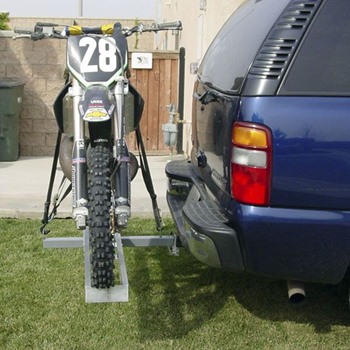 If you feel overwhelmed after reading on these reviews, let us make this story less perplexing for you. These are the main features you should have in mind when purchasing a motorcycle trailer/carrier:
1. Load capacity
First and foremost, when looking for a motorcycle trailer, you want to make sure what is its load capacity. Dirt bikes weigh around 400 pounds, while heavy-duty motorcycles go up to 600 pounds.
Double-check the load capacity specified in the manufacturer's description. What's the point of buying a trailer with a load capacity of 400 pounds if your motorcycle weighs 500 or 600 pounds?
We guess you don't want your brand new trailer/carrier to break down or cause an accident on the road, right?
2. Build material
Aluminum and stainless steel trailers are the most common, as these materials are durable and rust-free. Steel is bulkier and weighs more than aluminum, but it is the best option if your motorcycle is 500 pounds or more as it carries massive loads.
Aluminum trailers are lighter, and thus, accommodate dirt bikes and other types of light motorcycles about 400 pounds.
3. Hitch receiver compatibility
Hitch receiver acts as a backup for your motorcycle, as it ensures the connection between the trailer and the vehicle. High receiver compatibility varies from class I to class V.
Class I hitch receivers carry no more than 2,000 pounds, and 200 pounds of the trailer tongue weight (TGW). Passenger cars and small crossovers fall into the category with class I hitch receiver. Both classes I and II hitch receivers are designed for towing light-duty carriers/trailers.
Class II holds 3,500 (full-size sedans, minivans), with 300 pounds of TGW. Further, class III goes up to 6,000 pounds(SUVs, pickup trucks), and 600 pounds of TWG. class IV has a load capacity of 10,000 pounds and a maximum TGW capacity of 1,000 pounds, while class V can boast about the highest weight capacity of 20,000 pounds and 2,000 of TGW (commercial trucks and full-size pickups).
4. Ramp inclusion
If you have read our trailer reviews well, we guess you noticed some of these come with a ramp included, while others come with no ramp. For the ones tight on the budget, this feature may come as a deal-breaker.
Ramps make the whole process of loading and unloading easier, and you can't go without one. It's always better to purchase a trailer that includes a ramp, but the final choice is up to you.
5. Assembly and installation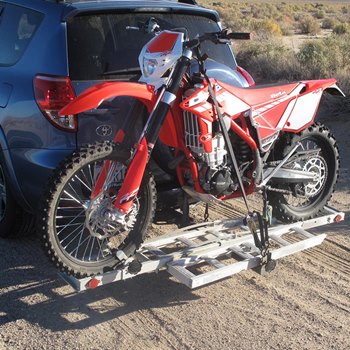 If this is your very first time with a motorcycle trailer, assembling one might get you confused at first. A great number of motorcycle trailers come in a package, requiring you to assemble and install it to your vehicle. Thus, go for a trailer with straightforward and clear instructions.
6. The number of bikes to be carried
If you are hauling one bike only, it would be just enough to find a trailer with the right capacity. Yet, if you have a couple of motorcycles to tow, it is critical to find a trailer with enough space and higher load capacity.
7. Special safety features
One of the main reasons why motorists buy motorcycle trailers is for their own safety and the safety of other participants. If you want to make sure smooth rides, look up for any special safety features, such as reflectors that increase your visibility on the road and give a signal to other motorists from a distance.
How to Install a Motorcycle Trailer to Your Vehicle?
Installing a motorcycle trailer may seem like an uphill battle at first. The truth is –all you need is a bit of DIY skills and the right tools (13 and 17mm wrenches). Each trailer comes with instructions, but it would be great to get to know these general guidelines on installing a trailer to your vehicle.
Do this:
      Use the supply bolts to attach two support brackets to the hitch receiver,
      Place the motorcycle rack in-between these brackets and double-check the connection,
      Point the flat side of the anti-tilt/anti-wobble device over the hitch receiver,
      Connect the rack and the trailer, then add a hitch pin to secure the device in place,
      Place the ramp on the trailer, and you are good to go.
How to Get Your Motorcycle on a Trailer?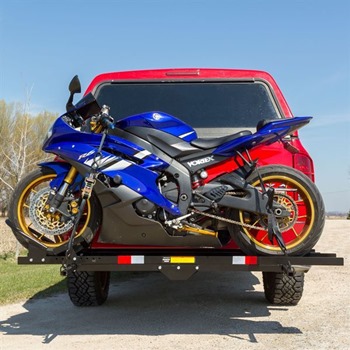 The "fun" part begins only once you pick a trailer and get a corresponding ramp for it. It's not that easy as throwing some ropes over your motorcycle and driving to the desired destination.
A ramp truly gives you more confidence in this task, as it will help you get your bike up on the trailer.  Well, this is exactly the thing that makes the whole story moderately tricky.
Plenty of motorists have experienced serious crashes just because they didn't fasten the trailer well. After all, if you have a motorcycle that weighs 500 pounds, it would be ridiculous to try to get it on the ramp alone.
You can try to do this on your own if you own a lighter motorcycle, and ride it up in low gear up to the ramp. Yet, we would highly recommend having someone to help you push it up.
Once it is on, you should still secure it well to the trailer. The essential tools you need are tie-downs. If you don't have ratcheting tie-downs already, we would suggest buying a pair of thick and strong ones in a hardware store.
You will need a wheel chock here. Make sure to have it at hand, especially if you decide to do this alone. A wheel chock prevents the front wheel from sliding as you are securing everything else.
Last but not least, you may want to get a tarp to protect your motorcycle from harmful elements (except you have an enclosed trailer). Tie the tarp to your motorcycle, not the trailer.
Once you secured everything, double-check whether your strips are firm. Make sure nothing abrasive threats your motorcycle's paint job.
FAQ About Motorcycle Trailers
1. Is a motorcycle trailer legal device?
Absolutely! The only reason towing a motorcycle with a trailer/carrier may cause an issue is because it covers your backlights and license plate. When hauling your bike, make sure other motorists can see you clearly. You can install some LED lights on the back of the carrier or get one with reflectors.
2. Will trailer damage my car paint or hitch?
As long as you stick to our guide on how to install a trailer properly, loading the motorcycle correctly, and the recommended weight limit, there is no chance the device would damage anything on your vehicle.
3. Trailer or a carrier? Which one is safer?
Both trailers and carriers make a safe and reliable option while on the road. Some motorists who have more than one bike prefer carriers, also because these are a bit easier to maneuver. A hitch carrier comes to the side, which makes things smoother for some drivers, but make sure to check the laws in your country on motorcycle carriers.
Wrap Up
Whether you are looking for a travel buddy or just a transport solution for your dirt bike, Enduro bike, or a heavy-duty motorcycle, we hope you will find the best motorcycle trailer on our list.
If you need some more time to read through our motorcycle trailer reviews, that's fine. At the end of the day, you should double-check the load capacity, safety features, and hitch receiver compatibility before making a final decision. Check our homepage for more interesting content!
See also: motorcycle tie-down straps reviews