You should get the best motorcycle battery charger, no matter if your battery is running low or you are just looking to keep the battery at optimal levels. These devices come in handy for keeping your motorcycle active for a very long time. With the rapid advancement of technology today, we now have battery chargers that are portable and can be taken along on a long journey.
However, there are several models of battery chargers in the market today, making the process of picking quite complicated. Each motorcycle battery charger review in this guide has a complete summary of all the features to help you make the right choice.
See The Quick Comparison Chart
Benefits Of Motorcycle Battery Chargers
The popularity of motorcycle battery chargers over the past few years goes a long way to show how beneficial they've become to motorcyclists. Like motorcycle disc locks, there are a number of benefits to it  Here, let's review some of the most popular benefits of battery chargers.
1. Battery Life
One of the most significant benefits that battery chargers come with is the sustenance of battery life for a more extended period. Battery chargers help to get the batteries back to life, especially when they've not been used for a long time. In fact, there are a few battery chargers today that can be used to keep the battery active throughout the time when you will not be using the motorcycle. In all these, however, it is vital to ensure that you do not overcharge your motorcycle batteries. The issue with overcharging the battery is the damage that it can do to the battery life.
2. Long Life Span
There's often no going back for a completely damaged battery. This is why most repair experts would usually advise that you keep your battery active and not let it go completely dead. One way of keeping the battery of your motorcycle active is by charging it once in a while. By doing this, you will be guaranteed of having the battery last longer, and of course, not needing to spend money on replacement.
3. Safety
When using regular chargers, you would need to plug your battery in for days if not weeks, before you can achieve optimal charging. This can cause fire and health risks. Buying specialized battery chargers for motorcycles, on the other hand, would help to ensure that your battery gets charged within a few hours reducing the extreme fire risk that overcharging comes with. Additionally, most battery chargers come with temperature monitoring technology to help reduce the tendency of such risks.
4. Saves Energy and Money
At a time when energy cost is increasing daily, people are looking for ways to reduce their energy consumption. As expected, a reduction in energy consumption would automatically result in a reduction in the amount paid for it. Float chargers come very useful for this purpose. The ability to increase and reduce the power of this battery charger helps to ensure that the energy consumption rate is reduced to a large extent.
Best Motorcycle Battery Chargers Comparison Chart
PRODUCT
DETAILS

Battery Tender 12 Volt Junior Automatic Battery Charger

Price:

$

Customer Rating:

4.7

Weight:

28.8 ounces

Amperage:

0.75 amps

Voltage:

12 volts

View On Amazon

BLACK+DECKER BM3B Fully Automatic 6V/12V Battery Charger/Maintainer with Cable Clamps

Price:

$

Customer Rating:

4.1

Weight:

20.8 ounces

Amperage:

1.5 amps

Voltage:

12 volts

View On Amazon

NOCO Genius G3500 6V/12V 3.5 Amp Battery Charger and Maintainer

Price:

$$

Customer Rating:

4.4

Weight:

32 ounces

Amperage:

3.5 amps

Voltage:

12 volts

View On Amazon

Battery Tender 4-Bank 12V, 1.25A Battery Charger

Price:

$$$$$

Customer Rating:

4.7

Weight:

32 ounces

Amperage:

1.25 amps

Voltage:

12 volts

View On Amazon

MOTOPOWER MP00205A 12V 800mA Fully Automatic Battery Charger/Maintainer

Price:

$

Customer Rating:

4.4

Weight:

11.5 ounces

Amperage:

0.8 amps

Voltage:

12 volts

View On Amazon

Mroinge MBC010 Trickle Maintainer 12V Smart Charger for Motorcycle

Price:

$

Customer Rating:

4.6

Weight:

5.6 ounces

Amperage:

1 amps

Voltage:

12 volts

View On Amazon

LST Trickle Battery Charger Automatic Maintainer 6V 12V Smart Float Charger

Price:

$

Customer Rating:

4.5

Weight:

8.8 ounces

Amperage:

1.5 amps

Voltage:

12 volts

View On Amazon
Best Motorcycle Battery Charger Reviews
1. Battery Tender 12 Volt Junior Automatic Battery Charger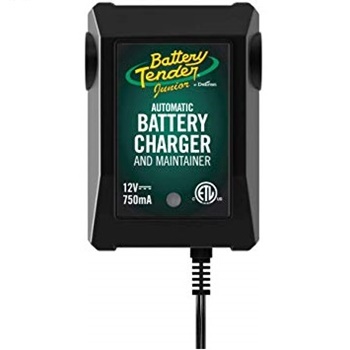 It's not surprising to see the number of good reviews that the Battery Tender 12V, 0.75A Charger has been able to earn across several platforms. While testing the product, we were also impressed by the amount of functionality that it is designed to deliver.
Perhaps, the significant feature that differentiates this model from most others is the presence of specialized computers inside it. The job of the specialized computers is to analyze the state of your battery's charge when it is connected with the trickle charger. Apart from the analysis, the computer also server to alter the output of the battery, by offering different adjustment options. The adjustment options on offer include the Bulk charge mode, Absorption mode, float mode, and initialization mode. The Battery Tender Junior has also been designed to last long; hence, even after several usages, it still performs like a brand new without mistakes. Combined with the five years warranty that it gets, you can tell that it will stay indestructible for so long.
Pros
Designed to be fully automatic and easy to use
Features a 4-step charging adjustment level to allow for customized charging
Incredibly lightweight.
Cons
The battery connection cable is quite short.
2. BLACK+DECKER BM3B Fully Automatic 6V/12V Battery Charger/Maintainer with Cable Clamps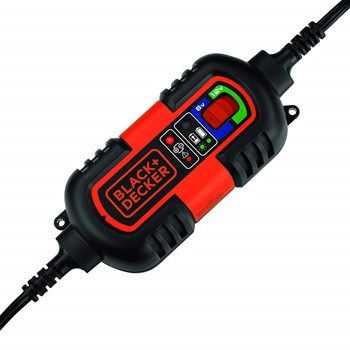 If you are looking for a trickle charger that will work, then perhaps, this is an excellent option to try out. We've found that it a great choice for people that are always taking long trips. It combines a good number of exciting functionality, enabling it to serve as a one-stop solution for several battery charging needs.
The machine can work both as an automatic battery charger and as a manual charging kit. When on manual mode, it can be set between 6-12 volts, depending on the battery you want to charge and your charging needs. We've also found that it can alternate between float and charge modes, making it a great option for beginners. It is also designed to feature three connection modes, including Battery clips, battery ring terminal, and 12V DC Accessory plug. In addition to all these features, it also comes with a low voltage compensation that helps ensure maximum performance when being used with extension cords.
Pros
Comes with all the attachments needed to connect and charge your battery
Works reliably.
Cables look long, nice, and rugged.
Cons
The voltage selection switch easily gets weakened.
3. NOCO Genius G3500 6V/12V 3.5 Amp Battery Charger and Maintainer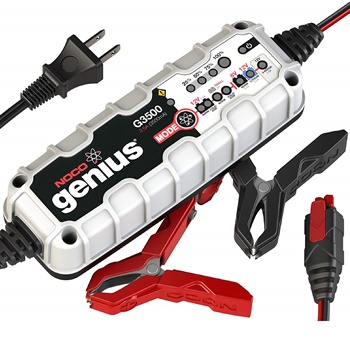 This list would probably not be complete without mentioning any product from NOCO. The brand has gained popularity over the past few years for its ability to incorporate several features and functionalities into its products. The NOCO Genius is a top of the line product from this brand. It comes with a lot to make the battery charging process easier for new users. It is not surprising that the model has gained the level of popularity that it has gained over time.
The device enables you to charge batteries of between 6 to 12-volts. It also comes with a maintainer for lead-acid cells that can be used for up to 30 amp-hour. The design of the unit stands it out from most others in the market. It is spark-proof and reverse polarity protected, making it a very safe unit. The device comes handy for monitoring the health of the battery, as well as for helping in the repair of discharge or sulfated battery. Another standout feature of the device is its ability to minimize energy consumption then full power is not needed for operation.
Pros
Outstanding design
Ease of usage
Relatively cheap.
Cons
The need to purchase the eyelet connectors separately for use on other batteries might be inconvenient.
4. Battery Tender 4-Bank 12V, 1.25A Battery Charger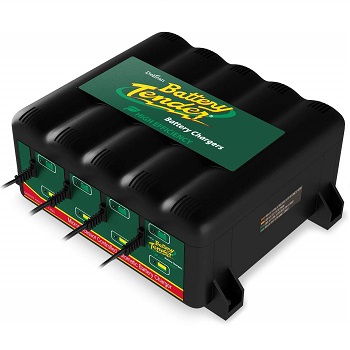 The Battery Tender 4-Bank 12V Battery Charger ranks high among motorcycle battery chargers both in quality and the level of functionality that it brings to the mix. The several features that the unit offers can be harnessed to make the charging process better.
The device comes with a 4-bank battery management system that allows owners the ability to charge up to 4 batteries simultaneously. This feature means that you can charge all batteries at once, without necessarily compromising the level of power that it brings. At 1.25 amps, this unit offers more than most other trickle chargers can.
The smart technology featured by this device also helps to ensure that all batteries are optimally charged. It switches the output voltage automatically to a float or storage level when optimal charging has been achieved.
There's so much that has been incorporated into this option to enable safety. The connectors, for instance, are spark-proof, giving it extra protection for users. It also features a reverse-polarity indicator, that stops it from charging until the polarity has been set correctly.
On the compatibility of the unit, we found that it is designed to be fully compatible with all AGN batteries that are sealed, maintenance-free, and flooded. These are the types of batteries that are commonly found in motorcycles, ATVs, and farm equipment.
Pros
Efficiently charges up to 4 batteries at once
Compatible with all AMG batteries
Works well in any part of the world.
Cons
Its slow charging makes it inadequate for 'need it now' situations.
5. MOTOPOWER MP00205A 12V 800mA Fully Automatic Battery Charger/Maintainer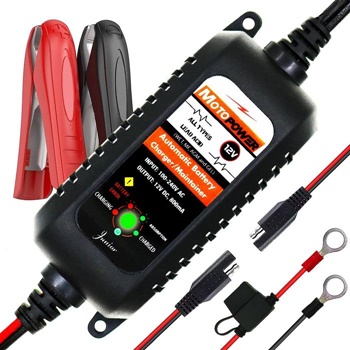 This battery charger model from MOTOPOWER is becoming a favorite for many people because of its ability to offer a great mix of power, size, affordability, and efficiency. From the sleek design of the handheld device alone, you can already tell that it is a topnotch device. Despite being a handheld device, however, it also comes with a case bracket to help for mounting purposes.
The devices also feature a set of alligator clips, SAE quick release adapters, and connectors all combining to make connection and disconnection from the battery seamless. The addition of a 4-phase charging technology goes a long way to prove just how easy charging can be with the device.
When it comes to safety, it is evident that the device is doing so much to remain at the top. Several safety features are combining to make handling safe and convenient for professionals and novices alike. The 12V charger comes with full automation technology, and that's why the onboard microprocessor can control the entire charging process without fear of becoming overcharged. The charger also features a 4-phase charging process that starts from the initialization mode and ends in a flat mode.
One of the biggest pluses for this gadget is the fact that it is designed with energy efficiency in mind. We discovered that the single LED only requires minimal power to work, making it functional with very low current.
Pros
Relatively affordable
Compact design
Rugged build
Cons
The tendency to overcharge sometimes.
6. Mroinge MBC010 Trickle Maintainer 12V Smart Charger for Motorcycle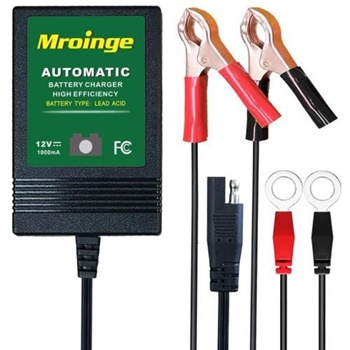 The Morange MBC010 is another device that's worth being on this list. The versatility level that this model comes with is perhaps the reason why it is ranked among the best. In addition to its versatility level, however, it comes with a lot of top-notch features that helps it serve as a perfect battery charger to own. Whether you own a motorcycle, a car, or an ATV, the truth is that you will enjoy having a battery charger like this one. It serves well as a travel companion to help you keep your 12V batteries working at optimal levels throughout your trip. The design of this device is another reason why it is loved. It is small and compact, ensuring that its usage is not only limited to larger spaces.
The exceptional ease of usage that this model also offers is another reason why it is worth being on this list. You can start charging a motorcycle battery quickly with the O-ring and the battery clips. That is, no additional connection is required to get it working at optimal levels. In addition to fast charging and ease of connection, the connectors are also spark-proof, benefiting greatly from the reverse-polarity technology and short-circuit protection. Each pack comes with a 6.6-feet long DC cord that enables you to charge your battery without necessarily keeping it very near to the power outlet. Of course, the 2-color LED indicator helps to signify the status of the charger.
The trickle charger can work with a wide variety of lead-acid batteries, charging them fully and then entering the float mode to maintain them for a longer time.
Pros
Very affordable
Highly reliable
Lengthy DC cord to enable flexibility and convenience.
Cons
A little compromise in durability
It doesn't have any harness plug protective cover.
7. LST Trickle Battery Charger Automatic Maintainer 6V 12V Smart Float Charger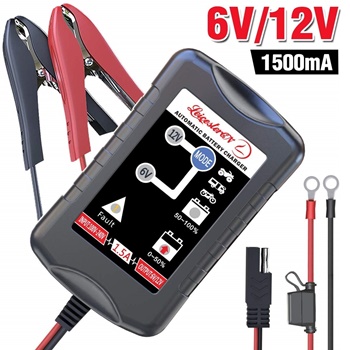 The LST 6V/12V charger comes handy for keeping your battery at its optimal level for an extended period. This is one battery charger that's worth being on this list for its ability to combine a good level of functionality with its versatility. If you are looking for a battery that can charge your 12V battery at home or on the go, then this is the stuff for you. It charges both 6-volt and 12-volt batteries at a rate of 1.5 amps per hour, ensuring that you get fast charging throughout the charging process and float charging when the battery reaches full charge.
The charger comes with a lightweight and ultra-compact design, making it the perfect travel companion to take on your long trips. The versatility level that the battery charger offers makes it ideal for motorcycles, cars, lawnmowers, and SUV batteries. Its automatic mode helps to ensure that you don't need to monitor too closely.
Pros
Equipped with a microprocessor-controlled switch that helps to detect the output need automatically
The fully sealed outer case helps to protect against harsh weather.
Easy to carry around.
Cons
The instructions might seem complicating to users without prior experience.
Battery Charger vs Battery Tender vs Battery Maintainer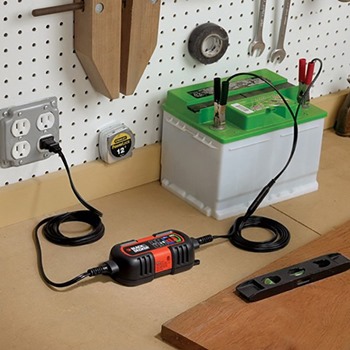 Keeping motorcycle batteries charged is quite a concern for most motorcyclists, irrespective of whether you are traveling for a long distance or a short distance. It might not be such a significant concern for motorcycles that are used daily.
However, for those that are not used daily, owners need to get the right battery chargers to keep the batteries charged and prevent damage.
Battery Charger vs Battery Maintainer
The two most popular devices that come in handy for this purpose are battery chargers and battery maintainers. The main difference between these two is the level of complexity that they come with. The battery maintainers, for instance, contain more advanced circuitry than most battery chargers. The circuitry is the part of the device that's used to detect the charge level of the batter. It serves the purpose of determining the need for the battery to charge, as well as how fast it needs to charge.
Most battery chargers are designed to charge at a constant rate. However, the rate is often below the battery rating and can take up to 10 hours or more to charge. This helps to reduce the potentiality of overcharging the battery. This is perhaps the primary reason why some batteries get charged overnight. The battery maintainer comes with circuitry that is able to charge the battery at a faster rate while regulating the current to prevent overcharging. With this in place, charging time can be shortened by a few hours.
Battery Tender
Battery tenders, on the other hand, are specially designed devices that can help to keep the battery charged for a long time. Unlike the others, this device helps maintain the charge level of batteries for a while. It is especially necessary for motorcyclists that would need to leave their motorcycles inactive for two weeks or longer. The tender will help to ensure that the battery maintains its charge level at proper storage voltage when it is not in use.
Refer to our motorcycle battery reviews to find out more about batteries and their lifecycle.
How Does a Motorcycle Battery Charger Work?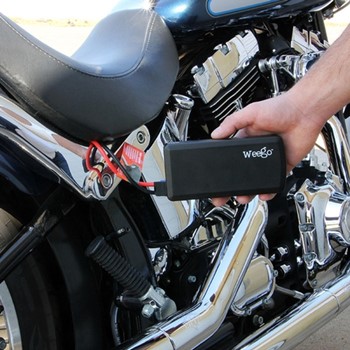 Although it might seem complicated at first look, the working system of most battery charger is often simple to understand on a closer look. You will find the working system of most battery chargers from the manufacturer's manual usually included in the pack.
On a generic note, however, a battery charger includes several vital parts that help it to perform optimally.
Getting all the technical details correctly would probably require that you read a small book on the charging process and the actual mechanism of the charger. What you need to know is that a battery charger works via the application of a constant DC or pulsed DC power to the battery.
Different chargers have different working processes. Trickle chargers are designed to feature slow charging rates because of their ability to force only a small amount of current through the battery during the charging process. Other fast chargers can charge up to as fast as 2 Amps or even more per hour, ensuring that you get a full charge in just a few hours.
Types Of Motorcycle Battery Chargers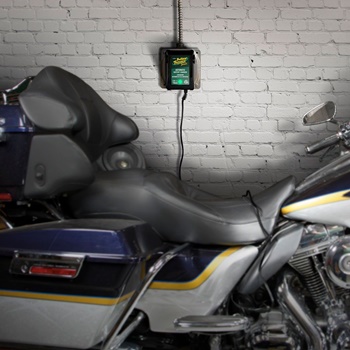 Like motorcycle alarms and every other motorcycle accessories that you can think of, there are different types of motorcycle battery chargers, and each type has its working process. Here, take a look at some of the most popular types of motorcycle battery chargers that can be found in the market.
1. Regular Chargers
Regular motorcycle battery chargers work in the same way with phone chargers. All you need to do is to just plug your battery in, on it, and it would continue to charge at the same rate until you decide to unplug it. While this can be classified as the simplest way of charging motorcycle batteries, the problem with it is that you would need to be around to unplug it when charging is complete. Leaving the battery plugged in to this type of charger for prolonged periods can potentially damage the battery, cause power wastage, and fire hazards in some extreme conditions.
2. Trickle Charger
This is another relatively popular type of charger. It is designed to replace the standard style and has gained massive acceptance across boards today. These chargers are designed to use advanced technology for monitoring the charge level, as well as for adapting to the unique needs of your battery. It is often referred to as the "plug and forget" style, and its most significant benefit is that it reduces the unnecessary power waster that most traditional chargers are known for. Its only advantage over a float charger is that irrespective of the time you plug it, the battery will still be fully charged.
3. Floating Charger
A floating charger is otherwise referred to as a battery maintainer. It still improves on the traditional motorcycle battery charger, although it uses a different technology than trickle chargers in this case. A float charger is designed to shut off after charging the battery fully. It then allows the battery to drain to a certain level, before coming back on to repeat the same cycling. It helps to save more power and to eliminate fire risks. The only disadvantage of this is that depending on the time of disconnection, your battery may not be fully charged.
Motorcycle Battery Charger Buying Guide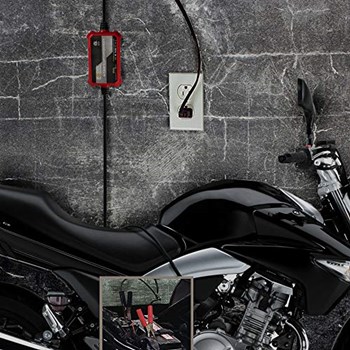 If you are looking to buy a good battery charger for motorcycles, then there's the need to have good knowledge about the different motorcycle battery chargers available in the market. This can be quite a big task, but if you understand the factors to look out for, then choosing the right model for your needs would not be as difficult as it seems. Here are some of the factors that are worth looking out for.
1. Charger Type
Thanks to the updates in technology, there are different types of motorcycle chargers today. Your routine charging needs would often determine the type of charger that would work best for you. While trickle chargers are known to provide users with an inexpensive way for charging batteries, they are not the best choice these days, especially with the manufacture of so many smart chargers. The ability of smart chargers to automatically go off when the battery charges ultimately make it an excellent choice to turn to if you would not have the time to keep an eye on the charging process continually.
2. Versatility
Whether you are looking for a battery charger that will work for your specific motorcycle brand or you want one that can charge your bike, as well as your car and other vehicles you have, versatility is something to always look out for. The good news is that quite several models out there come with multiple modules that make them compatible with different types of vehicles, as well as for numerous charging modes. Most modern chargers come as microprocessor-controlled devices; hence, they can feature between three to four charging stages.
3. Resistance
Resistance is something to also look at, especially when embarking on a very long trip during which you might need to use your motorcycle all the time. You want a model of battery charger that can stand all the possible issues you might face on the road. It is recommended to go for models that are waterproof and dustproof so that it doesn't get damaged on the way.
You might also want to check that the charger works well under extreme temperatures. When next you are planning your long trip, you know that apart from motorcycle GPS, you also want to get a battery charger that can last through your trip.
4. Display
The display comes handy as another beneficial feature. Most modern brands come with LED indicator display. This feature would help you know if the battery is charging and when it is fully charged. More Sophisticated models would go the extra mile to show you other information regarding the charging process.
How To Use a Battery Charger?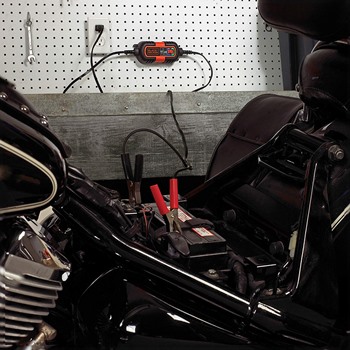 Motorcycle batteries contain chemicals that produce hydrogen gas when in use. Hydrogen gas is volatile, and can sometimes be prone to explosions when exposed to certain conditions. For example, we've seen cases of car battery explosions when the car as being started, as well as while the battery is being jump-started. In fact, if exposed to certain conditions, a car battery might even explode while the car is sitting unused. All these and many more are the reasons why you need to learn how to use a car battery charger safely. Here, let's talk about how to safely use a car battery charger.
1. Use Correct Charger
Never fall into the trap of using a charger that's not designed for your battery type. The best way to avoid this is by checking the owner's manual of your car for information about your car battery and the battery charger that will fit most.
2. Understand How the Charger Works
The next step to take is to carefully understand the working process of the charger that you've picked. Pay attention to all the warnings in the manual to avoid actions that will potentially damage your battery.
Next check to be sure that the charger is not plugged into an electric outlet and that the power switch is off.
3. Run Correct Connections
At this point, connect the positive cable on the charger with the positive battery terminal and the negative cable with the negative battery terminal.
After deciding on whether you want to charge the battery quickly or slowly, you will need to select the right current for your charging needs. Check the charger manual for the proper setting. Select the time you want the charger to run for and leave the charger in place while the battery is charging. Take off the charger when the battery is fully charged.
How To Fix a Motorcycle Battery?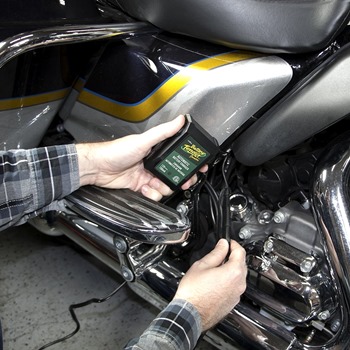 One question people often ask is how to fix a damaged motorcycle battery. If you are not using your motorcycle battery for a long time, then there will be a tendency for your battery to lose its power. Nearly everything, including your top-rated motorcycle radios, needs the battery to work efficiently. Hence, the need to get your battery back to top shape when the need occurs. For starters, ensure that you use all the necessary protective gear like gloves, goggles, etc. because batteries contain extremely toxic substances.
This maintenance process would work for every type of battery, but it is especially great for the typed that use sulphuric acid. Remove the battery carefully, ensuring that it is kept at room temperature before you start working. You need to remove the cell caps first and to drain the battery tenders effectively.
After you've completely emptied the unit, then you can prepare a solution combining magnesium sulfate with distilled water. Shake the entire unit to adjust the solution level and get it evenly distributed among the cells.
After these steps have been completed, you need to charge the battery with a slow-charging option to avoid having to much power go through it, as this might cause damage. After these, replace the cell caps and then reinstall the battery.
FAQ About Motorcycle Battery Chargers
1. Do I need to disconnect the motorcycle battery before charging?
It depends. If you are using a slow trickle charger, then you would typically be able to leave the battery hooked up during the battery charging process. The low current would not cause any damage to the battery while connected. If you opt for fast charging, however, then you will need to remove the battery first because of the high current level.
2. Can I use a motorcycle battery charger on cars? Or vice versa?
The use of this would usually depend on the voltage of your battery. Most battery chargers work well for both motorcycle and car batteries, provided they come with the lead-acid design. However, it is vital to make sure that your charger is designed for the battery voltage that you are using it for.
3. Can You Leave a Motorcycle Battery Charger Working on Overnight?
Of course, it is possible to leave your battery connected to a charger over the night, especially if you are using most modern models. With most current models featuring multiple charging modes, you can be sure to prevent damage throughout the charging process.
Wrap Up
There you have it, a detailed guide pointing you to the best motorcycle battery charger for your needs. You'll find enough information to help you make the right choice in each motorcycle battery charger review. The buying guide in this article would also help you know the factors to look out for when you need to make your purchase. Thanks to the numerous technological updates that we've seen in recent times, there are now enough options on the market meeting your specific needs.
You can also check out other of our motorcycle guides to get the best choice of different accessories that you might need.