Whether you are transporting your 2-wheeler or just parking it, investing in the best motorcycle wheel chock is the right call. If you own a motorcycle, then you would want to know how to secure it when you are not riding. For the routine parking, a bike stand would do, but not for so long. Bike stands are useful only if you would be leaving your bike for a short time.
Every bike rider knows how upsetting it can be for a bike to fall over when not in use. It becomes worse if it falls during maintenance because it might cause harm to you or damage parts of your motorcycle. It doesn't have to be so, not when you can buy a top-quality motorcycle wheel chock to steady your bike in an upright position. So, let's see what is the best approach to solve this issue.
See The Quick Comparison Chart
Benefits Of Motorcycle Wheel Chocks
Like the models in our motorcycle disc lock reviews, wheel chocks come with several fascinating benefits that relate to security and stability. In case, you are still not convinced about getting a motorcycle wheel chock, here is a detailed look into the outstanding benefits that you stand to gain from owning one of these as a motorcycle owner.
1. Avoidance of Slippage
An essential advantage of using a good-quality motorcycle wheel chock is its ability to prevent accidental damages that would have been caused by the unwanted movement of your bike. Thus, by preventing these unwanted movements in your motorcycle, the tool helps to keep your motorcycle intact through long and short transportations.
For instance, in the event of brake failure, the wheel chock comes to the rescue by preventing the bike from slipping off. Also, the wheel chock comes as a handy tool for moments when the rear wheel is susceptible to moving in various directions due to weight changes.
2. Makes Repair Easier
Just like the models in motorcycle jack reviews, wheel chocks come handy for positioning the bike when it needs any repair. Whether you are repairing your bike in the garage, or a mechanic workshop, you need for the bike to be stable for you to work on it efficiently. This needed stability is what a motorcycle wheel chock can provide for you excellently.
3. Protects Your Bike From Negative Weather Effects
Most motorcycle wheel chocks are designed to be able to withstand any weather conditions without getting damaged. They also provide the needed protection for your bike, irrespective of whether it is sunny, snowy, or raining. When transporting your bike under rainy or snowy conditions, the bike becomes prone to slipping away. However, whether it is for a dry or wet surface, the bike chock helps for keeping your bike secure.
4. Efficient Storage
Finally, wheel chocks come very useful for storing your bike at home or anywhere. If you want to leave your bike for a long time, or if you're going to use another vehicle for a while, then you would need to store your bike in your garage. The issue, however, is that you can't leave your bike at the mercies or a small bike stand. With a wheel chock, you can be guaranteed that your bike will remain upright and safe, even when you are many miles away from its location.
Best Motorcycle Wheel Chocks Comparison Chart
PRODUCT
DETAILS

Extreme Max 5001.5010 Standard Motorcycle Wheel Chock

Price:

$

Customer Rating:

4.4

Type:

Adjustable Cradle

Load Capacity:

1800 lbs.

View On Amazon

MaxxHaul 70075 Motorcycle Wheel Chock

Price:

$

Customer Rating:

4.6

Type:

Pivoting Bracket

Load Capacity:

1800 lbs.

View On Amazon

ABN Removable Trailer Wheel Chock

Price:

$

Customer Rating:

4.6

Type:

Pivoting Bracket

Load Capacity:

1500 lbs.

View On Amazon

MaxxHaul 70271 Adjustable Motorcycle Wheel Chock 1800Lb

Price:

$$

Customer Rating:

4.6

Type:

Adjustable Cradle

Load Capacity:

1800 lbs.

View On Amazon

Pit Posse Pp2900 Universal Motorcycle Removable Wheel Chock

Price:

$$

Customer Rating:

4.0

Type:

Pivoting Bracket

Load Capacity:

1800 lbs.

View On Amazon

Goplus Adjustable Motorcycle Wheel Chock

Price:

$$

Customer Rating:

4.3

Type:

Adjustable Cradle

Load Capacity:

1800 lbs.

View On Amazon

Lock N Load BK100 Deluxe Motorcycle Wheel Chock

Price:

$$$

Customer Rating:

4.6

Type:

Pivoting Bracket

Load Capacity:

1800 lbs.

View On Amazon
Best Motorcycle Wheel Chock Reviews
1. Extreme Max 5001.5010 Standard Motorcycle Wheel Chock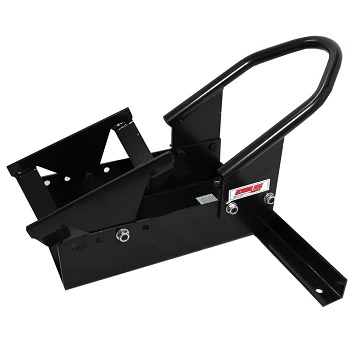 When it comes to durability, strength, and performance, only very few motorcycle wheel chocks can stand the level of the Extreme Max Standard Chock. No wonder it has so quickly become a popular option among motorcycle enthusiasts. This option is one of the few motorcycle chocks that perfectly combines stability with a sleek design. One feature of this model that's easily likable is the solid construction that it comes with, which is further enhanced with a base extension. Additionally, the model also features top-quality steel with a textured powder coat that ensures maximum durability.
We can't overlook the sleek design that the model features, considering how handy it comes for providing stability for your bike, without taking so much space. Meanwhile, a good combination of a front crossbar and a reliable boot makes the choke compatible with nearly all kinds of bikes. The floor space that it utilizes makes it suitable for multiple lifting. There's also a cradle adjustment on the rear wheel, helping the chock to fit properly on any bike's wheel.
Overall, most users think that this is a reliable motorcycle chock. It works well for wheel sizes between the ranges of 17″ to 21″. The easy assembly that the wheel chock offers also contributes to making it a perfect choice for new users. Unlike most other options, this one can be set up without the need for an extra hand.
Pros
Features a good level of stability
Highly durable
Ease of assembly
Cons
2. MaxxHaul 70075 Motorcycle Wheel Chock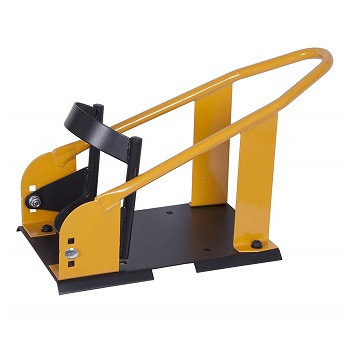 One look at the MaxxHaul 70075 and you can tell that it is designed to perform. It stands out from most other motorcycle chocks in look and functionality. The level of affordability that it features makes it a budget option to go for when looking at a motorcycle chock that can offer the best value. This model boasts of a universal layout, therefore giving your bike the three-way bracket support that it needs to stay completely safe. The 70075 even features a robust framework in its steel structure to ensure that it gets the right resistance against shocks and concussions.
Most users feel relaxed using this option, considering that it secured the motorbike during short and long trips. To make it better, the manufacturers included a useful pivoting cradle that's designed to make the whole process of loading your motorcycle, as well as unloading it easier. In addition to all these, the chock also comes with a unique rust-proof coating that allows for more durability.
The set-up ease that this model features makes it a perfect option for new users that might not be too experienced with the process of using a chock. It is also a good option for long-distance trips, considering its solid steel construction. The special rust-proof coating also means that it will last long, even when exposed to adverse weather conditions.
Pros
Features a robust-steel construction
Very durable option
Easy to use
Resistant to rust.
Cons
You might find it not to be as universal as claimed.
3. ABN Removable Trailer Wheel Chock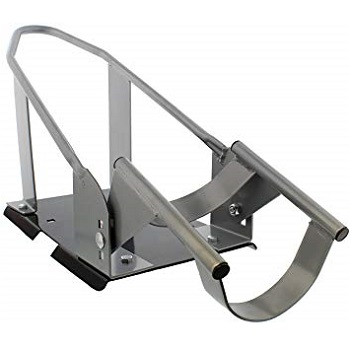 If you are looking for a wheel chock that features a top-quality steel framework, and yet still affordable enough for budget shoppers, then the ABN Removable wheel chock is perhaps what you should be looking at. The ABN brand is known for the level of care they pay to quality and performance in the manufacture of motorcycle equipment. Therefore, it is not surprising to see that they've introduced this level of quality again to manufacture this motorcycle chock. This option comes featuring a seven-gauge steel base plate that ensures maximum stability for your motorcycle. The design is unique, giving you a few adjustment options like introducing additional plywood to the base of the chock for increased cushioning and fit stability in securing your vehicle in place. With this feature, you would be able to easily unmount the choke, in case you are not fixing it in a permanent position.
Furthermore, the ABN Removable wheel chock also features an incredible level of versatility, making it a good fit for nearly all types of tires. The top-quality that the attached cradle holder features also help to hold your motorcycle wheel in place, irrespective of type or size. It is also easy to use, so you'll not need an additional hand for mounting or unmounting your bike. The manufacturers did an excellent job of making it weatherproof. Therefore, you can be confident of using it for long trips through terrains where you are not sure of the weather conditions.
Pros
The seven- gauge steel plate that it features makes it highly durable
Features a universal cradle that's good for nearly all tires
A great option for long-distance trips
Relatively cheap.
Cons
Features mild-steel hardware and not stainless steel.
4. MaxxHaul 70271 Adjustable Motorcycle Wheel Chock 1800Lb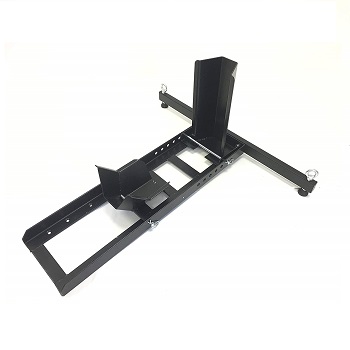 At a capacity of 1800 lbs, there's almost no motorcycle tire that you cannot use this chock to haul. The MaxxHaul 70271 adjustable chock is a very versatile option that's capable of accommodating nearly all bike wheels ranging between 3 to 5 inches in width. MaxxHaul is one brand that has been doing well to produce top-quality motorcycle equipment.
There are only a few motorcycle chocks that impress users right from their looks, and this model is one of them. Made of heavy-duty steel, this model features a unique feature that does not only make it good-looking but also ready for action. The top-quality stainless steel that this product features make it easy for you to be assured that you are purchasing a very durable product. A finish that is also powder-coated helps to ensure maximum protection from rust. This combines with the durable materials to ensure that the chock lasts long, irrespective of how you use it. There's also a self-locking six cradle wheel adjustment on this one which makes it worth going for.
This is a smart choice for motorcycle owners that have multiple bikes with different wheel sizes. The unique anchor points that this wheel chock comes with also help for better stability. With the option, you will no longer find it challenging to store, repair, or even transport your vehicle. It's also worth mentioning that the option comes with a good level of installation ease.
Pros
Very durable
Easy to use
Very versatile option
Resistant to rust and corrosion.
Cons
Might need further modification, depending on your needs.
5. Pit Posse Pp2900 Universal Motorcycle Removable Wheel Chock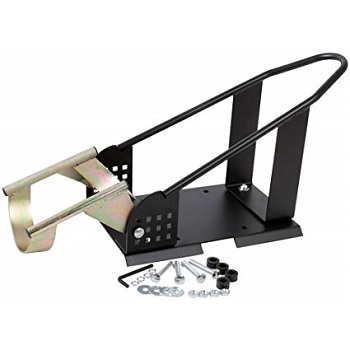 If you are in the market for a reliable motorcycle chock that can ensure the safety and stability of your motorcycle, then this option from Pit Posse is a good one to stick with. The wheel chock is not just durable, but also good-looking and lasts long across different weather conditions. To make it even better, the wheel chock features a self-locking mechanism that uses the weight of the bike to secure it. All that's needed of you is to roll the bike's wheel into position, and the pivot in the chock will automatically lock, giving your motorcycle the safety required until you want to ride again.
Unmounting your motorcycle from this chock is also very, considering the ability of the pivot brackets to release the wheel once pulled back. The unique design of the adjustable bracket also makes for the possibility of accommodating a wide range of wheel sizes. Hence, users can be assured that it will help them safely keep bikes upright, irrespective of the model.
During this research, we also found that the product features a frame and a solid bottom plate. These parts are designed with top-quality steel to ensure longevity and maximum performance. The ability of the chock to resist rust will also help to prevent easy damage, as well as dirt in your front wheel.
Pros
Features a self-locking mechanism for easily securing bikes
Very versatile option
Sturdy and durable construction
Cons
The instruction might be a bit unclear.
6. Goplus Adjustable Motorcycle Wheel Chock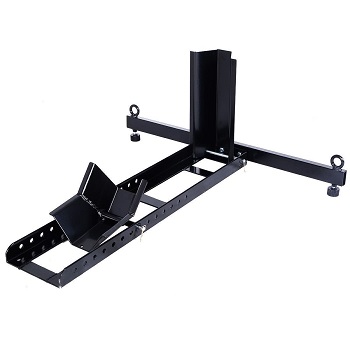 If you are looking for a reliable stand that can help ensure the stability of your motorcycle when packed, then the Goplus Adjustable Motorcycle Wheel Chock is one option that's worth trying. It's not so hard to see why this unit is one of the best in the market, considering its look and the level of performance it boasts of. The unit features a unique but sturdy design, using steel bars to ensure superior strength and maximum durability. All metal parts of the chock are powder-coated to ensure proper resistance to corrosive substances.
The pivoting brackets that these chock features come in a V-shape design, making it a perfect fit to almost all tire sizes ranging between 76 and 130mm. All thanks to the top-notch mechanism featured in the pivoting brackets, it is now easy to continually adjust its position until it fits your wheel, irrespective of size. The model supports up to 1,800 pounds of motorcycle weight; therefore, you can pack your bike, even when it is fully loaded. There are two bolts featured on the crossbar, ensuring stability, even when you have to pack on an angled surface.
Pros
The steel bars ensure strength and durability
Features a unique anti-rust technology
Very versatile option
Cons
Might need additional anchoring to the floor.
7. Lock N Load BK100 Deluxe Motorcycle Wheel Chock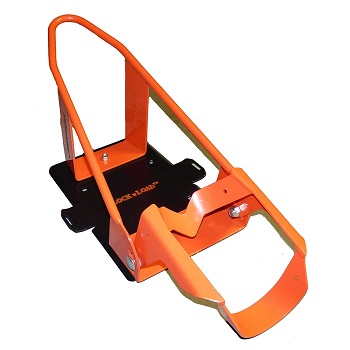 This deluxe motorcycle chock from Lock N Load comes as an excellent option for users that are looking for a top-quality motorcycle wheel chock. The versatility level of this motorcycle chock is perhaps the most significant feature that stands it out. In case you are wondering how that matters, well, it allows for easy adjustment of different motorcycles of various designs without any difficulties. It is also a one-size-fits-all option, so, there's not much worry about finding the right size.
The level of loading and unloading convenience featured by this chock is also worth experiencing. During production, the manufacturers did well to include a disconnect mounting plate to ensure quick functioning. One unique feature that stands this chock out is the front tie-down system that it comes with. This feature helps to maintain the bike's balance, giving you an easy solution for locking your bike during any trip.
Pros
Features a durable and robust steel design
Packed with complete Installation kit
It offers an incredible level of mounting and dismounting convenience.
Cons
What Is a Motorcycle Wheel Chock?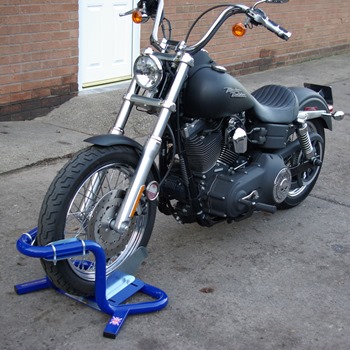 A motorcycle wheel chock is a type of stand that is designed specially to keep the front wheel of a motorcycle from turning out of place when being transported from one location to another. This motorcycle tool also helps to keep the bike being transported from tipping over. Motorcycle wheel chocks come in different types and styles, and they are made from durable materials like aluminum, alloy, steel, etc.
The primary reason for this use of wheel chocks is to prevent all accidental movements. You can also use the motorcycle chock for keeping the motorcycle upright when you need to do any repair work on it. Overall, the motorcycle chock comes as an essential tool for any bike owner.
Types Of Motorcycle Wheel Chocks
As you must have known by now, motorcycle wheel chocks come in different types. A proper understanding of the different kinds of motorcycle wheel chocks available in the market would help you know which is perfect for your bike. To help, we've outlined detailed explanations of the different types of motorcycle wheel chocks available in the market. We've also explained their specific features, as well as what they are suitable for. Check them out.
1. Adjustable Cradle Wheel Chock
This is one of the most popular types of motorcycle wheel chocks out there. It comes with a unique design that allows you to adjust the wheel of your bike to various positions based on the size of the wheel. These chocks are typically very versatile; however, they often require some extra mechanical work for getting the bike into position. This feature makes it a bit difficult for beginners to use this type of wheel chock for their motorcycle, even though they offer the best security.
2. Pivoting Bracket Wheel Chocks
Yet, another popular type of motorcycle wheel chock. This type features an automatic lock system, allowing for the security to be activated by the weight of your bike. All it takes to secure your bike is for you to roll your bike's tire into it, and the bracket will lift itself and hold on the wheel tightly. Most people prefer this option because of the ease of usage that it offers.
3. Extruded Rubber Wheel Chocks
This type of motorcycle wheel chock is typically shaped like pyramids. They are made of rubber, but with the right strength to provide a firm grip for your motorcycle wheel. The options that fall under this type are also usually affordable and are great alternatives for users that are operating on a budget. However, most of them do not have any special features.
4. Recessed Flip-Up Wheel Chocks
This is a less popular type of motorcycle wheel chock, but with the right design and build to do the job. Chocks that fall under this category usually feature a minimalistic tray-like design. They fit perfectly inside motorcycle trailers, or on any surface. The design of this type of chock helps for the prevention of any obstruction on the floor.
Motorcycle Wheel Chock Buying Guide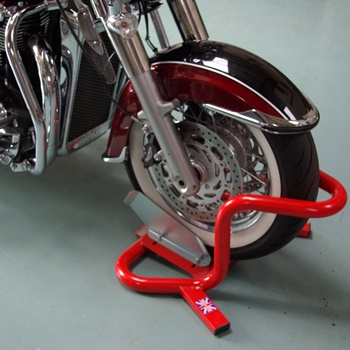 Having established the importance of owning and using a motorcycle wheel chock, you are probably already convinced on buying one. However, there are too many options available in the market that you can easily get confused about which to go with. Most times, you need to know what factors to look out for before picking a particular option. To help, here are some of the crucial factors to consider when in the market for motor wheel chocks.
1. Stability
This is certainly an essential factor to look out for. If you are buying a wheel chocks for your motorcycle, then you are probably doing it to keep your bike from moving when being transported. You don't have to end up with a product that doesn't offer this. Hence the need to check for stability. Most chocks in the market come with additional features to provide you with the needed stability for your bike.
2. Wheel Size
A significant factor to check is Compatibility in terms of wheel size. Motorcycle chocks are substantial investments, and no one wants to make the mistake of buying one that they won't use. Hence, the need to check everything, including the tire sizes that it will be compatible with. Different models come with different tire size compatibility. If the tire sizes that a model will be compatible with are not listed, then you should ask the manufacturer or seller before making your purchase.
3. Capacity
There's also a need to check the capacity of your choice motorcycle wheel chock. Beyond the physical look, you want to see how it performs on different types of motorcycle wheels. Most motorcycle chokes are designed to handle a lot of weight, but you still want to check to be sure. A chock that features a weight capacity of up to 1,800 pounds would be a perfect option for you, seeing that it will hold almost all kinds of bikes.
4. Material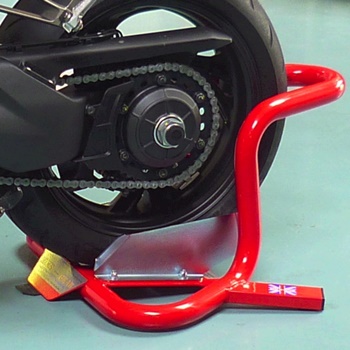 To be sure that you are making the right choice, you also want to check out the material that a wheel chock is made of before buying. These tools come in different build materials, and each material fits a particular usage. Most users prefer wheel chocks that come with steel materials, because of the high strength-to-weight ratio that such chocks offer. However, you need to realize that steel could be prone to corrosion unless you are going for stainless steel. This is where chocks that feature protective zinc coating or powder coating comes handy. The coating helps to ensure long-term performance across different weather conditions.
Other chocks come in aluminum or rubber materials. Aluminum chocks are relatively sturdy, and lighter in weight. However, they are typically more expensive compared to their steel counterparts. Rubber chocks, on the other hand, are very affordable.
5. Adjustability
These days, there are chock models that feature adjustability. It is essential to pick such chocks, considering that it helps to ensure fit across different sizes and designs of motorcycle wheels. You don't want to buy a motorcycle wheel chock that becomes useless as you upgrade the wheel of your bike. Some motorcycle wheel chocks come with adjustable cradles and can change their width according to the size of the wheel.
6. Anti-corrosion
If you are getting a metal chock, then you would want to be careful enough to ensure that it is not rendered useless overtime by rust. Thankfully, most brands cost their products these days with protective zinc or powder to avoid rust. There's a need to go for a model with these features.
7. Safety
Safety is another factor to look out for in a motorcycle wheel chock. You want a product that can guarantee to hold your bike when the going gets tough. Check out the protective features of the chock and ensure that it is good enough for you. Another way to know about the safety of a model is by looking at customer reviews.
How To Use Motorcycle Wheel Chock?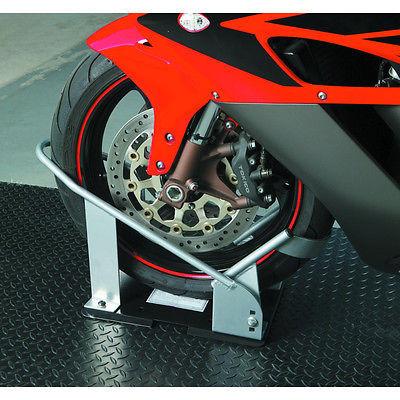 Here, take a look at a step by step guide on how to use a motorcycle wheel chock.
1. Mount the Wheel Chock
The first step to take usually is mounting the wheel chock to your motorcycle trailer or the deck of your truck bed. Most models contain all the mounting equipment in their pack. However, if you don't find these, then you may want to use quick nuts for creating permanent threaded holes that you can use again.
2. Secure the Bike
The next step to take is securing the motorcycle on the trailer, using the provided tie-down straps. For pivot bracket wheel chocks, however, you will not need any tie-down straps, since they feature an automatic lock system.
3. Tighten the Straps
Once the motorcycle wheel is in place and the straps are correctly positioned, it is time to tighten the straps by moving from one side to the other. This helps to create a balance in the tension.
4. Put into Gear
Once you are done tying the motorcycle down, put it on gear once. This helps you keep the bike from rolling backwards.
FAQ About Motorcycle Wheel Chocks
1. How To Install a Motorcycle Wheel Chock On a Trailer?
Depending on the model of your motorcycle wheel chock, installing it on a trailer can be either simple or complex. Most modern brands design their model to be easy to install, requiring only to mount the plate on the truck, trailer bed, or garage floor. For some alternatives, you won't need to fix it on any hard surfaces. Such chocks are typically heavy and wide enough to provide the required support.
2. Can You Build a Motorcycle Wheel Chock?
Of course, you can build a motorcycle wheel chock from scratch. You need to know, however, that it will take a lot of work. If you can afford it, then it is better to buy a model that has already been built. This helps to save you the stress and time involved in building one yourself. If, however, you enjoy building things and have the time, then why not? You can put your creativity to the test.
3. Is One Front Chock Enough To Secure a Motorcycle?
Yes, a single front or rear wheel chock can do enough to prevent your bike from slipping off, especially if the chock features a wheel-locking mechanism to prevent the tire of your bike from rolling. Note, however, that you might need to use extra tie-down straps to keep the bike upright during transportation.
Wrap Up
Whether you are a motorcycle technician or a bike enthusiast, the need for the best motorcycle wheel chock cannot be overemphasized. This tool helps to keep your bike steady and upright while you work on it or transport it on a trailer. However, the presence of so many models in the market today has made the burden of choice overwhelming. You don't want to make mistakes in the process of selecting. Hence, the need to know the features of each.
Why go through such stress when you can just refer to our motorcycle wheel chock reviews to find out details of the best in the market. We've also included a buying guide in this article to bring you to a knowledge of the things to look out for when buying a motorcycle wheel chock. All the information in this article would help you make the best choice for your needs.