The best motorcycle backpack needs more than just storage space. Top-quality motorcycle backpacks are the ones that are durable, less bulky, have ample storage space, and are lightweight. There are all sorts of effects, like aerodynamics, in play, so it shouldn't be just any bag. Stick around and learn how to create the criteria for choosing the right backpack for yourself.
To help make the process easier, you can find motorcycle backpack reviews below to help you make the right choice. You'd be surprised by how much your biking experience can change by getting the right riding backpack. Now, let's get right into the mater at hand!
See The Quick Comparison Chart
Why Use a Motorcycle Backpack?
There are many reasons why backpacks have become essential gear for motorcycle riders. It comes handy for storing the supplies that a rider would need on the road. Like most other backpacks in the market, motorcycle backpacks come with a range of compartments that suit different personal items. However, one thing stands this specialized backpack out from a typical bag, and that is the presence of a strap for holding motorcycle helmets. These backpacks are also lightweight and mostly made with durable nylon, as well as the best quality leather. Here, let's review five of the top reasons why you need a motorcycle backpack
1. Ease of Use
This is one quality that nearly all motorcycle backpacks have, irrespective of brand or model. Dedicated motorcycle backpacks feature unique designs that allow users to easily hang it on their back, even when they have a jacket on. While in the market, you will find different designs of backpacks for diverse body types. Experts often recommend that you go for the one that fits your body if you desire for your ride to be comfortable. Other backpacks that are not designed for motorcycle riders do not have this feature; hence, their tendency to bring discomfort during long trips.
2. Uniform Distribution of Weight
Another reason why riders need to get a dedicated backpack is the uniform distribution of weight that it offers. Unlike other kinds of bags, this one helps to ensure that pressure doesn't get too concentrated on your neck and shoulders. Instead, it distributes the weight to other parts of your body like your hip, while maintaining a perfect shape. Motorcycle riders have the liberty of choosing between external and internal frames. Each type of frame comes with its advantages and disadvantages over the other. Most motorcycle backpacks also feature compression straps that keep the load still during your ride.
3. Safety of Personal Belongings
Motorcycle backpacks offer you an opportunity to carry several travel essentials for your trip. Gone are the days when you will be stuck with thinking about what to bring along because of space. Today, modern motorcycle backpacks even feature special compartments for storing gadgets like laptops, mp3s, and phones. While storing these things, you often don't need to worry about the weather. Modern backpacks are highly durable and waterproof, providing you enough time to find a parking space when it begins to rain. Besides, the durability of these backpacks gives you the rest of mind that your belongings will not fall off when you are on highway speed. Just make sure that you are buying a good quality backpack.
4. Aerodynamic
The availability of motorcycle backpacks with aerodynamic designs is one of the primary reasons why these backpacks are growing in popularity. This feature helps to ensure that the backpack does not provide any drag that will make your highway cruise less enjoyable. The bags also feature excellent airflow to ensure the total comfort of the rider through any trip. This is something that you will hardly find in other types of bags.
5. More Practical
Unlike saddlebags, backpacks feature a design that doesn't protrude on the side. Backpacks are ideal, especially for owners of small bikes. They do not only provide ample space for storing more personal belongings, but they also allow the rider to weave through traffic without experiencing any difficulty. Another reason why people consider backpacks as a more practical option is because of its ability to serve you in a variety of circumstances, even when you need to be on the move without your bike. It serves as a cool place to store your office belongings, as well as an ideal location for holding college textbooks. Whatever your need, you can be assured that motorcycle backpacks will provide the right solution for you.
Regular vs. Motorcycle Backpacks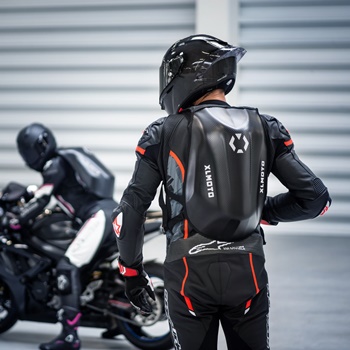 The argument about which is better between a regular backpack and a motorcycle backpack is one that won't end anytime soon. In case you are wondering the difference between the two and which is better for your riding use, the answer is pretty simple. A regular backpack is not to be worn over protective clothing. Even the adjustable options would likely be more difficult to put on. Of course, regular backpacks do not come without their advantages too, but motorcycle backpacks feature too many benefits for motorcyclists to ignore. Check out a few other areas where motorcycle backpacks outclass ordinary backpacks.
1. Comfort
Motorcycle backpacks are by far more comfortable for use than ordinary bags. The straps of most motorcycle backpacks feature foam designs that make them softer to the shoulder. Well, regular backpacks cost a fraction of what motorcycle backpacks cost. Still, looking at the comfort level that the two can offer, it is evident that regular backpacks don't provide as much value as their specialized counterparts.
2. Waterproof Technology
Another area where motorcycle backpacks outclass regular backpacks is in the area of unique technologies like waterproof. Regular backpacks aren't always waterproof. In fact, most of them don't even feature abrasion-resistance, and these things affect their usefulness and durability, even when subjected to normal riding conditions.
With all that we've reviewed so far, it is obvious that even the best regular backpacks cannot stand the place of motorcycle backpacks when it comes to performance and durability. That's why you have to opt for a motorcycle backpack when you are in the market for bags.
Are Motorcycle Backpacks Safe?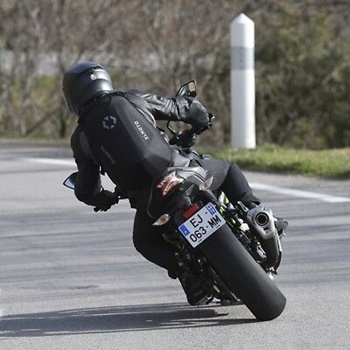 This is one question that keeps resurfacing in motorcycle forums. Motorcycles do not have enough room for carrying cargo. The only way to successfully take anything with you during your ride is by installing top-rated motorcycle trailers on your bike, or by bringing a motorcycle backpack, which is an easier alternative. The question, however, is how safe is it to carry heavy loads on your motorcycle backpack?
Motorcycle backpacks pass easily as a great way to add convenience and practicality to every ride, but there are still a few possible risks to it. Because of the risks involved with backpacks, riders need to take caution when making their choice for one. Every smart rider thinks about what he or she wears during a ride, and a backpack is not an exemption at all.
The ability of motorcycle backpacks to provide you with enough convenience and practicality make them a good solution for storing your personal belongings. They also help with ease of maneuvers on the highway.
Let's point out, however, that there are a few risks too. Some motorcycle backpacks do more harm than good in cases of accidents. If, for instance, the rider falls on the backpack, it can cause his or her spine to arch backward, therefore causing greater injury compared to cases of landing flat on the back. Thankfully, however, modern motorcycle backpacks feature easy to remove straps in case of accidents. So you can get the bag off with one pull before it causes damage.
Best Motorcycle Backpacks Comparison Chart
PRODUCT
DETAILS

OGIO 123007.36 No Drag Mach 3 Motorcycle Backpack

Price:

$$$$$

Customer Rating:

4.4

Size:

6.7 x 12.6 x 18.9 inches

Weight:

43.2 ounces

View On Amazon

Seibertron Motorbike Backpack Motorcycle Riding Package 37L

Price:

$$

Customer Rating:

4.6

Size:

11 x 11 x 19 inches

Weight:

44.8 ounces

View On Amazon

Mardingtop 25L/28L/35L Tactical Motorcycle Backpacks

Price:

$$

Customer Rating:

4.5

Size:

10.8 x 8.7 x 18.1 inches

Weight:

36.96 ounces

View On Amazon

AXO 29101-02-000 Red Commuter Motorcycle Backpack

Price:

$

Customer Rating:

3.9

Size:

20 x 13.6 x 2 inches

Weight:

8 ounces

View On Amazon

CUCYMA Motorcycle Backpack Motorsports Track Riding BackPack

Price:

$$$

Customer Rating:

4.3

Size:

20 × 14 × 7 inches

Weight:

54.4 ounces

View On Amazon

Harley-Davidson Men's Skull Backpack BP1924S-BLACK

Price:

$$$$

Customer Rating:

4.5

Size:

11.5 × 22 × 9 inches

Weight:

45.6 ounces

View On Amazon

Badass Motogear Reflective Motorcycle Helmet Backpack

Price:

$

Customer Rating:

3.9

Size:

15.8 x 13.7 x 2.5 inches

Weight:

23.2 ounces

View On Amazon
Best Motorcycle Backpack Reviews
1. OGIO 123007.36 No Drag Mach 3 Motorcycle Backpack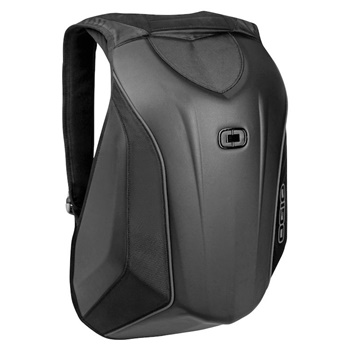 The OGIO Mach 3 is one backpack that deserves a place in our best backpack article. It's a slimline backpack that has been getting tons of commendations for all its exciting features. It has a design that reduces drag on it so that wearing the bag doesn't have to slow the wearer down. The model features a molded exterior that keeps it in perfect shape when you hit the road. During our research, we found the ventilation that the backpack features to provide excellent airflow. The sturdiness of this backpack means that it will last long.
Safety is essential for any motorcyclist, and that's why the manufacturers of this backpack have included quite several safety features to it. For instance, the backpack comes with a quick-release exit buckle on its straps, making it possible to remove the backpack when the need arises. This feature would save you so much stress in an accident situation. There's also a 360° retro-reflective safety piping that helps to make riders more visible when they ride at night.
Inside the bag, you will find a zippered pocket and an organizer panel all in the right position to help you organize everything. The removal helmet carry strap that the backpack comes with is an additional feature that helps to make carrying your helmet around pretty easy. It is also a lightweight option, so carrying it during any ride will not be difficult.
Pros
A quick-release strap helps for quick removal
The spacious interior helps for more load carriage
Highly durable.
Cons
The irregular shape it comes with makes setting down difficult.
2. Seibertron Motorbike Backpack Motorcycle Riding Package 37L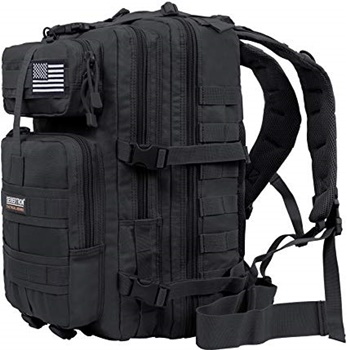 This backpack is one that every motorcyclist dreams of having. Straight from the manufacturer, it comes with a look that shows off its toughness. The motorbike backpack from Seibertron features active waterproof materials, making it durable enough to survive a downpour. You are, however, advised not to immerse it into water. At a relatively lightweight, carrying the backpack would not be difficult for you at all. If you are concerned, at all, about where to package your traveling essential during a cross country ride, then this is the perfect model for you. It features very spacious compartments, so you would have your luggage well arranged without feeling any extra weight.
The backpack is incredibly durable and comes with so many side pockets to comfortably hold your PC extras like your cords, mouse, tabs, speakers, etc. You will also find durable waist belts and padded chests, all to make carriage easier. The belts are meant to be strapped on your waist and chest to take the weight off heavy loads, considering how much weight it takes from your shoulder and back. It also comes with a beautiful design that often makes it a good match with your clothes, making it an excellent choice for fashionistas too.
Pros
Relatively reasonable price
Different color options
Takes weight off the waist and shoulder
Exquisite design
Cons
Some people find the long and many fastening straps intimidating.
3. Mardingtop 25L/28L/35L Tactical Motorcycle Backpacks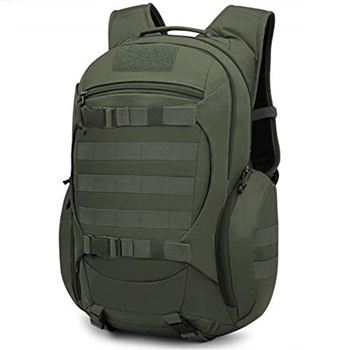 The motorcycle backpack from Mardingtop is one of the best in the market. Its quality doesn't come as a surprise to many, considering the performance of the brand in manufacturing top-quality accessories. This particular backpack is made of 600 D polyester, and features a capacity of 35 liters. It includes a special hydration compartment that accommodates a bladder of 2.5 liters. This feature helps to ensure that you stay hydrated throughout any ride.
Mardingtop has made this one extremely durable. Hence, users can expect to get a bag that will last them long. The backpack is one that every cross country rider should own, because of the strength it exhibits. You can stock up your travel essentials, assured that they would remain intact through a long trip. The backpack features a unique waist-belt design. Its belt is stitched in, but with a possibility of staying inside the middle space made for it behind the back padding support.
With an excellent combination of durability, functionality, and strength, you can tell that this backpack is built for top-usage. Of course, it also comes with a set of chest straps that makes carriage easier, irrespective of weight. A front zippered pocket that features an organization slot allows you to store small tools, cameras, maps, pumps, etc. without any stress. The main compartment of the product is large and expandable, featuring padded elastic pouch for storing tablets, iPads, and other similar gadgets.
Pros
Features a design that's for multipurpose activities
Detachable waist strap
Very durable
Cons
It is not waterproof
A few design defects noticed.
4. AXO 29101-02-000 Red Commuter Motorcycle Backpack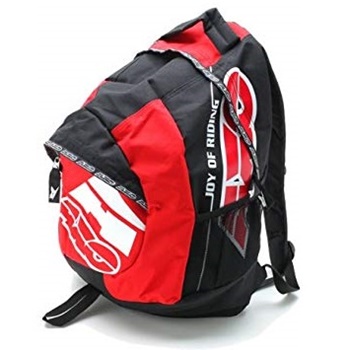 AXO has succeeded in designing a backpack for everyday use while commuting with your bike. This backpack is everything a biker would want for daily use. The size of the product is big enough to handle the storage of several essential stuff that you will need daily, including tablets, laptops, pens, books, chargers, etc. It will also comfortably hold your helmet, considering the somewhat circular shape of the backpack.
This backpack comes with an enclosed saddle pocket located at its back, specifically for laptop storage. Its padded back serves as an extra layer of protection for the contents of the bag. There are a set of side mesh pockets to contain the things you would frequently need during your ride. At 8 ounces, you can see that the option is exceptionally light, making it a perfect choice for long-distance travel.
The backpack is also relatively big, giving you enough room to pack several books alongside your laptop without breaking a sweat. A pair of adjustable straps join to make carriage easier. The backpack features a unique nylon material that's water-resistant. However, it is recommended that you avoid riding with it in the rain for a long time.
Pros
Offers excellent value for your money
Excellent for daily commuting needs
Incredibly lightweight and snug fit.
Cons
Not a good fit for long travels.
5. CUCYMA Motorcycle Backpack Motorsports Track Riding BackPack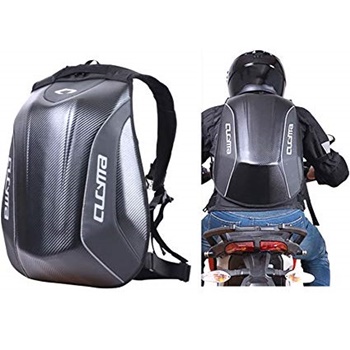 Straight off the pack, you can see that this one is a hardshell backpack that's designed with top-quality materials. It is beautiful, but that's not all that there is to this product. The backpack combines several exciting functionalities that stand it out in the market. An exterior made of reinforced carbon fiber PVC would help ensure that the backpack lasts through years of usage. The backpack also comes with a 1680D water-resistant nylon. These exterior features combine to hold the backpack firm and protect any content from unexpected weather changes.
The backpack also does well in the organization, especially with the interior featuring small mesh pockets to store essentials. This option also features an aerodynamic design that means you would not feel any unnecessary drag with it on your back. There's a back foam that provides necessary ventilation for the backpack.
A shoulder gasket with a unique design conforms with your shoulders' contours. You will not have to bear with any unnecessary scratch on your helmet, neither will you have any comfort issues while riding. The ergonomic design of this backpack makes it a perfect choice for daily commuters too. There is a high-weave belt, and a set of thick, adjustable, no-slip sternum straps that helps to make it fit your back perfectly. The quick-relief buckles that the straps feature makes taking off the backpack easy.
Pros
Feature a tough exterior
Easy to carry.
Quick-relief buckle helps for emergency removal
Durable
Cons
Not a good fit for laptops above 15.6″.
6. Harley-Davidson Men's Skull Backpack BP1924S-BLACK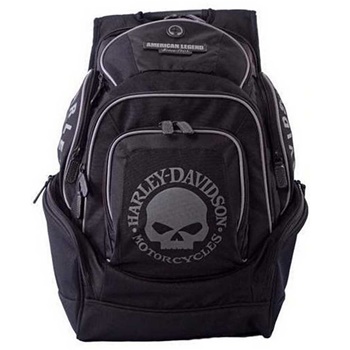 No motorcycle backpack list can be complete without the mention of a product from Harley Davidson. That's how well the brand has done for itself in manufacturing top-quality motorcycle accessories. This skull backpack is a typical example of the quality that the brand is grown into. The backpack is one of its kind in terms of quality and functionalities, with good capacity and ample compartments.
All the fabrics that the backpack features are nylon and poly-nylon, offering high water resistance to the product. The backpack features six pockets in total. Your laptop would gain some level of safety being stored away in the foam-lined laptop pocket. There is an interior zip for keeping your passport and ID safe.
Do we need to mention how stunning this backpack is? A combination of a set of leather zipper pulls, a graphic of the Willie G Skull, and contrasting piping gives the backpack a stylish look that will attract attention. At 12″ × 8″ × 2″, this backpack might not be too big, but it is enough to contain a few bike essentials. It also fits a helmet, making it an all in one solution for several needs. Each pocket features its own capacity, making it easy to access belongings.
Pros
Durable construction
Top-quality fabric
Reflective logo for night vision
Cons
The back doesn't have any straps or band for tying it to the sissy bar.
7. Badass Motogear Reflective Motorcycle Helmet Backpack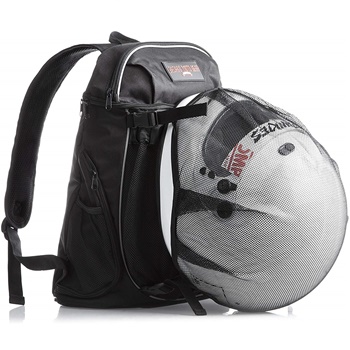 From the name of this backpack, you can already tell that it is one that's made with young bikers in mind. However, it's not just about the name. There are several other reasons why you should get this backpack. One of the most notable features of this backpack is the helmet holder, which is large enough for you to strap your helmet in. The helmet holder is also suitable for other round outdoor items like balls. At 1.25 pounds, this backpack is lighter than most other models in the market.
The laptop features a new level of durability. Manufacturers guarantee that it will last through years of consistent usage. There's a padded compartment in this backpack explicitly added for storing your laptop. Of course, there are other compartments for storing additional accessories. The backpack is water-resistant and ensures that your luggage doesn't get drenched from moderate rainfall situations.
Pros
Incredibly lightweight
Features a unique helmet holder
Durable.
Cons
Not so suitable for use in heavy rain.
Motorcycle Backpack Buying Guide
The main reason behind the manufacture and use of backpacks is for carrying personal belongings when you need to go out. Since this particular type of backpack is motorcycle use, then there is a need for its crafting to fit the purpose. Yes, we've seen cases where some motorcycle riders prefer to attach a carrier on their motorcycles.
However, there are several reasons why motorcycle backpacks may be the best option for you. Today, there are so many models of motorcycle backpacks in the market that picking the best for your needs can be quite an issue. Just like in the case of other accessories, there are a few factors that can point you to the right choice. Here, check out what you need to look at to arrive at the right choice of motorcycle helmets.
1. Size & Capacity
Let's start with size. Picking the appropriate size for your needs can be quite tricky, especially since there are no standard sizes. Generally, you would want to classify size based on the number of things you intend to carry. But it shouldn't be limited to that. Your bike's size matters a lot too. The size of the motorcycle backpack has to correspond with your bike's size. For smaller bikes with slim tails, smaller backpacks will suffice. However, heavier bikes would need bigger backpack sizes. You can go up to as much as 40 L for heavier bikes. Remember that the power of your bike needs to be enough to carry the collective weight of you and your backpack. Therefore, a big backpack might be the cause of an uncomfortable ride.
2. Fabric Materials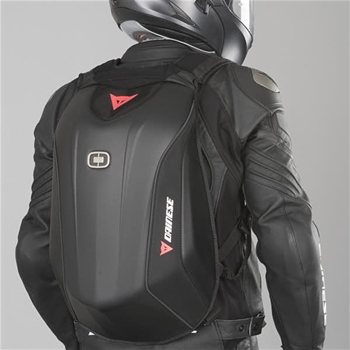 A massive chunk of your pay for motorcycle backpacks go for the materials used. You will find materials like PVC, vinyl, and nylon popular for this kind of bag. Urethane coated nylon is another material that's quickly gaining popularity too. This material is best for you if you want abrasion resistance. The material is pretty reliable for people that will have their backpacks hit the ground a lot of times. Apart from that, the urethane coating provides enough protection to your personal belongings when you ride into bad weather conditions. Additionally, the material offers more than PVC in terms of eco-friendliness.
3. Water Resistance/Waterproof
Everyone knows about the need for motorcycle backpacks to be waterproof. Even with a top-rated motorcycle GPS, sometimes, there's still a tendency of riding into unfavorable weather conditions. Most times, your personal belongings would be drenched and damaged before you find a shelter. Hence, the need for motorcycle backpacks that feature waterproof technology. You need to look at three things when it comes to accessing this feature; zippers, materials, and seams. As discussed earlier, there are different types of materials. Look out for a material that's strong enough to withstand intense weather. Also, check the material's coating, since the material on its own may never be able to withstand adverse weather itself.
Zippers are another aspect to worry about. While most companies claim that their zippers are waterproof, not all are. The backpack's zipper should be heavy-duty. Backpacks with roll-top designs perform best in keeping water out.
In the case of seams, radio frequency welded seams are mostly stronger. This feature helps to keep water out while making the backpack last longer. Some backpacks also feature taped seams. Choosing rightly requires that you put all these into consideration.
4. Wind Resistance
Apart from water, there are other natural elements that you should worry about too. Since you are carrying this type of backpack on a bike, then it needs to be wind-resistant also. You will still experience some level of wind as you ride at high speed, even if it's not a windy day. Your choice backpack needs to be able to withstand wind pressure without losing form.
5. Comfort
The amount of comfort that your motorcycle backpack offers is also significant. Most backpacks have adjustable belts and straps for better fit and comfort. The last thing you want is for your backpack to be uncomfortable when you need to wear it for a long ride. Check to see if the back of the bag had enough padding to provide support to your back when you wear it.
6. Ease of Use
Finally, you want to check the level of ease that the backpack offers too. Wearing and taking off the bag shouldn't feel like rocket science. Different options are worn in different ways, but the best ones are the ones that you won't need to waste time on.
FAQ About Motorcycle Backpacks
1. Can I Use a Motorcycle Backpack With a Passenger?
Riding with a passenger reduces the space on your bike. Most times, there won't be enough room to hang your motorcycle back on your bike when you are riding with a passenger. However, your passenger can hold on to the backpack for you, making things easier and safer for both of you. Remember to always weigh all possibilities before letting your passenger hold your backpack. Comfort issues may arise for you and the passenger if the backpack is too heavy for them.
2. What Should I Have in my Motorcycle Backpack?
Motorcycle backpacks come handy for a variety of uses. Apart from keeping your belongings safe and secure, they also serve as a storage location for the essentials that you might need during a ride. Other important things to have in your motorcycle backpack include a water bottle for hydration purposes, a charger, small snacks, and even motorcycle GPS for long trips.
3. How To Clean a Motorcycle Backpack?
This depends, to a large extent, whether your backpack is machine washable or not. For starters, you need to empty the different compartments of the bag. For machine-washable options, you can put it on the machine at this stage and wash it on the appropriate cycle.
For backpacks that are not machine washable, however, you will need to follow a couple of steps to get them clean again. Submerge the bag into a bucket of lukewarm water. Add detergent and allow to soak for about 15 minutes. Use clean water to rinse afterward and dry outside. Note that some backpacks come with specific cleaning instructions from the manufacturers. Ensure to follow all cleaning instructions provided for the model.
Wrap Up
Irrespective of the type of bike that you ride, or the riding style you prefer, you will need to carry your personal belongings at one point or the other. The information provided on our best motorcycle backpack article should help you pick the perfect backpack that will suit your needs.
Please note that each of the motorcycle backpack reviews on this article has been researched, reviewed, and rated to offer you everything you need for a comfortable ride. Now that you know more about motorcycle backpacks and how to go about getting one, you can check out other articles that we've written to learn more about other motorcycle equipment and accessories.