Getting the best motorcycle jack on the market can, and will be, a lifesaver in certain tricky situations. Whether you are a motorcycle mechanic or simply a motorcyclist that enjoys the alone time that a bike cruise offers, proper tools can make the routine maintenance of your bike easier. Motorcycle jacks are powerful tools that require little to no prior experience.
If you are thinking of getting a jack for your motorcycle, the motorcycle jack reviews will help you get the best from the sea of options available in the market. Consider everything, including the info you find in the guide below. Let's get to it!
See The Quick Comparison Chart
Benefits Of Having a Motorcycle Jack
As expected, using a specialized motorcycle jack for lifting your motorcycle comes with its benefits. Below, let's review some of the most popular benefits of using a motorcycle jack to lift your motorcycle.
1. Smooth and Convenient
It is no longer news that the use of motorcycle jacks to lift your motorcycle when you need to repair it brings a good level or convenience. Whether it's in the workshop of a mechanic, in a personal garage, or on the tracks, the use of motorcycle jacks will make the whole process of repairing the bike as smooth as possible. The repairer will also be able to handle the bike repair from start to finish, without bending in awkward positions that will cause strains to his or her back.
2. Safety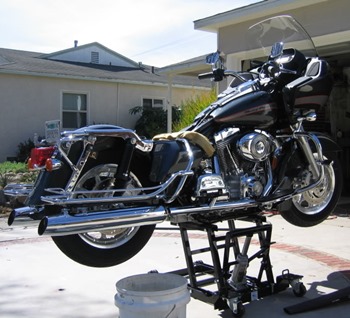 This is perhaps the most significant benefit of using a motorcycle jack for the repair of your motorcycle. Considering the danger that traditional support methods leave you susceptible to, and the amount of energy that's required to raise the bike to any level, you can see that the motorcycle jack is a solution worth going for. These jacks mostly feature a stainless steel design that can carry your bike without posing any risk of breakage. Most of them even feature a special pad that helps to hold your bike in place so that it does not wobble or shift during the repair process. Of course, the lift helps you to work on your bike without exposing you to any danger.
3. Complete Access to Your Motorcycle
Irrespective of your level of experience in motorcycle repair, the truth remains that there are parts of the bike that would forever remain hard to reach, except you have them in a good position. Why put yourself through the stress of bending and twisting to reach the hard to reach parts of the motorcycle, when you can put yourself in complete control by lifting the bike to a level where you can see and handle everything.
4. Constant Adjustment When Needed
Using a motorcycle jack/lift offers you the opportunity to adjust the bike to any position during your repair. Unlike other alternatives that keep the bike static throughout the process, a motorcycle jack would enable you to change the height of the bike and its position on the jack when working on it.
5. Protects You From Dirt
Why put yourself through the potential danger of lying and rolling in the dirt while trying to repair your bike? Gone are those days when a motorcycle mechanic has to look rough and dirty. These days, with motorcycle jacks, you can start and complete work on a motorcycle without necessarily getting yourself all soaked in dirt or mud.
Best Motorcycle Jacks Comparison Chart
PRODUCT
DETAILS

Extreme Max Motorcycle Scissors Jack-Wide

Price:

$

Customer Rating:

4.5

Size:

17.9 x 10.2 x 3.8 inches

Maximum Weight Capacity:

1100 lbs.

View On Amazon

Orion Motor Tech Dilated Scissor Lift Jack

Price:

$

Customer Rating:

4.6

Size:

17.3 x 3.7 x 10 inches

Maximum Weight Capacity:

1200 lbs.

View On Amazon

Liftmaster 1100 LB Wide Deck Motorcycle Center Scissor Lift Jack Hoist Stand Bikes ATVs

Price:

$

Customer Rating:

4.4

Size:

18.3 x 11.2 x 3.8 inches

Maximum Weight Capacity:

1100 lbs.

View On Amazon

Black Widow BW-0101 Hydraulic Motorcycle Lift

Price:

$$

Customer Rating:

4.4

Size:

33 x 16 x 16 inches

Maximum Weight Capacity:

1500 lbs.

View On Amazon

Powerbuilt 620422E Heavy Duty 4000 lb Triple Lift Jack

Price:

$$$

Customer Rating:

4.1

Size:

16.4 x 26.1 x 8.1 inches

Maximum Weight Capacity:

4000 lbs.

View On Amazon

OTC 1545 Motorcycle Lift

Price:

$$$

Customer Rating:

4.3

Size:

20 x 6.5 x 39.2 inches

Maximum Weight Capacity:

1500 lbs.

View On Amazon

Venom Sport Bike Motorcycle Front Fork & Rear Paddle Combo Wheel Lift Stands

Price:

$

Customer Rating:

4.4

Size:

21.3 x 18.5 x 3.9 inches

Maximum Weight Capacity:

N/A

View On Amazon
Best Motorcycle Jack Reviews
1. Extreme Max Motorcycle Scissors Jack-Wide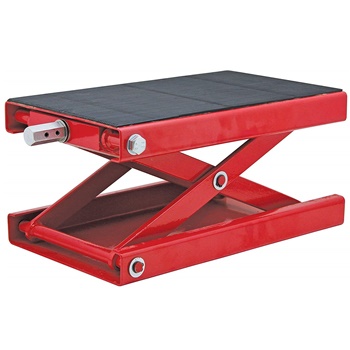 When it comes to lifting bikes, only a few models can do it as well as this one. It is not just durable but also trustworthy to handle the job with minimal hassle and damage. Most users are fascinated about the capacity of this model to lift motorcycle weighing up to 1100 lbs. without a single problem, thus offering you the extra strength that most others don't have. The whole process doesn't get simpler than this jack makes it. Simply get the jack in its position under the bike, attach a 7/8″ socket to the drive, and you are ready to lift. Isn't that simple?
This lift offers you a capacity to lift your motorcycle to a height of up to 14″ above the ground. The wide platform that it features also helps to ensure safety and stability throughout the process of elevating the load. It comes with a rubber passing that will help to protect metal contact, hence helping you to avoid scratching, scraping and scuffing.
If you are looking for a heavy-duty jack that can lift your street bikes, sports bikes, and most other heavy bikes, then this is the right choice for you. One feature of this bike that endears people more to it is the ease of usage. It is so simple to use that you can start and finish without any prior experience. This feature makes it the perfect tool to use both for personal and commercial purposes. Note, however, that it is not strong enough for lifting trucks.
Pros
Features a sturdy steel construction that can withstand severe usage
Not susceptible to easy wear and tear
It comes with a rubber padding that helps to minimize scraping.
Extremely easy to use.
Cons
The jack might move a bit during heavy lifting, causing you inconvenience.
2. Orion Motor Tech Dilated Scissor Lift Jack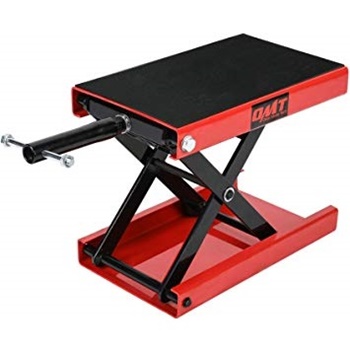 For most motorcycle riders, the lifting capacity of a jack is the first thing that they look at when they are in the market for motorcycle jacks. Having a model that can lift up to 1000 pounds is something every motorcyclist will appreciate. This model from Orion Motor Tech ranks well as an excellent option for lifting motorbikes of any type. The lift range of this jack varies between 3-3/4″ and 13-2/5″, making it food enough for most lifting you would need for your bike. It, of course, offers incredible ease of operation. Hence, you would handle the lift of your motorcycle from start to finish, without necessarily needing extra help from anyone.
You will be happy to find that there is a rubber duck on the jack that helps to prevent it from sliding on the floor. To a large extent, this helps to avoid accidents. We recommend that you always check the dimension of the platform while in the market to shop for motorcycle lift, as this would help you ensure that you can accommodate it in the space you have. Thankfully, this model comes with a platform that's not too big for use in small areas.
The surface of this lift is also resistant to oil and dirt; therefore, you will not find any difficulty trying to keep it in mint condition. Ensure, however, that you are only using it for motorcycles since using it for other vehicles can potentially damage it.
Pros
Heavy lifting capacity
Very easy to use
Features a unique rubber deck that helps to prevent sliding
Impressive level of versatility.
Cons
3. Liftmaster 1100 LB Wide Deck Motorcycle Center Scissor Lift Jack Hoist Stand Bikes ATVs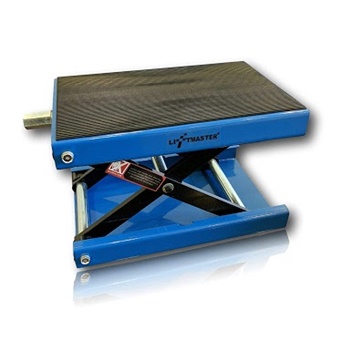 The scissors lift back from Liftmaster is another heavy-duty motorcycle lift that's worth checking out when you need a lift that works. If you are interested in capacity, then this jack will excite you, because of its ability to handle the lifting of up to 1100 LB of weight. At this weight, you would be able to carry most types of bike comfortably, without any issue. This model is also suitable for various kinds of usage.
For motorcycle riders and mechanics that value performance and reliability, this is one motorcycle jack that should be in their list of preferences. Another stand out feature of this model is the use of high-quality solid steel for its construction. In addition to the stainless steel design, we also found the use of a blue and black powder-coated finish fascinating, since it helps to protect it against damage further. Of course, this doesn't stop it from looking dirty from continuous usage. However, you are assured that it will not easily be damaged.
This option also features a simple crank operation, making it a time-effective piece of equipment that you will use to start and finish your service without much delay. On the other hand, it features a universal design that makes it suitable equipment for nearly all motorcycle models.
Pros
Features a solid steel construction that ensures durability
Very versatile option
The wide deck design helps ensure stability.
Cons
It might be somewhat difficult for people that are new to the whole process of lifting a motorcycle.
4. Black Widow BW-0101 Hydraulic Motorcycle Lift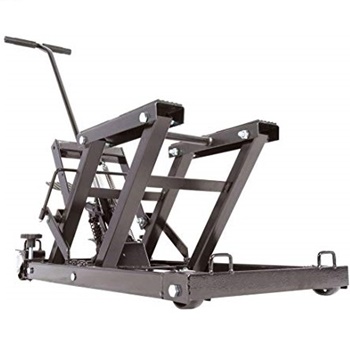 Black Widow is one brand that stands out in the manufacture of top-quality motorcycle repair equipment. Again, it is evident that they've brought the quality that they are known for in the production of this motorcycle lift. The motorcycle lift from Black Widow is made of sturdy metal, making it able to hold its own in heavy lifting. Of course, at 1,100 pounds capacity, we do not expect anything less from this bike. It is also very versatile; hence, you can expect it to be suitable for carrying different types of bikes.
This bike lift is an efficient option compared to most others in the market. It comes with a rubber surface that also has a rough texture to prevent the bike from sliding when you are lifting. The basic height of the lift is 4″, and it can extend up to 15″. Most users of this bike lift are satisfied with how the model performs after extended usage. To help make matters even better, it offers a good level of stability and balance for bikes, even at its maximum height. However, we recommend that you grease the joints occasionally if you want to continue raising bikes effortlessly with it.
Despite not featuring a dolly, the item still comes as a good option for use in the home and commercial settings. It has the strength to lift the heaviest bikes and gives you ample time to handle your bike upkeep. We are not surprised that it has become a favorite for many users.
Pros
Solid and stable option
Easy to maintain
Excellent level of balance.
Cons
It doesn't come with a dolly.
5. Powerbuilt 620422E Heavy Duty 4000 lb Triple Lift Jack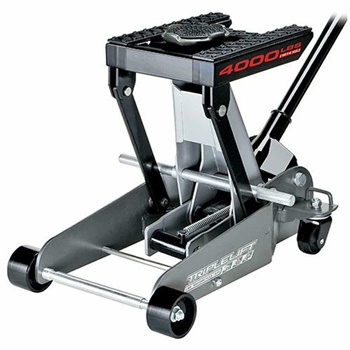 Raising your bike off the ground is a very serious business that requires strength and precision. One wrong move and you could damage your motorcycle or even get yourself hurt in worst-case scenarios. This is why you need a motorcycle lift that can handle the pressure while offering you the ease of operation. Perhaps only very few options come to mind when you put all these into consideration, and the Powerbuilt 620422E is one of them. At a lifting capacity of 4,000 pounds, you can tell that this lift is ready for business. With it, you can lift just any type of motorcycle almost 19 inches off the ground without any problems.
The lift has a design that looks simple to the eyes, yet adequate to handle the job for you. There is a set of padded lift pads and saddles that works hard to not scratch or cause damage to your motorcycle during any lift. Once you place your bike in place, you would need just to slip your locking bar into position and rest assured that the jack would hold its ground solidly until you are ready to release it. The four castor wheels that the lift features are strong enough to handle the weight of any bike. They are also ready to keep rolling the jack under and out of your motorcycle.
When it comes to durability and strength, it is obvious that the makers of this lift have put a lot of thought into making it a standout in the industry.
Pros
Very durable option
Extreme lifting capacity
Solid castor wheels for ease of operation.
Cons
6. OTC 1545 Motorcycle Lift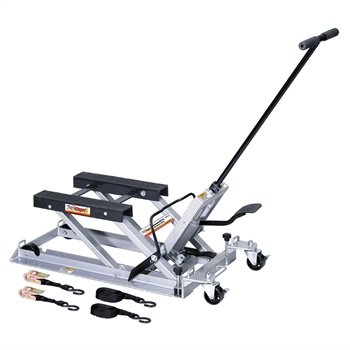 As you must have known by now, there's nothing as frustrating as having your expensive motorcycle topple over in your attempt to tighten a loose bolt. Thankfully, it doesn't always have to be so – not when you can use the lift from OTC to safely lift your bike when working on any of its parts. The brand is a major manufacturer of a wide range of motorcycle maintenance equipment, and for a while, they've earned a name for themselves. This brand designed this brand with the average user in mind. This can be seen from the level of ease that the lift offers, as well as how it lifts nearly everything with two wheels.
At 3½" range of minimum clearance, there's no doubt about the lifting range of the motorcycle lift. There's barely any other similar jack that can boast of this low level of clearance. The OTC 1545 can still reach a maximum lifting height of 16¾", which is the top range of most top-quality motorcycle lifts in the market.
This option comes with hydraulics, which is far easier to operate compared to the scissors jacks. Generally, you will appreciate how the system works. The quality of the cylinder eliminates any drama or leak issue. It features an automatic safety locking mechanism that helps to ensure that your mind is at rest throughout the process of lifting your bike. We found that the jack also comes with pedal fittings to make the process of releasing and lowering your bike completely effortless.
At 74 lbs, it still falls into the category of lightweight jacks. However, the OTC motorcycle lift is capable of lifting up to 1500 pounds of load. It features a robust steel structure that helps to provide added durability and ensures that the chassis withstands immense pressure during any operation.
Pros
Relatively inexpensive
Very durable option
Impressive lift capacity
Easy to operate
Cons
The rear castors might get a bit chewed up with excess usage.
7. Venom Sport Bike Motorcycle Front Fork & Rear Paddle Combo Wheel Lift Stands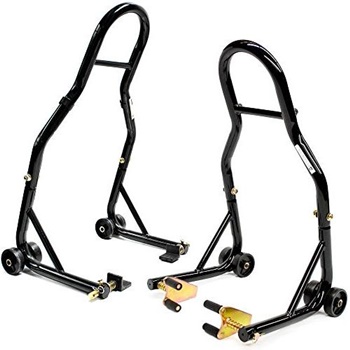 Straight of the pack, it is evident that the manufacturers of this lift have put in so much work into getting it ready for tough tasks. If you are planning to do any serious work on your motorcycle soon, then you would certainly need a jack in the quality of this one. It combines strength, durability, and reliability, offering you an all in one solution for lifting your bike when you need to. You will find that this bike comes with so many exciting features.
First, this lift features a heavy-duty steel construction; hence, users can expect it to last. The steel construction also means strength and durability. What makes it even more unique is the presence of a leverage ratio for ease of usage. With the rear spool lift, you can expect to safely and efficiently lift the rear wheel for repair or maintenance.
Another standout feature of this list is the ease of assembly that it offers. Most users even report being able to complete assembly and first lift without any prior-experience. It is also very versatile; therefore, you can expect it to work for lifting any type of bike.
Pros
Easy to use
Very versatile option
Strong and durable
Cons
None seen at the time of review.
What is a Motorcycle Jack/Lift?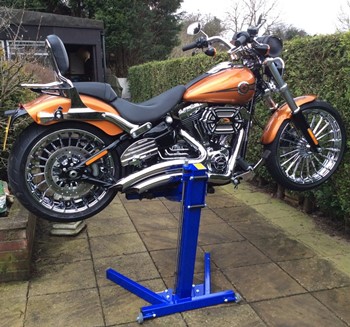 A motorcycle jack/lift is a table-like lift that is designed to handle the lifting of motorcycles. Many motorcycle repair shops have these lifts, and they mostly use them for bringing motorcycles off the ground, and up to a level where the motorcycle mechanic working on it would not need to strain his/her back while bending to work on the motorcycle. Motorcycle jacks are not only seen in repair shops these days. Most motorcycle enthusiasts buy these lifts for their garages at home. This helps them to easily perform simple repairs and maintenance jobs like cleaning the bike, changing oil, and a few other stuff without having to dirty themselves on the ground.
Typically, you will find that such lifts are made of top-quality steel and powered by hydraulic or air cylinders that can handle load capacities climbing up to 1,500 lb.
Isn't it possible to lift a motorcycle with a car jack?
Yes, it is possible to use a car jack to lift your motorcycle, but that's not a solution any expert would recommend. Car jacks are explicitly made for cars; hence, they can potentially cause damage to your bike if used to lift a motorcycle.
The best whole stress of using a car jack for this purpose is pretty complicated, as you will need to find a flat surface below the bike to be able to use this kind of jack. Most times, you would need motorcycle tie-down straps, wooden blocks, or even the help of another person to help you hold the motorcycle in place while lifting it. The lifting surface of car jacks is rarely the right size, often promoting users to use jack stands for preventing the bike from unnecessary wobbles. In general, this is not ideal for maintaining your motorcycle, and it puts your bike at risk of falling off or getting damaged. Therefore, the best solution for lifting your motorcycle is the use of a proper motorcycle jack/lift.
Types Of Motorcycle Jacks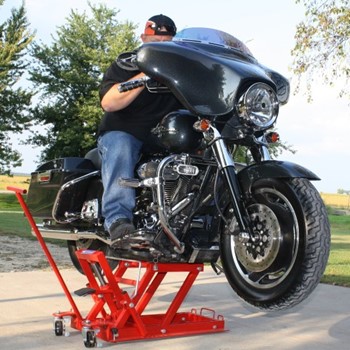 Like motorcycle goggles and most other motorcycle accessories, there are different types of motorcycle jacks. Let's take a moment to look at the popular types of motorcycle jacks available in the market.
1. Hydraulic Jacks
This classifies easily as one of the most popular types of jacks as far as motorcycle lift is concerned. This type of jack is operated on both hydraulic fluid and compressed air. While the compressed air would help in the process of raising the lift, the hydraulic fluid will help in moving it.
These lifts usually have pump housing with a dedicated reservoir tank where the fluid is stored. You might need to perform routine maintenance on this type of jack, depending on the frequency of usage. The ability to operate the air pump by a foot pedal keeps your two hands free to hold the bike and keep it steady throughout the lifting process. Lifts in this category require minimal operation efforts.
2. Air Lifts
The operation of airlifts is pretty unique compared to most other types of lift. They are, however, popular in repair shops and places where heavy-duty lifting is done. This type of lift functions, using compressed air to lift the bike into position. Typically, you will find them equipped with valve controls that are operated with the foot. The controls are connected to the air cylinder and help to raise or lower the platform. You can also lock the platform in place when you get to the position you want your bike to be in.
3. Mechanical Lift
This is a less common type of lift. Their design is simple, and they are manually operated using a handle. The mechanical Lift features a variety of mechanisms that can be used to raise or lower the bike platform, depending on the position you want to work on. The platform in this type of lift also features a lock that helps to keep it stable when you reach your preferred position. The downside of this type of lift is that you will be using your hands to operate the lift. Hence, the need for another person to support the bike from falling off when being lifted.
4. Scissors Lifts
From the name of this type of lift, you can already tell what its overall design would look like. Generally, it is designed to look like a pair of scissors. The lifting mechanism works in a manner that opens and closes the lift in a scissors-like movement when being operated. This type of motorcycle lift is used for lifting bikes in the lightweight category.
5. Bottle Jacks
Bottle jacks are also very popular, especially among home users. They are compact hydraulic pistons that are used for lifting bikes. They have a similar shape to that of a bottle; hence, their name.  The best solution for keeping your bike stable when working in your home garage is to combine bottle jacks with a jack stand.
Motorcycle Jack Buying Guide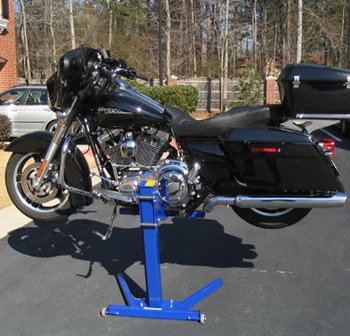 Buying a motorcycle jack can be both easy and complicated, depending on your experience and knowledge of the different types of motorcycle jacks in the market. Motorcycle maintenance doesn't just stop in the use of a top-rated motorcycle oil; it also involves getting the right motorcycle jack for working on your bike. If you are new to it, don't worry, we've highlighted a few factors that you can look out for to help you get the best motorcycle jack in the market. Check them out.
1. Material
This is the first and most crucial factor that you need to check out when in the market for motorcycle jacks. Most motorcycle jacks feature either aluminum or steel material. Each of these materials comes with their particular attributes and needs proper examination before you settle for a choice.
While making a selection, you need to pay attention to the weight of these materials. Averagely, steel weighs more in comparison to aluminum, indicating that steel is of superior quality than aluminum in most cases.
2. Accessories
This is another aspect that you want to pay attention to. Two important accessories that come to mind when in the market for motorcycle jacks are the motorcycle stand and spanner wrench set. You will need the spanner wrench set when trying to lift, and the motorcycle stands to safely and efficiently store your motorcycle. Different motorcycle jacks come with various accessories; however, you want to look carefully to be sure it has the essential accessories that you will need before committing to make your purchase.
3. Storage
Apart from motorcycle maintenance and related services, motorcycle jacks also come handy for storage purposes. During winter, most motorcycle lovers result in locking their bikes in hibernation because of the inconvenience of riding out in such seasons. An essential part of locking away your motorcycle is to lift it on a wheeled jack. Once you've successfully raised it, you can rest assured that no wind, rain, or snow will compromise the functionality of your motorcycle.
4. Lifting Weight Capacity
Another essential factor that you need to look out for is the lifting weight capacity of the motorcycle jack. The last thing you want is to buy a jack, only to find out at home that it does not fit the weight of your bike. Most top-quality motorcycle jacks come with a capacity to lift between 1000 to 1500 lbs, which is enough to lift nearly all kinds of bikes.
5. Ease of Use
Unless you are an experienced motorbike mechanic, you would want to buy a motorcycle jack that is easy to use. Before going to the market, think about your experience with jacks. If you have the right knowledge, then why not? You can go for any jack of your choice. If not, get one that you can easily install and use by looking at the operation manual. Most of the jacks listed on our reviews above are easy to use and maintain.
How To Use a Motorcycle Jack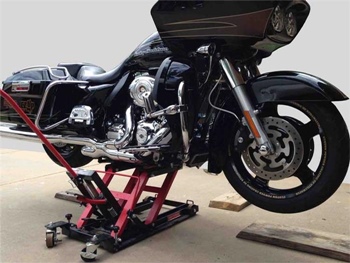 New to the use of motorcycle lifts? Here, take a look at the typical steps involved in using a motorcycle jack to lift your bike.
1. Please select the right motorcycle jack for your bike's need, paying attention to the weight of your bike when it is full of fluids and the weight capacity of the jack.
2. Before you start to lift the bike, check to ensure that the wheel locks are in place. Also, ensure to use the safety locks provided on the lifts to cancel the potential of the bike dropping on you while working.
3. Next, locate the gravity center of the bike that you are working on. You will usually find this around the engine.
4. Find the lift points of the bike. Some bikes will require that you remove the bodywork since it will be interfering with the lifting platform.
5. Take out any loose accessory that may potentially fall off the bike during the lifting process. Also, remove any wires that may likely get caught by the lift. It might take some time for you to find the best lift position, but it is better to diligently search for it than to be sorry you didn't.
6. You will need a lift stand or a support ramp if you want to remove one of the wheels of the motorcycle.
FAQ About Motorcycle Jacks
1. Do I need a motorcycle jack
Yes! Although it is not compulsory like the units in motorcycle horn reviews, every motorcycle owner still needs a motorcycle jack. It saves you so much time and energy in maintaining your bike. It also saves you the cost of going to the mechanic for minor repairs that you can handle by yourself.
2. What is the maximum capacity of a motorcycle jack
The maximum capacity of motorcycle jacks often depends on brand and model. In most cases, however, lifts support up to 1100 lbs of motorcycle weight. However, there are exceptional lifts that can carry up to 1500 pounds. You can make your selection based on the specific needs of your motorcycle.
3. Which is better between a hydraulic jack and a scissors jack?
Most times, the decision on which motorcycle jack is better depends on personal choice. Scissors jacks are often a better choice for people that do not want to spend much on a jack, while the hydraulic jacks are often more durable and better for heavy lifting.
Wrap Up
The importance of finding the best motorcycle jack for your routine maintenance and motorcycle repairs cannot be overemphasized. This tool will always be handy when you want to put your bike in the right position to work on it. However, the presence of so many options in the market has made the process of finding the best rather complicated.
This shouldn't be a cause for you to worry, considering that our motorcycle jack reviews have provided you all the information that you need to make the right choice. We hope that you can utilize the information contained in this guide to make a choice that you will be pleased with.
Check out our detailed buying guides of other motorcycle accessories and equipment to be better informed on how to maintain your motorcycle.