Whether you are a commercial motorcyclist or an adventurist, getting the best motorcycle fairing speakers for your bike can be a game-changer! Thanks to technological innovations, these speakers are now more functional than they were in the past. Today, different models feature different designs, settings, speaker configuration, and other extras. These differences in features make the selection process overwhelming for anybody. Sometimes, your level of expertise doesn't even help.
To help, here's a summary of features these devices bring to the table. Take a look at a brief review of each of the options that we've chosen to make the right call and enhance your ride. Let's get right into this hot topic!
See The Quick Comparison Chart
How Do Motorcycle Fairing Speakers Work?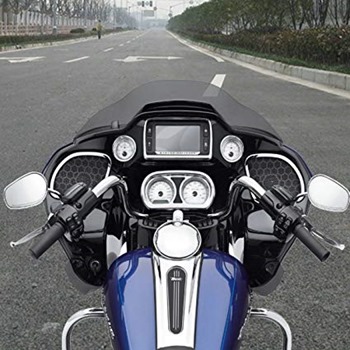 Despite being around for a long time, motorcycle fairing speakers are still pretty popular. It doesn't seem like they are going anywhere soon, and it's not hard to see why. They offer a level of efficiency that most other types of speakers cannot provide. Perhaps, you are already planning to get one for yourself; then, there's a need to know how motorcycle speakers work.
Motorcycle speakers are designed to work like any other speaker that you know. Its primary function is to translate electric signals from the stereo into audible sounds that are clear and enjoyable to anybody. They can do this with the help of an electromagnetic coil that changes the direction of its magnetic field just as electrical current begins to flow into it. This type of speaker also comes with a larger fixed magnet that works for attracting or repelling the electromagnetic coil, depending on the magnetic field's orientation.
During manufacture, makers also attach this coil to the cone of the speaker. The cone is either made of paper, plastic, or any other materials. It responds to the vibration of the coil; hence, amplifying the sound waves. The vibrations translate to sounds of varying pitches and volumes, depending on their frequency and amplitude.
Motorcycle Fairing Speakers vs. Helmet Speakers
As expected, there are different types of speakers that can be used on a motorcycle. The most popular types of motorcycle speakers in the market today are the motorcycle fairing speakers and helmet speakers. Most buyers do not understand the difference between these two types of motorcycle speakers; hence, the need for this section.
Motorcycle speaker systems are an exciting addition to any bike; however, users have to make their selection based on what they want out of the speaker.
Motorcycle fairing speakers are a more traditional type of motorcycle speakers. They are bigger and need to installation on a hidden part of the motorcycle. Helmet speakers, on the other hand, are a more modern type of speaker for motorcycles. They are by far smaller in size and are mounted on an open face or half helmet to allow you to enjoy your sound from your motorcycle radio. Comparing these two can be somewhat tricky, and as mentioned earlier, the best often depends on what you desire from the use of your speaker. However, we will review the comparison under the following factors.
1. Highway Sound Quality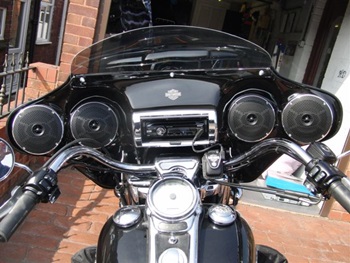 If you are buying a speaker set for your motorcycle, then you want to be sure that it will give you your desired sound level. When riding on low speed, you will discover that the sound quality of your fairing speaker is pretty impressive, but the case is often different when riding on the highway at top speed.
In the latter case, you'd not be able to hear much of the sound coming from the speakers. The powerful wind noise that speed creates, as well as the insulation from your helmets, would combine to cancel out the sounds coming from the speakers.
When considering this factor, getting helmet speakers becomes a better idea considering that it would enable you to enjoy your favorite tunes irrespective of speed level.
2. Safety
Safety is another aspect of riding that every motorcyclist is concerned about. Perhaps it will surprise you to know that your speaker-choice can affect your safety during any ride. Helmet speakers are designed to be plugged into your helmet so that it comes in direct contact with your ear. This enables you to enjoy loud music even when at top speed. However, it cancels out other noise, making you oblivious of what's happening around you most times. You often become deaf to motorcycle horns and roadside signals. Fairing motorcycle speakers are an easy win in this aspect, considering that you will still hear what's happening around you, irrespective of how loud they are.
3. State Laws
You should always remember to check the laws of the state where you are riding. Bear in mind that different states have different rules regarding this. Helmet speakers are, however, still illegal in many places. Hence, fairing speaker systems can be handy for long tours to destinations where you don't know their rules.
Best Motorcycle Fairing Speakers Comparison Chart
PRODUCT
DETAILS

Hogtunes Speaker System Kit for Memphis Shades Batwing Fairings

Price:

$

Customer Rating:

3.6

Size:

14 x 7 x 10 inches

Weight:

91.2 ounces

View On Amazon

Rockford Fosgate TMS65 Harley-Davidson Fairing/Tour-Pak Speakers (2014+)

Price:

$

Customer Rating:

4.2

Size:

17.2 x 8.5 x 8.5 inches

Weight:

48 ounces

View On Amazon

J&M Rokker Series XT Lower Fairing Speaker Kit for Harley Davidson 2006-13 Road

Price:

$

Customer Rating:

4.2

Size:

14 x 12 x 12 inches

Weight:

121.6 ounces

View On Amazon

Batwing Fairing for HD Road King with Stereo Speakers

Price:

$$$

Customer Rating:

5.0

Size:

43.6 x 20.8 x 19.3 inches

Weight:

536 ounces

View On Amazon

Hoppe Quadzilla Fiberglass Fairing HDF-RK

Price:

$$$$

Customer Rating:

4.4

Size:

18 x 20 x 46 inches

Weight:

540.8 ounces

View On Amazon

Rockford Fosgate TMS6RG Harley-Davidson Fairing Speakers (1998-2013)

Price:

$

Customer Rating:

4.4

Size:

10 x 4 x 15 inches

Weight:

48 ounces

View On Amazon

Hoppe Industries Stereo Fairing Rd.King Hc HDF-RK-QZ-HC

Price:

$$$$

Customer Rating:

5.0

Size:

N/A

Weight:

480 ounces

View On Amazon
Best Motorcycle Fairing Speaker Reviews
1. Hogtunes Speaker System Kit for Memphis Shades Batwing Fairings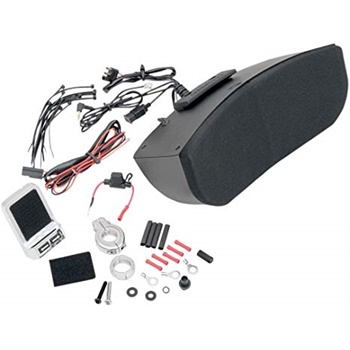 This batwing fairing speaker system from Hogtunes easily classifies as one of the best in the industry. There's a lot about the speaker system that stands it out in the market. During our research, we were impressed by the level of functionality it brings.
The speaker comes in black color, which would serve as a perfect match for any color of the bike. Hence, there'll be no need to worry about how the speaker performs on your bike. On the physical features of the speaker pods, we found the presence of a 50-watt amp fascinating. This means more power to your sound system. Controlling the volume of your speaker with the built-in volume button is pretty straightforward.
The ease of installation that the speaker system offers is also worth talking about. Apart from being easy to install, the pack also contains all the needed tools, hardware, and wiring that you'll require for proper installation.
It is important to note that the speaker system doesn't feature any AM or FM station. However, that shouldn't be a problem, considering that you can just attach the cord of the speakers to the headphone jack of your phone and listen to any song you want on and off your trip. Note also that the built-in volume button only works when the speaker system is connected with the music source via Bluetooth. This means that the volume button becomes useless when a cord connects the speaker to the source device.
In addition to having a good design, the fairing speaker system is also water-resistant, giving it an edge in rainy weather. They will still work fine during light showers. It is, however, not built to withstand very heavy rainfall.  One thing is sure about this option – it is highly durable and promises to last through years or motorcycle adventure. The presence of Bluetooth connectivity also helps to ensure that no wires are lying about carelessly.
Pros
Improved bass quality
Highly durable
Waterproof technology
Cons
The sound often gets distorted at highway speed.
2. Rockford Fosgate TMS65 Harley-Davidson Fairing/Tour-Pak Speakers (2014+)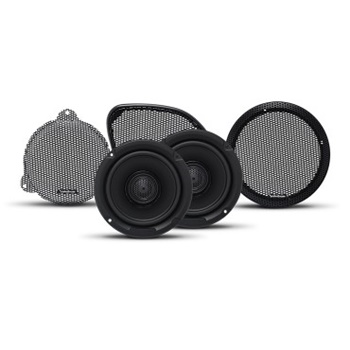 Straight off the pack, you can tell that this speaker system aims to perform at a top-level. From its intuitive design to the number of functionalities that it compresses into a portable design. Everything combines to offer you improved usage on and off your ride. It's not hard to see that this system has everything to make your ride a bliss.
First, let's talk about the water-resistant feature of the speaker. This is one feature that stands it out in the competition. Most users are impressed by the fact that they can go on a ride at any time, unfazed about weather predictions. The speaker system would survive light and heavy showers without any issue popping up.
During the manufacture of this system, the company also included the use of the Klippel distortion analyzer. This is a device that uses a laser and sophisticated software for large-scale analysis of drivers in motion. The whole idea behind the use of this technology is to let the system optimize the speaker's motor structure, suspension, and voice coil alignment in producing the best possible performance. The system also comes with a very effective 25mm dome to help increase its bass production even when at high speed. It also features Bluetooth connectivity, allowing for more convenience in operation.
Pros
Waterproof technology helps for use in any weather
Doesn't need any modification, since it directly replaces the factory speakers
It is a versatile system
Bluetooth connectivity helps for convenience.
Cons
The music quality sometimes gets distorted at high speed.
3. J&M Rokker Series XT Lower Fairing Speaker Kit for Harley Davidson 2006-13 Road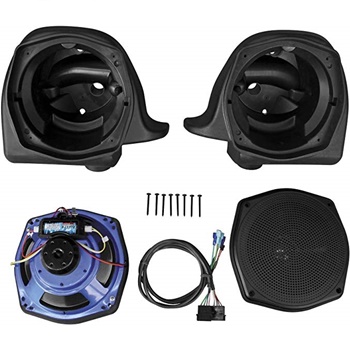 The J&M Rokker speaker kit is designed specifically for Harley Davidson motorcycles; hence, so much has been put into making it a perfect match for this type of motorcycle. From the design of the system, it is obvious that the manufacturers had the user's convenience in mind. In addition to having an intuitive design, we also found it an affordable option. Don't be deceived by its price because the system doesn't fall short at all in quality.
The speakers feature lightweight yet durable polycarbonate material. The use of this material combines to make the speakers everything you desire. It will last through years of optimum usage. It also features two waterproof injected driver cones that help to safeguard the system from adverse weather effects. At 7.25 inches, the speakers are impressively compact, but that doesn't take anything away from its performance.
The speakers are also designed with an efficient cooling system that helps to ensure that the system doesn't overheat when used for a long time.
Pros
Highly durable and waterproof
Features a high Flux strength magnet
Injection-molded polycarbonate woofer

Cons
Installation can be a bit complicated for a novice.
4. Batwing Fairing for HD Road King with Stereo Speakers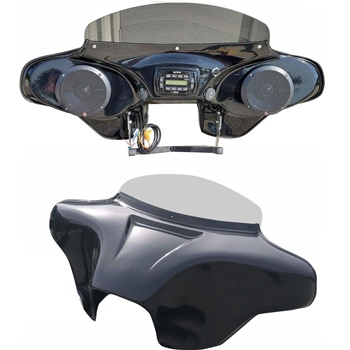 Most sound lovers know Batwing as a brand that does well in the production of top quality speaker systems. Again, the company has brought the quality that it is known for to this system.
The system does enough to generate an exciting sound by combining the woofer and tweeter into one booming coaxial speaker. The two-in-one design of the system further helps it to create an audio component that is loud enough to be heard clearly, even when on highway speed. Despite this quality, however, the system is still able to maintain a lightweight design so that it doesn't distort smooth handling. Perhaps it is worth mentioning that the speakers are impressively water-resistant and comes available in 6.5″ or 6″ × 9″ sizes.
Irrespective of how good a speaker system might be, they would not make any sound without something providing an input. This is the job of the infinity PRV-250 that the speaker system comes with. The PRV-250 features a multi-use USB port, Bluetooth connectivity, as well as FM/AM frequencies all to ensure that you have enough to keep you entertained.
To complete the package, a vented-look Vector Batwing Fairing has been included to ensure a good level of versatility in the number of motorcycles it can fit. The best way to describe the musical performance that this system would provide you is as big and bold. The high excursion woofers feature in the speaker system helps to extend bass performance.
Pros
Features an impressive waterproof technology
Extended bass performance
High level of versatility.
Cons
None found at the time of review.
5. Hoppe Quadzilla Fiberglass Fairing HDF-RK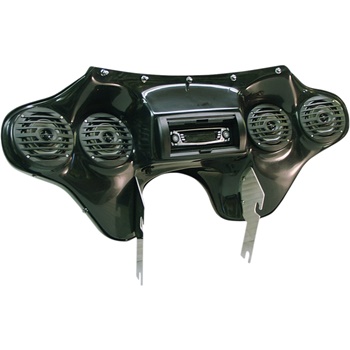 This is a relatively pricey option, but there's no need to be put off by the price, considering that it offers you value for every single penny that you are spending on it. It is one of the motorcycle accessories that customers are proud to own for their motorcycle. The system combines quality with functionality in an impressive manner. This means that you can enjoy good music, still guaranteed that the system would last through years of continuous usage. It is an all-in-one product that serves both as a batwing fairing system, and as a music system. The speakers feature a unique design that produces impressive audio quality. It is one of the options on the market that gives you excellent sound, even when you are on the highway speed.
The system features ease of installation. It comes with all the needed tools and accessories needed for installation purposes. Additionally, it comes with an easy to understand users manual that serves as a guide to completely mount the system on your bike when you need to. The system features a fiberglass design, which is a known material today for the level of strength and durability that it features. Hence, you can rest assured that the speaker system would not spoil in a hurry.
The outer body of the speaker features a gel coat black finish that makes it a good fit for almost every type of motorcycle body. If, however, you don't like the color of the system, you can also repaint it to any color you want.
Each system includes a removable faceplate for the addition of a CD drive and four pre-wired speakers. There is also an option to install an auxiliary wire when the need arises. With this speaker system, you can get music from different sources. The speaker comes with a CD and a USB drive for music input. It also comes with AM/FM radio, all ensuring that you have continuous entertainment throughout any trip.
Pros
Features durable materials
A robust system with impressive quality.
Easy to install.
Cons
6. Rockford Fosgate TMS6RG Harley-Davidson Fairing Speakers (1998-2013)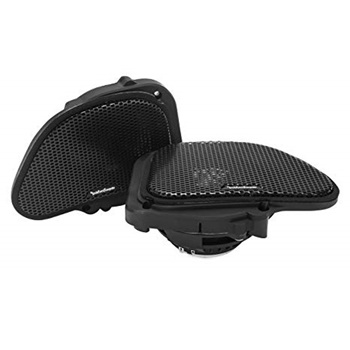 This fairing speaker system is designed for use straight off the pack. The company specifically made this design to serve as a replacement to the factory fairing speakers on your 1998-2013 Harley Davidson road glides. Of course, Rockford is not a walkover in the motorcycle accessories manufacturing world; hence most users would naturally opt for a product from it. We approached this product during our research on a neutral level without thinking of the brand as a top brand, and we were impressed by what we saw.
From the installation process of the system, all up to its design and functionality, you can tell that it will make life easier, more convenient, and more enjoyable for any rider. The new grill assemblies that the speaker comes with, as well as the factory hardware, all contribute to make it an easy do-it-yourself motorcycle stereo system upgrade. It also comes with an understandable user manual to make installation even easier.
The speakers feature a unique technology that makes them highly weather resistant. The presence of this technology means that you can go on your ride at any time, irrespective of what the day's weather forecast says.
The system features the popular Klippel distortion analysis. This is a device that makes use of laser and Sophisticated software for large-scale analysis of drivers in motion. It also enables the system to optimize the motor structure of the system, and its suspension to produce the best possible result.
Pros
It features an effective 25mm dome tweeter for improved sound.
Easy to install considering that no modification is needed
Powerful and efficient speakers.
Cons
The music quality can still be improved.
7. Hoppe Industries Stereo Fairing Rd.King Hc HDF-RK-QZ-HC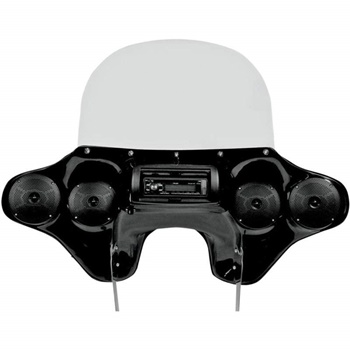 This is a trendy model of fairing speaker system designed by the legendary Hoppe Industries. This is a brand that has become famous for manufacturing some of the best motorcycle accessories in the market. It is not surprising that this model from the brand easily makes our list.
The system features a design that suits a variety of Harley Davidson Road King models. This alone points you to the level of quality to expect from it. Beyond that, however, the stereo device is also made of heavy-duty materials for durability purposes. It comes pre-fit with a marine-grade weather door to keep the electrical components safe from harsh weather conditions.
The system contains four 5-inch 40W speakers that come pre-installed to help you save your time with the wiring. This speaker design also helps to ensure that you enjoy loud music right from the start of your trip. The system does not only give you supreme quality, but it also allows a variety of input sources to ensure continued music enjoyment.
The handlebar control that the system features makes changing of settings during your ride easier, even when you are wearing some thick gloves. The fairing comes with a beautiful fiberglass design that's painted with a black-gel gloss making it a perfect fit for any color of the motorcycle.
Pros
Features durable materials
Robust system with impressive quality
It comes with a set of powerful 40w speakers.
Cons
The system is a bit pricey.
Motorcycle Fairing Speakers Buying Guide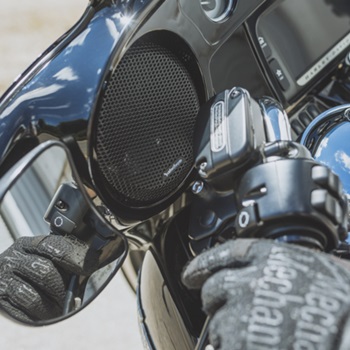 The technicalities involved in the design of motorcycle fairing speakers can make choosing the right one challenging, especially in comparison to simple accessories like motorcycle disc locks and motorcycle alarms. This is basically because of the need to pay attention to tons of features like compatibility issues, sound quality, and so on.
To help make the process easier, we've prepared a guide that can help you navigate through these features, showing you which to prioritize and which not to. Below, take a look at top factors to look out for when choosing a motorcycle fairing speaker for your need.
1. Size and Power
Power is, in fact, the number one thing that you should check for when making your choice. This is basically because the power or wattage rating of the speaker determines how it performs when being used. Depending on the brand, different systems come with either two or four speakers with a power of between 40 and 50 watts.
You will also find that the size of the speaker is pretty much essential, considering that large speakers often offer a much better sound quality when operated at a higher volume.  We are not writing of the fact that there are a few portable speakers that can also perform at the highest level. Many standard systems come with 5 inches sizes speakers, although you will sometimes see 7-inch speakers or even larger ones.
2. Weatherproofing
Unlike other vehicles, motorcycles and their accessories are most prone to weather effects. This is because there's no overhead roof to protect you and the bike when the weather becomes unfavorable. Like most other motorcycle equipment, motorcycle speakers take more beating than their contemporaries. Having this in mind, you would want to make sure that you are getting a set of speakers that can withstand any weather. Thanks to modern technological innovations, there are now marine-grade speakers that are designed to withstand different weather conditions. Getting one of these would not be a bad idea at all, especially if you enjoy riding under rainy conditions.
3. Ease of Use
This is one crucial factor that is often overlooked by motorcyclists. When searching for the right audio system, it is essential to check out the sort of control system that each model comes with. The ideal model to choose is one that has an easy-to-use interface, as well as accessible controls. You don't want to select a model that you would need to park your motorcycle every time you need to run simple operations on it.
It is also important to think of a model that's easy to install, especially if you are not too good with wiring and mounting of hardware. There are a few plug-and-play designs out there that you can get for easier installation.
4. Compatibility
Before opting for a particular fairing speaker system, you shouldn't forget that you need to also check for compatibility. You don't want to spend so much on the purchase of your fairing speakers only to realize that it doesn't fit your motorbike.
Perhaps you will find it interesting to know that this information is always visible in the pack. If you are ever confused about it, do not hesitate to ask your dealer.
5. Additional Features
A good option is one that has everything built in to ensure durability and ease of usage. There are tons of models out there that are made with durable yet lightweight materials to enable prolonged usage.
Check also to ensure that the mounts are sturdy, especially if the speakers are not integrated into the fairing.
Connectivity is also a feature worth looking at. You should aim for a unit that comes with many connectivity features like USB charging ports, Bluetooth, etc. Functions like AM/FM radio would also do you great good.
How To Wire Motorcycle Speakers?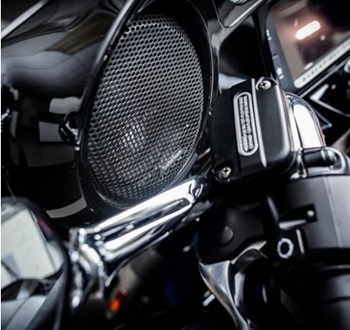 We understand how easy it can be for you to get overwhelmed by the wiring system if your new motorcycle speakers. For most people, this quickly leads to panic. But it shouldn't be the case. Wiring is usually more straightforward than a lot of people know. All you need is to get the hang of the connection basics, and you will be good to go. Below, take a look at a detailed procedure to help you complete the wiring of your motorcycle radio.
1. Check and Identify All Parts
This is usually the first step that would lead to many more positive actions. Start by checking to be sure that the parts and tools available in the pack are complete. You will usually find an instruction manual in the package. This instruction manual helps you identify the parts, tools, harness connectors, as well as the installation steps. Take the time to study this manual before beginning with your installation. Please note that different brands might have different installation processes; hence, the need to check even if you have prior experience on how it is done.
2. Find The Right Position
The next step is to find the right position for your speaker system. Some models feature a design that is mounted on specific parts, while other models can stay on any part of the motorcycle. Find the perfect place to install your speaker system on your bike.
3. Run Necessary Connections
You should ensure to attach the cone inserts into their housing in the fairing before mounting the comes. If you intend to mount the speakers directly to the handlebars, then you must not forget to use all nuts, bolts, and fasteners. Find a good position to mount the amplifier as well, ensuring to connect all wires to their corresponding negative and positive sockets according to the diagram that you will find in the manual.
If, at any point, you find the wiring process too complicated for you, call the attention of an expert motorcycle mechanic immediately.
FAQ About Motorcycle Fairing Speakers
Below, take a look at the answers to some frequently asked questions about motorcycle fairing speakers to help you get the best out of your choice.
1. Are Motorcycle Fairing Speakers Loud Enough To Hear?
The loudness of your motorcycle speakers is highly dependent on several factors. Knowing these factors would help you understand why your speakers perform the way it does. The power of your speakers is one of the most important factors that determine how loud it can get. The type of helmet you are using, as well as your freeway speed, might affect the sound of your motorcycle.
Most people today get an amp and pair it with their speakers to get maximum sound when traveling on highways.
2. How To Waterproof Motorcycle Fairing Speakers?
Since you can't control the weather when on a trip with your motorcycle, it is vital to think of waterproofing your speakers. There are marine-grade motorcycle speakers in the market today that you can buy to keep your speakers safe from adverse weather conditions. However, you can also build your waterproofing system, in case you have speakers that are not pre-built to be so.
One easy way that a lot of motorcyclists are adopting to make their speakers more resistant to the elements is by installing a windshield and a front fairing. You can also go creative by designing thermoplastic to serve as an additional case.
3. How To Protect Your Speakers From Vibration?
Your motorcycle speakers are not only affected by weather elements. They are also affected by the vibration of your motorcycle. The mounting of motorcycle speakers on the handlebars increases the tendency of the motorcycle speakers to vibrate along with the entire motorcycle.
To ensure that the speaker performs optimally for a long time, you need to find a way to minimize the direct impact of vibration on it. One effective way of doing this is by getting a complete kit with come inserts for fairing, along with other matching stabilizers. Another way is by finding solid mounts that can dampen the vibrations, ensuring that the sound quality from your speakers is not affected by the vibration.
The overall goal is to keep the speakers working efficiently for a longer period.
Wrap Up
That's a wrap, everything you should know about the best motorcycle fairing speakers in the market. We understand the pain that most buyers often go through in trying to choose a fairing speaker that will work for them. Hence, we've taken the time to research and list the best models in the market. We've also written on a few pieces of information that you should know about motorcycle fairing speakers.
If perhaps you still want to take a look at different options in the market by yourself, then our buying guide should serve the purpose of helping you pick the best choice for your needs. We hope that the information in this article helps you choose the right motorcycle fairing speaker for your needs.
You can also take a look at other motorcycle articles from our homepage to find useful information on how to go about the purchase of different accessories for your motorbike.
See also: motorcycle amplifier reviews – top-rated LED headlights for motorcycles