If you live in a "risky" area, the best motorcycle alarm systems should help you sleep at night. Motorcycles are fun, and a lot of us will never forget our first riding experience. But the fun that motorcycle offers comes with risks. Hence the need to ensure proper security for it.
An essential step that you can take to ensure the protection of your motorcycle is the installation of an alarm system. The presence of several different motorcycle alarms in the market can make picking the best for your needs exhausting. The motorcycle alarm reviews in this article would help you make the right choice. Let's begin!
See The Quick Comparison Chart
Why Do You Need a Motorcycle Alarm?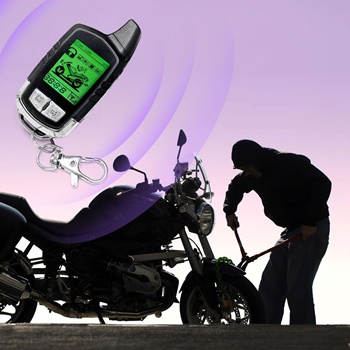 Today's world is experiencing technological advancements at a speed that we've never had. Most times, however, these advancements come with their negative sides. Thankfully, people are learning how to tackle these issues, rather than dwell on them. Considering the topic at hand, therefore, alarm systems have become a necessity in most of our belongings.
We hear stories of motorcycle theft almost daily. Of course, motorcycles are massive investments; hence the need to take adequate measures that will guarantee their safety and protection. No one wants the feeling that comes with not finding their bike where they packed it.
Today, with the invention of motorcycle alarms, keeping motorcycles safe from theft has become easier. So, while you are thinking of getting motorcycle helmets and other protective gear for yourself, you should also think of your bike's safety.
Why Not Other Types of Protection?
Many motorcycle users have asked this question. Of course, there are several forms of protection. However, locks and alarms can never be as effective as motorcycle alarms. One major issue with them is that thieves have devised means to pick them without getting noticed. Most thieves, these days, would not find it any problematic tampering with top-rated motorcycle disc locks and chains.
This is a big reason to consider buying a motorcycle alarm. These days, alarms even carry more features, all to help protect your motorcycle. However, the most common features of alarm systems remain to alert bike owners of potential theft.
Advantages of Owning a Motorcycle Alarm System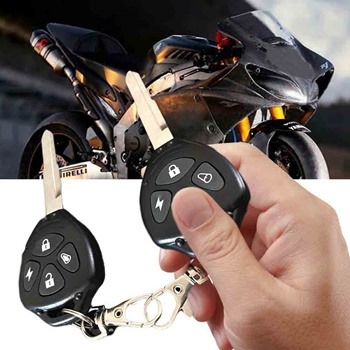 Below are some exciting benefits of having one of these prized possession for your bike.
1. Constant Protection
It is almost impossible to have security personnel guarding your bike vigilantly at all times. With alarm systems, you don't need such expenditure to keep your bike safe. Motorcycle alarms help to provide 24/7 protection against theft.
2. Strong Deterrent
Bikes that have good alarm systems are at lesser risk of theft. Motorcycle thieves and snatchers avoid these kinds of bikes because of their ability to give them up. Hence, by installing a motorcycle alarm system in your motorcycle, you are deterring them from coming any closer.
3. Ease of Locating Your Bike
There are times when you would need to pack your bike among hundreds of other bikes. At such times, you would find it difficult to locate your bike when you want to leave. Alarm systems can work as a motorcycle GPS because with their help, you can use your remote to see where your bike is located. Hence, shortening the time it takes to find your bike at such times.
Best Motorcycle Alarms Comparison Chart
PRODUCT
DETAILS

BlueFire Motorcycle Security Kit Alarm System

Price:

$

Customer Rating:

4.2

Alarm Size:

5.6 × 5.1 × 1.5 inches

Alarm Weight:

0.48 lbs.

View On Amazon

YOHOOLYO Disc Lock Alarm

Price:

$

Customer Rating:

4.4

Alarm Size:

4.4 × 3.9 × 2 inches

Alarm Weight:

0.87 lbs.

View On Amazon

Dowco Guardian Motorcycle Security Alarm System 26038-00

Price:

$

Customer Rating:

4.4

Alarm Size:

7.8 × 5.3 × 2.2 inches

Alarm Weight:

0.2 lbs.

View On Amazon

Coocheer Motorcycle Anti-Theft Disc Alarm

Price:

$

Customer Rating:

3.9

Alarm Size:

31.5 × 2 × 23.6 inches

Alarm Weight:

1.26 lbs.

View On Amazon

Pyle Watch Dog Bike Alarm System

Price:

$$

Customer Rating:

3.8

Alarm Size:

7.2 × 2.6 × 9.1 inches

Alarm Weight:

0.96 lbs.

View On Amazon

Rupse Waterproof Motorcycle Alarm

Price:

$

Customer Rating:

4.1

Alarm Size:

7.3 × 5.7 × 1.9 inches

Alarm Weight:

0.6 lbs.

View On Amazon

Gorilla Automotive Motorcycle Alarm 9100

Price:

$$$$$

Customer Rating:

4.2

Alarm Size:

9 × 8.5 × 2.5 inches

Alarm Weight:

1.12 lbs.

View On Amazon
Best Motorcycle Alarms Review
1. BlueFire Motorcycle Security Kit Alarm System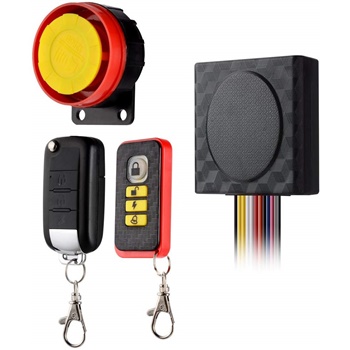 This is perhaps one of your biggest shots to keeping your motorcycle safe from thieves. The alarm system features pretty much for a small price; hence its growing popularity.
The compact piece is designed to work with most models with a battery capacity of up to 12/24 volts. It comes with an easy-to-use remote control to enable activation and deactivation from a distance. The anti-hijacking system comes in a sleek black design, with the colorful cable serving as its exciting touch of style. Most users like the built-in shock sensor that makes it even more efficient.
Perhaps, you will also like the volume level of the gadget. It is loud enough to wake sleeping neighbors up when there is a theft attempt.
Overall, the brand stands out in look, size, and functionality, making it easy to fall in love with.
Pros
It is a relatively cheap unit from a respected brand
It is easy to use
The remote is also not as complicated as most other alarm systems
Cons
Users have complained of not hearing the alarm when parked at a distance.
2. YOHOOLYO Disc Lock Alarm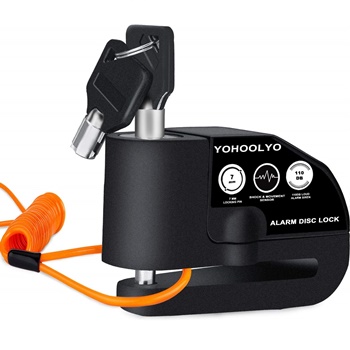 The YOHOOLYO Disc Lock Alarm is a popular option that serves both as a padlock and as an alarm system. The most significant selling point of this motorcycle alarm is its ability to maintain portability, despite the level of functionality it offers. At 9.6 ounces, you would love the ease of taking it wherever you want to go. Unlike most other alarm systems in the market, the YOHOOLYO Disc Lock has a pretty long locking pin that allows it to lock at any angle. It comes with two keys so that you can tuck one away somewhere safe.
Perhaps, it is the waterproof nature of this padlock that makes it great for use in any weather.
Pros
Anti-corrosion properties allow more prolonged usage
Spare key included
Locks comfortably in any direction
Very audible
Portable
Cons 
No con noticed at the time of review.
3. Dowco Guardian Motorcycle Security Alarm System 26038-00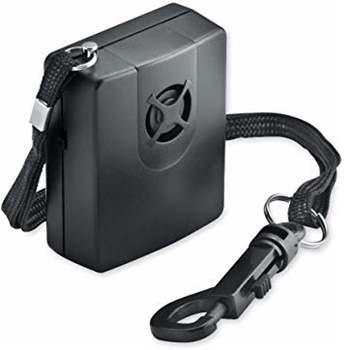 Most users turn to this brand when they are looking for a reliable model that can handle the job like a pro. There is so much that sets it apart in the market. Its compact look, for instance, sets it apart, as it doesn't give a distracting look when installed in obvious positions.
Additionally, it has one of the quickest installation processes out there. You would be done installing it within minutes, even without any work tools. With a total emission of 130 decibels, you can expect a pretty loud sound to alert the neighborhood of potential theft.
Perhaps the biggest highlight of the system is its 9-volt battery, which would ensure hours of uninterrupted use. A few reviewers refer to the unit as a discrete piece of technology that offers buyers with an exciting level of versatility, and there is a good reason for this.
There's no need for extra wiring to mount this alarm system on your motorcycle, making it, perhaps one of the easiest alarm systems to mount and dismount.
Some users even hide it away in one of their cover pockets when they don't want it to ruin their motorcycle design. Whatever you do with the alarm system is all up to you and your personal choice.
Pros
The compact size of the alarm system makes it pretty convenient.
Loud enough to wake you from a deep sleep.
Its battery life makes it an excellent option for people that are always on the road.
Cons
The alarm system does not shut automatically.
4. Coocheer Motorcycle Anti-Theft Disc Alarm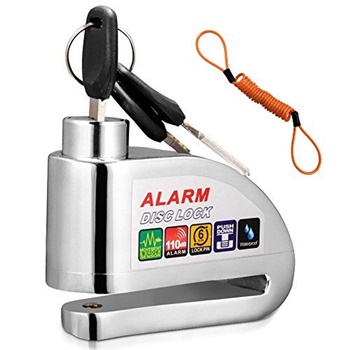 Give your motorcycle the needed security layer by attaching this subtle but highly functional gadget to it. Only very few motorcycle alarms can boast the level of functionality offered by this alarm system.
It is also stylish enough to enhance the look of your bike. Moreover, the biggest attraction for this alarm system is the level of diversity that it brings to the mix. It works well with a wide palette of vehicles, including ATVs and bikes.
The steel build of this alarm system helps to ensure that it remains strong and durable for a long time. Additionally, it comes with a dust and waterproof body, which enables efficient usage in any weather condition.
Reviewers have also applauded the sensitivity of the piece. Even the slightest vibration can trigger the alarm system; hence, you wouldn't miss any theft attempt.
The 6 LR44 batteries pre-fitted into the system is worthy of note. At this capacity, you would hardly need to replace the batteries. However, the brand still thought it wise to have an extra six batteries and three security kits in each box.
Volume is never an issue with this alarm, considering that its sound is defending, despite its compact size.
Pros
Pretty stylish and easy to install
Very versatile alarm system
Very durable and long-lasting.
There's no need to get separate keys.
Cons
The sensitivity of the alarm system can sometimes become an issue for even the owner.
5. Pyle Watch Dog Bike Alarm System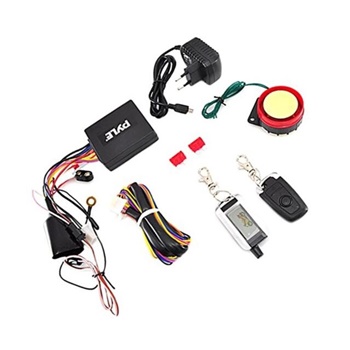 Another alarm system that offers so much for relatively low prices is the Pyle WatchDog Alarm System. It comes with a minimalistic design and an exciting combination of colors. The color contrast is clean enough not to cause an unnecessary distraction.
Each unit comes with a provided remote to make control easier. The remote makes for a more convenient way to turn the system on or off, without any need of touching the unit.
The extras featured in this alarm system don't even end here. You can be assured that the gadget would work well on any motorcycle that has up to 12/24- volts battery capacity. Hence, usage across different vehicles would be easy for people that have more than one.
The adjustable shock sensor that the unit features means that you can set the sensitivity level. Moreover, the system also features a low level of power consumption, considering that it works well on less than 3.5mA.
If you are wondering, mounting the system is pretty hassle-free, and can be done in good time. Many users appreciate the fact that they can finish installing the system during a brief stopover.
Pros
Built to be durable and long-lasting
Features a solid body build
Easy to install
It features a powerful light flash and siren sound technology.
Cons
The alarm sensitivity would need a lot of adjusting for functioning properly.
6. Rupse Waterproof Motorcycle Alarm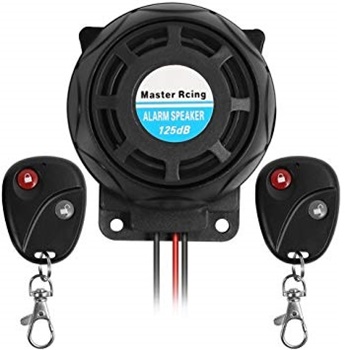 This is one of the few alarm systems that combines topnotch build design with topnotch functionality. It is designed sharp enough to alert you anytime someone comes close to your motorcycle.
You would probably appreciate the fact that you can learn how to adjust the alarm's sensitivity by simply studying the manual. Of course, adjusting the sensitivity level would help to avoid too many false alarms.
Additionally, most users would find the included remote control system convenient and easy to use. The alarm sound is high enough to alert neighbors of potential theft, yet smooth enough not to be annoying. This feature transforms the piece into an ideal piece for people living in residential areas.
The system also features an enhanced waterproof performance making it useful, even in areas with extreme humidity.
Campers and adventurers find the unit very useful, considering it will survive muddy roads and blood conditions. Finally, it features a low-power consumption that spares you the need for a constant recharge.
Pros
The pack contains two remotes that allow for easy control of the unit
The loud sound of the alarm system discourages theft.
The brand prioritized low consumption in the design of the unit.
Cons
The alarm system is still very sensitive, even when at its lowest level.
7. Gorilla Automotive Motorcycle Alarm 9100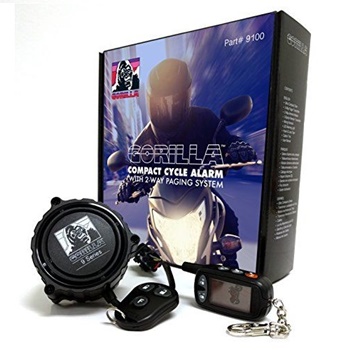 From the name of this alarm system, it is already evident that it is designed to stand out. Most reviewers are impressed with the ability of the system to pick signals from far away.
This is a feature that comes useful for moments when you can't help but pack your bike far from your office. The pack contains a sleek three-button remote, that's sharp enough to work from a distance.
Another big selling point of the system is the 120-decibel siren fitted into it. With this siren power in such a compact body, you can expect thieves to integrate it until it goes off.
The manufacturers also ensured to make the gadget's sensors sensitive enough to capture the slightest touch. Spotting an additional LED warning light helps for easy identification of the working status.
The compact and sturdy design adds to complete the uniqueness of the alarm system. It can be installed with the slightest space.
Pros
Mounting the alarm system is very easy
The alarm offers a unique level of operational ease.
It features a loud alarm sound that can be heard from afar.
Cons
The product is relatively expensive, although it features enough functionality to pay for the price.
How Do Alarms Work?
Most alarms come with basically the same feature, which is alerting the owner of potential theft. How each model responds to different situations, however, differs. Some make use of sirens, while others make use of perimeter sensors.
The most common form of alerting motorcycle owners of potential issues is through the siren. You would find that the best motorcycle alarms are able to utilize sirens to simplify the cause. When the alarm sensor detects vibrations around, it sets off a loud warning sound that is followed by a shrill sound to alert passersby and nearby security agencies.
Motorcycle Alarm Buying Guide
To get the best for your needs; there's a need to look out for several factors. Some of the important factors that would help you divide the model to stick to include:
1. Decibel Rating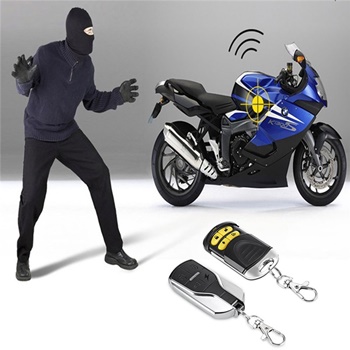 This is, perhaps, the most important feature you want to look out for before making your choice of alarm system. While there are several models in the market, each one comes with its unique decibel ratings.
The decibel rating is the unit in which the power and volume of the alarm are measured. That is, it tells how loud the sound of an alarm can be.
Your choice alarm should mostly depend on where you intend to park. For instance, if you pack your bike meters away from your office, then there would be a need to install an alarm system that features a loud decibel rating.
Anything above 150 decibels would be enough. If it is below 150 decibels, however, then its sound level might be too low.
2. Design
While the sound is pretty important, you should not just focus on sound. There's the need to look at a few other factors that matter. The physical sound of the alarm system is also essential.
You don't want to make such a pricey investment on your alarm system and lose it after a few days. Hence, the need to ensure that it promises strength and durability before making your purchase.
Usually, experts would recommend that you choose alarms with stainless steel material. Such body builds help to ensure that the alarm system stays water-proof throughout its usage.
3. Operation Ease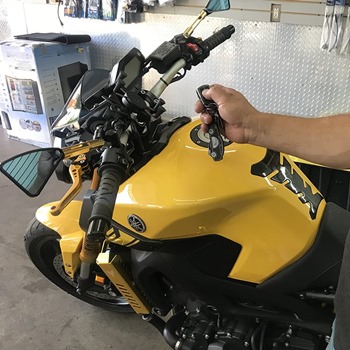 Different alarm systems come with different operation ease. While making your choice of alarm system, you want to ensure that your choice is both user-friendly and easy to install.
You will find that some models come with Bluetooth compatibility and wireless remote control system to make usage easier.
These additional features are helpful for easily activating the alarm system even from a distance, as well as for setting up the parameters. They would also help you to perform minor operations on the alarm system remotely.
4. Battery Life
If you will be using your motorcycle a lot, then you would want an alarm system that is equal to the task. The battery is one crucial aspect to check out in trying to determine this.
Look for a reliable unit that can offer hours of services before the battery gets completely drained. The best systems are the ones that make use of dry cell batteries, which takes longer to get drained.
5. Sensor Types
Finally, sensor type is another essential factor to look at when making your choice of motorcycle alarm systems. Alarms with very good sensors would ensure that you are notified when your bike moves suddenly.
Sensors come in different types and qualities. The most common sensor is the shock sensor. Other common sensors include tilt sensors and the location sensor. The tilt sensor would, for instance, go off when the motorcycle is tilted slightly, while the current sensor would go off when the motorcycle's engine is started.
6. Extras
Every motorcycle alarm system is packed with a few important accessories. These additional accessories can, however, vary depending on the brand you purchase. All the extras are designed to help better the user's experience.
Additional accessories also vary in size, mostly depending on the brand. Things like remote control, maintenance accessories and installation packages form a major part of extras that you will find in most motorcycle alarms.
7. Size and Weight
Both size and weight can greatly affect the usability of a product. While some argue that smaller options are better and mostly preferable, it is still important to check other features before concluding. The unit's design also plays an important role as far as portability is concerned. Smaller units often have lower alarm sounds and fewer features. Although there are still a few that can surprise any user. We recommend that you look at the specifications of the alarm in addition to its size to determine what will fit your needs.
Frequently Asked Questions
Below are answers to some of the most commonly asked questions relating to the purchase and use of motorcycle alarms
1. Are Motorbike Alarms Really Worth Their Price?
Some motorcycle alarms may seem quite expensive when you check their prices out. However, their prices are mostly insignificant when compared to the cost of your motorcycle. Hence, the need to add them if you do not want to lose your bike to theft.
Apart from that, you will find that some insurance firms have it as a requirement during their registration process.
2. How Long Does it Take The Sound Of A Motorcycle Alarm To Go Off
Alarm sound often depends on the model of the alarm system. However, most alarm systems will sound for up to 10 minutes when triggered. Most alarms would also go on and off between three to five times before completely shutting down. We recommend that you take a look at the specifications on the pack before purchasing it. This would help you know the exact alarm time of each brand.
3. What Is The Best Course of Action When I Lost My Keys?
Some models of alarm come with two to three spare keys; hence, you will have one more to fall back to when you lose each key. You would also find that some of the keys can easily be recut. Alternatively, you can go to the manufacturer to get a spare if the need warrants.
4. Is it Possible For the Battery to Be Removed By a Thief to Prevent it from Going Off?
No. A thief can't tamper with the alarm battery, without setting off the alarm. This is one significant part of the alarm's construction that manufacturers pay attention to.
5. How Do I Go About Installing a Motorbike Alarm?
Most brands of motorcycle alarms are fitted with installation manuals by their manufacturers. The manuals often come with a clear diagram of the wiring system to allow for easy installation. Before starting, ensure that you carefully study the manual as well as the wiring diagram to understand everything about how it works.
That said, ensure to run a connection of the main power wires to the battery terminals. There are several different ways to access the terminals, and it often depends on the model of your motorcycle.
For safety reasons, ensure that the power is disconnected from the battery before you begin the installation of your motorcycle alarm.
Wrap Up
There you have it, a comprehensive guide of the best motorcycle alarm systems. As usual, the few products in our motorcycle alarm reviews were selected after careful research on several options. We have also included a buying guide to help you make the best choice for your needs. We hope that you are able to make good use of the information in this article for securing your bike. We also hope that you wouldn't find any difficulties installing and maintaining your choice motorcycle alarm system, considering that we've answered common questions that may arise.