Motorcycle radios help you enjoy music on the road, and the best motorcycle radio suits your specific needs and requirements. With recent upgrades, you can even directly play music from your favorite playlists on your mobile device and music streaming platforms.
The process involved in getting a radio for your needs can be cumbersome, especially if you don't know the specific features to look for. To help make the process easier for you, make sure to check out the motorcycle radio reviews, specifically highlighting their features as well as their pros and cons. After all, making an informed decision should be the end goal of each purchase.
See The Quick Comparison Chart
Should You Have a Motorcycle Radio?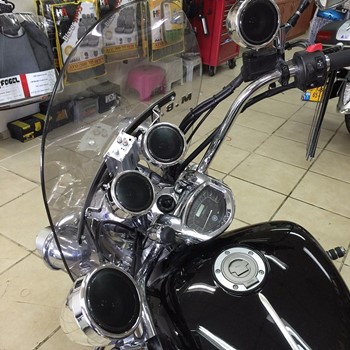 Most new motorcycle riders are unaware of the need for having a motorcycle radio when they start.
Motorcycle radios can be the perfect company for you as you enjoy the adventure that comes with each ride. Like most other motorcycle accessories, they help to make your trip more enjoyable and your motorcycle more functional. Regardless of whether you are going across the country, or just commuting, you will appreciate having a good radio setup. Apart from the continuous entertainment that your music playlist would provide you throughout your trip, there are a few other benefits that you can expect from a motorcycle radio. If you are always making calls, for instance, then there's a significant need for you to consider owning a motorcycle radio for your safety.
Hands-free Communication
Most modern motorcycle radios feature hands-free communication technology, which enables you to make your calls without needing to take your hands off the wheels. This puts you in total control of the road as you cruise through.
Additionally, you can keep up to date with current happenings by listening to news and weather reports on your motorcycle radio. By incorporating FM reception into most radios today, riders can now tune to their favorite stations to listen to news and entertainment while on the road. There's so much more that stands motorcycle radios out as a must-have for motorcycle riders.
Motorcycle Radios vs Headphones?
This is one question that we've often come across. Many motorcycle enthusiasts are concerned about knowing which is better and safer between motorcycle radios and headphones. The answer to this can mostly vary depending on personal preference. However, after looking at a few factors, you can decide for yourself which of them fits your individual needs.
1. Road Safety
This is, perhaps, the most significant advantage that motorcycle radios have over headphones. The loud sound of music from headphones can easily make you oblivious to happenings around your environment. With the headphones plugged into your ears, hearing horns and siren sounds that you should be attentive to become pretty difficult. Motorcycle radios are also loud, but they do not drain out other sounds as headphones do. Hence, you are more aware of the happenings around you.
2. Health Safety
It is much safer for health to listen to music using radios as opposed to headphones. Listening to loud music on your headphones can potentially damage your hearing after a while due to direct contact with your ear components. However, using motorcycle radios to listen to music is safer, especially in the long run.
3. Durability
A vast majority of motorcycle radios are durable and waterproof. Hence, you would be able to enjoy it for a very long time.
Best Motorcycle Radios Comparison Chart
PRODUCT
DETAILS

Boss Audio Systems MCBK420B Motorcycle Bluetooth Speaker System

Price:

$

Customer Rating:

4.0

Size:

3.5 x 3 x 1.5 inches

Weight:

16 ounces

View On Amazon

Sena 20S-01 Motorcycle Bluetooth 4.1 Communication System with HD Audio

Price:

$$

Customer Rating:

4.1

Size:

3.7 x 1 x 1.9 inches

Weight:

2.08 ounces

View On Amazon

BOSS Audio Systems MCKGB350B.6 Weatherproof Marine Gauge Receiver and Speaker

Price:

$

Customer Rating:

4.2

Size:

3.5 x 3.5 x 3 inches

Weight:

102.4 ounces

View On Amazon

Celtic Blue Bluetooth Speaker w/Power Bank, MicroSD, FM

Price:

$

Customer Rating:

4.3

Size:

7.1 x 2.7 x 2.7 inches

Weight:

20.8 ounces

View On Amazon

LEXIN LX-S3 Motorcycle Bluetooth speakers with FM Radio

Price:

$

Customer Rating:

4.1

Size:

9 x 7.8 x 5.5 inches

Weight:

56.8 ounces

View On Amazon

GoHawk TJ4-Q Waterproof Bluetooth Motorcycle Stereo Speakers Audio System

Price:

$$

Customer Rating:

3.9

Size:

5 x 4 x 5 inches

Weight:

119.36 ounces

View On Amazon

Kenwood Marine Radio Stereo Bluetooth Receiver Bundle

Price:

$$$

Customer Rating:

3.7

Size:

11 x 9 x 5 inches

Weight:

56 ounces

View On Amazon
Best Motorcycle Radio Reviews
1. Boss Audio Systems MCBK420B Motorcycle Bluetooth Speaker System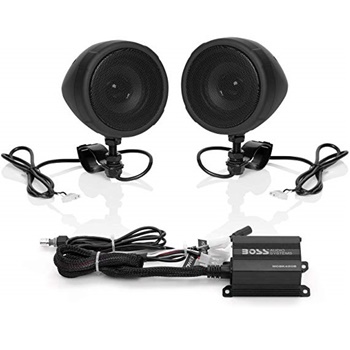 Now, it is possible to blast your favorite music on your 12V motorcycle, or in fact, any other outdoor vehicles using s pair of 3-inch full-range speakers in a 600-Watt maximum power amp. All it takes is for you to connect your smartphone or MP3 player to the Auxiliary input and you are good to go.
This is a device that has strongly redefined listening to music. Everything about it shows off a good level of convenience, from its look to the ease of control that it offers. The Bluetooth audio streaming that it comes with allows you to play your music from your favorite music apps like Spotify and Pandora.
It also features a wired remote that you can use to turn up the sound of the radio or perform any other function. This remote control system allows you to operate the radio without necessarily taking your attention off the road.
In addition to all three features, it also comes with waterproof speakers, giving it the utmost protection against different weather elements. The Aux input that it also features allows you to easily connect to external devices such as mobile phones and MP3.
In conclusion, this is a device worth buying, considering the weatherproof feature that protects it during unfavorable weather conditions. It is also compatible with most smartphones; making use very easy and comfortable.
Pros
Features a good sound level.
Waterproof
It features a convenient remote control system.
Cons
It doesn't have enough bass.
2. Sena 20S-01 Motorcycle Bluetooth 4.1 Communication System with HD Audio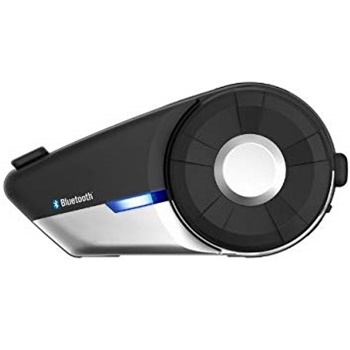 It is not surprising that this device is loved and accepted by most bikers around the world, considering the level of structural support that it is famous for providing to users. As expected for a product from such a high profile brand, this speaker is durable and long-lasting. It is also equipped with some state of the art features like motion sensor and 4.1 Bluetooth. There's not a single doubt about the level of entertainment that it can provide for users. It features voice commands that come with intuitive control, all adding to its appeal.
Most users of this brand refer to it as a decent option, and it is not so hard to find out why. Perhaps it is the strong Bluetooth that the crystal clear HD audio provides that interests them most. It also comes with an excellent noise control system that makes the listening process seamless. Finally, during our look into this device, we found that the ease of connecting the Bluetooth of this device further makes it more appealing to users.

Pros
The device comes with an extremely impressive sound quality
It features full-face covering
It is easy to control wind noise
Cons
The unit's software update is capable of causing some technical glitches
It can not endure heavy rain.
3. BOSS Audio Systems MCKGB350B.6 Weatherproof Marine Gauge Receiver and Speaker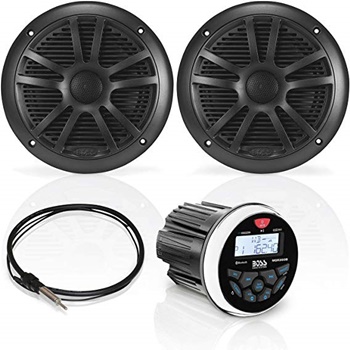 The Boss brand is perhaps one of the most popular brands in the sale of the motorcycle audio system. With a range of models that combines incredible features and functionalities, it is not so hard to see why people love the brand. The MCKGB350B.6 comes as a top of the line model from the quality-conscious brand. It comes with a pair of 4″ two-way marine speakers that are specially designed to give it a very powerful sound.
In case you are wondering, the speaker can be mounted on your wake tower, UTV, or the ATV roll bar, so that wouldn't be a problem at all
It is also worth mentioning that the speakers are perfectly marinized. What this means is that they are sealed and coated to protect them from damage when used under salty and humid environmental conditions.
Of course, they are not entirely waterproof, but the UV protection that they feature helps to keep them partially protected during light drizzles. In addition to its prolonged lifespan, this unit also produces an excellent sound quality that's worth listening to.
It features a cool Bluetooth connectivity option that allows you to connect to your mobile device and play from your favorite playlists on the go.
Pros
It has excellent sound quality
Impressive connectivity options.
It features UV covering
Cons
It is not entirely weatherproof.
4. Celtic Blue Bluetooth Speaker w/Power Bank, MicroSD, FM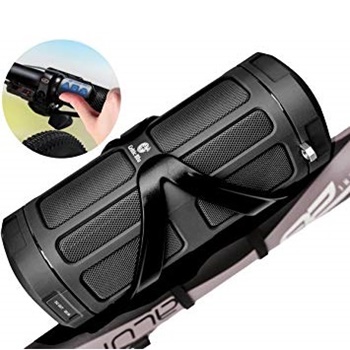 The level of market popularity that the Celtic Blu portable speaker has continued to gain is perhaps because of its ability to serve several different purposes. It features a 16-watt stereo for enjoyable music and an incredible BAS technology for the production of louder sound. The speaker comes in a bottle-shaped design and only weighs about 1.3 pounds, making it one of the lightest speakers in the market today. It features a battery system that is designed to last. With 30 hours of continuous music, you can expect to continue playing for as long as your trip will last.
The unit also features Bluetooth connectivity that has a range of 100 feet. Hence, you can put your phone in your pocket or anywhere around the bike and still enjoy quality sound. Its ability to also serve as a power bank further stands it out from most other options on the market.
While testing this unit, we also found that it features an FM radio which is made clear with a built-in antenna.  The makers of this speaker also ensure that it uses a carabiner clip to ensure a solid grip.
Pros
It features FM radio
Its battery is long-lasting
Impressive sound quality.
Cons
None was seen at the time of this review.
5. LEXIN LX-S3 Motorcycle Bluetooth speakers with FM Radio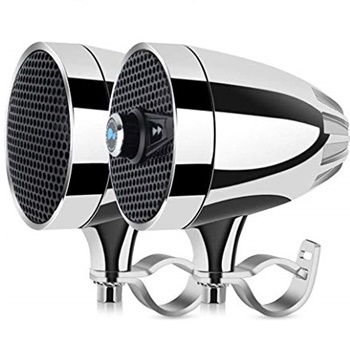 Attaching and playing stereo sound for your motorcycle has been made easier and more productive by this beautiful multi-functional device. Almost everything about the device, from its looks to its functionality, shows a level of quality that cannot be seen in most other motorcycle radio devices. From the first sight of this unit, you can tell that it is designed to last. It features a rugged design that correctly represents the level of durability to be expected from the device.
The power supply correctly shows the battery level, so it will be easy for you to know when it needs recharging. Mounting and connecting the unit is easy, mostly because of the ability to install the speakers just anywhere from the handlebars to any other edge part of the motorcycle. Like most other options in this list, the LEXIN LX-S3 also features Bluetooth connectivity. This provides a good level of convenience for any user. Run a Bluetooth connection with your mobile device, and you are good to go blasting your favorite music selection on your device.
With a fully-integrated wiring harness, the setup has now become more straightforward and better, especially since it does not require so much association.
Pros
The unit features impressive ease of set up
Great connectivity option
It has a sleek design
Ease of installation.
Cons
Its bass level may not be sufficient for bass lovers.
6. GoHawk TJ4-Q Waterproof Bluetooth Motorcycle Stereo Speakers Audio System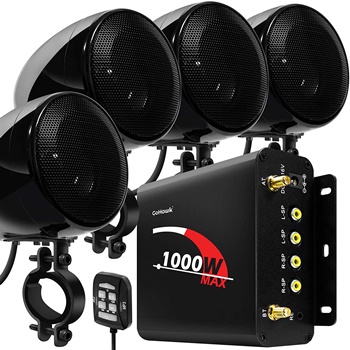 There's a lot about this audio system that stands it out from most other motorcycle radios. Most users are impressed with its performance level, while others are simply astounded by the level of functionality that it provides. Irrespective of your expectations in a motorcycle radio, there's a strong possibility that you will fall in love with this unit on first sight.
The unit is completely waterproof, making it great for use in heavy storms. In addition to featuring a powerful waterproof technology, it is also vibration proof and nuclear bomb proof. Hence, you can ride away into very thick forests if you want, guaranteed that your audio system would provide the perfect company for your trip.
This set of full-range 3″ speakers are designed to feature a heavy-duty handlebar clamp to make mounting it easy and efficient. The speakers are also IP65 waterproof rated.
The unit comes with a 4.0 Bluetooth connectivity that makes connecting to your mobile device easy. Its easy access on-screen button control combines to make control easier and better. With this control system, you would be able to run simple controls without taking your attention off the road.
Pros
Ease of installation
Easy access on-screen button control for additional convenience
Impressive Bluetooth connectivity
Cons
None noticed at the time of review.
7. Kenwood Marine Radio Stereo Bluetooth Receiver Bundle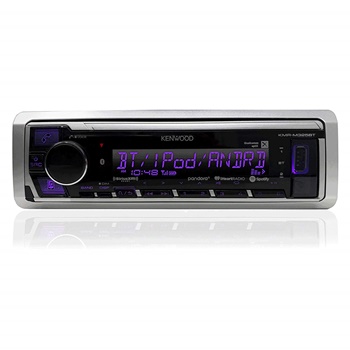 This is a lovely marine stereo system that features an exquisite charcoal color that impresses. As a matter of fact, many users claim that the look of the stereo attracted them. It comes with a set of Enrock EM265B 6.5″ speakers that are placed in a corrosion-proof basket to ensure adequate protection from moisture, UV rays, and other adverse weather effects.
It features several great connectivity options for better music experience. You can either use the given USB or AUX cords to connect to your external device and enjoy playing digital music files. In addition to those, you can also choose to stick with accessing your music list via Bluetooth. Irrespective of the connectivity option that you choose to stick with, the makers of this device still guarantee that you will have an enjoyable listening experience.
Pros
It features a sleek design
Enough connectivity options
Easy to mount on your motorcycle.
Waterproof
Cons
Motorcycle Radio Buying Guide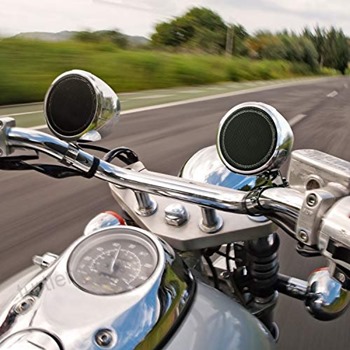 Despite the availability of so many motorcycle radio brands in the market today, picking the right one for your needs can still be a headache. There are quite a number of factors to look out for, and unless you are aware of them, you might end up making a choice that you will regret. So, what are these features that can point you to the best radios for your motorcycle?
The first thing that most people look at is the design. Like motorcycle alarms, radios come in different designs, sizes, and colors. While it is nice to have a radio with a sleek design, the question is often if this is even important.
There's a lot more to look at before a sound system can be classified as the best. Below, take a look at a few essential factors to checkout for.
1. Built-In Bluetooth
Connectivity has today become a vital aspect of motorcycle radios. The days of CDs and audio cassettes are gradually passing by, and these days, people prefer to play music from their mobile devices. Whether it is from your playlist or music streaming platforms like Spotify, you want to enjoy good music while on your ride. Thankfully, the invention of Bluetooth connection on radios has made it easier. Before your purchase, ensure that you are buying a motorcycle radio that allows for Bluetooth connectivity since it helps for convenience.
2. Speaker Quality
The importance of having qualitative speakers cannot be overemphasized. To a large extent, speaker quality guarantees how much you can enjoy your playlist during your ride. This is the primary reason why most people look at the speaker quality first before making a purchase. What use is your motorcycle radio if you can't clearly hear your music while on the road. This is why you need a set of speakers that are loud enough to beat the noise of powerful engines. Most of the brands that we've reviewed above can handle the job with ease, saving you the stress of having to rewind to hear some lyrics clearly.
3. Weatherproof Speakers
Despite the upgrade of most modern motorcycle GPS to capture weather reports these days, motorcycle riders are often still shocked by the sudden change of weather conditions during their ride. Since you are not sure about what the weather would look like throughout your trip, it makes sense to do everything possible to protect every component of your motorcycle from potential damage.
Weatherproof speakers are not exactly too different from other indoor speakers. The only difference is that they are designed with compact substances which are tightly sealed to prevent excess moisture from damaging them. If you fancy adventure rides, then you know for sure that this is a factor that you can't overlook when making your choice.
4. Multiple Input Sources
With the current change in trend from CDs to MP3, you don't want to be left behind. Today, some musicians no longer produce their music on CDs. Sources like Spotify comes to the rescue for staying up to date with current music releases from your favorite musicians. The question, however, is how do you transfer this music from your mobile phone to your speakers? This is where the input source comes into play. Most modern radios are fitted with input options like USB and AUX to make the connection to mobile devices easier.
5. Wireless Remote Control
Before making your purchase, you want to be sure of total convenience during your ride. One feature that helps improve riding comfort is the presence of wireless remote control. With it, you can select songs from your playlist, as well as perform other functions without taking your attention off the road.
6. Durability
Finally, durability is a feature that also needs checking out. If the parts of your motorcycle radio cannot sustain wear and tear, then it will not be long before it breaks into pieces. This is why you need to get a radio with a high-quality body build so that it can endure rough conditions and maintain quality performance.
How To Wire/Install a Motorcycle Radio?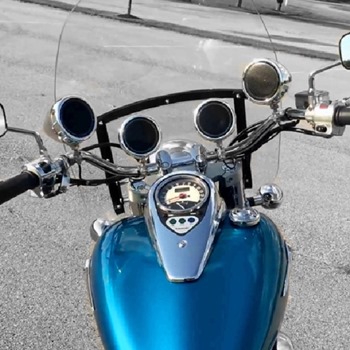 For starters, the process of installing a motorcycle radio might seem like rocket science. But this should not scare you as it is not as difficult as you might think. Most speakers are fitted with the necessary hardware needed for a quick setup. This hardware would usually include mounting brackets, fasteners, and a few other accessories. Most packages also come with manufacturers manual to help guide you through the installation process. It is essential to check out the manufacturer's specifications to ensure that you get the perfect fit for your handlebar. It is important to choose the right position for your radio, as this can potentially affect the functionality of your radio.
You should typically find a special spot in your handlebar where you can mount your radio.
Unless you are willing to drill holes in the radio console, you might need to get a handlebar bracket it adapter to avoid damaging the console. You will also find that the wiring is also pretty easy to figure out, especially since most manufacturers go for intuitive wiring systems.
For the head unit, run the red power wire to the positive console bus. On the other hand, run the black wire to the negative circuit socket. With the brackets positioned correctly, you can now fasten the bolts and nuts.
In case you are still confused about the motorcycle stereo installation process, then you should not hesitate about getting an expert to handle the connection for you.
FAQ About Motorcycle Radios
1. Do Motorcycles Have Radios?
Yes, some motorcycles are designed to have radios. However, these are more like the exception rather than the rule. If you desire to enjoy excellent sound quality, however, then you might need to buy and fit in a special radio set that meets your desired specifications.
2. How loud are motorcycle radios?
The loudness of motorcycle radios often depends on the brand you are choosing. If you want speakers that are capable of playing music at very high volumes, then you will need to check the specifications before making your purchase. You can also lookout for the ratings of the speaker which are expressed in decibels. Bear in mind that the higher the decibels, the louder the sound would be.
3. Are all motorcycle speakers waterproof?
Before making your choice, you should know that not all motorcycle speakers are waterproof. If you would be riding in adverse weather conditions, then there would be a need to pick a waterproof model.
Wrap Up
Having talked so much about motorcycle radios and how to go about making a choice, we hope that you can use all the information to your advantage as you move to buy the best motorcycle radio for your needs. As you might have noticed, modern motorcycle radios come with several features that make for better sound quality and convenience. However, it takes a careful look to find the one that fits your desire.
In addition to the motorcycle radio reviews that we've provided in this guide, it is vital to still look out for manufacturers' specifications before making your choice. This is particularly to ensure that you get everything you desire from your selection.
Bonus guide: motorcycle phone mount reviews