Having the best motorcycle horn on deck is another step towards safety. The popularity of motorcycles continues to soar by the days. Most motorists and drivers of bigger cars tend to overlook motorcycles on the road because of their size. Apart from the safety that motorcycle horns help to guarantee, some of them are also stocked with additional features to help make riding easier and better. The advantages of having a good motorcycle horn installed on your motorcycle are too numerous to be mentioned.
The problem, however, is that there are so many brands of motorcycle horns in the market, making the burden of choice overwhelming. To help make the process of making a choice easy for you, hop on to the motorcycle horn reviews and take a look at our top picks for yourself.
See The Quick Comparison Chart
Types And Uses Of Motorcycle Horns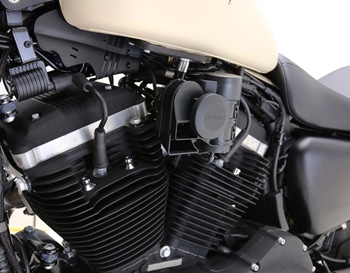 Motorcycle horns come in different types. Basically, they are classified into three different types; hence, whichever you purchase must fall under one of the three categories. Of course, there are various criteria that you can use to differentiate motorcycle horns, but some of the most popular criteria include size, durability, and compatibility with vehicles. Here, take a look at the different types of motorcycle horns based on sound.
1. Air Horn
This is the most popular type of horn available in the market. It usually consists of a single piece and has a louder sound than most of the other types of horns. It often produces the regular honk sound. They do not need any power source to function.
2. Train Horn
This is the second most popular type of horn. They are most likely used as cargo horns. Hence, you'll find delivery boys making use of it. It has a small pump that gives out the sound when pressured.
3. Novelty Horn
This is the third type of horn when classified by sound. This type of horn would usually sound like short music tunes, whistles, and roaring.
While air horns work without a battery, train horns and novelty horns would typically need a power source like simple motorcycle batteries or AAA batteries to work.
One or Two Horns?
This is one question that is often being asked by a lot of people. It is no longer strange news that most types of horns are either designed as a one-piece or two-piece device. The question, however, is which is better between the two.
The two-piece horns are designed to be able to produce both high and low tones. This means that you can control the sound, depending on the situation of usage. The low tone is mostly useful for moments when you are in a short-range with another driver whom you desire to alert of your presence. On the other hand, the high tone used to alert drivers of big cars and bikers who might be at quite a distance from where you are.
For the one-piece device, you will find that it is usually customized to feature a ranging dual-tone. It is possible to set its volume to your liking. With the experience that I've had with one-piece horns, I can tell that it is possible also to regulate the sound level using the intensity of your touch. While a soft touch would usually result in a lower tone, a firm press would give out a loud pitch sound.
It is difficult to choose which is better between these two types of horns, considering that it is always a matter of preference. Some people would instead opt for the single-piece device since it occupies less space and comes with an easy installation process. Others prefer the two-piece device because of the variation that it offers them.
Best Motorcycle Horns Comparison Chart
PRODUCT
DETAILS

PIAA 85114 Slim Line 400Hz + 500Hz 112db Sports Horn

Price:

$$$

Customer Rating:

4.6

Size:

8.6 x 6.7 x 2.3 inches

Weight:

16 ounces

View On Amazon

FIAMM 72112 Freeway Blaster Low Note Horn

Price:

$

Customer Rating:

4.4

Size:

5 x 4 x 8 inches

Weight:

3.2 ounces

View On Amazon

Wolo (519) Bad Boy Chrome Air Horn – 12 Volt

Price:

$$$

Customer Rating:

4.1

Size:

7.2 x 4 x 11 inches

Weight:

24 ounces

View On Amazon

HELLA 007424801 Twin Trumpet High/Low Tone 12V Horn Kit with Bracket

Price:

$

Customer Rating:

4.3

Size:

12.3 x 8.2 x 5.4 inches

Weight:

4.5 ounces

View On Amazon

SUPER LOUD MARCO TORNADO Compact Air Horn

Price:

$$$

Customer Rating:

4.2

Size:

5.6 x 4.9 x 3.8 inches

Weight:

28 ounces

View On Amazon

SoundOriginal Universal Electric Waterproof Motorcycle Horn

Price:

$

Customer Rating:

4.5

Size:

3.8 x 2.7 x 1.2 inches

Weight:

1.44 ounces

View On Amazon

Wolo (306-2T) Chrome Plated Super Horns

Price:

$$$$

Customer Rating:

4.7

Size:

14 x 7.9 x 4 inches

Weight:

90.88 ounces

View On Amazon
Best Motorcycle Horns Reviews
1. PIAA 85114 Slim Line 400Hz + 500Hz 112db Sports Horn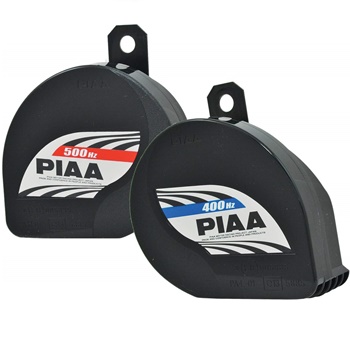 This is perhaps one of the best motorcycle horns you will get in the market. It comes loaded with several features that stand it out from most others in the market. One of the biggest reasons behind its popularity is the ease of installation that it features. This option does not require any relays or additional wiring to complete its installation.
In addition to its easy installation process, this motorcycle horn option is also one of the loudest in the market. With up to 115 decibels, you would be able to alert pedestrians and other drivers in any busy road.
It is going to be a massive step up from the factory one present in your motorcycle. This option is not just great in quality, but it also comes with three different times to select from to suit your specific needs.
The manufacturers also claim to have tested the products before sending them to the market. This gives you a good level of confidence that your chosen model will work perfectly for your needs.

Pros
Factory-tested before being released into the market
Impressive build quality
Easy installation process.
Cons
Lacking a bit in durability.
2. FIAMM 72112 Freeway Blaster Low Note Horn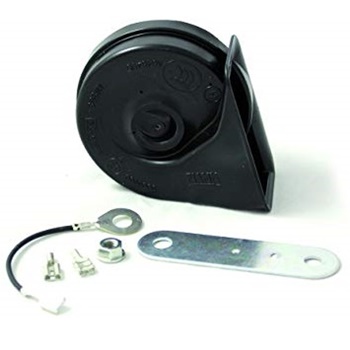 The popularity of this bike horn is, perhaps, because of how it features so much at a budget. Apart from its surprisingly low price tag, however, the horn has a lot of benefits that users can easily take advantage of. While testing this product, we found that it comprises of a corrosion-resistant steel housing, an ABS plastic projector, and an aluminum coil motor, all combining to form a reliable horn system.
During the research, we also found that the Fiamm 72112 freeway blaster has been tested by its manufacturer, guaranteeing maximum performance. The horn is built to surpass all SAE and OEM specifications; hence, users can be assured of a performance level that's above the required standards.
Because of the versatility of the product, users can use it on a variety of vehicles and motorcycles. It is essential to point out, however, that it is compatible with 12-volt systems.
This option comes with two terminals and can produce a sound level of up to 130 dB. This makes it efficient for riding in city traffic. At 8.8 ounces, users would be impressed with the design of this process.
The installation process of this motorcycle horn is also easy, primarily because of the presence of a universal mounting bracket.

Pros
Relatively affordable compared to most other options in its category
Comes with an impressively compact design
Loud enough to get any user through the city's traffic.
Cons
The warranty information that it comes with is quite unclear.
3. Wolo (519) Bad Boy Chrome Air Horn – 12 Volt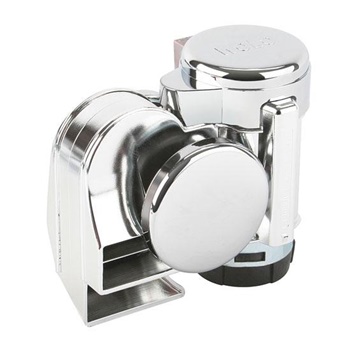 The Wolo Bad Boy chrome air horn is one of the most popular horns in today's market. It is a piece of fantastic motorcycle equipment, especially for bikers that often get ignored by big cars. It comes as a good combination of powerful performance, unique design, elegant style, and great functionality.
One look at the product and you would be able to tell that it is designed to serve. This option comes with a chrome cover that helps to beautify its cover. The versatility of this Bad Boy air horn is also impressive considering its compatibility with different 12-volt systems. This makes the horn great for both motorcycles, cars, ATVs, and trucks of various sizes.
Another impressive feature of this product is its sound level. It produces up to 123.5 dB of sound, making it loud enough to alert drivers that may be inattentive while on the road. On the physical features of the Wolo Bad Boy horn, we found that it is compact in size and has the ideal aerodynamics that any biker would like. Perhaps, the main reason why so many cyclists can't help but go for this option is the simple installation process that it features. However, beginners might need a bit of trial and failure to get used to it.
The manufacturers also ensure to provide a 30-amp relay, as well as a mounting bolt, to make installation easy with a single bolt.
Pros
Comes with an impressive chrome coating that adds to its physical design
It is relatively affordable
Its installation process is easy
Cons
There's been a few complaints about its durability.
4. HELLA 007424801 Twin Trumpet High/Low Tone 12V Horn Kit with Bracket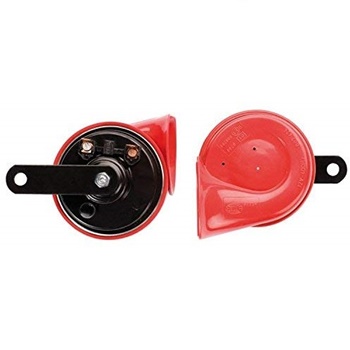 These ultra-reliable trumpets are worth being on our list. They look and sound like nothing else that you will find on the road. The manufacturers of this option understand the importance of safer in the hustle and bustle of the traffic in any city. From your first look at it, you will notice the use of modern acoustic technology for its manufacture.
During our independent research of the product's features, we found that it is constructed to feature an impressive level of durability. Perhaps, it is the ability to integrate reliability, security, and precision artistry that stands this brand out. Whatever it is, it is evident that the brand has done an excellent job of producing a horn that guarantees attention in critical situations.
The manufacturers claim that this horn option is for the performance-oriented driver who values a good combination of design and safety. The option guarantees optimum fit, functionality, and a good level of customer satisfaction. The only problem we noticed while testing this option is that it is slightly overpriced compared to most other options in the market.

Pros
Compact design for people that do not like too much size
Great level of versatility
Highly durable.
Cons
Relatively costlier than most other options available in the market.
5. SUPER LOUD MARCO TORNADO Compact Air Horn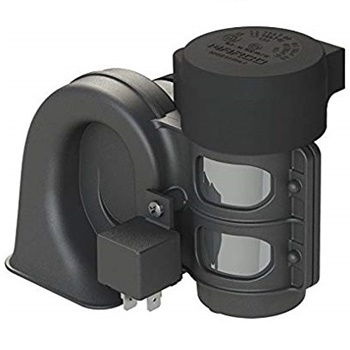 For those that are looking for a motorcycle horn that performs in sound and durability, this might be a perfect option. It is designed to be compatible with all 12V vehicles out there, so you can be guaranteed of an impressive level of versatility. Its sound comes louder than what most others in the market can produce. At least, you will be guaranteed of efficacy for the product that you are choosing. With a sound level of up to 150dB, you should be able to call back the attention of any driver on the road.
To crown it all, it even comes with two harmonized times. You can opt for your preferred tone based on your needs at any particular time.
The manufacturers also claim to have tested the products before sending them to the market. This gives you a good level of confidence that your chosen model will work perfectly for your needs.
Like most of the other products on this guide, this one also features a simple installation process. It comes with an installation guide in it that you can use to complete its installation on your bike or any other vehicle you desire it on. One thing is for sure – this is a good option to consider.

Pros
Zero defects
Features two harmonized tones
It is louder than most other horn options available in the market.
Cons
Could do better in durability.
6. SoundOriginal Universal Electric Waterproof Motorcycle Horn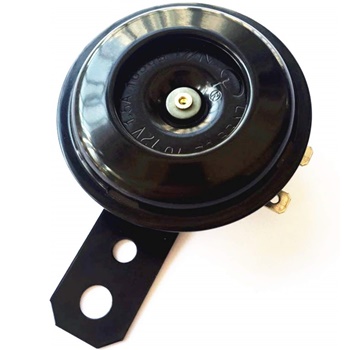 No doubt, this is one of the loudest horns available for motorcycles and cars in the market. At an exceptional output level of 150dB, there will be no traffic big enough to drown the sound. It is essentially a dual-tone motorcycle horn with an easy installation process.
A lot of people are also impressed by the versatility level that this option has up its sleeves. It would work correctly for motorcycles, cars, vans, and trucks. It is evident that the manufacturers have put a lot of effort into manufacturing a one option fits all. Perhaps, it is worth mentioning that the option also uses a standard 12V power source.
One good reason for the surge in the popularity of this option is its ability to feature a compact one-piece design, as well as it's maximum anti-rust technology. It is small in size, with a compressor that's water-resistant.
We were surprised by the ease in the installation process of this car horn. There's an installation manual provided for people that may be new in the use of car horns. During our research, we were also impressed that this motorcycle horn comes with all the necessary accessories to make for easy installation.

Pros
The entire car horn comes with a compact design
It comes with a water-resistant compressor
Easy to install.
Cons
None noticed at the time of this review.
7. Wolo (306-2T) Chrome Plated Super Horns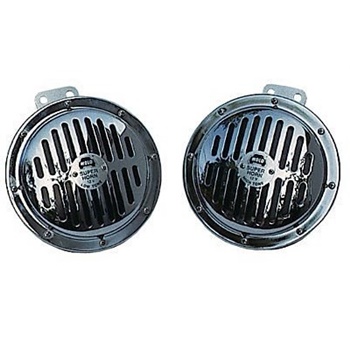 The presence of the second option from this brand in our list shows that it is not a walkover in the world of motorcycle horns. The 306-2T is no doubt a superb unit worth owning by any motorcycle users. It comes with a range of great features and can easily be installed on your motorcycle.
The horn features an all-metal disc construction that makes it a European style model, usable on any bike. It's worth mentioning that the metal is non-corrosive; hence you can be assured of a good level of durability with the product.
Most users would be happy with the ability to use the horn as a replacement for old horns, as well as the ability to install it as a new model. The package also includes numerous installation hardware to help ease the installation process.

Pros
Very easy to set up
Produces a loud noise that will call back the attention of inattentive drivers
It is a durable model.
Cons
Motorcycle Horn Buying Guide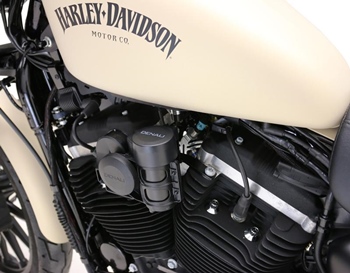 Having talked so much about motorcycle horns and the different types available in the market, you are probably convinced of the need to buy one. Like motorcycle alarms, the horn is a vital bike accessory. Of course, it might not offer as much functionality as a motorcycle GPS, but it still does well in the one function it is known for – that is alerting other road users of your presence.
The process of selecting a horn is pretty as complicated as any other motorcycle accessory. It is not just simply walking into a shop, picking one from the shelf, and fitting it on your bike. There's a lot of processes involved in it. You will need to decide on the things you are looking out for in a horn first.
Next, you will need to analyze the different features of each of the horns available, before picking the one that offers more features that will improve your riding experience. To help make the selection process easier for you, we've highlighted some factors that you should look out for when making your choice of a motorcycle horn.
1. Sound Level
Of course, a motorcycle horn is useless without its sound. This factor perhaps comprises a significant part of its functionality. The best horns are the ones that feature a high sound level that can be heard from a distance. However, there is a need to be able to control the sound pitch so as not to damage your ears during any ride. For starters, you can always counter check the sound level, ensuring that it is within the regulated limit.
2. Design
Like in most other purchases that you will make, design matters. For motorcycle horns, you want to be sure that it is compact enough in design, considering that it will be installed on a motorcycle. Unlike vehicles, motorcycles hardly have any hidden room where you can install horns. Hence, you want to get something that will not look too big and distracting to the eyes. It is worth mentioning, however, that there are still stylish and durable two-piece motorcycle horns that are worth the space that they will take in your bike.
3. Weight
The mistake that a lot of bikers make is to think that the weight horns do not matter. The truth is that weight matters for any motorcycle accessory, horn included. As a rule of thumb, your motorcycle should be lightweight and firmly attached. The lightweight is to ensure that it is not too heavy to be carried on any part of the bike. It should be firmly attached so that it doesn't get rooted off when there is a strong wind or heavy rain. The mounting should be reliable, so you will be doing yourself good by paying attention to what the package includes during installation.
4. Ease of Installation
Most manufacturers of motorcycle horns include installation manual in the packs to help make the process of mounting your choice horn easier and better. Some people would have an easier time installing a single-piece device. In contrast, a few others would prefer mounting a double-piece device, despite how complicated it would seemingly be for beginners. If you are not clear on how to go about installing your motorcycle horn, then it is better to call an expert to help handle it.
How To Make Motorcycle Horn Louder?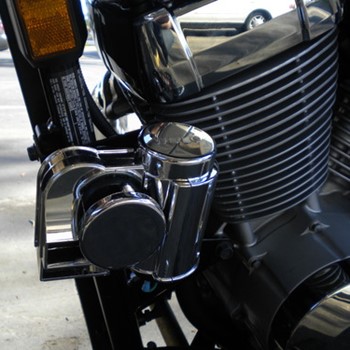 Ever wished that you had a super loud horn on your motorbike? Of course, most motorcycle users have. The horn may be one tool in your motorcycle kits that helps to keep you safe, but it is still nice having a louder one for maximum efficacy. This doesn't come easy, though, especially not as easy as just plugging in a loud horn. There's so much to be done to get the best performance out of your aftermarket horn. Wiring, for instance, needs to be done correctly.
Well, you might not really need any experience with wiring, circuitry, motorcycle mechanics of soldering to pull this through.
The great news is that you might not even need to learn about motorcycle wiring, considering that you can purchase a pre-made horn wiring harness and just use it directly on your motorcycle. A few brands also offer DIY kits with everything you will need to get your motorcycle horn going.
Technical Side?
First, you need to know that a switch closes the circuit and ensures that an electrical connection happens.
Irrespective of the motorcycle type or model, it is still able to draw a fixed energy amount. Louder and more powerful horns are known to draw more. With more electrical draw comes the need for more energy. As that continues to happen, everything begins to heat up. Smaller wires are known to offer more resistance, so most experts will advise that you user bigger wires to some point.
If you don't want to pass yourself through all these complicated routes, then there are loads of nice loud aftermarket horns out there that you can try. Note that there's a need to fix air horns upright for the internal compressor to work well.  Also, the level of maintenance can affect the output of the horn.
FAQ About Motorcycle Horns
Below take a look at brief answers to a few frequently asked questions to help you make the right choice of motorcycle horns.
1. Do motorcycles have horns?
This is perhaps the most popular question asked on this topic, and the answer is definitely yes! All motorcycles are pre-fit with functional horns that are mostly easy to operate with a push of a button. This comes as a legal requirement in most countries around the world. Apart from being a legal requirement, it is also crucial for safety reasons.
However, there's presently an ongoing debate as to whether the loudness of don't stock horns delivered with motorcycles is good enough. This is why installing a new pair of horn is a good solution for people that desire to grab more attention on the road.
2. Are air horns on motorcycles legal?
This is entirely dependent on location. While some states Allie the installation of air horns as an anti-theft measure, some other states restrict its use to only emergency vehicles.
To ensure that you are complying with all the regulations applicable to your area, it is essential to check the DMV and BMV websites of your state. You will get all the updated information that you need to stay compliant on the road from there.
3. Can I use a car horn on a Motorcycle?
This is another popular question from motorcycle users. While it is possible to use a car horn, you will need to check and ensure that it fits well. You also need to check to know if it requires more electricity than a conventional horn.  There may be a need for a dedicated power line too.
4. Do motorcycle horns come with mounting kits?
Different products come with different mounting kits. While some products come with mounting kits like brackets, others don't. If you desire one that comes with mounting kits, then you will need to check for specs and additional kits before purchase.
Wrap Up
That's a wrap to it, a guide researched and written to point you to the best motorcycle horns in the market today. We've included a lot of detailed information in this guide to help make the whole process of making a choice easier for you. Experiencing all the benefits that come with owning a motorcycle starts with how safe a ride can be. Thankfully, motorcycle horns help to increase safety on and off the road. Because of this, getting a good motorcycle horn has become a must for every motorcycle owner for their safety.
The motorcycle horn reviews in this article were written to point you to the best options available in the market. We've included enough details to help you make your decision.
See also: LED headlights for motorcycle reviews