The need to enhance your music experience by having the best motorcycle amplifier on your motorcycle is a valid one. Good music remains one of the best sources of entertainment on a motorcycle. As expected, there are several brands manufacturing motorcycle amplifiers on the market today. The products from these brands differ in quality and features. These differences are sometimes technical, making the process of picking the right motorcycle amplifier for your need quite tricky.
Check out the motorcycle amplifier reviews to find out what's best for you. There's also a buying guide pointing you to factors to look out for when making your choice of motorcycle amplifiers. Let's do this!
See The Quick Comparison Chart
What Is a Motorcycle Amplifier And Do You Need One?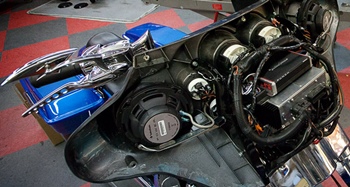 A motorcycle amplifier is an electronic device that increases the voltage, power, and current signals coming from a motorcycle radio. Generally, amplifiers come handy for use in wireless communications and broadcasting. It is also used in different kinds of audio systems. Amplifiers are classified into two, including power amplifiers and weak-signal amplifiers.
Power amplifiers are used in wireless transmitters and other hi-fi audio equipment.
The weak-signal amplifiers, on the other hand, are primarily used in wireless receivers. They are the ones that you will find in audiotape players, acoustic pickups, and CD players.
Benefits Of Motorcycle Amplifiers
Like most other motorcycle equipment, motorcycle amplifiers come very useful. There are so many reasons today why people opt for buying top-quality amplifiers for their motorcycles. However, the most popular reason why people get these devices is to get very clear and discernable sounds from their stereos. Of course, like motorcycle alarms and other accessories, there are several benefits attached to buying a top-quality amplifier for your motorcycle. Here, take a look at some of the most popular benefits of buying a motorcycle amplifier.
1. More Bike Listening Options
If you are an experienced rider, then you'd have noticed by now that bike assemblies would often leave out some luxury features that are needed during the assembly process. This usually means that riders are left with minimal variety to choose from. Purchasing a motorcycle amplifier for your bike presents you with a wide range of entertainment options. With it, you could upgrade to playing music from iPods, mp3s, Bluetooth devices, etc. These are things that you probably wouldn't have gotten without a good amplifier.
2. Enhanced Riding Experience
Whether you are riding for fun or as a commercial motorcyclist, the truth is that there is very limited entertainment on the road. Still, you don't want to lose focus, trying to enjoy the very few entertainments you will meet on the way. Opting for the latest and most demanding motorcycle amplifiers brings entertainment closer to you. With these devices coming with features like automatic speed volume control, and Bluetooth connectivity, you can expect total music entertainment without needing to take your eyes off the road.
3. Clear Audio
This one is a no-brainer. One of the best results of getting a motorcycle amplifier from a reliable brand is the clarity in audio that it provides. Most modern motorcycle amplifiers are targeted at delivering crisp, clear, and loud music so that you can expect top-quality audio sound from them.
Best Motorcycle Amplifiers Comparison Chart
PRODUCT
DETAILS

Kenwood 2156568 KAC-M1804 Compact 4-Channel Amplifier

Price:

$$

Customer Rating:

4.0

Size:

5.5 x 3.5 x 1.3 inches

Weight:

17.6 ounces

Max Power:

400 watts

View On Amazon

Rockford Fosgate PBR300X2 Punch 300 Watt 2 Channel Boosted Rail Amplifier

Price:

$$$

Customer Rating:

4.3

Size:

9 x 6 x 3.2 inches

Weight:

40.8 ounces

Max Power:

300 watts

View On Amazon

Kenwood 1177524 Compact Amplifier Class D 400W, 4 Channel

Price:

$$$

Customer Rating:

4.4

Size:

14.8 x 6.8 x 3.2 inches

Weight:

35.2 ounces

Max Power:

400 watts

View On Amazon

Velex Water Resistant Bluetooth 4 Channels Amplifier

Price:

$

Customer Rating:

3.9

Size:

8 x 3.9 x 2 inches

Weight:

41.6 ounces

Max Power:

100 watts

View On Amazon

DS18 CANDY-MICRO4 – Amplifier in Black – Class D, 4 Channels

Price:

$$

Customer Rating:

3.4

Size:

7 x 1.5 x 5 inches

Weight:

32 ounces

Max Power:

1600 watts

View On Amazon

Kenwood KAC-M3001 600W  Monoblock Digital Amplifier

Price:

$$

Customer Rating:

4.2

Size:

3.9 x 5.7 x 1.8 inches

Weight:

32 ounces

Max Power:

600 watts

View On Amazon

Kicker 42PXA2001 200W x 1 Motorcycle Amplifier

Price:

$$

Customer Rating:

4.7

Size:

7.5 x 5.3 x 3.5 inches

Weight:

20.48 ounces

Max Power:

200 watts

View On Amazon
Best Motorcycle Amplifier Reviews
1. Kenwood 2156568 KAC-M1804 Compact 4-Channel Amplifier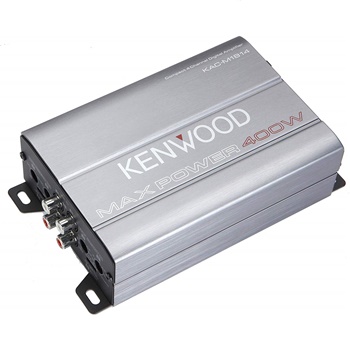 This is a four-channel amplifier that comes in a class of its own. With a power output of around 400 watts, it is evident that the motorcycle amplifier can perform as a top-level. The amplifier also comes with am RMS power rating of up to 4 ohms, an equivalent of 45 watts by four channels.
The physical appearance of this amplifier is part of what stands it out. It stands at a measurement of 5.5 inches by 3.5 inches by 1.3 inches, which is reasonably suitable for fitting into your motorcycle. One stand out feature of this amplifier is the availability of a heat sink case that extrudes from the device for better protection from overheating.
This unit also comes with RCA inputs, which are good connection ports for most kinds of motorcycle speakers. Indeed, it promises to deliver top quality sound, but it is also important to mention that its high pass filter is quite poor. Hence, it may not produce so much sound. However, it works to enhance the basic audio of your stereo. Its design is also compact, reducing the worry you will have in finding the best location for it.
Installation is easy, considering that you will only need little shelf brackets to mount the device on an existing mounting screw. All these combine to make installation basic and easily understandable.
The wires also come color-coded, making the task of installation even easier.
Pros
Ease of installation
Features a compact design
Reduces intense heating.
Cons
The sound quality is not excellent.
2. Rockford Fosgate PBR300X2 Punch 300 Watt 2 Channel Boosted Rail Amplifier
No doubt, the PBR300X2 is one worth being on this list, especially considering its features and functionalities. Right off the pack, you can tell that it is designed to stand out. It is a 300-watt amplifier that features be booster rail technology that makes it combine efficiency and compact design well.
Although the amp is versatile enough to work on nearly all vehicles, it is most recommended for smaller stealth installations like motorcycles. On its technical side, this amplifier comes with technologies that make usage easier and better. It uses the boosted rail technology, for instance, to generate its rated power, allowing the chassis design to be somewhat smaller than the traditional sized amplifiers.
The unit comes with an extruded aluminum-cooling convection heat sink type, allowing it to stay cool through prolonged usage. Its remote control shows how much importance the manufacturers put into safety. Hence, you can control it, without necessarily taking your eyes completely off the road.
Pros
Very versatile amplifier option
Ease of installation
High-performance level.
Cons
None noticed at the time of review.
3. Kenwood 1177524 Compact Amplifier Class D 400W, 4 Channel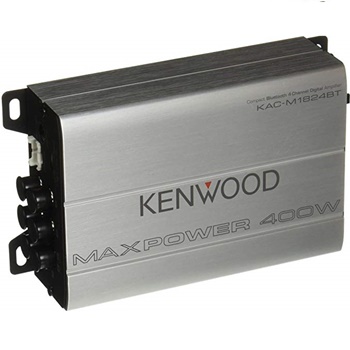 Perhaps, there's no name in the motorcycle stereo market that enjoys the level of trust that Kenwood does. It is not so hard to see why Kenwood is so famous, considering the top-quality units it's always producing.
This option from the top-rated company is an excellent 4-channel amplifier worth our recommendation. It is a surface mount amplifier that is exceptionally easy to install and comes with hookups that are easy to access. It has a peak power output level of 600-watt, which is enough to satisfy any average motorcyclist with up to three or four-speaker stereo combinations. As expected, it comes with unique amplifier features like the RMS power. The unit also has a voltage sensing auto-on switch that is built in to enhance performance. The power that this amplifier feature was a pleasant surprise to us.
Since motorcycles often have little spaces for locating an amplifier, a 3″ × 7″ × 6″ that weighs 2.2 lbs doesn't seem like a bad idea. The printed circuit board of the amplifier is also protected with a nice coating to protect it from moisture.
Pros
Comes with an impressively compact design
Ease of installation
Special protection of printed circuit board.
Cons
It doesn't come with any built-in four-channel for two bridgings.
4. Velex Water Resistant Bluetooth 4 Channels Amplifier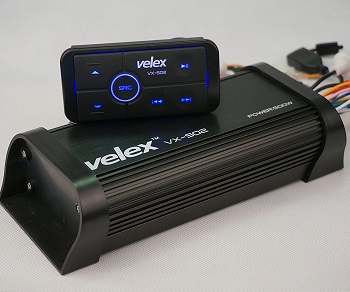 This product from Velex is one of the best motorcycle amps out there with a Bluetooth function. The amp comes with a design that tells you from first sight that it will perform greatly. It is not just the look, but how it combines several functionalities. It makes the pairing of a smartphone or any other Bluetooth compatible device possible. This is so that you wouldn't need any extra device to listen to your favorite tracks on your phone.
The unit is a 4-channel amplifier that features a maximum power output of 50Watts at 4ohms. At this power rating, you can be guaranteed that the unit would work well with numerous speakers.
In addition to its Bluetooth technology, the amp also features a USB output, giving you the option of connecting a USB device when you need to.
This is a class A/B amplifier, putting it in the spotlight as one designed for superior music producers. Its printed circuit board vines with a conformal coating that guarantees total protection against damp air and moisture.
Overall, the ease of installation that this amplifier brings, as well as its micro design, makes it a good buy.
Pros
Ease of installation
Relatively cheap
Several connectivity options
Excellent output sound quality.
Cons
Not the most versatile units in the market.
5. DS18 CANDY-MICRO4 – Amplifier in Black – Class D, 4 Channels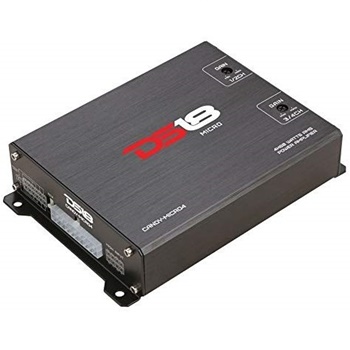 Straight out of the box, this unit is designed to stand out. During this review, we were impressed by how many features and functionalities this unit squeezed into its compact design. It is not just its look that stands it out, but the number of functionalities that it can combine.
On its range of applications, the amplifier ranges from 2-8 ohms allowing you to use a variety of speakers if you want to. You don't need to ever worry again about getting the right amp for the job.
In addition to all its functionality, the device is also very power efficient. This means that it can push a fantastic amount of power into your system without drawing so much from your motorcycle battery.
In all these, however, perhaps it's the compact design that the unit features that serve as its major draw. At a very small size, you'd underrate the power that this device brings to the line. There's so much innovation that had gone into the manufacture of this unit. Most motorcyclists appreciate the work put into it.
Pros
Very versatile unit
Features an impressively compact design
It is extremely power efficient.
Cons
6. Kenwood KAC-M3001 600W  Monoblock Digital Amplifier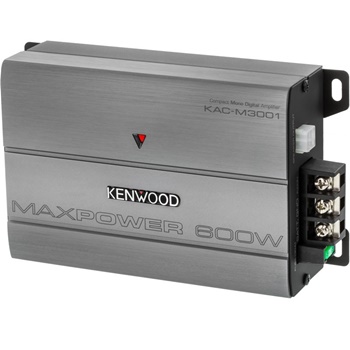 Another product from Kenwood goes a long way to show how much effort the company puts into its process. They've been in the market for ages, so it is not surprising to see them doing all the things they are doing. Again, they bring the consistency in quality that they are known for the design of the Kenwood KAC-M3001. There are not many brands in the market that can stand in the class of this one. It is a class D compact motorcycle audio amplifier that is built to perform. At a maximum power output level of 600 watts and an operating power voltage of 14.4V, you can expect that there'll be no motorcycle speaker too big for this unit to handle.
This is a single-channel digital amp that is designed with an impedance spec of 2 and 4 Ohms. This means that it can produce an output level of between 200 watts to 300 watts, respectively, depending on the audio device. Installing this device on a motorcycle is not a difficult task. We must admit that we found the amplifier surprising, considering the sound quality that it is able to produce. Despite its compact size, it is still able to drive so much power.
The amplifier also does not overhead when music is being played; neither does it produce any noise.
Pros
Compact size that makes for easier mounting
Clear bass sound
Power-efficient.
Cons
Single-channel output
Lacks enough connectivity options.
7. Kicker 42PXA2001 200W x 1 Motorcycle Amplifier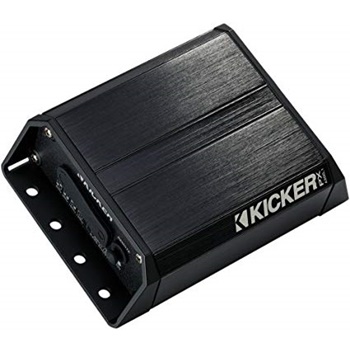 There's no single doubt that the Kicker is one of the best brands of sound systems around. The brand specialized in the manufacture of some of the most beautiful sound technologies for vehicles and motorcycles.
The Kicker 42PXA2001 is a clear testament to the quality that this brand brings. This is a very selling motorcycle unit that comes ideal for use across different weather conditions. It has a conformal-coated circuit board that's designed to keep the electrical components safe from being exposed to moisture. The unit comes with a crossover and selectable high-pass filter, both combining to give the user liberty to customize the sound to their preferred standards.
The device comes with a good selection of input levels that enable the easy connection between the amplifier and outside sources.
Pros
Design with the ability to withstand varying climatic elements
Features a compact design
More connectivity options.
Cons
It does not come with speakers.
Types Of Motorcycle Amplifiers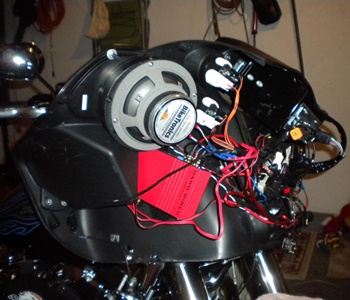 If you plan on getting a motorcycle amplifier any soon, then there's a need for you to know everything about a motorcycle amplifier. Information like types of amplifiers comes handy for helping you choose the best amplifier for your need. Here, let's review the two most common types of motorcycle amplifiers available in the market.
1. Wired Motorcycle Amplifier
This is a more traditional type of motorcycle amplifier. It has been in existence for a long time, although you will still find them in the market. This type of amplifier features connections from the unit to the music source, as well as to the speakers. This type of amp is mostly used with motorcycle stereos.
2. Bluetooth Motorcycle Amplifier
Bluetooth amplifiers are more modern. They feature a variety of technologies like Bluetooth. The Bluetooth in this type of unit c it to a music source. Hence, you don't need to run several wire connections to blast your favorite songs on the way anymore. This type of amplifier connects it to devices that are compatible with most modern music sources like music stores, mobile devices, etc.
Motorcycle Amplifier Buying Guide
Having talked so much about amplifiers and the additional value that it brings to your motorcycle, it will not be surprising to hear that your interest is aroused. This would lead you to another issue: "how to get the best motorcycle amplifiers." Like motorcycle batteries, there are several different brands of motorcycle amplifiers in the market. The number of options can cause you a headache if you don't know what to look out for when making your choice. Below, take a look at the top factors that define the perfect amplifier for your motorcycle.
1. Number of Channels
From out amp reviews above, you would have seen already that motorcycle amplifiers are often categorized based on a number of channels. Channels simply stand for the discrete frequencies that an amp can adequately power. If the audio system in your motorcycle is made up of a subwoofer, or only one speaker, then a mono-channel amp would do. Two speakers would need a two-channel amp, and three speakers would need a three-channel amp, etc. A knowledge of this should help you know what to look out for as you make your selection.
2. Size
Another essential factor that can affect the choice of your motorcycle amplifier is size. Amplifiers are produced in different sizes, as you might have noticed from out amp reviews above.
Although most modern amplifiers feature compact designs, it is also essential to double-check to ensure that the specific model you are picking fits well into the available space in your bike.
3. Power Rating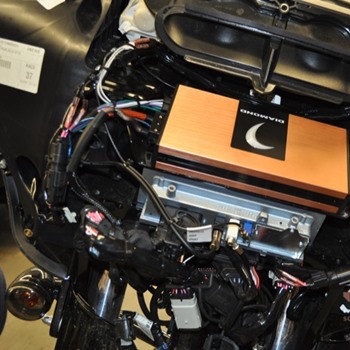 Power rating is another essential factor check before settling with a choice. As a rule of thumb, you want to check to ensure that your choice amp has an output level that matches that of your system speakers.
Most bikers fail to realize that not matching the speakers with the amp can potentially lead to overpowered or underpowered speakers.
If your amp supplies your speaker with less power, then the output would be weak, with unclear
4. sounds
An overpowered amp, on the other hand, can blow your speakers. An excellent way to get a good match is to check and compare the RMS rating of the amp with the total power requirements of your speakers.
5. Waterproof
How adventurous are you? Well, if you plan to engage in lots of adventures with your bike, then you can expect to meet bad weather during your trips occasionally. Since the position of your amp on your motorcycle will mostly be exposed, you want to get an amp that can stand extreme weather conditions. Thankfully, there are modern amp designs that are waterproof.
6. Ease of Installation
Unless you want to be running to a mechanic every time you want to work on your amplifier, you need to get one that can be mounted easily. Amps that come with all necessary installation hardware as well as a user manual for easier installation. If at any point in the installation; however, you find anything confusing, it is vital to get an expert that can handle it.
How To Install a Motorcycle Amplifier?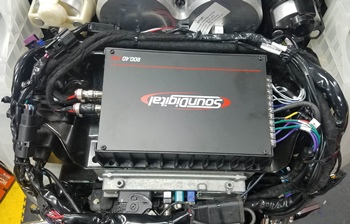 After the purchase of your motorcycle amplifier, the next thing you would be thinking about is how to install it. Different brands of amplifiers come with varying processes of installation. However, we will be providing a more general installation process below. Take a look.
1. Select an Amplifier That's Compatible With Your Motorcycle
Take things like who handles your motorcycle, the paths you ride in, as well as the weather you expect to ride into consideration when making your choice. Also, take a look at the specs of your speakers and your stereo system (where applicable). All these should help you decide on what to pick.
2. Bolt or Strap The Amplifier to Your Motorcycle
Depending on the brand you settle for, you would need to either bolt or Strap the amplifier to a part of your motorcycle. You will get directions on how to do this in the instruction manual. If it is a bolt-on system, then it should usually come with the required too set to start work.
3. Run Standard Audio Power Wiring
Wires would often run from the amplifier to your stereo system and speakers. While connecting the wires, try to conceal them as much as possible. Secure the wiring every 4 to 5 inches on the way to the stereo using electrical tape. Secure wiring ends by twisting and soldering where necessary.
4. Test Your Amplifier
Your amplifier should start working if you get the connections correctly. While the audio system is blasting, make adjustments in the bass, fade, and treble, until you get your desired sound.
Remember to contact an experienced motorcycle mechanic if you find the process of installing your new amplifier more complicated than you can handle.
FAQ About Motorcycle Amplifiers
1. Should I Wire Motorcycle Amplifier Directly To The Battery?
The answer to this question depends significantly on the type of amp that you are purchasing. Some motorcycle amplifiers allow the connection of wires directly to the battery, while others only allow wire connection to the deck power supply.
2. Where Should I Place The Motorcycle Amp?
The rule of thumb for positioning your amp is to mount it in a location where it can easily be accessed. The different options available to you include the handlebars, saddlebag, and tank bag. The important thing is to ensure that the audio inputs are located in areas where they will be accessible.
3. What Does Impedance Mean In Motorcycle Amps?
Impedance is a measurement of the resistance to current flow in an electric network. Impedance is measured in ohms. The higher the impedance of an amp, the lesser the flow of current leading to a more balanced output rather than loud sound.
4. Can I Use a Car Amplifier on a Motorcycle?
No. While some people practice this, it is never a good idea. Car amplifiers are designed to work at extremely high loads, causing them to be able to drain your motorcycle battery quickly.
Soon, it would begin to affect accessories like your motorcycle horns, engines, etc. That depends on the battery.
We advise that you stick to motorcycle amplifiers for your motorcycle to avoid these issues.
Wrap Up
There you have it, a detailed guide to the best motorcycle amplifier. Motorcycle amplifiers remain a very vital accessory to get for your motorcycle, irrespective of your riding experience.
This article also contains a detailed buying guide, as well as a part of how to install an amplifier. This information is provided to help you on your journey to getting the best amplifier for your motorcycle. With everything you've learned so far, you can be confident of experiencing pure entertainment as you hit the road.  Check out the features of each product in our motorcycle amplifier reviews to find out which is best for your needs.