For most regular motorcyclists, safety is of utmost importance and the best LED headlight for motorcycle play an important safety role. Staying safe includes wearing the right apparel, using the right motorcycle accessories, and seeing clearly. Motorcycle lights rank high among safety requirements as you look to begin your adventure on a motorcycle. They can help improve your driving experience to a large extent.
The upgrade to LED headlights is one that would help to make your rides better. A lot of motorcyclists get overwhelmed by too many options. To help you make the right choice, feel free to use the thoroughly-researched LED motorcycle headlight reviews. This article also includes a buying guide to help you make the right choice of LED headlights. Let's begin!
See The Quick Comparison Chart
Benefits Of LED Headlights
Like most other parts and accessories of the motorcycle, the LED headlight comes with its advantages. Here, take a look at a highlight of some of the most important benefits of an LED headlight.
1. Efficiency
Indeed, the LED headlight technology is still at its infant stage, but it is the perfect match for the direction that the automotive industry is facing at this time. With several new models being released regularly, it is obvious that efficiency is the key for each upgrade. You probably already know that LED headlights do not require so much amount of electricity to illuminate. This feature makes it a catch for most manufacturers since they don't need to overwork the alternator as most conventional lights do. It is, therefore, not surprising to see that the world's top motorcycle and vehicle brands are switching to this technology as a clear testament to the level of efficiency that they feature.
2. Lifespan
Everybody wants to save money, and one good way to do it is by sticking to motorcycle accessories that can last long. Whether it is a motorcycle GPS or a headlight, you don't want to be changing it every year. Thankfully, this is what the LED technology brings to you. LED lights have an average lifespan of about 15,000 hours, with some climbing up to as much as 50,000 hours of lifespan. Compared to halogen lights that last for just 1,000 hours, you can see that LED lights are such a very good bargain. They may be more expensive than conventional lights, but when you look at the fact that it will last between, 11-22 years of operation before needing to be replaced, you will see that it's the best deal for you.
3. Installation
If you own a motorcycle that does not fit in with LED headlights as standard, don't worry, it's not so difficult to convert them. You can run a conversion with the purchase of a headlight kit. This means that you would not necessarily need to purchase ballasts or modify your motorcycle's electrical system when you need to upgrade to LED technology. Today, there are direct plug-in LED headlight kits that help to make replacement easier and better.
4. Clear Illumination of The Road
This is perhaps the most popular benefit of Upgrading to LED technology. Most LED headlights guarantee an illumination of up to 4000 lumens on high. At this rate, there's no detail that you will not be able to see on your way. In addition to being able to see clearly, other oncoming vehicles and road users would be able to notice your presence. Using an LED light with a top-rated motorcycle horn would help you prevent road accidents to a reasonable extent.
Best LED Motorcycle Headlights Comparison Chart
PRODUCT
DETAILS

WISAMIC 5-3/4 5.75 inches LED Motorcycle Headlight

Price:

$

Customer Rating:

4.6

Size:

7.7 x 7.6 x 4.1 inches

Weight:

24.8 ounces

Wattage:

2800Lms@30W on low beam;4000Lms@45W on high beam

View On Amazon

SUNPIE 5-3/4 5.75 LED Motorcycle Headlight

Price:

$

Customer Rating:

4.5

Size:

7.6 x 7.4 x 4 inches

Weight:

26.4 ounces

Wattage:

45 watts

View On Amazon

LX-Light Dot Approved 7inch LED Headlight with Passing Lamps

Price:

$$$

Customer Rating:

4.6

Size:

7 x 7 x 3 inches

Weight:

96.64 ounces

Wattage:

45 watts

View On Amazon

TRUCKMALL 7 inch LED Headlight Fog Passing Lights DOT

Price:

$$$

Customer Rating:

4.6

Size:

16.7 x 9.2 x 4.8 inches

Weight:

87.2 ounces

Wattage:

40 watts

View On Amazon

SUPAREE 7″ Chrome Led Headlight Auxiliary Lamp + 2Pcs Fog Driving Light

Price:

$$$

Customer Rating:

4.6

Size:

15.8 x 9 x 5.2 inches

Weight:

99.2 ounces

Wattage:

30 watts

View On Amazon

LEDUR Motorcycle Headlight Led U7 DRL Fog Driving Running Light

Price:

$

Customer Rating:

4.0

Size:

5.9 x 2.4 x 2.4 inches

Weight:

24.8 ounces

Wattage:

30 watts

View On Amazon

BICYACO DOT 7 Inch Motorcycle LED Headlight

Price:

$$

Customer Rating:

4.3

Size:

7.9 x 7.7 x 4.8 inches

Weight:

37.6 ounces

Wattage:

40 watts

View On Amazon
Best LED Motorcycle Headlight Reviews
1. WISAMIC 5-3/4 5.75 inches LED Motorcycle Headlight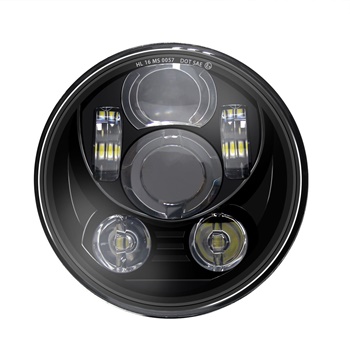 Those that know Wisamic already know that the company is a quality-conscious company. Again, it brings the quality that it is already famous for the production of this high-performing LED headlight that comes with an easy plug and play installation design. From the design of this light, you can tell that it is a perfect option for any bike with the 5.75-in round LED headlamp.
Apart from its ease of installation, most people love the longer service life that it comes with. With LED lamps comes a lifespan of up to 50,000 hours making up the headlight, you can expect nothing less.
When it comes to performance, only very few competitors can stand up to this option. The headlight is equipped to offer uses up to 2800 lumens when operated on low, and a staggering 4000 lumen when it turns to high beam. It also has a color temperature that's rated around 6500k, so you can imagine the level of brightness and whiteness that the light will bring to you.
It is evident that the company also invested a lot into the durability of this headlight, enabling it to survive rough conditions. The light also comes with a shock and vibration resistant design, as well as an IP65 waterproof rating to keep it functional across different weather conditions.
Pros
Highly durable option
Bright enough to pick out the smallest details on the road
Long-lasting lifespan
Cons
2. SUNPIE 5-3/4 5.75 LED Motorcycle Headlight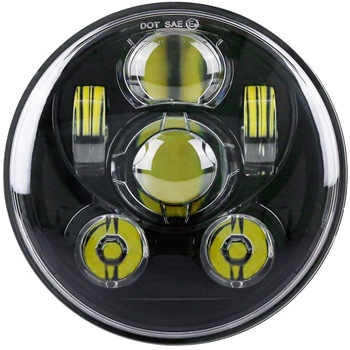 From Sunpie, we have a top-quality motorcycle headlight worth mentioning on our list. Like the model discussed above, this model is designed to fit with every 5.75 headlamps, including the Harley Davidson.
Most bikers that have used this model often express satisfaction with the powerful performance that it brings to the line. Perhaps, it is the long-lasting nature of the headlamp that draws most people to it, or simply its ability to provide incredible shine. Whatever it is, it is apparent that the company has done an incredible job in its manufacture. With an amazing 4000 lumens on high and up to 2800 lumens on low, bikers can expect a level of brightness that will show them every obstacle on the road.
Remember that it can give its light output at 6000k color temperature, making it look white and cool as daylight temperature. The ability of the housing of the light to spot w durable aluminum construction further adds to its durability. The design of the entire headlight incorporates a waterproof, shockproof, and dustproof technology, all so that you can cruise through any terrain unfazed about the weather conditions.
It also comes with an incredible lifespan of up to 50,000 hours, so you can expect to use it for years without needing replacement.
Pros
Weatherproof design makes it great for all weather conditions.
It is long-lasting
It comes with a plunge and play easy installation design.
Cons
3. LX-Light Dot Approved 7inch LED Headlight with Passing Lamps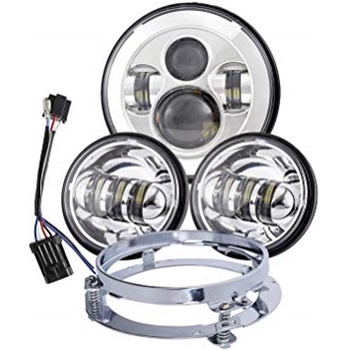 When it comes to convenience and better results, there are only a few headlights that can stand in the class of this one. These headlights come with several outstanding features that combine to make them a must-have for motorcycle owners. The versatility level that the lights come with is perhaps a significant reason for its popularity. It works comfortably with several types and models of motorcycles.
One of the best parts of buying this option is the availability of everything you will need to install it in the package. The inclusion of an installation manual goes further to make the whole installation process as seamless as possible.
The model is designed to provide the light that can cover up to 7 inches of distance, so you can be guaranteed of seeing where you are riding to. The model is also approved by the department of transportation; hence, you can be assured of its safety and efficiency during any usage.
The LX-light also comes with an inbuilt EMC function, allowing the lights to be anti-flicker even when the indicating lights are being used. The light's housing is made of aluminum materials that are both waterproof and weatherproof, so you can use it in any condition.
With a lifespan that counts up to 50,000 hours, you can expect to use it for very long before the need for a change. In addition to all these, the light is also able to feature a shockproof to keep it cool when you hit the gallops.
Pros
The lights designed for easy plug and play installations
They are waterproof, weatherproof, cool touch, and shockproof.
It comes with a long-lasting lifespan.
Cons
Need for special settings.
4. TRUCKMALL 7 inch LED Headlight Fog Passing Lights DOT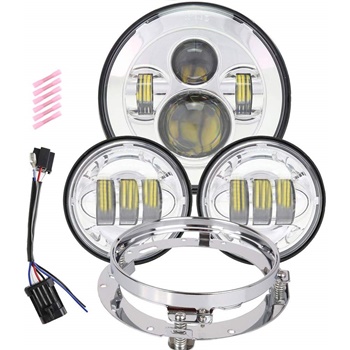 If you are looking for a first-class headlight, then you can rest assured that Truckmall has taken care of that for you. The company has produced this light with particular attention paid to ensuring that you don't complain about the compatibility of LED lights with your Harley Davidson motorcycles again. During this research, we found that this light can fit well into most of the models.
Each pack comes with three LED lights. The main 7-inches headlight is designed to be installed at the center with the other two LED lights flanking it on both sides to create better visibility when fog hits.
With a combination of three powerful lights to form one unit, you can expect no less than excellent quality and clear visibility of the road even when it is dark, foggy, or Misty. The light is also designed to be both waterproof and weatherproof, so you can expect to use it in any route and under any weather condition. So you can say bye to the moments when you had to park your motorcycle because of a little drizzle.
With its production of 6000k clear white light, you will not be wrong to say that it has one of the best illuminations out there. They are also able to produce up to 2600 lm at the low beam and up to 4000lm at a high beam. This level of brightness is just what you need to take you to your destination at any time.
Pros
They are energy-efficient
You can expect compatibility with any Harley Davidson model
This model comes with all necessary safety certifications
Cons
They are quite expensive.
5. SUPAREE 7″ Chrome Led Headlight Auxiliary Lamp + 2Pcs Fog Driving Light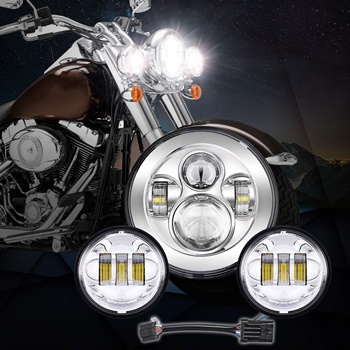 For the riders that would want an economical way to improve their visibility at night, this is undoubtedly a great way to go. Each package comes containing a 7-inch headlight and two 4.5-inches fog lights all with a unique design to bring style, convenience, and functionality to the mix.
The light comes with a 10 watts LED chip that's designed especially for increasing brightness in both high and low beams. In addition to brightness, the chip is also designed to bring a high-intensity white illumination, with a color temperature that ranges from 6000 to 6500k. The presence of two other fog lights helps to ensure that you get maximum illumination when you decide to go on a ride under harsh weather conditions.
Perhaps, the best thing about this option is that it provides enough illumination to make you visible to other road users. This applies even in moments when you use a low beam.
Another fantastic feature that this option offers is the use of a 4D round projector lens. This attribute would be loved by those that tend to overstress their eyes when riding in the dark. Your beam distance in front of you will be projected.
The use of solid cast aluminum materials for this LED light as its housing is another plus for it, considering that it helps the light to remain durable through any ride.
Pros
It features incredible ease of installation
The external shell is designed with aluminum material to improve durability
Designed to be waterproof and dustproof.
Cons
The light doesn't feature any inbuilt anti-flicker adapter.
6. LEDUR Motorcycle Headlight Led U7 DRL Fog Driving Running Light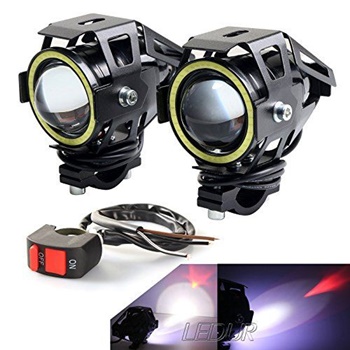 LEDUR is another motorcycle headlight brand that is doing enough to provide riders with improved visibility during any ride. This option from it speaks a lot about the quality the company has come to be known for. This model is one of the best in the market, and that explains why a lot of users want it. Apart from coming with a beautiful design, it also features an incredible level of functionality to stand it out from most others in the market. There's so much about this model that's worth talking about.
During our research, we found the availability of three operation modes to be interesting. There's the high beam, low beam, and the strobe beam, and each of them provides its level of functionality to keep you going smoothly on the road.
Like most other options in this article, this one is also easy to install. All it takes is a connection of a few easy-to-understand cables, and you are good to go. Each pack comes with everything you will need for a successful installation process, including an installation manual to guide you. With proper installation, you can expect to keep using this light for up to 50,000 hours, making it one of the most long-lasting options out there in the market. Its housing is made of diecast aluminum materials, which ensures that it is not only durable but that it is also good enough to power you through any weather.
Pros
Features a very long lifespan
It comes with a diecast aluminum body for durability purpose
The brand features three light levels for convenience.
Cons
It is relatively expensive.
7. BICYACO DOT 7 Inch Motorcycle LED Headlight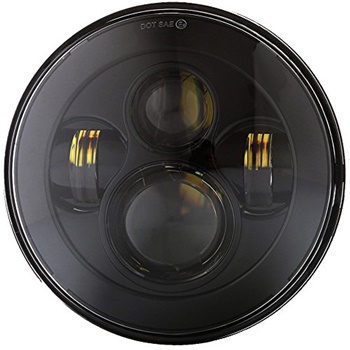 If you are looking for an excellent motorcycle headlight bulb that can potentially turn night into day, then this is the one for you. The amount of light that this headlight can produce rivals what most other competitors can provide by far. With it, no road users will come up with the excuse of not seeing you.
The headlight can output a whopping 4000 lumens of light when on its highest beam, making it one of the best for late-night usage. It also features incredible ease of installation that makes it a perfect option for a novice too.
Apart from its ease of installation, most people love the longer service life that it comes with. With LED lamp lifespan of up to 50,000 hours making up the headlight, you can expect nothing less. The use of solid cast aluminum materials for this LED light as its housing is another plus for it, considering that it helps the light to remain durable through any ride.
Pros
Solid design
Long-lasting lifespan
Very bright.
Cons
None noticed at the time of review.
Types Of Motorcycle Headlights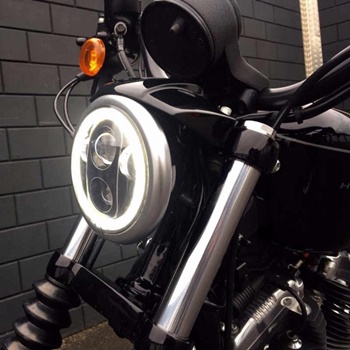 Technology is advancing with each passing day. Thanks to these advancements today, a lot has changed about how a lot of things are being done. This technological change cuts across all aspects including how motorcycle accessories are designed and supplied. Modern motorcycles now feature far more than it used to in style and technology. New motorcycle accessories are now replacing the old to make each ride better and more enjoyable. One aspect of the motorcycle that these updates have affected so much is the motorcycle headlight. Like most other parts of the bike, the headlight gets updated almost every time. Thanks to these updates, we now have three common types of motorcycle headlights. Take a look at them.
1. Rector Headlight Type With Bulbs
This is perhaps the simplest type of light that you can find in the market. Like motorcycle disc locks, their existence can be traced to the early age of motorcycles. There's nothing complicated about the design of this kind of bulb. It just features s tungsten filament bulb, fixed inside a specially built housing with reflective material surrounding it. The core technology behind the design of this system makes it reflect and focus as much light as possible in the forward direction.
2. Projector Headlamp Type
The type of headlamps that fall under this category come with high-tech and modern design. You will mostly find this type of headlights in a compact housing without the need of any sizeable supporting reflector. This type is designed to feature a magnifying lens in front to ensure an extending illumination power. Although quite expensive, you will find this modern headlamp solution useful for its directional characteristics and its compact size.
3. Multi-Directional LED Headlights
This is the third most popular type of headlamp in today's market. One look at the construction of this type of headlight and you can tell that it is built to serve modern lighting purposes. They are also compact and comes as effective solutions with premium features. This type of light comes with a longer lifespan and does not consume too much power. Overall, it is an impressive solution for motorcycle lighting needs.
Motorcycle Headlight Bulb Types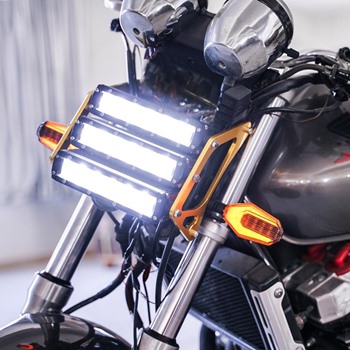 It is not surprising to know that motorcycle headlight bulbs also come in different types. Most people, however, do not know how to differentiate between the different types available in the market. So here, we've sorted out three of the most common types of motorcycle headlight bulbs to help you make the perfect choice for your needs. Take a look at them.
1. Tungsten Filament Bulb
This is the most common type of bulb that you will find being used out there in standard headlights. It looks almost exactly like the ordinary bulb being used at home. To make it even more similar, the bulb is designed to produce light according to its wattage. Perhaps the only difference is that these motorcycle bulbs are DC operated. It consumes quite a lot of power compared to most other modern lights and illuminations. Despite how long it has lasted in the market, this type of bulb is still surprisingly being used. It is common in the market because of its cost-effectiveness and ease of maintenance that it brings.
2. Xenon Bulbs/Projector-Based Bulbs
This type of bulb is mostly used in projector-type setups, primarily because of the directional features that they are made of. You will find that this type of bulbs are pretty bright and can give out a fascinating stream of light. The bi-Xenon setup means that it can focus its light on two different areas, but it does not exactly have two bulbs. Instead, the bi-Xenon setup comes with a solenoid which cuts the light off and redirects it to another direction. This working process results in a single bulb being able to work for both high and low beam. However, due to its hi-tech setup, it is more costly than the one reviewed above.
3. High-Intensity Discharge (HID) Lights
This type of light comes as a specialized gas-filled bulb, and it strikes and electrical arc inside the tungsten rods. Hence, after a while, an alumina salt or translucent fused quartz emits light of high intensity. The salts turn into plasma, increasing the intensity of light within a short time. The operating process of this type of light makes it more performing than the conventional type bulbs.
Led Headlights For Motorcycle Buying Guide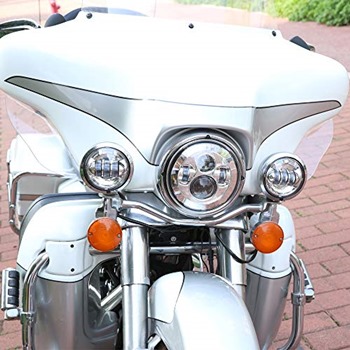 Every year, we notice an unprecedented change in technology. These changes have been pretty much consistent in motorcycle headlights. Today, we now have LED headlights for motorcycles in the market. However, not everybody knows what to look out for when making their choice of LED headlights for motorcycles. Hence, we've highlighted some of the essential features of a good motorcycle LED headlights to make your purchase even more seamless. Take a look at them.
1. Color Temperature Related to Brightness
Quite a lot of motorcycle users are still struggling to fully understand color temperatures and what it means to motorcycle headlights. Understanding light output is the first place to start. Kelvins (K) is an excellent place to start in trying to understand how color temperature is measured. This unit does not represent the brightness of the light. Instead, it represents the type of white light that it is using.
When making your purchase, it is essential to look out for the color temperature of the options available. Having a color temperature of up to 5,400k would set the tone for it to look like normal daylight. Perhaps with a sufficiently bright LED light, you don't need a motorcycle alarm to notify people of your presence.
2. Sizing
One question that people ask too often is if sizing truly matters. In this case, it does matter. Different motorcycles favor different sizes. Hence, your products will work correctly on your bike, while others will not. Thankfully, most manufacturers go as far as stating what makes and models their lights fit with, so you can go through this with ease. However, if the size does not fit, don't force it. There's nothing as bad as trying to jam a headlight into your motorcycle. This can cause more problems than good.
3. Ease of Installation
Of course, most LED headlights are designed to be easy to install. However, some models come easier to install than others. The best way to go about this is to buy a model that uses the plug n' play option. With this option, you will be able to take out your old Headlight and replace it with a new one without using any tool at all. The whole installation process should not take you over an hour considering that you will have other stuff to do.
4. Usual Riding Area
Your usual riding area also comes as an essential factor that determines the kind of Headlight that you will get. While there are headlights that are waterproof, and dustproof, there are also others that don't have these special features. If you would mostly need to ride through tough paths or bad weather conditions, then you must get LED headlights with unique features that fit your riding area. Ask the seller to be sure that the option you choose would work well in the area you want to use it.
How To Replace Motorcycle Headlights?
Safety is the main interest of any motorcyclist; hence, it is vital to fix a malfunctioning headlight right away. It doesn't require so many tools; neither does it take a lot of tools to replace the headlight of a motorcycle. Here, take a look at some easy steps to follow.
1. Secure The Motorcycle
For starters, ensure that your motorcycle is well packed on a ground that's leveled. Balance the motorcycle on its kickstand before you start work. Your malfunctioning headlight would be the least of your worries if you let the motorcycle fall over you.
2. Remove Screws
Once you've found the right balance for your motorcycle, go on to remove the two screws that are placed on either side of the Headlight using a matching screwdriver. Opening the headlight casing would give you unrestricted access to the Headlight.
3. Detach The Headlight Coupler
The next step is to detach the headlight coupler so that you can take off the cover of the bulb. This is usually a piece behind your bulb cover where the leads connect.
4. Remove The Old Bulb
Once you've completed the steps above, you will have access to the bulb. Unscrew it to remove. Be careful, however, as it might be hot.
5. Replace
Screw-in your new bulb and return the bulb cover in place.
6. Reconnect
At this point, reconnect the headlight bulb cover and the coupler that has previously been removed, then screw back the headlight lens into place and you are good to go.
FAQ About Led Motorcycle Headlights
1. Are LED Headlights Legal?
This is one question that motorcycle riders do not cease to ask. For now, the legality of LED headlights is still relative. While it is accepted in some places, it is still illegal in some other areas. Hence, it is important to check your local state law on motorcycles to be sure of its legality before using it.
2. How Can I Adjust My Headlights?
If you find that your motorcycle headlights need some adjusting, do not panic because it is easy. Follow the same processes listed above for replacing your Headlight to adjust it and get it working well again.
3. Can I Convert Halogen Headlights to LED?
Yes. It is possible to convert your Halogen Headlights to LED. For starters, you should first check the bulb type that you require, which is usually seen on the manufacturer's handbook. Once seen, you should then be able to purchase the right LED conversion kit for it online.
Don't forget to test the effectiveness of your light after a change before moving on.
4. How can I Make My Motorcycle Headlight Brighter
There are three main ways to make the motorcycle headlight shine brighter. The first is to replace the old Headlight with a new one of your choice. The second is to clean the Headlight, restoring it to its full capacity. The third option is to upgrade your Headlight to one of the LED motorcycle headlights listed in this guide.
5. When Should I Change My Headlight?
Every lightbulb comes with its expected lifespan. However, most of them would lose some brightness before dying fully. LED headlights can last between 15,000 hours and 70,000 hours depending on temperature, shock, or wear and tear.
Wrap Up
Getting the best LED headlight for motorcycle is a very important step towards enjoying your ride. It does not only guarantee your safety, but it also ensures the safety of your passenger. These lights help to illuminate your path so that you can see even the tiniest details. It also helps to ensure that all other road users are aware of your presence on the road; hence reducing the tendency for accidents.
The LED motorcycle headlight reviews above are to help ensure that you get the best for your lighting needs. We've also included a clear description of the features of each as well as a buying guide so that you can make an informed decision.