Modern situations have created the need for every motorcycle owner to know the best motorcycle disc lock for protecting their bikes. The presence of so many options in the market, however, makes picking the best a mundane task. Motorcycles and other two-wheeled vehicles have become an easy target for thieves, with motorcycle theft becoming more rampant than it has ever been.
Wondering what the perfect motorcycle disc lock for your bike would be? In this guide, can go through a few motorcycle disc lock reviews to point you to some answers. Now, without further ado, let's get right into our top picks.
See The Quick Comparison Chart
Why Use Motorcycle Locks?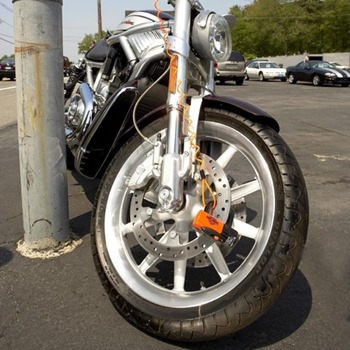 Motorcycle theft is one crime that had been on the rise over the past few years, especially with mopeds and scooters because of the ease of carriage. Thieves would commonly break down motorcycle into parts after each successful theft, and this why you need to secure your bike as much as possible. Fitting security devices on your bike can help to protect your motorbike from theft.
For those living in areas that are volatile to theft and other security issues, securing your motorcycle is compulsory. Even if you live in a relatively serene environment, you still need to secure your bike for moments when you would need to stop on the move. Thankfully, there are numerous types of security lock systems available for bikes today, and finding the right one for your needs is absolutely essential.
In this part of the guide, we will take an in-depth look at security locks and how the different types are useful in their ways.
Advantages Of Disc Locks
Like most other motorcycle security devices, disc locks come with a pack of benefits for users.
First, disc locks are mostly relatively compact and lightweight, allowing you to carry it around when you need to easily. With such a small size, all you need to do is to throw it into a bike pack, and you are good to go.
Easy to apply and remove: Most brake disc locks are designed to feature an incredible level of application and removal ease. Manufacturers understand that there are times when you will be in so much hurry to pack and go, yet still, need to secure your bike. Hence, they ensure to make installation or removal of the disc lock as easy as possible.
Very Convenient: Of course, the level of convenience that disc locks offer is not up for debate. With such a level of convenience, using the disc lock across different mobility vehicles wouldn't be a problem.
Mechanical Resistance: indeed, there are several different brands of disc locks available out there, but you will find that most of them are similar when it comes to mechanical resistance. This feature makes it nearly impossible for thieves to break or cut your lock; hence, making movement very difficult.
Best Motorcycle Disc Locks Comparison Chart
PRODUCT
DETAILS

Trimax T665LY Hardened Metal Disc Lock

Price:

$

Customer Rating:

3.7

Disc Lock Sizes:

2.6 × 7.6 × 9.6 inches

Disc Lock Weights:

1.4 lbs.

View On Amazon

The Kryptonite 000884 Keeper 5s Yellow Disc Lock

Price:

$$

Customer Rating:

4.5

Disc Lock Sizes:

3.1 × 1.2 × 1.2 inches

Disc Lock Weights:

1.1 lbs.

View On Amazon

BigPanta 1 Motorcycle Lock

Price:

$$

Customer Rating:

4.2

Disc Lock Sizes:

5.5 × 2.4 × 1.1 inches

Disc Lock Weights:

1.2 lbs.

View On Amazon

Trimax THEX5060 Combo Set

Price:

$$$

Customer Rating:

4.5

Disc Lock Sizes:

23.1 × 3.9 × 3.2 inches

Disc Lock Weights:

9.8 lbs.

View On Amazon

MysBiker Alarm Disc Lock Silver

Price:

$

Customer Rating:

4.4

Disc Lock Sizes:

7.9 × 7.4 × 2.3 inches

Disc Lock Weights:

1.32 lbs.

View On Amazon

Jacool Alarm Motorcycle Disc Lock

Price:

$

Customer Rating:

4.5

Disc Lock Sizes:

7.1 × 4.6 × 2.1 inches

Disc Lock Weights:

1.4 lbs.

View On Amazon

Bibowa Disk Brake Lock With Alarm

Price:

$$

Customer Rating:

4.5

Disc Lock Sizes:

7.2 × 4.8 × 2.2 inches

Disc Lock Weights:

1.42 lbs.

View On Amazon
Best Motorcycle Disc Lock Reviews
1. Trimax T665LY Hardened Metal Disc Lock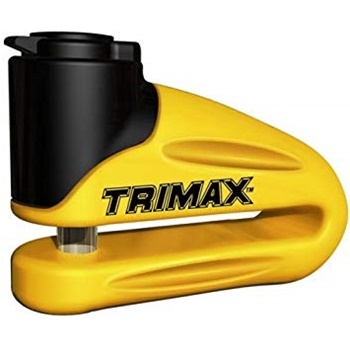 This product from Trimax is one that's worth buying for its reliable quality. It comes with a quality that stands it out from most others. Additionally, it comes at a cost that's friendly to the wallet, making it possible to save more. For the budget-conscious, this is a disc lock that's worth investing it.
Compared to most other brands available in the market, this brand is reputable; hence its popularity. This particular product is designed to feature a level of beauty and elegance that would match your style, personality, standards, and taste. A good number of reviewers believe that it is a great lock.
Apart from the beauty that it possesses, the Trimax T665LY Hardened Metal Disk Lock is also easy to use. With it, you can be sure of adequate protection for your bike, even on the go. To sum it up, there are only a few security devices in the class of this one.
To make the product further secured, it comes with a rotor or disc lock, offering an extra protection layer to your motorcycle. Of course, most users are pleased with the free carry pouch for the convenience it brings.
Perhaps it is the state of the art technology that ensures very high quality that draws people to this product.
Pros
Tested and trusted to offer protection to your bike
Its elegant and customized look adds a creative appeal to your motorcycle
The device can resist sawing and cutting.
Cons
Some reviewers have complained of underlying problems noticed after a short while of usage.
2. The Kryptonite 000884 Keeper 5s Yellow Disc Lock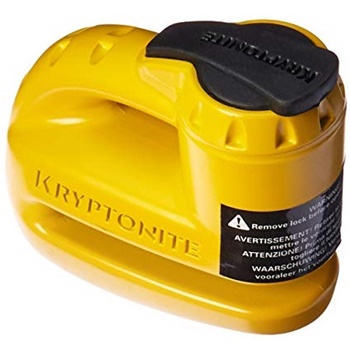 This is another standout lock. The dual reinforced high-security, the durable disc-style cylinder that it features is perhaps the biggest reason behind its popularity. By the design of the lock, you can tell that it will stop mobility in your vehicle. Each pack has two stainless keys included, so you can have a spare available for moments when you might forget or lose the other.
The key has an ergonomic design that reduces torque and gives it strength against possible bending. Many buyers find the compact size of the device interesting. You will find that it easily slips in and out of your motorcycle backpack. When in use, the waterproof design of the device ensures that it survives every weather. The bright orange reminder cable that it features serves as a reminder for you to remove the lock before riding.
The lock comes in different color options so that you can have something that suits your taste and style. Overall, it gives your bike a reasonable amount of protection.
Pros
Its compact size makes it easy to be carried around
Offers a sufficient level of protection for moderate crime areas
Weatherproof design to ensure survival across different weathers
Cons
May not be good enough for areas where security is a significant concern.
3. BigPanta 1 Motorcycle Lock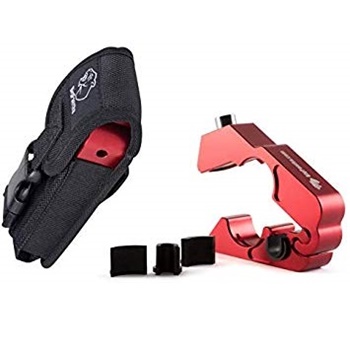 This is one of the most versatile disc locks available in the market. It works well with all two-wheel vehicles, hence can be used on motorcycles, sportbikes, scooters, and mopeds. The lock features an impressively think 1.5-inch grip that's able to fit a wide variety of motorcycles. It tampers resistance and is time-tested, making it available to be used for a long time.
The design of the lock makes it by far, one of the safest locks available in the market. It is also very portable and pretty lightweight. Many reviewers are happy about the ability to carry the lock system around. In addition to being lightweight, it also comes with a carryback that further makes carriage easier. Locking and unlocking your bike has been made easy with the design of this lock.
Pros
The lock is extremely easy to use
It is lightweight, and portability makes usage easy.
It is one of the most versatile motorcycle disc locks available
Cons
4. Trimax THEX5060 Combo Set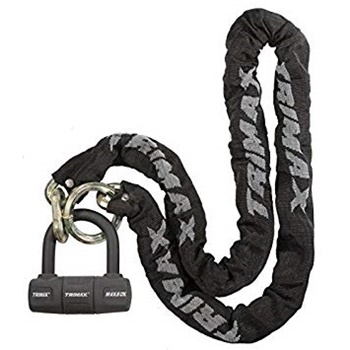 The Trimax THEX5060 Combo Set Is a 5 feet long lock, offering you plenty of lengths to work with. The most significant selling point of the lock is its ability to withstand over 6 tons of pull force and over 11 tons of cutting force. The core design of the lock offers an impressive degree of protection against lock-picking. This option also comes with an NYLOMEX sleeve that keeps your bike as well as all its parts protected from scratches.
One look at the pack and you can tell that it is designed to serve. Each package comes with three keys, with one of them having a mini flashlight for night use. With the availability of 3 keys, you will not be stranded when you forget or lose your key.
There's so much about this lock that makes it the perfect choice for use in areas where security is an issue. The hardened solid steel feature of the lock makes it resistance to sawing, prying, and any kind of hammer impact. With such build, you are guaranteed of security when you park your bike where your eyes can't reach.
The lock is also waterproof; hence, most users report that it lasts well across different weather conditions. It is an excellent option for securing motorcycles, bicycles, ladders, watercraft, and construction equipment.
Pros
It is a very versatile lock that can be used across different vehicles
The lock is designed to feature a durable PVS sleeve that covers the chrome steel shackle from bad weather.
Features hardened stainless steel that resists sawing.
Cons
None noticed at the time of review.
5. MysBiker Alarm Disc Lock Silver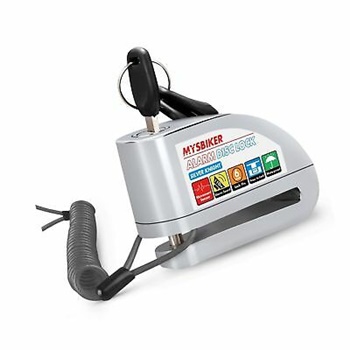 This alarm disc lock has been nicknamed as the Silver knight and rightly so for its ability to provide maximum protection to your two-wheeler. The lock features forged stainless steel that guarantees to protect your bike from theft or any forced movement.
Manufactured by MysBiker, this lock's versatility makes it suitable for nearly all kinds of a two-wheeled vehicle. It features a smart design with brake lock technology that allows for easy lock and even easier opening. Perhaps, it is the additional alarm system that it offers that makes most buyers interested in it. Whatever it is, you can be assured that your bike is reasonably protected.
Overall, the lock is strong and durable, with a 6mm double-locking and carbide-reinforced steel lock pin that eliminated all security concerns. Moreover, your rusting worries are taken care of by the all-round waterproofing technology that the lock offers.
Each pack features three keys making for an efficient lock of all your vehicles. The set is fitted with 6LR44 batteries to ensure a longer alarm lasting period.
Pros
A combination of disc lock and alarm makes for better protection of your bike.
It features an all-round waterproofing technology that eliminates any worry about rust.
Features a sensitive alarm system that goes off when any vibration is sensed.
Cons
Not convenient for users that want only a disc lock without an alarm.
6. Jacool Alarm Motorcycle Disc Lock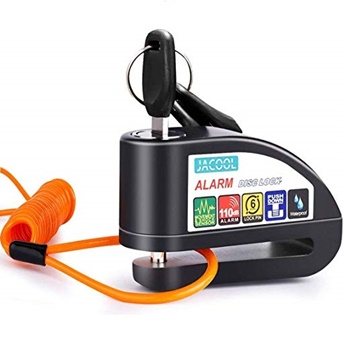 This disc brake lock is one of the best options that you will find out there for outdoor motorcycle parking. It features a lot to stand it out from most others in its category.
The Jacool lock takes care of a major area of concern during disc lock purchase, which is the safety pin. The pin, in this case, is made from carbide, reinforced steel, offering a good level of protection against basic theft tools.
The stapler design of the lock makes it one of the most reliable solutions for all-round locking. Each set also comes with a long reminder cable that reminds the owner to remove the lock before any ride.
This disc brake is one of the few options that features a battery-powered alarm, so apart from mobility protection; it also alerts you of any forced movement.
Like most other top-notch disc locks, this one also features three unlock keys. However, the lock includes an extra layer of protection that makes unlocking with a master key impossible. It keeps beeping from time to time when a wrong key is used until the right key is used.
Overall, this feature-packed disc brake lock is an affordable layer of protected worth owning for your bike.
Pros
Compact, but with an alarm sound that reaches up to 110Db noise level.
Features a carbide-reinforced steel pin for adequate protection
It doesn't work with the wrong keys.
Cons
Battery capacity is not good enough for prolonged usage.
7. Bibowa Disk Brake Lock With Alarm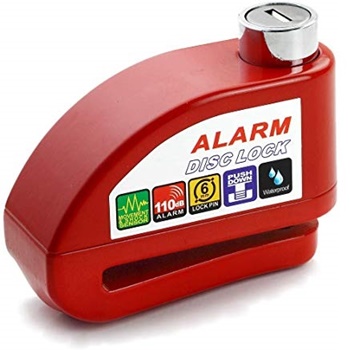 Although relatively small-sized, this disc lock system is one of the most effective units you will find under this category. Thanks to its combination with a sensitive alarm system, it offers an impressive level of protection to your bike. Its alarm system is one of the loudest that you will find in the industry. Its sound is loud enough to keep thieves away from your bike.
This disc lock features a 6mm pin diameter that is small enough to fit into smaller vent holes. Do not be deceived by the size of the pin; it is strong enough to resist all basic cutting tools. Its waterproof function means that it will continue to work perfectly, even when you have to use it on rainy days. There's no scare, whatsoever, of potential rusting. The disc lock features a good level of ruggedity that resists sawing, cutting, and chisel attacks.
Most users are pleased with the 5ft free reminder cable provided by the manufacturer — the cable serves as a reminder to users to remove the lock before hitting the road.
Pros
Very durable and long-lasting disc lock
Relatively affordable option
The compact size makes it easy to carry.
Cons
Not convenient for people that do not want an alarm.
Types Of Motorcycle Locks
As discussed earlier, there are numerous types of locks for motorcycles available in the market today. Below, take a look at the most common types of motorcycle locks.
1. Brake Disc Locks
This is, perhaps, one of the most popular security devices for motorcycles. Disc locks are portable security devices designed to be used in the brake disc of a motorbike.
These devices are mostly portable; hence, they can be taken around easily.
2. Ground Anchor
This is another popular motorcycle security device that is designed to be used at home. The most motorcycle gets stolen at home, so motorcycle anchors are designed to make your bike immovable.
Ground anchors are mostly fixed on the floor or the wall, allowing you to run a chain from it to your motorcycle.
3. Security Chain & Padlock
This is a very popular way of securing a motorcycle. It is another reliable way of securing your bike from potential theft. This lock system involves the use of a chain and a padlock to secure the wheel of your bike, making it immobile.
4. Alarm Lock
The units in our motorcycle alarm reviews are also famous for securing bikes from theft. When fitted on a motorcycle, this device gives off a loud alert when it notices a presence close to your bike. Apart from notifying you of potential theft, it also serves as motorcycle GPS, helping you to track your bike in the event when you can't locate it.
How Do Brake Disc Locks Work?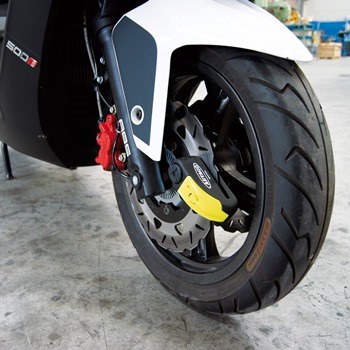 All motorcycle disc disk locks function similarly, irrespective of brand. They are mostly designed with heavy, hardened steel and generally have a long, thin opening that slides into the brake disc of any bike with just a single wiggle room. All brake disc locks include some kind of lock that opens and closes easily with the use of a key. The lock serves to move the pin in and out allowing easy installation and removal from the brake disc rotor.
To install the brake disc lock, take the following steps:
Unlock the pin
After unlocking, align the pin with one of the vent holes.
Insert the key and turn to insert the pin into the hole, then secure the lock.
You will find that most disc locks come with a brightly colored coiled plastic that serves as a reminder for you to remove the lock before each ride.
Motorcycle Disc Lock Buying Guide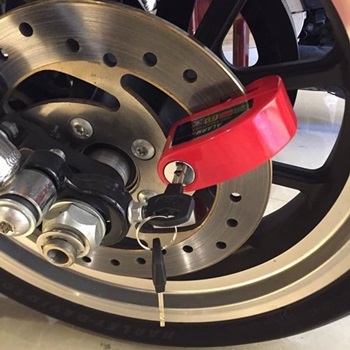 Irrespective of what they are made of, disc locks serve as a great visual deterrent to motorcycle theft. Apart from their visual appeal, however, there is a need for them to be able to put up a decent fight during any attack. Hence, the need to look out for quality when buying a motorcycle disc lock. Below, let's look at a list of some of the things to consider.
1. Quality Materials
The first thing you want to ensure when making your choice of disc lock is quality. You want to ensure that they are made of the best materials to ensure that they last long. Of course, quality Materials mean more cost. Look out for materials that can resist chemical attacks, bolt croppers, hammer blows, and angle grinders. No lock is unbeatable, but the level of quality offered by most of the locks that we've recommended above would give even the most determined attacker serious problems.
2. Security Ratings
Most motorcycle security equipment is tested to ensure that they meet Sold Secure or Thatchman Standards. Although you would still find that a few quality manufacturers do not submit their product for testing, it at least points to the fact that it is up to the task.
3. Alarm
Let's clarify at this point that not all quality disc locks come with quality. We must also point out that not all alarmed disc locks are quality. An alarm serves as a good deterrent when attached to a bike. Having a disc lock that's fitted with an alarm system helps. It serves as a double security layer for your bike.
4. Cost
Of course, we've talked about how most quality disc locks are pretty expensive. But that doesn't mean that you should spend beyond what you can afford for it. Cost varies for a different brand, and the disparity is not entirely a pointer to better quality. Before making your choice, ensure to compare the price of different options in relation to their qualities. This way, you will get the best budget for your needs.
5. Accessories
Disc locks are fitted with different accessories. The best disc locks are the ones that have additional accessories to ensure convenience.
Motorcycle Disc Locks FAQ
1. Will disc brake locks fit on my motorcycle?
Yes, most disc brake locks are designed to fit all types of motorcycles. However, you are advised to look at the disc brakes depth, as well as the diameter of the hole during purchase. This helps to ensure that it is the right fit.
2. How safe is a disc brake lock?
As mentioned earlier, disc brake locks are not entirely unbreakable. However, they can serve as a good deterrent to thieves from stealing your bike; therefore, helping to save guard your bike when you need to park it momentarily at a public location.
3. Can a motorcycle with a disc lock be lifted?
Yes! It is possible to lift a motorcycle with a mounted disc lock. However, carrying out such acts is generally difficult, since bikes are pretty heavy when immobile.
4. How can I care for my disc brake lock?
This motorcycle equipment doesn't need much in terms of care and maintenance. Simple oiling is recommended for moments when its pin begins to slide slowly. If your disc lock has an alarm feature, changing the batteries can help to keep the alarm in its best sounding shape.
Wrap Up
There you have it; the best motorcycle disc brake locks are now stronger and easier to use. It is no longer surprising that disc locks have gained so much popularity, considering that they represent one of the simplest, yet most efficient safety measures to keep your bike safe from theft. From what we've seen so far in the motorcycle disc lock reviews above, it's easy to understand that the prices of disc lock vary, but they are still low in comparison to other safety options.
Moreover, top-quality disc brakes are fitted with features that make them more and more difficult to bypass. Other features of disc locks include alarm sensors that act as a second layer of protection to your bike.
Disc brake locks, when mounted, are resistance to movement. This means that the motorcycle would not go anywhere unless the lock is opened. The buying guide included in this guide will help you get the best for your needs.