With time, the motorcycle paint finish begins to fade away and this can make your bike look older, but the best motorcycle wax can solve that issue. Like most other vehicles, motorcycles have an exterior that's prone to attract dust and other types of dirt.  Motorcycle waxes are designed to provide continued shine for your motorcycle.
A good-quality wax would give you motorcycle the same type of shine that cars enjoy. Take a look at the market, and you will find tons of brands producing waxes for motorcycles. However, these numbers can make the burden of choice overwhelming. It doesn't have to be so if you know what to look out for. Check out our motorcycle wax reviews to find the best options available in the market. Without further ado, let's see how to restore the former glory to your two-wheeled friend.
See The Quick Comparison Chart
Why Use Motorcycle Wax?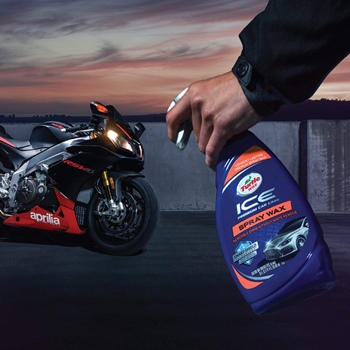 In case you are still wondering, there are several reasons why you should use motorcycle wax. The benefits that these products offer you cannot be overemphasized. However, you need to get one of the top-quality products to enjoy these benefits. Here, let's review some of the most popular reasons why you should opt for using motorcycle wax.
1. It Gives Your Motorcycle A Nice Shine
Like most other vehicles, motorcycles can also benefit from the qualities of a fresh coat of wax when it comes to remaining good looking. The primary reason why a lot of people motorcycle waxes is to keep the shine of their motorcycle. Modern wax products even contain ingredients that bounce light off of the surface. Generally, it creates a deep shine on your bike that would surely catch the attention of passersby.
2. Protection of The Exterior
If at any time you desire to keep your motorcycle clean without causing any issue on the paint of your bike, then this is a perfect option for you. A good wax does more than enhancing the look of your bike. It goes a step further to offer a protective layer to the paint of your bike. The paintwork is protected from potential UV and water damages, especially when you need to leave your bike outside for long. Most modern motorcycle waxes are also compatible with other cleaning and treatment solutions. Together, these solutions can help to preserve the exterior of your bike from unnecessary damage that the weather elements might cause.
3. Extension of Paint's Life
Another significant benefit of motorcycle waxes is their ability to preserve the life of your bike's paint. Applying a protective coat of wax on your bike would benefit its paintwork both in the long term and in the short run. Wax layers feature distinctive designs that allow them to combat oxidation and general surface degradation generally. Regular waxing of your bike would help to ensure that the paintwork stays healthy and fresh for a long time.
Types Of Motorcycle Waxes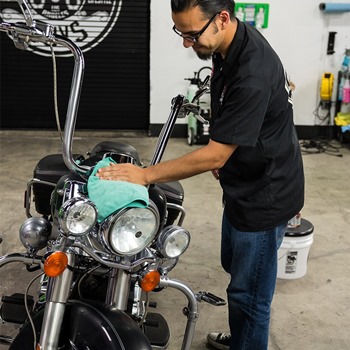 Like motorcycle goggles and most other motorcycle accessories available in the market, motorcycle waxes come in different types. A proper understanding of the different kinds of motorcycle waxes available would help you make the right choice when you set up to buy one for your motorcycle. To help you make the right choice, let's review the two types of motorcycle waxes that you would likely find in the market.
1. Carnauba
Carnauba waxes are the type of wax that's made of all-natural ingredients. The name of this type of wax is derived from one of its ingredients, which is a hard substance that is derived from the leaves of a plant that is native to northeastern Brazil. Some purists believe that this is the only type of wax that's worth checking out for people that want the ultimate look and durability for their product. There is a set of people, however, that disagree with the magical properties of Carnauba. If you desire a good level of protection and durability in the wax you purchase, then this is a good option that's worth checking out.
2. Synthetic Waxes
The second type of wax is synthetic wax. It is otherwise referred to as paint sealant, and it uses human-made substances like polymers and resins. Like most home paint sealant, you will find that these waxes create a uniform barrier over the paintwork; therefore, making application pretty easier. Most of the budget-friendly options available in the market make use of synthetic formulas to save money that would have been spent on ingredients.
Should You Go For Waxes, Cleaners or 2-in-1?
While looking for a proper shine for your motorcycle, you will find that the market offers different products with each meeting a specific kind of need. This leaves you with the burden of finding what's right for your needs, which can be sometimes overwhelming if you don't know their specific uses. Two products that often create a lot of confusion for motorcyclists are motorcycle waxes and cleaners. Most people get confused about which to buy when they need to clean or shine their bikes. These days, there are also 2-in-1 products that are designed both to clean your bike and to make it shine as well. Before settling down for a type of product, there are a few things that you should keep in mind.
Waxing the painted finish of your motorcycle will help to prolong the paint's beauty. It will also protect the paint from harsh weather conditions while maintaining its look for a long time. Cleaning Products, on the other hand, are charged with helping you to remove dirt and grime – nothing more! The importance of both products for stopping the accumulation of dirt can not be overemphasized. This is why most people today will go for a product that both cleans and shines the bike. However, it is still essential to do it right if you are going for a 2-in-1. One reason for the preference of 2-in-1s is that they don't take time. You mostly would not waste as much time as you would when using the product differently, making it the perfect option to use on the road.
Motorcycle Wax vs Paint Sealant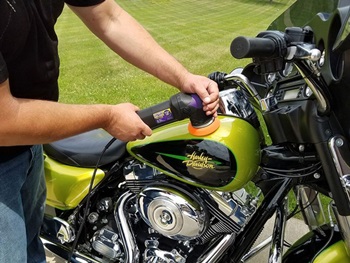 This is one question that we've heard so much from motorcycle users. Most motorcyclists are eager to know what the difference between motorcycle wax and paint sealant is. The difference is pretty slim, so it's natural to see people confusing both. There are several wax products out there that are described as paint sealants. If at all you run into such products, keep in mind that it features synthetic wax, which is another product preferred by many bikers. A very important benefit of these formulas is their ability to provide the ultimate protection.
Paint sealants often contain human-made ingredients such as resins, synthetic waxes, and polymer blends. As their name suggests, they are designed mainly for sealing off the paint surface on which they are applied. They provide barriers that can last up to a year or a little less.
Motorcycle waxes, on the other hand, are designed basically to provide shine for your bike. It is important to note, however, that there are a few products that do the job of both simultaneously. Whatever you will go for depends on your needs at a particular time.
Best Motorcycle Waxes Comparison Chart
PRODUCT
DETAILS

Meguiar's Motorcycle Care Package For Cleaning and Detailing

Price:

$$

Customer Rating:

4.5

Weight:

48 ounces total

View On Amazon

Turtle Wax 50751 Ultimate Motorcycle Cleaning Kit

Price:

$$

Customer Rating:

4.3

Weight:

96 ounces total

View On Amazon

Purple Slice 32 oz. Clean, Wax & Polish

Price:

$$

Customer Rating:

4.7

Weight:

32 fl. oz.

View On Amazon

Chemical Guys MTO10516 Wax and Sealant for Motorcycles

Price:

$$

Customer Rating:

4.9

Weight:

16 fl. oz.

View On Amazon

Rat Wax Motorcycle Matte Finish Detailer Spray Cleaner w/UV Protection

Price:

$

Customer Rating:

4.9

Weight:

16 fl. oz.

View On Amazon

Finish Line Dupont Teflon Chain-Saver Dry Wax Lubricant

Price:

$$$

Customer Rating:

4.4

Weight:

11 fl. oz.

View On Amazon

Rat Wax Matte Finish Motorcycle Soap

Price:

$

Customer Rating:

4.6

Weight:

8 fl. oz.

View On Amazon
Best Motorcycle Wax Reviews
1. Meguiar's Motorcycle Care Package For Cleaning and Detailing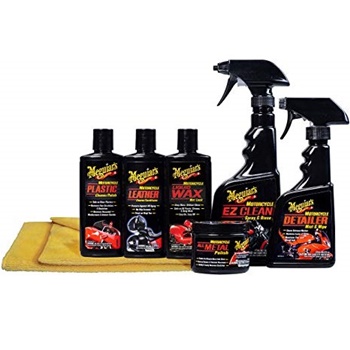 At first glance, you can already tell that this brand is produced to perform. It's not just about the packaging; the wax itself means business. No doubt, the Meguiar motorcycle care package ranks high as one of the best care kits available in the market. The pack includes six top-notch products that are designed to cover all your requirements and necessities when it comes to trying to shine your ride. Each product in the kit is designed specifically to take care of a different variety of motorcycle finishes.
You will find a whole range of cleaners in the pack too, including leather, vinyl, metal and plastic cleaners. This way, you can be assured that all your cleaning needs will be covered. In addition to the cleaners, this care kit also comes with a wax and a finisher spray that brings total shine and freshness to the motorcycle after each wash
During the research, we found the nature of the cleaners to be pretty intensive, with their pH generally lying in the range of 6-8. We also found them safe for usage and great for the reduction of unwanted damages during each cleaning process. The care kit is also easy to use, containing a guide to further help for easier usage. When followed correctly, the guide can help you clean and polish your motorcycle without any hassle.
Pros
Very easy to use
Relatively affordable
Contains specific cleaners for targeting different types of dirt
Very versatile set.
Cons
The cleaning cloth in the kit tends to wear out quickly.
2. Turtle Wax 50751 Ultimate Motorcycle Cleaning Kit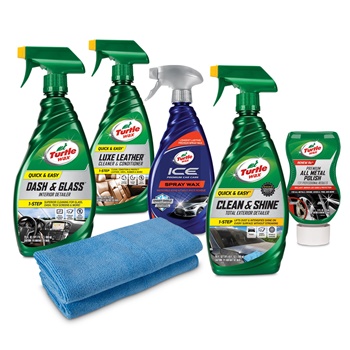 The Turtle Wax Ultimate Motorcycle Cleaning kit is one of the best you will find in today's market. There are a lot of reasons why users prefer it. Still, perhaps the most significant endearing feature is its ability to combine a set of complete care kits for motorcycles for the same price that you will get a single dedicated wax solution. In other words, it offers you more value for your money than most other options in the market, although you might have to sacrifice some bit of durability in the wax included. Overall, the wax comes with everything you will need to complete the shinning of your motorcycle. This includes five cleaning products and a couple, not microfiber towels.
There's an ice spray wax that contributes a large part of the resulting protective coating if you want to work your way through all the solutions offered in the pack. You will find a dedicated nozzle that helps for evenly spraying the wax across the surface area of your motorcycle. Like most other waxing solutions from Turtle Wax, this Ice Spray responds well enough to hand application, where you have to rub in the wax with brief pauses in between repeatedly. When finished, you will get a good shine for your motorcycle, as well as noticeable beading properties to help during adverse weather conditions.
Pros
Offers a good level of versatility
Easy to use
Very affordable option.
Cons
It sacrifices a good amount of wax durability.
3. Purple Slice 32 oz. Clean, Wax & Polish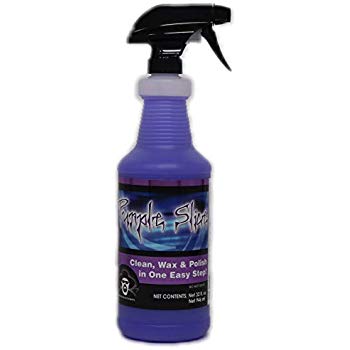 If you are looking for a product that can offer your bike total cleanliness and shine after every cleaning session and doesn't involve any complicated cleaning procedures, then this might be the perfect product for you. The company has put too much effort into making the cleaning process easier and better for motorcycle owners. This is why they've manufactured this product to help you keep your motorcycle as clean and shiny as possible, without making the process as cumbersome as some other cleaners do.
Straight of the pack, this kit comes with everything you will need to clean or shine your bike. The cleaning procedure just involves spraying and wiping – nothing complicated. The formula promises to remove different kinds of grime and dirt, restoring the shine on your motorcycle. One endearing feature of this product is its compatibility with many other items like stainless steel, carbon fiber helmets, LCD screens, finished wood, mirrors, plastic items, and even your motorcycle goggles.
It is important to note, however, that the manufacturers recommend that motorcyclists use it with a microfiber towel. It doesn't leave any streak or residue on the bike and can be used in direct sunlight without any adverse effects. Therefore it's a good cleaning product both for motorcycles and for other home items.
Pros
Provides speedy waterless wash
Offers a fascinating level of versatility
Relatively easy to use
Cons
The pack doesn't come with any kit.
4. Chemical Guys MTO10516 Wax and Sealant for Motorcycles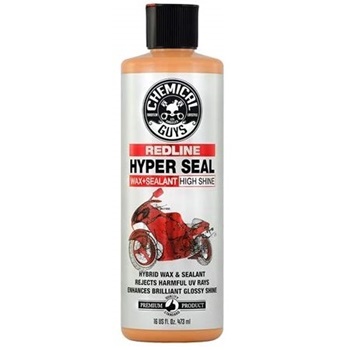 Chemical guys are a top of the line company that has maintained a good standard in the manufacture of top-quality dry wax. The company has been in operation for years, all the while, maintaining the quality that it is known for. Another excellent offering from the brand is the MTO10516 wax and sealant, a product that reflects the quality that the brand is known for. This product comes very effective on any kind of vehicle surface and has gained popularity overtime for the fantastic shining capability that it offers without needing water. Apart from waxing motorcycles, this option comes useful for also waxing other shiny surfaces too.
The product features micro-refined clay that allows it to cut through adamant stains without leaving scratches on your motorcycle body. It also features a newly synthesized lubricating agent that reduces friction; hence minimizing the scratch on the paint. This product also contains the all-natural carnauba wax that shines well and protects the motorcycle in a very effective manner.
As explained earlier, an outstanding feature of the motorcycle washes its multipurpose ability. You can use it effectively on wheel rims, as well as, on any other shiny surfaces.
Pros
Its scratch-free feature helps to keep your bike's paint new
Can be used on any motorcycle color
Great for both indoor and outdoor usage.
Cons
Sometimes leaves streaks on the surface of your motorcycle.
5. Rat Wax Motorcycle Matte Finish Detailer Spray Cleaner w/UV Protection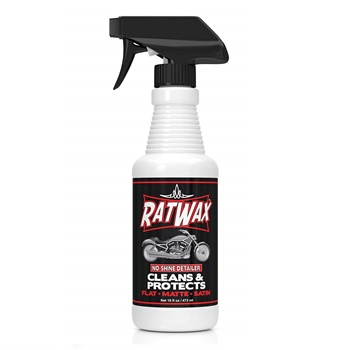 This motorcycle spray cleaner from Rat Wax works both for cleaning and protecting your bike at the same time. If you want a cleaner that is effective on dirt, yet gentle on your bike's paint, then this is an excellent option to turn to. The company produced the option specifically to serve owners of bikes with Flat, Matte & Satin paint finishes. Not undermining the ability of the spray cleaner to work on other types of paint, however.
The cleaner is one of the few that boasts of a great deal of efficacy for removing all sorts of dirt from your bike, from grease to dust, fuel, grime, water spots, and so on. It is also effective for the removal of motorcycle oil. Therefore if you use your motorcycle in areas that are susceptible to these kinds of dirt, then you definitely would want to opt for this cleaner. It also features UV protection, this prevents the paint of your bike from fading off.  The option features an invisible protection layer for your motorcycle against harsh weather conditions.
Another fascinating feature of the Rat Wax is the ability to remain effective, despite not containing alcohol, petroleum, or silicone. With this, you can be guaranteed that the wax would not leave any residue and streak when you use it to clean your bike. It works well on all surfaces, including metal, rubber, chrome, plastic, and glass.
Pros
Very versatile option
Doesn't contain petroleum or alcohol
Offers an additional layer of protection to your bike
Cons
None seen at the time of review.
6. Finish Line Dupont Teflon Chain-Saver Dry Wax Lubricant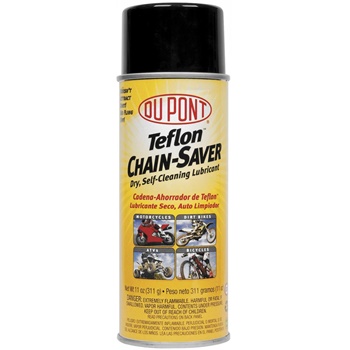 This product from Finish Line is a lubricant that both works as a wet and dry cleaner. If you regularly ride in dirty, sandy, or dusty routes, then you would want an oil that will work for such conditions. This Solution is precisely what the Finish Line Dry Teflon Lubricant brings to you. Although manufacturers tagged it as a dry lube, it still holds moderately for use in wet conditions; hence, making it one of the best bike chain lubricant that you will find in the market.
We particularly recommend these lubricants for all off-road bikes, but that doesn't mean that it is not as well, a good option for road bikes too. Considering the ability of the lube to absorb dust, you'd want to consider it as your go-to option if the chain of your motorcycle accumulates dirt.
The oil has been manufactured synthetically with Teflon to ensure that it performs smoothly and that its effect lasts long. The mess produced during the application of this lube is minimal. If you often ride in arid regions that are characterized by the generation of dust, then this is an excellent oil/cleaner to protect the chain of your bike.
Pros
Reduces the possibility of wear on sliding and rolling surfaces
Penetrates the chains quickly
Enhances durability.
Very affordable
Cons
Requires that you still use other cleaners to clean the chain.
7. Rat Wax Matte Finish Motorcycle Soap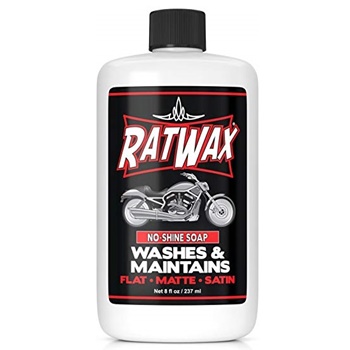 This is another motorcycle wax that's designed specifically to shine motorcycles with Flat, Matte & Satin paint finishes. If you want a motorcycle cleaner that can effectively clean dirt, bird droppings, fingerprints, water sports, and other types of stains from your motorcycle, then this is a perfect option for you. It is not only effective for removing dirt from your motorcycle body, but it also doubles as a protection for your motorcycle paint. The UV protection that it features helps to eliminate fading & chalking of painted finish. Additionally, the cleaner doesn't contain petroleum, waxes, alcohol, or silicone. Hence, you can be guaranteed of efficiency without causing scratches on your bike.
Pros
Useful for cleaning all kinds of dirt
Protects the paint of your bike
Very versatile option.
Cons
Motorcycle Wax Buying Guide
The whole process of buying a motorcycle wax for your specific needs can be somewhat overwhelming, especially with a sea of options available in the market. Even the smallest differences matter. We understand your quest to get the best motorcycle equipment and accessories, and we are here to help you ensure that your dreams come true. To this effect, we've researched and written a few factors that you need to be aware of as you head to the market for your motorcycle waxes. Check them out.
1. Motorcycle Wax Type
This is perhaps the first and most important factor that you would want to check out as you hit the market for motorcycle waxes. It can be either synthetic or Carnauba. We've detailed the meaning of each type in another part of the article. The kind you pick depends mainly on what you would want out of the product. In case you are confused, you can ask the manufacturer or vendor what category their model falls into. Most manufacturers would be willing to disclose this to you. If they don't, then it is a red flag for you on that product.
2. Safety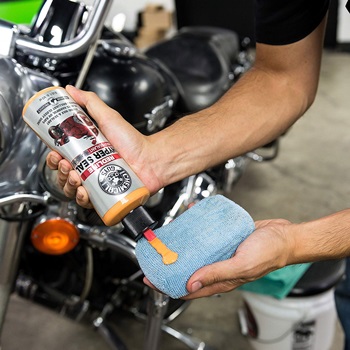 Safety is another crucial factor to check out when dealing with motorcycle waxes. Of course, you desire for your bike to always look its best, but while at it, you also want to be sure that you are getting an option that won't cause any adverse effects on your health. Like top-rated motorcycle chain lubes, it is easy for manufacturers of motorcycle waxes to mix in a harmful substance all to make production cheaper. Products that do not contain petroleum, acid, or anything related are usually the best. Even if your budget can only contain cheap motorcycle wax, still ensure that you do not purchase one with harmful ingredients.
3. Clear Instructions
Irrespective of how long you've been using motorcycle waxes, it is still important to respect specific instructions that a brand comes with. If the label mentions that you can use the product under direct sunlight, or on wet surfaces, then you want to stick to these instructions. Getting a product without specific instructions might mean the wrong usage, which can cause damage to your bike in the long run. Thankfully, most modern brands come with clear and practical instructions.
4. Durability
Like top-rated motorcycle chains and most other accessories, durability is an essential factor to remember when in the market for waxes. Motorcycle waxes are often classified based on their durability. While some will offer a protective coating to your bike's paint that will last for years, others would not last. An excellent place to see the durability of a product is from the reviews of past users.
5. Accessories
You would also want to check what the kit contains and what it doesn't. Apart from the wax itself, most kits include other accessories like microfiber towels for application, etc. If you would be using wax for the first time, then it is essential to get a kit that contains the matching materials.
6. Ease of Application
Another factor that's worth considering is how easy it is to apply the options available to you. Of course, different brands and models come with different levels of application ease. It is essential for you to get one that fits your expertise level. Some waxes can be applied in one step, while a few others require some mixing. If you are a long-distance traveler who's likely going to stop on the way to wax your bike, then you want a product that's extremely easy to apply.
How To Wax a Motorcycle?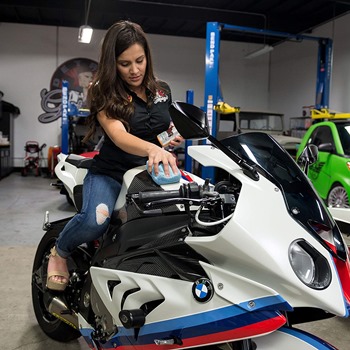 Motorcycle waxing is pretty easy and can be done by any motorcycle owner. However, you need to understand the steps involved to be able to do it properly. Below, look at a few steps that you can adopt to apply wax on your motorcycle.
1. Purchase a Wax of Your Choice
The first step is always to purchase a wax of your choice. We've detailed the processes that you should adopt to purchase a motorcycle wax for your needs.
2. Wash or Polish Your Bike
Washing the bike is a very important step in the process. It helps you to take our lurking dirt before applying your wax. Use gentle detergent for this purpose and do not scrub too fiercely as that can destroy the paint of your motorcycle.
2. Spray
Spray the wax of your choice directly on the body of the motorcycle, working each section at a time. For each section that you spray on, use one side of a damp microfiber towel to rub the wax in properly. Take your time on each part to achieve the best result.
3. Shine
Use the clean side of the microfiber towel to buff out the remaining product. Repeat the process if needed.
FAQ About Motorcycle Waxes
1. Should You Clean The Motorcycle Before Waxing?
The choice of whether you should clean your motorcycle before waxing often depends on the type of wax you are using and what you want from it. However, in most cases, it would be nice to wash and dry your bike before applying wax. This helps to take out all dirt from it before you begin to wax.
2. Which Application Method Type Should I Choose?
There are different application methods as far as motorcycle waxing is concerned. The most popular methods, however, include spraying and applying the paste with a soft microfiber towel. Again, the application style would depend on what type of wax you buy. Check the product label to find out how you can apply.
3. What is the difference between wax and polish?
Surely, there is a difference between a motorcycle polish and motorcycle waxes. A motorcycle polish is used before the application of the wax coat. The polish helps for the removal of dirt, grease, scratches and scrapes that would not ordinarily go off by washing. Motorcycle wax, on the other hand, is used to add a layer of shine and protection to the paint of your bike.
Wrap Up
If you love your motorcycle, then you would fancy doing everything possible to maintain it and keep it shining like new. Now, that can be quite a task, but with the best motorcycle wax by your side, you can be assured of a shining motorcycle at all times. Thankfully, there are so many brands of motorcycle waxes available in the market. These brands offer different qualities and are sold at different times prices.
Most times, it becomes difficult selecting the perfect one for your needs because of the technicalities involved. You don't need to put yourself through the stress of going through all the technical terms. Our motorcycle wax reviews above have handled the tax for you, suggesting the best in the market for you. You can also refer to our buying guide to find out more about how you can make the best choice of motorcycle waxes.