The best motorcycle goggles should be a part of your biking gear, especially if your helmet doesn't already have some sort of vision protector. Whether you are a touring addict, a motorcycle racer, or just a casual commuter that enjoys moments on your bike, goggles are a legit choice. Motorcycle goggles do not only ensure maximum protection for your eyes, but they also provide you with a clear vision of the road.
Looking out for all the technical details can be overwhelming. Take a look at the motorcycle goggles reviews to help you make the decision. In case you still want to check out other options available in the market, the detailed buying guide will help you out as well. Let's jump right into it!
See The Quick Comparison Chart
Benefits Of Motorcycle Goggles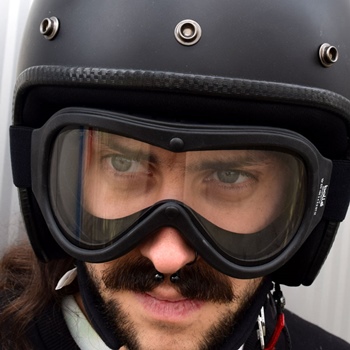 Motorcycle goggles are not just stylish; they also come with several other benefits. Like the models in our heated motorcycle gloves reviews and other safety gear, you want to have a motorcycle goggle handy before embarking on any ride, irrespective of how long or how short the ride might be. Here, let's review some of the fantastic benefits that motorcycle goggles provide for riders.
1. Eyes Protection
This is perhaps the most significant benefit of motorcycle goggles. When you hit the tracks, you expose your eyes to a variety of potentially harmful objects like insects, road debris, and unexpected projectiles. Most times, you don't even know when you will come in contact with these things? Why take the risk when you can protect your eyes with motorcycle goggles. The best goggles are designed to protect your peepers from elements while giving you clear vision as you ride your bike. Whether you are a long-distance rider or a track racer, you will want a pair of goggles that can guarantee safety for your eyes, irrespective of the dangers inherent on the road.
2. Improves Visibility
Another significant benefit of wearing a motorcycle goggle during rides is the ability of these goggles to enhance visibility. It can be pretty challenging to steady your looks in a particular direction during sunny days, whether you are riding a bike or driving a car. However, there are specialized motorcycle goggles that are designed to reduce the glare of the sun. Thus, giving you a better view of the road you are traveling in and its surroundings.
On the other hand, if you are riding at night, a clear motorcycle goggle will give you the optimal visibility you need to cruise through dark areas. Motorcycle goggles are also a must for people that may need to ride in rainy conditions. With clear goggles, you will be able to keep your eyes open, even under heavy rain.
3. Focus
Riding a motorcycle without eye protection makes concentration quite difficult. Motorcycle riders know that they have to contend against the wind during any ride. The wind can come as a big distraction for your eyes, especially since you will be riding against it. You don't need to worry, however, because the best motorcycle goggles will help to keep your eyes protected from the impact of the wind. They also help to improve your overall alertness, hence making the ride pretty safe and convenient for you.
4. Make a Fashion Statement
Unlike most other motorcycle gears, goggles can directly impact your fashion sense. In fact, you can decide to pick a motorcycle goggle with a design that aligns well with your personality. There are several different brands of motorcycle goggles out there and depending on your style; you can pick a brand that features a design that shows off your style.
5. Prevention of Eye Injury
Another important benefit of motorcycle goggles is its ability to protect the eyes from avoidable injuries during rides. Like motorcycle helmet visors, these pieces of motorcycle gear can help to keep any flying object with the potentials of inflicting harm to the eyes away. Also, since you don't know the condition of the area that you are riding into, it will be a wise choice to wear proper protection for all the parts of your body. Remember, it's better to be safe than sorry.
Best Motorcycle Goggles Comparison Chart
PRODUCT
DETAILS

Pacific Coast Airfoil Padded 'Fit Over Glasses' Riding Goggles

Price:

$$

Customer Rating:

4.5

Weight:

6.4 ounces

Special Features:

100 percent UV polycarbonate

View On Amazon

JAMIEWIN Adult Motorcycle Motocross Goggles

Price:

$

Customer Rating:

4.6

Weight:

4.8 ounces

Special Features:

Anti-Fog

View On Amazon

Global Vision Eliminator Motorcycle Goggles

Price:

$

Customer Rating:

4.3

Weight:

1.8 ounces

Special Features:

–

View On Amazon

Dmeixs Motorcycle Goggles Motocross Goggles Anti Fog UV

Price:

$

Customer Rating:

4.4

Weight:

4.6 ounces

Special Features:

Anti-Fog

View On Amazon

Bobster Cruiser 2 Goggles, Black Frame/3 Lenses (Smoked, Amber and Clear)

Price:

$$

Customer Rating:

4.2

Weight:

4.8 ounces

Special Features:

Impact resistant UV protection

View On Amazon

CRG Sports Vintage Aviator Pilot Style Motorcycle Cruiser Scooter Goggles

Price:

$

Customer Rating:

4.3

Weight:

3.36 ounces

Special Features:

100% UV protection

View On Amazon

Oakley O-Frame MX Goggles with Clear Lens (Black)

Price:

$$$

Customer Rating:

4.5

Weight:

5.9 ounces

Special Features:

Anti-Fog

View On Amazon
Best Motorcycle Goggles Reviews
1. Pacific Coast Airfoil Padded 'Fit Over Glasses' Riding Goggles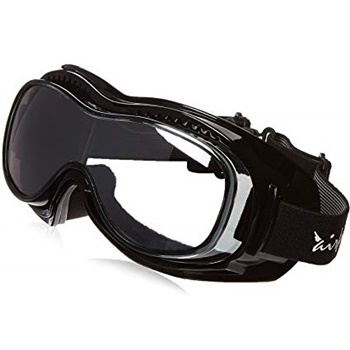 There are only a few products that can stand in the class of this one when it comes to durability. It is the perfect Google to buy for protecting your eyes from wind, sun, and dust when you hit the road for that all-important ride. Whether you are riding on the speed tracks or a dusty path, you need a Google that can guarantee you total protection.
This Google comes with a case and a cleaning cloth to help you keep the glass protected from scratch. Beyond that, however, the motorcycle goggle features a unique design that's both stylish and classy. Therefore, if staying in style is your thing, then you can be sure that this option will serve you.
Unlike most other goggles in its class, this one can be worn by both men and women, making it a one-fit-all solution for your family members. The use of polycarbonate materials for designing this Google makes it quite resistant to impact, shatterproof, and almost impossible to break. It also has proper ventilation, allowing airflow both when you are wearing it and storing it away.
Overall, this one-piece goggle offers a good level of user convenience. The use of top-quality material for its manufacture helps to ensure that it lasts long. However, you would be required to maintain it regularly.
Pros
Easy to maintain
Very durable option
Crystal clear optics.
Cons
The fogging up and sliding down when worn without straps can be a bit uncomfortable.
2. JAMIEWIN Adult Motorcycle Motocross Goggles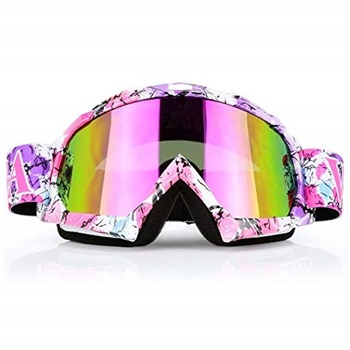 Not every dirt biker can accommodate top of the line riding gears into their budget. Hence, most people will be happy to find a brand that offers almost as much as other top brands for a lower price. This is precisely what the JAMIEWIN Adult motorcycle goggle brings to the line. It is a perfect definition of a top-quality riding gear made affordable for every rider. With it, you don't have to suffer all the hazards that the eyes are exposed to when you hit the riding tracks anymore. They may not be as exotic as most other higher-priced options, but they promise to handle the job of keeping dust out and helping to keep lens fog far away.
No doubt, the option from JAMIEWIN makes a perfect starting goggle for riders that may be on a budget. Although relatively cheap, it still features a unique design that makes them fashionable for people that would want a glass that can go in line with their style. It is made from durable materials too, so you can expect it to last long. However, you would need to pay more heed to proper maintenance if you want it to survive the years without scratches. Overall, this is a mid-range goggle that offers protection from harsh weather conditions. Its budget-friendly nature means that you can get two or more for various purposes. However, if you think you might be doing more riding in the sandy trails, then you might need some upgrading for better eye protection.
Pros
Relatively inexpensive
Very durable option
Great for keeping dust away.
Cons
Doesn't suit consistent usage.
3. Global Vision Eliminator Motorcycle Goggles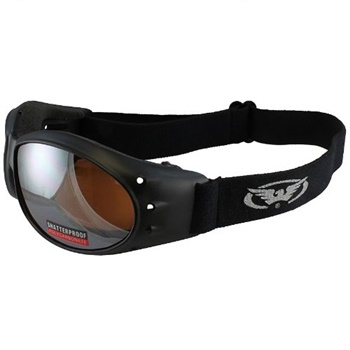 If you want an exceptionally modern motorcycle Google that can do the job well without causing any discomfort to your eyes or face, then this is a perfect option for you. The Global Vision Eliminator Motorcycle Goggles is nothing short of what any cross country rider would love. It provides the right level of protection to the eyes, especially to people that will be traveling for a long distance through unfamiliar terrains.
This goggle keeps you ready for the unexpected. There's no doubt about the quality that the company has brought into the design of this goggle. It is not just made of top-quality material, but it also features an impressive level of comfort for all riders. A standout feature of this goggle is the versatility level it offers. You don't need to be a cross country rider to appreciate the quality of this goggle. It is also a perfect option for speed racers since it gives them a clear vision of even the smallest obstacles.
Additionally, this model also features a safe polycarbonate shatterproof design that keeps it safe during accidental contacts. Therefore, starters can be assured that the goggles will survive minor falls and accidents without a single scratch. It also features a UV resistant coating that helps to keep the eye-safe from harsh weather conditions. The only issue we found with this goggle is that it's not tinted, so it might not do so well in protecting the eyes against extra sunlight. Otherwise, it is a cool option for riders of any expertise level.
Pros
Excellent ventilation system that supports anti-fogging
Stays safe during high impact falls
Extra protection from dust and other obstacles.
Cons
Not a good fit over prescription glasses.
4. Dmeixs Motorcycle Goggles Motocross Goggles Anti Fog UV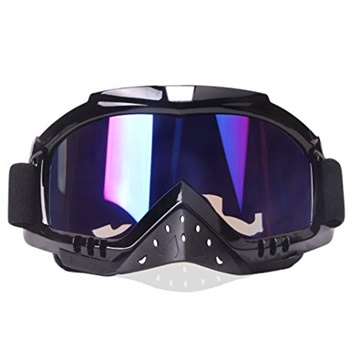 Dmeixs ranks high in the manufacture of top-quality safety equipment for motorcycle riders. Over time, they've become popular in the market for motorcycle gears, and their popularity is not farfetched from the level of quality that they put into their processes. This motorcycle goggle from the brand is another top of the line product from the brand.
First, the option is tough and resilient, and these qualities are directly related to the use of UP-Resin materials for their manufacture. Moreover, the goggle features a unique pair of lens that is scratch resistant. This quality means that you can continue using it for years without getting ugly from scratches. The goggle is also water and dustproof, so you can be guaranteed of using it in any condition without any issues. It also comes with an adjustable strap that allows it to fit in with almost all head sizes and helmets.
The goggle's interior comes with some outstanding features that promote comfort and riding convenience. A line up of sponge padding on the interior of the goggle helps to prevent it from digging into your skin. This padding also helps to ensure that ventilation flows steadily, keeping the lens from fogging up. The ability of the goggle to provide a broad vision of the road makes it an excellent option for any rider, irrespective of riding track. Overall, it is a top-quality goggle that pays attention to the comfort of riders.
Pros
Features an adjustable strap that makes it a good fit
Made of top-quality material
Offers a broad view of the riding track
Cons.
Using the colored version of the lens might make sight a little difficult.
5. Bobster Cruiser 2 Goggles, Black Frame/3 Lenses (Smoked, Amber and Clear)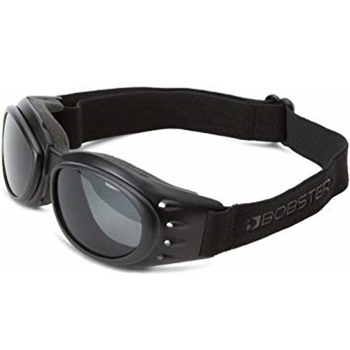 If you want a classic goggle that brings back the nostalgia of the 1960s, then this is the perfect option for you. This interchangeable goggle features three easy to change polycarbonate lenses that allow for total convenience, irrespective of the time of usage. It features a unique cell foam line in the frame that's not only sweat-absorbing but also comfortable to the skin. This foam line provides a cushion fit for your face while keeping the wind out. Ventilation slits in through both sides of the frame, preventing any kind of fogging on the lenses.
The goggles from Bobster is a good combination of performance and style. It also comes with an exciting level of versatility that allows users to use it for motorcycling, snowboarding, skiing, and free falling. As expected from the brand, this goggle provides superior functionality, while maintaining a good combination of durability and comfort. It features a specific design that conforms to different face shapes. The frame that the goggle comes with creates an effective seal that helps to reduce vibrations and wind blast. There's also an adjustable strap that further helps to make the goggle stay comfortably on any head without falling off on high speed. Overall, this is a top-quality option that fits usage on any type of riding trail.
Pros
Interchangeable lenses to fit different purposes
Features an elastic strap to ensure sturdy fit
Side ventilation design.
Cons
Relatively heavy compared to other options.
6. CRG Sports Vintage Aviator Pilot Style Motorcycle Cruiser Scooter Goggles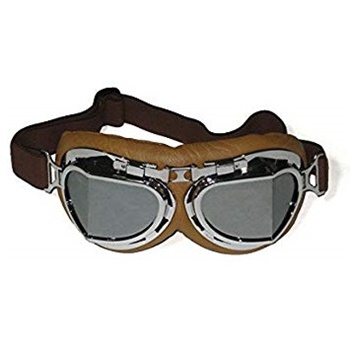 This motorcycle goggle is made available by the brand in 44 different colors, making it possible for users to get a perfect fit for them, irrespective of color preference. Moreover, the goggle is also CE certified, so you can be sure of the quality of the option that you are purchasing. Additionally, the option also comes with a transparent lens, hence, minimizing the risk of accidents. This goggle is one of the few options in the market that efficiently combines style with performance and safety. Therefore, when you purchase it, you are guaranteed not just safety, but to remain stylish while cruising your motorcycle. The goggle is also UV protected, hence, protecting your eye from damage by the sun's harmful rays.
During our research into this product, we found that it is scratch-resistant and is manufactured with imported ABS raw frames. These materials help to make it durable and sturdy. So you can expect to use it for years with proper maintenance. Additionally, their availability in standard size makes it easy for you to complete your purchase without the need to hassle around guessing the best size for you. We also found the padding if the goggle with soft doing something good. This padding will help to ensure that the hard frame doesn't dig into the head of the rider. The padding makes it comfortable to wear both during and after your ride. Overall, it is a good option. The availability of a standard size and different colors will fascinate any buyer.
Pros
Available I'm different colors
Highly durable option
Great for protection against the glaring sun.
Cons
The lens is not changeable.
7. Oakley O-Frame MX Goggles with Clear Lens (Black)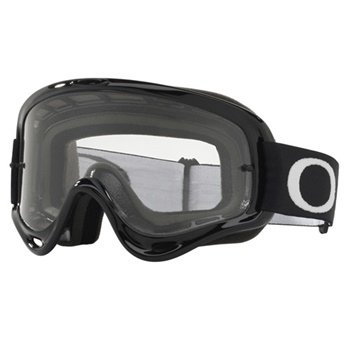 It's not surprising to see that some of the top riders around the world put their trust in the Oakley O Frame, after all, it features a good level of comfort and performance that anybody would love. Most riders are satisfied with the ability of the goggle to combine its impact-resistant lens, with moisture-wicking comfort and wide view range. A combination of all these makes any rider ready to face the storm in any track. The design of this goggle is as exceptional as the reputation that the brand maintains over time. We found from the manufacturer's website that they guarantee that the motocross-style pair will keep all elements and conditions of the road out of the riders' face. The option ensures safety and security for the eyes and face in every road condition.
Pros
A very effective option for protection
Scratch-resistant
Feature the popular anti-fogging technology
Cons
Bulky design
Relatively expensive.
Types Of Motorcycle Goggles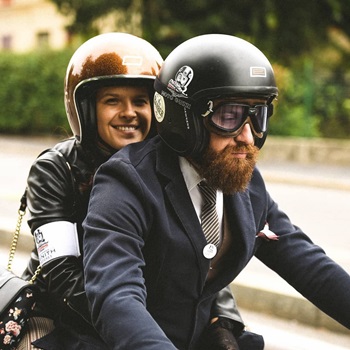 While in the market for motorcycle goggles, you will find that it is available in many types. A proper understanding of the different types of goggles and what each is designed for will help you pick the perfect one for your needs. Here, let's review some of the most popular types of motorcycle goggles.
1. Street Goggles
These are the most popular types of goggles. Whether you are riding a sportbike, a touring bike, a scooter, or a cruiser, you will often need a traditional set of goggles that can provide adequate protection for your eyes on and off the road. Street goggles are traditional goggles for these. They do not feature any additional technology but come in a variety of designs and styles for you to choose from. Motorcycle goggles that fall under this category are typically slimmer and sleeker than most other types of motorcycle goggles.
2. Off-Road Goggles
If you desire to ride in the woods, on mids, or dirt, then this is the perfect type of motorcycle goggle for you. They typically feature a design that protects the eyes and other sensitive parts of the face when you get into messy conditions. Their designs are usually more robust and bulkier than most street goggles. They are also sealed more tightly to help keep mud and dirt out. Off-road goggles are the perfect option for long-distance riders that are not sure of the conditions in some of their tracks.
3. OTG Goggles
These types of goggles feature a design that fits on top of your prescription glasses. Generally, traditional street goggles will not work with the corrective lens because of the impossibility of wearing them together. But OTG motorcycle glasses come, especially for this purpose. If you do not want to expose your corrective lens to harsh environmental conditions during your ride, then this is a perfect option for you to try.
4. Prescription Goggles
If you are not comfortable with the idea of wearing a pair of goggles over your eyeglasses, then this type of goggles is an alternative that you can go for. Prescription goggles feature lenses that are turned to your prescription, allowing you to see the road and it's surrounding areas clearly, irrespective of the condition of your eyes. Although they are mostly costly, they are worth it for specific protection of your eyes. Apart from being very expensive, another downside of this type of goggle is that there are fewer selections when it comes to their design.
Motorcycle Goggles Buying Guide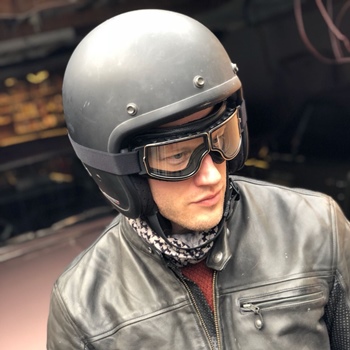 Ready to buy your motorcycle goggles? It is important to note that the market can be quite complicated, especially with so many brands and models available for sale. Check out a few factors to look out for if you are looking to get the best deal for your motorcycle goggle.
1. Anti-Fog
Most top brands come with a special coating that helps to prevent them from fogging up when exposed to certain conditions. If your goggle fogs during your ride, it leaves you susceptible to crashing. Hence, the need to look out for this feature when in the market for a motorcycle goggle.
2. Safety
A significant reason why you are buying a motorcycle goggle is for safety, so it is a no-brainer to look out for one that guarantees you total protection. Of course, several brands assure you of the safety of their goggles when they are not. An excellent way to know a brand that features a good level of protection to your eyes their safety certification by the necessary body in your locality. If the goggle is ANSI certified, then there is a good chance that it is safe and will last long for you.
3. Materials
There are a variety of materials out there for designing motorcycle goggles. Each of the material has its use and where it stands out. Polycarbonate lenses, for instance, are shatterproof, impact-resistant and nearly impossible to break. If any of these is what you want in a goggle, then you can go for a goggle that features polycarbonate lenses. The best aspect of this material is that it is not as expensive as most others, yet it is pretty difficult to scratch. Before opting for an option, make inquiries about the materials used for it. You will typically see the materials it is made from in the specifications.
4. Style
Motorcycle goggles have been advanced over time. Today, they come in different sizes, shapes, designs, and colors. Selecting which would work for you should be based upon your style. You will find that some fit certain circumstances, while others go well for just any use. Before making your choice, take your time to explore the options available to you in terms of color, design, and shape.
5. UV Protection
Top brands ensure that their motorcycle goggles can provide 100% protection against UVA and UVB rays.  This feature helps to ensure that the health of your peepers is not jeopardized during any ride. Experienced motorcycle riders understand that UV rays can cause macular degeneration with potentials of leading to a total loss of vision. They also lead to conditions like cataracts which can also impair vision. When in the market, look out for goggles that specifically mention that they can protect you against UV rays.
6. Comfort
Whether you are a bike racer, or simply riding for fun, the need for total comfort while on your bike cannot be overemphasized. If your goggles don't feel very comfortable to your face, then you will likely not wear them when you need to. This is an excellent reason to go for a pair that fits perfectly without being too tight. Several models are fitted with adjustable straps to allow you to customize the size to the size of your face while fitting correctly.
7. Ventilation
It is essential to find a pair that supports proper ventilation, particularly if you are going for a larger option that covers a good portion of the face. The importance of proper airflow cannot be overemphasized, as it helps to prevent the build-up of moisture, while also ensuring that they dry quickly and stay cool for the face.
How To Maintain Motorcycle Goggles?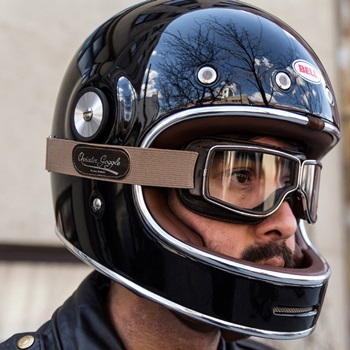 Irrespective of the quality of your goggles, the truth is that they won't stay new for long if you fail to take proper care of them. Thankfully, it's not so difficult to maintain a pair of motorcycle goggles. There's a need to clean the goggles without scratching the lenses in the process. Here, take a look at a few maintenance tips that can help.
1. Wipe The Goggles Properly
It's never a bad idea to wipe your goggles after every usage. This way, you will prevent the building up of grime, while ensuring that the clearness of its vision is not tampered with. However, wiping can only be a good solution for maintaining your goggles if you know how to do it properly. Usually, we recommend the use of non-abrasive cotton or dry micro-cloth for wiping off finger smudges and minor dirt from the goggle.
If, however, you ride on a dirt trail where your goggles are prone to tough stains from mud and other roadside dirt, then you will need more than wiping. Typically, you would need to prepare some water with baby shampoo or soft soap. Put your goggles into the water and allow it a few minutes to soak. The use of detergent or harsh cleansers can potentially corrode the foam liner, making the goggle almost useless. After a while of soaking, you can now attempt wiping the grime away from both the frame and the lens.
2. Avoid Leaving Out In The Sun
After soaking and wiping, we recommend that you leave the goggles to dry naturally in a room that's properly ventilated. Drying them with heat can easily bring damage to the polycarbonate or the sponge. You don't want the sunlight to degrade the materials used for producing your goggles quickly.
FAQ About Motorcycle Goggles
1. Can You Wear Glasses Under Motorcycle Goggles?
Yes. It is possible to wear top-rated motorcycle glasses under your goggles. However, you will need to buy specialized motorcycle goggles for this. OTG goggles are designed for this purpose, so if you require corrective lenses, you can go for goggles that fall under this category.
2. How To Wear Goggles With a Motorcycle Helmet?
Wearing a motorcycle helmet with goggles is never a problem. It is recommended for use with open face motorcycle helmets. However, you need to know that goggles are designed to be worn over the helmet, and not inside it like sunglasses.
3. Are prescription goggles worth it?
Yes, prescription goggles are worth it. They may be expensive compared to other types, but they come with prescription lenses that allow you to see properly during any ride. However, the limitation of models, colors, and shapes available in the market means that you might not find one that suits your style. If your budget cannot accommodate the cost of prescription goggles, then you can opt for motorcycle goggles that can fit over prescription glasses.
4. How to keep motorcycle goggles from fogging up?
The best solution for this is the purchase of goggles that feature anti-fogging coatings. You will find that this model comes with treated lenses that help to prevent moisture from adhering and condensing. We've also seen a few anti-fogging sprays that help for this in the market.
Wrap Up
With so many brands and models of motorcycle goggles available in the market, riders now have a free hand to pick the best motorcycle goggles for their needs. Depending on how you choose to see it, however, this can be a blessing or a curse. To some buyers, it causes a great deal of confusion having to select from so many brands. If you fall into this category, you don't need to worry. Scroll to our motorcycle goggles reviews to find details of the best options available in the market. If you have some time and want to see more options, then the information in our buying guide should help you pick the best option for your need.
See also: top-rated motorcycle earbuds