In addition to making you look fierce, a pair of the best motorcycle glasses will also make you feel safer and more comfortable. Sunglasses turn out to be much more than just a fashion statement when it comes to riding a motorcycle – they protect and make you look cool! Numerous detrimental factors, such as dust, gravel, sun glare, UV rays, and the wind can cause long-term injuries to the eyes, which is why it is so important to think about your wellbeing besides riding in style.
This guide's main goal is to educate you on the motorcycle glasses through reviews, answering the most common questions, and shedding light on the most important safety features to look for in your next pair. Let's jump right into it!
See The Quick Comparison Chart
Benefits of Motorcycle Glasses
Wearing motorcycle glasses is much more than just a passing trend. Even though this is not a legal requirement, we would still say it is a necessity if you want to remain safe on the road. Glasses, as one of the vital safety equipment items, offer the following benefits:
1. Eye Protection
All of the glasses we reviewed in this guide are designed to filter out UVA and UVB harmful rays. These types of rays are detrimental to the human eye. No doubt, wearing a pair of glasses that repel those rays will make your rides more comfortable, but most importantly – it will protect you from conditions such as cataract or corneal sunburn.
The right type of lenses acts as a buffer. Usually, riding in the blinding sun makes people squint in order to see the road clearly. With a good pair of motorcycle sunglasses, you will never experience what eyestrain is.
If you squint all the time when riding, it is highly likely you will get some wrinkles around the eyes. Glasses will prevent you from looking older than you really are. That's just an extra feature, but an important one!
2. Anti-Glare Protection
One of the most common hazards on the road is (you wouldn't believe this) – the road glare. Motorcycle glasses are designed to reduce glare so you can have a clear view of the road.
3. Protection Against Debris
Road debris (clods of dirt, dust, small stones) and flying insects can be particularly dangerous if any of these gets in your eye. If you have a pair of glasses, these will prevent tiny particles from flying in and hurting your eye.
What is more, if any of these particles get into your eye, it can damage your cornea or cause a major infection that may result in long-term vision issues. For example, riders with open-face helmets know this struggle best.
4. Protection from the Weather
Another major benefit of wearing glasses is that you can enjoy your rides no matter the weather – hail, snow, pouring rain. Without wearing protective glasses, you wouldn't be able to see the road clearly, which would affect your safety.
5. Protection from the Wind
You wouldn't believe the level of damage the wind can cause to your eyes. At very high speeds, your eyes can get very dry. Also, as you would be riding faster, the particles would hit your eyes at greater speeds as well. This is, again, the matter of safety, but that's what should matter the most to you.
6. Glasses Will Make You More Fashionable
As a cherry to the top, a good pair of glasses can make you the hottest person in the hood. These will make you more attractive and confident when on your bike, besides being fully comfortable and safe.
Safety Features Of Motorcycle Glasses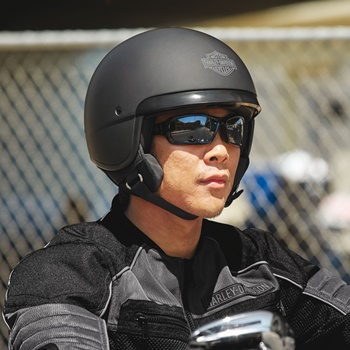 Having all the features we have listed above (except for the last one), everything about motorcycle glasses is related to the safety of a rider. This is something you should really pay attention to if you have a full-face or open-face helmet. These two types provide the least protection, which is why you might need an additional piece of gear.
Motorcycle glasses boast different designs, types of lenses, levels of protection (but all of them are still highly-protective). These are some of the most important safety features to have in mind when it comes to motorcycle glasses:
1. Polarized Lenses
Remember that road glare we talked about? Well, polarized lenses protect you from glare and excess lights. Yet, make sure not to mistake this safety feature for UV protection – this is a whole lot new story.
Back to polarized lenses – these come with integrated crystals that make the excess light transmission smooth and seamless. Mostly, polarized lenses feel like any other type of clear lenses, but there is much more about them than it meets the eye.
Disclaimer: Polarized lenses are not recommended for nighttime rides as these may block the lights, and you don't need something that would blur your vision. It is true – these will sharpen your vision in the day time, but you will need something else for midnight rides.
2. UV Protection
Obviously, you are here because you want to protect your eyes from harmful agents, such as UV rays. These rays can mess up your performance and damage your eyesight long-term if your eyes are exposed to them for extended periods of time.
Always pay attention to the level of UV protection your glasses provide. It's always good to find a pair that will block both UVA and UVB rays.
3. ANSI-Approved Glasses
Safety eyewear has to pass all the intensive and rigorous tests the American National Standards Institute conducts. Such glasses will keep you safe but also offer higher versatility so you can use them for a wide range of outdoor and sporting activities. Always check on the ANSI Z87.1 mark if you want to get a pair that boasts the ultimate protection.
4. Fog Resistance
The double coating on one or both sides of the lenses, anti-fog coating – this all helps with fighting off the fog. As you can't choose whether you will ride in favorable or unfavorable conditions, get yourself a pair of glasses that can do both.
The anti-fog feature is of extreme importance as it improves your optical clarity. If you are riding in extremely hot or cold temperatures, always opt for a double coating, as it will provide a higher level of protection.
5. Weather Protection
Weather conditions make one more concern to motorcyclists. Whether it's windy outside or you simply like riding at higher speeds, particles flying around can get into your eye and damage your vision. If you don't want anything to make you lose focus on the road, glasses that boast foam padding will protect you.
The type of foam is as important. Make sure to find glasses with padding that ensures proper ventilation. Otherwise, you will get all sweaty under. However, note that padding may wear off in time so you would need it serviced after one year or so.
When choosing the right glasses, it would be nice to have the ones with a hydrophobic coating that's designed to repel snow, rain, and water.
Best Motorcycle Glasses Comparison Chart
PRODUCT
DETAILS

AULLY PARK Polarized Motorcycle Riding Glasses with 4 Lens Kit

Price:

$

Customer Rating:

4.1

Type of Lenses:

Polarized

Lens Color:

Clear, gray, cadmium, yellow

View On Amazon

Verdster Airdam Motorcycle Sunglasses for Men – UV Protected

Price:

$

Customer Rating:

4.3

Type of Lenses:

Polarized

Lens Color:

Yellow

View On Amazon

Global Vision Eyewear Set of 3 Motorcycle Glasses Sunglasses

Price:

$$

Customer Rating:

3.8

Type of Lenses:

Polycarbonate

Lens Color:

Clear, yellow, smoke

View On Amazon

WYND Blocker Vert Motorcycle Polarized Sunglasses

Price:

$$

Customer Rating:

4.2

Type of Lenses:

Polarized

Lens Color:

Brown

View On Amazon

Bobster Bugeye Sunglasses

Price:

$

Customer Rating:

4.4

Type of Lenses:

Polycarbonate

Lens Color:

Amber, clear, smoked, and smoked reflective

View On Amazon

Oakley Men's Oo9014 Gascan Rectangular Sunglasses

Price:

$$$$$

Customer Rating:

4.4

Type of Lenses:

Polarized

Lens Color:

Black, tortoise, and clear

View On Amazon

Birdz 4 Pair Motorcycle Riding Glasses

Price:

$$

Customer Rating:

3.7

Type of Lenses:

Polycarbonate

Lens Color:

Clear, smoked, yellow

View On Amazon
Best Motorcycle Glasses Reviews
1. AULLY PARK Polarized Motorcycle Riding Glasses with 4 Lens Kit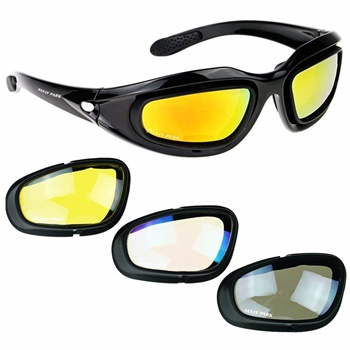 Aully Park takes pride in being the first eyewear brand that offers motorcycle glasses with interchangeable lenses. Each of the lenses – natural gray, copper, clear, and cadmium level offers a high level of eye protection against sun damage. If you would feel more confident about wearing a pair that's polarized, go for the natural gray lenses, while the other three options feature UV400 protection (still very solid).
These glasses are lightweight and comfortable to wear. Designed to keep the UV rays away, the Aully Park motorcycle glasses have anti-splash, sand, water, wind, and dust-proof properties to ensure the utmost experience while taking your rides.
Aully Park took numerous tests and tested this pair of glasses to make sure their PC lenses are resistant to damages or explosions. Yet, the knowing motorcyclist wouldn't stand any pressure around the temples or the nose, this reliable brand made their glasses flexible.
The non-slip ear pads and nose will ensure your favorite pair of motorcycle glasses stays in place even when you are riding at higher speeds or when you participate in different sporting activities.
Still, you can use them for a wide range of other outdoor activities, such as climbing, golfing, fishing. The scratch-resistant, polarized lenses will ensure you have a nice and clear view of whatever you need to look at. Versatile, protective, and comfortable – the Aully Park motorcycle glasses make a perfect combo for those with active lifestyles.
Pros
These glasses come with a detachable strap,
Cleaning cloth, pouch, and sport headband included in the package,
Full refund in case you are not fully satisfied with the product.
Cons
Not recommended for wearing when it is foggy outside.
2. Verdster Airdam Motorcycle Sunglasses for Men – UV Protected
Verdster is one of those high-end brands that don't put that much into marketing, as they believe their products speak for themselves. Well, their Airdam motorcycle glasses are a typical example of impeccable design, sturdiness, comfort, and protection.
Even though these come in a minimalistic, pretty plain package, you will get surprised as soon as you open it. This pair of glasses displays overall generosity, as they are made of quality materials, boast thoughtful design, and useful features for riding on the road or off it.
This model doesn't slide down and gets on your nerves as you ride but stays in the same position all until you decide to take them off. Yet, don't let this make you suspicious about the comfort they offer. Undoubtedly, Airdam is one of the most comfortable models out there.
These absorb slight shocks as they are equipped with high-quality foam. The lenses themselves are custom-made and will protect your eyes from 99% of the UV rays.
Verdster believes in the one-size-fits-all approach, but they are right in this case, as their glasses truly fit most head shapes comfortably. Speaking of the peripheral view, this pair is unbeatable. The cushioning on the sides that should protect your eyes from debris and wind won't block your view at all, so you can observe anything happening in front or sideward.
As a cherry to the top, Verdster includes a soft cleaning fiber, soft and hard cases, and a gift box if you are ordering this model for a beloved one.
Pros
Wrap-around style,
Reduce eyestrain, lights, and glares,
Silicone cover on the arms and the nose.
Cons
3. Global Vision Eyewear Set of 3 Motorcycle Glasses Sunglasses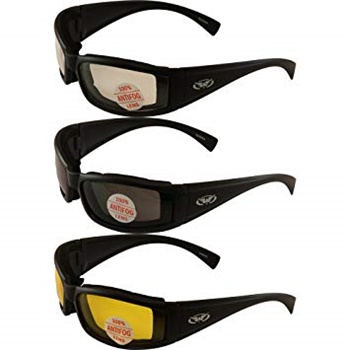 Applicable in different settings – daytime, nighttime, especially when it is foggy outside, the Global Vision eyewear set is everything! It includes 3 types of glasses – clear, smoke, and yellow. We recommend the clean ones when you are driving by night and the yellow ones when it is gloomy.
Each pair of this Global Vision set boasts UV-protective lenses rated as UV400. Harmful sun rays can damage your vision if you are riding often in the sun. These lenses capture lights and prevent glare so you see clearly in front of you and on the sides.
Durable and made of polycarbonate, the Global Vision lenses are resistant to scratches as well. The Neoprene foam will make wearing your favorite pair comfortably as it blocks the wind, outer pressure when riding at higher speeds (these glasses are aerodynamic), insects, and flying debris from coming under the lenses.
This is what makes the Global Vision set safe, but one of the features these are special for is the double-sided anti-fog coating each pair of the glasses comes with. Not only your glasses won't fog under, but there is no chance the fog would mess up your experience on the road.
Pros
Lightweight,
Fit most head shapes,
Frames are sturdy and durable.
Cons
No protective pouch included as with most of the models we reviewed,
A few customers complained the rubber started falling off after a while.
4. WYND Blocker Vert Motorcycle Polarized Sunglasses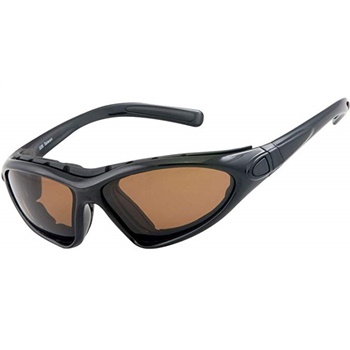 WYND brings versatility on when it comes to the motorcycle eyewear industry. The Blocker is a model that boasts a stunning design, tailored-made for people who don't like feeling any pressure on their heads. The rubberized frame makes these glasses extremely lightweight and pleasant to wear. Even wouldn't mind these even if they would be sitting on your nose and ears for hours!
These rubber pieces will also ensure a proper and stable fit. You won't have to adjust them all the time while riding, which might mess up with your concentration.
The Blocker glasses are polarized, which makes them highly protective for the eyes. UV rays can be damaging for the eyesight even when the sun is behind the clouds, so wear these as much as you can if you want to ensure clear and proper vision.
If you are into higher speeds, touring, or off-road riding, you will certainly appreciate the wind-resistant eyeliner integrated into this pair of glasses. The liner will protect your eyes from the pressure while performing high-energy activities.
When we said these are versatile, we really meant that. You can even wear the WYND motorcycle glasses in the water, as these are designed for both motorcycle racing and water sports activities.
Providing a stable and comfortable fit, the Blocker glasses are stylish as well. You can choose between 5 vibrant frame colors and show off the world your greatness while on wheels or when in the water.
Pros
Polycarbonate lenses,
Eliminate glare,
A storage case is included in the package.
Cons
Wearing these glasses may slightly reduce your peripheral vision.
5. Bobster Bugeye Sunglasses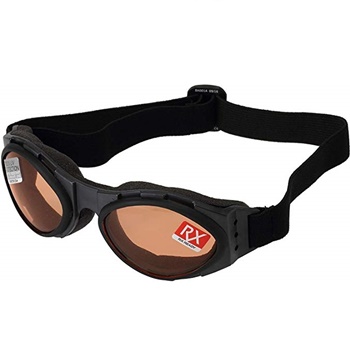 Just like these glasses' name suggests, the Bobeye Bugeye will give you that retro-chic type of look when you are on your bike. Even though some may not like this particular composite frame, the Bugeye glasses still have a bunch of fans raving about the features these offer.
The versatility of this pair is almost unbeatable. You can wear them when skiing, snowboarding, swimming, or free-falling besides riding a bike. The seal this pair of glasses provides is unbelievable. Wind blasts, rain, vibrations – you won't feel any of this while performing your favorite outdoor activities.
Functional and durable, the Bugeye glasses boast a lightweight thermoplastic frame that makes them more comfortable around the ears. Designed for optimum comfort, Bobster made these glasses very comfortable. No matter your head or face shape, these will fit like they were tailor-made for you.
Thanks to the open-cell foam, these glasses will adapt to your face contours. This soft yet breathable material will soak in any sweat and prevent it from coming into your eyes and blurring your vision.
When it comes to lenses, Bobster is the king. These guys integrated optically correct lenses to their Bobeye model, which is something barely any other seller has to offer. Optically correct lenses prevent eye strains, dizziness, nausea, and headaches even after extended periods of wearing your eyewear.
You can choose between 4 sleek lens colors – clear, smoked, smoked reflective, and amber. Either way, you go, there is no doubt the Bobeye glasses will meet your expectations regarding safety and comfort.
Pros
Adjustable head strap,
Provide ultimate airflow on the sides but never fog,
100% protection from harmful UV rays.
Cons
A few customers said these glasses feel like they are cheaply made, but still comfortable and highly functional.
6. Oakley Men's Oo9014 Gascan Rectangular Sunglasses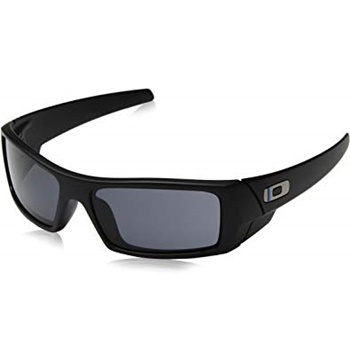 If you are into the motorcycle field for a couple of years, maybe even decades, then you've probably already heard many positive impressions about Oakley. This renowned brand has a pair of awesome motorcycle glasses – stylish and rigidly built.
Some people might get confused when they hear these glasses boast the all-plastic construction, but don't fall into this trap. Oakley uses high-quality and sturdy plastic that make their eyewear tough and durable.
Oakley's Plutonite lenses are designed to protect your eyes 100% from UVB, UVC, and UVA rays and other types of ultraviolet radiation. These lenses also offer the maximum peripheral vision and optical clarity so you can see everything happening around from basically any angle.
Oakley cares about the aesthetics of their glasses besides functionality. That's why they built a pair that looks sleek, not bulky at all, that will fit into any outfit you are wearing. Made to last, the Oo9014 Gascan rectangular sunglasses will withstand deformations or shifting over time.
Practical and lightweight, no doubt the Oakley Oo9014 Gascan would add that fine finishing touch to your motorcycle accessory collection.
Pros
Three-point fit ensures impeccable optical alignment,
These glasses shout out the sun pretty well,
Choose between 3 frame colors and polarized/non-polarized lenses.
Cons
If you have a small head, the Oakley's eyewear might not fit properly, as these are made for bigger heads.
7. Birdz 4 Pair Motorcycle Riding Glasses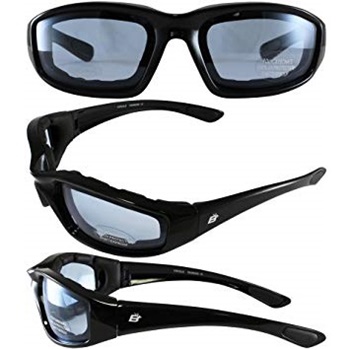 Choosing between color options is so annoying, right? Well, with Birdz, you have 4 pairs of cool lenses that will easily match your outfits – smoked for day rides, clear for night time, yellow for overcast time, and blue for low-visibility conditions – foggy or cloudy days and night time.
These are also covered in an extra anti-fog layer, which makes them fully safe for wearing at all conditions. Birdz integrated shatter-resistant polycarbonate lenses to their durable black frames – a match made in heaven.
However, not only these are sleek and very fashionable, but the Birdz glasses boast top-notch performance. If you like the wind in your hear at higher speeds, but not in your eyes, you will love the aerodynamic properties each of these 4 pair features. Increase the speed with no worries your eyes will get dry or teary.
Rated UV400, the Birdz glasses are highly protective of the eye. Yet, these are also very comfortable to wear. The foam padding on the inside will create the proper seal and prevent particles or insects from flying under your glasses.
All in one – the Birdz 4-pair sunglasses make an awesome deal for both ladies and gentlemen. They will fit comfortably, keep the wind and debris out, and ensure safe rides at any time of the day and night.
Pros
Gentle rubber ear pads,
Fit most head shapes,
Soft microfiber storage bag included.
Cons
Not resistant to scratches.
Types of Motorcycle Glasses
1. Polycarbonate Lenses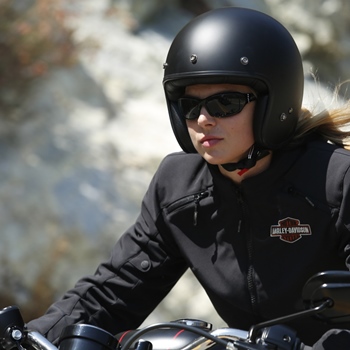 In comparison to glass or plastic lenses, sunglasses with integrated polycarbonate lenses are 10 times more resistant to impacts and offer 100% UV protection. Polycarbonate is a lightweight material, so this type of glasses is comfy to wear – another major plus.
2. Clear and Colored Lenses
If you went through our reviews carefully, you noticed lenses come in all shapes, sizes, and colors. You can choose between clear and colored lenses.
Clear lenses make a great choice if you are riding in shadowed areas and for the nighttime rides. Yellow lenses maintain clarity, reduce glare, and filter out blue lights, which makes them most suitable for cloudy and overcast conditions.
Similarly to the yellow ones, orange and amber lenses block the blue light and reduce glare. If you are looking for an option to minimize distortions – go for the gray ones, while brown lenses offer clearer vision and make it easier to see details on the road (potholes for instance).
3. Prescription Lenses
Riders that need corrective eyewear are highly advised to wear prescription glasses instead of contact lenses. You can choose between single-vision (a single correction provided), bifocals (the upper half is for distance and the bottom for reading prescription). Last but not least, progressive sunglasses come with no line in the lens and allow you to see both read and distance print clearly.
4. Interchangeable Lenses
Probably the most versatile type of lenses – interchangeable lenses make it easy-peasy to find the right fit for any riding condition. If it is early in the morning, you can tint them a bit, or use a darker tint if the sun is shining. Cut down on glare by using polarization and enjoy your rides like never before. Highly resistant to scratches, these lenses are also easy to replace in any damage is done.
5. Mirror Lenses
Just like their nomenclature suggests, mirror lenses look exactly like a mirror. This type of reflective optical coating is practical for riding when it snows, as it reduces the light passing through for up to 60%. The same applies to riding at higher altitudes. Mirror lenses are extreme athletes' pick, even though they scratch easily.
6. Polarized Lenses
Designed with a clear goal in mind – to block glare, polarized lenses reduce reflections flat surfaces such as the hoods of other vehicles and pavements cause. These make a great choice for the ones who enjoy motorcycling, watersports, but also the ones with sensitive eyes or people who had cataract surgery.
7. Photochromic Lenses
You can find them under "variable-tint" and "light-adaptive" lenses. These lenses activate themselves when exposed to sunlight and UV rays. You can use them for night riding or riding on an overcast and cloudy days.
Motorcycle Glasses Buying Guide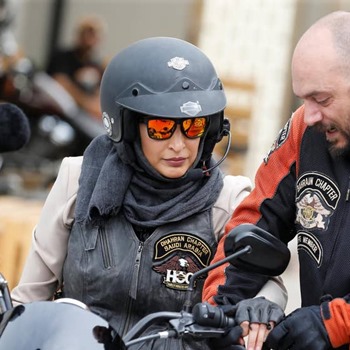 Even though we listed the major safety features to look for in a pair of motorcycle glasses, here are a few things to consider extra:
1. Resistance to Scratches
No matter the lenses, some manufacturers coat their glasses with a scratch-resistant protective coating. Exposed to different factors, such as road debris and weather conditions, glasses need some extra care. It would be nice to find the ones that come with a storage pouch.
2. Helmet Compatibility
The type of helmet you own will affect the type of glasses you will wear with it. Most motorcycle glasses fit any type of helmet. The main thing is to find a pair that will fit comfortably, not the ones that are too tight, but that's why you should check on the chart sizes as well.
3. Temples
One more thing that makes a pair of sunglasses comfortable are the temples. Straight or hooked, temples should fit comfortably and connect the lenses to the perch. Straight temples fit best when worn under a helmet.
What Color Should You Choose For Lenses?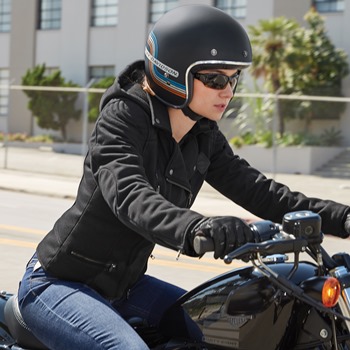 Different lens colors are more or less appropriate for different riding settings.
Clear lenses are an absolute must when riding at night time, but they are also suitable for shadowed areas. Yet, these don't make a good choice for daytime riding and bright sunlight areas.
Instead, aim for the type of lenses that show true colors and minimize distortions – gray ones.
If there's a lot of blue lights reflecting on the road and distracting you, yellow and amber lenses will be your friends. However, these are not suitable for night riding, so avoid them as soon as the sun starts going down.
Brown lenses are made to give a rider more insight in the details on the road. They provide more contrast so it is easy to spot gravel and pits in front of you.
The photochromic tint type of lenses is suitable for all weathers and conditions. You can wear them day to night with no worries. These lenses absorb less or more light depending on the environment you are in – awesome!
FAQ About Motorcycle Glasses
1. Can I Wear Glasses With a Motorcycle Helmet?
Absolutely! Not only that you can, but you should! What is more, it is highly recommendable to wear your glasses if you have one of the models from our open face helmet reviews or half helmet reviews.
2. Is It Safe To Wear Glasses While Driving a Motorcycle?
Wearing a pair of glasses while driving will add that extra layer of protection on the road. Glasses protect your eyes from numerous harmful factors, such as UV rays, flying debris, wind, etc. If you pick the right lens color, motorcycle glasses will contribute to higher safety and make your rides more comfortable as well.
3. How To Wear Motorcycle Glasses With Goggles?
This depends on the type of helmet you own. With some helmets, it is possible to wear both, with some it isn't. Note that types of helmets come with built-in visors, which means they wouldn't be compatible with bulkier motorcycle glasses and goggles.
You can easily switch between goggles and glasses. Some motorcycle glasses models come with straps, so it would be best to get yourself one of these pairs if you want to wear both glasses and goggles, as straps will make it easier to swap.
Wrap Up
Motorcycle glasses fall into the category of both motorcycle accessories and security equipment (right next to motorcycle alarm, motorcycle helmet lock, etc.). The best motorcycle glasses are not that easy to find, but we did our best.
You can find a couple of good ones in our motorcycle glasses reviews. Always keep in mind your utmost safety on the road when choosing between. Opt for the ones that look fashionable and attractive, but always give a priority to those safety features we talked about. If you liked this one, we are sure you will appreciate the effort we invested in writing other guides about motorcycle gear and accessories.
See also: motorcycle earbuds reviews