Why on earth would you possibly need the best motorcycle phone mount? While it is true that driving or riding and working with your phone is not a good combination, there are certain situations that may require the assistance of your phone while on the road. For example, A phone mount for your bike can help your with road info, by letting you actively use the GPS.
People use mounts for their smartphones in their cars. But not all of us drive cars exclusively. Some of us like getting around on our bikes. If you are a biker looking for a device specifically designed for your two-wheel vehicle, you might want to read the motorcycle phone mount reviews and see what the market has to offer.
See The Quick Comparison Chart
Benefits Of Motorcycle Phone Mounts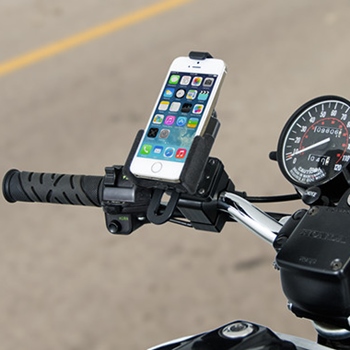 As mentioned earlier, it is not advisable to operate your phone while riding or driving. However, a motorcycle phone mount can certainly come in handy in certain situations. Let us look at some of the advantages offered by such a unit.
If you like riding towards new destinations, you may need some help getting there, especially when a large part of the way is not on the main roads. In order to avoid getting lost and wasting many hours trying to find your way back on track, having a navigator is extremely useful.
Having to grab your phone from your pocket while riding can be not only uncomfortable but also dangerous. Therefore, the best solution is to attach your smartphone to the handlebar of your motorcycle using a phone mount. This will allow you to turn the navigation on and proceed towards your destination with certainty.
Moreover, you won't have to make complicated moves to get your phone out while riding. This way, your phone will be placed right under your eyes, allowing you to focus on the road and get to your destination safely.
2. Take urgent calls
Please do not get us wrong! We are definitely not encouraging speaking on the phone while driving, let alone riding your motorcycle. However, you can never know when someone might call you for a very urgent and important matter. When your phone is in your backpack, you might probably not even hear it over the roar of your motorcycle.
But even if you do hear it, you might simply want to continue your ride thinking you will find out later who called and why. If your phone is mounted on your handlebar, you will be able to see who is calling you.
Therefore, you can decide if that call is important and, if you want to attend it, you can quickly pull over to the side and take it. You may not think about this as such an important aspect because you are not in a position of getting important calls. Well, think of this scenario: you are on your way to a destination that will take you hours to get there.
After arriving, you see you have seven missed calls from your mother, for instance. You call back and find out something had happened home and you have to return immediately. Hadn't it been better to not have gone that far and wasted so much time getting back?
3. Listen to your favorite tunes
If you are that type of person who feels that soundtrack is missing for your life to be perfect and you are also a biker, being able to listen to music while riding can certainly improve your rides. While for some motorcyclists there is nothing more thrilling than taking their two-wheel vehicle for a spin, some of us can really enjoy combining this experience with some good music.
Not only does it put you in a great mood, but it will also raise your spirits and fill you with positive energy. Still, listening to music while riding your motorcycle can be a bit complicated.
It is easy to use your airpods, for example, but you will not be able to see what song comes next or skip the ones you do not particularly like. With your phone mounted on the handlebar, you will be able to change the tunes according to your liking.
However, there is an important aspect we need to mention here. You should avoid listening to music while traveling in the city or on highways because you can easily miss indications and signals. Listening to music is a good option when you are riding on roads with little or no traffic.
4. Record your riding experience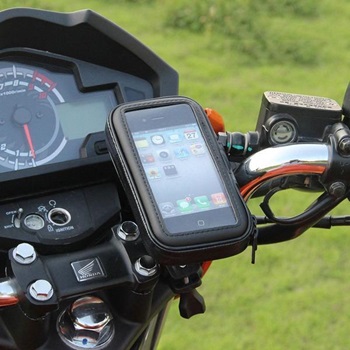 Sometimes, you might find yourself on a road and be astonished by the beautiful scenery that surrounds you. If you want to make a video or even a vlog to capture the stunning landscape around you, it might be quite difficult to do so while having both hands occupied. Maneuvering your motorcycle with one hand can not only be complicated but also dangerous.
You can also easily get distracted and cause an accident. If that should be the case, it is best to simply enjoy the view by yourself and get on your way, or stop from time to time and take a few pictures or make a short video.
However, the entire story changes if you have a phone mount, as you can use it to record your entire travel, and not get distracted at all. If that is something you like to do, you need to be careful when selecting your mount, as it should not cover the camera of your phone.
5. Keep track of your speed and distance
Having your smartphone with you can also help you check your distance, monitor your speed, and also keep track of all of your journeys. This can help you understand your routes better. Also, you can keep track of time and plan all of your trips accordingly. While this may not be a significant aspect, it might be helpful when you need to be somewhere on a specific timeline.
6. Comfort and safety
We might not have mentioned it in so many words, but using a phone mount offers you a lot of comfort and safety. For starters, keeping your phone in your pocket or backpack does not allow you to do all the things we have already discussed. Moreover, having a phone in your pocket can be bulky and make you feel uncomfortable.
In terms of safety, a phone mount allows you to keep both hands on the handlebar and maneuver your motorcycle as you should. Using such a device keeps your phone right under your eyes and you will be able to focus more on the road ahead.
Best Motorcycle Phone Mounts Comparison Chart
PRODUCT
DETAILS

Roam Universal Premium Bike Phone Mount for Motorcycle

Price:

$

Customer Rating:

4.3

Handlebar Compatibility:

7/8 to 1-1/4 inches

Phone Width Compatibility:

up to 3.5 inches

View On Amazon

Metal Motorcycle Mount for Phone – by TACKFORM

Price:

$$$

Customer Rating:

4.8

Handlebar Compatibility:

0.75 to 1.31 inches

Phone Width Compatibility:

up to 3.4 inches

View On Amazon

RAM X-Grip Large Phone Mount with Handlebar U-Bolt Base

Price:

$$$

Customer Rating:

4.5

Handlebar Compatibility:

0.5 to 1.25 inches

Phone Width Compatibility:

up to 4.5 inches

View On Amazon

CAW.CAR Accessories Motorcycle Phone Mount – Universal

Price:

$

Customer Rating:

4.3

Handlebar Compatibility:

0.6 to 1.4 inches

Phone Width Compatibility:

up to 3.7 inches

View On Amazon

Vibrelli Bike – Motorcycle Phone Mount – Fits Any Smart Phone

Price:

$

Customer Rating:

4.5

Handlebar Compatibility:

0.9 to 1.3 inches

Phone Width Compatibility:

up to 3.7 inches

View On Amazon

IPOW Metal Motorcycle Phone Mount, Unbreakable Metal Handlebar Holder

Price:

$

Customer Rating:

4.4

Handlebar Compatibility:

up to 1.1 inches

Phone Width Compatibility:

up to 3.5 inches

View On Amazon

Nelson-Rigg CL-GPS-ST Black Strap Mount Journey GPS-Phone Mate

Price:

$$

Customer Rating:

4.1

Handlebar Compatibility:

4.5 to 6.75 inches

Phone Width Compatibility:

up to 3.5 inches

View On Amazon
Best Motorcycle Phone Mounts Reviews
1. Roam Universal Premium Bike Phone Mount for Motorcycle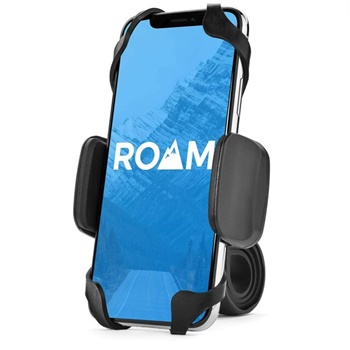 This mount was designed to fit any mobile device up to 3.5 inches wide securely. Since the size of the unit can be adjusted, it can be installed on handlebars that are between 7/8 to 1-1/4 inches in diameter. This makes the phone mount suitable for both motorcycles and bicycles.
The Roam Universal Premium Bike Phone Mount for Motorcycle is not meant for supersport bikes that have clip-on style handlebars such as crotch rockets. This model has two points of contact, offering a secure grip on the handlebars. Thanks to the Co-pilot feature, your phone will stay mounted tightly.
Also, due to the high-quality hard plastic grip and silicone net, your smart device will be protected at all times. What is more, since the Co-Pilot comes with the largest clamp that can be found on the market, it can fit most handlebar sizes.
Pros
The mount is extremely versatile because it is compatible with most types of phones and handlebars
It is extremely easy to install the mount on the handlebars
This unit comes with the manufacturer's lifetime warranty
Cons
This model does not have a waterproof design, so you should not use it in the rain.
2. Metal Motorcycle Mount for Phone – by TACKFORM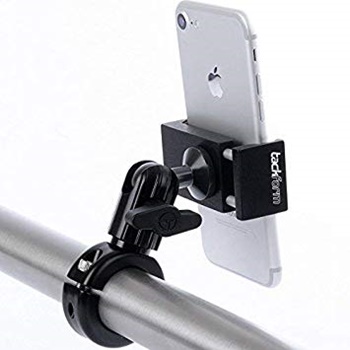 In case you are looking for an extremely sturdy unit, you should definitely check this model out! It is made with 6061 machined aluminum and features a high-strength industrial spring system that will ensure your phone stays mounted securely.
Moreover, it can be mounted on a wide array of handlebars including H-Bar, Zero Drag, Zed, Frisco, Trackers, Clip Ons, Maynard, and many others. If your phone is up to 3.25 inches wide, you will be able to mount it on the Metal Motorcycle Mount for Phone – by TACKFORM. In terms of dimensions, this model comes with 7/8-inch, 1-inch, 1.15-inch bushings.
Also, the clamp mounts straight to 1.25-inch bars without the bushing. What is more, thanks to the aluminum ball and socket joint, this model is able to provide the perfect viewing angle on most types of bars. Another important aspect is that you can easily remove your phone with only one hand.
Pros
The item is able to twist and swivel so that you can enjoy a 360-degree viewing capacity
You will get all the necessary tools for the installation process
The mounting procedure should not take more than two minutes
Cons
The unit is not suitable for larger phones
3. RAM X-Grip Large Phone Mount with Handlebar U-Bolt Base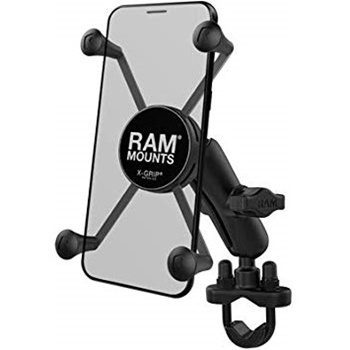 This is another model that is extremely popular with motorcyclists. First, it comes with a spring loader that is able to contract and expand to get the ideal fit around your phone. Furthermore, thanks to the four-ball design, you can easily access your smart device at all times.
The RAM X-Grip Large Phone Mount with Handlebar U-Bolt Base can accommodate rails between .5 and 1.25 inches in diameter as well as a medium length.
Thanks to the powder-coated, marine-grade aluminum, the stainless steel components, as well as the high-strength composite, you will be able to enjoy an extremely durable and reliable phone mount in any weather and riding conditions.
What is more, this model is highly versatile as it can be used on motorcycles, bicycles, and even baby strollers. Unlike many other phone mounts available, this one can hold larger smart devices such as Samsung Note 8 or similarly-sized smartphones.
Pros
Thanks to this mount's adjustable design, it is an excellent option for large phones and even phablets.
The four-leg cradle ensures a remarkable holding power
This model allows 360-degree rotation so that you can easily find the perfect viewing angle
Cons
The rubber tips from the arms might slide on and off
4. CAW.CAR Accessories Motorcycle Phone Mount – Universal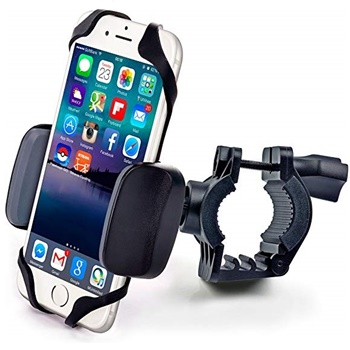 Regardless if you have a smaller or larger phone, this holder will serve you well. You will probably be pleased to know that this motorcycle phone mount can hold devices of up to 3.7 inches wide. Moreover, once your phone is locked into place, it will remain completely safe and secure throughout your entire trip.
The unit is also equipped with silicone bands that will keep your phone safe even when you go on bumpier rides. You will also like how easy it is to install the CAW.CAR Accessories Motorcycle Phone Mount – Universal in just a matter of seconds.
The unit has a clamp that can quickly be attached to the handlebar. Since this clamp comes with its own tightening screw, you will not require any special tools for the installation process. Also, it can fir bars in the range of 0.6 and 1.4 inches in diameter.
Pros
This model allows you to rotate the mount and the phone so that you can get the ideal viewing angle
With this mount, your mobile's screen, buttons, and the mic jack are accessible at all times
Thanks to the universal design, it can be used by any type of rider, whether male or female
Cons
The plastic components might feel a bit cheap
5. Vibrelli Bike – Motorcycle Phone Mount – Fits Any Smart Phone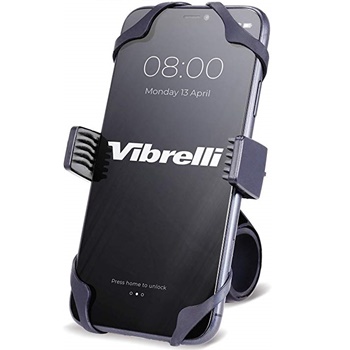 Since it can fit devices as wide as 3.7 inches, this phone mount will probably be suitable for yours as well. Your smartphone will be held by a tight and secure grip thanks to the sturdy adjustable clamp and three band grips made of silicone.
The Vibrelli Bike – Motorcycle Phone Mount – Fits Any Smart Phone is extremely versatile as it can effectively be used on motorcycles, ATVs, scooters, mountain bikes, road bikes, mopeds, and even e-bikes. Moreover, it fits any handlebars with diameters from 0.9 to 1.3 inches.
Another great thing about this product is that it does not block access to your phone's screen. Also, the buttons, as well as the headphone jack, are fully accessible at all times. This means you will be able to operate your smart device without having to remove it from the holder. This phone mount is secure, comfortable to use, and it also looks great.
Pros
It features 360-degree rotation with a ball and socket design that can move to any angle
The mount is lightweight, yet strong. It weighs only 3.5 ounces.
The product is covered by a lifetime warranty.
Cons
Even if it is suitable for most smartphones, some models might not fit so well in the holder.
6. IPOW Metal Motorcycle Phone Mount, Unbreakable Metal Handlebar Holder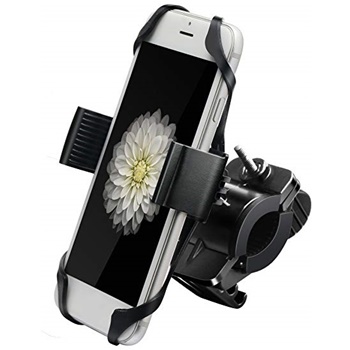 In case you are worried that your phone might get damaged due to constantly riding at high speeds, you may be interested in this sturdy holder. The IPOW Metal Motorcycle Phone Mount, Unbreakable Metal Handlebar Holder is strong enough to withstand the vibrations generated by your motorcycle as well as the wind force during your rides.
The unit comes with a shock-absorbing shim that is designed to hold the handlebars tightly and to eliminate vibrations. The arc-shaped design is meant to prevent your phone from accidentally popping out.
Moreover, the rubber straps hold the corners of the device for increased security. The installation process is extremely easy and convenient as it does not require any special tools. Then, all you have to do is secure and adjust your smart device in any position or angle. You can conveniently set your mobile phone on portrait or landscape position for ideal viewing.
Pros
The unit offers an adjustable grip and 360-degree rotation freedom
The wide clamp can hold a large variety of devices with widths between 2.3 and 3.5 inches
Despite its high quality, this model is an affordable option
Cons
Not all of the parts are made of metal. The clamp which holds the phone is made of ABS engineering plastic
7. Nelson-Rigg CL-GPS-ST Black Strap Mount Journey GPS-Phone Mate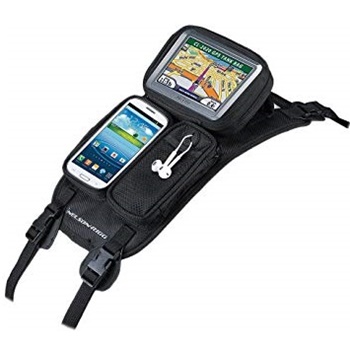 Who says that a motorcycle phone mount needs to be attached to the handlebar of your bike? While that is a popular choice and many riders prefer it, the Nelson-Rigg CL-GPS-ST Black Strap Mount Journey GPS-Phone Mate attaches to the tank. It uses straps with protective base material in order to prevent slipping as well as producing marks or scratches.
What makes this model special and also worth mentioning is its convenient and unique design. The mount features two clear pockets, one for your GPS, and the other for your smartphone, as well as another smaller pocket for your headphones.
So why would you need such a mount when you can simply use your phone as a GPS unit? Well, you definitely do not need two devices, but it certainly is more convenient. For example, if you also like listening to music while on the road, you won't have to constantly get out of the map mode to change the song.
Pros
The multi-position GPS pocket can fit the most popular devices in this line
The clear pouches are touchscreen as well as device-friendly
It comes with a convenient carry handle
Cons
The pocket that is dedicated to smartphones is a bit small and does not fit larger devices
Types Of Motorcycle Phone Mounts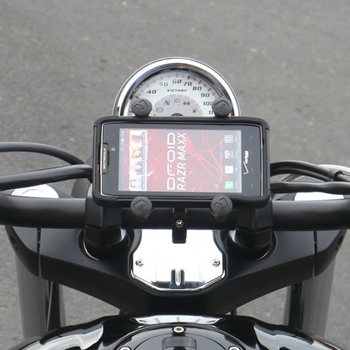 Just like there are various types of models in our motorcycle GPS reviews, so is the case of phone mounts. There are three main types currently available on the market you should know about, and you should go for the one that suits your needs best.
1. The clamp mount
This is the most common type of mount for motorcycles you will probably find on the market. What characterizes this type is that it attaches to your handlebar with a metal or hard plastic clamp. It also features a rubber phone grip as well as a silicone netting which is meant to secure the corners of your smart device.
This type is extremely popular due to the fact that it offers security and stability for your phone, GPS unit, or other digital devices you might want to use. The clamp-style mount also provides safe mounting options for your unit.
2. The silicone strap mount
This type is similar to the clamp mount, but it is attached to the handlebar via a strap, as opposed to the clamp. A silicone phone mount is a great all-weather option because it is made of soft, long-lasting, as well as washable materials.
What is more, this type is extremely easy to use and very affordable. As a possible downside, these mounts lack the overall grip the other types offer.
3. The windscreen mounts
As the name suggests, these mounts are designed to attach to the windscreen of motorcycles. The biggest advantage of using this type is that you can install your phone higher than with handlebar mounts. This will provide you with a better view of the phone's screen. These types of mounts are usually preferred by touring bike riders.
Motorcycle Phone Mount Buying Guide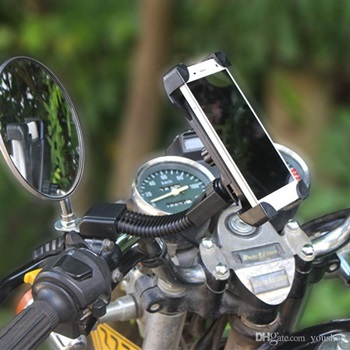 When you want to get a new oil for your motorcycle, you do not simply go to the shop and select the first one you see. There are certain things you need to consider in order to make sure that your bike will operate well.
It is the same with the phone mounts. You need to think about device compatibility, make sure it will fit the handlebar, and other aspects should be kept in mind as well.
1. Device compatibility
First and foremost, when you select a new mount for your phone, you need to make sure that it is compatible with your device, otherwise, as you can imagine, it will be useless. Moreover, many people prefer using their phones, GPS units, or other similar devices.
If that is also your case, we recommend looking for a universal phone mount. Even if you plan on using it with only one device, you will change your phone eventually. However, if your mount is universal, chances are you will not have to replace this unit as well.
Universal mounts are very flexible which means that they can hold various types of phones of different dimensions. When you select a certain model, you should make sure that it can stretch wide enough to hold your device from any corner in its clutches.
2. Handlebar compatibility
Top-rated motorcycle fairing speakers that do not fit your motorcycle are useless for you. It is the same situation as with motorcycle phone mounts. If the unit does not fit the handlebar, you will not be able to use it. Before you decide to order the product, make sure that it fits the diameter of your bike's handlebar.
Usually, mounts come with sizing guides, so you can easily check to see if a certain unit is suitable or not. Many models are also adjustable, but it is best to make sure that it is right for you before you waste money on the wrong product, only to spend more time looking for another.
3. Installation process and ease of use
If you start looking for products in this line, you will soon realize that there is a wide variety of mounts available on the market. These units have various ways in which they can be attached to your bike's handlebars. We also know how precious time is, and you would probably prefer uncomplicated units.
In this sense, we recommend looking for a model that is easy to install, and which does not necessitate special tools for this procedure. The fact of the matter is that not all of us have technical skills or even large tool kits at home.
When it comes to phone mounts, there really is no point in paying extra to have a specialist install it for you, when there are so many options available that you can mount without any technical know-how or instruments.
Also, it is not only the installation process you should keep in mind. The perfect phone mount should be extremely easy to install, as well as to detach from the handlebar. You should be able to perform both these procedures in a matter of seconds.
There is another thing you should consider as well: once the kit is installed on your bike, you should be able to attach and detach your phone extremely easily. For this reason, we recommend getting a model that requires one-hand operation as well as the least possible amount of movements for this process.
4. 360-degree flexibility
When you first install your mount, you will place it where it is most convenient for you to view your phone. However, you will need to experiment a bit until you manage to find the right angle that allows you to see the phone. You will not be able to make the most out of your mount if the angle is unfavorable.
If you want to make your life easier in this sense, you should look for a model that has 360-degree flexibility. This will allow you to move it in pretty much any angle so that it best suits your needs. Having this feature enables you to easily adjust your phone in a firm and comfortable viewing position.
5. Strong grip
So now that you've made sure that the unit you decided on is compatible with your phone and handlebars, and you can easily install it and find the right viewing angle, there is another thing you should be very careful with. It is extremely important to find a reliable product.
You can find models that come with a wide array of grips like X-Grip, Finger Grips, or cases that hold your mobile phone tightly and securely for outdoor applications and bumps in the road. Most models you will find on the market come with clamps that are used to attach the unit to the handlebar.
We suggest finding the largest clamp you can get. However, you still need to make sure that it is compatible with your bike's handlebars. The last thing you want is to lose your phone while on the road. That would certainly ruin your trip!
6. Shock absorption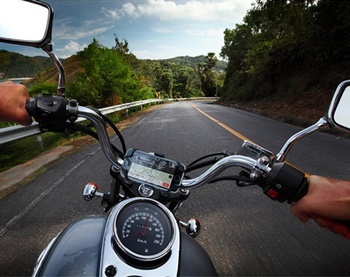 As a biker, most probably not all of your rides are on the main roads. When riding on off-road landscapes and rough terrains, you will inevitably experience sudden impacts and shocks. You will also hit rough patches, speed bumps, and potholes. These impacts can all negatively affect your phone.
For this reason, the phone mount you select should be sturdy enough to absorb these shocks as well as sudden impacts. We recommend looking for a padded mount with a rubber grip. Silicone bands will absorb sudden vibrations, so make sure your mount has all these features.
7. All-weather materials
A real biker does not only ride when it is nice and warm, and the sun is up in the sky. Although you may not start your trip when the rain is pouring heavily, you can never know when bad weather can catch up with you.
Hot, or cold, your phone mount is always exposed to the elements, speed, and tough roads. Therefore, you should look for a phone mount that is made with durable and strong materials that can withstand any weather and riding conditions, such as aluminum, zinc alloys, or ABS plastic.
8. Accessibility to ports and camera
One of the problems with phone mounts is that they tend to cover ports and openings of your smart device. At first glance, this might not seem such a big issue. Still, especially during long trips, it may prove to be very inconvenient. If the charging port, for instance, is blocked, you will not be able to charge your phone.
If you want to record your trip and your camera is covered, you will not be able to do so. Before placing that order, you should check to see if the ports and openings that matter will be covered by the mount. If that proves to be the case, you should look for another model.
9. Charger
If you are constantly on the road and on long trips, you might be interested in a phone mount that also offers you the possibility to charge your phone anywhere. Since not all models have this feature, we thought it would be good for you to know about this possibility. These are electronic phone mounts that can charge your smart device up to five times if it is charged once.
How Do I Install a Motorcycle Phone Mount?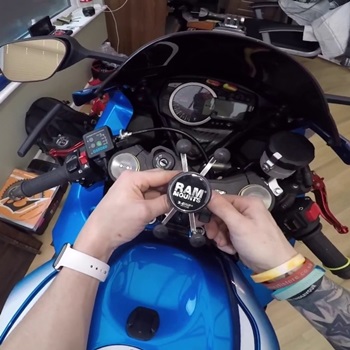 Since there are various types of phone mounts with different grip styles, the installation methods also vary depending on these factors. In order to make sure you follow all the correct steps, you should always read the manufacturer's user manual. For further instructions, you may even find online tutorials and videos showing the exact steps you need to take.
Some mounts require using a screw thread for installation. At the same time, others use springs that clutch onto the handlebars. If your model is a clamp-style, you should simply open the clamp and place it around your bike's handlebars, in the position you desire.
The next thing you should do is screw the clamp closed until it is tight and secure. The last step would be to place your smart device into the cradle, mount it on the bike, and adjust it until you find a clear and comfortable viewing angle. Make sure that the phone's screen does not obscure the view ahead, nor the motorcycle's dashboard.
Most motorcycle phone mounts are easy to install and do not require technical knowledge. However, if yours is more complicated or if you do not feel competent enough for this procedure, we advise you to reach out to a specialist to do it for you.
FAQ About Motorcycle Phone Mounts
1. Where exactly should I install my phone mount on the handlebar?
There is no ideal spot where you should install your phone mount because each rider has different needs depending on his or her height and riding equipment. Also, different motorcycles have different characteristics and the height of the handlebar also varies.
The best spot should provide you with a balance between fast and easy access to your phone and not blocking the view ahead or to the bike's dashboard. You can attach your phone mount on the right or on the left side of the handlebars, depending on whether you are a right or a left-handed person.
Moreover, you should always aim for a position that offers you total control over your steering and which does not necessitate taking your eyes off the road. Remember that safety always comes first!
2. Does a phone mount really reduce shocks and large impacts?
A motorcycle phone mount cannot change the impact of the force that you feel while riding your bike. Still, if you have your phone mounted on it, it can protect your smart device from enduring a very strong force. Also, it depends on the mount's model and features. Some of them have more capabilities of absorbing shock than others.
Materials such as rubber padding and silicone inserts will definitely be able to absorb some of the shocks and keep your phone safe and secure. However, it is important to consider that no mount can completely absorb the impacts and shocks you experience while riding your motorcycle, especially on rough terrains.
3. How long can I expect my motorcycle phone mount to last?
Again, there is no definite answer that can cover all scenarios. It really depends on a series of aspects such as how often it is used, what type of riding conditions you put it through, was it installed correctly, and so on. Also, the quality and materials it was made of matter a lot.
Normally, a high-quality phone mount should last a few years, of course, if you do not have the misfortune of getting into an accident. Since these units are always exposed to different types of weather, temperatures, speed, and riding conditions, they are made with sturdy materials that are meant to keep them from corroding or breaking.
Also, you should keep in mind that it is not recommended to often install and uninstall your mount too often. Some of the pieces that are utilized for the installation might not resist the pressure and can break after a while.
This can cause the entire kit to collapse, making it useless. The best way to care for your phone mount is to have it installed in a strategic spot that offers you easy access at all times without having to modify its position or arms too frequently.
4. Can I use my bicycle phone mount on my motorcycle as well?
Theoretically, if it fits, you could use your bicycle phone mount on your motorcycle. However, we do not advise you to do so. A phone mount that was designed to be used on bicycles is not as sturdy as one that was meant to be used on motorcycles. They are weaker and can break faster if not used properly.
Bicycle phone mounts are not intended to be used at high speeds or to withstand severe weather conditions and prolonged exposure to sun rays. We strongly recommend that you select products that are particularly designed for motorcycles and do not look for improvisations. It is not safe and it might cost you.
Wrap Up
The best motorcycle phone mount allows you to access your phone quickly and easily while riding, without blocking your view in any way. Nowadays, it is easy to find a unit that can satisfy all of your needs due to the abundance of products in this line. However, do not be fooled by the product's presentation! Do comprehensive research before you decide on a model, and make sure that it does what it says and, more importantly, it is right for you.
With the help of the buying guide we have prepared, you should know exactly what to look for in such an item, and make an informed decision. We have even thrown in a few motorcycle phone mount reviews so that you can see what models are popular with riders these days. We are confident that you will find a phone mount you will be happy with.
See also: motorcycle grips reviews