The need for having the best motorcycle GPS installed on your bike is a legitimate one. Motorcycles come with many exciting benefits. They do not just have excellent maneuverability, but their fuel consumption is also relatively low compared to vehicles. However, because of their size, they easily become highly susceptible to theft. Apart from theft, Motorcycle GPS trackers are also built to provide directions for riders to move from one point to another. The advantages of having a GPS tracking device installed on your bike are too numerous to be overlooked.
The motorcycle GPS reviews are at your disposal to help you make the right choice when you decide to upgrade. Each of the reviews contains the features, pros, as well as the cons of the unit for better understanding. Let's go!
See The Quick Comparison Chart
Benefits of Motorcycle GPS Trackers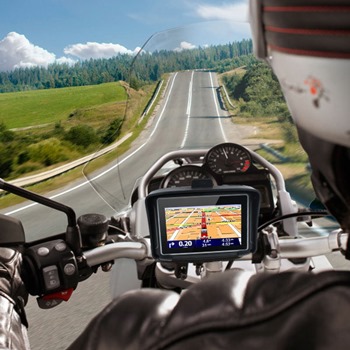 Despite the growing popularity of motorcycle GPS, a lot of people still find it unnecessary to add it to their motorcycle. Some others see it as a rather expensive investment to make for their bikes. Whatever school of thought you belong to; however, it is essential to always remember that your motorcycle is a significant investment that you don't want to lose from road disasters. Below, take a look at a few benefits of having a GPS tracker installed for your motorcycle gear list.
1. Insurance Benefits
This is, perhaps, one of the biggest reasons why cyclists install tracking devices on their bikes. Everybody wants a fair deal in their insurance purchase, and insurance firms are always ready to reduce the coverage rate on motorcycles with tracking devices.
2. Route Direction
The most popular benefit of motorcycle GPS trackers is to point users to the best and most accessible routes from one point to the other. With motorcycle GPS trackers, riders do not necessarily need to be familiar with the route from their take-off point to their destination before taking on any tour.
Improved Maintenance
Getting a tracking device would always be a great investment for people that would love to maintain their motorcycles and have it serve them for more extended periods. Most modern GPS trackers are built with features that allow them to notify users when their bike is due for servicing.
3. Safety and Theft Prevention
Safety doesn't just stop in the installation of top-rated motorcycle alarms. You need to take the extra step of being able to track your motorbike in the event theft. With improved connectivity options today, you can connect your tracker to your mobile device, putting law enforcement agencies a step ahead when looking for your bike in the event of theft.
4. Accident Report
One significant benefit of bike trackers is their ability to piece the entire scene together in the event of an accident. With the information that trackers can record, it will be easier for law enforcement agencies to carry on with their investigations.
Best Motorcycle GPS Comparison Chart
PRODUCT
DETAILS

Garmin Zumo 595LM

Price:

$$$

Customer Rating:

3.6

Size:

1.3 x 5.9 x 3.8 inches

Weight:

14.4 ounces

View On Amazon

TomTom Rider 550 Motorcycle GPS Navigation Device

Price:

$

Customer Rating:

4.0

Size:

5.4 x 1.2 x 3.5 inches

Weight:

9.9 ounces

View On Amazon

Garmin Zumo 396 LMT-S Motorcycle GPS

Price:

$$

Customer Rating:

3.9

Size:

4.9 x 1 x 3.4 inches

Weight:

28.16 ounces

View On Amazon

Koolertron All Terrain Waterproof Motorcycle GPS Navigation System

Price:

$

Customer Rating:

3.4

Size:

6.7 x 5.9 x 5.9 inches

Weight:

28.96 ounces

View On Amazon

TomTom VIA 1525SE GPS Navigation with Free Lifetime Traffic

Price:

$

Customer Rating:

3.9

Size:

5.3 x 3.6 x 1.5 inches

Weight:

16.8 ounces

View On Amazon

Garmin Zumo 395LM (Amazon Renewed)

Price:

$

Customer Rating:

4.0

Size:

1.2 x 5.1 x 3.7 inches

Weight:

9.6 ounces

View On Amazon

TomTom Rider 400 Portable Motorcycle GPS – Motorcycle Navigator

Price:

$$

Customer Rating:

3.1

Size:

5.4 x 1.2 x 3.5 inches

Weight:

9.9 ounces

View On Amazon
Best Motorcycle GPS Reviews
1. Garmin Zumo 595LM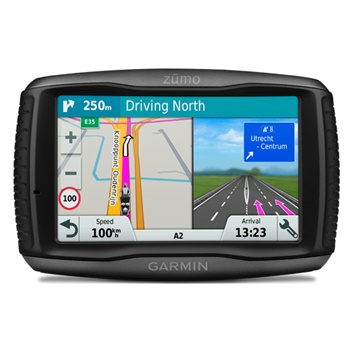 The Garmin Zumo 595LM is designed to offer riders the ultimate experience in the use of motorcycle GPS technology. Although some reviewers complain of the considerable overlap in the features of this model when compared to the more basic 395LM, according to our tests, it still does enough to take motorcycle navigation to an entirely new level worth experiencing. Perhaps it is the availability of so many features that stands it out and makes riders want to own it. The presence of a high resolution 5″ display, for instance, as well as an ability it offers users to stream music from popular services like Pandora and Spotify, makes it a versatile gadget.
However, it is the adventurous routing experience that the gadget provides that has gotten reviewers talking the most. With this feature, the app would be able to calculate the best cycling route between point A and point B, offering you the fastest time to cover the distance. The gadget also features an impressive rider's alert that's designed to notify riders of impending hazards like animal crossings, sharp turns, and nearby red lights.
An advanced connectivity feature also means that you can link the 595LM with your phone using Bluetooth. This gives you access to traffic updates and live weather reports. There's so much about the Garmin Zumo 595LM that makes it a riders' favorite in the world of motorcycle GPS.
Pros
Range of excellent motorcycle specific features that help for easier maintenance and navigation
Impressive music streaming capability
Waterproof technology allows it to work in any weather condition.
Cons
It is relatively expensive
A 4 hours battery life may not be the best in the market.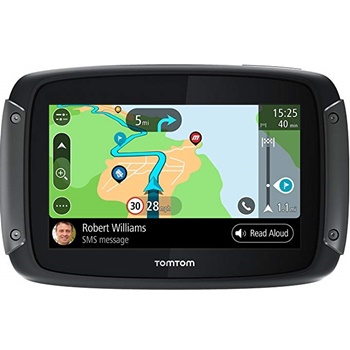 This is the latest model in the line of motorcycle navigation gadgets from TomTom. The TomToms Rider 550 is aimed at those that desire the adventure of a cycling tour far from home. Like most other GPS in this list, it offers you the usual ability to connect your destination through the most direct route and in the shortest time. It then goes ahead to combine a range of other fascinating features that will make your ride more adventurous.
As expected for most products from this brand, there are all the usual informative features to help you navigate through the best routes while avoiding traffic jams. It also gives you information about possible locations of safety cameras, as well as if you are in an average speed zone. All these are useful stuff for moments when you hit unfamiliar routes.
On top of all these features, the 550 also incorporates a hands-free function that allows you to make calls and have messages read aloud with your concentration on the road. A 4.3″ screen is big enough for you to see what you want to do easily.  Perhaps, the best thing about this screen is the clarity that it offers riders on the move. Riders would not have any trouble seeing its display, even in bright sunlight. Additionally, the device is quick to react to change in direction, rerouting rapidly during moments of wrong turns.
Pro
Extremely robust option with fascinating features that make cycling more fun.
Its waterproof feature makes it fit for use in any weather condition
Superb display
Cons
It is relatively expensive.
3. Garmin Zumo 396 LMT-S Motorcycle GPS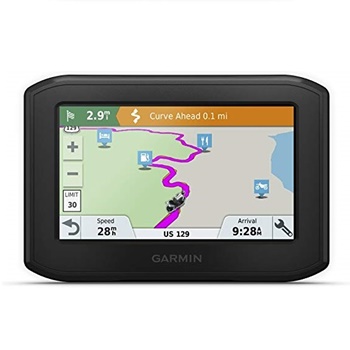 The second option from Garmin Zumo proves that the brand is not a walkover in the world of motorcycle GPS. It is a smaller sibling to the Zumo 595LM model reviewed above, but that doesn't undermine its functionality in any way. It includes many features of the 595LM in a compact package that is also more affordable.
With a battery life of up to 4 hours, you can expect to complete a mini-tour before needing to recharge.
Perhaps, the biggest drive for this gadget is its ability to combine a range of features that improves the practicality and convenience of the device.
For instance, it comes with a built-in WiFi that helps for the wireless update of the device. All you need is to connect to an available WiFi, and you'll be able to run updates on the device. It also features an advanced smartphone connectivity option, which makes it possible to receive traffic and weather updates via Bluetooth.
For those that enjoy riding in groups, the group route sharing feature would come as an exciting addition to the gadget's features.
Pros
Motorcycle specific features for better road navigation
Waterproof technology
Group route feature for group riding.
Cons
Unimpressive battery life.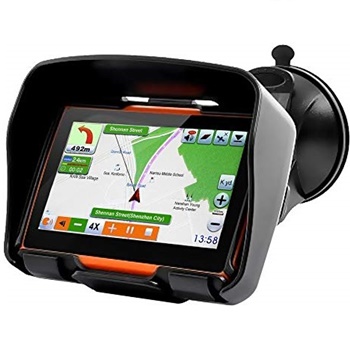 The Koolertron Motorcycle GPS Navigation System has become more popular in recent times among cyclists. After testing the device, we've found that it is one of the best motorcycle GPS systems in the world. The range of features that this option offers makes it a hot demand in the market. First, it comes with a unique touch screen device to make operation easier and better.
The manufacturers of this great device incorporated the screen to provide cyclists with a friendlier user interface, and a more technologically streamlined approach to motorcycle navigation. The GPS is designed to be waterproof; hence, it can be immersed in water up to a 1-meter depth without any damage. With such a feature, you can expect to take on any route, irrespective of the weather condition.
In addition to its waterproof feature, The Koolertron Motorcycle GPS also comes with a range of other features. One significant feature of the model is the presence of Bluetooth for mobile connectivity. This means that you would have complete access to weather updates and traffic situation reports in most cities.
Pros
Compact design
Voice command feature that allows
hands-free operation
Free map updates.
Cons
Some reviewers have complained that its screen is not so bright, but this is not an item in our team's test results list.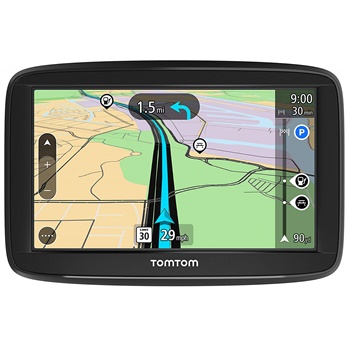 The second model from TomTom in our list proves the quality of TomTom in the GPS world. As expected for most products from the brand, this model is designed for riders that are seeking adventure in unfamiliar terrains far from home. The brand has always surprised us with the level of exceptionality in the functionality of their devices, and this model is not an exception at all. With qualities like advanced lane guidance, map, free lifetime traffic, and a voice assistant, riders can expect their ride to be problem-free.
The model does not lack behind at all in its most significant function, which is connecting riders from one point to another via the shortest route. However, it goes ahead to add other features to make every ride a story that is worth telling.
The first thing that attracts attention to the device is the presence of a 5-inch touch screen that increases the visibility of the routes to the users. When mounted, this screen provides a fascinating level of clarity to make usage easier.
With its advanced lane guidance feature, users can also expect an update of sudden lane changes. There's so much about this model that stands it out from other conventional GPS in the market.

Pros
Superb display for ready routing
Lots of fascinating features for better route coverage
Waterproof
Cons
6. Garmin Zumo 395LM (Amazon Renewed)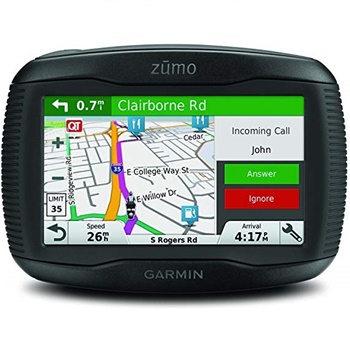 Germin's continued success in the production of GPS technologies with amazing features has since earned them recognition from mainstream motorbike adventurists. Recently, the company unveiled the new 395LM model with new features for the safety and convenience of motorcycle riders.
Apart from improved road awareness, there are some other benefits that riders can expect to get from using this model. The unit is built to offer advantageous apart for potentially dangerous curves, animal crossings, railroad crossings, school zones, speed limit changes, and a lot more.
With this unit, riders wouldn't have to worry about fatigue during longer rides, considering the presence of a fatigue warning to suggest rest periods for riders. Not only us but also most reviewers are happy with the availability of an easy route shaping that allows riders the ability to fine-tune their routes by traveling through choice roads and areas.
Perhaps one of the best technological advancements on offer by the device is the digital fuel gauge that gives you an estimate of the number of miles that your remaining fuel can cover before finishing.
The presence of free lifetime map updates, trackback features, and lane assistance round up the ensemble of features that riders can expect from this GPS model. Taking the nifty little device during any trip keeps you on the safe route.

Pros
Impressive battery life
Free lifetime map updates
Waterproof feature
Cons
Small text may not be convenient for some riders
It is relatively expensive.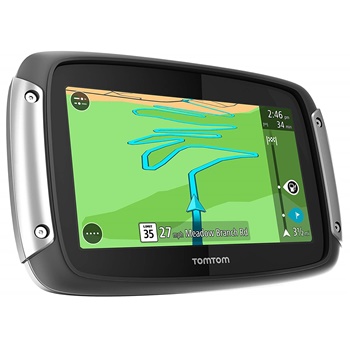 Before its launch, the Rider 400 was a long-awaited upgrade from the TomTom brand. One look at the device and you can tell that it is worth the long weight. It does well in its ability to combine stylishness and a compact design. Additionally, it also incorporates a number of features that will make any ride exciting and enjoyable. According to many reviewers, the most outstanding feature of this device is its impressive interface, which is easy to navigate. We also agree about that.
The TomTom Rider 400 satisfies the need for an intuitive motorcycle GPS that is rugged enough to take you through tough road navigations.
With such an incredibly intuitive user interface, you can tell that the Rider 400 is aimed at motorcyclists that enjoy day trips as well as those that love to hit the road for long cross-country tours.
Everything about this device exudes a fascinating level of simplicity. It has a compact, weatherproof Frame that easily fits into the mounting kit.

Pros
It is relatively cheaper when compared with most other models
It features a user-friendly display.
Cons
Tiny on-screen buttons
It doesn't have any advanced route customization options.
Types Of Motorcycle GPS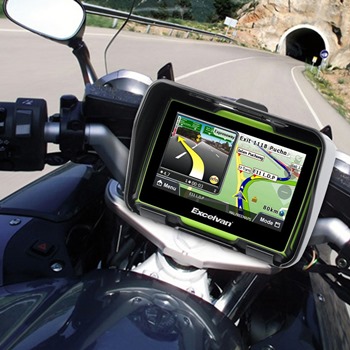 A quick stroll around the market will reveal to you that there are three basic types of motorcycle GPS devices. This section will focus on examining the three different types, as well as discussing what each has in offer.
1. Specialized Motorcycle GPS Units
From the name of this type, you can already see that it is created with the average motorcyclist in mind. This type of GPS unit usually comes with a sturdy build; hence, they are incredibly durable. This means that they can withstand nearly all obstacles that they face.
Some of the features to expect in such types of GPS trackers include touch- screen options, waterproof casing, anti-glare screens, weatherproof ability, and Bluetooth compatibility. These features help to improve convenience and safety.
As a frequent Rider that wants the quality of a proper GPS device, this type of tracker would be just right for your needs.
2. Portable Outdoor Hiking Units
If, in addition to riding, you also love other adventurous sports like camping, mountain biking, and even rambling, then you will find this type of GPS device helpful, considering that you can take it anywhere.
It is versatile and often navigates accurately. If you are an expert explorer, then this is a type that you will want to get. We've even seen situations where some people use this type of GPS navigator for their boats and cars because of its incredible level of efficiency.
It is, however, important to ensure that your choice portable outdoor unit comes with a universal mounting feature, to save you the stress of mounting it every time you bring it with you.
3. GPS/PDA Hybrids
These types of GPS trackers are often designed to feature an exciting level of portability, just like the other types above. However, the most significant appeal for this one is its huge screen. This is another preferred choice for people that love outdoor activities. It works pretty much like any other handheld device. The only noticeable difference, however, is its ability to also work as a PDA.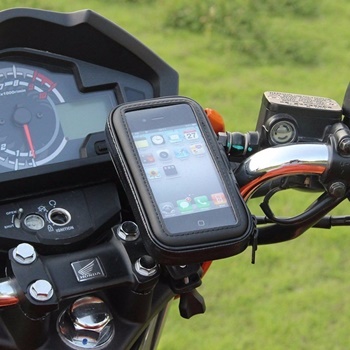 Technology is advancing very quickly. Today, a good number of riders now prefer to use their smartphones for navigation. Of course, you can now promptly secure your smartphone in place and use it as a motorcycle GPS navigator using the handlebar mount. As expected, people are already beginning to compare smartphones to traditional GPS navigation units. It all depends on what you want from your navigation unit. Below, let's briefly examine the two under different features.
1. Maps
Traditional motorcycle GPS navigators often come with pre-downloaded maps. To update them, you will need to connect them to your PC using the WiFi option or any other connectivity option provided by the device. Smartphones, on the other hand, connects to the internet via a cellular network. This means that you can update your map on the go or even get access to a real-time map if you want. While obtaining real-time maps is great, it still comes with its perks. For instance, when you lose cellular signal, navigation gets lost as well, leaving you lost in the middle of nowhere. We will give it to dedicated motorcycle GPS Units in this case, since they are not dependent on live map updates.
2. Accuracy
Manufacturers of traditional motorcycle GPS units often claim that they are more accurate than their smartphone alternatives. Well, perhaps it makes sense, considering that designated GPS units are designs for this particular job; hence you can expect them to perform better, compared to smartphones that would have to perform several different functions at once. In reality, however, it is difficult to spot the difference.
3. Durability
Durability is perhaps the most significant point where traditional motorcycle GPS trackers trump over their smartphone alternatives. When manufacturers build dedicated units, they do it to withstand the vibration of the motorcycle. They are also made to withstand different weather conditions; hence they are mostly waterproof. A good number of them also come with a specialized touchscreen display that you can operate with your gloves.
Motorcycle GPS Buying Guide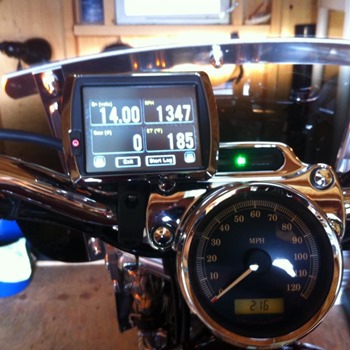 The presence of many motorcycle GPS brands in the market today can make the burden of choice overwhelming. However, there are a few criteria that you can use to get the best. Here take a look at a few features to consider when buying a motorcycle GPS.
1. Compatible Across Platforms
When looking to purchase a GPS tracker, compatibility is an essential factor to look out for. For starters, check out the various reviews of the tracker that you want to purchase, before making your investment in it. Several trackers in the market are compatible with several platforms, and getting such will help for added convenience. Look out for options that work excellently with both iOS and Android apps
2. Glove Friendly Touch Screen
For most outdoor riders, bike tours equal adventure. This means riding through different terrains and weather conditions. Hand gloves come as important apparel for most bikers. Since most modern GPS trackers are touchscreen, you want to get one that you can operate conveniently without needing to take off your hand glove during the ride.
3. Energy Consumption and Battery Life
There's a need to be on the lookout for a GPS tracking unit that can guarantee extended battery life. With this type of unit, losing your way because of battery issues will be limited. Additionally, you would be shielded from the fear of losing your bike because you have to stop for a recharge.
When talking about energy consumption, many economical options can be found in the market today. Some models are designed to enter the standby mode when they are not in use to preserve battery life.
4. Durability
The importance of durability when getting any motorcycle accessory cannot be overemphasized. From motorcycle disc locks to GPS trackers, you need to look out for sturdy and rugged options, especially if they will remain on your bike for an extended period.
5. Pre-loaded Maps
Most GPS trackers these days come with pre-loaded maps. The advantage of this feature is that you can still use them even when you get to areas without network coverage.
6. Voice Recognition
Most bike accidents are caused by a loss of concentration on the road. The presence of voice recognition features in a bike GPS tracker means that you can virtually do everything on it using voice command.
How To Put a GPS On a Motorcycle?
Bar Mounted Vs. Tank Mounted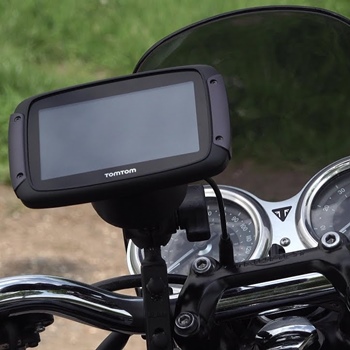 The most important part of the whole process of mounting a GPS tracker on a bike is finding where to hide the tracker. Unlike the case for larger vehicles, you will find that there are not many parts of the motorcycle where you can conceal a tracker. This is perhaps the reason why some companies prefer to advertise the features of their products over the looks.
The general rule to follow when placing your tracker on your bike is to ensure that it does not get too smothered with metal. This shows that you shouldn't put the tracker under the fuel tank since it can restrict performance. In the market today, some alternatives make use of GPS antenna to boost tracking accuracy.
Once you've made your choice big the perfect spot to install your tracker, the next step is to connect wired trackers to the battery, using a live and neutral wire.
You should only think of installing the tracker by yourself if you are well versed in it. If not, you can take it to an approved mechanic to handle.
FAQ about GPS Units
1. Do all GPS trackers need a SIM card?
While some GPS work with SIM cards, it is important to note that not all trackers would need a SIM card to work, and, of course, not all models make SIM cards available for buyers.
2. Do motorcycles need GPS?
Most motorcycle sellers advertise the presence of inbuilt trackers in their Motorcycles. However, it is vital to check and be sure before concluding. Also, check to know if the tracker is up to the standard you want. Buying a separate tracking unit is often your best alternative when it comes to finding what meets your needs.
3. How often should I update my GPS
Most models release system software updates periodically. It is important to check once in a while to know if there is a new update available. Experts recommend that you check for updates every 3-4 months.
4. How long does a motorcycle GPS battery last?
Depending on usage, the battery life of most motorcycle GPS trackers can last between 4-8 hours. You can turn off battery consuming features to help the battery last longer.
5. What is the limit of GPS trackers?
The limit of a GPS tracker is highly dependent on the model. Some models worth via satellite, so you can expect them to work well in every nook and cranny around the world.
Wrap Up
There you have it, a guide pointing you to the best motorcycle GPS trackers on the market today. We hope that you can make use of the information that we've included in this article in picking the best motorcycle GPS for your needs.
Experiencing a life of adventure with your motorcycle starts with how well you can secure it. Motorcycle GPS trackers are indispensable when it comes to securing your bike from theft as well as knowing directions.
The motorcycle GPS reviews in this article were written after research on various options on the market, so you can trust that they are the best.
See also: motorcycle radio reviews