The best motorcycle oil will ensure that your engine works properly, purring like a cat. The harsh truth is that inferior-quality oil can harm your engine in the long-run. An engine that seems to be working well may start corroding after a while due to harmful contaminants that are accumulated in the lubrication system of the engine.
You should never take the cheaper route when it comes to engine oils. To help you out, hop onto the motorcycle oil reviews for some of the most popular products in this category currently available on the market. Let's jump right into it!
See The Quick Comparison Chart
Benefits Of Changing Motorcycle Oil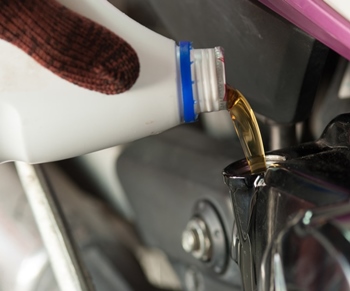 Since the engine represents the lifeblood of a motorcycle, it is extremely important to take really good care of it. But how can you do that? If you go to any specialized service, you will be told that the oil needs to be changed periodically. You do not have to be a car or motorcycle mechanic to know that. Let us see why it is so important to perform this action.
1. Lucrication
As you may already know, the engine oil runs through all the essential parts of the engine and it also provides constant lubrication between the mechanical parts. Furthermore, it creates a layer of sleek molecules of oil on the inside of the engine.
You see, the components that are part of the engine are made of metal, and they have to rub against each other in order to work. Therefore, they can heat up and deteriorate. One of the engine oil's roles is to sit on these components and lubricate them, so they can operate efficiently. The size and quality of various engine oils really make a difference.
Mineral oils, for instance, have inconsistent and uneven molecule sizes. This can generate more friction compared to the even-sized molecules from synthetic oils. If the case requires it, you should consider spending more on a synthetic oil that will maintain your bike's engine slicker from the inside.
However, you need to be very careful about the manufacturer's recommendations regarding the type of oil you should be using.
2. Fuel Efficiency
If the engine oil runs smoothly and it helps generate the least amount of friction possible, it will create a better burning of petrol in the cylinder. Therefore, the smoother the operation between the components, the lesser the fuel gets consumed producing more power to move.
In case the engine oil is used up and it causes more friction, the piston, and the crank need to put in more effort to produce power. However, if the crank runs slicker, your bike creates more power with ease.
Due to the fact that synthetic as well as semi-synthetic engine oils keep their viscosity and flow, they also enable the engine to reduce frictional heat losses and enhance fuel burning in the cylinder.
This offers you improved fuel efficiency figures even after constant use through various climate conditions. In other words, an efficient engine oil translates into less fuel consumption and also money saved.
3. Longer engine life
As previously mentioned, the parts that make up the engine are made of metal, and they have to rub against each other in order to operate. As you can imagine, this would normally generate a lot of frictional losses as well as engine wear and tear.
This is where the engine oil steps in by creating a sleek film of molecules on all of these parts. As a result, it prevents them from scratching and rubbing against each other. Moreover, those heat losses produced by friction are also reduced.
All of these factors contribute to extending the life of your engine. However, it is important to mention that engine oil has an age of its own and it gets used up after a specific number of miles.
When that happens, frictional losses increase, while engine components start eating each other up. If you want to avoid this from happening, you should always remember to change the engine oil as regularly as recommended by the manufacturer.
4. A clean engine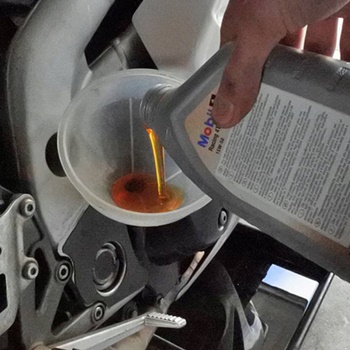 In addition to keeping the components of the engine cool and reducing friction, high-quality oils are able to catch as many contaminants as they can during their use. When the engine operates, tiny chiseled metal fillings and various contaminants are caught by the oil, and then they are collected in the oil filter of your motorcycle.
Therefore, harmful impurities can easily be isolated from between the engine's components saving it from possible expensive damage. You should also know that synthetic engine oils take these impurities and leave them in the filter, but the mineral oils might pull them back and transport them in the engine over and again.
5. Better overall performance
Simply put, a high-quality engine oil means a better overall performance of your motorcycle. The standard mineral-based engine oil extracts the very standard-rated performance out of your bike's engine.
Still, you cannot pull out more horses from a regular engine without making some drastic changes. You can, however, change how your engine responds. This can be accomplished by improving the quality of the engine oil you add in the system. The mineral-based oils are the cheapest and perform as standard as they possibly can.
The next level is getting a semi-synthetic oil that has a combination of mineral-based ingredients and synthetic elements. This type of engine oil provides a mix of efficiency and performance, all for quite an affordable price.
Then, we have the full-synthetic oil that is formulated with synthetic compounds that are specifically designed for high-performance engines. The better the oil, the less friction, and, as a result, the engine can operate smoother and respond quicker to the rider's inputs.
Best Motorcycle Oils Comparison Chart
PRODUCT
DETAILS

Castrol 06112 POWER 1 4T 10W-40 Synthetic Motorcycle Oil

Price:

$$

Customer Rating:

4.9

Type:

Synthetic

Viscosity:

10W-40

Weight:

2 lbs.

View On Amazon

Mobil 1 96936 20W-50 V-Twin Synthetic Motocycle Motor Oil

Price:

$$$

Customer Rating:

4.9

Type:

Synthetic

Viscosity:

20W-50

Weight:

12.25 lbs.

View On Amazon

HONDA 08C35-A141L01 Honda Pro GN4 Motor Oil

Price:

$

Customer Rating:

4.8

Type:

Mineral

Viscosity:

10W-40

Weight:

7.2 lbs.

View On Amazon

Shell Rotella T6 Full Synthetic 5W-40 Diesel Engine Oil

Price:

$

Customer Rating:

4.8

Type:

Synthetic

Viscosity:

5W-40

Weight:

7.65 lbs.

View On Amazon

Royal Purple Max-Cycle 10W-40 Synthetic Motorcycle Oil

Price:

$

Customer Rating:

4.8

Type:

Synthetic

Viscosity:

10W-40

Weight:

2 lbs.

View On Amazon

Red Line 42504 20W-50 Motorcycle Oil

Price:

$

Customer Rating:

4.9

Type:

Synthetic

Viscosity:

20W-50

Weight:

1.7 lbs.

View On Amazon

Lucas Oil 10702-PK6 Synthetic 20W-50 Motorcycle Oil

Price:

$$$

Customer Rating:

4.8

Type:

Synthetic

Viscosity:

20W-50

Weight:

12.6 lbs.

View On Amazon
Best Motorcycle Oil Reviews
1. Castrol 06112 POWER 1 4T 10W-40 Synthetic Motorcycle Oil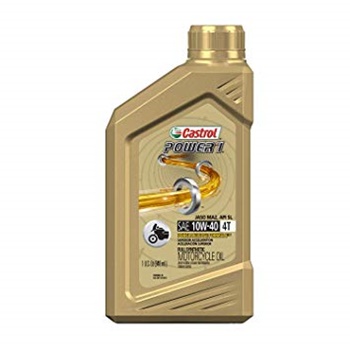 Anyone who owns a car, a motorcycle, or any other type of motorized vehicle has surely heard about Castrol. This company has been at the forefront of lubricant innovations and motorsport racing for over 120 years.
The Castrol 06112 POWER 1 4T 10W-40 Synthetic Motorcycle Oil is designed to protect three areas of your two-wheel vehicle. These are the engine, the gearbox, and the clutch. This product is an excellent choice for motorcycle enthusiasts who seek the exhilaration only riding can offer.
The oil provides superior acceleration at the touch of the throttle because it floats very fast and it reduces internal engine friction. Moreover, it offers extreme high-temperature air-cooled performance as well as water-cooled engine performance.
Another thing you will appreciate about this oil is outstanding shear stability to prevent viscosity breakdown. For the best results, it is very important to follow the manufacturer's instructions in the owner's manual of your vehicle.
Pros
This oil is a great choice for both fuel-injected as well as carburetor engines
The formula works very well even for a wet clutch
It comes in a pack of six, so you do not have to worry about getting out of stock for quite some time
Cons
The noise of certain engines may be increased by this oil
2. Mobil 1 96936 20W-50 V-Twin Synthetic Motocycle Motor Oil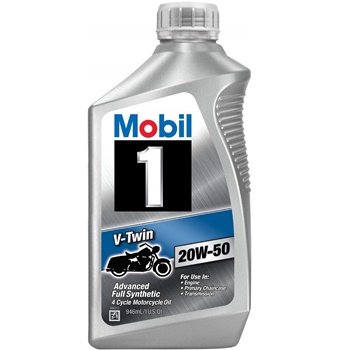 In case you have a four-cycle motorcycle, you can trust this product to deliver outstanding performance for common engines and for the transmission lubrication system, as well as for engine lubrication systems that are separate from the transmission one.
The Mobil 1 96936 20W-50 V-Twin Synthetic Motorcycle Motor Oil is formulated to offer the appropriate frictional features that are required for wet-clutch engines and for the transmission systems. You should know that the product is specifically designed to be used in motorcycles, so you should not try it in any other type of engine.
Furthermore, since the oil is formulated for the distinct requirements of motorcycles, it will protect your bike even in extreme situations such as continued high-speed operations, as well as extended idling in traffic. It is also engineered to efficiently withstand the extreme heat generated by powerful engines and rough riding conditions as well.
Pros
This oil presents remarkable high-temperature durability
Using this product encourages your motorcycle to run much quieter
Your bike's engine will also stay protected against dirt composites
Cons
This product might not be the best choice for low-capacity engines
It is available in cases of six, which is not convenient for all users
3. HONDA 08C35-A141L01 Honda Pro GN4 Motor Oil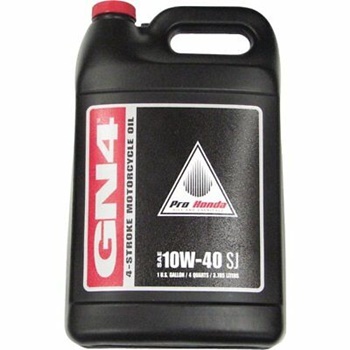 If you are looking for a price-efficient alternative, you might want to consider this product. First of all, it is specifically formulated to satisfy the needs of motorcycles and ATVs, as well as their owners. One of the reasons why this oil brings so much attention is the fact that it is formulated by a manufacturer that certainly made a name for itself in this business.
The product's shear resistance is better compared to many competitors and it also presents enough viscosity and stability to make you want to continue using it. Even though it is a cheaper alternative, the HONDA 08C35-A141L01 Honda Pro GN4 Motor Oil is great for your engine, especially because it can protect it from abrasion.
Moreover, after you start using the oil, you will immediately notice your engine sounding better and running smoother. This formula was designed for Honda engines, but many motorcyclists use this oil in their bikes, even if they are from other brands.
Pros
Due to its great formula, this oil provides superior engine performance
It is an excellent choice for new motorcycles as mineral oil makes it easier for you to turn the engine on
This oil also helps prolong the life of your engine
Cons
For powerful sports bikes, mineral oil is not the best option
4. Shell Rotella T6 Full Synthetic 5W-40 Diesel Engine Oil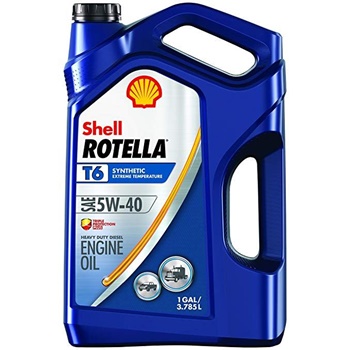 Compared to many other oils with a 5W-40 viscosity, the Shell Rotella T6 Full Synthetic 5W-40 Diesel Engine Oil provides an improved fuel capability of 1.5% and it makes no compromise when it comes to the engine's protection.
Moreover, it is a blend of synthetic base oils and multi-functional dispersant additives that will protect the engine against the harmful effects of various contaminants and debris. This product also features a low-ash formula that fights the poisoning of the exhaust. As a result, the emissions of the engine will always stay in compliance with the required standards.
Even though it does not make your bike's engine work faster, this oil makes it run significantly smoother. What is more, this mineral oil can successfully withstand the breakdown generated by the heat, offering your engine even more protection. To obtain the best results, make sure you follow the manufacturer's indications from your motorcycle owner's manual.
Pros
Since it is a conventional type, made of crude oils, it is highly versatile as it can be used more than once
This product reduces fuel consumption saving you a lot of money
It also features outstanding shear stability
Cons
The poor packaging can often lead to leakages
5. Royal Purple Max-Cycle 10W-40 Synthetic Motorcycle Oil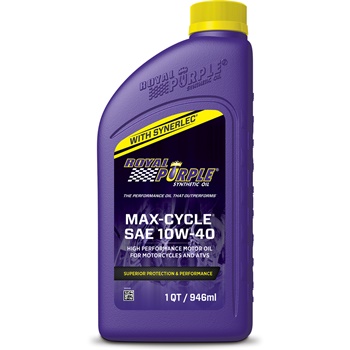 Even though it is a bit more expensive, this product is certainly worth considering. First of all, it protects your bike's engine from corrosion and dust and, as a result, extends the life of the engine. Secondly, it is an excellent choice for highly-stressed transmissions, so you will enjoy a powerful motorcycle for extreme riding.
The effects of using this synthetic oil can be immediately noticed in the cases of tired engines which suddenly start operating smoother. You will feel as if you are riding a new bike. On top of that, it is formulated with high-strength additive technology that enables the motorcycle to perform better in wet areas as well.
Since it is equipped with shear stability, the product also ensures exceeding performance as well as superior protection. In other words, this is a perfectly-formulated oil that offers top-class oxidation resistance for a better and extended life of your engine.
Pros
This synthetic oil reduces almost all additional noises, making the engine much quieter
It can also increase gas mileage
The oil reduces slipping during the transmission as well
It is specially formulated for racing motorcycles
Cons
Compared to other similar products, this one comes with quite a high price
6. Red Line 42504 20W-50 Motorcycle Oil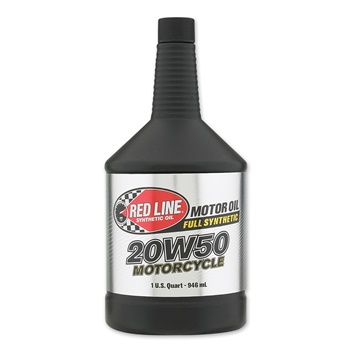 Lubrication is an important aspect when it comes to motorcycles. The engine parts and gearbox, as well as the chain, all require attention. Finding a good motorcycle chain lube is important, but using the right engine oil is paramount. The Red Line 42504 20W-50 Motorcycle Oil is another option you should definitely consider.
It is a fully-synthetic oil that was specifically formulated for motorcycles that have engines similar to Harley-Davidson's Twin Cam and Evolution models. This oil can successfully withstand very high temperatures. Moreover, its special formulation is able to prevent the loss of viscosity that usually happens when temperatures are very high.
On top of that, this product is filled with additives with anti-wear properties like zinc and phosphorus. Because of this, your engine will remain healthy for a long period. Last but not least, the special mix of modifiers that can be found in this oil make it fully compatible with wet clutches.
Pros
This oil has extended drain intervals compared to many other brands
Your motorcycle will operate smoother and quieter once you add this synthetic
With this oil, the engine runs much cooler
Cons
This is not the best choice for lightweight engines
It is a bit more expensive than other similar products
7. Lucas Oil 10702-PK6 Synthetic 20W-50 Motorcycle Oil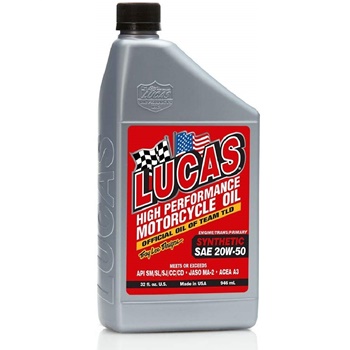 This is another popular choice among bikers. It is a robust oil that ensures a longer life for engine parts, which also ensures that your motorcycle lasts for as long as possible in excellent conditions. With a 20W-50 viscosity rating, it is a great choice for high temperatures.
The Lucas Oil 10702-PK6 Synthetic 20W-50 Motorcycle Oil is specifically formulated to provide your bike's engine extended lubricant life as well as resistance to hot temperatures. Unlike many other oils on the market, this one causes less leakage and the engine will operate much quieter.
As a result, your riding experiences will surely be improved, especially if you often find yourself in crowded areas. Moreover, this product helps reduce engine wear and tear and offers better mechanical performance. If you are looking for an engine-friendly and ergonomic oil, this one is an excellent choice that is certainly worth keeping in mind.
Pros
Compared to other similarly-priced products offered by the competition, this oil lasts longer
It does not contain any shift-wrecking friction modifiers
It is offered by a brand with many years of racing experience to back its lubricants
Cons
This product features a higher running temperature than other similar oils
Types Of Motorcycle Oils
Nowadays, lubricant brands are manufacturing wide arrays of various engine oils, so it is not that easy to select the most suitable one for your motorcycle, especially if you have little knowledge about this.
Using the wrong engine oil can lead to serious damage to both your bike and your budget. The first thing you should know about these products is the various types that are available on the market and what they are for.
1. Mineral oils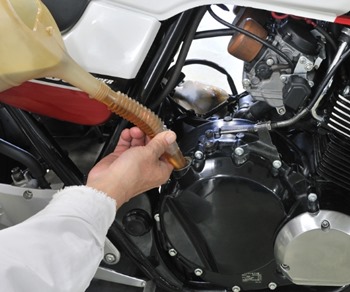 Mineral oils or MOs are basically products or by-products of petroleum processing. In short, they are the most basic types of engine oils. What you need to know about this type is that it is highly recommended for small-capacity engines that do not require a lot of mechanical pressure while operating.
Most motorcycle manufacturers recommend new owners to choose a mineral oil because it provides suitable engine protection for the first few miles of running the engine. The advantage of MOs is that they are quite affordable, and they will not make you spend too much on regular oil changes.
The downside, however, is that they do not last as long as other types, so it is important to replace the oil in your engine as frequently as recommended by your bike's manufacturer. Even with the frequent changes, mineral oil is still considered a very affordable option for most users.
2. Semi-synthetic oils
As the name suggests, the semi-synthetic oil, or SS, is a combination of mineral and synthetic oils. Lubrication manufacturers have taken the best of both types, meaning the high-level protection of mineral oils, and high-performance feature of synthetic oils.
For instance, if you have a small-capacity bike with over 250cc that generates healthy horsepower but is still not under a lot of stress, the semi-synthetic oil is the way to go! You may also hear recommendations to turn to a semi-synthetic oil after the motorcycle has been run-in with mineral oil.
Usually, all small-capacity bikes can use this type of oil but you should know that it will cost a little more. In case you are using a small moped that is below 150cc, mineral oil is more than sufficient for the engine to run smoothly.
3. Fully synthetic oils
Fully synthetic oils, or FS, are considered the top of the line. They are formulated with pure polymers that are based on factory-made oils, and it is the exact opposite of mineral oils. You can even say that they are artificial and do not contain any natural products.
This type is recommended for high-performance motorcycles which are often put under a lot of stress. For example, race machines and superbikes require the much-needed help of fully synthetic oils. The main advantage of these oils is that they do not degrade in terms of quality. This is possible because they are formulated to have a very long life cycle.
Moreover, fully synthetic oils do not break down as fast as semi-synthetic or mineral oils. On top of that, they also provide excellent lubricating performance that does not break under pressure. Some manufacturers might even say that the use of fully synthetic oils increases the performance of your motorcycle. You should know, however, that this is quite a subjective topic.
Motorcycle Oil Buying Guide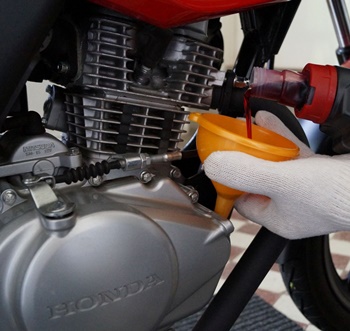 The engine is the heart of your vehicle. Replacing the motorcycle battery needs to be performed from time to time, but you certainly do not want to change your bike's engine. That is why it is important to find the right engine oil. However, this is not that hard nowadays.
There are so many options to choose from and so much information that you can hardly go wrong. However, it is extremely important to use the appropriate product for your vehicle's specific needs. Let us see what things you should keep in mind when looking for such an item.
1. Manufacturer recommendation
This should be the first thing to look at before deciding on engine oil. Your motorcycle has been designed and built by engineers who know what they are doing, so their advice regarding the products you can put into it is valuable.
You can find the most expensive and popular engine oil on the market, but if it is not recommended for your bike, you should not use it. Otherwise, you risk causing serious damage to your engine.
2. Viscosity
This is another very important factor to consider. Basically, viscosity is how runny the oil is or how much it can resist flowing. Liquids with high viscosity, such as molasses, are thick and can resist flowing, while those similar to water have low viscosity, and they flow easily.
What you need to know is that if the viscosity is too high, it generates too much friction between the engine parts. This requires more energy in order to move these parts. In other words, it will steal power from the engine and generate wastage of fuel, and slow performance as well.
Clearly, high viscosity is not the best choice for motorcycle engines. Still, this does not mean that the viscosity should be too low either. Should that be the case, you wouldn't need anything but water to lubricate the parts from the engine. You need a more viscous fluid that can create a thicker film of oil molecules on top of the moving parts.
This is what prevents the parts from grinding on each other, which is basically the point of a good lubricating agent. So, how viscous should a motorcycle oil be? As a general rule, it should be thin enough to deliver proper lubrication, but also thick enough to support pressure and form sufficient film between the moving parts.
3. Grade
The grade of the oil is the detail that lets you know in what temperature range the oil becomes viscous enough to deliver adequate lubrication. If you saw an engine oil pack, you probably noticed something like 10W40, 20W50, 5W40. It might not have told you anything when you saw it, but it is actually quite easy to understand.
Basically, the numbers you see before and after the W are multigrade oils. Before we get into the grading system, let us see what are multigrade oils. As previously mentioned, the oil's viscosity varies depending on temperature.
Therefore, an oil that worked great in the summer will cause a lot of pressure on the engine during the winter, which ultimately causes wear and tear of the engine. In the past, lighter oils were recommended in the winter and heavier ones in the summer. However, this worked out only partially.
That is why multigrade oils were developed. Such an oil includes VI improvers that are basically long chains of polystyrenes and olefins which curl into small balls at low temperatures. Then, as temperatures increase, these balls unfurl to prevent loss of viscosity.
As an example, a 10W30 oil acts like a 10-weight oil when temperatures are low, and like a 30-weight oil when temperatures are higher.
As you might have realized, the figure before the W means the oil's lowest-performing temperature, while the one after the W represents the oil's highest performing temperature. Using the SAE grading system, a 10W30 engine oil will perform well in the -25 to 30 Celsius degrees temperature range.
4. Efficiency
The efficiency of any engine oil depends on a few factors. You need to consider the age of your motorcycle, the engine type, the oil type, grade, and viscosity. All of these contribute to the oil's efficiency.
For instance, conventional oils are recommended for older motorcycles because these might not be compatible with the newer synthetic oils. Also, if you have a low-horsepower bike, mineral oils or semi-synthetic oils are more efficient, even if you need to change it more frequently.
Still, if you are riding a modern and very powerful motorcycle, there is nothing better than synthetic oil. Just make sure you never use automotive oil in your motorcycle as it will damage your engine since it was not designed for this purpose.
5. Riding style
Before you decide on the engine oil you are going to use, you should also consider your riding style. For instance, if you like extreme riding, you should select a synthetic oil as hard-driving produces higher temperatures than normal driving. Also, synthetic oils are designed to resist breakdown at high temperatures. However, in case you are a calm driver, mineral oil will suffice.
6. Cleaning abilities
Another thing to consider when selecting the engine oil you want to use in your motorcycle is its cleaning abilities. As we have already mentioned, there are many contaminants in the engine that can ultimately cause serious damage. A good engine oil also features cleaning abilities meaning that it pushes all debris towards the oil filter and keeps the engine parts clean.
How To Change Motorcycle Oil?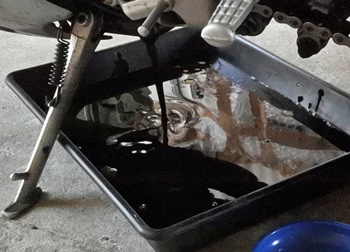 Changing the oil in your motorcycle is not a complicated process, especially if you know a thing or two about mechanics. We need to mention this, if you've never had to deal with such things, you should go to a specialized service. However, if you are going to do this at home, in your own garage, there are a few steps you need to go through in order to change the engine oil.
1. Necessary items
Before we dive into the exact oil-changing process, you should make sure that you are equipped with the right motorcycle picks. If you do not already have them, you should look for them.
Of course, you need the engine oil that should be compatible with your motorcycle, following the manufacturer recommendations. When changing the engine oil, you will also need a new oil filter and a sump washer.
Make sure that you get items that fit your engine. You will also need an oil filter removal tool. For a standard oil filter, it is easy to remove it using the attached wrench. When you collect the oil, make sure you use a wide and shallow tray. If it has a spout in a corner, it will be easier to later drain the oil without spilling it.
Moving on, a funnel will help you fill the engine with oil faster and easier. In order to remove the drain plug and filter, you will need a socket and a wrench. A torque wrench is not completely necessary, but it allows you to torque your filter and sump plug without worrying you might strip the threads.
Since hot engine oil can cause serious damage to your skin, you should wear a pair of disposable gloves to protect your hands. Last, but not least, put wood blocks under your side stand so you can level the motorcycle. This will allow you to check the oil correctly.
2. Changing the oil
Now that you have everything you need, it is time to change the oil in your bike's engine.
2.1 Warm the oil up
The oil will drain easier if it is warm. You can either start your engine for five to ten minutes or go out for a burn.
2.2 Drain the oil
Stop the engine and rest the motorcycle on its side stand. Then, put the oil tray underneath it. Just make sure you do not touch any of the hot parts. You can use the socket and the wrench to remove the drain plug by turning it anti-clockwise. While you are there, make sure you also remove the washer and place the plug on a dish for safekeeping.
2.3 Let the oil flow
Now, you should allow the oil to drain completely. You can simply sit back and let the oil drain itself. If your motorcycle is not too heavy, you can also try to force out any remaining bits of oil hidden in crannies and nooks by delicately moving the bike on each side.
2.4 Remove the oil filter
Unscrew the old oil filter by turning the wrench attached to the filter removal tool, using anti-clockwise movements. There will be another batch of oil coming out of the filter, so allow it to drain completely as well. You should also lube the O-ring at this point.
2.5 Install the new filter
Once the oil is completely drained, take the new oil filter and some engine oil and smear some onto the sealing ring of the filter. You can either put the new filter in or fill it with some oil first, depending on the manufacturer's recommendations. Then, screw the filter on by hand and attach the adaptor with the wrench and tighten it up well.
2.6 Refit the sump plug
The next step is to refit the new washer to the engine drain plug. Manually screw the plug onto the sump and then tighten it fully. You can use the torque wrench and the recommended torque setting.
2.7 Fill with fresh oil
Before you pour the oil in, make sure you check the manual to find the exact capacity of your engine. Undo the plug from the engine fill hole and add the oil. Using a funnel will help you pour without spilling any oil. Be careful so you do not overfill. You need to check the oil level on a level surface. The easiest way is by using a dipstick.
2.8 Final check
When the oil level has reached the max mark, you can start the engine and let it idle for approximately five minutes. Make sure you check that the oil pressure light goes out after starting the engine. Then, turn off the engine and get the motorcycle on a level surface once again. Check the oil level one more time, and add some if the case requires it.
FAQ About Motorcycle Oils
1. Can I use car oil in my motorcycle?
To make things as clear as possible, no, you should never use automotive oil in a motorcycle. First of all, the lubrication requirements of motorcycles differ a lot from that of cars. Engine oil designed for cars mainly only lubricates the moving parts of the engine.
Motorcycle engine oil, on the other hand, not only lubricates these parts, but it also cools the clutch and protects the gearbox. Since motorcycles use the same oil for both engine and gearbox, this oil needs to be able to provide protection for all of the engine's components as well as the gears.
As you can see, motorcycle oil is specifically formulated for the unique requirements of your bike's engine. What is more, since motorcycle oil needs to perform two actions, its shear stability is also extremely important.
This means that it is able to maintain its viscosity better than oils designed for cars. In short, since cars and motorcycles have very different requirements in terms of engine oil, you should never use anything else but what your vehicle's manufacturer recommends.
2. When should I change my motorcycle oil?
First of all, it is important for you to understand that there isn't a certain frequency for all motorcycles when it comes to oil changing. This procedure depends a lot on the brand and the model of your bike, how often you use it, as well as the type of engine oil you are using.
For instance, if we are talking about mineral oil, you should change it at least every two thousand miles. However, if you are only riding your bike very rarely, you should change the engine oil at least twice a year, regardless of the mileage.
In the case of semi-synthetic oil, it is enough to perform the change after five or six thousand miles. When it comes to fully-synthetic oil, it should be changed after seven to ten thousand miles.
Besides the type of oil, you should also consider how often you take your two-wheel vehicle for a ride. If you are always on your motorcycle, you should change the oil more often, no matter what type you are using.
3. Can I add oil in my engine from any brand?
As a general rule, you should always use the same oil that you currently have on your motorcycle. However, you may find yourself in a situation when you are on the road and you need to add more oil.
If you cannot find the same brand you are currently using, you should select an oil with a different weight but from the same brand. You should also make sure that it is compatible with the current temperature. Worst-case scenario, if that is not an option either, it is safer to go with mineral oil from the same manufacturer you are already using.
It is extremely important to know that you should never combine two synthetic oils from different brands because their chemical formulas may differ quite a lot, in which case it can lead to serious engine issues.
Wrap Up
The best motorcycle oil you find on the market may not be the best option for your bike. If you've read our article, you now understand that different motorcycles have different requirements. Fortunately, there is enough information here that can help you find the most suitable product, even if you are a new rider.
You might even pick one of the alternatives we presented in the motorcycle oil reviews which contains a selection of the top-rated products in this line today. Still, if you did not find something to your liking, we are sure you will be able to discover the right option for your motorcycle with the assistance of our buying guide and all of the other relevant information we have managed to gather for you.
So, fill your engine with a good oil and hit the road on your favorite vehicle!