Sooner or later, you will realize the need to own one of the best motorcycle grips for your bike because most motorcycles don't come with any grip at all, while the few that do don't support long-term use. Motorcycle grips are essential for safe and comfortable riding experience, especially when you need to embark on long trips.
Having the wrong grips jeopardizes your safety on rough terrains and dangerous bends. Getting the right motorcycle grips can be challenging, especially with so many options available in the market. The motorcycle grips reviews should help guide you on the right path. Let's jump straight into the topic.
See The Quick Comparison Chart
What Is a Motorcycle Grip And Do You Need One?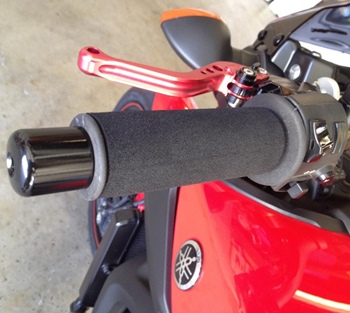 Motorcycle grip is a relatively small but essential accessory that is attached to the handle of a motorcycle. It serves as a grip for maintaining the throttle control and for giving bikers complete control over their handle. The importance of this motorcycle accessory cannot be overemphasized. It comes in a variety of brands and models, with each model offering unique functionality to help any biker enjoy total comfort and convenience on their bike. Good quality motorcycle handle grips are a necessity for racers and cross country bikers because it helps to ensure safety on the road to a large extent.
Benefits Of Motorcycle Grips
Like the models in our motorcycle hitch carrier reviews and every other accessory of a motorcycle, handle grips come with their benefits, making them a necessity for every motorcyclist. In this part of the article, we will review some of the benefits every biker can expect from using top-quality motorcycle grips.
1. Wrist & Hand Comfort
This is one of the most important benefits of owning a good grip for your motorcycle handle. Long-distance travelers can attest to the fact that you would begin to feel a degree of numbness in your hands after holding the handle for a while. Experts suggest that this numbness is mainly from poor circulation of blood due to the continuous handling of hard surfaces. Thankfully, motorcycle grips are mostly designed soft enough to ensure total comfort for your hands. With the right grip in place, you can travel hundreds of miles without any comfort issues on your hands or wrist.
2. Control
Another significant benefit of owning a good motorcycle grip that's worth talking about is control. Modern motorcycle grips come with additional features that help to improve your control over the throttle. With the right grips in place, you can rest assured that your hands would not slip off. This benefit of motorcycle grips would particularly fascinate motorcycle racers and speed lovers because it means improved control during dangerous bends. Again, the level of control that the grips offer you depends on the type of aftermarket grips that you opt for. However, it is always better than not having a grip at all.
3. Style
We all love our bikes to look good. Who doesn't, after all? Motorcycle grips are an inexpensive way to enhance the look of your motorcycle. Opting to change your stock grip for aftermarket options brings a lot more than comfort. These grips come in several different designs and colors today, so you can get one that best suits your style for your bike.
4. Vibration Control
A critical benefit of motorcycle handle grips that stands it out is their ability to help control vibration. Vibrations are a significant cause of the numbness of the hand during motorcycle trips. Motorcycle grips offer you an effective way to keep your hand stable when riding in rough roads. Modern grips even feature an anti-vibration technology, making them a must-own for racers and long-distance travelers.
Best Motorcycle Grips Comparison Chart
PRODUCT
DETAILS

Grip Puppy Comfort Motorcycle Grips – The Original

Price:

$$

Customer Rating:

4.5

Size:

6 x 5 x 1 inches

Special Features:

–

View On Amazon

Grab On Grips Motorcycle Grip Cover, Black MC402

Price:

$$

Customer Rating:

4.5

Size:

9.7 x 5.2 x 1.5 inches

Special Features:

Shock Absorbing EPDM Foam

View On Amazon

BikeMaster Heated Motorcycle Grips (7/8)

Price:

$$$$

Customer Rating:

4.2

Size:

6 x 3 x 12 inches

Special Features:

Temperature Control Technology

View On Amazon

Progrip 714BK Black 125mm Dual Sport Gel Grip

Price:

$

Customer Rating:

4.7

Size:

8 x 6 x 3 inches

Special Features:

Vibration Absorbing Gel Rubber

View On Amazon

Avon Grips Custom Contour Black Grips CC-86-ANO

Price:

$$$$$

Customer Rating:

4.6

Size:

10.5 x 7 x 2.5 inches

Special Features:

Billet Aluminum Ends

View On Amazon

Renthal G149 Black Full Diamond Firm Compound Sportbike Grip

Price:

$$

Customer Rating:

4.5

Size:

9.8 x 6.3 x 2.9 inches

Special Features:

Dual Layer Grips

View On Amazon

Scott Sports 233925-0001 Black Radial Full Waffle Motorcycle Grips

Price:

$

Customer Rating:

4.6

Size:

8.2 x 6.4 x 1.5 inches

Special Features:

Integrated Safety Wire Channel

View On Amazon
Best Motorcycle Grip Reviews
1. Grip Puppy Comfort Motorcycle Grips – The Original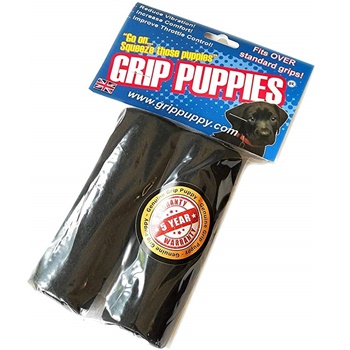 Topping our list of motorcycle grips today is this soft and cozy model from Grip Puppy. It is a total package, combining durability, cost-effectiveness, and lush design. During the research, we found this product to be miles ahead in terms of efficacy and quality. It is not surprising that this motorcycle grip has been one of a popular demand in the market. As expected from most products from this company, the handle provides excellent value for your money.
There's so much that stands this handle out. Its ability to fit over other installed handles is perhaps the biggest reason for its popularity. This feature makes it a perfect match for you when you need to increase the thickness of your existing grip. In addition to this, we found that it is possible to squeeze the product to give it the perfect grip for you. So, irrespective of the size of your hands, you can be guaranteed a comfortable grip.
For a start, you might experience slight discomfort, but that's only for a short while. As soon as you begin to master its usage, you will find that its comfort level would start to increase with time. To make it even more comfortable, the handles have been designed to work on heated grips. They also come with an ability to minimize vibrations from the engine, and this feature ensures that your hand doesn't get numb again.
Pros
Very versatile option
Features a good level of comfort
Relatively affordable
It doesn't require any additional tools.
Cons
The materials are prone to ease wear and tear.
2. Grab On Grips Motorcycle Grip Cover, Black MC402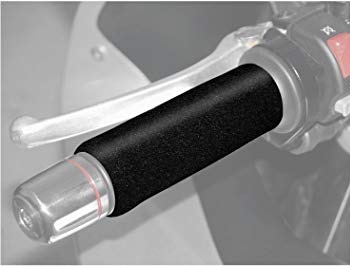 Straight of the pack, you can tell that this model is designed to function at the top. Everything, from its looks to the incredible ease of usage it offers all confirm that it is a top-notch grip worth owning. This set is a perfect solution for any cyclist that's probably looking for a grip that will give them extra comfort throughout the riding period. The MC402 features a design that works well with both heated and standard grips. This means that your days of worrying about cold weather are over. The grip features a shock-absorbing EPDM foam that enables it to withstand shock while ensuring that you will get the smoothest ride possible. This is a perfect product for people that suffer constant fatigue from long trips.
The inclusion of an operation manual also enhances the ease of installing this grip set. Apart from the ease of installation that it offers, the MC402 is also adjustable for moments when you will need a perfect fit for unique handlebars. We also tested the grips without gloves and found that it is an excellent solution for sweaty palms.
The offering of top-notch versatility level by this grip helps to ensure that it works properly on all types of motorcycle brands. Therefore, there will hardly be a case of needing to return because of compatibility issues.
Pros
Brings an extra level of comfort to your riding experience.
Great for sweaty palms
Very versatile option.
Cons
Inconsistency in the diameter of the grips after delivery.
3. BikeMaster Heated Motorcycle Grips (7/8)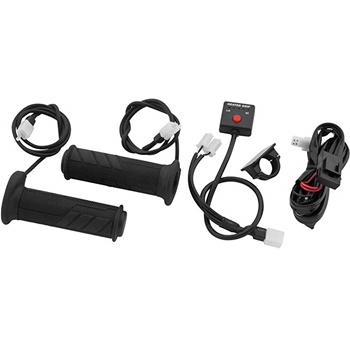 The BikeMaster Heated motorcycle grip is one of its kind from a brand that boasts of years of experience in the manufacture of top-notch motorcycle accessories. It is an ideal option for twisting throttles. The grip is also very suitable for heated grips. Hence, it is a perfect option for seasons when the weather condition would generally become inconvenient for riders. You don't have to pack your bike because of the freezing temperature anymore because this bike has you covered.
BikeMaster features a unique technology that allows you to adjust the handle's temperature in moments when it becomes too cold or too hot for the hand. The restores perfect control that would have otherwise been lost with the numbness of your hand. This handle is also very stylish and cozy, making it an ideal option for people that may want to add a unique touch to their bikes look.
Vibration reduction is also a distinctive feature of this motorcycle grip that draws people to it. With this feature in full play, you can expect to maneuver rough and bumpy roads Without jeopardizing your convenience. The handle is made of rubber, making it a very durable option to consider. We also discovered that the exterior of the grip is made of soft and cozy material, adding to make it a worthwhile model for beginners and expert cyclists alike.
Pros
Very stylish
It features a unique heat adjustment technology
Highly comfortable.
Cons
Its usage is limited to 12V DC.
4. Progrip 714BK Black 125mm Dual Sport Gel Grip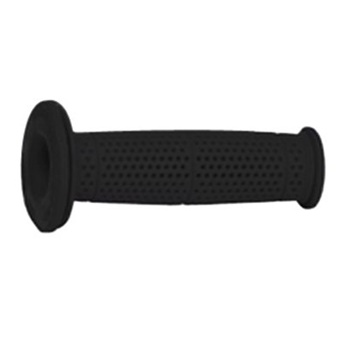 If you are looking for a set of top-quality motorcycle grips that won't eat too deeply into your budget, then this is a perfect option to stick with. The 714BK black sport gel grip is an excellent combination of style, comfort, and versatility. It is one of the few options out there that delivers on its promise of giving value for the amount paid for it. Despite the relatively low price that this product is offered for, it doesn't lack in quality at all. One stand out feature that stands this model out is simplicity. It is not one of those models that looks too detailed, without being able to perform. This one prefers performance over looks; hence, it doesn't come with any fancy or unnecessary features.
Well, it is also important to mention that the brand has made installation easy for this brand. So, even when you are riding on a lonely part and need to install or uninstall the grips, it will be easy to do. The design of this grip makes holding more comfortable, even for people with sweaty hands. It beats most others in the delivery of top-notch comfort to riders. Still, on comfort, this model comes with a gel rubber construction which helps to make it able to withstand shocks on rough roads. This is tantamount to declaring if comfortable for use across all types of terrain.
Pros
Relatively affordable option
Ease of Installation
Very comfortable
Cons
5. Avon Grips Custom Contour Black Grips CC-86-ANO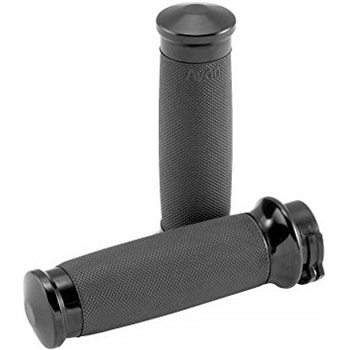 From the look of this product and the functionality that it offers, it is evident that it is a product that stands out. This motorcycle grip is worth every penny you will spend on it. The first thing you will notice in the handle is a patterned surface that helps to keep your hand comfortably in place without the tendency of slipping off. Controlling your bike suddenly feels so perfect. The product features a unique material with a thickness level that will shield your hands from the engine's vibration.
To make this motorcycle grip worth your penny, even more, it has been designed easy to install. You need minimal experience to start and finish the installation process. Just put the grip in place, and you are good to go, without needing any additional tools. There's an operation manual, but you may finish the Installation process without needing to look at the manual.
A billet aluminum end brings a glittering look to your motorcycle. The grips appear perfect for racers, considering that it offers a smooth and comfortable grip. We also found that the grips have an exterior that is crafted to be slightly thinner. This makes it an excellent option for people with bigger hands to enjoy too.
Pros
Very comfortable option
An ideal option for people with small hands
Offers a perfect shield from vibration.
Cons
6. Renthal G149 Black Full Diamond Firm Compound Sportbike Grip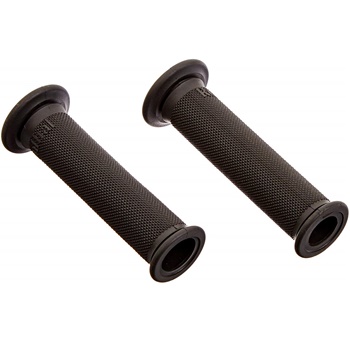 The motorcycle racing grip set from Renthal is a perfect blend of resilience and coziness. They feature a soft design, making them the ideal option for comfort and durability. It is also relatively inexpensive, making the set a budget option for people that may be low on cash. Not taking away the fact that it performs at the top level, irrespective of the price it is offered for.
This model features a patterned surface that will offer any user the best anti-slip experience that you will have. Racers would love this item because of the ease of operation that it offers. Its physical design may not compare to others in terms of style, but it provides you with an ability to customize it to your needs. The set comes with a good level of versatility and comes great fit people with small hands. Despite its size and look, the option offers an excellent level of protection from disturbing vibrations. The installation process is also pretty straightforward, although there would be a need for you to use some tools for removing the existing handle.
We need to state here also that the grip cannot fit into existing grips. The rubber design of the grips makes them unsuitable for heated handles. Apart from that, however, this item would be an excellent option for your bike.
Pros
Very affordable
Highly resilient option
Anti-vibration technology.
Cons
Doesn't work with heated handles.
7. Scott Sports 233925-0001 Black Radial Full Waffle Motorcycle Grips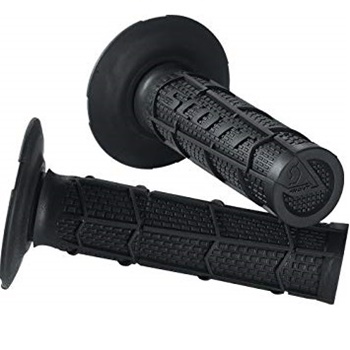 There's perhaps no better option for releasing your inner racing passion than this option from Scott Sports. It comes with multiple benefits so you can be sure that you are getting a good deal. It features a full waffle design ensuring that you get a dependable feel with it. Top racers would be impressed with this option considering the level of quality that it brings to the mix. If you are not a racer, however, this is also an excellent set to try out.
The model features an ergonomic design that's soft and good-looking. Its single-density construction helps to reduce the impact of vibration when you ride on rough roads. Of course, reduced vibration would mean less fatigue on the road.
Pros
Stunning design
Versatile option
Reduces vibration
Cons
Types Of Motorcycle Grips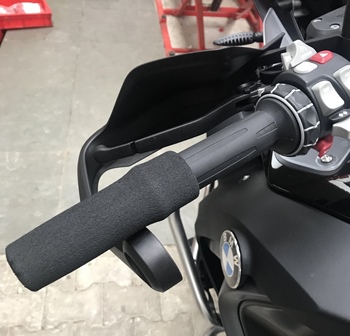 As explained earlier, motorcycle grips come in different types and styles. Proper knowledge of the different kinds of motorcycle grips will help you make the right choice when you hit the market to get one for your needs. Here, let's briefly take a look at the three main types of motorcycle grips that you would find in the market when you are ready to purchase your motorcycle grip.
1. ISO Grips
This is a very popular type of motorcycle grips. The grips that fall under this category are certified safe for long-distance travel; therefore, they are an excellent choice for cross country travelers. These grips are specially designed to feature vibration isolation technologies, relieving the pressure that gets transferred to the hand from the constant vibration of the bike. This type of bike grip is also perfect for people that ride on rough terrains. So, while looking to reduce the impact of vibration, you should buy a grip that falls into this category, alongside motorcycle gloves and other safety accessories.
2. Billet Rubber Grips
The most common types of motorcycle grips in the market fall under this category. They come with a design that features varying combinations of metal and rubber; hence their names. They fall among the least expensive models in the market, so you can expect to get them without really needing to spend so much. They are typically anodized, and you will find them in a wide variety of color schemes, offering you so much to select from. Additionally, this grip also stands out for its ability to give you the ideal combination of style and functionality.
3. Heated Grips
Heated grips are another type of grips that is fast becoming popular. They are special grips that are designed for people that like to ride in cold climates. The grips feature a unique wiring technology that connects it to your motorcycle battery. This allows you to change the temperature of your handlebar grips with every turn of new weather. They are the ideal grips for long-distance travelers that may not know the weather conditions that they will meet on their way.
Motorcycle Grip Buying Guide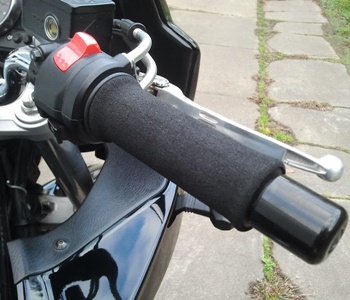 Finding the right motorcycle grip for your need can sometimes become more difficult than you think. Besides, the availability of so many different brands and models in the market, with each one fitting particular needs and preferences can make the process of selecting cumbersome. However, with a few criteria in mind, you can get away with the best option for your needs. If you are confused about where to start from, look at a few criteria that you should look out for before making a choice.
1. Standard/lock-on
This is a criterion that's worth looking at because of the installation ease that each of them offers. Standard grips see installed by a simple slip into the ends of the bars. Getting the grips in place using this method can sometimes become a bit of stress. It is for this reason that some riders prefer the new generation of lock-on grips.
You will find that lock-on grips feature small metal collars at both ends of one end, depending on the model. They feature a special bolt that lets them stay in place when installed. For starters, you need to decide which of the two types fits your needs best, knowing that each of them has its benefits and drawbacks.
2. Performance
If you intend to get the best grips for your needs, then you will need to pay attention to their performance level. The best grips would improve comfort. This comfort will, in turn, improve your overall biking experience. The ability of grips to offer comfort and improved coziness, therefore, becomes an essential factor to look at when in the market to make your purchase.
Another factor that is directly related to performance is vibration control. Vibrations may lead to poor bike control. Top-quality grips will feature adequate cushioning, allowing it to combine comfort, riding convenience, and anti-vibration.
3. Compatibility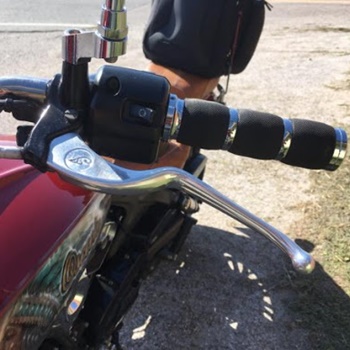 Like most other parts of your motorcycle, you want to be sure that your choice grip is compatible with your motorcycle handle. This generally refers to how well your preferred item would work in your bike. The last thing you want is to complete your purchase, only to come home and find out that it doesn't fit with your bike handle. Thanks to modern innovations, the choice has become very wide, so whatever your specs are, there's a high possibility that you will find a good option in the market. Also, ensure that you check for the right size before making your purchase. Ask for expert advice when needed to ensure that you do not miss any point while making your choice.
4. Traction
Many motorcyclists use gloves to ensure safety, comfort, and perfect gripping. What most fail to check, however, is how well the handle they want to buy fits with their gloves. As much as motorcycle gloves are essential accessories, the whole point behind it will be in vain if your motorcycle grip does not offer enough traction to support its functionality. Before buying a motorcycle grip, check to see that it provides extra support and cushioning, or it might rob you of the coziness that you want to enjoy during your ride.
We've ensured to check the traction level of each of the options reviewed above.
5. Budget
The budget is an essential factor to look at in any purchase. Whether it is a motorcycle backpack, a motorcycle hitch carrier, or a grip, you want to be sure that it doesn't exceed your budget. The last thing you want is to spend a huge chunk of your budget for other items on bike grips. There are numerous budget options in the market today that offer you everything you want. We must advise, however, that you do not sacrifice quality on the altar of price. Hence, the need to find the right balance between price and quality when you hit the market to get a grip for your motorcycle handle.
FAQ About Motorcycle Grips
To further help you get a grasp of motorcycle grips and how to purchase the best, here are answers to a few frequently asked questions that may pop up as you make your purchase of motorcycle grips.
1. What Size Of Grips Should I Buy?
In our experience, we can tell that there is no one universal measurement that we can give to help you decide what to get. Experts often recommend that you start with a size that's very close to your current grip of choice. We've seen cases where small riders use large grips, and large riders use small grips. It all boils down to personal preference and style. To help, you can check out the sizing page in the operation manual of each model to help you get the right size.
2. How Do You Replace A Grip On A Motorcycle?
There's often no serious technicalities involved in the installation process of motorcycle grips. However, there are cases when you might need to detach some adhesives and fasteners to slide the grip off. Apart from such cases, the grip should be able to come off with a little twisting or force.
3. What Is The Price Of A Motorcycle Grip?
The prices of motorcycle grips differ depending on brand and model. Prices range from 20 to 200 dollars, depending on the design, style, and technologies featured.
Wrap Up
As we conclude our best motorcycle grips guide, we hope that we've provided you with enough insight for an informed purchase. There are so many items in the market today, making it easy to fall into an option that's less than standard. The buying guide in this article should help you get the best grips for your needs.  We've also included a few other vital information, to acquaint you with what you are getting. With this much information in our motorcycle grips reviews at your disposal, making the right choice would be very easy for you.