Having the best motorcycle battery for your bike brings a whole lot to the table – from secure starting to overall safety. Did you know that one point in time, motorcycles did not require batteries to start? Instead, they relied on points and condenser ignition systems. Nowadays, if you want to enjoy improved starting power, electronic ignition, and lighting system, you need a trustworthy battery on your side.
If you are curious to find out what are some of the top-rated products in this line, we have prepared a few motorcycle battery reviews as well. After you go through all of the information, you will be all set to make an informed decision. Let's dig in!
See The Quick Comparison Chart
Types And Uses Of Motorcycle Batteries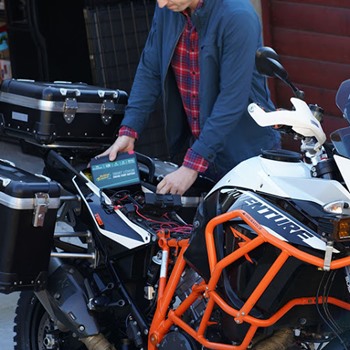 Just as there are a few types of oils for motorcycles, so is the case for motorcycle batteries. Before you start looking for a new one, you need to know what type of battery you should be using for your bike.
1. Wet cell battery
This type is also known as the flooded lead-acid cell battery. Just as the name suggests, this unit works with cells that are flooded in the electrolyte. The wet cell battery needs to be verified and topped-up as recommended by the manufacturer, from time to time. It is especially important to check this type of battery in hot, as well as humid weather.
Another thing you should know about a wet cell unit is that when stored in a discharged state, the acid molecules become heavier and sink to the bottom of the battery. This causes the electrolyte to stratify, which means that it separates into layers of acid and water. When you use the battery again, the largest amount of current will flow only around this area.
This causes the bottom parts of the plates to wear out. When the battery is filled with liquid, it must be fixed in an upright position, in order to prevent spillage. Even though these types of motorcycle batteries are being phased out as OEM fitment for bikes, they are still being used by many riders because of their low price.
2. Absorbed glass mat or AGM
AGMs currently represent the most popular type of OEM fitment. In an absorbed glass mat battery, the electrolyte is absorbed by glass-fiber mats that are placed between cells. These mats reduce evaporation considerably, and the battery does not require frequent topping up.
In an AGM, the electrolyte becomes the separator, and this allows the plates to stay compressed together. As a result, the amount of energy is higher than the one generated by gel or wet cell batteries. The AGM also includes a one-way blow-off valve. Its purpose is to reduce the gas pressure build-up in the casing when discharged or overcharged.
Because of this feature, the AGMs belong to the group that is called valve-regulated lead-acid design or VRLA. Besides the low-maintenance it requires, this type has another advantage. That is that the electrolyte stays in place, and it does not slush around nor does it stratify like in the case of wet cell units.
This also allows the battery to be mounted in various positions. Still, it is also important to mention that AGMs have a shorter lifespan due to their high acid content that is used to enhance standby voltage as well as to lower the water loss rate.
3. Gel battery
Also known as a gel cell, this battery is a VRLA and it uses a gel-filled electrolyte. Basically, it is a mixture of sulfuric acid and fumed silica. The result is an immobile, gel-like mass. Because there isn't any liquid involved, there is no need for the battery to be kept upright. Moreover, the evaporation of the electrolyte is reduced. Also, there are no spillage or corrosion issues involved with this type of battery. As a plus, it is more resistant to shocks, and vibrations, compared to other products in this line.
4. Lithium-Ion
These batteries are very popular nowadays, even though they are not fitted on a widespread basis because of the cost. Compared to VRLAs, Li-Ion batteries weigh less and have better cranking pressure. The cranking pressure shows how much stored-energy is available for cranking up the engine.
Although these batteries are very convenient to use, there are a few downsides you should know about. Unlike VRLAs, once a Li-Ion battery is discharged, it cannot be brought back to life.
Also, even though you could use a charger that is designed for VRLAs, it is recommended to use only chargers that are compatible with Lithium-Ion batteries. If you are not sure what to use, you should ask or follow the manufacturer's recommendations.
Best Motorcycle Batteries Comparison Chart
PRODUCT
DETAILS

ThrottleX Batteries MX30L – MOTORCYCLE BATTERY – 600+ CCA

Price:

$

Customer Rating:

4.7

Cold Cranking Amps:

600+

Weight:

22.5 pounds

View On Amazon

CB Chrome Battery YTX30L Sealed AGM Motorcycle Battery

Price:

$

Customer Rating:

4.1

Cold Cranking Amps:

385

Weight:

10.73 pounds

View On Amazon

Yuasa YUAM320BS YTX20L-BS Battery

Price:

$$

Customer Rating:

4.3

Cold Cranking Amps:

270

Weight:

14.85 pounds

View On Amazon

ExpertPower 12V 7 Amp EXP1270 Rechargeable Lead Acid Battery

Price:

$$

Customer Rating:

4.2

Cold Cranking Amps:

–

Weight:

4.3 pounds

View On Amazon

Battery Tender 2.5AH 150CA Lithium Engine Start Battery w/Smart BMS

Price:

$

Customer Rating:

3.5

Cold Cranking Amps:

150

Weight:

1.35 pounds

View On Amazon

ZPC Battery ZPC-YTX14-BS lead_acid_battery

Price:

$$$$$

Customer Rating:

4.3

Cold Cranking Amps:

200

Weight:

9.92 pounds

View On Amazon

ACDelco ATX20LBS Specialty AGM Powersports JIS 20L-BS Battery

Price:

$$

Customer Rating:

3.6

Cold Cranking Amps:

250

Weight:

14.4 pounds

View On Amazon
Best Motorcycle Batteries Reviews
1. ThrottleX Batteries MX30L – MOTORCYCLE BATTERY – 600+ CCA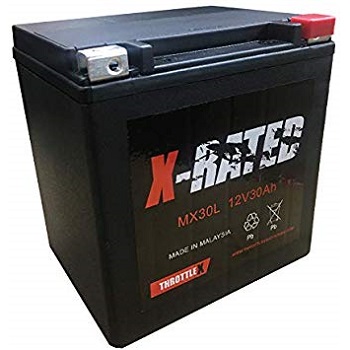 The manufacturer of this motorcycle battery says that this product was built to offer more than only performance and that it was designed with the riding enthusiast in mind. The ThrottleX Batteries MX30L – MOTORCYCLE BATTERY – 600+ CCA is a premium factory-activated AGM-type of battery.
It is completely leak-proof and spill-proof. Moreover, its added vibration resistance offers this unit increased service life, performance, as well as durability. What is more, the side and top terminals of this model offer versatility and better strength to resist the harmful effects generated by constant vibrations.
The tear-resistant separators are protected by full-frame plates which provide very low discharge rates as well as increased cranking amps. With this battery, your riding expectations will surely be exceeded. You will also appreciate the fact that you can install the unit as soon as you receive it, as it comes charged and ready to use.
Pros
One of the biggest perks is that this battery is maintenance-free
Due to the high CCA, there will be no issues starting your motorcycle, even in low temperatures
You will also get a 12-month free-replacement warranty
Cons
Although the unit has a solid construction, the bolts seem rather cheaply made
2. CB Chrome Battery YTX30L Sealed AGM Motorcycle Battery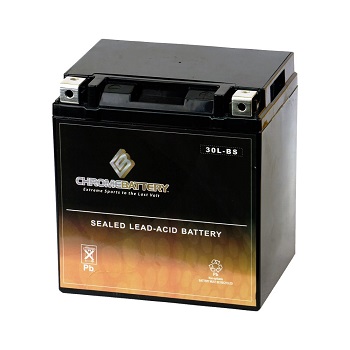 This rechargeable lead-acid battery was designed to last up to 2,000 recharges. Since it is manufactured with advanced technology, the CB Chrome Battery YTX30L Sealed AGM Motorcycle Battery offers exceptional performance. Thanks to the absorbed mat glass technology that is combined with lead calcium alloy, this unit is extremely efficient.
Also, this model can successfully withstand tough riding as well as weather conditions. Something that many motorcycle owners appreciate this unit for is not having to constantly check up on their batteries.
This model does not require a lot of maintaining, which means that you do not have to frequently check the battery's water level. Also, you do not have to trouble your head worrying about leaks or spills. What is more, the battery's case is sturdy and can efficiently withstand shocks and vibrations. It is resistant to high temperatures as well.
Pros
The battery comes with various safety features such as the sealed and valve-regulated construction
The copper terminals are highly resistant to torque, pressure, and wear
This unit comes ready to use
Cons
Although they are strongly built, you might find the terminals to be rather fragile
The posts are a bit weak, so the battery needs to be installed with care
3. Yuasa YUAM320BS YTX20L-BS Battery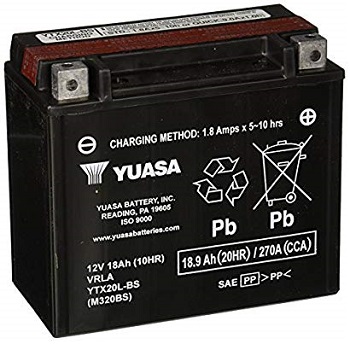 This product comes from a brand that is well-known for its high-quality motorcycle batteries. The first thing you will probably notice about this unit is how easy it is to install and use. This model has been reported to fit well in all of the motorcycles that it is rated for. If your bike is among the compatible ones, you will not encounter any bad surprises.
What you need to know about the Yuasa YUAM320BS YTX20L-BS Battery is that it is a fully-sealed and spill-proof unit. The entire acid is absorbed by special plates and AGM separators, This also means that you will never be required to add any water to it.
What is more, the lead-calcium technology of the battery has the ability to hold gravity up to three times longer than most other similar products in this line. You should also know that this battery does not come charged, but the filling process is very straightforward.
Pros
The lifespan of this battery is longer than that of many of its competitors
Thanks to the special thin separators, you will be able to enjoy an improved cranking performance
It is available for quite an affordable price
Cons
When you use it for the first time, you will need to add the acid, and then charge it
4. ExpertPower 12V 7 Amp EXP1270 Rechargeable Lead Acid Battery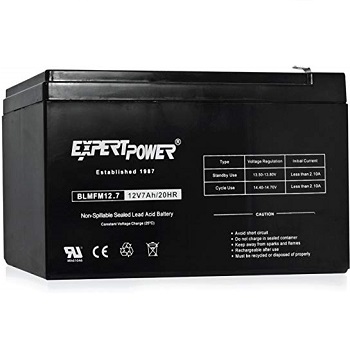 In case you are looking for a rechargeable battery that is also lightweight and very affordable, we recommend that you turn your attention to the ExpertPower 12V 7 Amp EXP1270 Rechargeable Lead Acid Battery. One of the best things about this unit is that it is incredibly easy to use.
Moreover, it works in most motorcycles, and it is extremely durable. This is a standard-sized 12-volt battery that is generally used in home alarms and cable boxes systems. Due to its small size, this unit can be used for many common applications like security systems or Uninterruptible-Power-Systems, which is very convenient.
Furthermore, the external casing of the battery is designed with a hardened ABS plastic that protects against leaks and spills. Since this model uses AGM technology, it can deliver high currents on demand and it also provides a rather long service life compared to many other similar products in this line.
Pros
You won't have to spend time with it, because this battery is maintenance-free
The unit is capable of delivering a high discharge rate
The product undergoes a lot of quality assurance tests before it reaches the stores
Cons
Depending on your motorcycle and riding needs, this battery might not be powerful enough
5. Battery Tender 2.5AH 150CA Lithium Engine Start Battery w/Smart BMS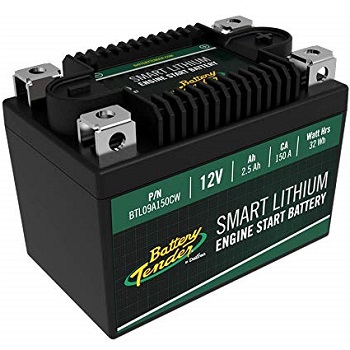 The Battery Tender 2.5AH 150CA Lithium Engine Start Battery w/Smart BMS is designed with innovative technology which is meant to provide safety as well as to increase the unit's durability. The battery is protected against electrical damage thanks to the Battery Management System or BMS which is activated by a specially designed activation wire.
This particular feature also protects the battery from getting overcharged, over-discharged, or drained. Moreover, the water-resistant casing with a very high melting point guards the unit against corrosion. Since it does not contain any liquid, this battery is certainly a safe option.
Furthermore, it is a maintenance-free unit, so you will not have to constantly check for leaks. Another thing you might like about this model is its weight which is only 1.35 pounds. For somebody who cares a lot about the overall weight of the motorcycle, every ounce matters, and a lightweight battery is a big advantage.
Pros
The battery comes with flexible accessory blocks
It offers a secure fit on most bike models
The unit features a protection circuit board as well
Cons
The energy decreases the longer the battery is used
Compared to high-end motorcycle batteries, this unit offers a shorter service life
6. ZPC Battery ZPC-YTX14-BS lead_acid_battery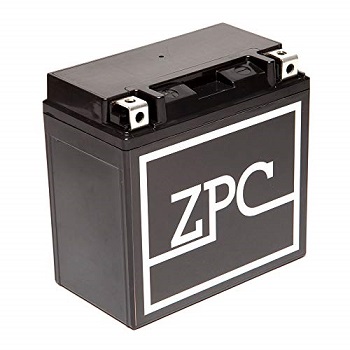 This battery has been designed using the absorbed mat glass technology which ensures that you have a maintenance-free and leak-proof unit. The ZPC Battery ZPC-YTX14-BS lead_acid_battery is extremely versatile because it is suitable for a variety of applications ranging from motorcycles to ATVs, or jet skis, among others.
It is a high-performance battery for motorcycles that have already been designed to deliver the highest performance. This model has more power than many of its competitors precisely because it needs to keep up with more, and it will keep any type of ride going at any speed.
In case you like riding hard on the road daily, this battery is an excellent choice that will serve you well. It will also work on bikes that are used on the track. What is more, this battery has a recharging ability which is a great advantage. Also, it can be recharged up to 2,000 times before you need to replace it.
Pros
This battery was constructed with high-quality materials making it a safe option
It is extremely resistant to vibrations and shocks
This model also offers an increased service life
Cons
Despite its sturdy construction, the terminal posts seem to be poorly made
7. ACDelco ATX20LBS Specialty AGM Powersports JIS 20L-BS Battery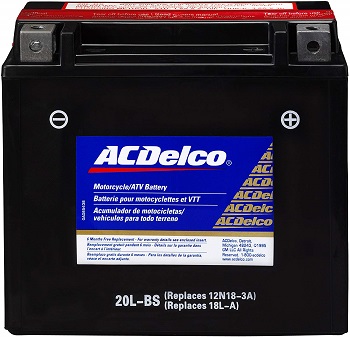 This unit comes from a major battery manufacturer that has been around for many years. Numerous cars, trucks, motorcycles, and other vehicles have enjoyed these batteries. The ACDelco ATX20LBS Specialty AGM Powersports JIS 20L-BS Battery is a good example of performance and durability.
It is a maintenance-free sealed motorcycle battery that comes with a bottle of acid from the factory. It is premeasured and also ready to be filled into the battery when you want to install it. The process is extremely easy, as all you need to do is remove the safety cap, pour in the acid, and then seal the battery.
The biggest advantage of adding the acid yourself is the fact that you can be sure of the battery's freshness. Furthermore, the absorbed mat glass technology makes this model spill proof and it also eliminates water loss. Also, it does not require to be kept in an upright position.
Pros
The battery can hold its charge up to three times longer than flooded units
It is extremely resistant to vibrations
The unit is built with high-quality materials that are meant to ensure safety
Cons
Since the terminals are not threaded, spacers and nuts have to be used as well
How Do Motorcycle Batteries Work?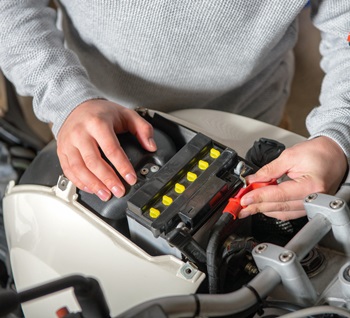 We all know that cars, motorcycles, and other motorized vehicles require a battery to start. However, how many of us know why and how a battery works exactly? In order to do that, we should analyze its components as well. A battery is an electrochemical device that transforms chemical energy into electric energy.
A typical 12V battery is made of six cells that usually generate about 2 volts each. They produce a total of 12 to 13,2 volts. Every cell includes alternatively charged positive and negative lead plates. The more plates in one cell, the more current and energy capacity. Between the individual cells, we can find insulators. Then, the cells are connected to each other.
Another component you will find in a battery is the battery acid or Electrolyte. This is a blend of sulfuric acid and distilled water which is added to flood the plates. The lead plates chemically react to the sulfuric acid turning into lead sulfate. At the same time, the acid is turned into the water which is also split into oxygen and hydrogen.
As a result of this chemical reaction, electrons are released from the negative plates. Those negative electrons flow and return to the positive terminal and plates of the battery. This is a process called electrical current.
Eventually, the electrolyte will be diluted through discharge or electrical usage. The chemical process can be reversed through charging. Of course, not all batteries work the same, because there are various types available. We will discuss them a little bit further.
How Long Does a Motorcycle Battery Last?
Actually, this depends almost entirely on you! The normal lifespan of a motorcycle battery is around three years, provided you take good care of it. However, depending on how you treat it, you can get even five to six years out of it, or it may not even make it to its first birthday.
Don'ts
The biggest mistake a rider can make to ruin his or her bike's battery is to let it die completely and repeatedly. A standard lead-acid battery becomes permanently damaged each time it runs down. At the same time, it also loses some of its charging capacity. It is enough for this to happen only a few times, and you can say goodbye to the battery for good.
There are a few common reasons that can lead to the death of a motorcycle battery. For example, letting your motorbike sit for long periods is not a good idea. Also, if you only take very short rides that do not allow the motorcycle's charging system to completely recharge the battery, it will eventually give up.
Furthermore, running too many electrical accessories on a bike can drain the battery very quickly. Faulty or incorrect mounted accessories, as well as using the wrong type of charger that may be under or overcharging will shorten the life of your battery.
Any battery should be installed and used according to the manufacturer's recommendations. If you are unsure of anything that has to do with your bike's electrical system, it is best to talk to a specialist.
Motorcycle Battery Buying Guide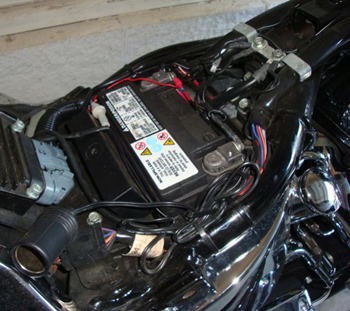 If you are looking for high quality when searching for top-rated motorcycle amplifiers, you should pay even more attention to the battery you select. Before you decide to go for a certain product, there are a few, but very important, aspects you should keep in mind.
1. Types of Motorcycle Batteries
We are not going to get into details on this topic as we have already covered the various types of motorcycle batteries that are currently available on the market. However, it is important to consider this aspect when looking for a new battery. This item should be used according to your vehicle manufacturer's indications.
2. The Battery's Dimensions
This is another extremely important thing you need to consider before you start searching for a new battery. You want your leather motorcycle jacket to fit, right? Well, the battery needs to fit your bike as well. The replacements you get need to fit into the aperture your original or previous battery came from.
Luckily, the majority of the popular bike models generally have perfectly-matched replacements for both OEM and aftermarket available. However, in order to be sure, you should measure the height, width, and length of the battery you want to replace. Then, you ought to compare those measurements to the ones of the unit you are interested in getting.
It may happen that the battery you would like to order is too small. You should know that it can still work. A smaller motorcycle battery will definitely save on the overall weight. While a lightweight battery can be an advantage, the performance of the unit should never be sacrificed.
In case you decide to go with a smaller battery, make sure that you take care of the voids. You can fill the empty areas by using foam, a rag, or something else that is soft and can keep the battery from vibrating and jiggling around when you are riding your motorcycle.
3. Materials Used
The materials used in the construction of the battery are very important as well. The overall build of the unit plays a vital role in its durability. If you like taking long trips on your motorcycle, you should look for a battery that can perform well and which can withstand harsh climatic conditions.
You should also direct your attention toward a well-known brand model that is able to provide good resistance to heat, pressure, as well as vibration.
4. The Terminal Post Types
When replacing the battery on your motorcycle, you may also be required to shift to different terminal posts. There are two main types, the exposed lead posts, and the screw-type terminals. They are both valid options. The exposed lead terminals are typically vertically oriented, and the screw posts are horizontally oriented.
That is why changing between these two types of terminal posts can be a bit tricky, if not difficult. Rearranging battery wires in a tight compartment is not the easiest task. Usually, either type of battery should function interchangeably. Still, you need to be prepared to bend or rearrange wires in case you decide to switch between these two types.
5. CCA or Cold Cranking Amps
The CCA you can see marked on motorcycle batteries refers to the amount of power that your battery can gather when you start the motorcycle in the cold. Literally! As a raw number, the CCA is a good indicator of the power of your battery, as well as of its ability to discharge big loads of power, all at once.
In case you are unsure about the CCA you need to consider for your new battery, all you have to do is to look for the bike manufacturer's OEM specifications. This information can easily be found in the service manual.
Also, nowadays, a quick online search can help as well. Another important thing to keep in mind, in case you plan on starting your motorcycle in very cold weather, in freezing or below temperature, is that you should look for the highest CCA battery you can find. This applies in case you are going for rides in the cold season on a regular basis.
Still, most of us do not ride in freezing cold temperatures, so the CCA horsepower serves almost like a baseline comparison between two batteries with different cranking output.
6. Amp Hours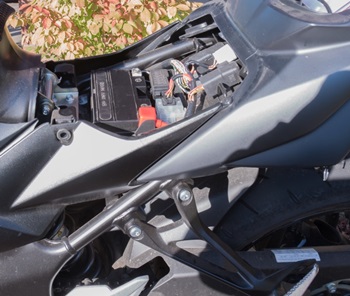 When it comes to motorcycle batteries, this represents a simple technical term. It refers to the number of amps of output the unit can produce and for what period. For example, a battery with 12 amp hours will produce 1 amp at 12 volts, for 12 hours, while a 6 amp-hours unit will generate 12 volts for 6 hours.
If you are wondering how many amp-hours you should be looking for, you should know that this depends on how many amps of power your motorcycle can pull off the battery. How well the alternator charges the battery is another factor you should consider when selecting the amp hours for your new battery.
Anyway, if you have a stock motorcycle, you can just follow the manufacturer's recommendations, and you will not go wrong. There is another scenario that needs to be considered: motorcycles with a lot of accessories installed. If that is also your case, you should inquire about the suitable amp hour for your battery with your dealer.
7. Sealed or Unsealed?
Motorcycle batteries are available in a wide array of shapes, sizes, as well as amperage ratings. What is more, they are also split into sealed, unsealed, and rechargeable batteries. The biggest advantage of the sealed units is that they are maintenance-free.
In other words, a sealed battery is ready to be installed as soon as you get it. Rechargeable batteries, however, may need some sort of support from time to time, although not as often as standard units.
Before you need a replacement, you may be able to recharge it up to 1,000 times, depending on the model. Still, checking your bike's current cell might save your budget from spending more money on a rechargeable unit when it is not really necessary.
8. Extra features
Some more modern motorcycle batteries come with integrated features like voltage alarms and display battery hours or discharge indicators. There are numerous innovations happening every day when it comes to battery technology. This means that you might find other useful features that could really matter to you.
For example, a voltage display can provide you with a lot of information about your bike's electrical system at the simple push of a button. Look for these additional features, especially if you think they might help you. However, do not forget about the factors and characteristics that matter the most, which we have previously mentioned.
9. Expiration Date
Even though this is something you might look for in food products, it applies to motorcycle batteries as well. When getting a new unit, you should not select one that is over six months old, if that is an option.
How To Install a Motorcycle Battery?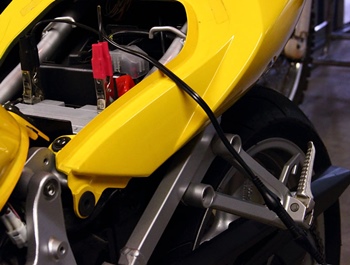 Installing a motorcycle battery is a process that requires only a few simple steps and which can be performed almost by anyone. The first step would be to find the location of the battery and get a suitably-sized socket to remove the bolt from the negative or the ground cable. You also need to safeguard it away from the positive cables as well as other metals.
Then, you need to do the same with the positive cable. Also, make sure that the terminals and the cable connections are clean. The next step is to remove the old battery. Moving on, you need to insert the nuts that come with the new unit.
Next, position the new battery with extreme precision, by repeating the previous process in reverse. You need to attach the positive cable first, and then the negative. The order is important! Once you finish, you are done with the whole thing!
FAQ About Motorcycle Batteries
1. Does a New Battery Need To Be Charged?
Motorcycle batteries, including gel batteries, are usually dry charged to approximately 80%. If you do not provide a unit with a top-up charge of at least three or four hours, you may not be able to enjoy it for too long.
Specialists usually recommend charging new batteries overnight, before the first use. If you skip this essential step, your battery will remain only 80% efficient, and it will also shorten the lifespan of your battery.
2. Is it Possible To Overcharge a Battery?
In case you are using an improper charger, you may easily overcharge your battery. This may cause serious damage. Overcharging the battery can cause the electrolyte to boil and also heat up or even melt the plates.
In case excess hydrogen gets released from this reaction, the battery might even blow up in order to release the gas pressure. We cannot stress enough how important it is to use a proper charger and to charge the battery according to the manufacturer's recommendations.
3. How To Maintain a Motorcycle Battery?
Depending on the type, some batteries do not even require any maintenance. However, if we are talking about conventional motorcycle batteries, proper maintenance is the key to an excellent performance as well as durability. One thing you can do is to perform monthly visual checks.
Make sure that none of the connectors are getting loose. Also, whenever you notice dirt accumulating, clean the terminals. You should charge the battery at least once a week as well. Another thing you should keep in mind is to check the water levels at least two times a month.
4. How Can I Tell if my Motorcycle Battery is Full?
The easiest way is to use a high-quality battery charger that shows when the unit is full. A trickle charger is very convenient to use because you can leave it hooked to the battery constantly, even when you are not using your bike. When the unit is full, it will automatically stop charging, and it will switch to float mode to charge the battery whenever the power starts going down.
5. How Can I Charge my Battery if I Do Not Have a Charger?
If you do not have a proper charger, there are a few ways in which you can charge your motorcycle battery. You should know, however, that it is not a simple or hassle-free process. Most methods are also a bit risky. That is why you should pay a lot of attention if you decide to do this on your own.
There is a way used by many motorcycle owners, in which a 12V WiFi router power adaptor is used. What you need to do is cut the end of the cable off and then tape the ends over the battery.
You should make sure that the polarity is correct before you plug the power adaptor into the power socket. Afterward, you can leave the unit to charge for at least an hour.
Wrap Up
The market has a lot to offer when it comes to vehicle batteries. Therefore, finding the best motorcycle battery should be an easy task, right? Actually, things can become a bit difficult, especially when you have too many options to choose from. Getting a new battery for your bike is nothing like getting a new frying pan, for instance. You should never pick the first model you can find, nor should you look at the price tag.
The buying guide we have prepared and all the other relevant information should provide you with everything you should know in order to make the most appropriate choice. To make things easier for you, we also made a list with some of the top-rated products in this line that are very popular with bike owners. Our motorcycle battery reviews should give you a good idea about what you should be looking for.
See also: motorcycle battery charger reviews