The best leather motorcycle jacket will not only make you look and feel cool, but it will also provide a level of safety that other materials often fail to deliver.  Leather is a high-quality, almost miracle material that can withstand a lot of wear and tear, but also reduce hard impacts and, potentially, prevent unwanted outcomes.
Knowing the struggle of how hard it is to find a good leather jacket that fits perfectly, feels comfy, and boasts some extra padding in the key areas, we gathered the best products on the market in our leather motorcycle jacket reviews.
See The Quick Comparison Chart
Why Do People Wear Leather Motorcycle Jackets?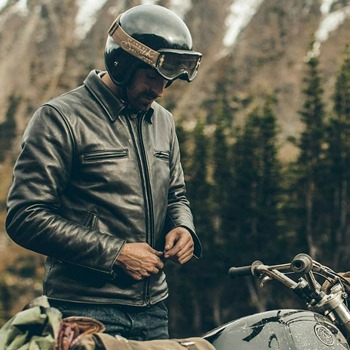 You should never underestimate the importance of motorcycle outwear. Having proper safety equipment will prevent you from injuries in case of a fall. Both amateur and professional motorcycle riders should know the benefits of wearing a leather motorcycle jacket.
1. Protective Padding
You need a solid level of protection against the injuries and other elements, such as strong wind or flying gravel and debris. Most high-quality leather motorcycle jackets feature padding in the back, elbow, and shoulder area.
Riders not wearing this piece of protective gear are more prone to burns in an event of an accident. Some models are also equipped with the reflective gear that increases your visibility on the road, which, again, makes you safer.
2. Ventilation
If you thought wearing a leather jacket would make you boil underneath, you were wrong. If you are lucky enough to find a model that comes with adjustable cuffs and numerous zippers, your jacket will be comfy and well-vented. You wouldn't even mind the temperatures of 95F. So, you have both protection and ventilation in one piece.
3. Fit
Leather jackets nowadays are designed to be more relaxed or form-fitting, or you can do both – thanks to adjustable features of the models we reviewed. However, you will never see a leather jacket that fits improperly. Motorcycle jackets are not baggy, but you can make them tight when you are cold or lose them a bit when you need some air underneath.
4. Style
Let's get real – a rider with a leather jacket on stands out from the crowd. Leather adds a special touch to any outfit, making it more sleek and polished – everything but boring. Depending on how you style it, you can present yourself as a rock star, a gentleman with a sense of style, or a lady that can do dresses, skirts, and leather jackets.
Textile vs. Leather Motorcycle Jackets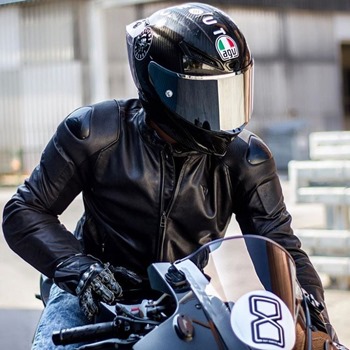 If you are still indecisive about getting yourself a leather motorcycle jacket, we are going to compare them to textile models so you can see it yourself which one would meet your needs best. Yet, it is important to note that you can choose between regular and leather boots, for example, but the leather ones are way better, and safer options. You can check our motorcycle boots reviews to ensure that.
Just like with any other type of motorcycle gear, leather jackets offer a higher level of protection against various elements than textile jackets do.
Have you ever seen a track day professional wearing a textile jacket? Neither did we. So, on some occasions, you wouldn't even be allowed to wear a textile instead of a leather jacket. Yet, as we want to make everything clear, let's take a look at the following comparison bullets.
1. Protection
No doubt, the textile may feel better at first than leather does, but leather offers protection on the road either way, while textile doesn't. Although a pricier option, leather still beats textile when it comes to this matter.
You can find a bunch of similar jackets in a similar price range made of poly-fabric, but you would be offered partial protection, which is never the case with leather.
2. Practicality
We are not gonna deny – textile jackets are more practical and versatile weather-wise. You can wear one when driving to work or back home, traveling, touring, etc. Comfortable and easy to put on and off, a textile jacket truly offers some benefits.
The moral of the story is – leather jackets offer full-protection, while textile ones are more pleasant to wear. If you ask us, both are important, but you can't be fully relaxed when you are not well-protected, so the leather jacket takes the win.
Best Leather Motorcycle Jackets Comparison Chart
PRODUCT
DETAILS

MILWAUKEE LEATHER Men's Police Style Motorcycle Jacket

Price:

$

Customer Rating:

4.6

Type of Leather:

Milled cowhide

Fit:

Form-fitting

View On Amazon

The Leather Factory Men's Sword Black Leather Biker Jacket

Price:

$$

Customer Rating:

4.2

Type of Leather:

Genuine lambskin

Fit:

Relaxed

View On Amazon

Viking Cycle Angel Fire Classic Leather Motorcycle Jacket for Men

Price:

$

Customer Rating:

4.4

Type of Leather:

Cowhide

Fit:

Form-fitting

View On Amazon

Hot Leathers JKM1011 Men's Heavyweight Black Leather Jacket

Price:

$$

Customer Rating:

4.5

Type of Leather:

Cowhide

Fit:

Relaxed

View On Amazon

Joe Rocket 1326-2304 Classic '92 Men's Leather Motorcycle Jacket

Price:

$$$

Customer Rating:

4.0

Type of Leather:

Dyed cowhide

Fit:

Relaxed

View On Amazon

TourMaster Element Cooling Men's Leather Motorcycle Jacket

Price:

$$

Customer Rating:

4.1

Type of Leather:

Cowhide

Fit:

Form-fitting

View On Amazon

Milwaukee Women's Full-Length Motorcycle Jacket

Price:

$

Customer Rating:

4.5

Type of Leather:

Milled cowhide

Fit:

Relaxed, but adjustable to form-fitting

View On Amazon
Best Leather Motorcycle Jacket Reviews
1. MILWAUKEE LEATHER Men's Police Style Motorcycle Jacket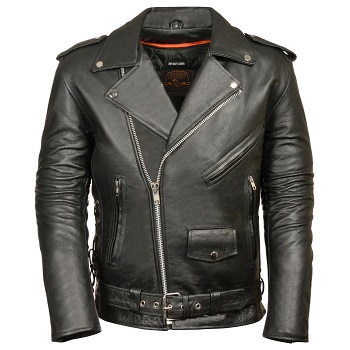 If you are looking for a classic style of motorcycle leather jacket that still has something special that will make you stand out from the crowd, the Milwaukee leather jacket may be the model for you. It's easy to spot on the streets and suits any type of motorcycle helmet and sunglasses well.
It comes with a bunch of zipped and chest pockets that make it easy to store your items – keys, sunglasses, or a wallet. The stylish belt that goes right around your waist will make you even sleeker, but also provide some protection in this area. If you are into form-fitting models, no doubt you will find the Milwaukee jacket appealing.
It also checks all of the boxes when it comes to wind and cold protection. There is no chance you would feel any chills under the Milwaukee leather jacket. The key to this is in the thick and authentic leather. Yet, beware of the fact authentic leather is not water-resistant, so you may not want to wear it on rainy or snowy days.
When it comes to sizing, just remove the quilted liner and you will be able to adjust the size of the jacket to your liking, or make it more or less padded, depending on the season. The Milwaukee leather jacket offers a sufficient level of protection and durability, which is a great combo for basically any rider.
Pros
Versatile,
Easy to maintain,
2-year warranty.
Cons
The stitching inside the pockets seem to be highly prone to regular wear and tear,
It is a bit heavy, but that's not something unusual for a leather jacket.
2. The Leather Factory Men's Sword Black Leather Biker Jacket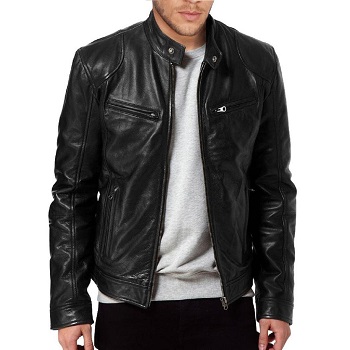 The Leather Factory is a reliable, widely-known brand that seller biker jackets of premium quality. This model is made of genuine lambskin leather, which means it is well-vented, soft, and comfy to wear.
You can already guess, this is a model ideal for spring or late autumn rides, even though it would come handy during chilly summer nights as well. Yet, it comes with the throat tab that makes it not only fashionable but offers some protection from the wind.
The inner coat of insulation will provide a snug fit, but nothing too snug you can't breathe. After all, sweating under the leather jacket is not attractive at all. Additionally, this contributes to the overall weight of this leather jacket, as it is lightweight, but not too light so that it doesn't give off cheap craftsmanship vibes.
It comes with extra-large 7 by 7-inch pockets, two on the inside and two chest pockets, you can use to slide your phone or wallet into.
Pros
Snap-buttons,
100% polyester lining,
Waist-fitted.
Cons
Not suitable for cold days
There are no zippers on the pockets.
3. Viking Cycle Angel Fire Classic Leather Motorcycle Jacket for Men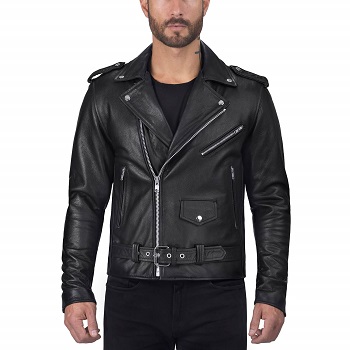 Made of 100% premium cowhide leather, the Viking Cycle jacket is one of the most durable and impact-resistant options on the market. Boasting exquisite craftsmanship, this heavy-duty beast is form-fitting, which is great for those who don't like saggy wear.
A nice belt that goes around the waist will accentuate your middle and make your shoulder appear wider. It's nice when you can adjust the fitting to your preferences, but it is even nice to have a jacket that provides a snug fit and good protection.
Versatile, the Viking Cycle leather jacket comes with adjustable cuffs. You can tighten the cuffs when it is cold and prevent the chilly air from peeking in or give them more space when you need some ventilation.
Waterproof, you can rock it even when the rain is pouring as it comes with numerous zippers that prevent the leather from getting soaked. Besides the Viking Cycle jacket makes a great choice for damp weather, you can get the most out of these pockets and store your headphones, phone, wallet, etc. safely.
One of the features that make the Viking Cycle leather jacket stand out from the rest is a headphone wire system. If you enjoy listening to your favorite melodies while gliding down the road, you can upgrade your experience to maximum thanks to this jacket.
This aesthetically appealing jacket would easily fit into any classic rider style as it never goes out of fashion and it provides good protection from the weather and eventual impacts.
Pros
The quilted polyester lining protects you from the wind,
Suitable for wearing all-year-round,
The cowhide leather is heavy but soft, so no one minds the weight of this jacket.
Cons
There is no reflective paneling, so you wouldn't be as visible as you should be by the night,
A bit smelly at first, but the odor will fade away shortly.
4. Hot Leathers JKM1011 Men's Heavyweight Black Leather Jacket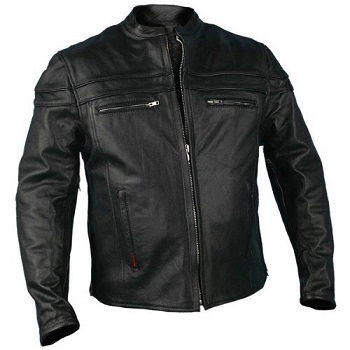 Just as its nomenclature suggests, the Hot Leathers JKM1011 is a heavyweight leather jacket. Even though some riders might mind its weight, others, more experienced riders are aware of the fact heavyweight leather provides a higher level of safety on the road.
Extremely good-looking, this durable leather jacket is made of sturdy, yet comfortable and pleasant-on-the-skin fabric. It allows you to adjust the size to your liking, so you can make it either more relaxed or form-fitting in just a couple of seconds.
Hot Leathers integrated the zippered cuffs, zip-out quilted lining, and stand-up collar. All this gives you plenty of room to tailor the jacket as you like it. These features also come as solid protection against the wind and other uncomfortable factors that might spoil your riding experience.
Numerous zipped pockets make it easy to store your items safely. Attractive, durable, and weather-resistant, the Hot Leathers JKM1011 leather jacket would provide a high level of protection to any rider type.
Pros
Offers good insulation,
Well-padded,
Removable liner.
Cons
It feels heavy and stiff at first.
5. Joe Rocket 1326-2304 Classic '92 Men's Leather Motorcycle Jacket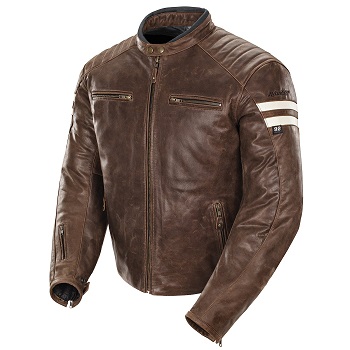 Classic model, the Joe Rocket 1326 leather jacket is tailor-made to provide a comfy, yet relaxed fit. Yet, if you like it better form-fitted, you can zip the quilted sleeve in and adjust the waist. With little to no effort, your jacket will get a completely different look.
Another great feature of this model is that it comes with an adjustable collar so you can protect your face from the wind when riding in the rain. Made of high-quality leather, this jacket is coated with a protective layer that resists regular wear and tear, ripping, and abrasion.
It offers amazing ventilation and keeps you cool during the summertime, while you can wear on chilly winter days with a nice wool sweater as well.
This jacket features numerous pockets, added to the elbows, shoulders, even the back region. This is practical for numerous reasons. For example, you can store your gadgets and belongings here, but these extra pockets make you appear more muscular as well and act as a protective armor in case of an accident.
Top-stitched, this jacket also adds some extra texture and volume to the shoulders. The Joe Rocket 1326-2304 Classic '92 is a perfect mix of the 1990s and 2021s, so you can rock both alternative and trendy outfits when rolling into town.
Pros
Lightweight,
Durable,
Well-vented.
Cons
This type of leather has a strong smell that takes some time to fade away.
6. TourMaster Element Cooling Men's Leather Motorcycle Jacket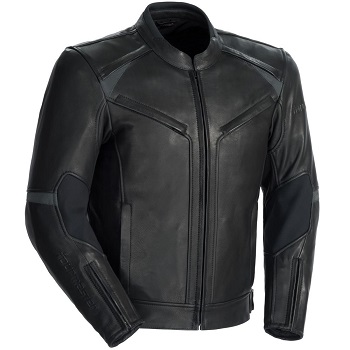 If you are on the hunt for a comfy leather jacket you can wear during the spring, summer, and autumn, TourMaster had designed one of the most versatile options out there. Made of cowhide leather, this jacket is soft and doesn't feel or look stiff, which gives you a more relaxed fit.
Cowhide leather is waterproof, so you wouldn't have to worry about looking for shelter if you happen to be in the middle of a downpour. The TourMaster leather jacket is also very well vented. It is coated with the TFL cooling treatment.
This means the jacket reflects UV rays and reduces the temperature by 15%. This is a feature rarely anyone on the market has, which makes the TourMaster jacket one of the best options, maybe even the best, for summertime rides. Yet, the polyfill liner ensures nice insulation in the sleeve and body area, so you can wear your jacket when it is chilly outside as well.
This brand had the safety in mind when they designed this model, as they integrated the back protector, shoulder and elbow armors. If you happen to fall off your bike, the padding will absorb the impact and prevent undesirable injuries.
Pros
Removable armor,
Removable liner,
Adjustable waist straps.
Cons
7. Milwaukee Women's Full-Length Motorcycle Jacket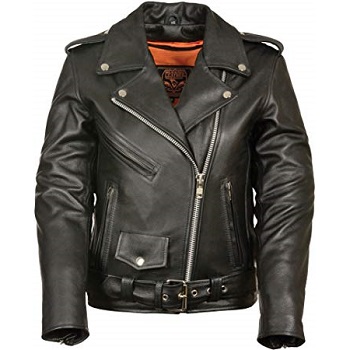 Designed with the beauty of a woman's body in mind, the Milwaukee premium-milled cowhide leather jacket is so easy to style with everything. You can adjust the fit easily – by zipping-in or out thermal liner. This type of liner ensures you are feeling comfortable in almost any weather.
If you prefer a more fitted cut, you should have in mind the Milwaukee women's jacket comes with a half belt you can use to accentuate the waist area.
Milwaukee was thoughtful of ladies who ride motorcycles, as they knew it would be challenging to carry a bag and be attentive to the road at the same time. Thus, they added two zippered pockets to this leather jacket to give you enough room to store your essentials.
If you are on the lookout for a good-looking, adjustable women's model, the Milwaukee leather jacket can be the one.
Pros
It doesn't ride up,
Double buckle side straps,
Well-vented.
Cons
Leather Motorcycle Jacket Buying Guide
1. Material Quality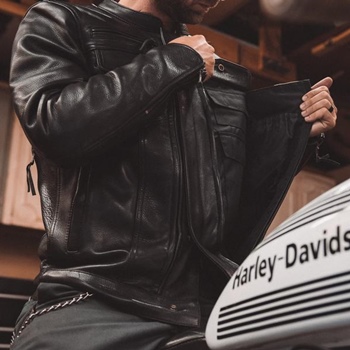 You should expect nothing but exceptional quality. On the other side, if you keep in mind leather need some breaking in and softening, don't panic right away once you put your jacket on.
Motorcycle leather jackets are made of tougher and stiffer leather for safety reasons. High-quality leather is resistant to abrasion and burns, so opt for genuine leather, lambskin or cowhide leather.
2. Fit & Comfort
When something you are wearing doesn't feel right, it would become nervous. When knowing motorcycle leather jackets are a bit stiff, you certainly wouldn't want to get a size down, right? Yet, if you are looking for a form-fitting model, one size up can make a big difference. Be careful about the sizing charts if you want to find the model that fits you well and feels comfy.
3. Safety/Armor
Some parts of the human body are more vulnerable than the other, such as the neck, shoulders, elbows, and the back. High-quality motorcycle leather jackets come with protective armors that prevent injuries or absorb the impact to a certain level.
Good grade armors are approved by either CE1 or CE2, which means these provide better protection than textile jackets. Yet, protectors that are too rigid can't protect you from damage. If possible, go for a flexible protector, as this type is more likely to absorb shock.
Form-fitting jackets usually come with armors on the outside while more relaxed models come with armor that's closer to the vulnerable areas. The most common types of armors used with leather motorcycle jackets are memory and dual-density foam.
4. Breathable/Ventilation Level
Leather jackets are mostly worn during the spring, summer, and autumn seasons, even though some people living in the moderate climate areas wear them during the winter as well.
If you want to avoid getting all sweaty under the jacket, opt for breathable models. Adjustable cuffs make it easy to increase or decrease the airflow under the jacket. Some models come with integrated liners you can zip in or out to your liking so you ensure more or less ventilation.
5. Pockets
Phones, tablets, headphones, wallets – riders have a lot to store when on the bike. That's why you should find a model with deep, zipped pockets and store your items in there. Female riders prefer more pockets, in this way, they don't have to wear a purse or a bag.
6. Visibility
As you probably already know, leather comes in black or brown shades. These colors will make you look classy, but only during the daylight. When the night falls, you would be needing something that would increase your visibility on the road.
That is why numerous brands started creating jackets with reflective logos, panels, and piping that would shine when exposed to headlights. Yet, it is also good to know these stickers should be positioned well. Otherwise, there is no point in sending signals.
How To Maintain Leather Motorcycle Jackets?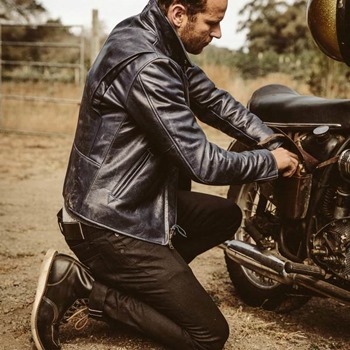 Everything motorcycle-related has to be well-maintained, including your jacket. Use dilute soap and a soft cloth to get rid of any dirt and dust, but don't do this too often either.
Besides cleaning it regularly, you should treat the leather with leather oil, balm, or petroleum jelly. This will increase the lifespan of your wear and make it much softer. Otherwise, the leather would harden over time, which would cause cracking.
If you want to ensure your jacket doesn't soak with water, you can apply some waterproofing spray to it. Always be gentle when treating your jacket and opt for neutral, jelly products or the ones in the same color as your jacket.
FAQ About Leather Motorcycle Jackets
1. Are Leather Motorcycle Jackets Warm?
Motorcycle leather jackets are not considered to be the best option for the winter. Yet, models that come with polyester lining can be paired with nice, cozy sweaters worn underneath that can give you that snug and warm feeling.
Yet, beware of models made of softer and thinner leather, as these wouldn't warm you up when it is cold outside.
2. How Tight Should Leather Motorcycle Jackets Be?
Nothing too tight is good, especially when it comes to motorcycle jackets. You want a model that fits you well and gives you enough room for making comfortable movements. A stiff and too tight jacket would prevent your prompt reactions on the road.
3. How To Soften Leather Motorcycle Jacket?
Lucky you, it is possible to soften that stiff leather. Although wearing it would soften the jacket normally over time, some of the quick-fix solutions would be wearing your jacket over a really thick sweater or applying some leather conditioner to the jacket. Lambskin leather jackets require the application of milder conditioners.
Summary
Do you still think it is hard to find the best leather motorcycle jacket? That's right, the market offers numerous high-quality options for different styles and weather. Leather jackets used to be nothing but a statement piece if we look back to the IX century, and today they are a must-have in any rider's arsenal.
We truly hope you have already spotted the model that would fit your riding needs best and offer a high level of protection regarding the season and the conditions you are riding in somewhere in our leather motorcycle jacket reviews. However, don't stop at a leather jacket. We have worked hard to prepare more useful content about motorcycle accessories, safety gear, and electronics you should check out.
See also: motocross boots reviews