Properly maintaining your motorcycle requires that you get the best motorcycle chain lube in the market. Owning a bike is one thing, but being able to maintain your bike to function optimally is another thing entirely. The significant parts of the bike that require constant maintenance are the chain and sprockets. These are the parts that are responsible for the movement of the bike.
This can be an overwhelming task because there are so many brands available in the market. Sometimes, going through all the specifications and details can be somewhat confusing. No worries because all the info you might need is in this guide and in the chain lube reviews. Keep reading to find out everything you need to know.
See The Quick Comparison Chart
Types And Uses Of Motorcycle Chain Lubes
Like the products in motorcycle wax reviews, chain lubes come in different formulations. A proper understanding of the types of motorcycle lube would help you pick the perfect one for your needs. Here, let's discuss some of the types of motorcycle chains available in the market.
1. Wet Lube
This type of lube features a unique design for use in damp and humid conditions. It comes in fluid form and is designed to cling to the chain. This type of lubricant is not likely to get washed off. It also has a design that makes it stay moist when applied to the motorcycle chain. However, wet lubes are known to collect grime and dust, eventually leaving a black paste on the chain.
2. Dry Lube
Lubes that fall under this category typically take the form or a thin fluid that evaporates just a few minutes after its application. When applied, this type of lube leaves a friction-reducing film behind. Water can wash off dry lube, and it does not attract mud or dust to your chain. It is a good option for use in dry conditions.
3. Spray Lube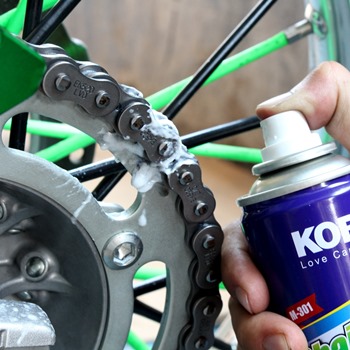 As the name suggests, this kind of lubricant is applied by spraying. Lubricants that fall under this category are easy to use and only involve spraying the lube over a wide area. You will find that this type of lubes are usually costlier than paste lubes, and this is not entirely unrelated to the convenience that it offers to sprayers.
4. Paste Lube
Paste lubricant for chains is usually highly concentrated. Their design allows them to remain intact, even when the chain is being used. They penetrate deeply into the chain; hence, their ability to reach every part of the chain. It is, however, not easy to apply, considering its need for added precision.
Spray Lube vs Paste Lube
As usual, choosing between two popular types of lube can be difficult and often depends on personal preference. For long-distance riders that would need to stop between rides to lubricate their chain, spray lubes can be the perfect option, considering the ease of application that it offs. On the other hand, Paste lubes are less expensive and would usually allow for deeper penetration into the chain. However, they are not as easy to apply and do not offer the level of precision that spray lubes offer.
Wet Lube vs Dry Lube
Most motorcyclists are also interested in knowing which is better for them between wet and dry lubes. Picking based on this category boils down to why you need it and what you would use it for. While wet lubes typically come as fluids with high viscosity that allows it to cling onto the chain, dry lubes come as thin fluids that evaporate after a few minutes of application. It is, however, possible to wash off dry lubes with water unlike wet lubes that permanently stick and remain susceptible to attract dust and grime.
Benefits Of Lubing a Motorcycle Chain
Like most other motorcycle equipment, lubing a motorcycle chain comes with several important benefits. Most times, it is these benefits that drive users into thinking about applying lubes to their motorcycle chains. Below, take a look at some of the popular benefits of lubing your motorcycle chain.
1. Performance Enhancement
This is perhaps the most important benefit of lubing motorcycle chains. It causes the chain to deliver more in terms of performance than dirty ones. Proper lubrication also helps to ensure that the chain moves smoothly over the cog while minimizing the possibility of friction.
2. Dirt Protection
Another essential benefit of lubing a motorcycle chain is dirt protection. This benefit will excite long-distance riders with the potentials of riding through dirt trails. Generally, the chain is exposed to rain and oil, but a rider can control this with a lubricant that has dirt protection properties. This extends to a longer life for the chain and better performance.
3. Resistance to Corrosion
Chain replacement can be pretty stressful, especially for motorcycle racers and other riders for speed. With a broken or damaged chain, however, you will be left with no other option than to stop for a change. Why wait for your chain to get damaged when you can use lube to create a protective barrier that will stave off corrosion and other damages.
Best Motorcycle Chain Lubes Comparison Chart
PRODUCT
DETAILS

DuPont  Teflon Chain-Saver Dry Self-Cleaning Lubricant

Price:

$$

Customer Rating:

4.6

Type:

Dry

View On Amazon

Progold Prolink 16-Ounce Spray Chain Lube

Price:

$$$$

Customer Rating:

4.4

Type:

Spray

View On Amazon

Maxima 74920 Chain Lube & Wax – 13.5 oz. Aerosol

Price:

$$$

Customer Rating:

4.8

Type:

Spray

View On Amazon

PJ1 13oz Blue Label Motorcycle Chain Lube

Price:

$$$

Customer Rating:

4.7

Type:

Spray

View On Amazon

Lucas Oil 10393 Chain Lube Penetrant Aerosol – 11 oz.

Price:

$$

Customer Rating:

4.5

Type:

Spray

View On Amazon

Motul TRTC7243 Chain Lube 103246

Price:

$$$

Customer Rating:

4.6

Type:

Spray

View On Amazon

Liquid Wrench 11 Ounce L711 Chain & Cable Lube-11 oz

Price:

$

Customer Rating:

4.4

Type:

Wet

View On Amazon
Best Motorcycle Chain Lube Review
1. DuPont  Teflon Chain-Saver Dry Self-Cleaning Lubricant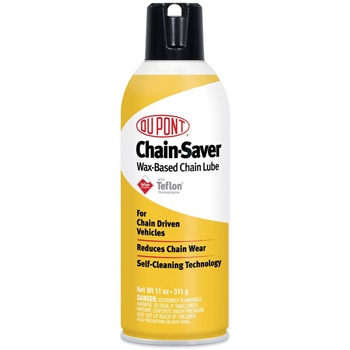 This dry self-cleaning lubricant from DuPont Teflon Is a wax-based chain lube that shows off a level of quality that any dirt rider will be impressed with. The chain lube comes with Teflon, which is a grease component that helps the performance of the lube in dry and dusty conditions. By being wax-based, on the other hand, the lube is oily and as such, can be called a wet lube. Combining these two properties makes it possible to use the lubricant in multiple applications. We found the level of thermal stability that the lube offers to be good enough for use in off-road bikes.
The formulation of the DuPont Teflon chain lube is specially done to fit chains and cables that are used in wet and high contamination environments. With such an ability to penetrate frictional surfaces effectively, you can tell that it is the perfect oil for bike chains. Apart from being practical, the lube is also self-cleaning. It has a good level of versatility that allows for usage in motorbikes, chain-driven lawns, sliding tracks, etc.
Pros
Safe product for use on O-Rings
Resistant to water
Easy to apply
A good product for dry and sandy road conditions.
Cons
Possibility of tubes to keep falling off.
2. Progold Prolink 16-Ounce Spray Chain Lube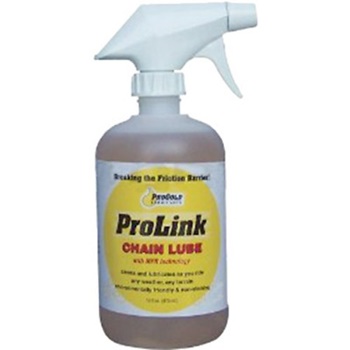 If you are always riding in wet and muddy terrain, then this is a chain lube you will want to purchase. For most people, the primary concern when riding in this type of terrain is whether or not their lubricant world be able to protect their bike chain, irrespective of the condition. Perhaps, that's Your worry too. This lube comes with a strong ability to reduce oxidation and repel moisture, making it an excellent choice for such situations. The lubricant does not only she dirt, but it also provides the cleanliness and lubrication for you the chain of your bike during any ride.
Wet lubes always appear thicker than dry lubes, and this is why it's easy for such lubes to build upon the chain and get tacky. This lube possesses an ability to take out water. It also can resist wash off, and this makes it a perfect option to use when you choose to ride in wet conditions. Thankfully, the chain lube is also packaged in a refillable applicator that's very convenient.
The versatility level that this bike chain lube possesses is also worth talking about, considering that its application is limited to use on motorcycle chains alone. It is also great for use in any other place where you might need lubrication. The availability of this lube in different sizes makes it convenient for users to purchase based on needs and financial capability.
Pros
Works as prevention against abrasion
Helps to reduce corrosion and oxidation
Availability in different sizes makes for purchase convenience.
Cons
Efficiency is limited to wet conditions.
3. Maxima 74920 Chain Lube & Wax – 13.5 oz. Aerosol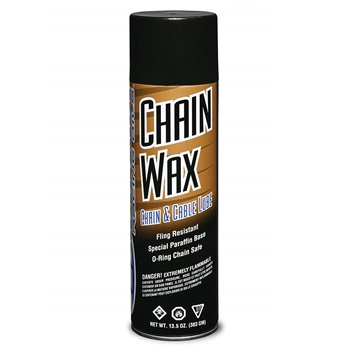 The Maxima brand has continued to gain massive popularity, overtime for its ability to produce top-quality motorcycle products. This chain lube from the brand is another clear representation of the quality that the brand is known for. It comes with a design that fits heavy-duty usage and fits various conditions and riding styles. This quality does not only ensure maximum protection of the chain from multiple debris, but it also prevents water from penetrating. The lube comes with a paraffin design, forming a thin but durable film on any chain that it is used for. It comes in an amber color, but creates a yellowish or amber coating on the chain.
This lubricant runs across the chain and its sprocket quickly enough, filling all available gaps, and providing a coating for the surfaces as fast as possible. A unique wax coating is formed to repel dust, grime, and grit effectively. It also helps the chain to endure water impact to a considerable level. The ability of the lube to continuously protect the chain even in conditions of consistent humidity makes it a perfect choice for wet rides.
Obviously, the chain lube from Maxima is not a pushover at all, considering its ability to stick to the chain properly. Temperature increase doesn't affect its quality at all, as it continues to hold on firmly and repel contaminants, even amid such conditions. With the strength of this formula, you can be sure of keeping your chain operational without stretching. This allows for faster chain rotation while minimizing the friction that occurs between the sprocket and the end of the chain.
Pros
Has an ability to prevent dust
Suitable for both conventional and racing bikes
Convenient for road and off-road usage.
Cons
4. PJ1 13oz Blue Label Motorcycle Chain Lube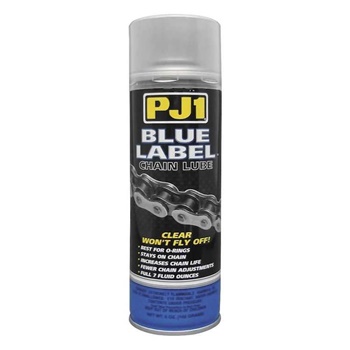 This is one motorcycle chain that is designed from start to finish with O-ring chains in mind. That doesn't mean, however, that it will not be great for use on other conventional types of chains. This lubricant serves as protection for the roller chain and sprocket at the different stages of chain operation, helping to ensure a longer life for the mechanism.
The option features a petroleum formula that allows it to stick comfortably on the metal while maintaining its wetness and flexibility. It features a considerable friction decrease that helps the chain move without any stress. The chain lube works by forming a strong film that does not allow any debris to embed into the mechanism of the chain. Even in situations when sand and road grime accumulates on the surface of the chain, the lube makes it easy for the sand to wash off without leaving any damage on the rings.
When dry, the lubricant possesses a unique ability to repel water efficiently; hence, serving as prevention against heavy friction and corrosion von the chain. The lube is also handy in conditions when the chain is susceptible to splashes and occasional water drops. An exciting level of versatility combines with ease of application to make this lube an excellent choice for inexperienced people.
Pros
Its content of petroleum makes for longer life
Heavy-duty design helps for resisting shock impacts
Features a transparent color that will not be noticed when applied.
Cons
Has a flimsy spray straw.
5. Lucas Oil 10393 Chain Lube Penetrant Aerosol – 11 oz.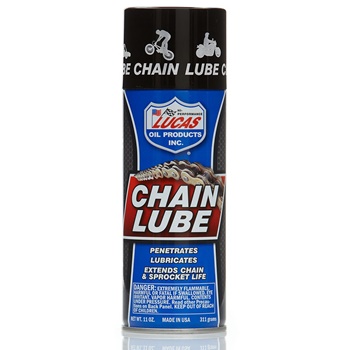 If you are looking for a unique chain lube that's designed for enhanced protection of different parts of the chain, while keeping it operational in different conditions, then this is the perfect option for you. It comes an excellent fit for resolving rust on the motorcycle chain while also serving as a cleaner for motorcycle chains. Straight of the pack, you can tell that this lube would serve. It comes with a semi-synthetic formula that doesn't dissolve the upper costing of the chain while lubricating it.
Unlike most other options, this one also works without aggravating minor flaws like cracks, scratches, etc. It has an airy structure, which allows it to penetrate the tiniest chain pins and joints when sprayed, providing efficient lubing for it. No doubt, your motorcycle chain will gain improved working conditions, especially with the smooth coating in bushings that the lubricant provides. It also results in smoother rotation, while protecting the moving parts of the chain structure from wearing off.
This option also comes with a unique level of efficacy against the formation of corrosion. Your chain would also be adequately protected from rusting since it allows the water to run off its surface. The efficiency of the lube might reduce during use in an off-road situation, considering that the thinness of the lube would make it easy for it to wash off when it gets wet or dirty. However, it is an excellent lubricant for use in racing situations and other regular ridings. It has the ability to efficiently repel dust and minor road grime.
In summary, this is a high-penetration option that works well enough both as a lubricant and as a chain cleaner. Its anti-friction and anti-corrosion properties combine to make it one of the best in the market. However, it is essential to note that use on a hot chain might make the coating less efficient.
Pros
A one-time application would work for a long time
It features a minimal scent.
Easy to use
Cons
Not suitable for use on warm chains.
6. Motul TRTC7243 Chain Lube 103246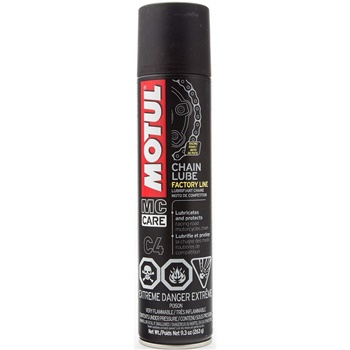 The TRTC7243 chain lube from Motul is another excellent option that any bike owners would want to try. Its compatibility with different types of chains combines well with its highly sticky essence to make it a top-quality product. This is a perfect option for bikers that want proper lubrication of the rings and other parts of their bike in extreme heat. It is, however, important to state here that the lubricant is not a good pick for off-road riding.
As expected from a brand that promised so much in quality, this option comes heavy and greasy, ensuring maximum protection of the solid chain rollers, even at extreme load. It has properties that make for the possibility of application on warm chains. When applied to heated chains, it sticks to it within a short time, which is excellent for racing pit-stop activities. An essential feature of the lube is its non-slinging formula that allows the lube to remain efficient, even when the chain is on the high rotation speed.
At the initial application, the lubricant maintains a level of a milky consistency, staying wet for some hours so that the chain will be moistures effectively. With time, however, it begins to turn into a wax-like coating with an ability to repel all outside particles like grime, dirt, and grit. Compared to most other competitors, the fluid doesn't dry too quickly. However, it doesn't cause any mess to the chain.
Pros
It features a commendable level of thickness consistency.
Maintains chain flexibility
Controlling chain coverage is pretty easy.
Cons
Water protection is not top-notch.
7. Liquid Wrench 11 Ounce L711 Chain & Cable Lube-11 oz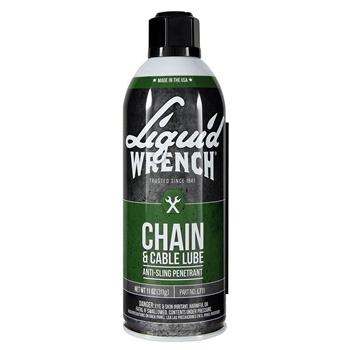 One look at this option and you can tell that it will perform. It offers almost everything you would want in a top-quality chain, from penetration to lubrication and even clinging. The lubricant works for application on chains or any wire cable. It features a commendable versatility level, having the ability to work on different types of open chains.
If you want a chain that reduces water, prevents corrosion, reduces friction, and also extends the life of your chain, then this is an excellent option to go with. The anti-sling formula that the chain lube offers makes it safe for use on standard and rubber O-ring chains.  Works well for use on motorcycles, bicycles, farm equipment, automotive cables, garage doors, etc.
There's so much about this chain and its features that stand it out. Its content of anti-wear additives and synthetic moly helps to ensure premium performance all round the year. An ability to prevent oxidation also helps to ensure that the component's life is preserved for a longer period.
Pros
Prevents corrosion
Works on different types of chain
Contains anti-wear additives
Cons
What Are Motorcycle Chain Lubes?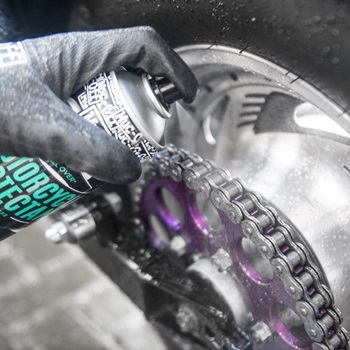 Motorcycle chain lubes are specially formulated cleaning agents that dissolve particles while keeping the chain grime- and dust-free. It serves the purpose of lubricating the chain. Because of the design of modern motorcycles, it is almost impossible to use their chain with an oil bath. These days, motorcycle chains mostly run unprotected; hence, their tendency to wear very quickly. They are mostly subject to extreme forces because of their exposure to dirt, rain, sand and road salt.
Motorcycle chains form part of the drivetrain that works for transmitting motor power to the back wheel. With the proper lubrication in use, the chains can reach an efficiency level of 98% or more. When it is not lubricated, the performance of the chain drops significantly.
Motorcycle Chain Lube Buying Guide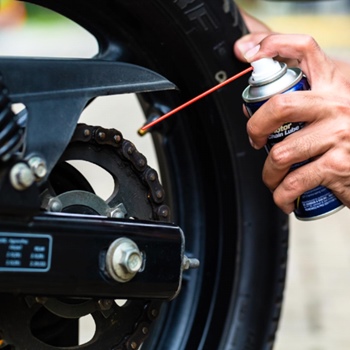 The benefits of good-quality motorcycle lube cannot be overemphasized; however, there's still a need to be careful about the particular product that you are buying. The availability of so many brands in the market makes the burden of making a choice quite overwhelming. Thankfully, there are some criteria that you can use to make the right choice. Ready to make a choice? Check out a few key factors that would help you determine the best for your needs.
1. Water And Dust Resistance
One of the most important factors to check out for in a motorcycle lube is how resistant it is to water and dust. The best lube for motorcycle chains is the ones that feature this resistance to water and dust. This quality makes them suitable for off-road adventures. Usually, we will recommend that you go for a product that also features anti-corrosion properties. When a lube features these properties, it saves you the stress of trying to clean off dust that would often gum up on the oily chain.
2. Lube Type
As explained earlier, this is another factor that needs to be put into consideration when trying to purchase a motorcycle lube. There are different types of chain lube in the market, and each of them comes with different application styles. For most riders, the choice of motorcycle chain lube depends on the mode of usage. Before settling for an option, you want to be sure about its type, since it affects how you will use it.
3. Chain-Ring Compatibility
As you can see from motorcycle chain reviews, they come in different types. They would either fall into O-ring or X-ring categories. These two types of chains come in various designs and offer different levels of functionality. If you are going to get a chain lube, even there's a need for you to get one that's compatible with your chain type. You will see the kind of chain that lube is compatible with on its specification table, so finding this out shouldn't be too much trouble for you.
4. Driving Condition
You also want to buy a chain lube that would match your prevailing driving conditions. If you predominantly drive in wet or humid conditions, for instance, then you would need to get a water-resistant lube. This type of lube helps to protect your chain from rust and other conditions that are related to such weather. However, if you would predominantly be riding in off-road conditions, then a dry lube would be a perfect option for you.
5. Price
Different brands and models of chain lubes are sold for different prices. Before going to the market, you would want to check to be sure that it is at a price that your budget can contain. This would usually mean proper research of the market to find out which is cheapest under each category. While being cautious of price, however, it is essential not to sacrifice quality. The best deal in motorcycle chain lube is one that offers an excellent level of quality at a considerably low price.
How To Apply Motorcycle Chain Lube?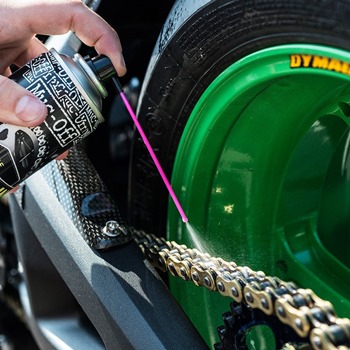 Applying lube to your motorcycle is pretty easy; however, there's a need for you to understand the process involved to avoid doing it wrong. To help, we've highlighted the processes involved.
1. Clean the chain
For a start, you would need to do a quick cleaning of the chain using a rag and a good-quality degreasing solvent. The essence of this is to remove the dirt that's probably already piled up in the chain. To do this, you need first to put your bike in a work stand or tie it to a top-rated motorcycle hitch carrier. Next, spray a good quantity of degreaser on a dry rag. Warp the rag on the chain's lower part. Holding the rag in place on the chain, use your other free hand to roll the chain backwards. Ensure to hold the rag firmly until it wipes out the dirt.
2. Scrubbing For Total Cleaning
You would usually need a chain scrubbing device to give your motorcycle chain the absolute cleanliness that you would desire. The process of doing this is generally straightforward and involves filling the chain with a liquid degreaser. Next, place the chain in the scrubbing device and try to roll the chain around. The device comes with a set of brushes that gets inside the chain and clean out all dirt.
3. Apply The Lube
Now that your chain is clean and dry, it is time to apply the lube. The application method often depends significantly on the type of chain lube that you are using. The goal is to do it gradually and steadily, ensuring that the lube gets to every part of the motorcycle chain.
4. Repeat The Steps
As often as possible, repeat the steps above until you are sure that the chain is properly lubed. Then allow it to dry.
FAQ About Motorcycle Chain Lubes
1. How Often Should You Lubricate Your Motorcycle Chain?
It is usually easy for motorcyclists to get confused about how often they should apply lube to their bike, especially considering that theirs, not one standard time for doing it. Typically, the lubrication time would depend on several factors, including riding consistency, the predominant riding conditions, the type of lubricant that you use, as well as the level of attention you pay when applying each lube. Bear in mind that over-lubing can also be detrimental to the wellbeing of your chain.
2. Can You Use Engine Oil As Chain Lubes?
Engine oil comes with its benefit as far as a motorcycle chain is concerned. It serves to dissolve dirt while leaving behind a greasy coating. However, it does not feature a formulation that resists dust and water. Most times, its lubricity is lost with rain; hence, the need to use specialized motorcycle lube.
3. Can You Use Bicycle Chain Lube On a Motorcycle?
Yes, you can use a bicycle lube on a motorcycle chain. However, there's the need for you to pay attention to the specifications. The chain system may be different, but their ability to function on the same principles makes it easy to use the same products across boards.
Wrap Up
There you have it, everything you need to know about the best motorcycle chain lube. The whole process of buying a chain lube for your motorcycle needs shouldn't be as confusing as it already is. Refer to our chain lube reviews above to find out all you need to know about the best chain lube in the market this year. We've also included a buying guide in this article to help point you in the right direction on how you can get the right chain lube for your needs.
It is our hope that the information that this article contains helps make the right purchase for your needs. You can also refer to other motorcycle articles to find out more about how you can get the best accessories for your motorcycle.