Finding the best motorcycle tie down straps to secure it a step up in vehicle transportation. People often bring their bikes to the countryside for new adventures, and safe transport ensures that the bike gets there in one piece.
Sounds simple enough, doesn't it? Still, if you don't know too much about these items, you will need to do a little research. With the help of the following article,  you will find out everything you need to know about the straps. With this information and a little motorcycle tie down straps review reading, you will have no trouble finding a suitable model.
See The Quick Comparison Chart
How Do Tie Downs Work?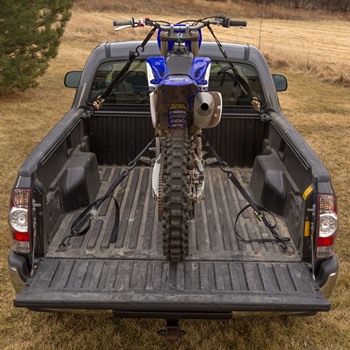 When it comes to tie-down straps, you might also hear about ratchet straps, tie-downs, or lashing straps. You should know that all of these terms refer to the same thing. These items are fasteners that are used to hold cargo and equipment in place during transportation. These straps are basically webbing which is outfitted with tie-down hardware.
This hardware usually includes a tensioning system for the strap, like a ratchet.  This permits the tie-down to attach to the area that surrounds the cargo and to loop over the cargo, keeping it in place.
There are various types of tie-downs available for different types of cargo. It is extremely important to choose the right one for your equipment and to use it accordingly. We will get into the different types of tie-down straps in the following section.
Types And Uses Of Tie Down Straps
Just like there are different types of motorcycle batteries, there are various types of tie-down straps as well. In order to ensure the safety of your vehicle, you need to make sure you are using the right type.
So, let us see exactly what tie-downs are there. But before we get into that, you should know that the name of each type actually represents the method used to fasten the straps.
1. Cam Buckle Straps
This is the most basic type of buckle. In order to use one, you simply feed the free end of the strap right through the buckle. Then, you need to pull the strap tight. This buckle uses a cam mechanism, hence the name, that has teeth meant to hold the strap tight. These teeth are angled in such a way to permit you to pull the strap through in order to get it tighter.
At the same time, they prevent the strap to slip back out. When you've reached your destination and want to release the strap, all you have to do is push down the cam mechanism to open it, and the strap can be pulled free.
You should know, however, that, in time, the teeth of a cam buckle will eventually cause the strap to wear. There is a similar, patented buckle without teeth precisely to avoid the damage caused by its teethed counterpart. These tie-downs are generally used for securing motorcycles and ATVs.
2. Ratchet Straps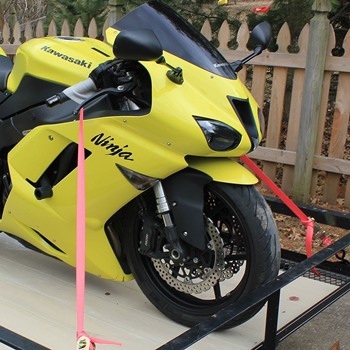 Even though cam buckles work great for many applications, there are cases in which ratchet straps work better. This type is easier to tighten, it holds better, and also allows you to get the strap tighter. In order to fasten this kind of strap, you need to open the ratchet all the way, and then pull the loose end of the strap through it, until it is tight.
Next, you need to close the ratchet and work the lever by opening and closing it multiple times. What happens is, every time you crank the lever, the strap gets tighter. This process is easier than tightening the strap through a cam buckle.
Furthermore, ratchet-style buckles are able to put more tension on a strap because this mechanism offers you leverage. This is why ratchet buckles generally come standard when it comes to high-capacity tie-downs.
3. Retractable Ratchet Straps
A typical cam and ratchet buckle can leave a loose end of the strap. It can happen that this loose section to get in your way, slap against the cargo, or you could be dragging it on the ground.
When it comes to retractable tie-downs, this issue does not happen because the strap is wound up in a housing on the ratcheting system. Basically, you pull out as much strap as you need to fasten your cargo, and as you operate the ratchet, you wound back into the housing any extra strap that may remain unused.
4. Winch Straps and Winches
This type is made specifically for heavy-duty applications and it is generally used in the trucking industry. What you should know about this type is that no built-in tightening buckle is used. One end of the strap is equipped with a hook that attaches to an anchor point.
The other side of the strap feeds into a winch that is mounted on the opposite side of the trailer permanently. In order to fasten the strap, you have to crank the winch using a removable handle.
5. Lashing Straps
This type comes with a gator clip that is very easy to use. Lashing straps are usually the lightest-duty tie-downs and have a maximum working load of 100 pounds as well as a 220-pound break strength. These tie-down straps are intended to be used on game carts, cargo carriers, and other types of small load.
Best Motorcycle Tie Down Straps Comparison Chart
PRODUCT
DETAILS

RHINO USA Soft Loops Motorcycle Tie Down Straps (4pk)

Price:

$

Customer Rating:

4.9

Dimensions:

17 x 1.7 x 0.1 inches

Weight:

8 ounces

View On Amazon

AUGO Ratchet Tie Down Straps – 4 Pk – 15 Ft- 500 Lbs Load Cap

Price:

$

Customer Rating:

4.7

Dimensions:

11.4 x 11 x 2.8 inches

Weight:

4.56 ounces

View On Amazon

Sunferno Ratchet Heavy Duty Straps Tie Down 2500Lbs Break Strength

Price:

$$

Customer Rating:

4.5

Dimensions:

10.5 x 2.6 x 9.2 inches

Weight:

5.07 ounces

View On Amazon

RHINO USA Ratchet Straps Heavy Duty Tie Down Set

Price:

$$$

Customer Rating:

4.8

Dimensions:

13 x 5.5 x 6.7 inches

Weight:

9.95 ounces

View On Amazon

Pro Taper 1.5″ Tie Downs (Black)

Price:

$$

Customer Rating:

4.8

Dimensions:

8 x 5.5 x 2.8 inches

Weight:

10 ounces

View On Amazon

Premium LOCKDOWN Ratchet STRAPS-3372 lbs Max Break Strength

Price:

$$

Customer Rating:

4.7

Dimensions:

12.6 x 7.9 x 4.3 inches

Weight:

9 ounces

View On Amazon

GOSSIP Ratchet Tie Down Straps -15 Ft Long – Upgraded 2200 lb Break Strength

Price:

$$

Customer Rating:

4.7

Dimensions:

11.3 x 7.2 x 3.7 inches

Weight:

9.5 ounces

View On Amazon
Best Motorcycle Tie Down Straps Reviews
1. RHINO USA Soft Loops Motorcycle Tie Down Straps (4pk)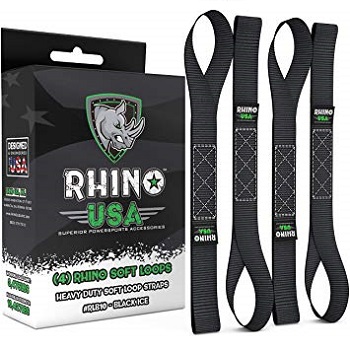 Due to the new and improved build quality, these tie-down straps are superior to many of their competitors. Their construction is a blend of polyester and silk webbing which makes them soft but incredibly sturdy. The lab testing revealed that the breaking strength of the RHINO USA Soft
Loops Motorcycle Tie Down Straps (4pk) got as high as 10 pounds. In other words, there is nothing these tie-downs cannot handle. In terms of dimensions, these items are 17 inches long, 1.65 inches wide, and 3.5 inches in premium diamond stitching section that adds extra security as well as peace of mind.
Straps with S-hooks can cause damage to the handlebars or swing arms of your vehicle, but these soft loops provide outstanding protection to your motorcycle's paint and finish. What is more, they allow you to create tie-down points even in tighter areas, where hooks don't normally fit.
Pros
You can use this model to safely transport not only motorcycles but ATVs, UTVs, Kayaks, and Jeeps as well
If you are not completely satisfied, you will be refunded the entire sum
The price of this product is quite affordable
Cons
For larger motorcycles, you might need to tie two straps together
2. AUGO Ratchet Tie Down Straps – 4 Pk – 15 Ft- 500 Lbs Load Cap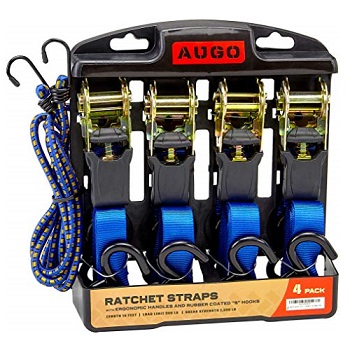 Your motorcycle and any other type of utility equipment can certainly be protected with this high-quality tie-downs pack. The set comes with four ratchet tie-down straps as well as other accessories that allow you to secure a few types of cargo.
The AUGO Ratchet Tie Down Straps is suitable for motorcycles, lawn equipment, garden equipment, but also for moving appliances as well as others. In other words, most of the big things you need to carry in a trailer can safely be transported using these tie-downs.
Even though hooks are used, you can rest assured that no scratching will occur, because they are rubber-coated, precisely for this reason. You will be able to easily install these straps thanks to the ergonomic handles that also ensure an excellent fit. Furthermore, the special molding technology maintains the handles in place with no risk of falling off.
Pros
This model has a breaking strength of 1,500 pounds
Thanks to the high-quality construction, these tie-downs are extremely durable
The pack also comes with two bungee cords
Cons
The hooks can be too thick to fit the holes available in your SUV's roof rack.
3. Sunferno Ratchet Heavy Duty Straps Tie Down 2500Lbs Break Strength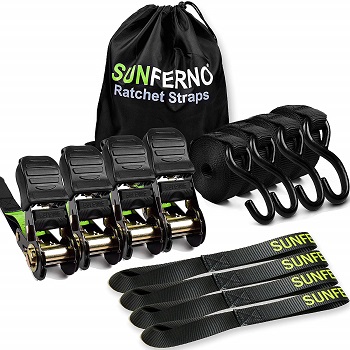 The Sunferno Ratchet Heavy Duty Straps Tie Down 2500Lbs Break Strength is a professional-grade product that has a maximum breaking strength of 2500 pounds, and up to 1250-pound load capacity. This means that you will be able to use these straps for a very long time to come.
This model is equipped with rubber-coated handles and hooks that protect both your hands and your trailer from getting scratches. Even though most similar products have open hooks, this model comes with closed ones. They are designed this way to prevent the webbing from escaping the hook while on the road.
Moreover, the webbing is UV-resistant and the sewing pattern is incredibly sturdy. The pack comes with four straps which means that you will have an extra set of tie-downs. You never know when an emergency occurs and you can help someone in need! It is a very convenient deal for riders who have to carry two motorcycles.
Pros
These tie-downs come with soft loops, guide, and a carry bag as well
The model is extremely versatile and can be used for multiple applications
You get a 30-day money-back warranty in case you are not satisfied
Cons
These straps are a bit tricky to install and operate
4. RHINO USA Ratchet Straps Heavy Duty Tie Down Set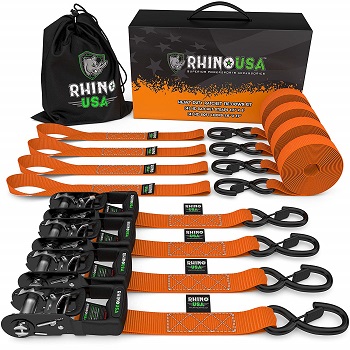 This model delivers an outstanding breaking strength of up to 5208 pounds. It is a heavy-duty tie-downs set that you can rely on to secure your precious motorcycle or any other heavy equipment during transportation. The RHINO USA Ratchet Straps Heavy Duty Tie Down Set comes with includes four straps.
Measuring 13 x 5.5 x 6.7 inches, they might not seem like very long straps, but they are still able to fasten motorcycles of various sizes. These items feature PolyBlend webbing that is known for having anti-wear, anti-abrasion, as well as anti-stretch characteristics. The straps are equipped with coated S-hooks that have safety clips to provide maximum security for your cargo.
In the pack, you will also find four soft hooks that are meant to protect the paint and chrome on your bike against scratches or dents. Moreover, since the hooks feature a Chromoly coating, they are extremely durable.
Pros
You can use this kit to safely transport cars, motorcycles, ATVs, UTVs, and trucks
The PolyBlend material makes the straps not only very strong but also extremely durable
If you are not satisfied with the purchase, you will be fully refunded
Cons
For larger motorcycles, these straps might be a bit shorter
5. Pro Taper 1.5″ Tie Downs (Black)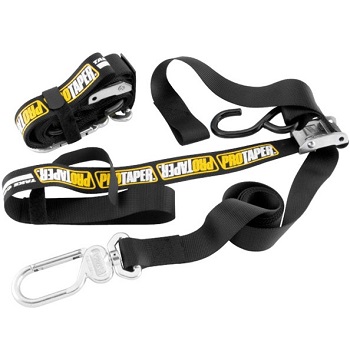 This model is equipped with a patented swivel carabiner that is spring-loaded. This construction is intended to stop the straps from twisting up and unhooking in hard-to-reach places. Compared to the traditional strap setup, this system has gathered excellent reviews and feedback since it was launched on the market.
The Pro Taper 1.5″ Tie Downs (Black) are made from nylon webbing and measure 84 by 1.5 inches. These straps are able to support up to 1,200 pounds of straight tension, which means you can safely transport a wide array of motorcycles using them. Furthermore, this model comes with an industrial-power non-slip cam buckle system.
Also, the set includes a hook-and-loop securing strap that allows convenient and compact storage. A very appreciated feature of this model is the extra slack strap that keeps the other straps from flapping around. Also, the straps are extremely easy to operate and secure.
Pros
The long and wide webbing makes this model ideal for various applications
These straps are some of the most straightforward and user-friendly models
Thanks to the soft loop, you can protect your handlebars from getting damaged
Cons
The nylon webbing is not as strong as polyester webbing, but it is cheaper and fairly sturdy
6. Premium LOCKDOWN Ratchet STRAPS-3372 lbs Max Break Strength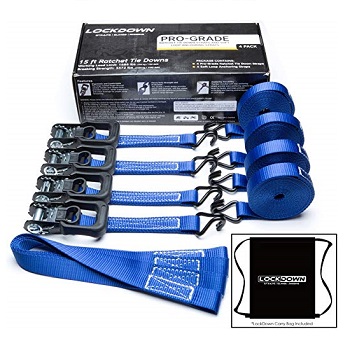 If you are really tired of worrying about your precious motorcycle shifting or even falling off your trailer due to weak tie-down straps, you should check the Premium LOCKDOWN Ratchet STRAPS-3372 lbs Max Break Strength.
If you are also fed up with spending money and wasting time on buying flimsy straps with low-quality hardware that is hardly any good, you should definitely give this product a try. These straps are made of heavy-duty materials that make them strong as well as durable. However, most importantly, it will keep your cargo safe during your trip.
Since you have already invested in your favorite vehicle, it would be a shame to let it get damaged using the wrong fasteners. You may appreciate the fact that this model is quite versatile, as it can be used not only for motorcycles but also for ATVs, small wheelers, home appliances, furniture, and many others.
Pros
This model comes with a molded finger-through handle and a release lever for increased comfort
The double J-hook design ensures your cargo is well-anchored
The webbing is wide and almost twice as thick as many of its competitors
Cons
This model would work better if it included a second set of small loop straps
7. GOSSIP Ratchet Tie Down Straps -15 Ft Long – Upgraded 2200 lb Break Strength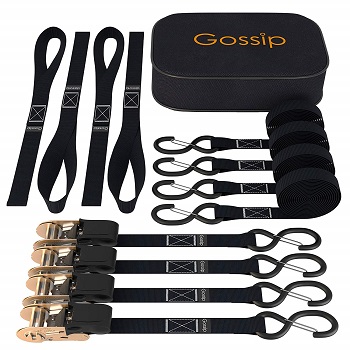 With a length of 15 feet, this strap is long enough to fasten taller bikes. More importantly, the breaking strength of this model is 2200 pounds, so it is suitable for a wide range of motorcycles. The GOSSIP Ratchet Tie Down Straps -15 Ft Long – Upgraded 2200 lb Break Strength features vinyl-coated full-bent closed S-hooks.
Moreover, the ergonomically-designed rubber handle makes this very comfortable to manage. This model also includes a release lever that helps a great deal to clamp down your cargo. Thanks to the same lever, loosening the straps is very easy.
As ratchets may open by mistake, this product includes a spring-loaded mechanism that ensures this does not happen. When it comes to the webbing, this model is made 100% of polyester which is a strong, reliable, and durable material. This model also comes with a carry bag for easy storage.
Pros
All the necessary components are included in the pack so there is no need for other purchases
Soft loops are used in order to prevent scratches
Compared to many other products in this category, this one has an affordable price
Cons
The ratchet mechanism is rather complicated, especially for inexperienced users
Motorcycle Tie Down Straps Buying Guide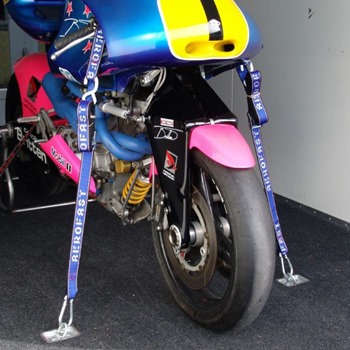 Whenever you are looking for new gear and accessories for your motorcycle, you need to make sure that they are of high quality and suitable for your bike. When changing your top-rated motorcycle oil filter, you need to get one that was designed specifically for your vehicle.
Even if it seems that tie-downs are just some straps used to keep your motorcycle secure during transportation, make no mistake, it is important to use reliable products.
1. Weight Capacity
Weight capacity is also referred to as working load limit or WLL. This means that each tie-down strap can securely hold cargo up to a certain weight. You need to be very careful when you select a model because it has to support your motorcycle.
In order to get the right product, you need to know your vehicle's weight. Also, before you get the straps, think if you are going to need them to transport other types of cargo, and how much that could weigh.
2. Break Strength
Tie-downs are also rated by break strength or maximum load. This refers to the maximum amount of lead that will cause the strap to break. As a general rule of the thumb, the break strength is three times the working load limit.
As an example, if the tie-downs you got have a WLL of 1,200 pounds, the break strength is around 3,600 pounds. Both WLL and breaking point should be labeled on the product, so there is not much chance for this information to not be available.
3. Length
This is another important aspect you need to consider when it comes to selecting the right tie-down strap for your motorcycle. The straps need to be long enough to stretch from one tie-down point to the other or from your vehicle to a tie-down point on your truck or trailer.
In case the straps are too short, you will not be able to use them at all for that specific application. When you are dealing with straps that are too long, you will also have to deal with loose ends that might get in your way. Even when the straps are of perfect length, there can still remain a part of the strap that should be secured so that it does not flap in the wind.
Due to the fact that many straps can be used for various applications, it is pretty much impossible not to have long ends of straps to handle at some point. Still, if you have to deal with this issue, there are a few good solutions.
4. Webbing and Material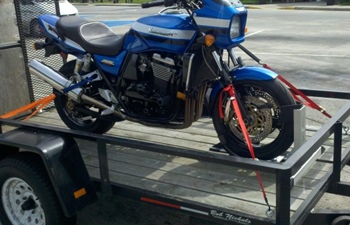 Another important thing to look at is the material or the webbing. Keep in mind that if the webbing is sturdy and reliable, the quality of the tie-downs is also going to be high. There are many products in this category on the market which have various webbing sizes.
Double-polyester construction is one of the best options, and you cannot go wrong with it.
Therefore, make sure you check this aspect before you make a decision about the model you select.
5. Loose Strap Ends
If you do not want to deal with this issue, you should know that there are models on the market that include a built-in wrapper which is always attached to the straps. So, once you are done with fastening your gear, you have the option to roll up any loose strap that remains and secure it with this wrapper.
Usually, the wrapper attaches itself with a Velcro-like fastener that is very easy to use. You can also opt for a retractable ratchet strap that comes with housing designed to reel the strap in after it is tightened down. Since the strap will be wound up inside its housing, you will never have to deal with any loose ends. This makes it even easier to hook up the strap as well.
6. Tightening Methods
The buckle that comes with the tie-down allows you to fasten the strap and keeps it tight as long as it is in use. You can choose between cam and ratcheting buckles for usual cargo. For very heavy applications like over-the-road trucking, the straps are tied down using a winch.
We are not going to go into more detail about this because we have already discussed the types of tie-downs in our previous section.
Still, it is important to know what options you have and make an informed decision according to your specific needs. Just like when you are looking for a motorcycle helmet, you need to know what types are there and select the one that is most appropriate for you.
7. Hook Types
Another thing you should keep in mind before deciding on which tie-downs you are going to select is the type of the hooks used. They should be sturdy as well as adjustable. The S and the J hooks are usually the safest options to secure your cargo.
Flat hooks include a flat piece of metal that is bent double. This design is suitable for thin, flat anchor points such as the edge of a bumper or of angle iron.
How To Use Tie Down Straps On a Motorcycle?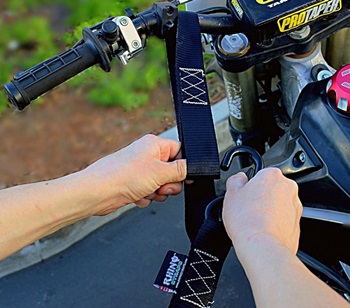 Even though there are so many reliable products in this line, many motorcycles get damaged due to a bad tie-down job. We decided to provide a secure method to fasten your cargo and keep it safe until you reach your destination.
Step 1
Hook the bike tie-down straps to the handlebar or to the upper and lower triple cam. Then, loop the soft tie around the clamp and load the bike. After that, attach the tie-down hook. Next, attach the other end of the strap to the anchor point of your truck's bed.
Step 2
Place your motorcycle on its side stand and fasten the left strap. It does not need to be very tight just yet but you have to remove the slack.
Step 3
Now, push your vehicle to the right side, and with the left strap already tightened, the front suspension is going to be compressed. Once your bike is upright, you can fasten the right strap.
Step 4
You will need to keep the bike very straight up and down and compress only half the travel in the front suspension.
Step 5
In order to keep the rear part of your motorcycle from bouncing around all the way to your destination, use a second pair of straps and from the anchor point in the truck's bed, around the rear wheel, and then over to the anchor on the right side. This will control lateral movement.
FAQ About Motorcycle Tie Down Straps
1. How Many Tie Down Straps Are Required To Secure a Motorcycle?
In order to make sure that your bike is safe and secure all the way, you need to ensure that it is well-fastened and stays in place. To secure this, you should use at least four tie-downs, or two pairs, whichever you prefer.
The first pair will keep your motorcycle straight up, while the second pair will eliminate lateral movement. You may ask yourself why should you use the second pair if the first one is tied down very well. You see, a long road is full of obstacles and unpredictable things.
A lot of vibrations and braking will cause the motorcycle to bounce. If this occurs, there is also a possibility for the straps to get loose, and if that happens your entire trip can get compromised, and so can your motorcycle. When it comes to protecting your bike, and keeping things safe, you really should not go cheap. You can even get a kit that already contains four straps.
2. Are Tie Down Straps Universal?
No, tie-down straps are definitely not universal! Although most models can be used for various applications, this does not make them universal. Different tie-downs have different working load limits and breaking strengths. If you need tie-down straps, you need to know the exact weight of the cargo you plan on carrying and check the two details on the product.
The working load limit needs to be at least equal to the weight of your vehicle. The length is another variable. Various tie-downs have different lengths. You can work with a longer strap, but if it is too short, you will not be able to use it at all. Be careful about loose ends, as well, as they might prove to be a problem.
The biggest one is that it will flap around and it will damage your motorcycle's paint, or even worse. Also, if you plan on using the tie-downs for various applications, make sure that they are suitable for all of them.
3. How Do You Keep Tie Down Straps From Flapping?
As previously mentioned, flapping loose ends can be a problem, especially for your cargo. You may find various solutions to tie or keep the unused part of the strap, but it is not necessary to trouble your mind with this when there are so many models out there which already come with a solution.
For example, retractable tie-downs excellent options. Once you have tightened the strap, the part that is loose reels itself into a housing that is permanently attached to the strap.
You can also select a model that comes with a wrapper which is also attached to the strap. After you finish tieing down your motorcycle, you have the option to roll up the strap that remains and have it secured with the wrapper.
Wrap Up
The best motorcycle tie down straps is not what the market tells you they are, but what is most appropriate for your gear. There are many aspects to consider and so many variables. You need to keep the weight, length, webbing, as well as the tightening method in mind before you select a certain model. But using the right tie-downs in not only about keeping your motorcycle safe, but it is also about keeping yourself safe, as well as the others.
Just imagine what could happen if your bike flies loose on the road because you have not used the right straps. Now that you have read our article, we are sure you are aware of the benefits a high-quality product can offer. So, which was your favorite motorcycle tie down straps review? Are you going to select one of our picks?