If you'd like to expand the storage space of your bike, you should get the best motorcycle tank bag that will suit your ride, style, and necessities. Let's say you want to go for a longer ride with your bike, but all of your essentials cannot fit in your backpack. What do you do? Simple! You get a motorcycle tank bag. But the market is full of products in this line. The good thing is that you have a lot of options to choose from.
The following article has a lot of research and all the relevant information on this topic. We are going through the features and characteristics you should look for to find a model according to your specific needs. Thanks to the motorcycle tank bag reviews, you might even be able to pick a model from the list. Let's get into it!
See The Quick Comparison Chart
Why Do You Need a Motorcycle Tank Bag?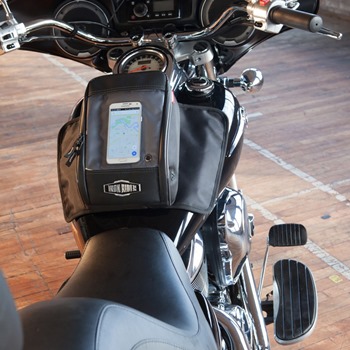 Just like heated motorcycle gloves, you don't necessarily need a tank bag. However, both items can make your life much easier. So, why would you need such an item? First of all, if you are new to the motorcycle world, you need to understand exactly what this piece of equipment is.
A tank bag is basically a storing space that is mounted atop your bike's gas tank. It is an excellent choice to keep various essentials such as a map, a notepad, sunglasses, pens, a small multi-tool, medicines, and other similar items. Sill, depending on its size and capacity, you can store numerous things.
So, why would you need a tank bag, when all of these things could very well be kept in a backpack? Well, first of all, tank bags come in a wide range of designs, sizes, and capacities, so it is not a difficult task to find a model that will suit your particular requirements.
Secondly, such an item is an extremely convenient way to keep your belongings organized, in an easy-to-reach place. A tank bag is an excellent choice for your everyday riding. Last, but not least, such a unit is an ideal additional storage space for extended touring.
All Kinds Of Motorcycle Luggage
When preparing for a motorcycle ride, packing your things is not as easy as with a car where you can benefit from a large trunk. However, there are various ways in which you can carry your belongings when riding.
Many types of motorcycle luggage exist, and each is intended to satisfy a particular purpose. We are going to discuss several types of bags and cases you can use to store your things when riding.
1. Locking Luggage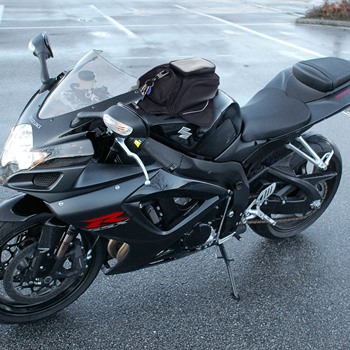 Most types of motorcycle pieces of luggage are secured only with zippers. Therefore, it is quite easy to have things stolen by someone passing by. For this reason, many motorcycle owners go for lockable bags they can use to secure their valuable items such as mobile phones, cameras, tablets, GPS, and other similar objects.
Of course, when you use a bag that you can take everywhere with you, locking it is not a necessity. Still, most lockable motorcycle luggage models are easy to remove by the owner but are also delivered with attached locks. There may be situations where you might not want to take the entire luggage with you. There are also models that offer the option of installing a lock.
Also, you may want to get an extra secure bag that locks into place onto your bike, which can only be removed using a key. Depending on your specific needs, you should know that you have plenty of options when it comes to lockable motorcycle luggage where you can keep your essentials safe and secure.
2. Sissy Bar Bags
Another storing option you might be interested in is one that is attached to the sissy bar and which does not bother the rider nor it restricts his or her movements. This is a great option for two-person rides because the luggage is not placed on the seat but on the bar behind it.
There are many models available on the market with various storage capacities, and it is not hard to find one that can offer enough space for your personal belongings.
Actually, besides tank bags and saddlebags, this option is one of the most popular storage choices for motorcycle owners. What is more, you have the option to select hard or soft luggage, depending on what is most convenient for you.
3. Saddlebags
As previously mentioned, this is a very popular storing option among riders. They usually come in pairs and are connected with a strap that allows you to attach them to your motorcycle. The best thing is that they do not impair your driving, and they don't have any effect on stability and balance.
Usually, these items are mounted around the rear wheel or above the tailpipe. However, they do not come in contact with your wheel. This type of luggage offers increased storage capacity, and it is generally used for long-distance rides. These bags provide large storage space, and they are rarely divided into multiple compartments.
They usually open from the top, so it is an easy-to-access option. You should know that most models are not removable, and if you do decide to get them off of your bike, you will need special tools and time to unlock the restraints.
When it comes to saddlebags, you will also need a mounting system. It usually includes a strap and a few brackets that are meant to guard the rear wheel and keep the bags from touching it. These brackets are not included with the saddlebags, but can easily be found on the market.
The fact that they are not removable may be a bit of a downside for some. On the other hand, you can rest assured that nobody will be able to steal them.
4. Back Seat Bags
If you are going on a trip alone, and there is no passenger seating behind, you can also go for a back seat bag. As the name suggests, this type of luggage is designed to be placed on the back seat of your bike.
Besides being a great choice for storage space, this item also offers a great backrest for the rider. This increases your comfort and reduces fatigue during long roads. However, you need to be very careful to fasten the bag properly. Back seat bags also provide a lot of storage space, so it is an excellent choice for longer trips when you have to pack all sorts of items.
Depending on the model, they may have one or more compartments, but you can surely find one to suit your particular needs. These bags are attached to the motorcycle by the sissy bar by using straps or on a luggage rack. You can choose a hard back seat bag that is usually waterproof or a soft model that is made of textile.
5. Tank Bags
We are not going to go into details about tank bags in this section because this is the main topic of our article. However, it is important for you to be aware of all possible options when it comes to storing personal belongings on a motorcycle trip.
Unlike all the other alternatives we discussed, this one sits in front of you, on top of the gas tank, which makes it easy to access, even without interrupting your ride.
Best Motorcycle Tank Bags Comparison Chart
PRODUCT
DETAILS

Chase Harper USA 450M Magnetic Tank Bag Water-Resistant

Price:

$$

Customer Rating:

4.7

Mounting System:

Magnetic

Capacity:

6.8 liters

View On Amazon

GIVI EA102B 25Ltr Expandable Tank Bag

Price:

$$$

Customer Rating:

4.7

Mounting System:

Magnetic

Capacity:

17 – 25 liters

View On Amazon

OHMOTOR Motorcycle Tank Bag Waterproof with Strong Magnetic

Price:

$$

Customer Rating:

4.0

Mounting System:

Magnetic

Capacity:

28 liters

View On Amazon

Cortech 8230-0505-12 Black Super 2.0 Magnetic Mount Tank Bag

Price:

$$$

Customer Rating:

4.7

Mounting System:

Magnetic

Capacity:

12 liters

View On Amazon

Coleman Magnetic Motorcycle Tank Bag

Price:

$

Customer Rating:

4.2

Mounting System:

Magnetic

Capacity:

18 liters

View On Amazon

Nelson-Rigg Black Holds RG-1045 Trails Adventure Motorcycle Tank Bag

Price:

$$$

Customer Rating:

4.4

Mounting System:

Straps

Capacity:

12.39 – 16.52 liters

View On Amazon

AZTOP Motorcycle Tank Bag Water Resistant with Super Strong Magnetic

Price:

$

Customer Rating:

4.2

Mounting System:

Magnetic

Capacity:

4 liters

View On Amazon
Best Motorcycle Tank Bags Reviews
1. Chase Harper USA 450M Magnetic Tank Bag Water-Resistant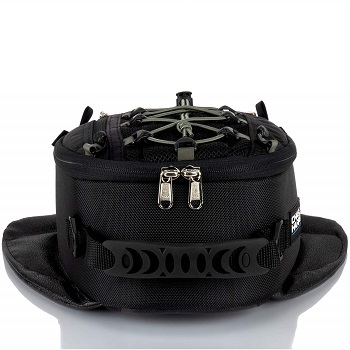 Since it is a magnetic tank bag, we do not recommend leaving it on your motorcycle unattended. You will be pleased to know that the Chase Harper USA 450M Magnetic Tank Bag Water-Resistant only weighs 1.7 pounds, so you will not have any issues carrying it around with you.
In addition, the bag is equipped with a strong handle on top, so you can easily grab it whenever you need to. Besides the convenient weight, this model is extremely tough and very durable. Do you like keeping your things organized? Well, this unit has multiple mesh pockets and pouches, so you can keep all of your stuff in order.
The outer part of the bag has a cotton-like appearance and you can use it as a comfortable pillow in case you need to stop and rest for a while. This model has a crisscross design to style it up and look great on any motorcycle.
Pros
This model has a universal fit and it is constructed from industrial-grade ballistic urethane-coated nylon
It is tear-resistant and water-resistant
Thanks to its design, the tank space is optimized and your riding style is not compromised
Cons
It does not come with any straps or locking system
2. GIVI EA102B 25Ltr Expandable Tank Bag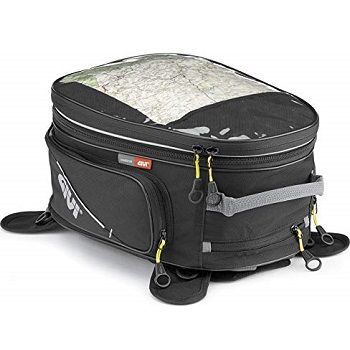 The GIVI EA102B 25Ltr Expandable Tank Bag is a magnetic unit. It comes with a front pocket that holds the rain cover. Normally, it has a capacity of 17 liters, but it can expend to 25. That means you get a lot more room to carry all the things you consider important for your trips.
You will probably appreciate the transparent map holder that allows you to see the map all the way to your destination. This model comes with extractable shoulder straps that allow the bag to convert into a rucksack. This makes it extremely convenient to carry around when you need to.
What is more, the non-slip base contains four pockets for the magnets which are removable. The unit also comes with four belts that allow you to attach it directly to your tank. You will also get locks, so you do not have to take it anytime you are not around the motorcycle.
Pros
The bag comes with various pockets of different sizes, allowing you to keep things organized
The rain cover is included as well
This model is very durable thanks to its solid construction and the high-quality materials
Cons
When expanded, the bag becomes quite bulky and may impair your driving a bit
3. OHMOTOR Motorcycle Tank Bag Waterproof with Strong Magnetic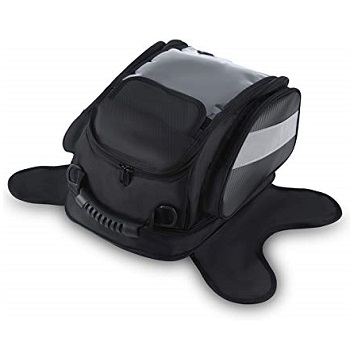 In case you prefer having a GPS you can follow while riding, you can get a top-rated motorcycle phone mount that will help you a lot. However, if you want a little more room for your things as well, you might be interested in a tank bag that comes with a transparent pocket which allows you to see the GPS all the way.
The OHMOTOR Motorcycle Tank Bag Waterproof with Strong Magnetic is a good option in this sense. Even though it is a magnetic bag that comes with four heavy-duty magnets, this model is also equipped with straps. This makes positioning and installing the tank bag extremely easy.
Also, once the straps are fastened, you will not even see them. The unit is made of high-quality and extremely durable materials, and it is not just water-resistant but also waterproof. If you are caught in the rain unexpectedly, you don't have to worry about your things.
Pros
The bag is so accommodating, it can fit a full-face helmet
The touchscreen on your phone or GPS unit works through the transparent pocket
There are four pockets of various sizes to organize your essentials
Cons
Since it is a large-capacity bag, you need to check if it is compatible with your motorcycle
4. Cortech 8230-0505-12 Black Super 2.0 Magnetic Mount Tank Bag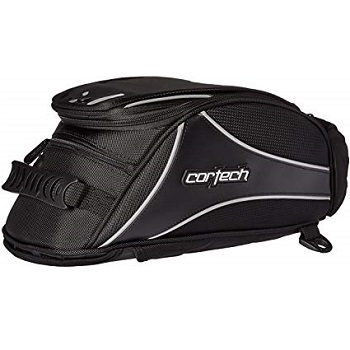 If you care about design, you will surely like the sleek construction of this tank bag. Not only that, but it also offers plenty of room for your essentials. It is an ideal option for short trips to have some of your important items at hand. The pockets are designed in such a way that you will be able to find anything you need very fast and access it extremely easy.
The Cortech 8230-0505-12 Black Super 2.0 Magnetic Mount Tank Bag is made from high-quality 1680D ballistic polyester, as well as 1800D Jacquard, making it extremely durable and reliable. This bag comes with very powerful magnets that hold it in place on your bike's tank.
What is more, this model is equipped with a tether strap that offers an extra level of security to the unit. Unlike many other similar products, this one comes with a map pocket that is not only adjustable but also removable.
Pros
The bag comes with a rain cover that has a transparent window allowing you to see the map.
This model has a great interior organization
It is compatible with most motorcycles
Cons
If you do not use the rain cover, water might leak inside through the zipper area
5. Coleman Magnetic Motorcycle Tank Bag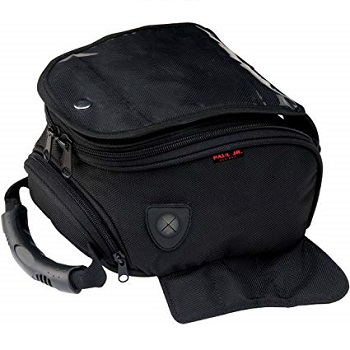 In case you are looking for high-quality, but you are on a tight budget, we suggest that you take a look at the Coleman Magnetic Motorcycle Tank Bag. It is made of strong 1680D polyester and the powerful magnets ensure that the bag will stay in place even if you fly your motorcycle at over 80 MPH speeds.
Basically, this unit sticks like glue to your bike. The interior has soft walls that protect your fragile belongings such as sunglasses or chargers. This model is equipped with a reliable plastic handle that allows you to easily take it off your tank and carry it around.
The 100% waterproof material helps you keep all of your essentials safe and dry, even when the rain is pouring down on you. The sealed plastic section allows you to follow your GPS at all times, again, even if it's raining.
Pros
This model is scratch-resistant and is designed with a non-slip bottom
The bag features an expendable zippered cargo compartment, in case you need extra room
The product comes with a two-year limited warranty
Cons
Depending on the shape of your tank, the handle can scratch its paint and finish
6. Nelson-Rigg Black Holds RG-1045 Trails Adventure Motorcycle Tank Bag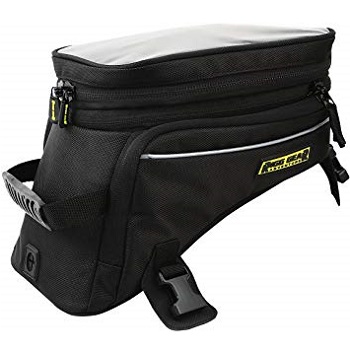 When it comes to this tank bag, you can expect no less than built quality from an esteemed manufacturer. This durable polyester-designed unit is packed with UV protection that ensures an increased level of longevity against the elements.
The design of the Nelson-Rigg Black Holds RG-1045 Trails Adventure Motorcycle Tank Bag features easy-access side pockets that make it extremely easy for you to access essential things such as keys, phone, or your wallet. Moreover, this model has reflective piping and a sleek, lined interior.
Other things you can expect to find when it comes to this unit are reverse coil zippers that reduce the possibility of dirt and dust entering your bag.
The clear, touch-screen map pocket is device-friendly as well, allowing you to use paper maps but also smart devices such as your phone or a GPS unit. The protective base material is meant to protect your paint and offer non-slip incidents.
Pros
The bag is equipped with quick-release straps for fast mounting and refueling
This unit maintains its shape even after a long usage period
The product is accompanied by a generous lifetime cover
Cons
This model is not 100% waterproof, so you should use a rain cover
7. AZTOP Motorcycle Tank Bag Water Resistant with Super Strong Magnetic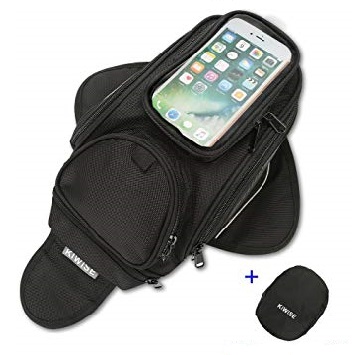 The AZTOP Motorcycle Tank Bag Water Resistant with Super Strong Magnetic is a versatile model that was primarily designed for Harley, Kawasaki, Suzuki, Honda, and Yamaha motorcycles. It is a magnetic tank bag that is an excellent choice for short trips.
Thanks to the four pockets of this unit, you can organize and keep your essentials safe and easy-to-access. The specially-designed top see-through smartphone pocket is ideal for people who use maps to get to their destination safely. It is large enough to fit most types of devices.
This model is made of 1680D Oxford textile that is water-resistant and can withstand wear and tear for quite a long time. However, since the fabric only repels water, it is advisable to use a cover when you are riding in the rain if you want your things to remain dry. Furthermore, the powerful magnets ensure that the bag stays in place.
Pros
The bag is lightweight and it is very easy to mount
Thanks to the sturdy material and the fine and durable sewing, this model is extremely resistant
For the quality it offers, it comes with quite an affordable price
Cons
The transparent pocket for the smartphones is not touch-screen compatible
Motorcycle Tank Bag Buying Guide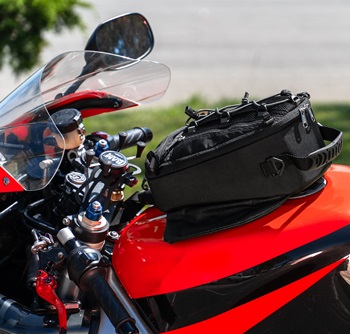 When it comes to gear and accessories for your motorcycle, we are sure you only want the most reliable products. On a bike, both yourself and your belongings are more exposed than in a car, for example. Also, you do not have the advantage of a trunk to pack your things in.
Therefore, you need to find a storage space you can mount on your motorcycle, which will not impair your driving, and that also blends in with your vehicle's design. Right now, we are going to focus on the things you should consider when looking for a tank bag.
1. Size and Capacity
Since we are talking about storage space, the size and capacity should be the first things to consider when searching for a tank bag. In order to get a product that will truly meet your needs, you need to correctly estimate the space you require. Think about the things you want to keep in it, how much space they take, and only then decide.
You should know that the market offers tank bags for commuters, for long-distance riders, as well as for people who only need to carry a few things. You can find models of only two or three liters, which are intended for small items such as your wallet, cell phone, and glasses.
What to consider?
These small bags are excellent options for everyday city drives when you do not need to have too many things with you. If you are commuting with your motorcycle, a six to twenty-liter model would be more suitable.
The space offered by such a model allows you to carry your lunch, various electronic devices, and even your gym clothes. It is small enough not to make you feel uncomfortable while riding but spacious enough to accommodate a few larger things.
If you seek a larger storage space, you should be looking for 10 to 25 liters or even bigger capacity. What is important to know is that even though small and medium tank bags can be installed on almost any motorcycle, when it comes to larger ones, you need to consider the size and shape of your tank.
2. Materials
As previously mentioned, on a motorcycle, you are not as protected as in a car; the outside temperature and weather are the biggest issues. That is why the materials your tank bag is made of is extremely important. You need to be able to rely on it and feel assured that your essentials will be kept safe and well-protected.
To know what to expect, a cheap model will probably be made of permeable textiles. This means that you will have to get a rain cover for it. However, you can go with a unit that has a solid construction and is resistant to the elements, impacts, and scratches.
Many tank bags that are available on the market today are made of rugged nylon that is also waterproof. You will see it labeled as 1680D nylon or 600D nylon. The latter is cheaper but still very good quality. You may also find 1200D Guzi nylon and 1000D thermoformed laminated polyester.
Rain covers?
Even though these materials are waterproof, it is still a good idea to use a rain cover, as water might leak in through the zipper area. Another option you have is a wax-coated canvas with ecological leather.
Also, bags made of fiberglass and PVC are highly appreciated for their durability. If you want something that is 100% rain-resistant, you can also look for waterproof zippers.
3. Hard or Soft?
Since we discussed materials, you should know that tank bags are divided into two categories: hard and soft bags. This refers to the unit's construction and materials used. Both have advantages as well as disadvantages. Hard tank bags are typically made of PVC and fiberglass, but other materials can be used in their construction also.
This type of tank bag is designed to be kept in place, so mounting and removing it can only be done using special tools. The main advantage of choosing a hard bag is that it is sturdier and more resistant to impacts and to the elements, compared to the soft models. Soft bags, on the other hand, are lighter and very easy to install and remove.
These models are perfect for short-distance trips and daily commuting. In terms of security, however, they are not as safe as their hard counterparts, as they are not fitted with locks. Moreover, cheaper models may not even be waterproof. This is something you should check if you decide to choose a soft bag.
4. Mounting Options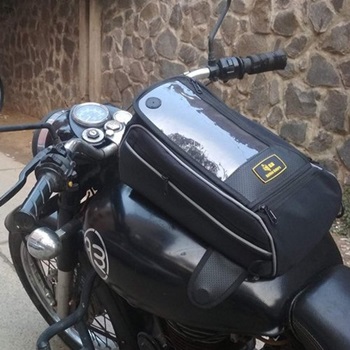 Some of us might not be skillful enough in this sense, or might not even have the necessary tools for a complicated tank bag installation process. You might lack the time and want something straightforward.
No matter what your reason or necessities are, you should consider this aspect as well, prior to selecting a specific model. The most popular options are strap-mounts, clamp-on tank rings, and magnetic bases.
4.1 Strap Mounts
These are extremely easy to use, and they are suitable for any type of motorcycle tank. They are not easy to steal, but you should know that they are not that easy to move from one bike to another.
A tank bag of this type is held in place very firmly, and it is a good choice for off-road riders. You should know, however, that the risk of scratching not completely eliminated, although it is greatly reduced, compared to other types of bags.
4.2 Clamp-on Rings
These types of bags are installed on the tank using the bolts around the gas cap. All you need to do is press the unit onto it until it clicks into place. This system holds the bag very firmly into place, and it is also incredibly easy to install as well as to remove. However, you should know that it is motorcycle-specific, and not universal.
4.3 Magnetic mount
The magnets are sewn into the bag, and they are what holds the unit to the tank. Usually, there is a rubber bottom piece designed to protect the bike's finish against scratches. These models are extremely easy to mount and to remove. However, the same goes for stealing. You certainly do not want to leave your tank bag on your motorcycle and walk away.
5. Compartments and Other Features
Depending on what you are going to use your bag for and what you want to carry in it, you should look at how the bag is organized in terms of compartments and pockets. Do you need a larger space for your helmet, and a smaller pocket for your mobile phone? Do you need more pockets to keep your various essentials organized and easy to access?
Think about these things a bit before you decide on a specific model. You may want a map pocket that is placed on top of the bag and that is see-through. This allows you to look at the map the entire trip, without having to make numerous stops.
Another feature you can look for is a non-slip coating on the bottom of the bag. Depending on your specific needs, you should choose a model that makes your life easier and more comfortable.
6. Design
This is also an aspect you should consider when choosing your tank bag. First, the unit needs to fit the design of your tank in terms of size. Secondly, you can surely select a model that blends with the overall design of your bike.
Since the market offers so many possibilities to choose from, you can surely find a bag that not only meets your requirements but also looks great on your motorcycle and somehow completes it.
How Do You Install a Motorcycle Tank Bag?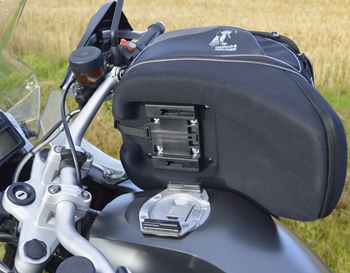 Although not as complicated as mounting a top-rated motorcycle battery, installing a motorcycle tank bag can be a bit tricky, depending on the type. These items come in a wide array of styles. Many of them need to be secured to the gas tank with heavy-duty magnets or straps.
The one that uses straps usually has one strap upfront which loops under the top triple clamp, around the neck of the frame. Then, it clips to the bag. It is important to check so that the strap does not get caught in any of the cables.
When it comes to hard tank bags, they usually require special tools to attach them. Any model from a reputable company comes with detailed instructions about how to install it. Make sure you follow the manufacturer's indications step-by-step. If you think you might encounter issues or do not have the necessary tools or skills, it is advisable to ask a specialist for help.
FAQ About Motorcycle Tank Bags
1. Will a Tank Bag Scratch My Tank?
Even though tank bags are extremely useful, they are known for their ability to scratch the paint on the fuel tank. A high-quality tank bag will have some sort of special padding or coating underneath that is meant to prevent damaging your bike's paint and finish. However, it is enough for a particle of dust to get between the two to cause a scratch.
No matter how well you clean the tank's surface before placing the bag onto it, some damages might occur. Unfortunately, there is not much that can be done to protect the painted surface from regular tank bag use. However, there are some things you can do to ensure that the damage is as little as possible.
First, make sure that the surface of the tank is clean and dry. Use a tank bag that has padding or coating and that it is fixed well to the tank. The less movement or the less rubbing against the surface means fewer scratches.
2. Do Magnetic Tank Bags Stay On?
Magnetic tank bags have heavy-duty magnets sewed into them. That is why such a bag will stay put on your tank. One thing you need to know is that this type of bag has a tendency to attract small bits of metal that will scratch your tank.
Due to the powerful magnets, these units are very easy to attach to the tank, and it is not hard to remove them either. Also, because they are not locked in, it is not a good idea to leave your motorcycle unattended if you are using this kind of tank bag.
3. What Do You Keep In Your Tank Bag?
The answer to this question can include numerous types of items. Starting from a few every-day essentials to tools and other stuff, you can carry pretty much anything in a tank bag; anything that fits in there, of course. So, let's say that you keep your valuables in your backpack, and you have a tank bag that is always attached to your bike.
One would think that the things you keep in there are some useful stuff any rider should have with him or her at all times. For example, you can include a few tools for your bike, just in case, like a flat fix kit, and a tire pressure gauge. If you often ride at any time of the day, you should also have a clear visor for night riding, as well as a visor cleaner.
What else?
A multi-tool is always useful and can help in many types of situations. Rain gear should not be missing from your tank bag, as you never know when the weather can suddenly change and you can find yourself riding in the pouring rain.
A pair of extra gloves is always a good idea to have, and so is a flashlight. In case you live and ride in a hot zone and have skin that is exposed, you should always keep a good sunscreen with you and use it whenever the case requires it.
Wrap Up
Nowadays, when you want any type of product, it is enough to think about what features you want it to have, what exactly you will be using it for, and you can find a model that meets your requirements 100%. That happens because the market is full of options from any product category you might think of. In case you were looking for the best motorcycle tank bag and you did not know where to start, this article should make things clear for you.
Due to the information we managed to gather and present to you, at this point, you should know exactly what to look for. Moreover, the motorcycle tank bag reviews showcased here should give you some idea about what the most popular choices are. We have no doubt that you will be able to find the most suitable option according to your specific needs.