Having the best heated motorcycle gloves at your disposal can help you control your bike in a better, and overall safer way. From the first moment you put these on, you will notice a major difference. A good jacket will keep you warm, but you simply can't go without a pair of heated gloves if you expect your rides to be pleasant even when the weather outside seems arctic.
No doubt, a set of battery-powered gloves will come to the rescue, but you still should know how to separate the good from the bad. If you want to feel warm, comfy, and safe when riding, we recommend you to check out our heated motorcycle gloves reviews. Let's begin!
See The Quick Comparison Chart
How Do Heated Motorcycle Gloves Work?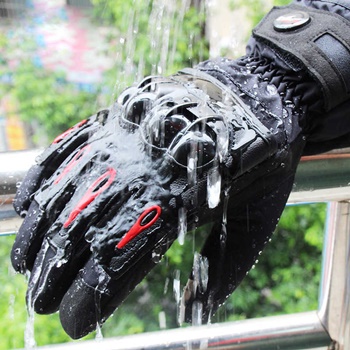 Most heated motorcycle gloves are battery-powered, even though some models are wired/attached to an external battery or your bike's battery. Either way, these have to be connected to a power source, as it supplies the gloves and liners with heat.
Once attached to a power source, the heat gets deployed through the liners. Heat-conductive materials are in charge of dissipating the heat properly. Some models keep both fingers and palms warm, while others offer partial heating only.
Regular vs. Heated Motorcycle Gloves
If you thought you could go with a regular pair of gloves this winter, you may want to check out our comparison list – regular versus heated gloves.
1. Safety and Comfort
Riding in freezing temperatures with no protection or minimal protection to your hands will make you feel uncomfortable and increase the chance of an accident. Wearing a pair of regular gloves doesn't mean much when the temperatures are low.
You need a pair of gloves that can distribute the heat to your extremities so you never lose the feeling in your fingers and react promptly in case that's needed. Regular gloves don't provide as much insulation as their heated counterparts do, as there is no heating element integrated as well. Thus, heated gloves are safer and more comfortable at the same time.
2. Appearance
Most heated gloves are no thicker than regular ones. Even though some models appear to be slightly bulkier, there is no massive difference between the two. As the heating element and wires integrated into a pair of heating gloves provide a solid level of protection, there is no need for that much insulation oh the other side. In general, heated and regular gloves are very similar in density.
3. Price
Now, after realizing all of the benefits of wearing heated gloves as soon as the temperatures start going down, you must be thinking these are hefty, right? You can find solid pairs for a similar price to regular gloves. More durable gloves, with extra features, may cost a bit more, but that's all worth the investment.
Best Heated Motorcycle Gloves Comparison Chart
PRODUCT
DETAILS

GLOBAL VASION Electric Rechargeable Heated Gloves Touchscreen

Price:

$

Customer Rating:

3.8

Temperature Setting:

3

Touchscreen-compatible:

No

View On Amazon

MOUNT TEC Unisex Explorer 3 Heated Performance Glove

Price:

$$

Customer Rating:

4.2

Temperature Setting:

3

Touchscreen-compatible:

Thumbs and fingertips

View On Amazon

Sun Will Battery Heated Rechargeable Gloves for Men

Price:

$$

Customer Rating:

4.4

Temperature Setting:

3

Touchscreen-compatible:

Tips of index figers

View On Amazon

Volt Resistance Mens Titan 7v Heated Gloves

Price:

$$$

Customer Rating:

3.8

Temperature Setting:

4

Touchscreen-compatible:

No

View On Amazon

Snow Deer Upgraded Heated Gloves for Men Women

Price:

$$

Customer Rating:

4.3

Temperature Setting:

3

Touchscreen-compatible:

Thumbs and index fingers

View On Amazon

Firstgear Heated Rider Gloves

Price:

$$

Customer Rating:

3.5

Temperature Setting:

5

Touchscreen-compatible:

No

View On Amazon

Tourmaster Women's Synergy 7.4V Battery Heated Leather Gloves

Price:

$$$

Customer Rating:

4.1

Temperature Setting:

4

Touchscreen-compatible:

Thumbs and index fingers

View On Amazon
Best Heated Motorcycle Gloves Reviews
1. GLOBAL VASION Electric Rechargeable Heated Gloves Touchscreen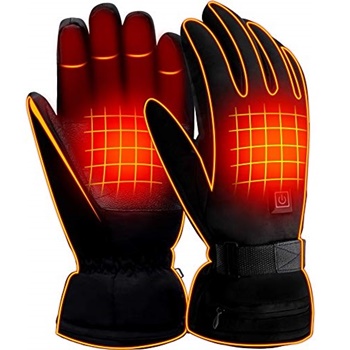 Unisex, the GLOBAL VASION heated gloves will keep your hands warm for up to 12 hours. It takes a single charge of 15 minutes to power them up and you are good to go. The seller packs their gloves with original batteries that will ensure your fingers are toasty for longer!
You can switch between 3 temperature setting levels – low, medium, and high. Being able to adjust the temperature to your needs will prevent your hands from getting sweaty and the gloves from being smelly.
These gloves boast an impeccable lining – both on the inside and the outside. The inner lining is made of a natural material, cotton, which makes wearing them more comfortable. What is more, cotton makes 80% of the gloves, while the rest – 20% is made of sponge.
The secret to excellent and even heating across the heated gloves is the heating element made of carbon fiber. Not only this makes the gloves more durable and safe, but it re-establishes a normal airflow in your extremes as well.
Waterproof and air-resistant, these heated gloves hold up the heat so well. You can wear them in various conditions – when motorcycle riding or just having fun outdoors in the winter (skiing), which adds to the overall value of the product. The GLOBAL VASION gloves ensure superior hold and a wide range of movements so no doubt you will enjoy wearing them.
Pros
Ensure heat up to 150F,
Works great in subzero temperatures,
Indicator light shows when the battery is low.
Cons
Not machine-washable
These can't be used with touch-screen devices.
2. MOUNT TEC Unisex Explorer 3 Heated Performance Glove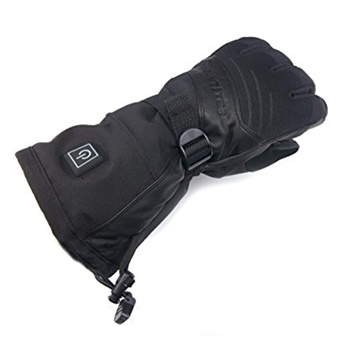 The MOUNT TEC Explorer 3 is a cool deal that will make your hands and fingers warm. Touchscreen-compatible, you can stay connected to the world while riding in winter. What's even better, comparing the Explorer 3 to other heated gloves with one or two touchscreen-tailored tips, these gloves come with both thumbs and finger pads touchscreen-friendly.
If you are looking for a pair of gloves that will keep your fingers toasty for extended periods of time (read – 8 hours), these will support you along the way. Besides this impressive performance, MOUNT TEC designed the Explorer 3 to be durable and lasting. Made of high-quality, soft goatskin leather, these gloves are pleasant to wear, as the leather will adjust to your hand shape.
The Explorer 3 also features infrared micro composite fiber that's well-known for its wear and tear-resistant properties. Covered in a protective nylon shell, the MOUNT TEC heated gloves will protect your hands in case of an accident.
Weatherproof and waterproof, wear them in any type of condition and they will stay intact. MOUNT TEC even ensured these gloves are corrosion-resistant, which is not so common with motorcycle heated gloves.
Even though the Explorer 3 heated gloves are not meant for skiing and other winter outdoor activities, this product still brings pleasure, protection, warmth, and a solid grip to motorcyclists who don't mind riding in the rain or snow.
Pros
The inner lining has antimicrobial properties,
3 level power switch,
Available in 5 sizes.
Cons
Not meant for extreme cold and icy conditions,
European sizing may cause confusion in choosing the right size.
3. Sun Will Battery Heated Rechargeable Gloves for Men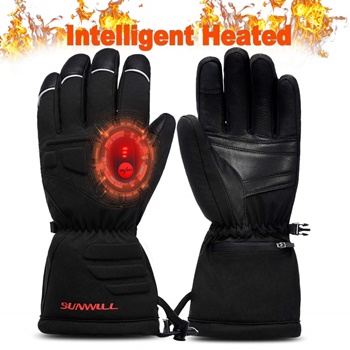 Sun Will is a well-known brand for their winter equipment that will keep you and your fingers warm even when it's freezing cold outside. Their heated rechargeable gloves are made by using biological materials and advanced technology ensures good quality and long-lasting performance.
The key feature about these gloves is that their heating elements contain more infrared fiber, which makes the heat-up process much faster (fully-heated in more than 30 seconds) and extends the total heating time.
These gloves offer immediate relief to icy fingers. Not only the fabrics used to make the Sun Will heated gloves make it easier to warm up quickly, but the soft velvet lining adds on the comfort.
A standard among heated motorcycle gloves, these gloves are waterproof as well. Your hands will never get sweaty, which makes them fully-safe to wear while riding. With no chance of your hands slipping off the handlebars, you can enjoy your rides and a secure grip.
The Sun Will heated gloves also have an amazing grip and give you full freedom of movement. Velcro wrist straps give you an option to adjust the gloves to your liking and ensure the utmost comfort while riding. The straps also protect the batteries from damage, so you can be confident about the durability of this product.
Pros
Sheepskin on the outside makes these gloves softer and more durable,
3 heat settings,
Multiple-layers ensure a high level of protection against cold, even when the temperatures drop far below zero.
Cons
The index finger is compatible with using touch-screen gadgets, while the rest of the fingers are not device-friendly.
4. Volt Resistance Mens Titan 7v Heated Gloves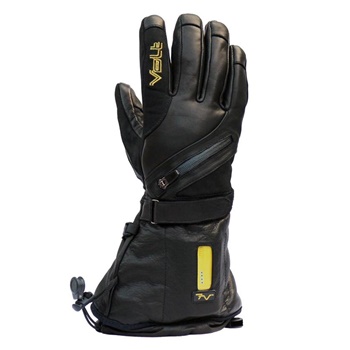 Built for serious performance, the Volt Resistance Titan 7v heated gloves are strong, durable, and comfy – no matter the weather. Made of leather, perfected by fleece lining, these are wearable for hours.
Volt Resistance integrated an extra layer of protection to the most commonly used areas – the palms. The strong elastic strap around the wrist and elastic cord ensure your wrist stays firm when holding handlebars and allow you to adjust the width of the glove so no moisture or cold air gets inside.
The Titan v7 boasts superior heating to the entire area of your hands and fingers. You have 4 power level settings to choose from and achieve the optimal temperature while outside.
Powered by a lithium-ion battery, these gloves will keep you toasted for about 2 hours after a single charge. If you are into long rides or simply like being outside in the snow, rest assured the heating element in the Titan v7 will ensure proper blood circulation in your fingers.
Simple to use, straightforward design – these gloves do the job without causing you headaches. No complicated menus or apps to navigate, power them with a charger, and turn off when the indicator light turns green.
Pros
150-degree maximum heat,
120 grams of insulation,
Available in a wide range of sizes.
Cons
A bit bulky,
A few customers complained about the short battery life, even though the batteries last as advertised.
5. Snow Deer Upgraded Heated Gloves for Men Women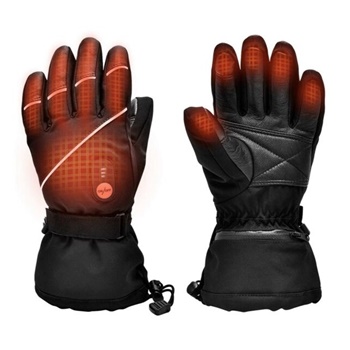 Made of soft and durable sheep leather, the Snow Deer heated gloves are comfy and pleasant to wear and don't make your palms sweat. On the other side of the glove is polyester, one of the materials that's well-known for its anti-wrinkling and anti-abrasion properties, which makes this Snow Deer pair very durable.
Speaking about the inside of these gloves, soft fleece and insulated cotton make them wearable and pleasant, as cotton encourages ventilation. The Velcro strap around the wrist allows you to adjust your gloves so you have more or less air coming in.
An infrared heating element is what makes this product stand out from the competition. This powerful system is user-friendly and boosts circulation. People suffering from arthritis, stiff joints, or Raynaud's may find wearing these gloves extremely helpful for these conditions as well.
Charge the batteries in about 3 hours and wear them for up to 6 hours, depending on the weather conditions. In order to help you find your optimum fit, Deer Snow integrated 3-mode heat settings you can switch between easily.
Even though not fully compatible with smartphones, you can still use the index finger and thumb to use your device. All in one, the Snow Deer boasts this pair of heating gloves that will make your winter way cozier, and give a good boost to your circulation.
Pros
1-year warranty,
Wind-proof and water-resistant,
Available in 7 sizes.
Cons
Some customers find the fingertip area a bit bulky.
6. Firstgear Heated Rider Gloves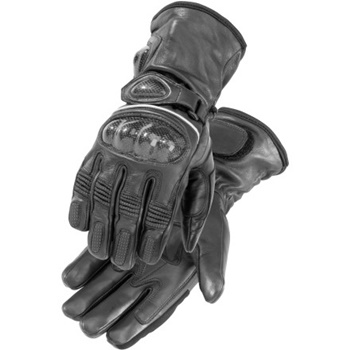 Guys from Firstgear know how annoying it is to operate your motorcycle and use the controls better. That's why they designed their heated rider gloves – to prevent your fingers from going numb and keep you safe and warm while on the road.
Not bulky at all, you will have a feeling like you are not even wearing them. This will make your reactions more prompt in case anything crosses your way.
However, even though very safe, the main function of this pair of the Firstgear gloves is to make your fingers and hands warm.
The integrated system allows you to adjust the temperature of your gloves to your liking. Firstgear gloves make it easy to adjust the temperature of each glove separately, which is something you will rarely find on the market. How cool is that?
Elastic wrist material makes it easy to pull your hand through and enjoy a snug fit on the inside. However, these gloves are still breathable and waterproof, so you can enjoy your rides even in the pouring rain.
Pros
Made of leather,
Insulated layer,
Deliver 15-watt of heat.
Cons
Palms are not heated, but the area is reinforced.
7. Tourmaster Women's Synergy 7.4V Battery Heated Leather Gloves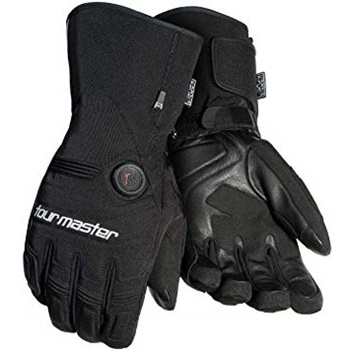 Ladies, if you are looking for a pair of heated gloves that will help you perform on a high level even when the temperature drops below 0, the Tourmaster heated gloves may take you there. This pair of gloves basts premium-quality goatskin leather that's well-known for its resistance properties.
To make their gloves more durable, Tourmaster integrated microfiber to the palm and thumb area. When it comes to protection, these gloves come with memory foam base that will act gently on the knuckles, absorb any outer impact, and give you some room when you want to stretch your fingers.
Comfortable, yet breathable, the Tourmaster heated gloves won't ever make your palms sweat while riding. Besides a luxurious fit, the fleece lining offers, polyester insulation gives you a warm touch but never makes the inner surface too heated.
Slightly more adjustable than the competition, Tourmaster equipped this pair of gloves with 4 temperature levels. Depending on the temperature setting you would use the most, you can expect 2 to 8 hours of the battery operation.
The gloves have a small zipper pocket that makes it easy to fit the battery in it and prevent moisture from coming through. This way, you can protect your hands from cold and take care of your new piece of gear so it serves you well for a couple of years.
Pros
Lightweight,
Full circumference wrist closure,
Ergonomic design.
Cons
Not fully touchscreen-friendly (thumb and index finger are compatible only).
Heated Motorcycle Gloves Buying Guide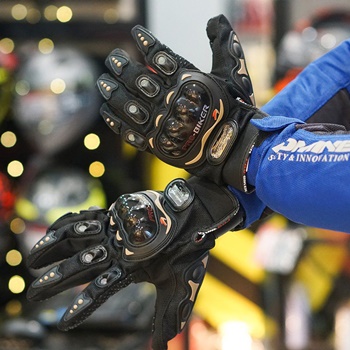 When choosing between various heated motorcycle gloves models, how do you know which one is the best? Forget about the price tag. If your aim is to find a pair that will make a successful addition to your motorcycle apparel (gloves, top-rated leather motorcycle jackets, top-rated motorcycle boots) and gear, try to find the one that ticks most boxes we are going to list down below.
1. Power Source
Just like we've already mentioned, heated gloves are powered by either rechargeable batteries or wires. Whichever you choose is fine, but we would stick to rechargeable gloves as these won't drain your motorcycle battery. However, if you would like to go with an external battery, this option is fine as well.
2. Heating Element
Most heated gloves come with integrated buttons and switches. Liners allow the heat to reach the extremities or the whole hand, depending on the design.
It is always a "win" to find a pair that comes with a couple of heat settings so you can set them the way you like best. Heated gloves that don't come with temperature switchers will only make your hands sweaty, which will prevent you from having a nice grip and potentially cause an accident.
To prevent safety hazards, start with the lowest setting and level up all until the temperature feels right. Usually, you can choose between low, high, and medium settings. When riding, beware of the LED light indicator that will signalize when your gloves are about to die. Most heated gloves will provide you with a couple of hours of heating.
3. Glove Length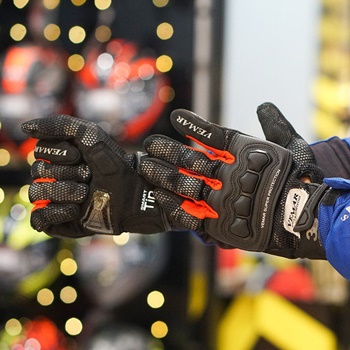 If you have a pair of regular gloves, then you already know the difference between wrist and gauntlet length. The latter protects the wrist and forearms better, which makes them safer. Yet, wrist length gloves come with Velcro straps which makes them more comfortable and easier to adjust to your preference.
It all depends on the purpose. Do you plan or wearing your gloves only while riding or when shoveling, skiing, or doing some other outdoor activities? Gauntlet length is more limiting than wrist length so you may opt for the second option if you are looking for a versatile pair.
4. Compatibility with Touchscreen Devices
We all love touchpads. The world of technology requires everything, including motorcycle gloves, to be compatible with screens. GPS, mobile phones – you need at least one fingertip to be smartphone-friendly so you don't have to take your gloves off each time you need to use any of these devices.
5. Size
Obviously, you need a pair of gloves that fit right. This is the only way to ensure a good grip while on your bike. Feeling constricted is a big no-no, as this would make your fingers hurt and mess up your concentration. Pay attention to sizing different sellers stick to so you find a pair that fits well.
FAQ About Heated Motorcycle Gloves
1. Are Heated Gloves Safe?
Absolutely. Manufacturers design their heated models so you can tuck the battery away or zip it so moisture can't affect its performance. No matter the power source, heated gloves are safe to wear in all conditions.
2. Are Heated Gloves Heavier Than Standard Motorcycle Gloves?
Most of the time, they are not. Heated gloves are very similar to regular ones. However, you may notice a slight difference when comparing their weight to your summer pair of motorcycle gloves because of the heating element.
3. How Do You Break in Heated Leather Motorcycle Gloves?
Sheepskin, goatskin – manufacturers use different types of leather to make their heated gloves more comfortable and durable. Yet, leather requires some breaking beforehand. You can't soak your new pair in hot water, as that would damage the battery.
However, you can rub in a small amount of alcohol to the outside surface, but make sure to skip the parts where you know the heating liner is integrated. This will make the leather stretch easier.
If you are not fully confident about the materials your gloves are made of, just wear them as much as possible for the first couple of days, even when not riding – this will break them in as well.
Wrap Up
Do you get it now why it is so important to supply yourself with the best heated motorcycle gloves? We are not talking about comfort here, but about protection and safety in the first place. Do you know the cold can make you lose reflex at your fingertips?
A good, solid pair of heated gloves will make your fingers and palms warm so you have a good grip and prompt reaction if needed. Most models come with some useful extra features, such as touchscreen compatibility. You can kill two flies with one stone and use them for skiing or shoveling.
Our heated motorcycle gloves reviews are a result of hard work, thorough research, and dedication. Thus, we truly hope you will find something for yourself among these picks.
Thus, we truly hope you will find something for yourself among these picks, even though we've done a whole lot of other guides on motorcycle gear, apparel, and accessories.