The best motorcycle oil filter plays a crucial role in the whole engine mechanism, similar to our kidneys, it filters out the bad stuff. Man and machine are not so different after all! Perhaps this can also explain the strong bond between bikers and their two-wheel vehicles.
Therefore, since we are talking about such an important part of your motorcycle, we decided to take a closer look at this small, yet vital item. Moreover, to help you out in case you are looking for a new oil filter, feel free to go through the motorcycle oil filter reviews, and make an educated purchase! Let's get right into it!
See The Quick Comparison Chart
What Does a Motorcycle Oil Filter Do?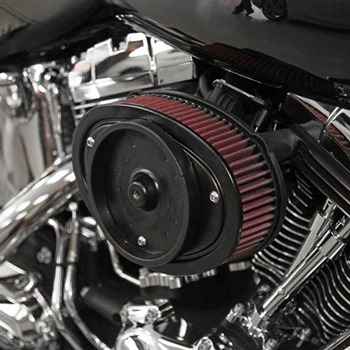 Even though it is a rather small piece of equipment, an oil filter is extremely important for the good health and survival of a few indispensable engine parts. These parts rely on the quality of the oil that is lubricating them and that flows through the entire engine.
In the unfortunate situation, this oil becomes contaminated, there are quite a few important engine parts that can get damaged. Needless to say, this can lead to expensive repairs. Even if you are using a high-quality motorcycle oil, you still need the filter to ensure that the oil remains clean and free of contaminants.
Oil filters play a vital role in ensuring that the entire oil that is being transferred through the engine maintains its quality. The filter's main function is to eliminate foreign particles in the oil, in order to maintain its quality while flowing through the lubrication system and all of the engine's parts.
If you are careful and choose a good oil as well as a reliable filter, the engine's efficiency will be increased, along with the lifespan of the engine and its moving parts. There are other reasons why a filter is so important. For example, when the engine stops running, the oil usually drains towards the bottom of the engine. The filter steps in and ensures that some of the oil remains in place and does not flow down with the rest.
You may wonder why this would matter. Well, the answer is quite simple: when you start the engine again, that small quantity of the oil that remained in place immediately starts lubricating the engine system and does not have to wait for the rest to rise. This is what allows your bike to start quickly and to operate efficiently.
How Often Should You Change Oil Filter On Motorcycle?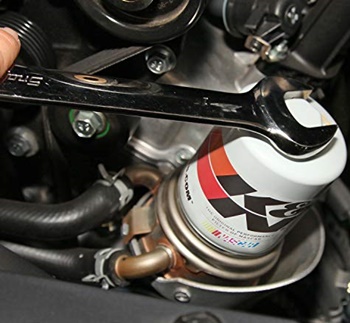 The easiest answer would be to say that the oil filter should be changed each time the oil is changed. Naturally, that leads to another question: how often should you change the oil in your motorcycle? There is no definite time, as this depends on a number of factors. First, it is important to consider the type of oil you are using.
You should also keep your vehicle manufacturer's recommendations in this sense. Furthermore, the brand of your bike and the model are also important, and so is the usage frequency of your motorcycle.
As a general rule, if you are using conventional or mineral oil, you should change it every 2,000 miles. In case you are using semi-synthetic oil, the change should be performed after every 5,000 or 6,000 miles. Where full-synthetic oil is concerned, the procedure should be completed after 7,000 to 10,000 miles.
There is another important aspect you should keep in mind: in case you are riding your bike daily or almost daily, you should change the oil more often, no matter what type of oil you are using.
Motorcycle Oil Filter vs Car Oil Filter
If you are not so knowledgeable when it comes to these types of items, you may think that oil filters are pretty much the same for both cars and motorcycles. While some similarities exist, they are still two different things and each should be used in the vehicle type it was intended for.
It is true that oil filters have almost the same specifications for bikes as well as for cars. Of course, this also depends on the brand and the model, but most of them have similar characteristics like a safety-release valve or an anti-drain valve. The main difference between a motorcycle and car oil filters is their construction.
The models designed for the two-wheel vehicles are usually made of plastic or paper, while the ones made for cars are designed with glass filters or cellulose. What is extremely important to understand is that you should never use a car oil filter in your motorcycle.
As similar as they may look, the engine, moving parts, as well as the lubrication system have completely different requirements when it comes to comparing cars and motorcycles. The oil is also different and should not be used for anything else except the intended vehicle type. It is the same with the oil filters: they perform similar tasks but in different manners.
Best Motorcycle Oil Filters Comparison Chart
PRODUCT
DETAILS

K&N Motorcycle Oil Filter – High Performance Black Oil Filter

Price:

$$

Customer Rating:

4.6

Dimensions:

2.8 x 2.7 x 3.1 inches

Type:

Plastic

View On Amazon

Hiflofiltro HF204 Black Premium Oil Filter

Price:

$

Customer Rating:

4.7

Dimensions:

3.5 x 3.5 x 3.5 inches

Type:

Paper

View On Amazon

Bosch 3300 Premium FILTECH Oil Filter

Price:

$

Customer Rating:

4.7

Dimensions:

3.3 x 2.9 x 2.8 inches

Type:

Paper

View On Amazon

K&N 170C Motorcycle Oil Filter – High Performance Chrome Oil Filter

Price:

$$

Customer Rating:

4.8

Dimensions:

3.2 x 3.2 x 4.1 inches

Type:

Plastic

View On Amazon

Purolator PL14610 PurolatorONE Advanced Engine Protection Oil Filter

Price:

$

Customer Rating:

4.7

Dimensions:

2.9 x 3.6 x 2.9 inches

Type:

Plastic

View On Amazon

FRAM PH6017A Extra Guard Oil Filter

Price:

$

Customer Rating:

4.8

Dimensions:

2.9 x 3.6 x 3.1 inches

Type:

Paper

View On Amazon

Honda OEM Oil Filter HONDA

Price:

$$

Customer Rating:

4.8

Dimensions:

7 x 6 x 4 inches

Type:

Paper

View On Amazon
Best Motorcycle Oil Filters Reviews
1. K&N Motorcycle Oil Filter – High Performance Black Oil Filter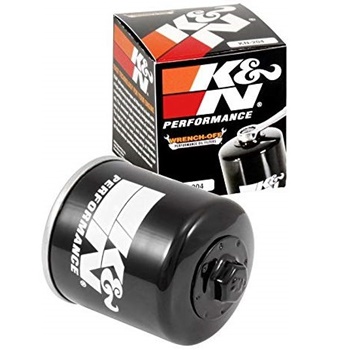 You will certainly appreciate how easy it is to install this oil filter. Moreover, this model also features an anti-drain back valve that will ensure you won't have to experience any dry starts when going for a ride. The K&N Motorcycle Oil Filter – High Performance Black Oil Filter can also trap most toxic particles thanks to the resin-impregnated filter.
The fact that it can be removed extremely easily is another positive aspect. This process can be performed effortlessly thanks to the 17 mm exposed nut. This oil filter was designed to withstand extreme riding conditions and has a very solid build.
The only thing you need to be careful with is the exposed nut. It is not uncommon for oil to start leaking after a while, so it is very important to change the filter at the right time. However, if you do the regular maintenance, you should not encounter any issues.
Pros
This model prevents oil from draining back into the crankcase after turning off the engine
It fits many types of motorcycles as well as scooters and other vehicles
The filter ensures a high oil flow rate
Cons
The expose nut is not very durable so you need to be careful with it
2. Hiflofiltro HF204 Black Premium Oil Filter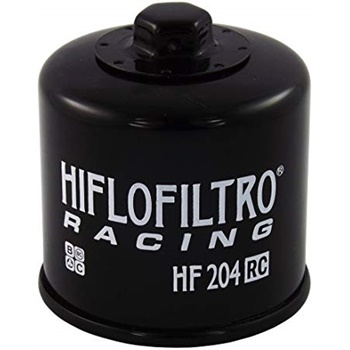 This model is known as being constructed only with high-quality materials. Moreover, before it leaves the factory and ends up on the store's shelf, it undergoes no less than 16 control checks. To make things easier for you, the Hiflofiltro HF204 Black Premium Oil Filter comes with a list of all compatible vehicles.
That way, you will not have to spend more time researching or trying to contact the manufacturer for such information. The materials used to build this oil filter are steel, glue, filter paper, and Awa paper. All of them come from well-known manufacturers from the USA, Japan, Germany, as well as Finland.
There is one thing you should know about this product, which is that the filter is not as tall as most of its competitors. Still, looking over this oil filter's customer reviews, this option seems like an investment that is worth considering.
Pros
This model is more durable than many other products in this category
The list of compatible vehicles is quite long
This option is very affordable compared to other similar items
Cons
In terms of design, the filter material, and relief spring shape could be better
3. Bosch 3300 Premium FILTECH Oil Filter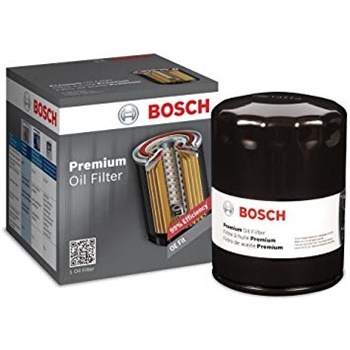 Protect your engine with this top-notch oil filter that does its job better than many of its competitors. Since it features the FilTech technology, the filter is able to sort out dangerous contaminants with 99% efficiency. The housing, as well as the base plates, are made of high-quality steel. As a result, the chances of it leaking or bending are very little.
Due to the high-lubricity seal design, the Bosch 3300 Premium FILTECH Oil Filter will always stay tightly shut. However, if you want to remove it, you can do so effortlessly, even if you are not an expert.
Thanks to the silicone-based anti-unload valve this filter features, your motorcycle's engine will never dry out. Before you make the purchase, you need to make sure that it is compatible with your bike. There have been cases where the manual said it was compatible, but that was not the case.
Pros
The filter is compatible with a wide range of motorcycle brands and models
The filtering area is up to 42% larger than that of most conventional filters
Using this filter increases the functionality of your engine
Cons
It can start to melt down if the engine gets too hot, resulting in oil leaking
4. K&N 170C Motorcycle Oil Filter – High Performance Chrome Oil Filter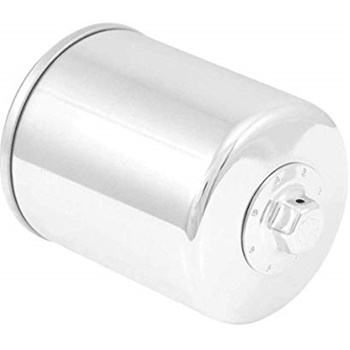 This filter is not only very efficient and useful but also trendy. If you decide to try it out, you will surely see that it offers good value for the money. It is a versatile model because it can be used on a variety of motorcycles, cars, ATVs, SUVs, and even trucks.
One of the things that characterize this filter is its durability. Thanks to its strong build, the K&N 170C Motorcycle Oil Filter – High Performance Chrome Oil Filter is able to withstand the even harshest riding conditions. Thanks to its anti-unload feature, it will not fry out even after the engine is shut down.
As a result, you will not have to experience any dry starts. The filter is extremely efficient in trapping all dangerous contaminants. Once you mount this filter, it will stay shut tightly. However, it is very easy to take it out as well.
Pros
This model can be used for different vehicles, and not only motorcycles
It provides excellent oil filtration as well as high oil-flow rate
The filter has a 99% efficiency in trapping toxic contaminants
Cons
In some cases, oil may leak from the filter, even after tightening it
5. Purolator PL14610 PurolatorONE Advanced Engine Protection Oil Filter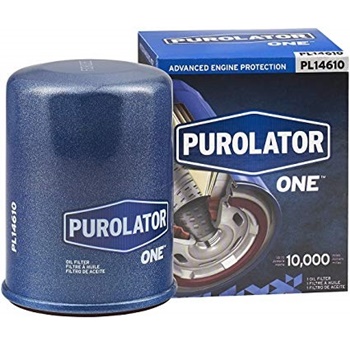 In case you are looking for an oil filter that can provide stable use as well as resistance, you might be interested in the Purolator PL14610 PurolatorONE Advanced Engine Protection Oil Filter. First of all, it offers superior service and protection for 10,000 miles of use. Furthermore, it has a 99% efficiency in removing toxic contaminants.
Thanks to the metal end caps, this filter is very sturdy but also stable allowing you to enjoy its efficiency for a very long time. This model is very good at preventing oil leaks and dry starts. The filter is also equipped with a reliable and durable silicone valve.
What is more, the seal is extremely easy to assemble and also to remove. In case you usually put your motorcycle go through various types of riding conditions such as commuting, stop and go traffic, towing, or even harsh weather, this filter is a good choice.
Pros
This model is built with high-density synthetic blend media for increased performance
It is compatible with a wide array of domestic and import applications
The filter keeps its integrity and filtering abilities very well between oil changes
Cons
The gasket seems to be cheaply made and not as sturdy as the rest of the construction
6. FRAM PH6017A Extra Guard Oil Filter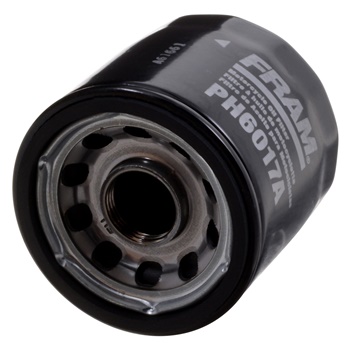 If you are an active racer, always on the road, you should know that this oil filter was made to cater to the needs of your motorcycle. It can provide protection of up to 5,000 miles, and it is designed to work with conventional oils. This means that you will not have to find a more expensive option for the filter to do a good job.
Dirt-holding ability and contaminant-trapping efficiency is the blend that characterizes this model. Moreover, it can withstand a wide range of roads, terrains, as well as weather conditions. The filtering media of the FRAM PH6017A Extra Guard Oil Filter has a 99% efficiency in trapping dangerous particles from the engine oil.
Also, the metal screen of the filtering surface helps this unit do an even better job. What is more, the SureGrip coating offers a non-slip texture, making it extremely easy to handle for installing or removing.
Pros
The filter has a very large capacity for holding contaminants
This model is engineered for everyday use
It is a very affordable alternative which requires affordable engine oil as well
Cons
This model is shorter compared to other similar products in this line
7. Honda OEM Oil Filter HONDA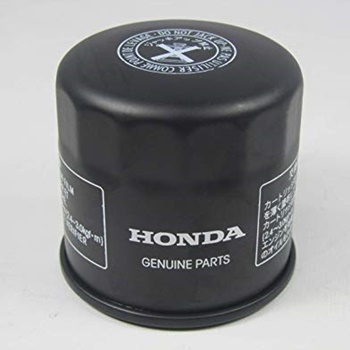 This is a great choice if you already own a Honda motorcycle. It is compatible with most bikes provided by this brand so, most probably, you will be able to use it for yours. You will certainly appreciate the high-quality materials that have been used to engineer this filter. Most importantly, it has a very high efficiency in capturing and holding harmful contaminants.
Even though it is a bit more expensive than other oil filters available on the market, it also offers more in return. For instance, the paper has premium quality. Moreover, the Honda OEM Oil Filter HONDA comes with a higher length and a suitable anti-drain back valve.
It may come as a surprise to you, but this model does not have a gasket, unlike most of its counterparts. However, it's certainly worth a couple more dollars to be able to rest assured that you can trust this filter to do its job.
Pros
This filter is longer than many other available models
Although it is designed for Honda motorcycles, it is compatible with other brands as well
The chances of oil leaks are very little with this filter
Cons
You may not appreciate the lack of a gasket
Motorcycle Oil Filter Buying Guide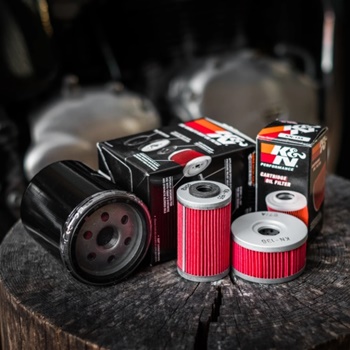 All of the motorcycle picks you decide to get for your favorite vehicle should be of high-quality in order to benefit from them for a long time to come. When it comes to the vital parts, you should be very careful about what you select.
You should only use products that are specifically designed for your motorcycle type. Let us see what you should consider when searching for a new oil filter.
1. Types of filters
Just like there are a few different types of motorcycle oils, so is the case with oil filters.
1.1 Mechanical oil filters
Most riders consider this the worst type of oil filter due to the fact that they need very frequent changing. That happens because of a blockage of the filter paper that is caused by contaminants. As more and more dirt accumulates in the filter paper, less oil manages to flow through. At this point, you are only left with one choice: to change the filter.
1.2 Magnetic oil filters
These filters are equipped with a very powerful electromagnet. Its role is to attract and also trap any ferromagnetic material that is found in the oil before it has a chance to get into the engine, through the wide center opening.
1.3 Sedimentation oil filters
Since the particles are heavier and also denser than the oil, gravity plays its part and it settles them at the bottom. However, there are lighter contaminants that can still find their way into the engine. The sedimentation oil filter takes care of these dangerous particles.
1.4 Spin-on oil filters
These work similarly to a milk centrifuge, but with a special kind of bearing and a seal. In order for the large particles to settle, the filter rotates at high speed.
2. Paper or plastic?
Even though paper filters are very traditional, the plastic models have begun to replace them at a high rate. There are quite a few reasons why plastic filters are becoming more and more popular with bikers.
For starters, they are more durable. Moreover, they can also handle the harshest road conditions, and for greater mileage. What is more, plastic filters can trap even the tiniest contaminants keeping the engine completely protected.
Of course, it all depends on what you need. If you want a cheaper option, you can go with the traditional paper filter. However, just like in the case of a top-rated motorcycle tank bag, you will pay extra to get a durable, high-quality product.
You should also know that plastic filters have longer and larger bodies than their paper counterparts. This means that they have higher capacities as well as the service lives of 7,000 to 25,000 miles. However, even if it seems that we are encouraging you to get a synthetic filter, it does not mean that you should totally disconsider a paper model. Both options are valid.
3. It has to fit!
It is extremely important to get an oil filter that fits perfectly. If it does not fit as it should, the filter will definitely not do a very good job. The biggest issue is that oil will leak from it. Therefore, before you select a certain model, make sure it is according to your motorcycle's manual.
It is just like a motorcycle full-face helmet: if it does not fit well on your head, it will not protect you. That is why it is paramount to know exactly what your bike requires and equip it with the right parts, accessories, and other items.
4. Extra features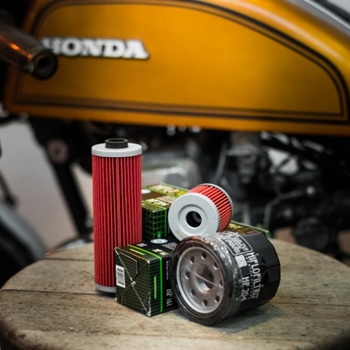 If you truly care for your motorcycle, you will surely get only the best you can find on the market. In the case of oil filters, you should also look for features that are meant to increase performance.
For instance, some filters feature anti-drain valves that are intended to prevent the engine from having fry starts. A safety valve is very useful because it ensures that the oil will pass through the filter, even when it becomes congested. Such features can make your riding experiences fun, safe, and worry-free for a long time.
Also, an average relief valve pops open at low pressures like 8 to 11 psi. In case the system in your motorcycle is rather robust, you should opt for a model that will only open at 11 to 17 psi. It is extremely important to know the filter's specifications when it comes to the valve in order to avoid substituting a not-so-forgiving auto filter for a motorcycle-specific model.
5. Riding type
When choosing a motorcycle oil filter, you should also consider the usual riding conditions you put your bike through. For instance, if you often ride on country roads, you ought to look for a filter that is capable of capturing inorganic contaminants.
However, regardless of the intended purpose, you should not opt for a model that cannot capture smaller particles than 25 to 30 microns. To understand better, a human hair is about 65 to 70 microns wide.
FAQ About Motorcycle Oil Filters
1. Do I have to get a specific type of filter if I am using synthetic oil?
Synthetic filters are actually filters made of plastic. Therefore, you do not necessarily have to use a plastic filter for synthetic oil. Of course, there are some advantages to using this type of filter, especially because it is capable of trapping very small contaminants for a longer period.
This also means less frequent oil changes. We recommend selecting a model that offers 10,000 miles protection with no less than 98% efficiency.
2. How does an oil filter work in a motorcycle?
The outside part of the filter is a metal can that has a sealing gasket which allows it to hold tightly against the mating surface of the engine. The base plate of this can holds the gasket and it features holes around the area that is inside the gasket. There is also a central hole that is threaded in order to mate with the filter assembly from the engine block.
The oil pump from the engine moves the oil directly to the filter. Here, it enters from the holes in the area of the base plate. Then, the dirty oil gets pushed under pressure through the filter media. Afterward, the oil is passed back through the central hole, and it re-enters the engine.
3. How can I clean the oil filter from my motorcycle?
To clean an oil filter, you should first remove it from its housing. The next step would be to block the air inlet using something that can prevent any dirt or debris from entering the engine. A clean rug is a good option for this part of the procedure. Then, you should clean the filter using only appropriate chemicals that are specifically formulated for this purpose.
If you are using a corrosive chemical, for example, it could cause the glue that holds the filter together to break down. On the market, you can find kits that contain the filters, as well as the necessary cleaning supplies.
The next step would be to knock the crud and the loose dirt free from the filter. Then, apply the cleaning solution and gently massage it in. Once you are done with this part, you should rinse the filter from the inside out using warm water. Then, fill a bucket with clean water and add a mild soap. The water should be warm.
You should wash the filter in this solution in order to eliminate any remaining debris and residues. When the filter has the same color as when you bought it, gently squeeze the excess water and leave it to dry. Only when the filter is completely dry, you can mount it back in your motorcycle.
4. How do I change the oil filter on my motorcycle?
First, you should prepare your bike by making the oil less viscous so that it will drain more easily. You can do so by turning on the motorcycle and leaving it to run for approximately two minutes, or you can take your motorcycle for a quick spin.
Then, make sure that the bike is on a stand, on a flat and horizontal surface. With the engine switched off, remove the used oil filter. To find out where your filter is located exactly, you can check your vehicle's owner's manual. Depending on what type of filter it is, you will need a specific tool to remove it.
Make sure that you also have a tray at hand because the filter will be filled with oil. Using a filter spanner, unscrew the oil filter. At this point, you can install the new filter. However, before you do that, you should also clean the base of the filter at the point it gets to fit into the engine. You ought to apply some oil onto the seal of the new filter to reduce the risk of leakage.
Wrap Up
It is not that hard to find the best motorcycle oil filter, especially since so many models are available on the market. Moreover, you do not have to be very knowledgeable when it comes to motorcycle parts and accessories. All you have to do is read this article, and you will find out almost all there is to know about these items.
You will understand better how they work, what to consider when looking for a new one, and you will also find various important details about oil filters for motorcycles. We have even thrown in a few motorcycle oil filter reviews on the products in this line that are currently very popular with bikers.
You may even be able to choose one from our list. But even if you do not go with one of them, you will be equipped with the necessary knowledge that will help you make an informed decision.
See also: motorcycle oil reviews