There is no doubt about it – your feet need to be protected by the best motocross boots you can find! Motocross is a type of off-road motorcycle racing that takes place on enclosed off-road circuits. Riding any type of motorcycle keeps you exposed, but motocross and off-road riding are even more dangerous. The risk of impacts and scratches is higher. This type of footwear is specifically designed for this sport and is meant to take really good care of your shins, calves, and toes.
Moreover, these boots have a really sturdy construction and are made from high quality as well as resilient materials. Still, the market is full of offers. Which model to choose? have a look at the motocross boots reviews and see for yourself. Let's begin!
See The Quick Comparison Chart
Why Wear Motocross Boots?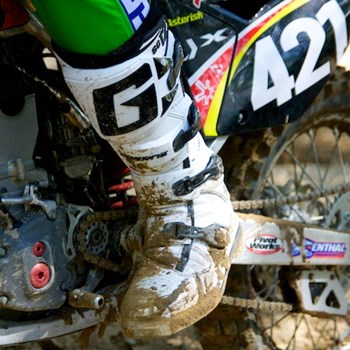 After the motorcycle helmet, motocross boots represent one of the most important pieces of protective equipment for any dirt bike enthusiast. It is a known fact that lower leg injuries are usually the most common injury type in a motorbike accident. Motocross boots are specifically designed to protect your feet in case such unfortunate events occur.
These types of boots are specifically designed to protect all parts of your feet and lower legs that are vulnerable during dangerous motocross rides and even impacts. Moreover, compared to other types of footwear that will keep slipping from the pedals, dirt bike boots have exterior soles that will keep your feet on the pedals.
Benefits Of Motocross Boots
As already mentioned, there are quite a few reasons why you should consider wearing boots that are specifically designed for motocross. Since it is more of an off-road sport, motocross is quite dangerous because you can never know what you will encounter on your path. Let us see the most important benefits of wearing the right piece of equipment.
1. High Level of Protection
The number one reason to wear dedicated boots designed for motocross is the high level of protection they provide. Dirt bike rides can be dangerous, so the boots you wear need to protect not only your feet but also ankles and lower legs as well. Moreover, these boots are not only going to keep your feet safe from impacts but from scratches and sharp debris as well.
2. Better Grip
Another important reason for wearing dedicated motocross boots is that they provide better grip and control. These types of boots have specially-designed treads that allow the rider to grip the bike's pedals properly. Most models have deep treads on the bottom that help you get a great grip on the pedals. Also, thanks to their special design, they will not slip off the pedals.
3. Weather-compatible
When riding any type of motorcycle, you are more exposed. This also means that you are at the mercy of the weather. Depending on your riding environment, you can find motocross boots that are made from breathable materials, as well as waterproof. The market has a lot to offer, and you can find a model that perfectly fits your needs.
4. They Look Cool
Why not admit this? Besides keeping your feet protected, motocross boots make you look cool. Nowadays, you can find pretty much any model you might imagine with any kind of color combination. Joined with a good-looking motocross protective suit, you can literally stand out among many other riders.
Best Motocross Boots Comparison Chart
PRODUCT
DETAILS

O'Neal Men's New Logo Rider Boot (Black)

Price:

$

Customer Rating:

4.4

Vehicle Service Type:

Off-road-motorcycles, street-touring-motorcycles, all-terrain-vehicles, street-cruiser-motorcycles, marine-personal-craft, street-motor-scooters, snowmobiles, street-sport-motorcycles, utility-vehicles

Color:

Black

View On Amazon

Fox Racing Comp 5 Men's Off-Road Motocross Boots – Blue/Red

Price:

$$

Customer Rating:

3.9

Vehicle Service Type:

Cruiser/Touring, Street Bike, Adventure Touring

Color:

Blue/red

View On Amazon

AXO Drone Boots (Black, Size 9)

Price:

$

Customer Rating:

3.9

Vehicle Service Type:

Street-sport-motorcycles

Color:

Black

View On Amazon

Fly Racing Unisex-Adult Maverick Mix Boots (Hi-Vis, Size 11)

Price:

$

Customer Rating:

4.6

Vehicle Service Type:

Off-road-motorcycles

Color:

Black

View On Amazon

Gaerne Balance Pro-Tech Boots (12) (Brown)

Price:

$$$

Customer Rating:

4.4

Vehicle Service Type:

Off-road-motorcycles

Color:

Brown

View On Amazon

Forma FOADVBN45 Adventure Off-Road Motocross Boots

Price:

$$$

Customer Rating:

4.4

Vehicle Service Type:

Street-touring-motorcycles, all-terrain-vehicles

Color:

Brown

View On Amazon

Alpinestars Tech 5 Boots – Red/White/Black – 9

Price:

$$$

Customer Rating:

4.8

Vehicle Service Type:

Cruiser/Touring, Street Bike, Adventure Touring

Color:

Red/white

View On Amazon
Best Motocross Boots Reviews
1. O'Neal Men's New Logo Rider Boot (Black)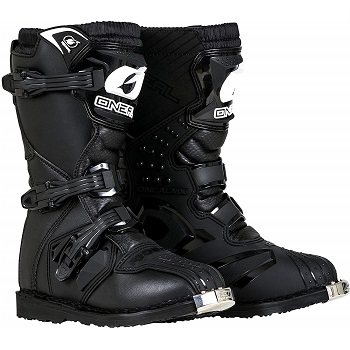 If you are a motocross rider, investing in a solid pair of boots is a must. Since your feet are one of your most important contact points with the bike the boots you wear need to be not only reliable but also very comfortable.
In this sense, the O'Neal Men's New Logo Rider Boot (Black) represents an excellent choice. Not only that, but they also come for an entry-level price. Do not be fooled by the cost, though! This pair of boots was designed with a number of features that are meant to protect your feet during your motocross rides.
Also, this model is a perfect choice for beginners as well, due to the high level of protection it offers. The boots are made of high-quality and durable materials. For example, the platters are made of injection-molded plastic. Furthermore, the boots come with long-lasting Goodyear soles and synthetic leather heat shield.
Pros
The Snap-Lock adjustable buckle closure system is very easy to operate
The moderate grip sole makes this model ideal for track, trail, and ATV riders
These boots feature air mesh interior which allows your feet to breathe
Cons
The boots are not waterproof, so your feet will get wet if you come across puddles
2. Fox Racing Comp 5 Men's Off-Road Motocross Boots – Blue/Red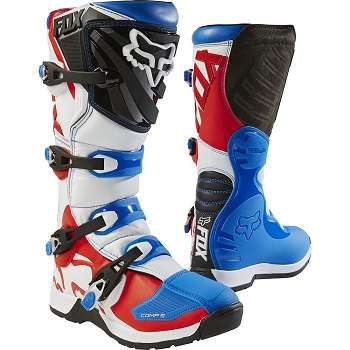 Riders who experience long hours in tough environments need a pair of boots they can rely on and which are also comfortable to wear. The Fox Racing Comp 5 Men's Off-Road Motocross Boots – Blue/Red is a model you should keep in mind if you are such a rider. Moreover, the red and blue combination will allow you to stand out among other motocross enthusiasts.
You should know that these boots are not only comfortable and look good, but they are also made from high-quality materials. They feature medial guards, soft-touch aluminum buckles, as well as reinforced shin plates.
All of these features are designed to offer protection of your feet and shins. Furthermore, the buckles are extremely easy to operate even if you have your top-rated heated motorcycle gloves on. You will also like that the inside of the boots come with woven moisture-wicking comfort liners designed to absorb sweat.
Pros
The boots reinforced toe boxes with shifter panels, and they are also durable stitched
This pair is suitable for both beginner and professional motocross riders
The boots are also very easy to walk with, as they are not so rigid
Cons
You might not like so much that there is no velcro at the top of the boots
3. AXO Drone Boots (Black, Size 9)
The materials used for this pair are high-quality and have been chosen for their strength, weight, as well as value. For the critical areas, optimized plastics have been used in the design of the AXO Drone Boots (Black, Size 9). The front of your foot will be protected by a one-buckle height shin plate that wraps across your shin and instep.
What is more, the instep panels are very long which makes these boots suitable for a wide range of leg and calf sizes. Thanks to the tapered vinyl and foam gaiter wraps, no dirt will be able to find a way inside, as it forms a protective barrier.
This model also comes with four replaceable PU molded buckles that float on their bases which allows unlimited alignment. You will also like the synthetic boot material which is extremely durable and can resist wearing quite well.
Pros
The boots do not require a lot of breaking in, and they also retain their shape for a longer period.
Thanks to the stain-resistant lining combined with durable synthetic material, the interior is non-slip.
The toe box includes extremely resistant shifter ridges.
Cons
Although your feet will not get wet from mud, these boots are not waterproof
4. Fly Racing Unisex-Adult Maverick Mix Boots (Hi-Vis, Size 11)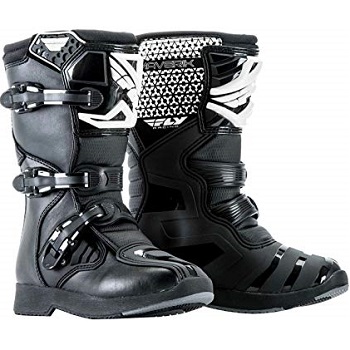 The Fly Racing Unisex-Adult Maverick Mix Boots (Hi-Vis, Size 11) is available for adults, having a four-buckle design, and for teens, with a three-buckle design. Therefore, if you and your son or daughter share the same passion for motocross, this model allows you to get matching boots.
One of the things you will probably appreciate about these boots is the 3D shin protection that contains pre-shaped molded plastic. This feature adds not only comfort but also a high level of impact protection. It also saves your boots from premature damage. Furthermore, the boots are equipped with adjustable quick-lock buckles which offer a reliable locked-in feel.
Also, the open design keeps any dirt from clogging the buckles' functionality. What is more, you will not miss a shift thanks to the added texture and grooves that will help you grab the shift lever better. Also, the gaiter offers a comfortable rim around your calf.
Pros
These boots are available from size 7 to 15 offering a lot of possibilities for riders of all ages
Compared to other similar products in this line, this model comes with a very affordable prices
Thanks to the various flex zones, these boots are not extremely rigid
Cons
The boots are a bit stiff right out the box
5. Gaerne Balance Pro-Tech Boots (12) (Brown)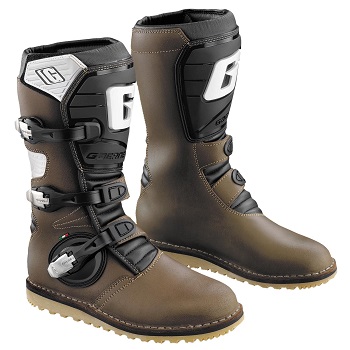 In case you are looking for good-quality motocross boots but do not want to spend a lot of money, you can keep this option in mind. Unlike many other boots offered by Gaerne, this model is not waterproof, but it is water-resistant. It is also a great choice if you are not too keen on riding in bad weather conditions.
The Gaerne Balance Pro-Tech Boots (12) (Brown) are made of double-stitched full-grain leather that is extremely durable. Moreover, the buckles are very easy to operate, even if they are full of mud, and they are held in place tightly by two accessible screws.
This also means they can be replaced, which is a really big advantage. The Velcro strap at the top and the rolled leather at the edge provide a tight and secure grip around your leg. Still, you should know that this will not keep water from getting in.
Pros
These boots feature an injection-molded shin guard for increased protection
For a better feel and control, the sole is made of gum rubber
Compared to other similar items, these boots are extremely lightweight
Cons
You may find it difficult to wear these boots together with knee pads
6. Forma FOADVBN45 Adventure Off-Road Motocross Boots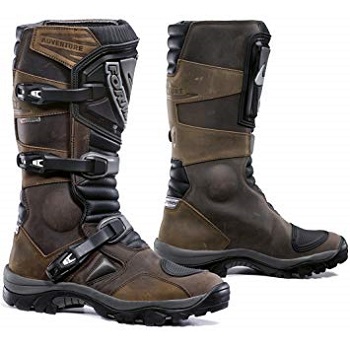 If you are looking to add some style to your motocross gear, you should take a peek at the Forma FOADVBN45 Adventure Off-Road Motocross Boots. This model features a grained-oiled leather upper and has a vintage finish. You will certainly be able to make an impression if you show up wearing these boots.
You will also like the sole that is quite flexible and prevents slipping. Speaking of flexibility, unlike so many other similar products, these boots are very easy to break-in. You can forget about wearing them around the house to increase their flexibility.
What is more, according to customer reviews, you can even use them as hiking boots without feeling discomfort. Besides being very flexible, this model is padded with memory foam. Also, the insoles are anti-bacterial but very thin. However, if you do not like it, you can easily replace them with thicker ones.
Pros
The front of your feet is protected by plates made of high-quality injected molded plastic.
The inner Drytex lining is waterproof and also breathable.
These boots are equipped with adjustable Velcro closure
Cons
This model is not suitable for kickstart bikes or others with aggressive footpegs.
7. Alpinestars Tech 5 Boots – Red/White/Black – 9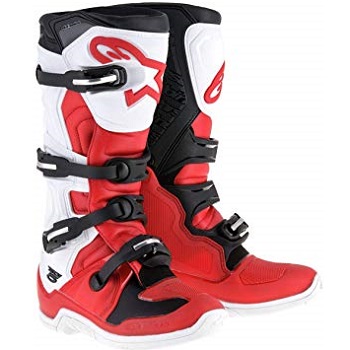 This model is an advanced multi-material and multi-panel boot that is an excellent choice for motocross and off-road riding. The Alpinestars Tech 5 Boots – Red/White/Black – 9 combines an innovative microfiber chassis and a medial biometrical pivot system. These features make the boots incredibly lightweight, flexible, and also extremely durable.
The instep and the Achilles accordion are redesigned so that you can enjoy comfort, support, as well as control. Moreover, the rear TPR gaiter that is on top of the TPU calf protector offers protection and comfort as well.
These boots also come with an innovative buckle closure system that includes fiberglass and polymer buckle arms, as well as high-impact aluminum bridge closures that are meant to provide durability and save weight. The front of your feet will also benefit from a high level of flexion thanks to the TPU buckle straps that are ergonomically profiled for this purpose.
Pros
Although these boots are not the cheapest in this line, the price is still very good
The white, red, and black combination makes this model look great
The buckle system has memory and quick-release / locking system with a self-aligning design
Cons
If you are looking for extremely lightweight boots, you may want to look at other models as well
Types Of Motocross Boots?
When you are riding off-road, you are faced with a particular set of needs, and the right boots can offer the protection and comfort you require if you like to play dirty. Your ankles, shins, and toes need the best protection you can give them against impact and scratches. Depending on your riding style, you need to select the right type for your needs.
1. Racing Motocross Boots
Motocross usually includes marked racing tracks with hills of various heights that are meant to make the rider jump. In such races, ankle injuries are quite frequent, so if you want to start performing motocross, you should be looking for boots with a high level of protection for the ankles. This part of your body has to endure a lot of stress, and fractures may occur even if you do not fall off your motorcycle. Injuries can also happen if you are over jumping or falling short.
2. Enduro or Trail Boots
When it comes to enduro, riders have to manage their bikes mostly through natural obstacles. In this riding style, the most common types of injuries are caused by crushing. Since you will be crossing creeks, you also want your boots to be not only water-resistant but also waterproof.
Even though they are a bit more expensive, they will do a good job of keeping your feet dry.
3. Trail Boots
If you plan on taking part in moto trials, you should select a pair of boots with molded soles. These boots are more flexible and lighter. There is a good reason for such design: you will also be walking a lot. Therefore, you need to wear something that will not only protect your feet but also provide comfort.
4. Mini-Bike or Thumpster Boots
You should never wear normal shoes on a motorcycle, not even if you ride a minibike. For this type of riding, full-length boots are recommended because they will protect you from crushing injuries as well as from the heat that is generated by the exhaust pipe. In case a full-length model does not work well for you, you can also get a pair of short-cut boots as they offer a better range of motion.
How To Measure Your Boot Size?
Motocross boots usually follow the same size chart as normal shoes. The most important thing to consider is the fact that they need to fit over your calves. Also, you should keep in mind that the boots will have to cover the bottom of your trousers, as well as any padding you might be wearing with your socks.
Therefore, it is recommended to buy motocross boots size 1 or even 1 and 1/2 bigger than your normal foot size. For instance, if you wear size 9 shoes, your motocross boots should be 10 or 10 1/2 to be on the safe side. It is always a good idea to go a bit bigger and pad the difference with It is always a good idea
Motocross Boots Buying Guide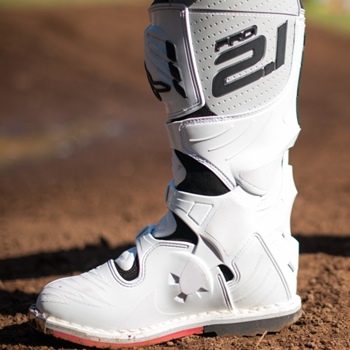 Just like when selecting a model from leather motorcycle jacket reviews that has to fit and protect the upper part of your body, your feet must also be secured with a reliable pair of motocross boots. For this reason, you do not simply pick the first pair you can find, as there are certain things you should consider before making a decision.
1. Riding Style
One of the primary things to consider when looking for motocross boots is the type of riding you will be performing. Are you going to participate in motocross races, enduro, or perhaps trails?
We have already explained the difference between these types of riding style and what you need to consider in terms of feet protection for each type. However, it is important to consider this aspect before you get a pair you might find unsuitable for your needs.
2. Protection
The level of protection offered is what makes motocross boots stand out from other types of motorcycle boots. We recommend that you search for injection-molded plastic for the shin guards as well as for toe boxes. These two parts are usually most affected by impacts and debris, so you need to keep them as protected as possible.
3. Buckles and Clasps
As you may very well know, motocross boots take a lot of punishment during tough rides. The buckles can be a weak point. They are key parts of the boots but can get damaged quite easily. Replaceable buckles allow you to quickly make the necessary changes so that you can continue your ride.
Also, it would be a shame to have a pair of boots you can no longer wear. Replaceable buckles can also save you a lot of money you might spend on expensive repairs; if that is even an option.
Furthermore, the clasps are a very important part of the boots as well. A good and reliable clasp system must provide a secure fit and hold the boot to your foot, but it also has to be easy to adjust and allow a comfortable fit.
Besides being replaceable, there is another aspect to consider regarding the buckles. You need to be careful with the material they are made of. Lower-quality boots will probably use plastic. Unfortunately, even if they are cheaper, they do not last very long. If you opt for such a model, at least make sure they are replaceable.
Alloy buckles, on the other hand, are much higher in quality and last longer. What is more, they provide a more secure fit as well, and the risk of them popping open or breaking mid-ride is greatly reduced.
4. Rubber Soles
The soles represent the part that actually makes the connection between your feet and the bike. Therefore, they are an essential part of the boot as well. High-quality, as well as reliable motocross boots, will use rubber or rubber compounds in their soles.
The reason is very simple: rubber provides a more secure and non-slip grip on the pedals. The last thing you need on a rough trail is your feet constantly slipping off the pedals.
5. Shifter Space
When it comes to motocross boots, some models are designed with a rather bulky toe box. This means that it may be difficult for you to slide your feet in and out from the shifter. In order to avoid such awkward situations, you can search for models that have slimmer toe boxes. You also have the possibility to adjust your shifter in such a way to create more room.
6. Weight
This aspect might not have crossed your mind, but it is something to consider as well. For certain moto sports, the overall weight of the bike and of the equipment are extremely important. There are situations where every ounce matters. Depending on your riding style and particular needs, make sure you check this information as well.
7. Flexibility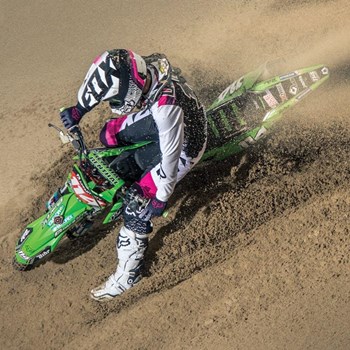 Even though, generally speaking, motorcycle boots are much more rigid than normal shoes, you need to think about them having some flexibility. This piece of equipment must not only protect you but also allow you to feel comfortable, especially if you usually spend long hours riding.
Still, the degree of flexibility depends on your needs and riding style. If you are a trail rider, for instance, you will need a pair of boots that will also allow you to walk comfortably.
8. Materials used
This is another thing you should pay attention to when searching for motocross boots. We have prepared a shortlist with the materials that are generally used in this type of boots. In case you find a pair that includes different materials, you ought to do a little research before you get them. Better safe than sorry, right?
8.1 Plastic
This material is generally used in the shielding to protect the foot from impact. Plastic is extremely lightweight, but very strong, making it an ideal choice for the task.
8.2 Aluminum
Usually, you will not find large amounts of metal in motocross boots. However, when it is included in the boot`s construction, you should look for aluminum. This metal is an excellent choice because it is very strong and, at the same time, it does not add too much to the boot`s overall weight.
8.3 Rubber
High-end and good-quality boots will use rubber in their soles. We have already explained why rubber is a good choice, so make sure you look for soles made of it.
8.4 Leather
This material does not need too much presentation. It is a time-tested and honored material for motorcycle boots, in general. It is strong, tough, resilient, and extremely durable.
8.5 Synthetic Leather
Although a bit controversial, this material offers a lot of the benefits of leather. At the same time, it keeps the weight, as well as the prices, a bit lower.
While many motorcyclists would swear that it cannot provide the same performance as real leather, you should know that this is not necessarily true. With today's modern production methods, synthetic leather offers high quality for lower costs.
Design
Why not? In today's market, it is almost impossible not to find an item that you really like and that suits your needs perfectly. Moreover, we are talking about footwear which represents a fashion icon or a fashion statement, if you will.
You should know that most reputable brands produce motocross boots with various designed, colors, and color combinations. At the same time, the quality and level of protection are not sacrificed. Therefore, if you are patient enough to do a little research, you will find a model you will very much enjoy.
How To Clean Motocross Boots?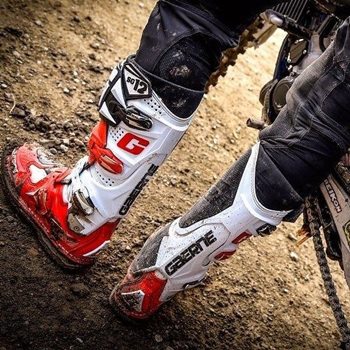 We have to face it: motocross is a dirty sport. While riding may be all fun and dandy, getting rid of all that dirt from your bike and gear is not so much fun anymore. However, right now, we are going to focus on cleaning your boots.
Cleaning process
First of all, it is extremely important to remember that the longer you postpone this process, the harder it will be to get the hardened dirt off your boots. In case the mud is caked on the boots, the best option is a high-pressure washer. If you do not have one, you can go to your local car wash.
You should begin with low-pressure soaking and leave the boots for a few minutes to allow the water to start eating away at the mud. Afterward, you can give them a spray of high pressure. At the same time, make sure that the largest quantity of dirt has been washed away. Next, you should apply a good amount of degreaser which will do a wonderful job of cleaning any oils.
You should allow the boots to sit a couple of minutes so that the formula can do its job properly. After the degreaser has soaked in, give the boots another high-pressure spray. Then, apply some warm soapy water before you begin to rub the boots.
After soaking them, degreasing them, and giving them a good scrub, you should give them one more pressure wash. If any last pieces of mud remained, this is when you will be able to completely eliminate them. Once you are done with the washing part, you should place the boots somewhere outside and let them air-dry, but away from direct sunlight.
How To Clean The Inside Of Motocross Boots?
Normally, the inside of your boots should not be dirty because all of the sweat is absorbed by your motocross socks. However, if your feet have been soaked in dirty water, you can use a time-tested formula for cleaning most types of boots, not only those for motocross. The first thing you should do is pour some vinegar in a spray bottle. Then, spray the inside of the boots thoroughly, after which allow them to dry overnight. Also, take a heap of baking soda, and fill your boots with it. Leave your boots like that overnight so that the baking soda has enough time to absorb the vinegar. In the morning, all you have left to do is remove the baking soda and enjoy the freshness!
FAQ About Motocross Boots
1. How To Break In New Motocross Boots?
Getting new motocross boots is an incredible feeling! Riding with fresh equipment is almost like riding a new bike because everything feels tight and still all together. On the other hand, new boots are as hard as a rock and it is an uncomfortable feeling to ride like that, without breaking them in first.
Actually, you should know that this is a very important step. If you cannot bend your ankle up and down, it will be very difficult for you to shift and feel the rear brake. Of course, the easiest way to break your boots in is to ride with them for a while until the leather loosens up a bit.
However, if you decide to use this method, make sure you do not have to participate in any important ride or race. If you want to break your boots in before doing any riding, you can work them off of your motorcycle. This motion is similar to bending the boots back and forth at the ankle.
Grab the bottom and the top of the boot with your hands, and simply flex the shin towards the toes. Do the same in the opposite direction. It will take a few minutes of doing this exercise until the leather starts loosening up.
2. How Should Motocross Boots Fit?
To put it simply, motocross boots should fit as tight as possible but still allow you to feel comfortable. If your boots are loose, they would not be serving their purpose. The buckles need to be tight around your calves.
Also, keep in mind that new motocross boots will stretch. This is an important aspect you should consider when getting a new pair. Moreover, you should get one size or one size and a half larger than your normal shoes.
3. How To Dry Motocross Boots?
The best way to dry wet boots is to allow them to air-dry overnight. If you can place them outside, it would be perfect, provided the weather and temperatures allow it. However, there may be situations that require you to speed up the process. First, make sure that you clean the boots of mud and dirt, or you might end up with stains on your boots after they get dry.
One way to dry your motocross footwear is by using a study fan or a floor fan. Place a towel under it as it will absorb the excess water from the boots and speed up the entire process. If you do not have or do not want to use a fan, you can also use a newspaper. What you need to do is pack the inside of the boots with newspaper.
Then, wrap the boots in the paper as well. Even if it takes longer, this method is more gentle with your boots. As you might imagine, boot dryers exist, so, if you have one, it is the fastest way to dry yours. Of course, there are a few more ways to do this. You should apply the method that is most convenient for you, and which does not cause any damage to your boots.
Wrap Up
Have you decided which are the best motocross boots yet? If we ask ten people this question, we would surely get ten different answers. If you've carefully read our article, you understand the various aspects you need to consider before getting your pair. Depending on the riding style, usual conditions, trails, as well as personal taste, you should look for a model that not only protects your feet but is also comfortable.
In order to help you out in making an informed decision, we gathered all the relevant information here so that you can easily find out what to look for and not spend countless hours reading numerous articles on this subject. To inspire you, we have also prepared seven motocross boots reviews. Who knows, maybe your favorite model is already on our list. But if not, you already know everything you should know so that you can make the best choice for you.
See also: dirt bike helmet reviews