You need the best motorcycle boots in your arsenal to enjoy your adventures, despite the fact that you are not walking. Guess what's not in trend in 2021? Heavy riding gear! It's easy to take off that studded leather motorcycle jacket, bulky gloves, or your full-face helmet, but that's not the case with your boots. We know the struggle.
We all want a stylish pair that will give that final touch to our outfit and turn heads while we ride down the street. It maybe seems impossible to combine all these features into one, but these motorcycle boots reviews should help you find a pair to meet your unique needs and protect your feet when riding, but also when walking, running, or climbing.
See The Quick Comparison Chart
Regular vs. Motorcycle Boots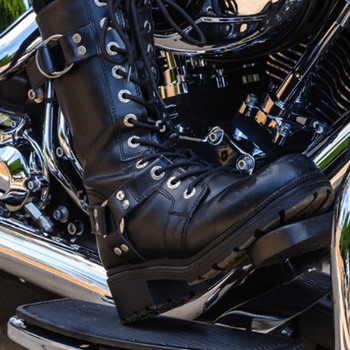 Even though most riders can't tell the difference between regular and motorcycle boots, there are some essential features that make motorcycle footwear way more suitable for riding your bike.
1. Higher Level of Protection
Regular boots don't feature crash protection in case of an accident, which is probably the biggest difference between the two styles.
In comparison to their regular peers, motorcycle boots are designed with protection, safety, and support in mind in the first place. Some of the properties motorcycle boots include are padded insoles, reinforced toes, supportive metal shanks, breathable meshes, and slip and oil-resistant outsoles among others.
2. Simplicity
Most regular boots come with a lot of lacing, which may interfere with your riding performance. Just imagine laces getting caught up in some of the moving parts of your bike – nuts! Motorcycle boots are rather simple. You will probably put them on within a few seconds, as most models come with side zippers.
3. Better traction
If you think traction is not important, just imagine yourself slipping in front of a bunch of people. Quality boot soles of motorcycle footwear can't compare to regular soles that will turn you into a ballerina the first time you step on some ice. The same applies to oil.
Benefits Of Motorcycle Boots
1. Safety
We can't stress enough how much it is important to get yourself a pair of sturdy and stable motorcycle boots that offer full protection to your feet, ankles, and calves. Wearing sneakers when riding your bike equals to madness! Any other type of footwear besides motorcycle boots wouldn't support and protect your lower leg the way these can.
2. Support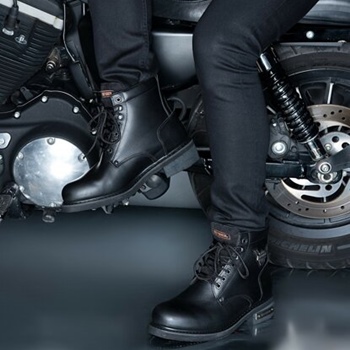 The level of leg support motorcycle boots provides deserves a special section. Designed to be stiff, yet flexible enough, motorcycle boots prevent the leg from unnecessary movements. A too thin-made boot wouldn't absorb the outer impacts in case of an accident and you would, most likely, get injured.
Motorcycle boots act like a brace that gives your feet the right balance you need to be able to counteract unwanted outcomes.
3. Warmth
Motorcycle boots come with padded insoles that will keep your feet toasty even when the temperature drops below zero. However, you can find some nice models that are more suitable for the summer as well.
4. Breathability
Now that we've mentioned summer rides, you shouldn't be afraid your feet would be sweaty if you would be riding in your boots during the summertime. When made of water-resistant materials, motorcycle boots will absorb the moisture and allow the optimum airflow so your feet can breathe.
5. Maintenance
Armored boots or models that come with padded tongues prevent road debris from getting inside. This type of boots boasts better leg protection, as the tongue makes your ankles more tucked away, but we guess you wouldn't like any dust or small rocks inside your shoe, right?
Best Motorcycle Boots Comparison Chart
PRODUCT
DETAILS

Bruno Marc Men's Military Motorcycle Combat Boots

Price:

$

Customer Rating:

4.2

Material:

Faux leather

Height:

Ankle

View On Amazon

Smith & Wesson Men's Breach 2.0 Tactical Size Motorcycle Zip Boots

Price:

$$

Customer Rating:

4.5

Material:

Leather and nylon

Height:

Mid-calf

View On Amazon

Bates Men's 8" Tactical Sport Side Zip Military Boot

Price:

$$

Customer Rating:

4.5

Material:

Leather and nylon

Height:

Mid-calf

View On Amazon

Skechers Men's Pilot Utility Boot

Price:

$$

Customer Rating:

4.3

Material:

Leather

Height:

Ankle

View On Amazon

Durango Men's 11″ Harness Boot

Price:

$$$

Customer Rating:

4.4

Material:

Rugged leather

Height:

Mid-calf

View On Amazon

HARLEY-DAVIDSON FOOTWEAR Men's Scout-m

Price:

$$$

Customer Rating:

4.4

Material:

Leather

Height:

Ankle

View On Amazon

AdTec Men's 11″ Harness Motorcycle Boot

Price:

$$$

Customer Rating:

4.5

Material:

Leather

Height:

Mid-calf

View On Amazon
Best Motorcycle Boots Reviews
1. Bruno Marc Men's Military Motorcycle Combat Boots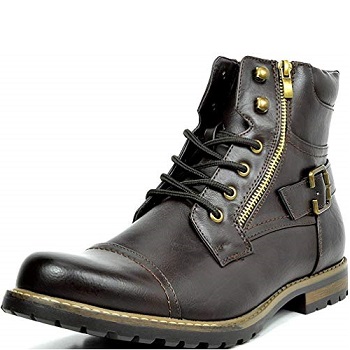 If you are looking for a pair of motorcycle boots that will make you seem badass with a dash of class, the Bruno Marc military combat boots will surprise you with the versatility they offer. You can wear them on the street, to the club, your workplace, and, of course – when riding a motorcycle.
Round toes, classic accents, and decorative buckles will make people turn heads when you are walking or riding down the street. Yet, there is much more than it meets the eye when it comes to these ones. No doubt, this pair is so chic and attractive, but comfort is what you should opt for.
Cushioned, rubber, and non-skid soles, and soft lining makes the Bruno Marc motorcycle boots ultimately pleasurable to wear. Flexible design is what makes them so comfy, while extra features such as side zippers, lace eyelets, resistance to slipping and abrasion, and optimal heel measure of 1-inch and 0.5-inch for the platform, take the whole experience of wearing them to another level.
Equipped with a bunch of practical features, the Bruno Marc man-made leather boots are suitable for wearing in all weathers. Easy to break in, these boots won't make your feet hurt of cause calluses on the fingers.
Flexible, comfortable, with a touch of vintage – the Bruno Marc boots will make you appear more polished and attractive when riding your bike, even though you can take them to hiking and skiing as well. Just give them a few days to broaden.
Pros
Strong and elastic laces,
Provide exceptional traction,
13 colors to choose from.
Cons
Ankle-length boots don't provide the ultimate protection to the lower part of the leg.
2. Smith & Wesson Men's Breach 2.0 Tactical Size Motorcycle Zip Boots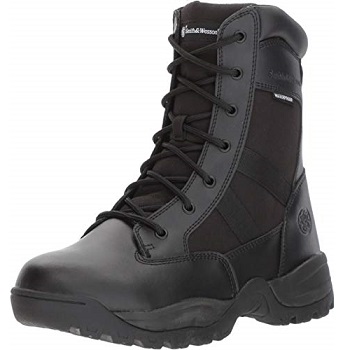 The Smith & Wesson boots are designed for the ones who prefer combat-style, flexibility, and comfort. Well-known for being very attentive to fine detail and outstanding quality, Smith & Wesson is a seller that managed to stand out from other motorcycle boots brands for a couple of features.
Designed to withstand outer impacts, these boots are made of nylon and leather, which makes them flexible, yet very protective. The integrated gusseted tongue prevents dust, debris, and gravel from getting into the boot.
The EVA Midsole technology Smith & Wesson used for making their boots provides the utmost support to the feet. Not only these are lightweight, but also slip-resistant so you can feel confident about wearing them when riding your motorcycle, climbing the ladders, walking on waxed surfaces.
If you are tired of lacing your boots day after day, the side-zip may come to the rescue! Even though not the fanciest option on the market, the Smith & Wesson boots still hold great value for people riding or working for extended periods of time, as they are designed to reduce foot fatigue and keep your ankle tight.
Pros
Lightweight,
Foam-padded collar,
Reinforced toes
Mid-calf.
Cons
Not vented as they should be, which makes them a good choice for the winter, but not for the summer,
These are not waterproof.
3. Bates Men's 8" Tactical Sport Side Zip Military Boot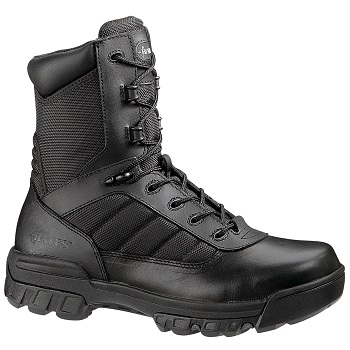 Call them what you want – military boots, worker boots, Bates has a durable, highly-resistant and extra-strong pair. If you are into off-road rides, keep in mind these can withstand rock and gravel punishment easily. Not even thousands of muddy miles would make the Bates Men's 8" Tactical boots worn out.
While they are so tough and feature cement construction, these boots are lightweight at the same time. They are nothing alike uncomfortable and heavy pairs of boots that boast similar properties. The key to this is in the combination of the 1680 dernier ballistic nylon (30%) and full-grain leather (70%).
Fully-cushioned, with well-padded tongues, these boots are a breeze to wear, no matter if you are wearing them while riding or walking. They feature he non-slip soles so you can wear them all year long, even on the iciest days and still not feel the cold.
Yet, these make a great choice for the summertime as well, as the inner moisture-wicking lining makes them breathable. Your feet will never get sweaty, and your boots never smelly – what else to ask for? Side zippers make it easy-peasy to put these on and off.
The Bates Men's 8" Tactical boots may not be the "picture perfect" pair, but they are almost unbeatable when it comes to durability and resistance to all weather conditions and basically anything that comes their way – mud, gravel, sand.
Pros
These boots weight 2 pounds only,
Removable inserts,
Mid-calf boots provide a snug fit and ankle protection.
Cons
These boots may be too narrow for people with wide feet.
4. Skechers Men's Pilot Utility Boot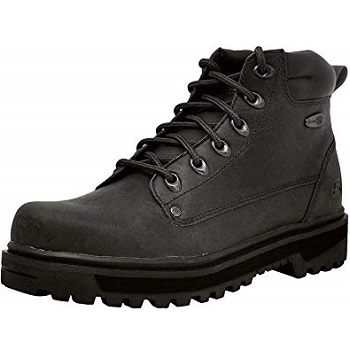 Skechers is one of the most popular brands when it comes to standard and high-quality shoes and boots. Their Men's Pilot ankle-length utility boots have gained massive interest in the comfort and versatility they provide.
Sliding your feet in an ankle-length boot is seamless. If you don't like a too-tight fit around your calf, these ones may be worth your attention. Featuring premium leather combined with reinforced seams, the Sketchers boots offer a firm grip.
The outsole is thick, the inner one is well-cushioned, which adds on the overall comfort and durability of the boot. At first glance, these may be looking tough, but you would change the opinion once you put them one. This type of work-boot design usually confuses customers, as they seem heavier than they are.
Way lighter than working boots, the Sketchers Men's Pilot Utility Boots come are equipped with a padded tongue and collar that provides great support to the ankle and prevents debris and gravel from getting inside. Just imagine riding your motorcycle and a small rock find its way through your feet. It would be pretty nasty, and would potentially endanger your safety on the road.
A great pick for riding your motorcycle, the Sketchers boots are easy to pair with everyday outfits. Lightly padded footbeds make them pleasant to walk in as well. Even though this pair is not designed with off-road riding in mind, you will certainly find them comfortable for everyday commuting and running errands.
Pros
Moderate arch support,
Suitable for all weathers,
Breathable.
Cons
The toes are not reinforced,
These boots may not provide a sufficient level of lower leg protection.
5. Durango Men's 11″ Harness Boot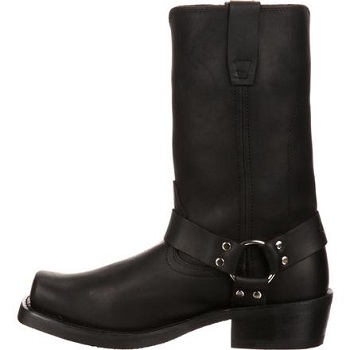 Classic, sleek, and timeless design of the Durango Men's 11″ Harness Boot makes them stand out from the crowd. Even though these boots can give you cowboy vibes, we are sure you will know how to fit them in your everyday style and rock your bike while wearing them.
These are high-calf type, which means you can expect superior protection and support while riding, walking, or performing any other activity. Besides, this boot length makes it impossible for mud and debris to get inside in case you get stuck somewhere while off-road riding.
These may protect your lower leg from injuries in case of an accident or if you fall off your motorcycle. The key to this is in the flexible, but not overly flexible forepart, which contributes to greater mobility, but doesn't make things too lose.
The slip and oil-resistant soles make another useful safety feature, as there is no chance of slipping when wearing these.
What do you need the most after a long day of riding? To take those boots off and let your feet breathe, right? The pull-loop design makes it easy-peasy to pun the Durango Men's 11″ Harness Boot on and take it off.
Typically for 100% leather footwear, these boots are comfortable and soft. It may take a week or so to break them in, but once you do – you would be able to imagine riding your bike without the Durango Men's 11″ Harness Boot.
Pros
Solid arch support,
Suitable for all weathers,
Easy to clean.
Cons
Square toe-design provides more upfront room, so be careful when ordering the size,
These boots don't come with cushioned comfort soles.
6. HARLEY-DAVIDSON FOOTWEAR Men's Scout-m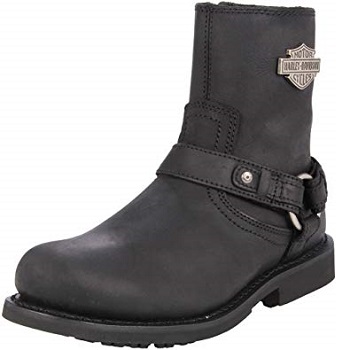 Walking and riding – these Harley-Davidson boots can do both! These classic-looking boots boast one of the highest quality leathers that make it extremely durable (almost for a lifetime) and comfortable. These are also versatile and fit into almost any outfit, so you can wear them day to night – literally, and never have your feet tired or swollen.
Designed with resistance in mind, the Harley-Davidson boots feature solid, smooth-finish uppers that are almost impossible to destroy. Harley-Davidson used the Goodyear welting process to bond together all of the parts of the boot, which makes them so wanted among motorcyclists.
Not only these will turn heads wherever you show up, but you can be confident about the fit and safety they provide. The harness around the ankle keeps it in a stable position, while riveted straps secure the fit. You can put them on and take off within just a few seconds thanks to the heavy-duty YKK zippers.
Stiff and rigid on the outside, with integrated strong rubber outsoles, the Harley-Davidson boots make a perfect pair if you like off-road riding. Yet, these are also flexible enough and make your feet comfortable.
Stable, comfortable, flexible enough, and easy to put on and pull off, the Harley-Davidson boots scream quality, but we haven't expected any less from a renowned brand like this.
Pros
Slip, oil, and abrasion-resistant sole,
Excellent ankle support,
Lightweight.
Cons
Would use thicker insoles.
7. AdTec Men's 11″ Harness Motorcycle Boot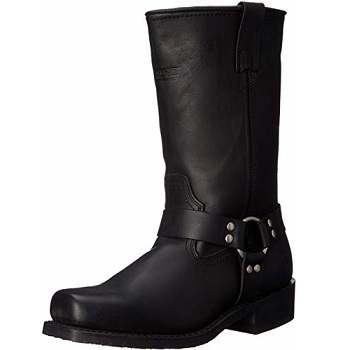 You don't have to try hard to look fierce when riding your bike. With the AdTec Men's 11″ Harness Motorcycle Boot, you will rock it, as these look fierce and feel comfy and soft.
The padded insoles ensure the utmost support to the feet, while the 100% leather construction makes them lightweight and pleasant to wear. Leather, as a natural material, doesn't make feet overheated, so the inside of the boot is never overheated.
The heavy-duty leather is also well-known for its durability so you can expect the long-lasting performance of the AdTec boots. Even though some riders don't like square toes, this type of boot suits almost all foot shapes.
If you have wide feet, chances are – you would love them. The O-ring harness around the ankle reinforces the ankle support, so there is no chance of experiencing a sprain when getting on or off the bike.
The slip-resistant sole makes the AdTec boots a great choice for winter rides. These calf-length boots come with a double side zipper that makes things way easier when it comes to putting these on and taking them off.
Pros
Waterproof,
Goodyear welt construction makes them very durable,
Nicely-cushioned.
Cons
Types Of Motorcycle Boots
1. Commuter
If your typical route includes rides from home to office and vice versa, then you need a pair of boots that fits into your working style, but also doesn't stand out when you are on your bike. The type of motorcycle boot you need resembles regular boots. Comfortable to walk in and run errands, lower in height, flexible, and solidly-padded, casual or commute boots will meet your needs.
2. Leather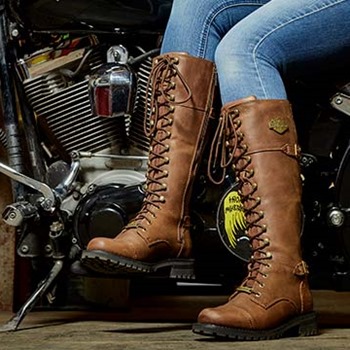 Leather is the most popular material regarding any type of footwear. Yet, in comparison to regular leather boots, motorcycle leather boots are designed to withstand some slightly tougher conditions. Resistant to water and snow, comfortable, flexible enough, and protective, these boots are the easiest to fit into any style.
However, leather requires some more maintenance than other materials, so make sure to keep them in good shape.
3. Cruising
If you are usually riding long distances, you need a pair of boots that is lightweight in the first place. Cruising boots make a perfect combo of protection and comfort but aren't as protective as their racing counterparts are.
4. Sport
For the ones participating in numerous extreme sports or motocross, protection is the number one on the list of priorities. If you like rough terrains, then you need heavy-duty boots to protect your leg from high speeds and potential injuries, and these are quite frequent when it comes to extreme sports.
Sport motorcycle boots are equipped with steel toes, flexible TPU plastic, padded inserts for the heel, etc. All about these boots is related to safeguarding the lower leg.
5. Touring
Some motorcycle boots stand somewhere in-between, such as touring boots. This type combines features of sport and cruising boots, which makes them comfy to walk in but also to wear when riding for hours.
Made of different, usually lightweight materials, touring boots boast some of the bonus protective features, such as reinforced toes.
6. Gore-Tex, Kevlar, and Similar Fabrics
Some materials used for making motorcycle boots offer greater ventilation and are more breathable, but less protective and sturdy. These boots are made of microfiber, Kevlar, Gore-Tex, and similar fabrics.
Things To Consider Before Buying Motorcycle Boots
1. Your Riding Type
The choice of your boots largely depends on the type of rider you are. Are you a sports-type or a street biker? Different types of boots are designed to suit different types of motorcycles and different riding types.
Getting yourself a pair of sports boots and you own a cruiser bike? That's a big no-no. Cruising rides require footwear that offers weather protection and comfort. Beware of your riding type and make smart decisions on the style of the boots that suit you best.
2. Where Do You Ride Most Often?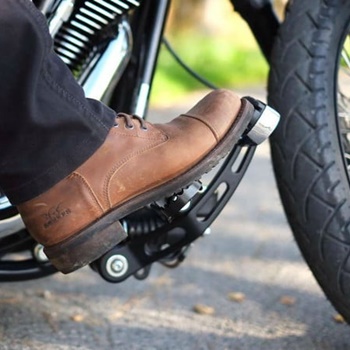 If you are usually making numerous stops, sightseeing, and riding mostly on the streets and highways, you might find casual, leather, or cruising boots most suitable.
On the other hand, if you are into dirt bike and off-road rides, you need a pair that boasts a higher level of protection. In this case, sport or touring boots may be the ones.
3. The Type of Weather Conditions You Ride In
Some bike riders like fair weather to hit the road, others prefer the rain and snow, while the majority fall into the category of all-weather riders. If you are the latter type, make sure to pick a pair of boots that cover the leg more, longer boots equipped with some nice padding and faux fur lining.
Motorcycle Boots Buying Guide
In this section, we are going to list the main features that make the best pair of motorcycle boots. If you find a pair that ticks most of the boxes, no doubt it will meet your riding needs.
1. Protection
When riding at high speed, you want to protect your lower leg and fee as much as possible. The same applies to riding on rough terrains. Spare your feet from injuries with a pair of boots that boast the proper protective equipment.
Metal shanks, closures, aluminum buckles, TPU reinforcements, sliders, and inserts are some of the protective features integrated into the best pairs. These will ensure you stay safe even during the toughest rides.
2. Height
A motorcycle boot that provides adequate protection should be high enough as well. Look for a pair that covers your ankles at least. The higher the boot, the higher the level of protection.
No doubt, high-top boots are slightly less comfortable as they are a bit stiff, but no other boot style can compare to it in terms of protection.
Breaks and sprains are the most common injuries of the lower leg. When a rider falls off the motorcycle, there is a chance their ankle will get scraped. If your boot doesn't provide enough support, there is a chance of more serious injuries. A pair of full-height boots will ensure your feet and ankles are fully protected.
3. Material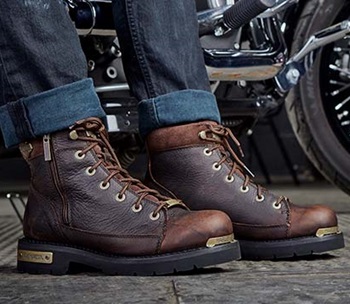 Different shoe materials also provide different levels of protection. When choosing between motorcycle boots, you will see many models made of leather. Yet, this is not soft leather used for making regular boots, but the type of thick leather resistant to abrasion.
Manufacturers now are using a wide range of other abrasion-resistant materials that offer proper ventilation to the feet, such as Kevlar, Gore-Tex, and microfiber.
Either way, it would be great to find a pair that provides a double layer of protection in the high-wear areas. If you are up for a leather pair, make sure not to pick the untreated leather as it absorbs water, unlike treated leather that is not likely to get soaked when it is raining outside.
4. Construction
A well-built boot will certainly provide some extra protection in case you get involved in an accident. Look for a pair that boasts double or triple stitching, sewed soles, etc. Motorcycle boots with sewn soles are way better than the glued ones as the latter wouldn't last long or protect your feet the way they should.
5. Soles
You have two options here – soft or hard soles. The first one provides a better grip, but it is less durable, while hard soles give you less grip but provide better durability. It is completely up to you to make the final choice. Yet, make sure, whichever you choose, they are slip and oil-resistant.
6. Fit and Comfort
When choosing between models, you should pay attention to whether the manufacturer is from the USA or Europe. If you are from the US, convert the European sizes into the US ones. Even slight differences can make a pair of boots unfit.
Also, keep in mind you would be wearing thicker or thinner socks depending on the season. Thicker socks will take up more space in your boots.
Speaking about comfort, motorcycle boots are tougher and stiffer than regular boots. It might take a few days until you get used to the feeling in your new pair, but keep in mind a pair of boots that's unlikely to get off your leg in case of an accident has to be a little less comfortable. However, leather boots will break in overtime and get more pleasant to wear.
7. Armor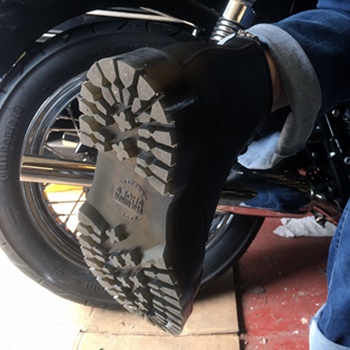 If you are looking for a pair of racing motorcycle boots, look for the built-in plastic, carbon, or Kevlar armor as well. These types of materials are resistant to impacts. Riding at high speeds is a threat to your toes getting crushed. Steel shank or steel plates are a must in this case.
8. Resistance to Weather Conditions
This has a lot to do with the time of the year when you ride the most. If you don't mind weather conditions are ride even when it is raining or snowing, you will need a pair of boots that come with waterproof liners. Not only these act as protection against weather but also make your feet sweat less.
9. Closures
Even though this is a matter of personal choice, we will still advise you to avoid lace boots. This type certainly provides a slightly better fit, but laces are likely to come undone. Once this happens, there is a chance that laces can get stuck in-between parts of your bike and cause an accident.
If you are still into laces, at least look for a pair of boots that come with buckles that will control the laces. Velcro closures are the most popular ones, as they are adjustable and comfortable but also provide a higher level of safety and a more secure fit.
10. Heel Height
Most riders usually overlook the heel height, although it makes an important feature. Lower heels are suitable for both riding and walking. A good, solid, not too high heel also prevents slipping and protects you from falls.
How To Maintain Motorcycle Boots?
Heavy rain, snow, blazing sunshine, wind, ice, freezing cold temperatures, mud, gravel, sand – motorcycle boots have to handle a lot. That's why you should take good care after your pair.
If you have a pair of leather boots, use essential oils and cleaning oils to feed the leather. Even though naturally waterproof, tuck in some newspaper in your leather boots after being exposed to rain or snow. This will help them retain a nice shape. Otherwise, the soles will absorb the moisture and mess up with the appearance of your boots.
When it comes to other materials, it is very important to get rid of dust, grit, and mud as soon as possible after getting off your bike. Impurities can find their way into the boot and affect the breathability and durability of your footwear. Use leather cleaner, brush, and a damp cloth to free your boots from these nasty particles.
FAQ About Motorcycle Boots
1. How To Size Motorcycle Boots?
Brands size their motorcycle models differently. This also applies to different continents, as there are slight differences between the European and the US sizes. You want to ensure you are getting the correct size to double-check on the sizing charts.
Motorcycle boots shouldn't be uncomfortable or too tight. Only the ones of the correct size will provide a snug fit and ankle protection.
2. Are All Motorcycle Boots Waterproof?
Absolutely not. What is more, you will never find a pair that's 100% waterproof. Manufacturers usually claim their boots are resistant to weather or water, which is true to a certain extent. However, each pair of boots is somewhat sensitive to water, no matter the material. If you want to upgrade their resistance to water, you can treat your boots with leather waterproofing products.
3. Can Motorcycle Boots Be Stretched?
Some leather boots can be stretched a little bit, although you can't expect them to stretch for the whole size up. Stretching motorcycle boots would only damage them, so make sure you are ordering the correct size if you want to prevent your feet from getting hurt.
4. Are Work Boots Good For Motorcycle Riding?
Although some work boot models can be suitable for motorcycle riding, they provide nothing but a short-term solution. Also, it would be imprudent to wear work boots when performing some of the extreme sports, as these don't provide crash protection the way motorcycle boots do and you can get hurt.
Summary
A pair of the best motorcycle boots will provide you with crash and weather protection and comfort in the first place. You don't want a pair of footwear that will keep you constantly tempted to take them off, but a pair that's made of high-quality materials that act pleasant on the skin.
Your feet deserve some special attention, so make sure to go through our motorcycle boots reviews once again and find a pair that suits your riding style the most. In case you need any additional gear, we have prepared a plethora of other useful guides on motorcycle accessories, electronics, and equipment.